Le Mans might have been where Carroll Shelby sealed a historic victory for Ford back in 1966, but Las Vegas is where his brand, his legacy, Shelby American, lives on today. It's also—by no coincidence whatsoever—where Ford has chosen to launch the 2020 Shelby GT500. The fastest, best-handling Mustang—maybe muscle car, period—of them all, Ford says. But then they would. We're here to test that claim on road, track, and drag strip.
Or rather, we're halfway there at the moment. In most high-performance cars, especially muscle cars with whining superchargers, barking exhausts, and a jarring ride, the first stop in Amboy—home to a preserved mid-century modern motel called Roy's, a post office, and nothing else—comes as something of a welcome break.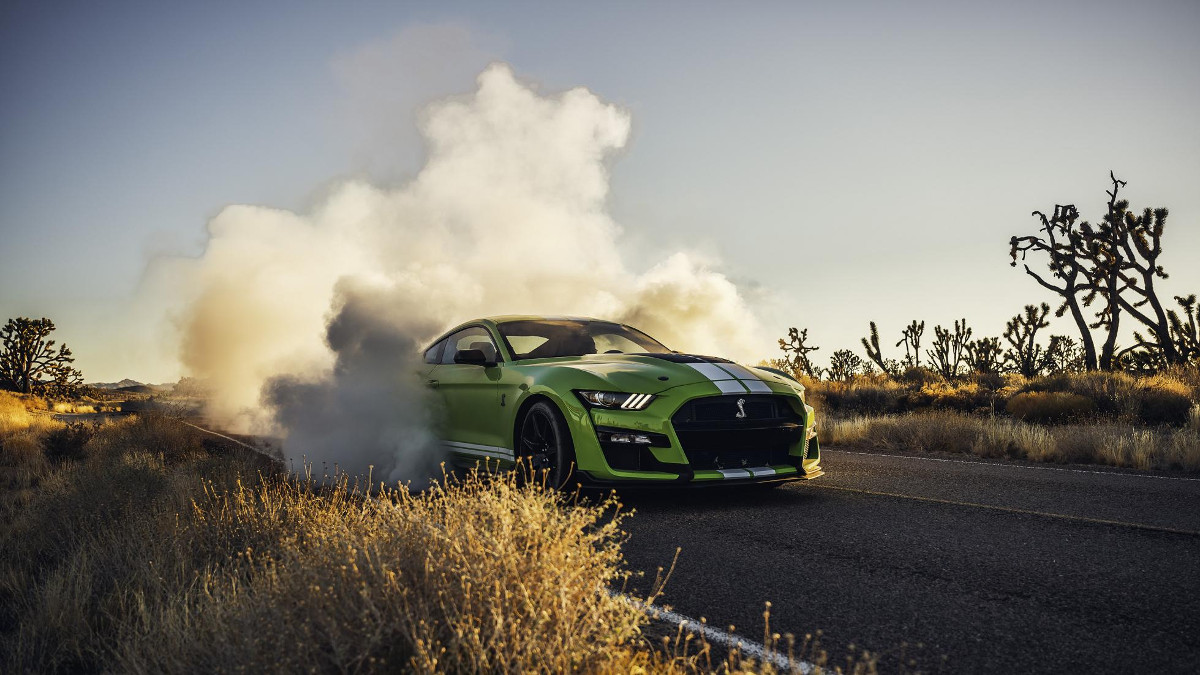 ADVERTISEMENT - CONTINUE READING BELOW ↓
Not in the 750hp GT500. We step out of the Grabber Green car feeling pretty much the same as when we set off, some two and a bit hours earlier. If it hadn't sluiced down the contents of its 60-liter tank like a great white eating a shoal of sardines, we'd have happily kept galloping on our way. At speeds that might sound excessive, but which the GT500 simply deals with and shrugs off.
While this is impressive, it's also frankly a bit of a worry, too. We like our muscle cars raw and unfiltered, engine tartare with a side of whine, please. Not private-jet smooth and comfortable like this—however impressive that is. Has the GT500 suddenly gone all civilized on us? The last version was admittedly loud and raucous, and very fast in a straight line, but its handling required constant and instant correction to avoid disaster. It was like trying to wrestle a rabid bear—you lost every time.
ADVERTISEMENT - CONTINUE READING BELOW ↓
Recommended Videos
But has this new one gone too far the other way? We all hoped it would be a faster, hairier version of the GT350. But on the evidence so far, this isn't that at all. The 350's holy hallelujah 8,500rpm flat-planed-crank soundtrack and quicksilver-smooth manual shifter have been replaced by a supercharger that sounds more like an alternator and a set-and-forget seven-speed double-clutch transmission—the first ever on a muscle car, by the way.
ADVERTISEMENT - CONTINUE READING BELOW ↓
Just to lift the mood, we decide that a burnout might be a good idea. When isn't it? But that's not as easy as it sounds in the GT500. The 2020 car has its own menu of electronic track apps, each designed to take the hassle out of setting up things like launching, shift points, steering weight—and Line Lock. Which are all great other than the last one—despite our repeated attempts, it didn't lock in our case. So, with no manual alternative, by the time we did get it to light 'em up—through the use of some appalling mechanical insensitivity—it was more a relief than cause for celebration. Our worry deepens another click.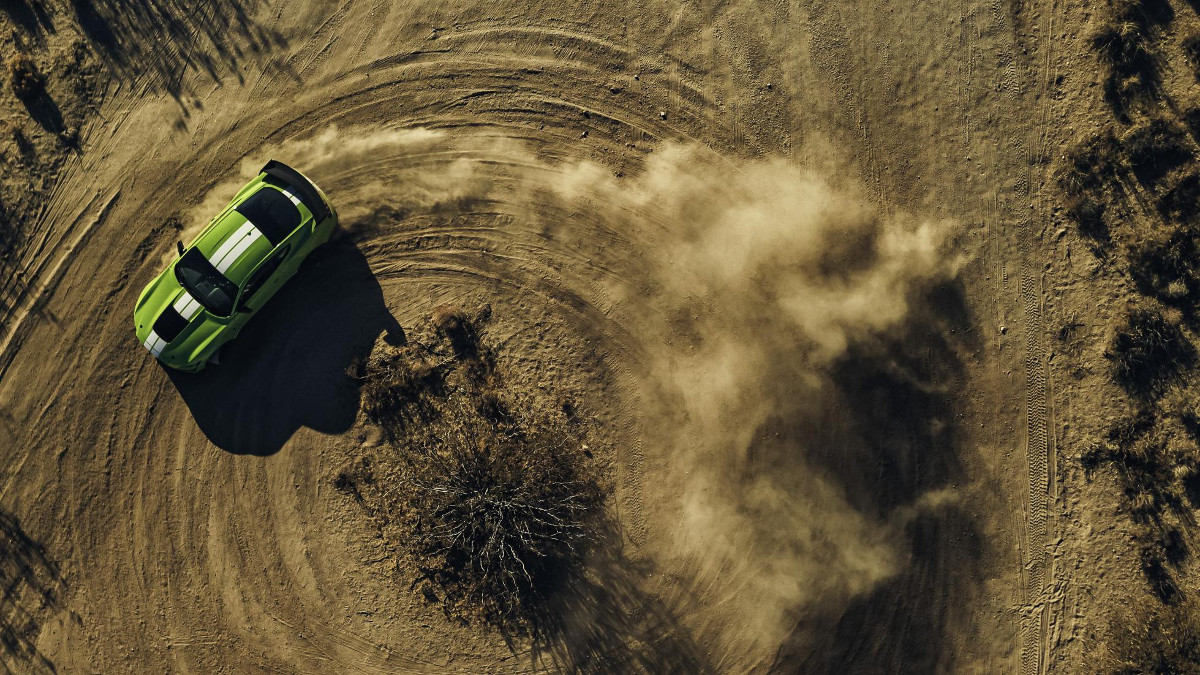 ADVERTISEMENT - CONTINUE READING BELOW ↓
Arriving at Las Vegas Motor Speedway, I'm expecting a heavier, more understeery/oversteery version of its nat-asp brother. But one corner into the first lap, an extraordinary transformation occurs. The big 1,800kg-plus car, which the day before so calmly cruised along in near silence, has become a raging, red-eyed stallion. A fabulously neutral and controllable, jet-powered one that's apparently shed half of its weight and sucked the remainder into a space a couple of inches under the driver's seat.
I push it to where I thought it would start to unravel. But that's not even close. The front-end grip doesn't dissolve into understeer, and the rear keeps sticking and sticking. So, I go deeper and deeper into the throttle and brakes...and still, it's nothing.
Suddenly, with the engine smashing up to its 7,500rpm red line, the seven-speed Tremec 'box whipping through gears at 80ms a pop, the chassis systems working as hard as those in the F22s above us, I'm in sports-car heaven. This is what we wanted: Crazy amounts of speed, Michelin Cup 2s up to temperature, and brakes the same size as the original 1967 GT500's wheels to bring everything back in check.
ADVERTISEMENT - CONTINUE READING BELOW ↓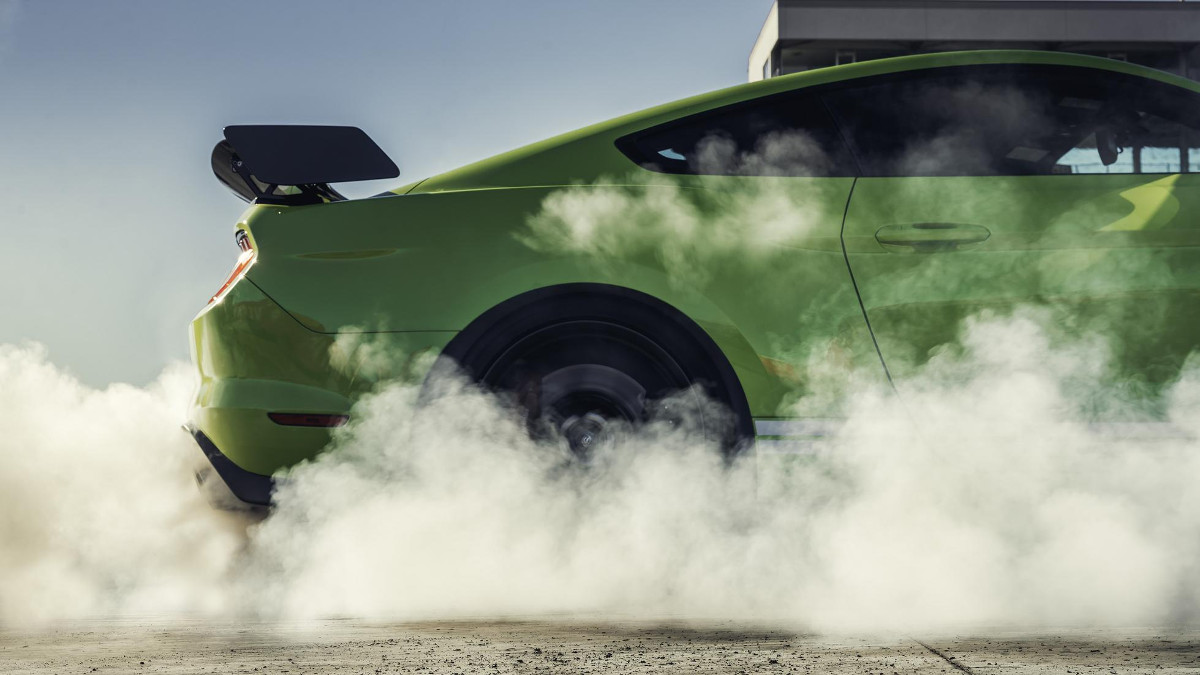 I literally can't believe how fast and composed—yet fun—the car is. But I've only just started to scratch the surface and there isn't time to spend all day finding out. So, to get to the very edge of the GT500's track performance envelope, we go out for a few laps with the Ford Performance vehicle dynamics engineer, Steve Thompson. I thought we were being nasty with the car, but Steve basically orders it to do things—things he knows it can do, because he engineered and tested them—that no sane human being would demand of a muscle car of this size and weight.
ADVERTISEMENT - CONTINUE READING BELOW ↓
Impressed is not the right word. Staggered is more like it. When I drove the Chevy ZL1 1LE, I thought it was going to take some beating. On this first impression, the GT500 crushes it flat. I can also see that, on non-aero-sensitive tracks, it'd probably have the measure of the vaunted Viper ACR, too. But the really impressive thing is that it can do all of this and then cruise home—or to the other side of the country—in church-like silence and lounge comfort.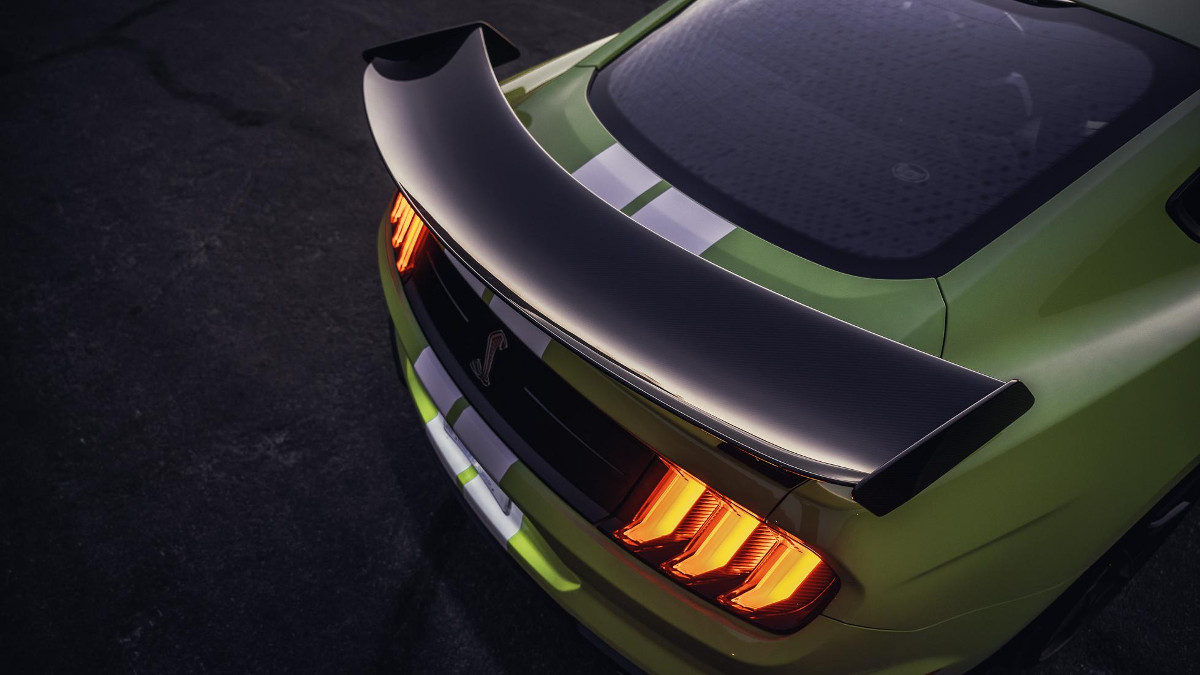 ADVERTISEMENT - CONTINUE READING BELOW ↓
It requires some proper mechanical and electrical witchcraft to make it happen, but it works. And not just on road and on track—but also on the drag strip, the GT500's spiritual home. Twist the same mode dial that changes the car from cruiser to crusher to 'Dragstrip,' and the new GT500 goes through yet another character change. The rear shocks soften to allow for greater grip and power transfer, and you get all the drag tools on a screen in front of you. Including the previously troublesome Line Lock.
But it's not just about making smoke—the big GT is all about firing out of the hole quickly, too. And when we say quick, we mean fast: sub-11sec quarter-mile, 0-60mph (0-97kph) in 3sec fast. Which on any car would be considered highly respectable. But on a $75,000 (around P3.78 million) muscle car? That's just stupid fast.
ADVERTISEMENT - CONTINUE READING BELOW ↓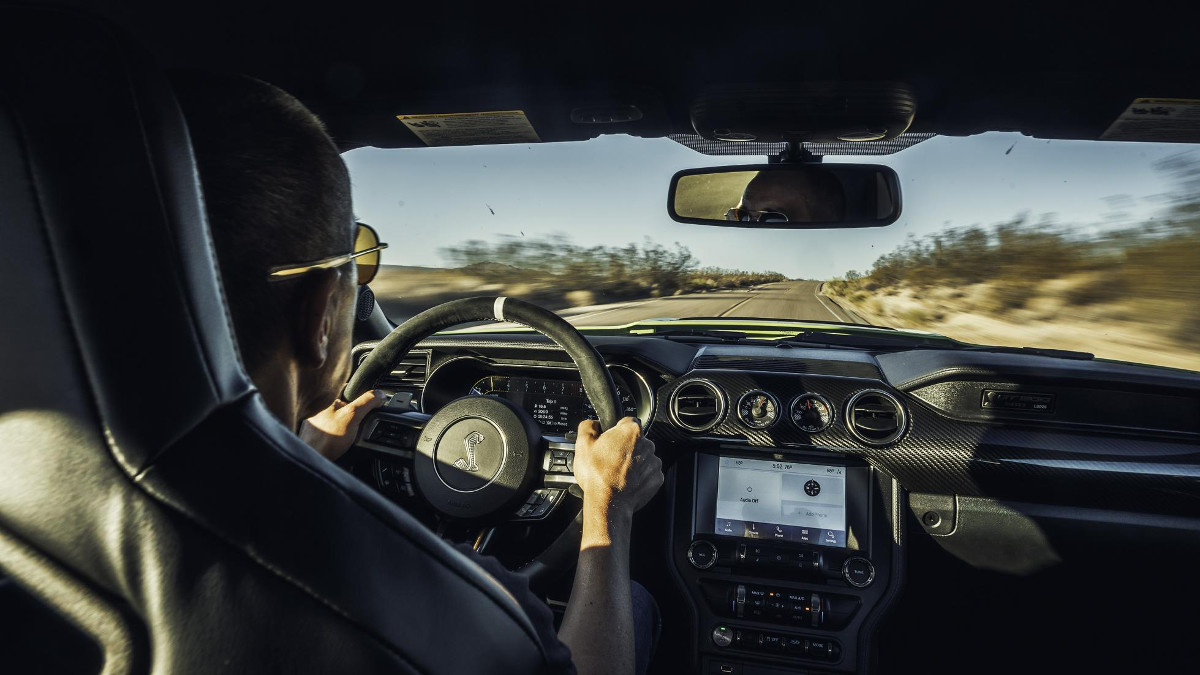 While we are talking about price, there are three key levels to the new car. The $73,995 (roughly P3.73 million) base variant that, if you didn't know the other two versions existed, you'd be delighted with. Then there's the Handling Pack car, for an extra $1,500 (about P75,645). This includes some aero add-ons, such as a bolt-on Gurney flap, and an oil catch tank.
ADVERTISEMENT - CONTINUE READING BELOW ↓
And then there's the full-house Carbon Fiber Track Pack, which starts at $92,495 (approximately P4.66 million). This gets you a rear seat delete, a carbon-fiber wing, and the all-important carbon-fiber wheels shod in Michelin Cup 2s. Recaro seats and adjustable strut top mounts round it out.
But that's far from where the price of the new GT500 ends. There are configurator traps for the unwary. How about a painted rather than tape racing stripe? That will be another $10,000 (P504,300) instead of $1,000 (P50,430) for the tape version. Then there's the $3,000 (P151,290) technology package, which you should get. And all sorts of other dealer-fitted items. Including tuning parts from Shelby American.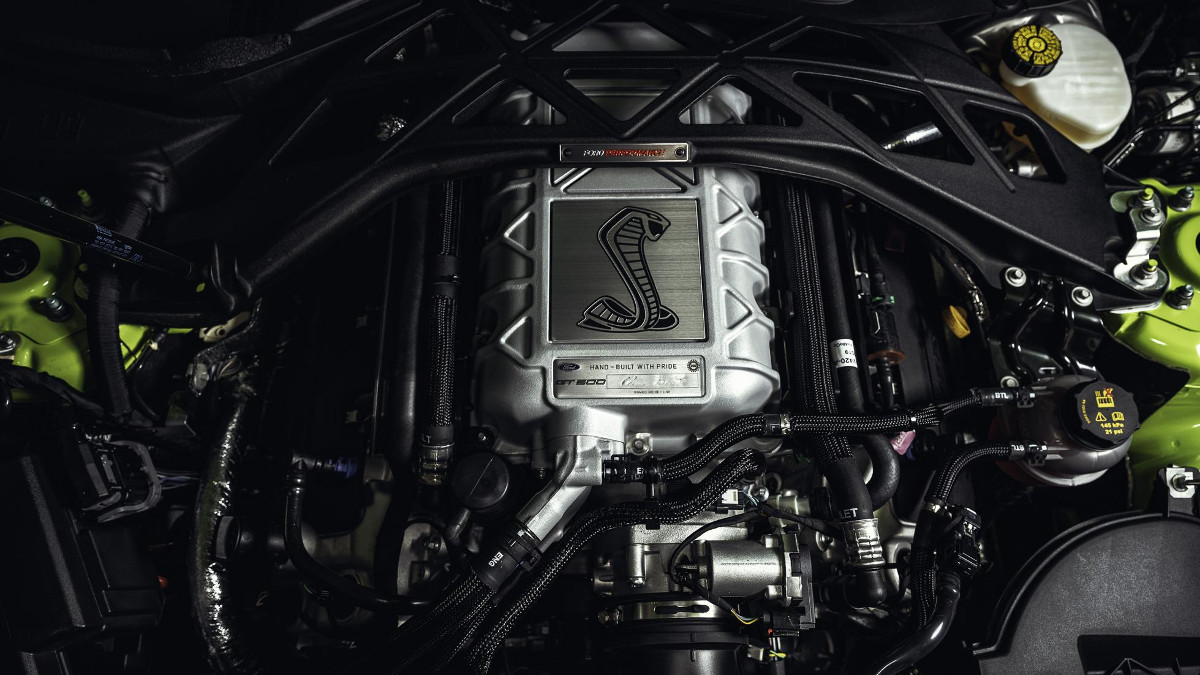 ADVERTISEMENT - CONTINUE READING BELOW ↓
Ford and Shelby both profess that they love the existing relationship between the two companies, with neither saying they see anything other than a long and continuing partnership. Ford says the Shelby name still sells cars. Shelby says Ford still sells Shelby tuning parts. That sounds like the kind of win-win that Carroll Shelby, the only person to win as a driver and constructor in the history of Le Mans, would approve of.
Just as he surely would of the new GT500—the new king of the muscle cars—which proudly carries his name, passion, and sense of racing innovation in every fiber of its DNA.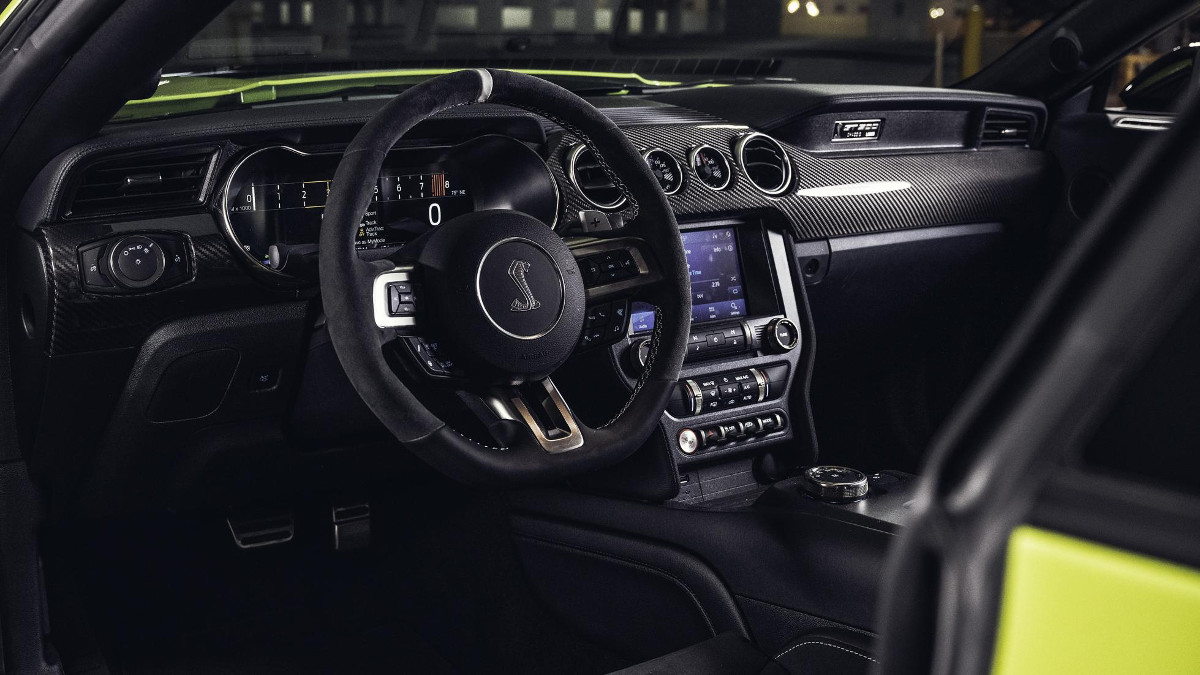 ADVERTISEMENT - CONTINUE READING BELOW ↓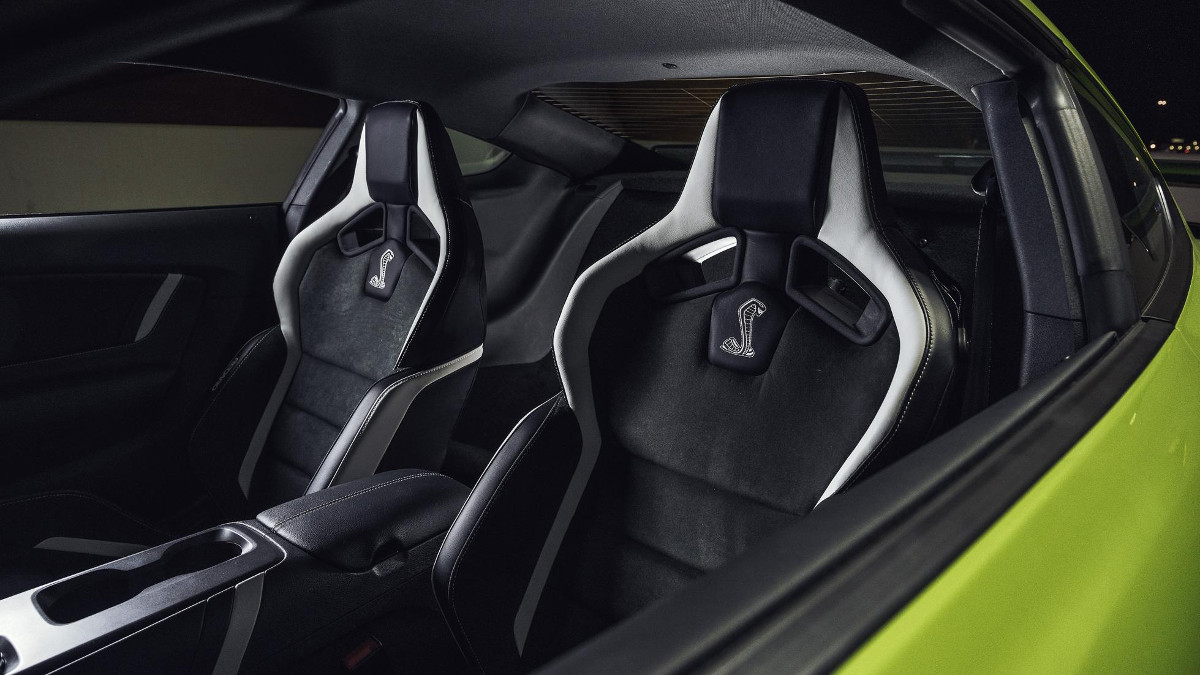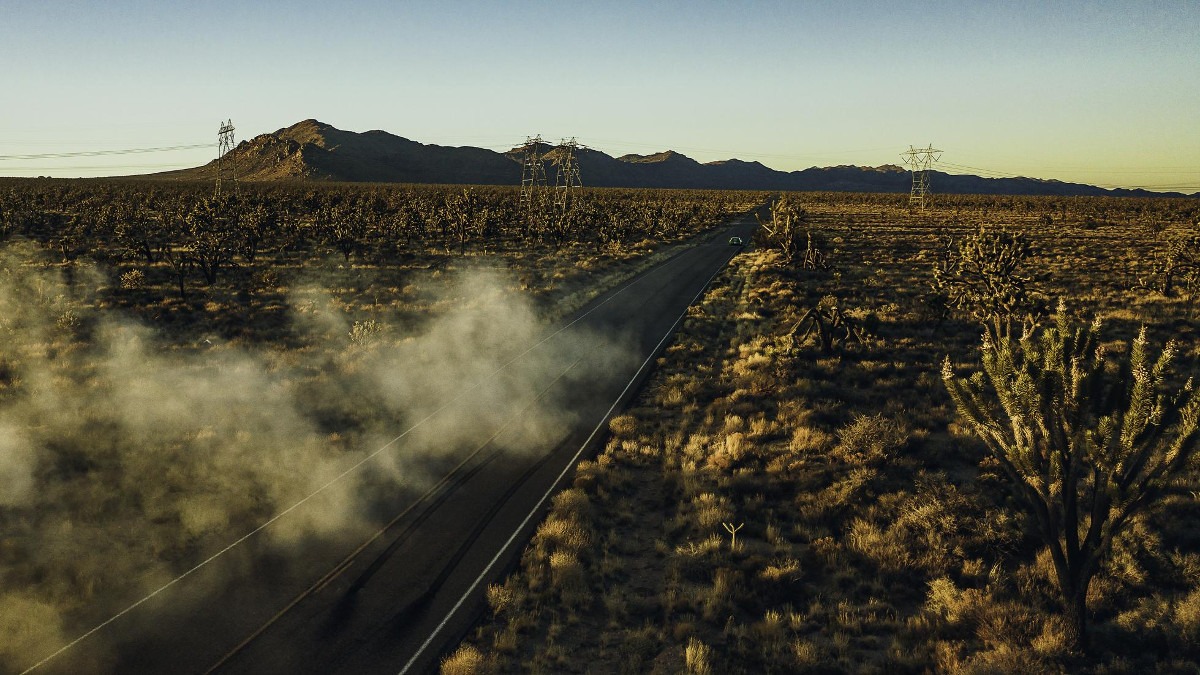 ADVERTISEMENT - CONTINUE READING BELOW ↓
NOTE: This article first appeared on TopGear.com. Minor edits have been made.