What is this? It's a modern-day Mitsubishi Lancer Evo! Well, it's not. But the spirit of those early-noughties rally reps is here in abundance, even if it's buried beneath layers of chintz where Japanese sports sedans were plastic (and proud) once you'd clambered inside.
The Mercedes-AMG CLA45 is a wholly natural extension of the A45 hot hatchback, and there's a GLA45 crossover thing on the AMG price list, too. So, it's yet another teeny (ish) Mercedes-Benz spun from the company's natively front-driven platform, though all the hot AMG versions get four-wheel drive.
And here—as per the A45—it's extremely clever. Should you follow the right sequence of button pushes and paddle-shifter pulls to activate Drift Mode, it's a little flamboyant, too.
But that's a slightly gimmicky cherry atop an otherwise very professional cake. What we have is a roughly Ford Focus-sized thing with 415hp out of the factory in its more powerful CLA45 S trim—enough to deliver 0-100kph in 4sec and a 250kph top speed. Remove the electronic limiter and who knows what lunacy it'd achieve before physics curtailed its velocity.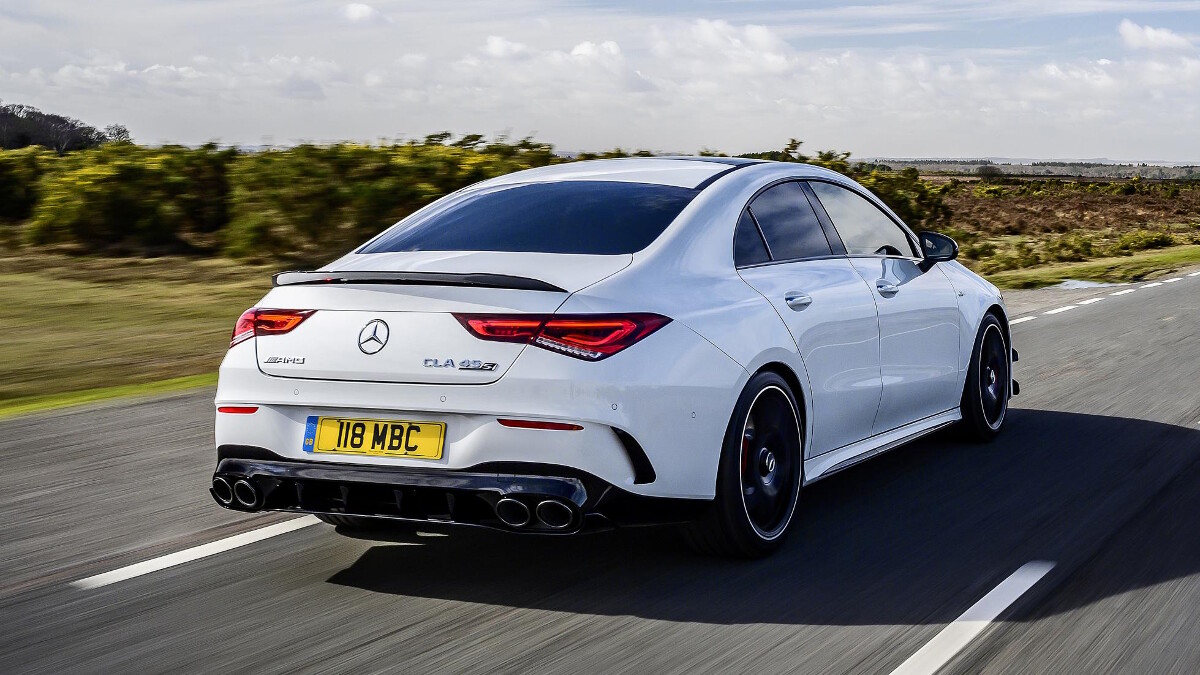 What's more staggering is the power is pumped out by a 2.0-liter turbocharged four-cylinder engine—just like those old Evos, but with notably less lag at low revs. It's an achingly clever engine that's mated exclusively to an eight-speed automatic with manual paddle shifters.
Compared with the A45, the CLA45 has a largely identical though apparently slightly less frenetic setup to match its classier body shape. It comes in either sedan or wagon forms (that's 'Coupe' and 'Shooting Brake' in Mercedes parlance), with an optional 'Plus' pack adding the aerodynamic kit you see here, as well as adaptive damping, punchier-looking alloys, posher seats, and a more thumping stereo.
It'll be a £60,000 (P3.75 million) four-cylinder sedan before you know it, if you keep ticking options on the order sheet. But if the A45 is anything to go by, it stands a pretty good chance of living up to its price tag. And if you stick the price of a tricked-up Lancer from two decades ago through an inflation calculator, it ends up in the same ballpark...
On the road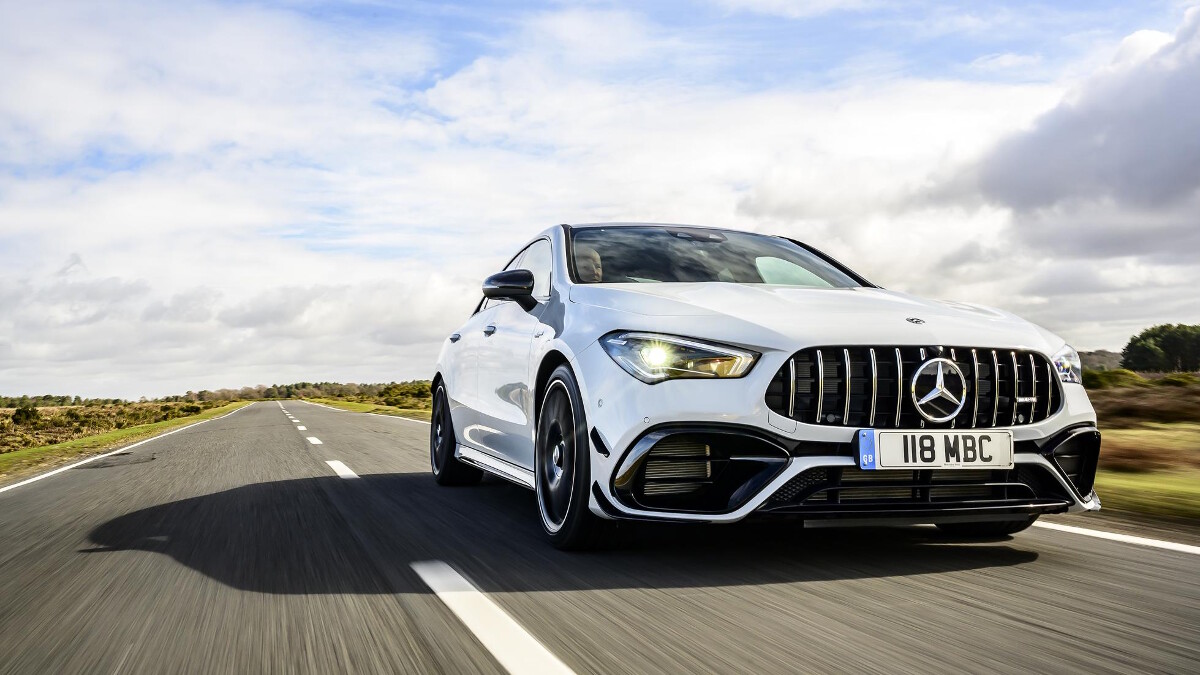 We simply have to start with the performance. Because it's just flabbergasting. You need to keep a constant eye on the speedometer as the car's natural gait seems to be about 30kph over any limit. Which isn't alien in the sports-car world, but from a four-cylinder sedan, it's just mad. This is proper baby supercar stuff—ever-present, easily accessed power that just flings you mercilessly down the road.
The old CLA45 did a bit of that, too, but this new car operates with so much more sophistication. It's a rip-roaring engine with no lag worth mentioning and such a voracious appetite for revs, you might leave it in auto even when manually shifting, just to save you the embarrassment of headbutting the rev limiter in its thrillingly sharp second and third gears.
It's a great gearbox, actually—one that feels like it was made on a different planet to the regular CLA's seven-speed auto. The eight speeds here are wonderfully judged, with shortly stacked ratios low down to give it a welcome intensity at moral speeds, while eighth gear sits below 2,000rpm and allows a quiet cruise. If you can ignore all the tire noise rushing in.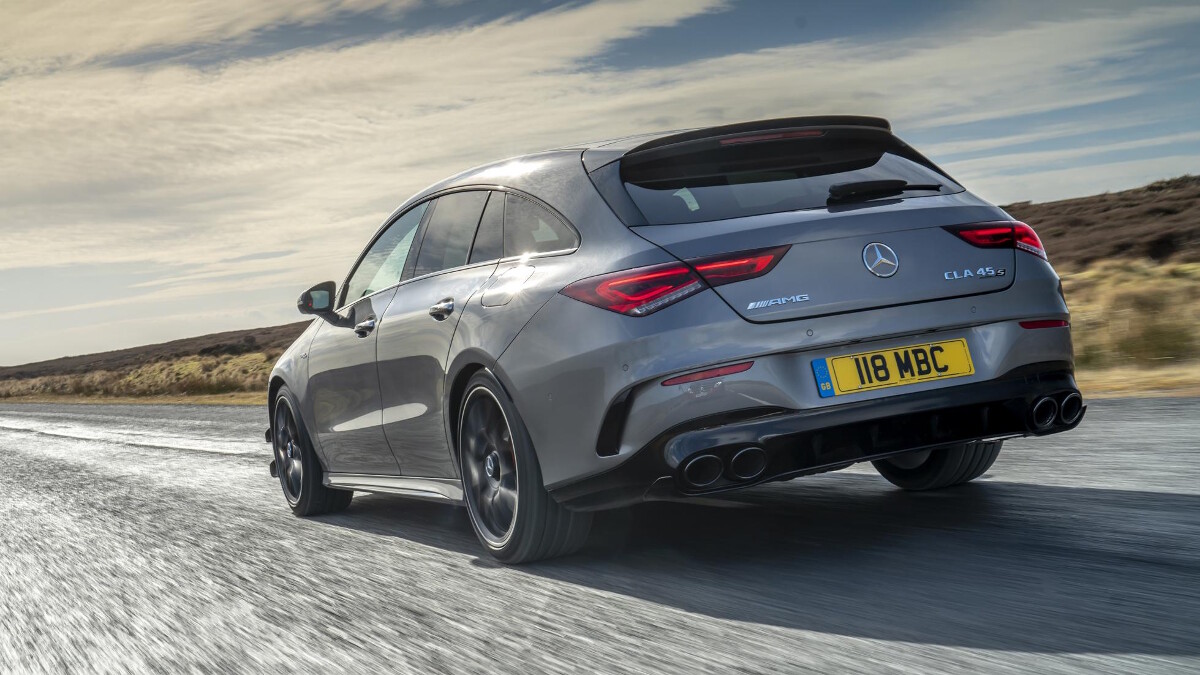 But while it'll grip and go with carefree use of the throttle, it'll also give you more if you're looking for it. There's finesse and that old-fashioned 'involvement' stuff on offer, too, and if you take a deep breath and really go for it, you're in for a truly mesmerizing experience.
It's the broad range of its character that's most impressive. You want stress-free point-to-point pace, it's available. Start fiddling with its (arguably over-complex) suite of driver modes and you can quickly sharpen the CLA45's focus, loosen its electronic shackles, and unlock something else entirely, feeling more and more power being fed to the rear axle for yet more poise.
It's never a true hooligan—like a bigger, natively rear-driven C63 or E63 would be—but it certainly has a mischievous side. Especially in the wet. And you don't even need to use its slightly gimmicky Drift Mode to find it. In fact, I bet you'll forget that's even there if you don't venture near a racetrack. Which you surely won't in a 1.7-ton sedan. It really does carry modern-day Evo genes, the behavior of its chassis morphing with your own.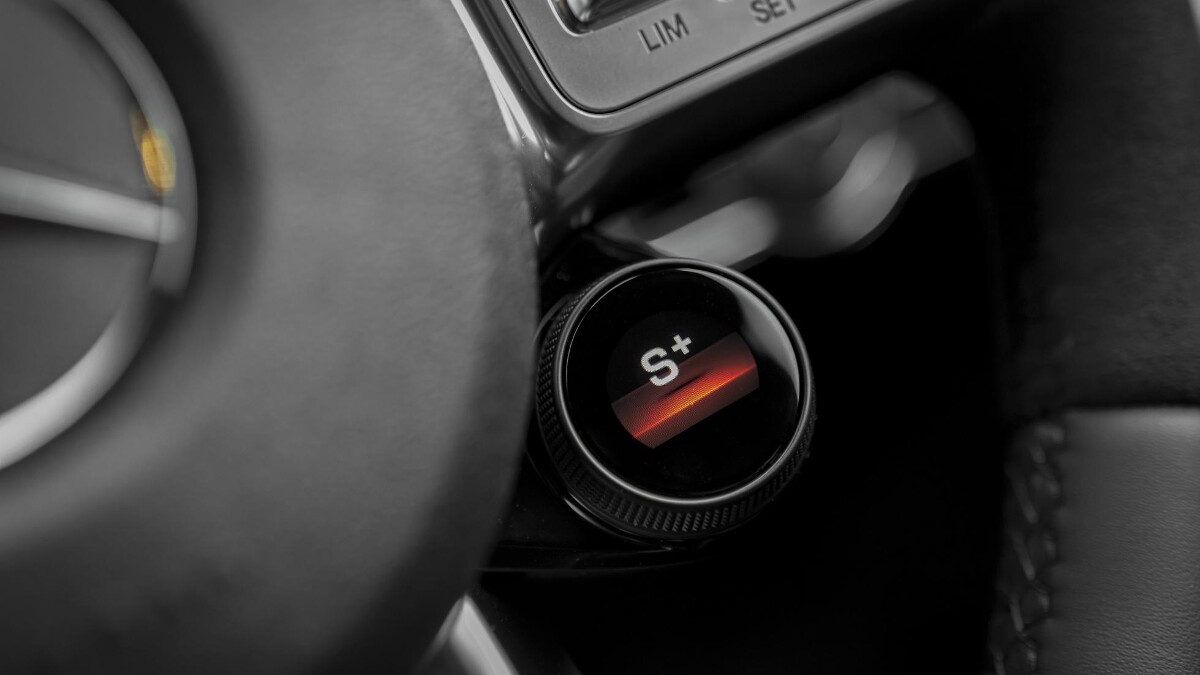 There's stuff it could do better, though. Chiefly the ride. The car's body movements are astutely controlled, but my word, is it firm. On a challenging road, it feels unrepentantly stiff even in Comfort mode, which is why the numerous driving modes on top of that can soon feel superfluous.
I'd argue there's as much need for this level of firmness as there is for its outrageous 415hp output, and perhaps this car wouldn't be the larger than life character it's grown into in its second generation without either. But no matter how enthralling it is when you're in the mood, it's hard not to wonder what a 20% softer, 20% less powerful version would be like. Mercedes does make a 382hp CLA45 (non S), but we suspect it won't feel much less batsh*t in a straight line than its burlier brother does.
Merc claims pretty impressive numbers at the opposite end of the scale to its 415hp and 4sec sprints, too: 14.3km/L and 191g/km of CO2 from the four-door, 13.9km/L and 195g/km if you go for the wagon. Quite how realistic those will prove in everyday driving we're not sure, but given how long top gear is, then highway miles ought to be reasonably frugal, at least.
On the inside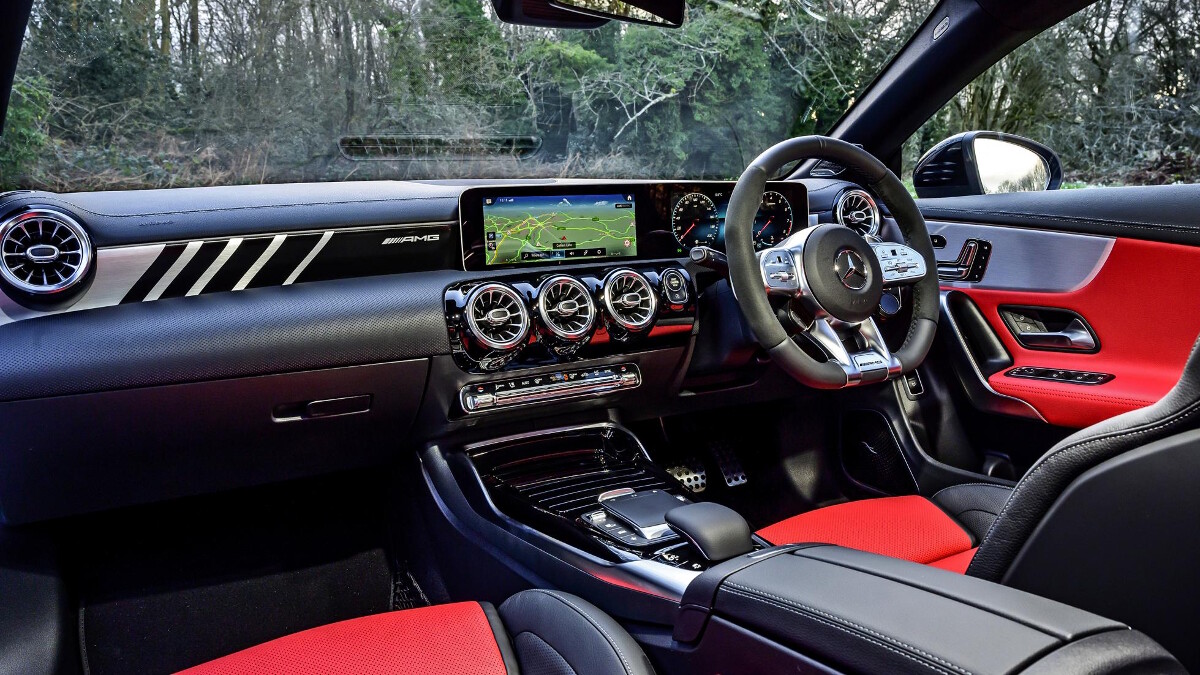 This being spun from the latest Mercedes-Benz A-Class, it's a bit of a tech fest inside the CLA. If it's your first time poking your head into a Merc for a while, we wouldn't blame you for being astounded by the vast array of screens and their head-scrambling breadth of customization. And the slightly head-scrambling process of working out how to control them all. Though it's actually fairly intuitive once you've adapted.
As an AMG model, the CLA45's displays possess a whole heap of extra functionality, too, with the usual array of g-meters and suchlike that'll impress car geeks, but arguably few others.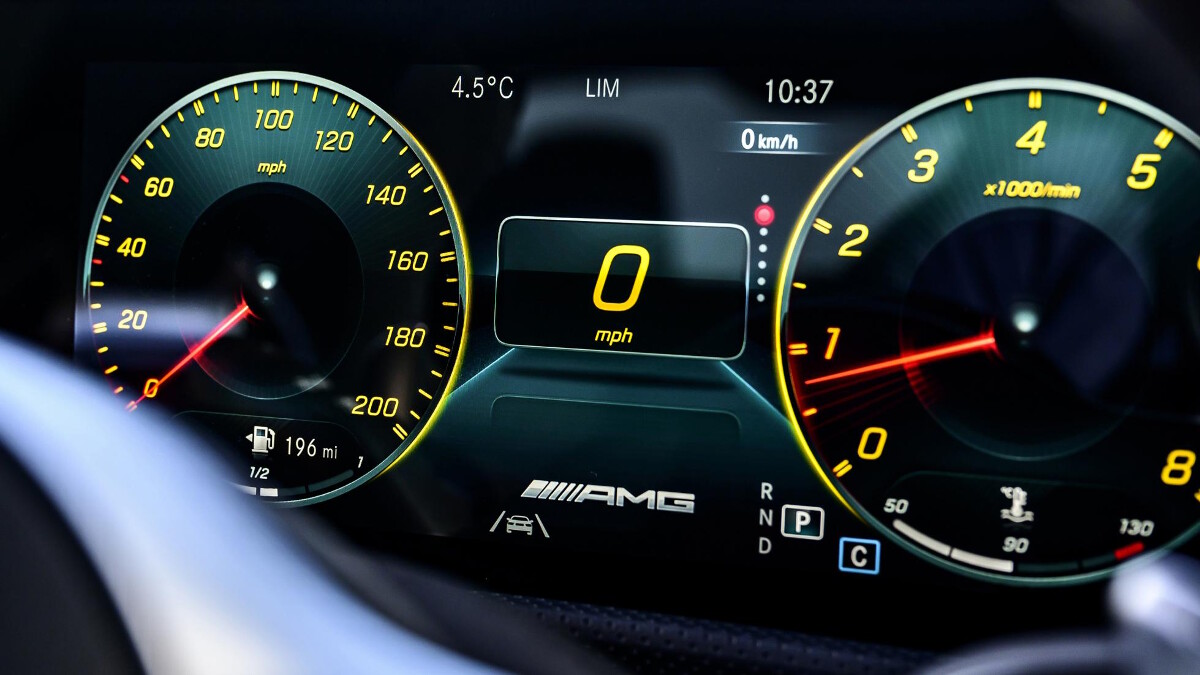 It also gets an extra pair of switches on the steering wheel's left side, which cycle through different functions via a tiny little screen. Choose two things you'll frequently switch on and off—the ASBO exhaust mode and the stability control, perhaps—and you suddenly have a quick and easy way of doing so. But you'll have likely also collated all your favorite chassis, engine, and gearbox settings into the 'Individual' mode, too, which you can easily access with a quick prod of the new circular dial on the other side of the wheel. It cycles through the preset Comfort, Sport, and Sport Plus modes when you twiddle it.
The front sports seats are great—as they should be if you've ticked the 'Plus' option pack—and broadly, the materials are really nice in here, though there are a few errant clangers dropped (like cheap plastic stalks), and our test car exhibited an annoying rattle that was agitated just excellently by the incredibly  stiff ride. Hopefully, it's a quibble of a hard-used press car, and your dealer might be only too happy to fix yours if it starts rattling so early in its life.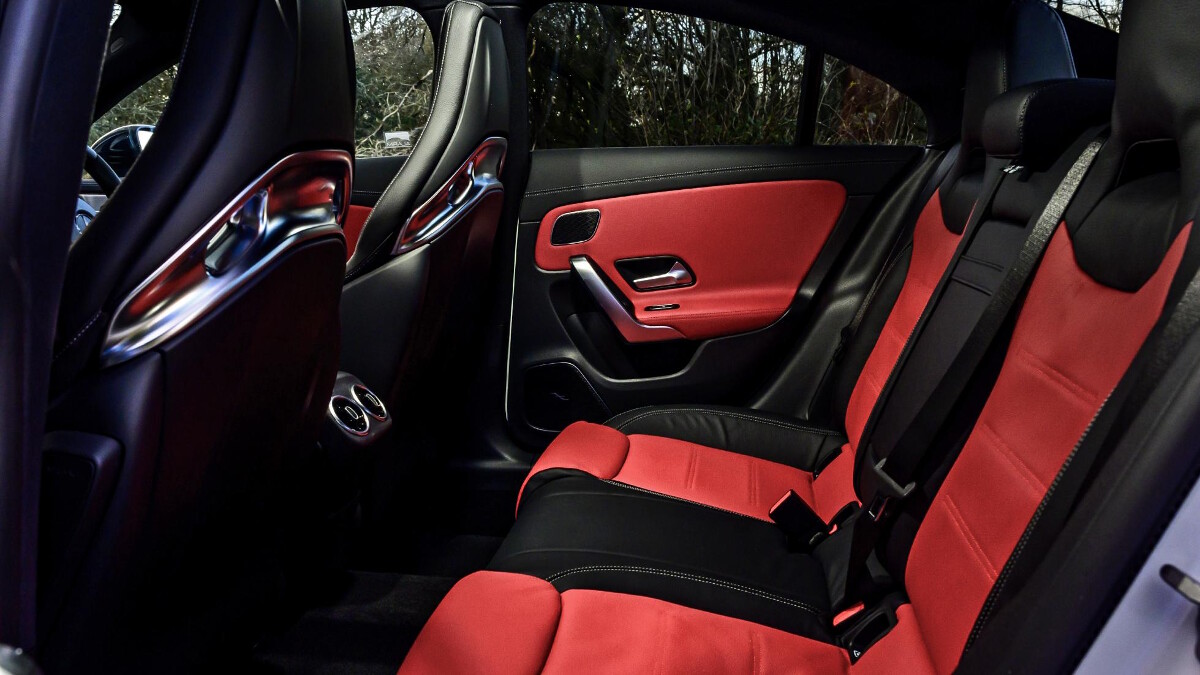 Life in the back of the four-door CLA isn't as poky as you might expect, and most adults should be able to squeeze in for a short journey, with anyone under 5ft 9in likely to be genuinely comfy despite the rakish roofline. If you're worried, then the Shooting Brake adds an extra layer of practicality, especially if you flip its seats down for double the carrying capacity of its sedan sibling.
Final thoughts
This is a car transformed. The old CLA45 wasn't exactly shoddy, but once you got over its head-scrambling acceleration, it felt like it didn't have too many layers left to peel back. This second go possesses much more depth and sophistication; it'll play the all-weather practical card when you want it, and something altogether sillier when you're in the right mood.
Just like the finest examples of the Evo and Impreza did 15 (or more) years ago. All right, this is quite different in its demeanor: You'll do well to keep it below £60,000, and there's a focus on interior comfort and tech that Mitsubishi and Subaru rarely bothered with. But nevertheless, this is proof that AMG's engineers have gotten their head around making a sedan without RWD and a big, burly V8 a fun thing to drive. And you can have a wagon...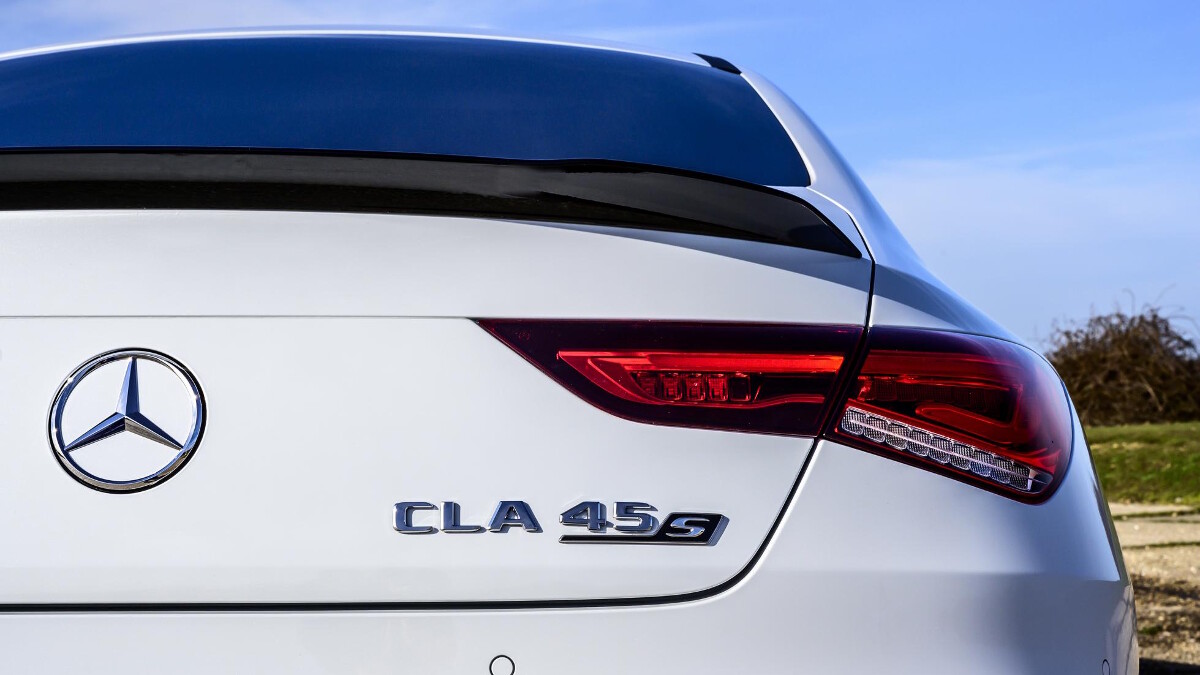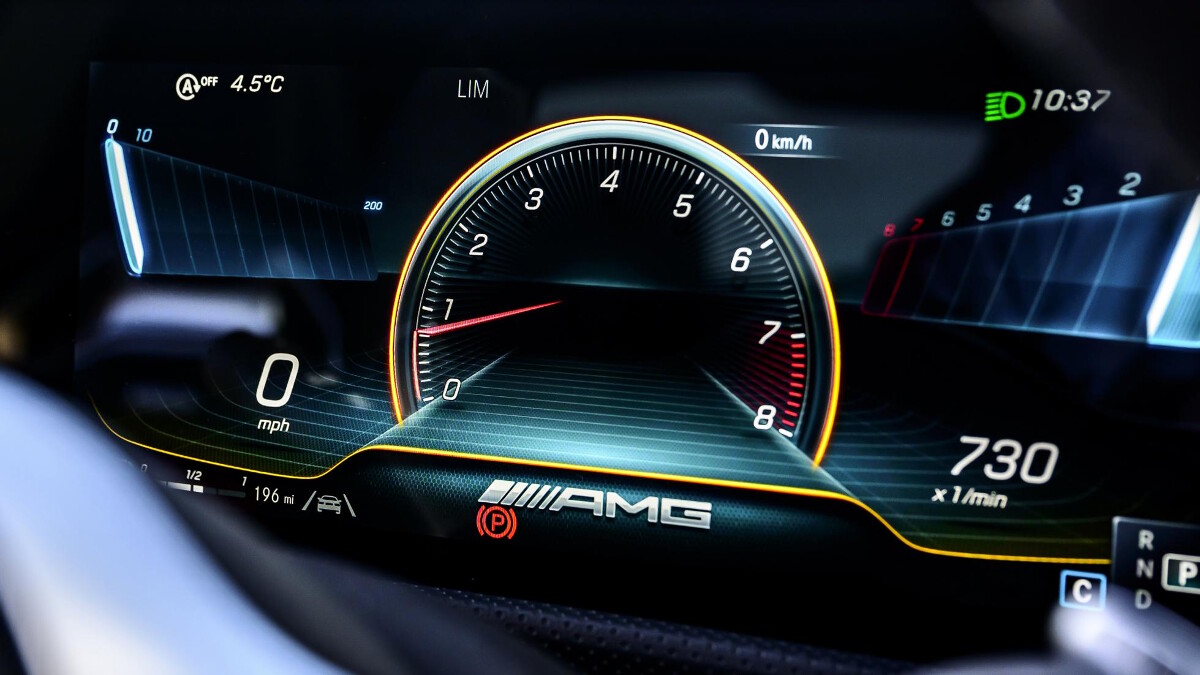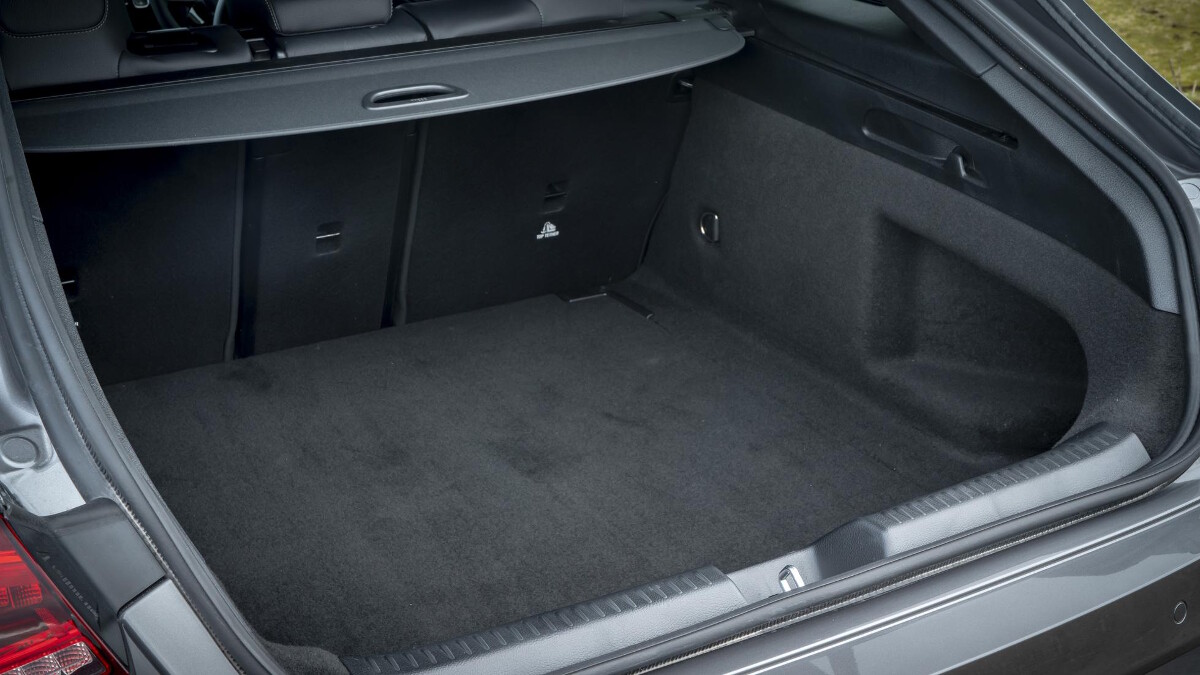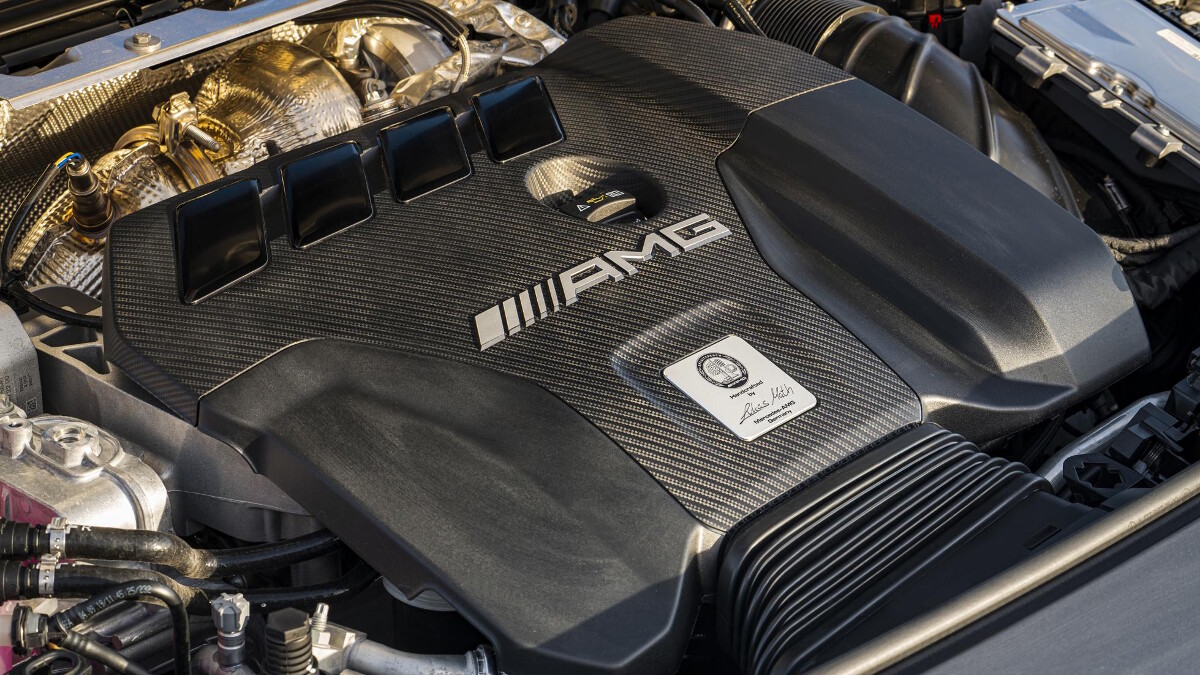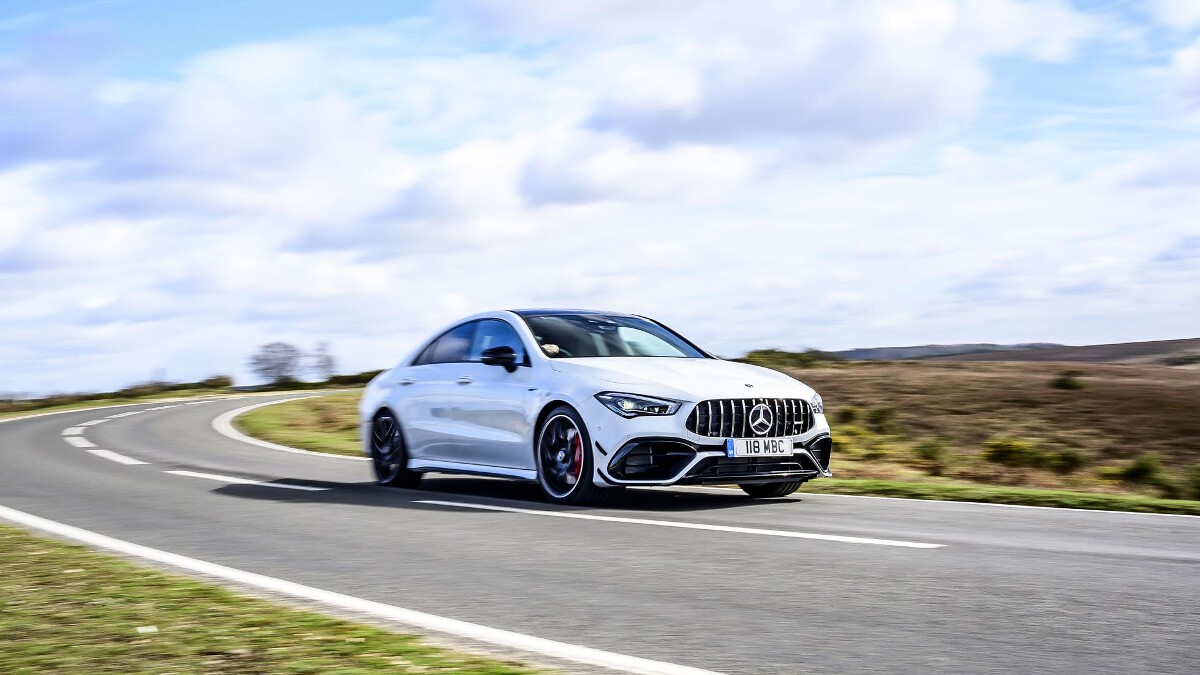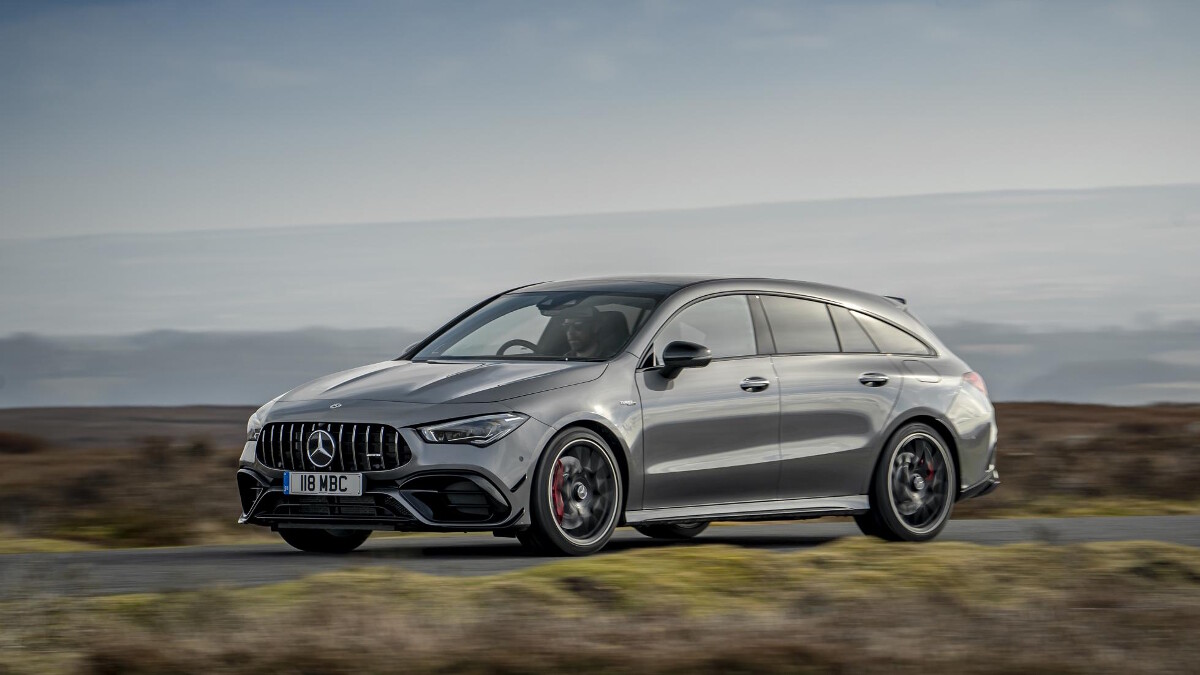 NOTE: This article first appeared on TopGear.com. Minor edits have been made.