You ought to be familiar with Polestar by now—the race team that went on to tune Volvo's road cars, was bought by the company in 2015 and eventually transformed into a standalone electric performance-car brand. Its first car, the imaginatively-named Polestar 1, was a plug-in hybrid GT with 600hp and a 150km e-range—the farthest of any PHEV.
And it is tremendous. Really, really good. But at £139,000 (around P9.19 million) and with production limited to 1,500 vehicles, it's hardly a car for the masses. Who are all busy financing Tesla Model 3s and extolling their virtues on Internet forums.
That's where the Polestar 2 comes in. As direct a rival as the Model 3 will have for the foreseeable future, the 2 is a mass-market, vaguely sedan-shaped EV with a price tag of a £49,900 (roughly P3.3 million) before options, and a range of around 500km from its water-cooled 78kWh battery. It's all-wheel drive, will do 0-100kph in a shade under 5sec, and has the equivalent of 402hp.
In Model 3 terms, it rivals the Long Range version, which is also all-wheel drive, but costs a little less at £47,000 (about P3.12 million), has a greater claimed range of 560km, and is half a second quicker to 100kph.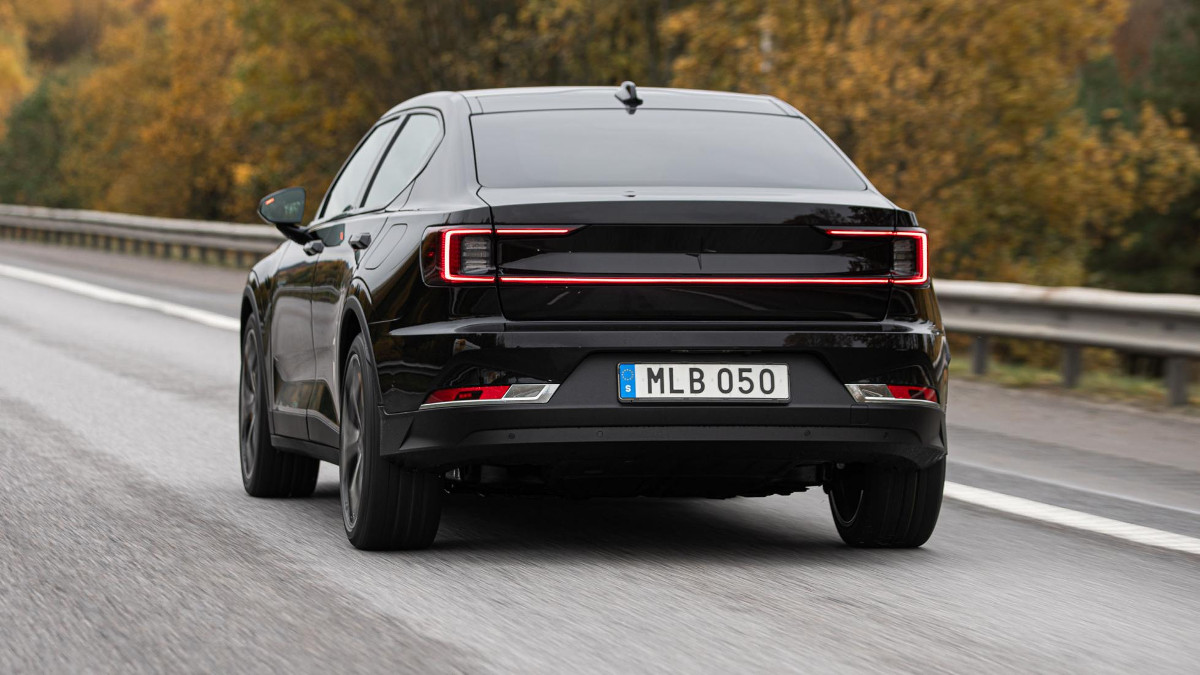 ADVERTISEMENT - CONTINUE READING BELOW ↓
Of course, everybody knows you can get a Model 3 for far less—£38,500 (around P2.55 million) buys you rear-wheel drive and 409km of range. But fear not—the first batch of Polestar 2s, including the one we tested, are all-launch spec. More affordable models costing less than £40,000 (roughly P2.64 million) will be along after a year or so. Then comes the brand's next car, an electric SUV called the Polestar 3.
But there's more to these cars than numbers. Though they're supposed to cater to the same market, the 2 and the Model 3 are two very different-looking things. The Tesla is a bit generic, a bit plain, whereas the Polestar is sharper-edged, recognizably Swedish. Very much in keeping with the tone set by the 1 and all modern-era Volvos before it, especially the XC40 (with which it shares the 'Common Module Architecture' platform; both models will also be built in China). Save for the clever frameless mirrors and the full-width rear light bar, it's almost identical to Volvo's 40.2 Concept from 2016.
You might have noticed the 2 is a bit taller than your typical sedan. It's not a deliberate crossover-ification, but a necessary evil. With the batteries hidden under the floor, in order to preserve ground clearance and interior space you have to jack the body up a bit. No matter, we're think it looks ace as it sits. Polestar calls it a 'fastback.'
The car we tried is a late-stage verification prototype built in Sweden, so there were a few rough edges (the infotainment system we tried was separate from the car itself), but dynamically, this is pretty much the finished article. We didn't get that much time in the driver's seat, and the weather was decidedly suboptimal, so these are very much first impressions...
On the road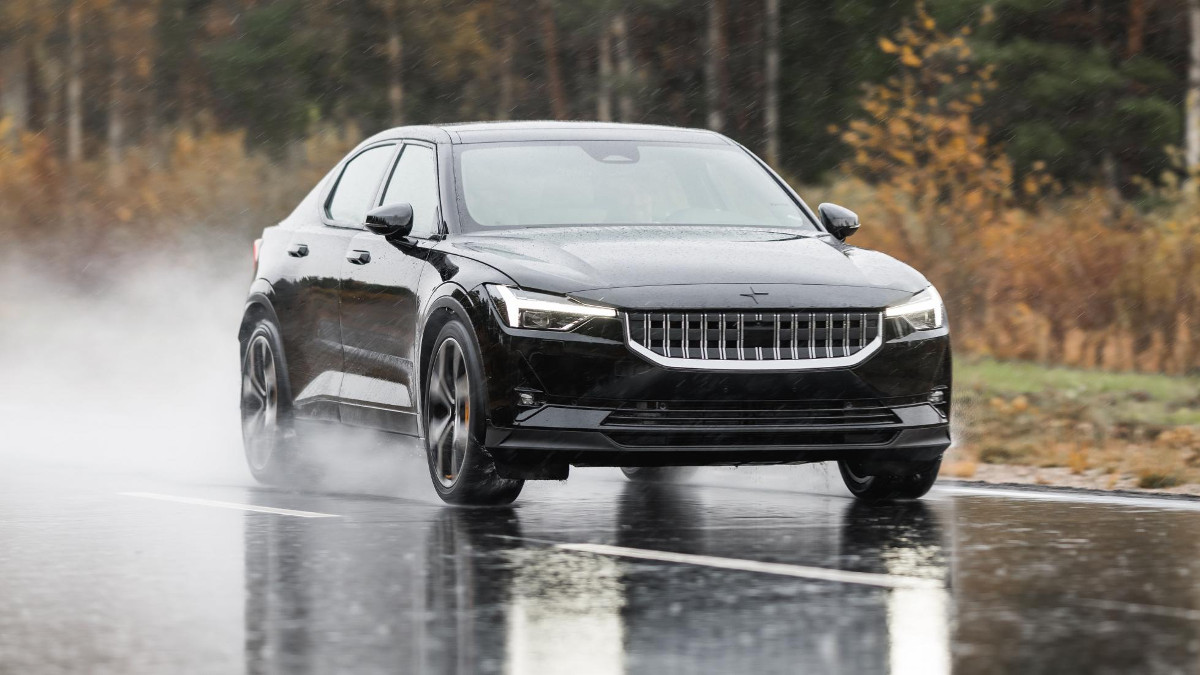 The Polestar 2 is supposed to be a performance car, hence the company's decision to offer a 'Performance Pack.' Your £5,000 (P331,000) buys you some very serious Öhlins dampers that are—get this—manually adjustable through 25 clicks, Brembo brakes, and 20-inch forged alloy wheels. The car we tried was so equipped, with its dampers set to Polestar chassis czar Joakim Rydholm's preferred firmness (he hates the word "stiff")—nine at the front, 10 at the back.
That's also how 2s will ship, though the owners manual will contain a few recommendations for different setups, should you wish to have a play. From here, they get at most 20% stiffer or 20% softer.
And the 2 drives like a car fitted with expensive dampers. Which is to say very well. Body control is excellent even on rough roads. The 2 behaves itself over ruts, camber and crown, and doesn't really roll. It immediately feels like a more serious bit of kit than any Model 3 I've driven. Not that the Model 3 doesn't handle well (that said, the rear-wheel-drive Standard Range Plus leaves a little to be desired), but it lacks the control and professionalism of the 2, which is firm but at no point uncomfortable.
ADVERTISEMENT - CONTINUE READING BELOW ↓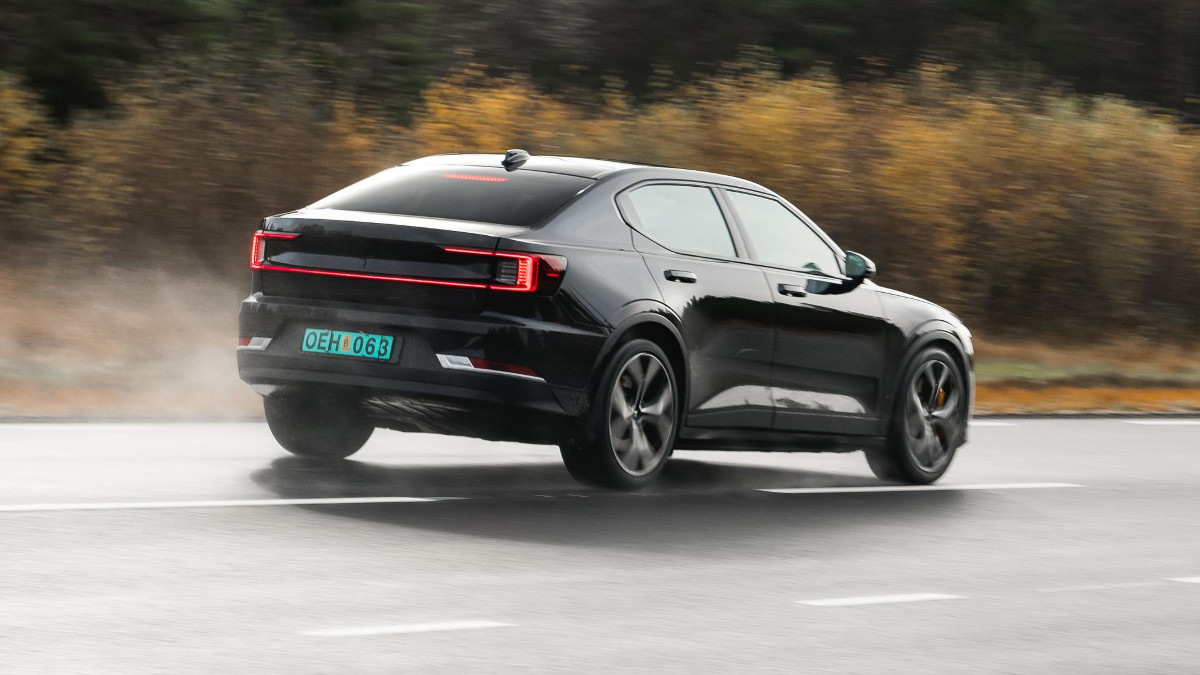 It grips well (we drove it in heavy rain)—the tires on the Performance Pack are 245-section Continentals. All four corners of the car are working all the time—Polestar says the most efficient way for this drivetrain to operate is with a 50/50 front/rear torque split, rather than by shutting down one motor to make it front- or rear-wheel-drive when it's able to do so. The most power either axle will ever need to handle is 70% of the total output. Which, to remind you, is 402hp and 660Nm.
There are three settings for the steering. Rydholm prefers the middle one, and we agree. A decent bit of weight, but no sludge. Good precision and sensibly geared—not too quick nor too slow—but not a great deal of feel (because 2019).
Electric vehicles and hybrids tend to struggle when it comes to brakes—not how they perform, but how they feel underfoot. Much work has been put into how the 2's Brembos interact with the regenerative braking system. The physical discs only come into play when braking forces exceed 0.3G, meaning in day-to-day driving, and with regen set to the highest of three levels, the 2 is effectively a one-pedal car. You can't tell when pad bites disc—pedal feel is consistent and, for an EV, very good. It's a solid pedal, which we like because it feels racy, and we're told it shouldn't change depending on the charge level (and therefore how much energy can be rammed back into the battery). Obviously, acceleration is impressive in the same kind of way all fast EVs are.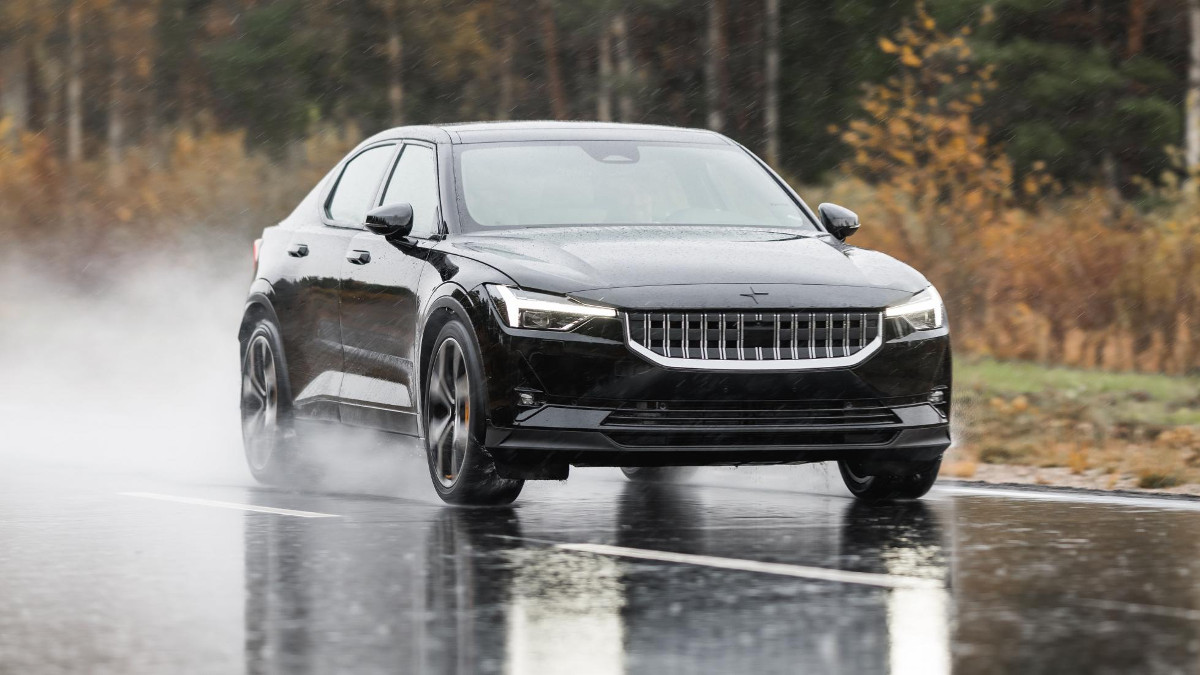 The driving position and seats are great. Rear visibility is somewhat compromised by the styling, but it's not so bad. The tiny frameless door mirrors are a nice touch, but they take a bit of getting used to. Turns out the frame is actually quite handy for drawing your eye.
ADVERTISEMENT - CONTINUE READING BELOW ↓
Oh, and like in the Model 3, there is no real key—owners will use their phones. Walk up to it and it unlocks, then plonk yourself down in the driver's seat and select D, and you're away. And unlike in the Model 3, you get a screen ahead of the driver giving speed, range, navigation, and trip info.
On the inside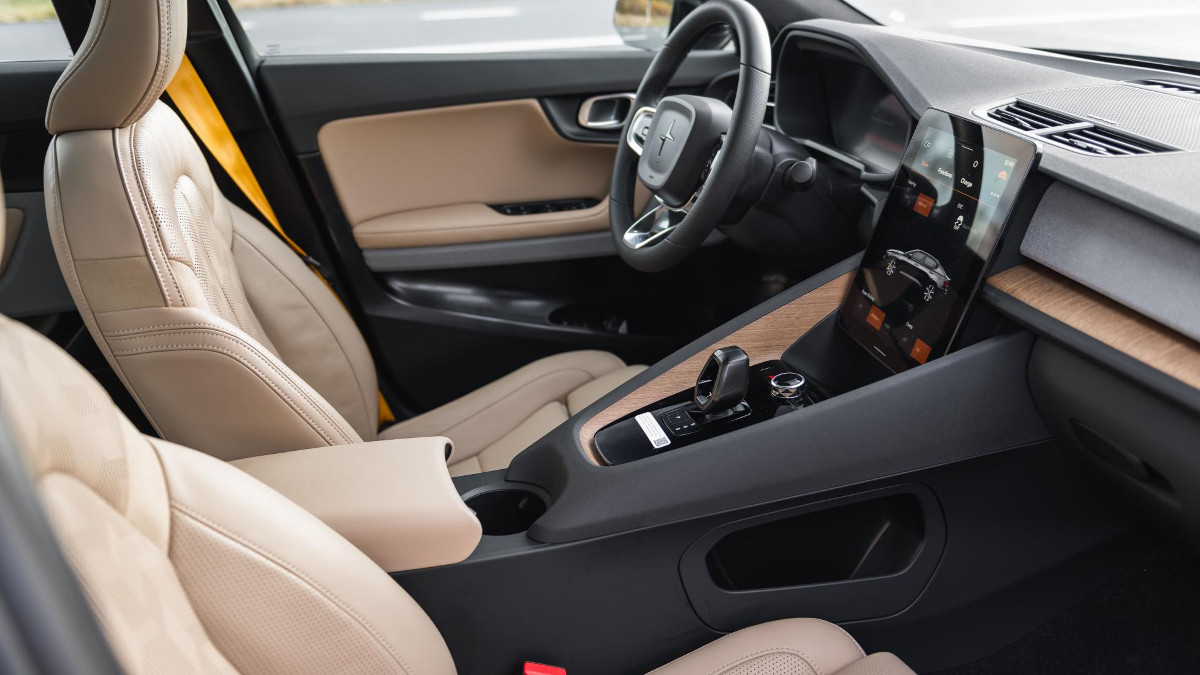 Big news in here is that along with the Volvo XC40 Recharge, the Polestar 2 is the first car to use Google's integrated Android-based infotainment system. That means navigation comes courtesy of Google Maps, you have access to the Google Play Store (from which you can download mainly media-based apps) and Google's voice assistant is very much at your disposal. You can use the system without signing in, but link it to your Google account and it's better—among other things, places you've searched for on your phone or computer will automatically pop up in the nav, and the car will be able to communicate with connected smart home devices.
The car we drove didn't have a fully-functioning infotainment system, because prototype, so we weren't able to try all the features. But initial impressions, from a standalone rig, are nonetheless good—the home screen has four large tiles (maps, media, etc), with a row of shortcuts up top for the 360-degree camera, driver profiles, settings menus, and so on. Those four tiles have within them shortcut buttons. The map tile, for example, has an icon you can push that will immediately take you to the nearest available charger, while media tiles have play/pause and skip buttons.
All the buttons and fonts are big—so it should be easy to poke the bit you want while driving—and the 11-inch portrait touchscreen is mounted as close as possible to the driver's eye-line. That said, you might as well just use the Google Assistant, which seems to work just as well as it does in your smartphone. The only thing it can't do is switch between drive modes, but Polestar says it's working on possibly adding that functionality. We're reserving full judgement until we've tried the finished article, so watch this space: This could just be the new benchmark for touchscreen infotainment systems.
As for design, the Polestar 2's interior is both like and unlike a Volvo's. The steering wheel is the same, and so, too, are the wiper/indicator stalks, the window/mirror controls, and the door handles. But that's about it. The screen dominates proceedings—immediately below is a cubby with wireless charging for your phone, then a big volume knob and the gear lever. All the climate controls and so on are integrated into the screen.
ADVERTISEMENT - CONTINUE READING BELOW ↓
It's quite tall, the center console, so it makes front-seat passengers feel cocooned and separate from one another. The placement of the central air vents is a little odd, in that they blow air upwards rather than at the car's occupants. Looks great, though. The car we tried had a few rough edges and dodgy plastics, but if Volvo's current lineup is anything to go by, by the time the 2 reaches production material quality ought to be very good.
Rear-seat space could be better—getting three adults across the bench could prove tricky—but for two, kneeroom is fine. Headspace is fine for me (6ft) upwards, but a bit of fast cornering or a particularly aggressive bit of camber could see your passengers' heads slam into the C-pillar, which is uncomfortably close.
The trunk looks pretty generous—the 2 is a hatchback, unlike the Model 3. There's storage under the floor, and a clever little divider that pops up to stop your shopping from sliding around.
Ownership and options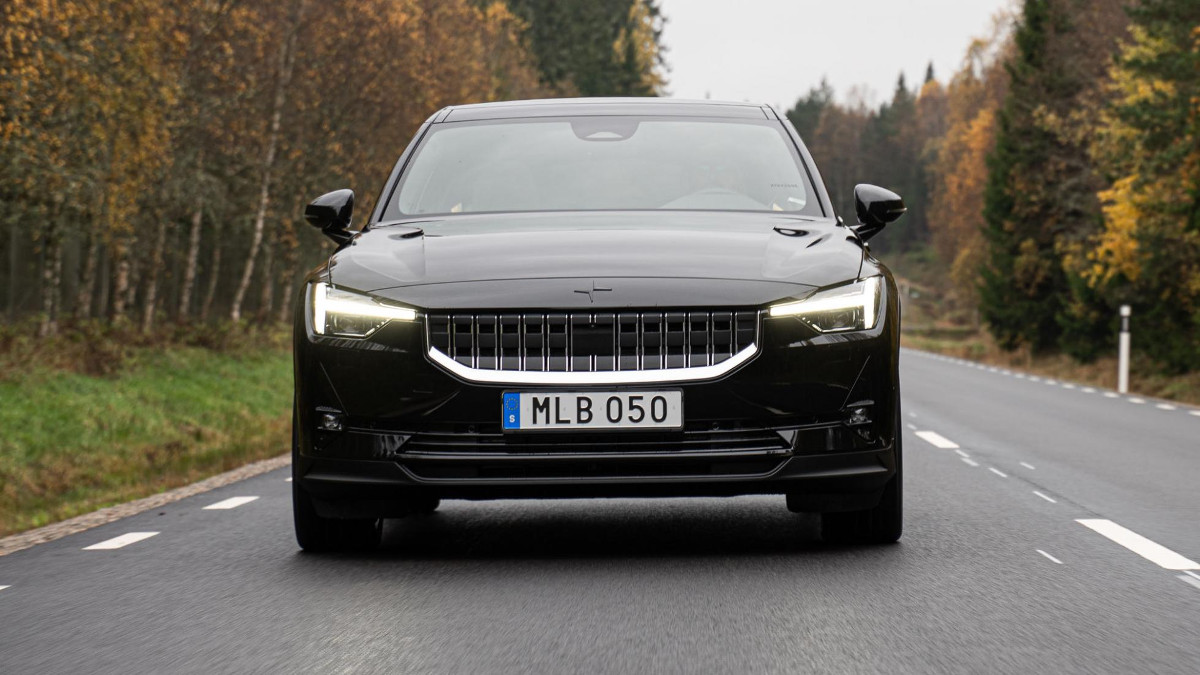 You can't buy a Polestar 2 by popping in to your local Volvo dealer—only online, and directly from Polestar itself. That said the company has announced plans to build 'Polestar Spaces' in big cities, as many as 50 by the end of 2020. This is where you'll go for a test drive, and—if you're still into that 'face-to-face' thing—to have a chat with someone who knows what they're talking about. The first one should be open by the end of this year.
Production is set to begin early next year, with the first deliveries scheduled for June. Prospective buyers can stick a £1,000 deposit down, reserving their spot in the queue, by visiting Polestar's website. You'll choose your exact spec nearer the time.
In time, you'll be able to pay a subscription for your Polestar 2, which will include basically everything bar recharging costs and allow you to swap cars after a specified period. Pricing for that will be announced later. But as mentioned earlier, to buy a Polestar 2 outright, you're looking at £49,900 before options. Your first three years' worth of routine servicing is thrown in, along with delivery and collection.
The launch spec gets lots of kit—the Pilot Package adds a gamut of active safety and driver assistance systems, while the Plus Package adds matrix LED headlights, Harmon/Kardon sound, a panoramic glass roof, and plenty of other bits and pieces. The aforementioned Performance Pack also adds gold seatbelts and valve caps.
ADVERTISEMENT - CONTINUE READING BELOW ↓
Final thoughts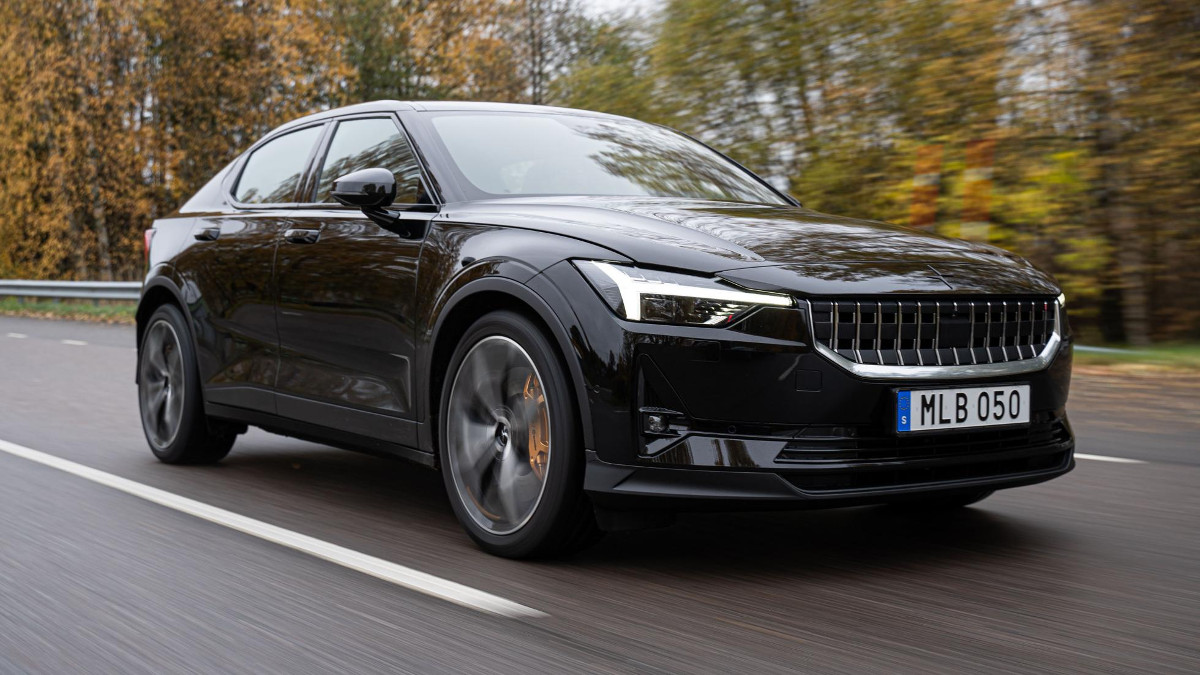 First impressions matter, and the Polestar 2 makes a very good one. As we've mentioned, the car we drove wasn't totally finished. But it was close—close enough, certainly, that we know to expect great things from the finished article when it arrives next year. It handles, rides with real sophistication on its fancy Öhlins dampers and just oozes, cool. The interior looks amazing, and if the infotainment comes good in the real world, it'll be a standout feature of an already very strong package.
We can't wait to drive the finished article, in the dry, and get it together with its archrival, Tesla's Model 3.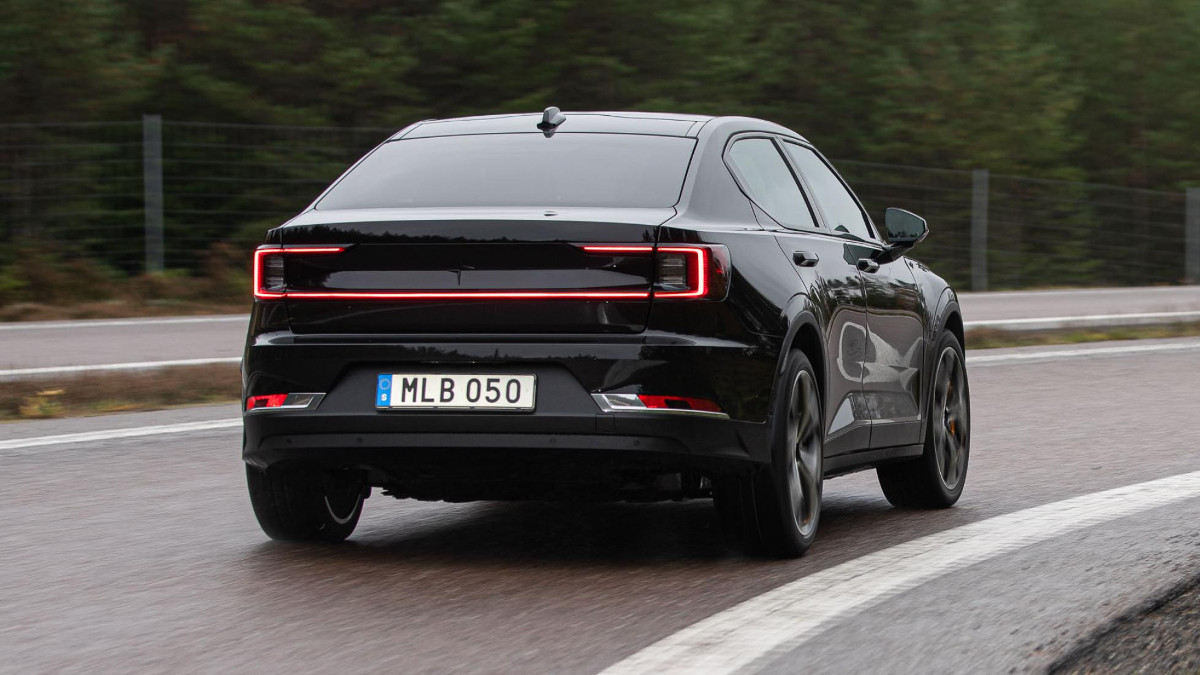 NOTE: This article first appeared on TopGear.com. Minor edits have been made.