Taken objectively, the last Porsche 911 Turbo was all the sports car you'd ever need. Its jet speed and surefooted handling combined with all the boring-but-true facts about being reliable and easy to live to make it nigh on perfect. But, thanks to our monkey brains' insatiable desire for more power, control, grip, and car-park status, it wasn't all that you'd want forever.
To get picky, really picky, the handling did get a little fuzzy, the steering a little light on feedback—as per most 911s—once you started to explore the very upper reaches of the car's warp speeds. And even though it had well over 500hp, which never left you with a feeling of being underserved, the competition headed over 600hp. So, more of that was necessary to keep it at the front of the pack, too.
Porsche, as per usual, was already on the case. And the result is this new 992 version of the 911 Turbo S, a car so strong, capable, and—yes—comfortable, it consumes roads so easily in a way that's almost not fair on the competition.
ADVERTISEMENT - CONTINUE READING BELOW ↓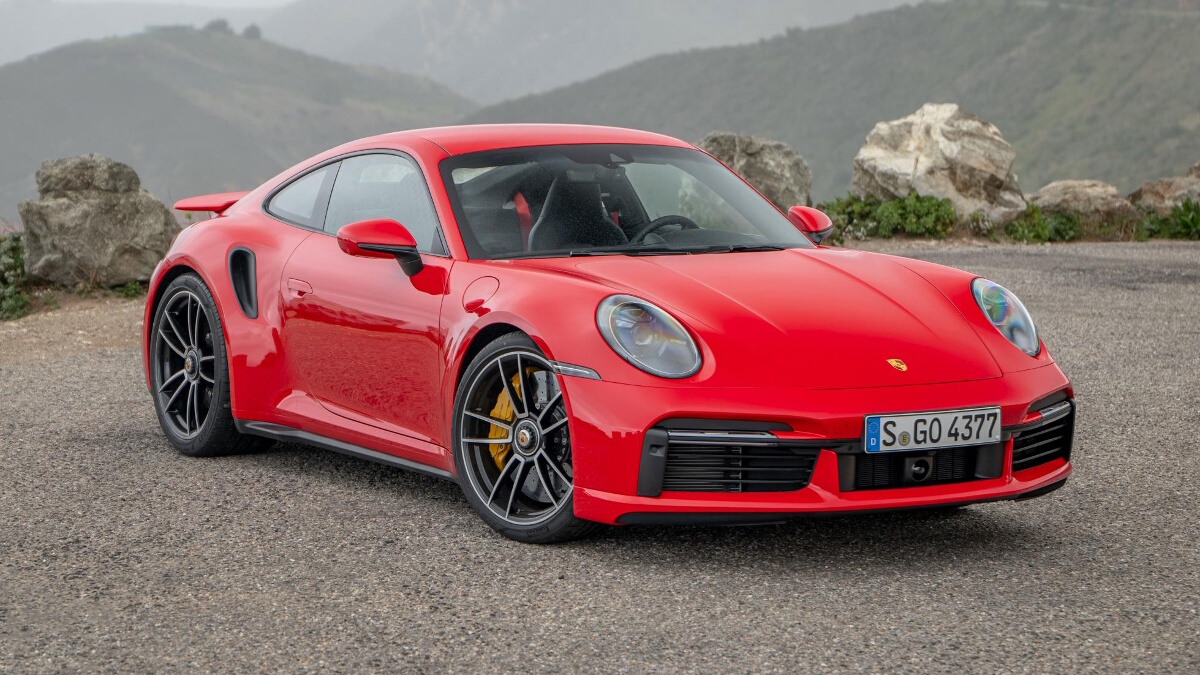 In due course, a detuned non-S 570hp Turbo version will arrive, or if you're looking for alternative options right now, you can have a Turbo S Cabriolet for a whisker under £10,000 (P630,320) more. And no, this isn't a cheap car. Porsche has chosen to take the Turbo S further into McLaren Sports Series and Audi R8 territory, pricing this Turbo S Coupe at £155,970 (P9.83 million).
ADVERTISEMENT - CONTINUE READING BELOW ↓
Recommended Videos
Other things have risen, too. It's around 40kg heavier than the last Turbo S, but the new level of chassis integrity tells you that extra heft has been used wisely. It remains all-wheel-drive with the same eight-speed PDK ratios as in the 911 Carrera. The key change is that the final drive ratio has been lengthened to allow the Turbo S to crest 320kph and beyond. There's an electronically controlled diff at the back and a hydraulic one in the center of the car. Rear-wheel steering is standard, as is Porsche's two-mode Active Suspension Management.
Vast 420mm carbon ceramic rotors and new 10-piston—yes, 10—calipers feature at the front, the back wheels making do with 991.2 carryover calipers and 390mm rotors. And, as is the vogue these days, the front and rear wheels are of different sizes. Instead of 20-inchers all-round like last time, this car gets 20-inch wheels at the front and 21-inch wheels at the back.
ADVERTISEMENT - CONTINUE READING BELOW ↓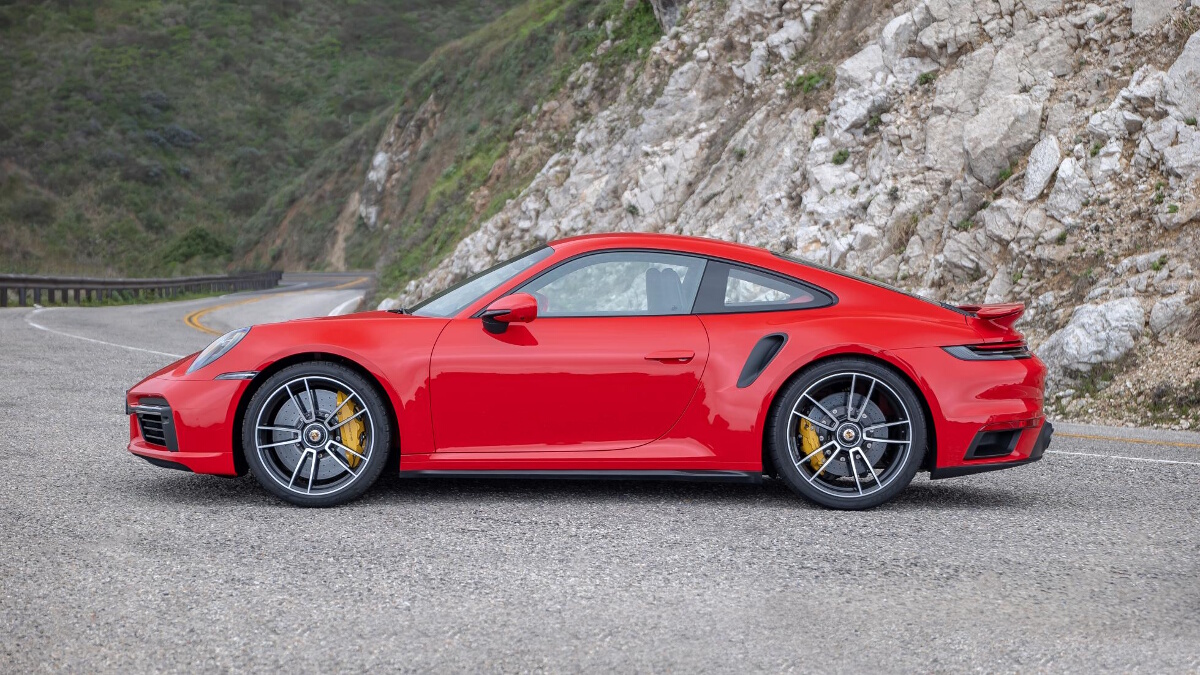 The aero package has also evolved with the changes to the wider, longer car. The adjustable front splitter and the wider rear wing—both of which automatically go to max attack in Sport Plus mode, but can be set independently—add a claimed 100kg of downforce at the Turbo S's claimed 330kph top speed. Doesn't sound like that much, but it's a good balance of added stability without shredding fuel economy.
ADVERTISEMENT - CONTINUE READING BELOW ↓
The one minus in all of these changes is that, in tuning out all the foibles of the last car, a sizeable amount of traditional 911 handling character has been dialed out, too. The blowers on the previous car dulled the soundtrack significantly enough that you lost the flat-six's hair-raising howl at all but the very top end. It's the same with the 992's larger, variable-geometry turbines. So, there's no room for complaint here. Especially as it has another 69hp and 50Nm to play with. What you lose in acceleration noise, you gain in cruising-speed calm, which you can see as a win of sorts.
But is it all enough to return the new 911 Turbo to the pinnacle of the lux performance car field? Let's see.
On the road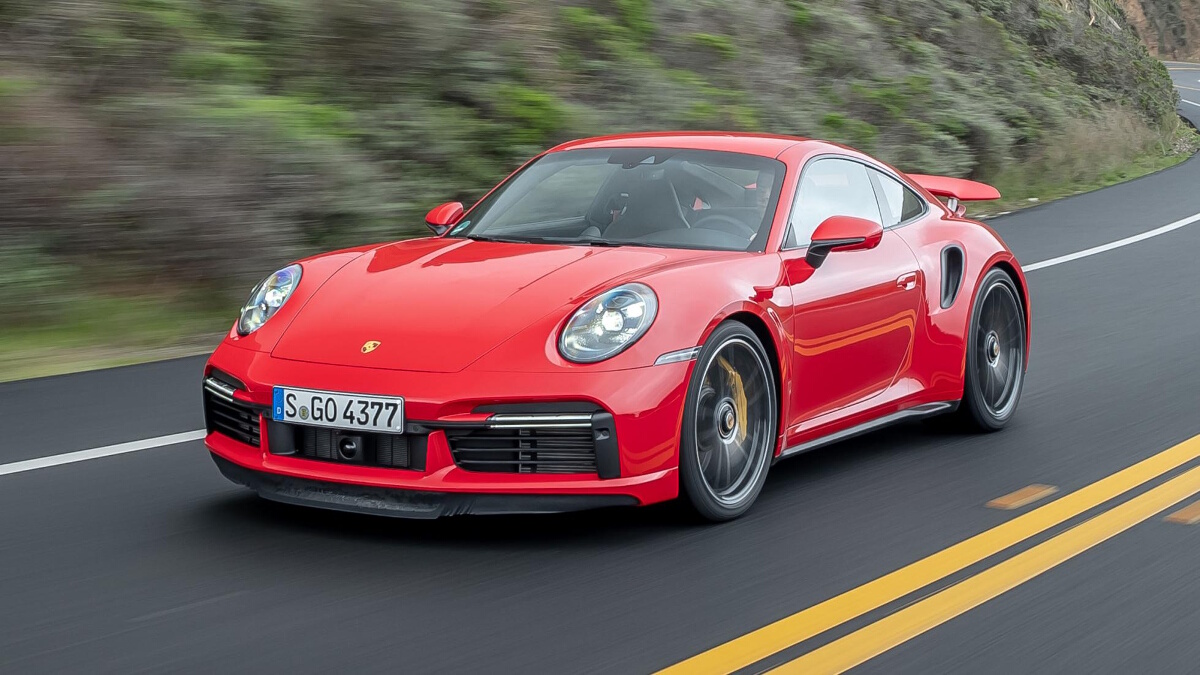 ADVERTISEMENT - CONTINUE READING BELOW ↓
It's important to remember where the 911 Turbo sits in the Porsche range. This is absolutely not meant to be the ultimate expression of Porsche performance. Those are the GT cars built by the motorsport division—including the mighty twin-turbo GT2 RS. The Turbo S is designed to be the ultimate road-devouring exec express. Comfort and ease of use are on a par with performance and handling here.
And judged on that basis, this new car appears to have hit the very center of the bullseye. Getting going—setting the seat and the wheel, pairing your phone, and so on—is fuss-free. Much easier and simpler. Which is how the whole car feels as you pull away. Solid, sorted, unflappable. There's none of the usual 911 busyness to the controls, the suspension is quiet, and there's a general sense of calm in the cabin.
With the electronically assisted steering damping out most of the road imperfections and the engine muted out back, it's deceptively, wickedly fast. Just easing onto a highway, you can look around to change lanes and look down at the speedo to see you've effortlessly crested, well, never mind. Where you'd normally know thanks to the engine and road noise, in the new Turbo S, you just don't. No, really...
ADVERTISEMENT - CONTINUE READING BELOW ↓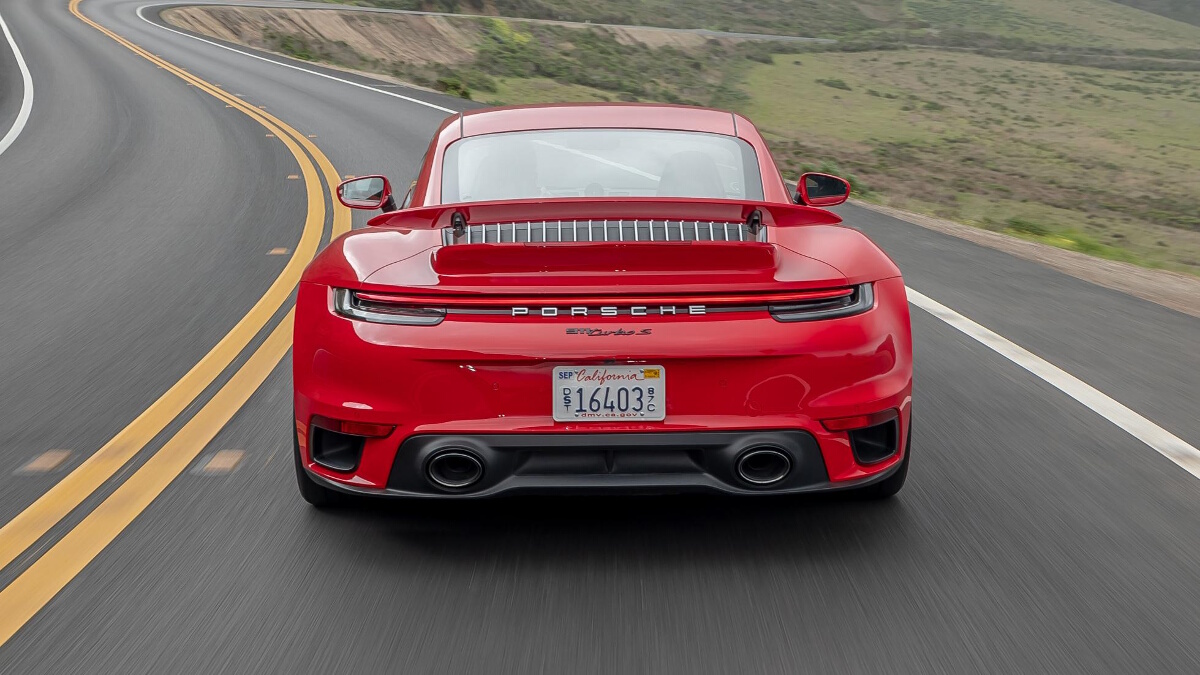 This makes it an exceptionally easy and comfortable GT car in which to unfurl hundreds and hundreds of kilometers—we did 1,100km in a day without any complaints. But it doesn't explain anything about the other side of its character: the 'Turbo S' bit. This is equally impressive in an entirely different way. You have to dial in Sport or preferably Sport Plus mode to really wake it up. But when you do, every sinew in the car tightens up nicely.
ADVERTISEMENT - CONTINUE READING BELOW ↓
It feels like the wheelbase shrinks a couple of inches, 250kg gets jettisoned, and the turbos go from meek to wild. But in reality, the splitter and the wing extends, and the gearbox hangs onto ratios longer. Either way, the effect is electrifying, the car drawing from apparently bottomless wells of grip and power. This new Turbo S isn't just a bit faster over the road than the outgoing model, it's way faster than the raw numbers would suggest—and far more composed as well.
Maybe almost too composed. With the slightly artificial steering feedback—our test car was fitted with the optional speed-sensitive Power Steering Plus, which makes it lighter at low speeds and heavier at higher speeds—and the engine and chassis noise way lower than ever before, there's little sense of drama inside the car at almost any speed.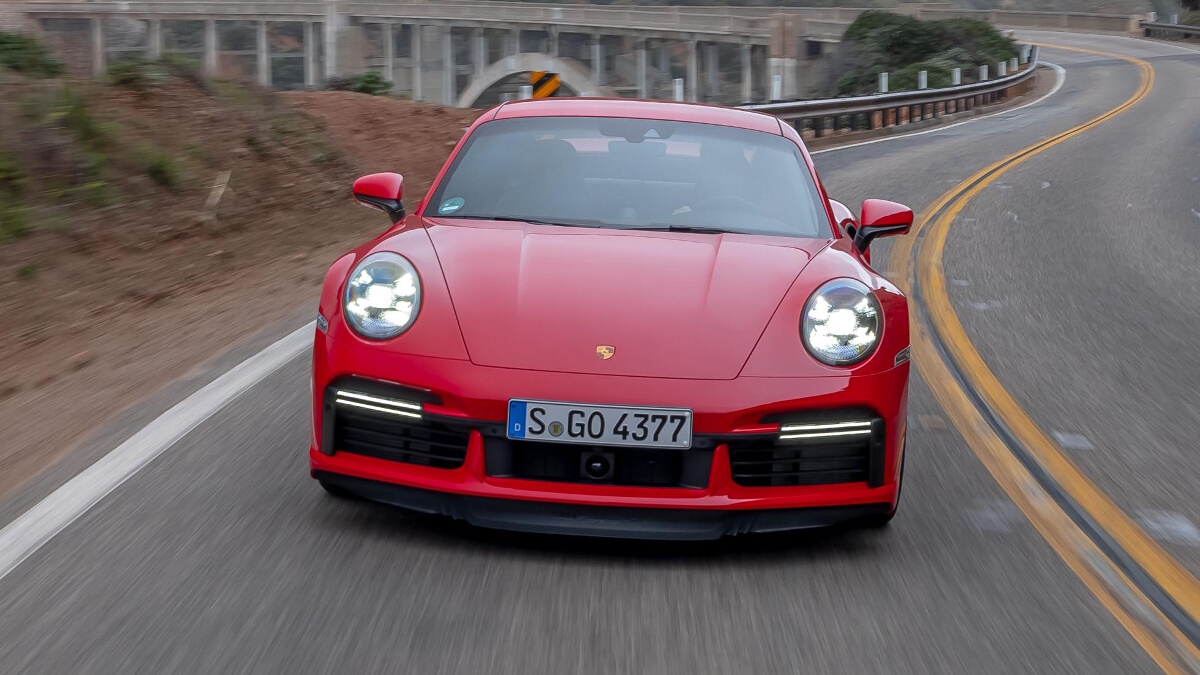 ADVERTISEMENT - CONTINUE READING BELOW ↓
There is the thrill of launching it from a standstill—bullets have left the barrel more slowly—and seeing just how fast it'll attack corners and hang on through a series of turns. Something which it does so well, even GT3 RS drivers are going to be impressed. But it all feels a little bit distant for a 911. Clearly, this is intentional, and in keeping with its calm, continent-conquering abilities. Yet we still couldn't help thinking that making it even a smidge more visceral would be even better.
And apparently, some people at Porsche think the same. That's why it's just announced there is a Lightweight Package joining the options list later this year. This adds noise and cuts weight by 30kg via swapping in bucket seats, removing the rear seats, shaving the sound deadening, and adding lightweight glass. As well as adding sport suspension and a lighter exhaust. That would be how we'd spec the car if it was doing anything more than ultra high-speed commuting.
ADVERTISEMENT - CONTINUE READING BELOW ↓
On the inside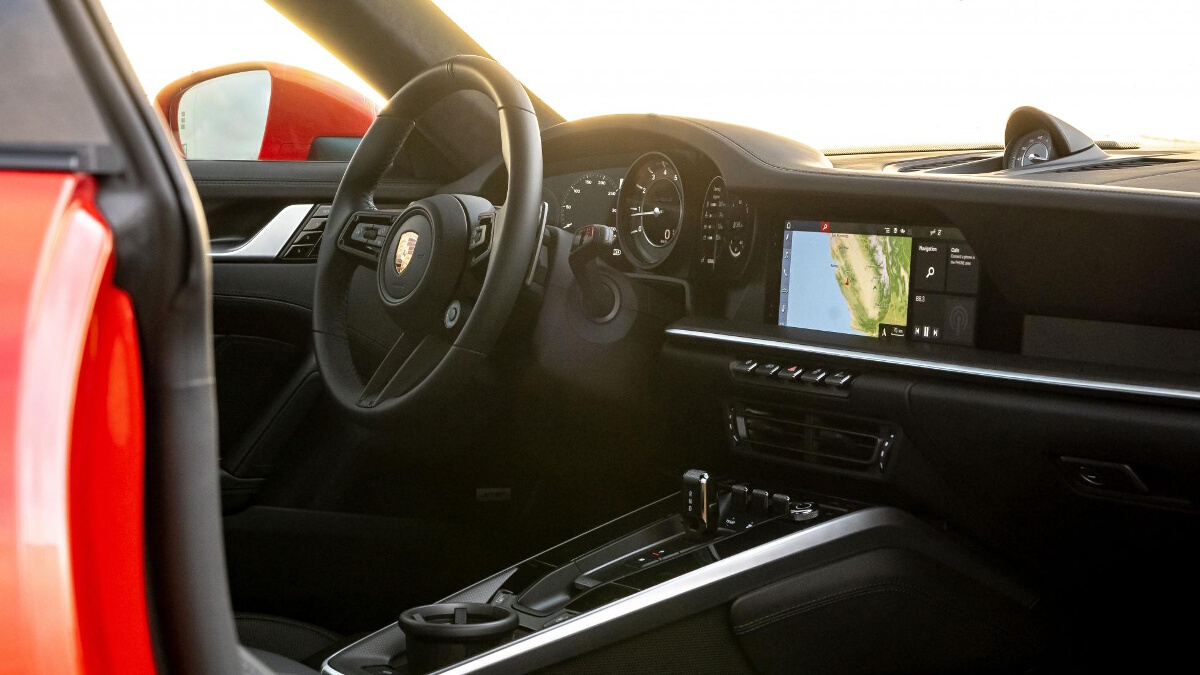 It's super easy to get settled and comfortable inside the 911 Turbo. The 18-way adjustable seats and the electric steering column mean you can quickly locate and fix your ideal setup. The driver's three-screen display is limited as the steering wheel almost totally obscures both of the side screens. It starts to make you see why the C8 Corvette has that squared-off steering wheel.
ADVERTISEMENT - CONTINUE READING BELOW ↓
We're still not a fan of the center console. The USB-stick gearshift feels weirdly small. It would've almost been better to just go with buttons if saving space was the aim. And the two shards of blank black plastic which flank the shift gate—where the 991 has all of its option switches—seem bizarrely spartan. If it's not going to be used for anything in even the Turbo S, it would be better looking more structural in metal.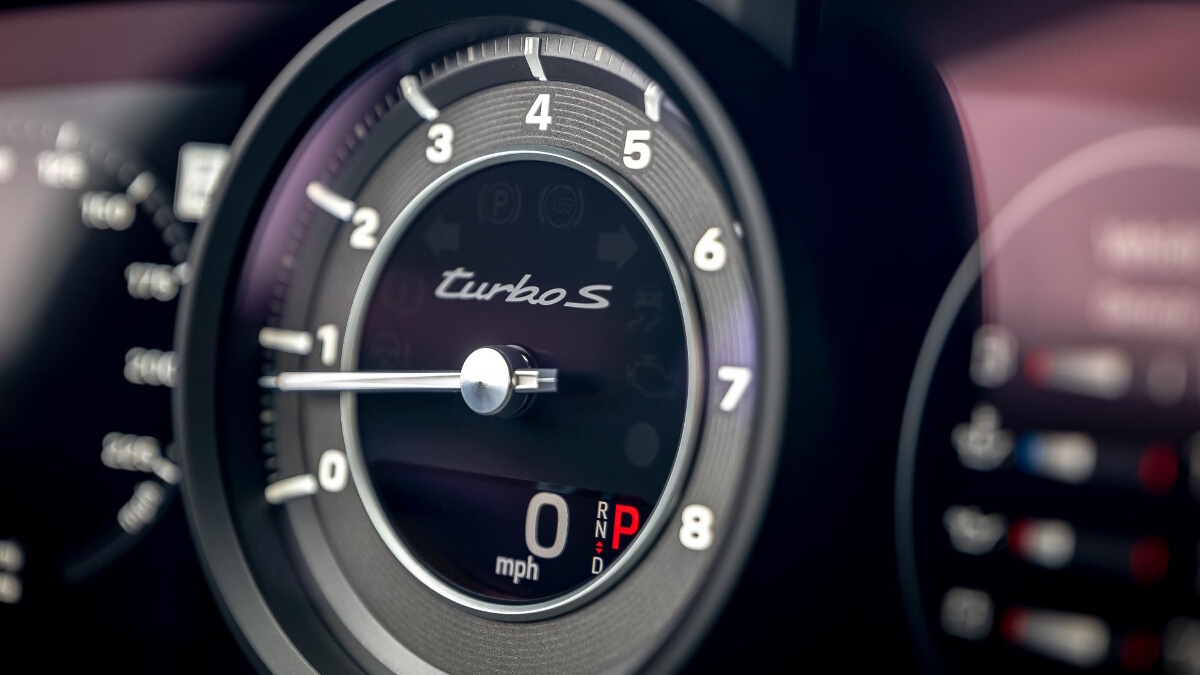 ADVERTISEMENT - CONTINUE READING BELOW ↓
Besides that detail, the interior quality feels suitably Porsche-like throughout. Storage is good, with fixed door pockets that can swallow everything from a wallet to a bottle of water. But the cupholders have shrunk. The removable central holder is too narrow to fit a reusable water bottle that slots into older 991s a treat. The passenger's fold-out number does the job but has none of the nicely engineered feel of its predecessors.
Despite the rear seats being small, when folded down they do triple the luggage carrying capacity of the car and allow dogs/small people to hitch a ride on the Turbo S express.
Final thoughts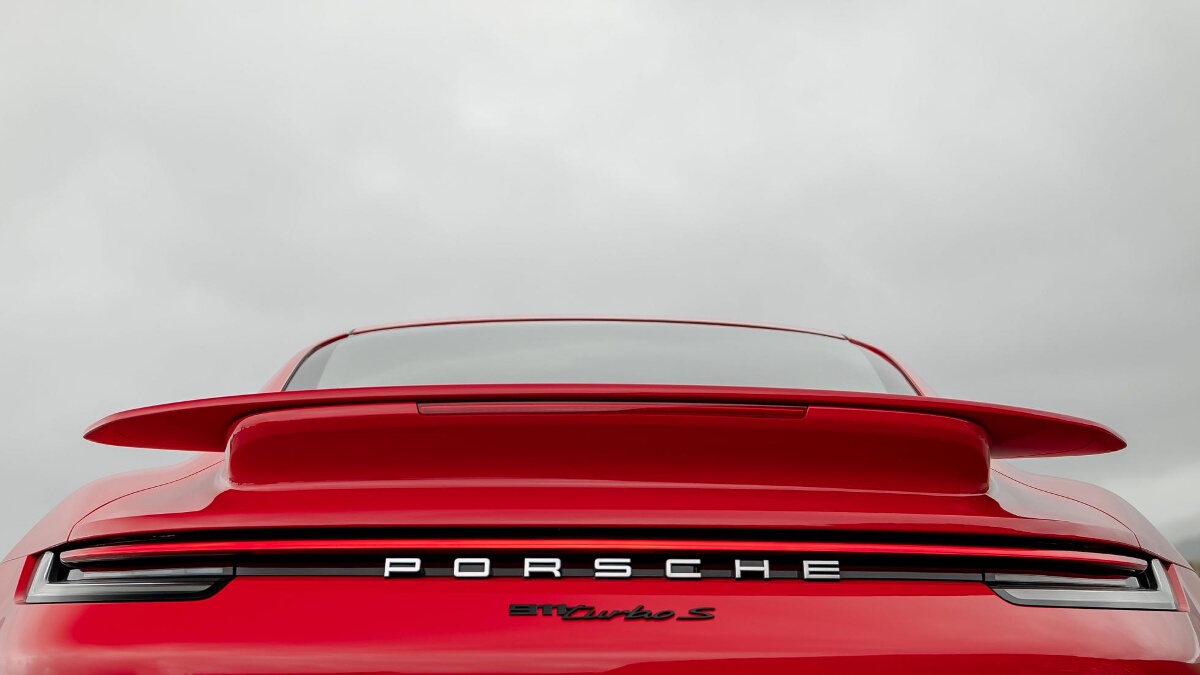 ADVERTISEMENT - CONTINUE READING BELOW ↓
The last 911 Turbo S really stretched the abilities of the 991 platform, to the point where you couldn't reasonably see how they could have significantly improved it. This 992-based Turbo S feels bizarrely under-stressed, like there is still more—maybe a lot more—which can be done with it. This bodes extremely well for the performance numbers of the upcoming GT cars, which are sure to be the fastest, best-handling we have ever driven.
But will they still be the most engaging? We have to rely on Porsche's motorsport group to make sure that's the case. Because, even though we know the Turbo S is supposed to be an unruffled continent crusher—which it without question is—there is still a little bit of the Porsche sparkle and magic missing from its character. The Lightweight Package might be enough to re-inject that, so let's keep our fingers crossed that that's the case.
ADVERTISEMENT - CONTINUE READING BELOW ↓
Meanwhile, there is still a lot to love about this new Turbo S as is. We're sure most people will drive it and be utterly blown away by its multi-character ability, its power, comfort and, yes, even its economy. We just want to feel—and hear—a little more of its soul to make it complete.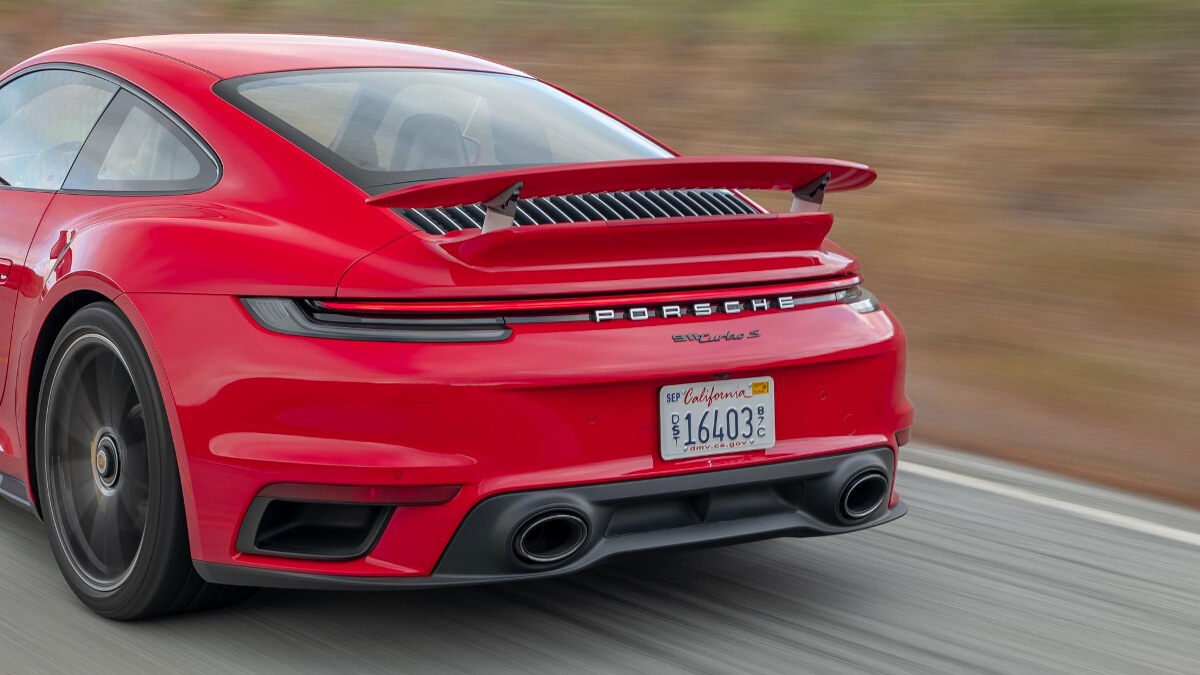 ADVERTISEMENT - CONTINUE READING BELOW ↓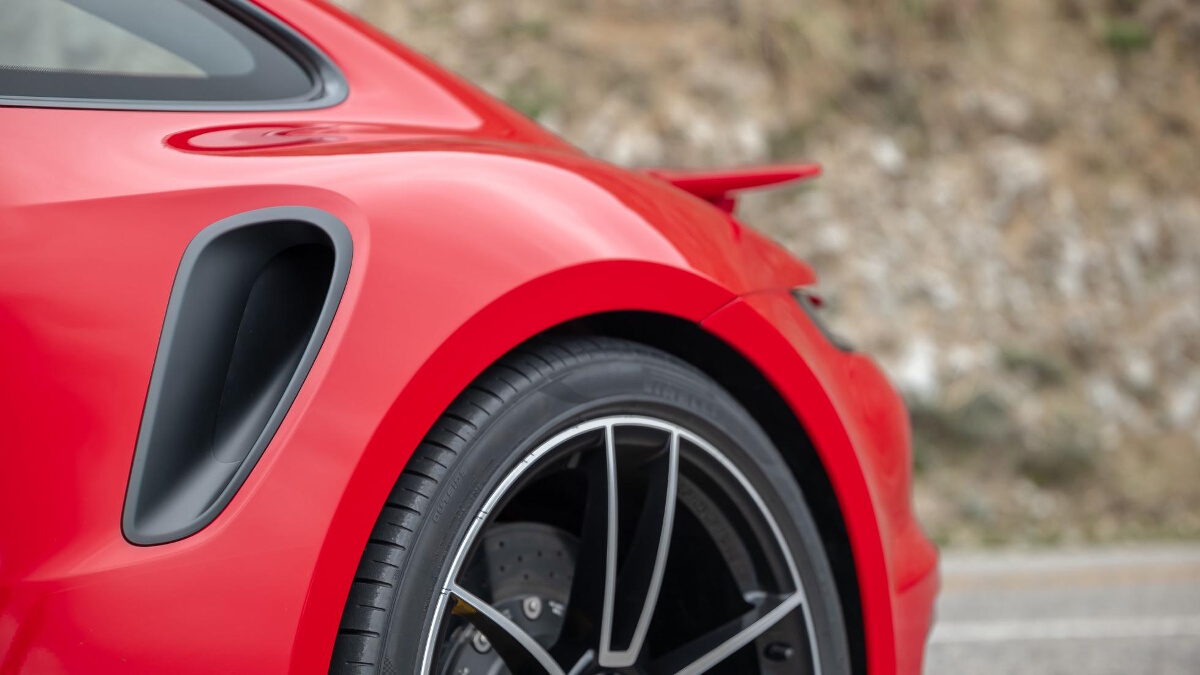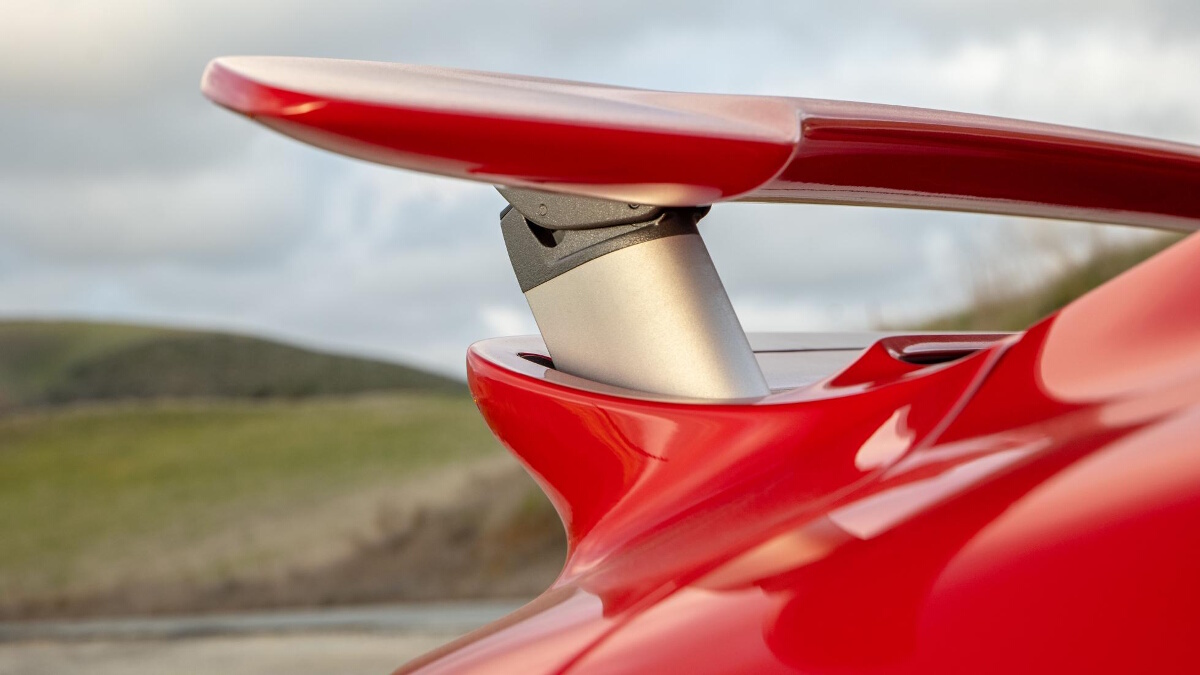 ADVERTISEMENT - CONTINUE READING BELOW ↓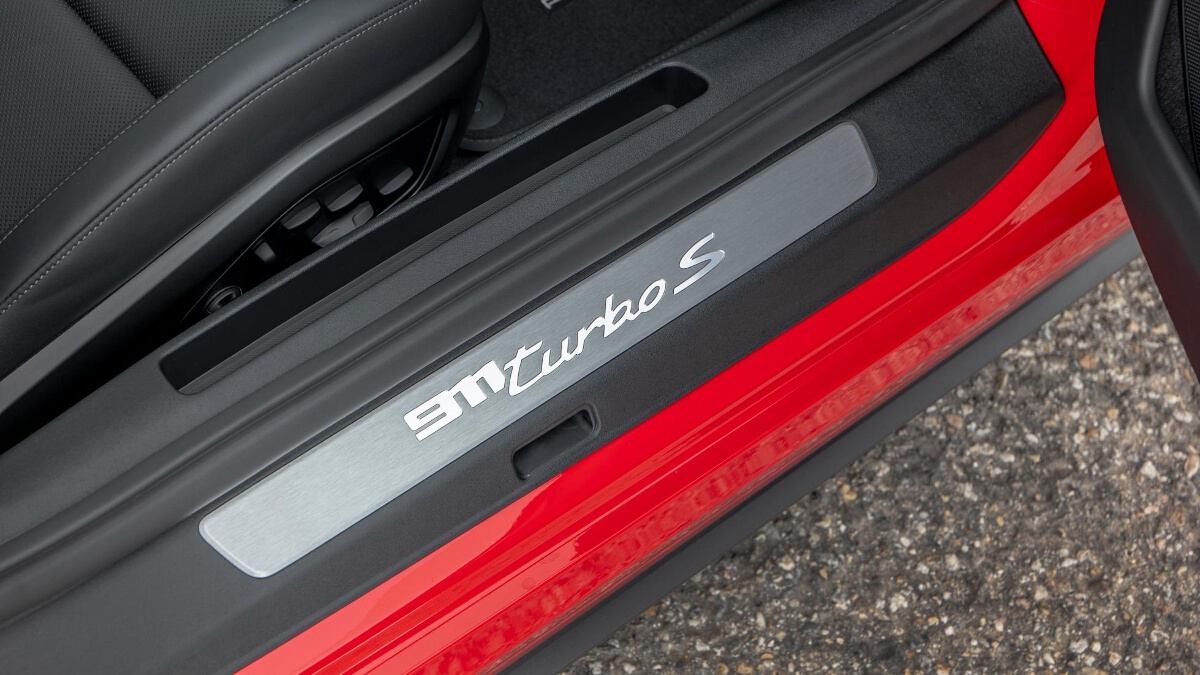 ADVERTISEMENT - CONTINUE READING BELOW ↓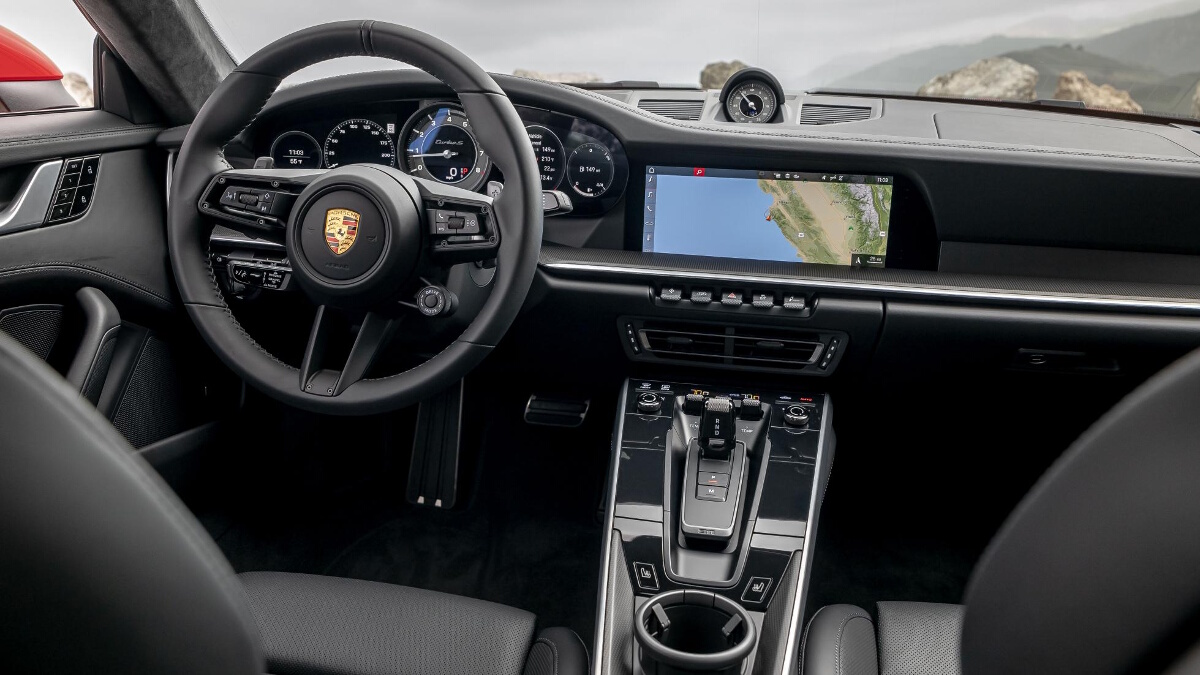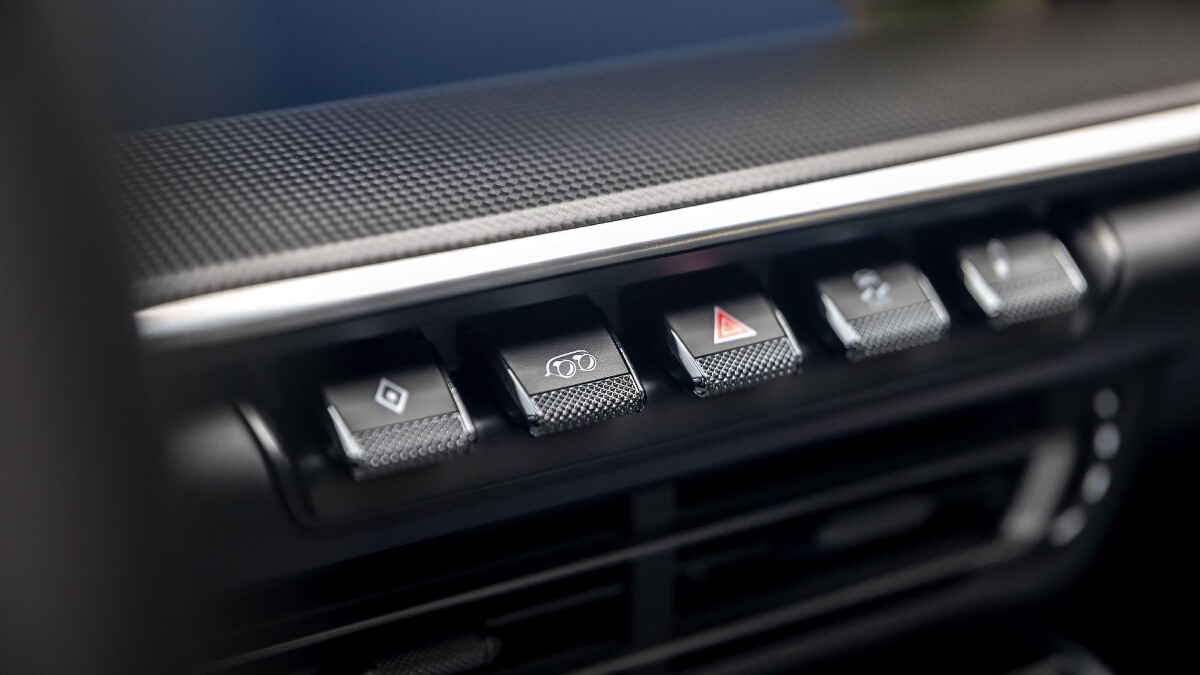 ADVERTISEMENT - CONTINUE READING BELOW ↓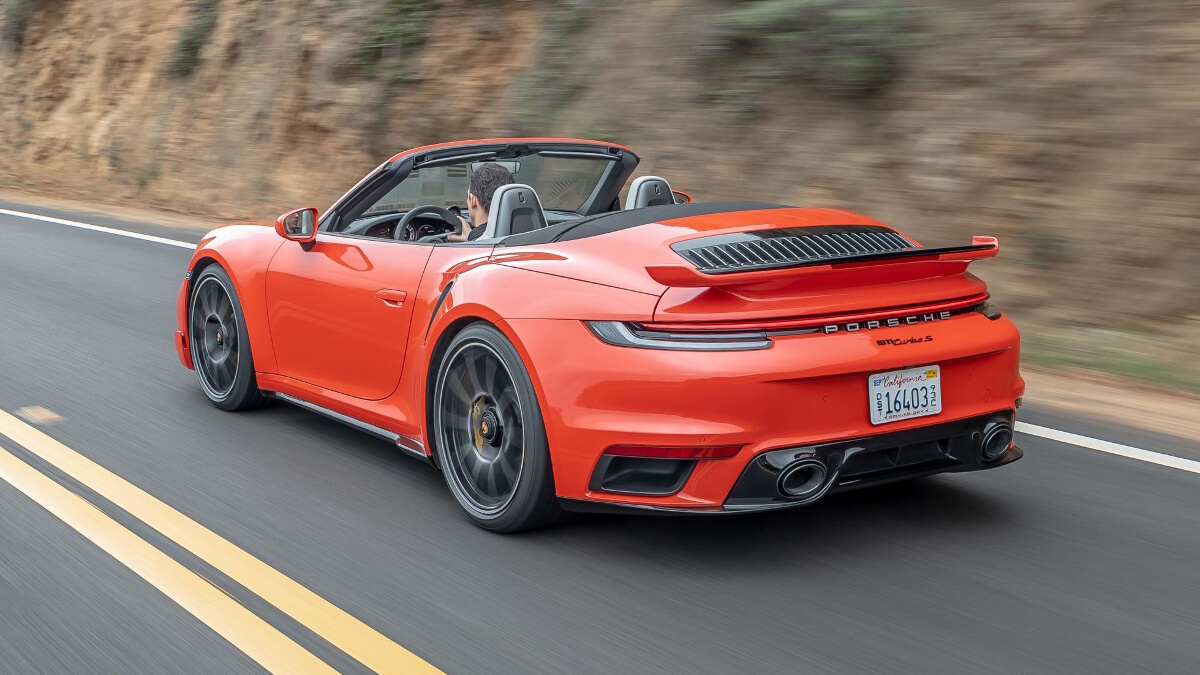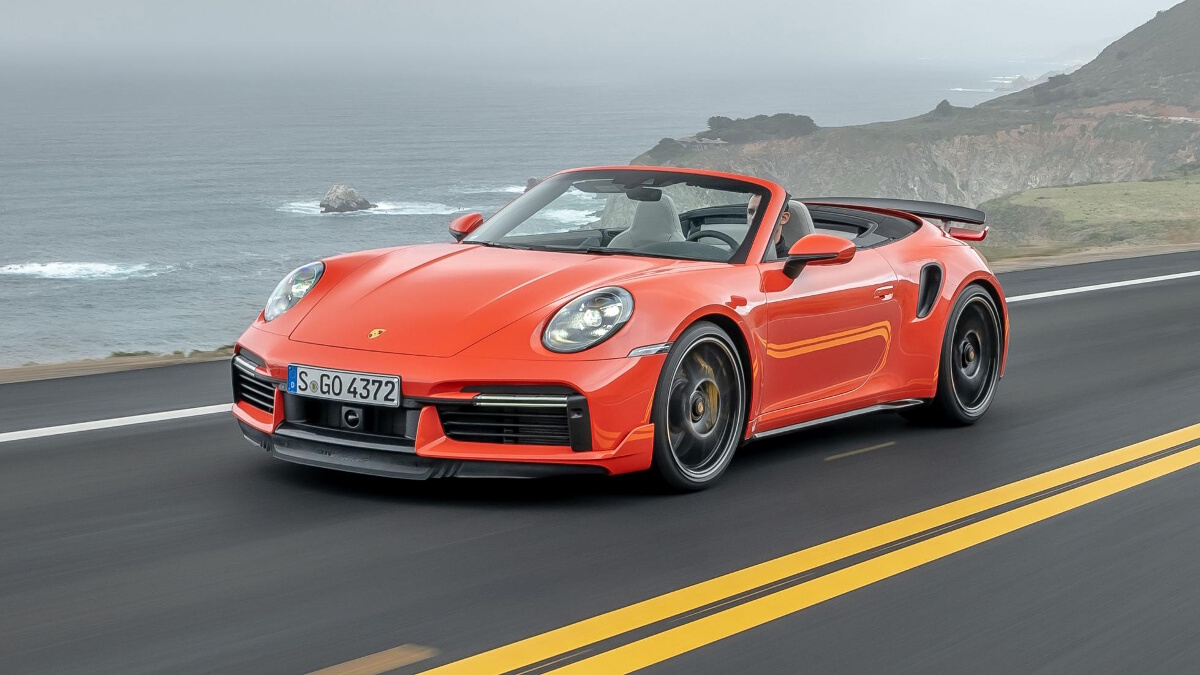 ADVERTISEMENT - CONTINUE READING BELOW ↓
NOTE: This article first appeared on TopGear.com. Minor edits have been made.