Remind me what a Porsche Cayenne GTS is all about...
Handling. Porsche will sell you a 'GTS' in loads of flavors: the Boxster and the Cayman, now with a proper engine again, the 911 of course, the Macan, and the Panamera. GTS variants are usually the Porsche engineering teams' baby. Not as quick as a Turbo S, but probably the version that the chassis boss would choose as a company car.
Sure, in the sports cars. But in a Macan or a Cayenne, what's the point of a GTS?
If you're being extremely cynical, you'd say, "It's the one you get if you can't afford the Turbo." Or if you're in a better mood, a GTS is probably the sweet spot. Middle-of-the-range for quickness, but able to out-corner all comers. Much as we hate to admit it, the Macan GTS is a bloody impressive overgrown hot hatch. The Panamera GTS does everything the Panamera Turbo does, with a great deal of change left over for gasoline.
So what's all this about a new engine for the Cayenne?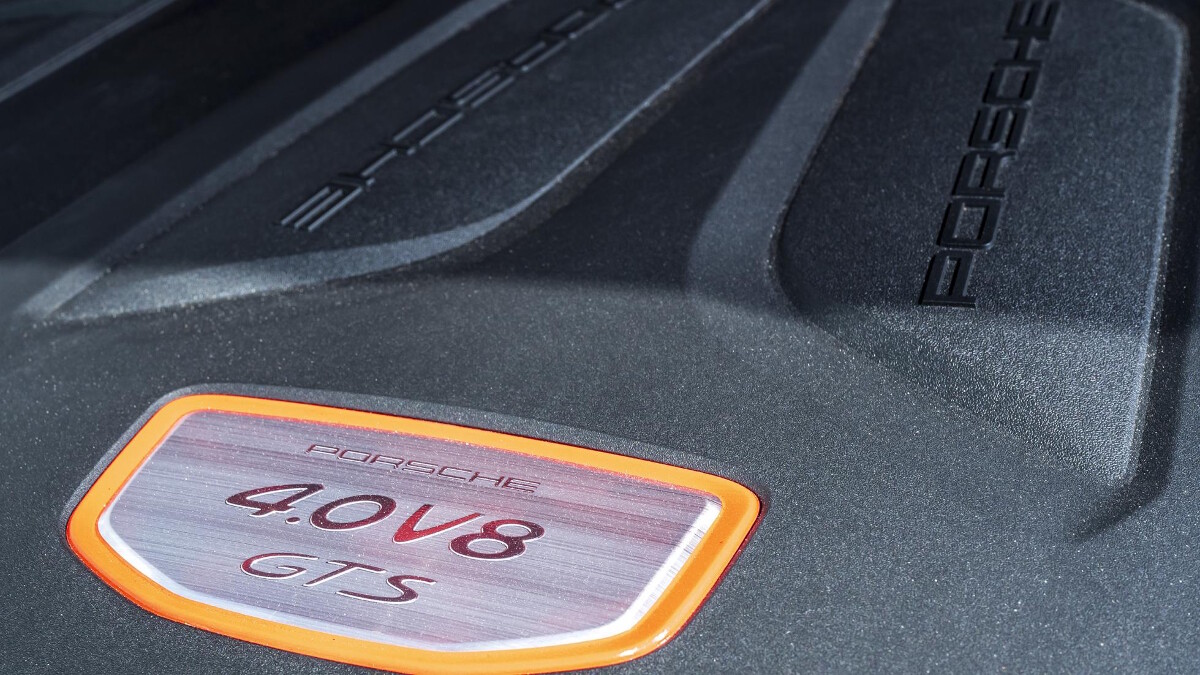 Continue reading below ↓
Recommended Videos
Well, Porsche made a gamble with the last Cayenne GTS—it binned the V8. Instead of detuning the Cayenne Turbo's twin-turbo V8, it borrowed the Cayenne S's 3.6-liter V6, and turned up the wick.
The numbers were healthy and Porsche could talk a good game about trimming weight from the nose and slashing fuel bills and CO2 emissions. Porsche's engineers say "it was important to have that conversation."
However, the conversation has ended with the engineers saying, "Um, we'd like the V8 back, please." So, the GTS once again has eight cylinders up front.
What's the spec? Just a watered-down Cayenne Turbo engine?
Pretty much. You get a 4.0-liter V8 with cylinder deactivation and twin turbos nestled in the vee of the cylinder banks, so Porsche can still make green noises about the environment. But, you also get 455hp and 619Nm, up from 436hp and 600Nm in the old bi-turbo V6. That's quite a wedge of poke for a 'middle of the range' model.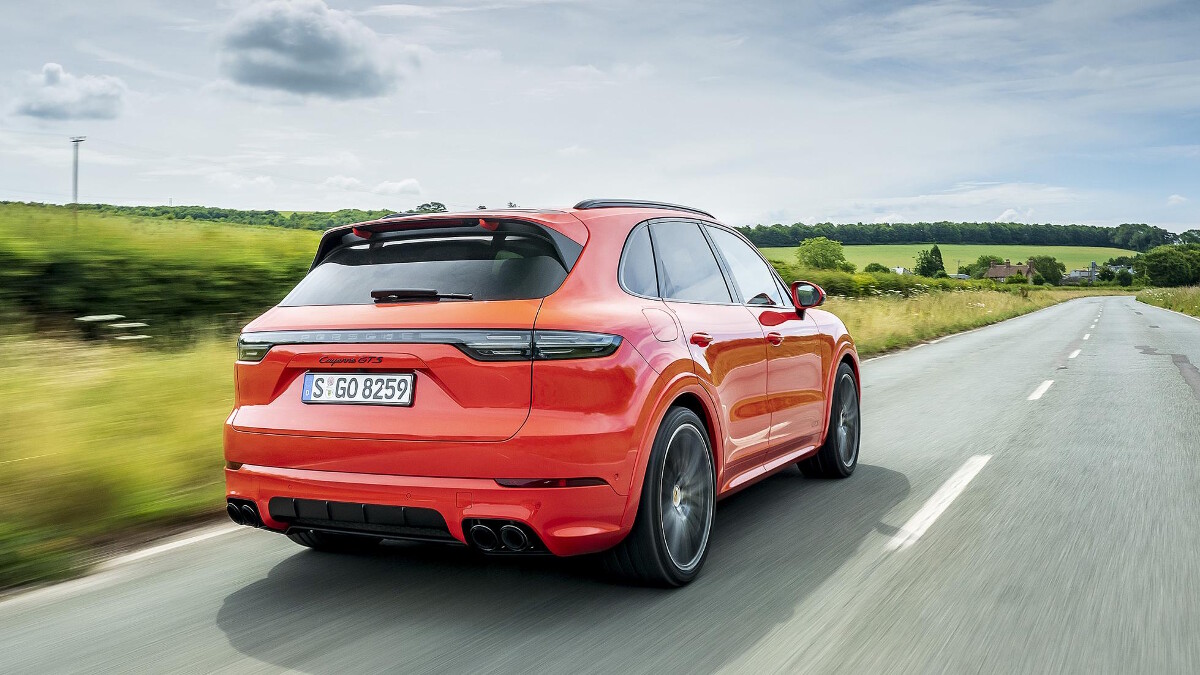 What's more, you get a whole different character. One better suited to a luxury mega-tank. The last GTS was an odd mishmash—it had the bolshy Cayenne looks and the physics-frying handling, but the engine felt reedy and strained. Plant the throttle in the carpet and whatever you did with the sports exhaust or the paddle shifters, you couldn't escape the sense the engine was sweating very, very hard to shift all two-and-bit tons of prime Porsche, and keep a Cayenne S safely in the mirrors.
This time, you get a distant but pleasant V8 rumble, a hydroelectric dam's worth of torque, and a much more free-revving feel to the acceleration. This V8 loves getting on its bike and pedaling up to 6,000rpm. What's more, it doesn't feel reined in. There's none of those telltale steps in the power delivery as the ECU comes over all killjoy and tells the actually-a-turbo engine to calm down, stay in its lane, and keep being 'just' a GTS. It's more than quick enough. Seriously, you don't need a faster 4x4 than this.
I'll be the judge of that with some numbers, if you please?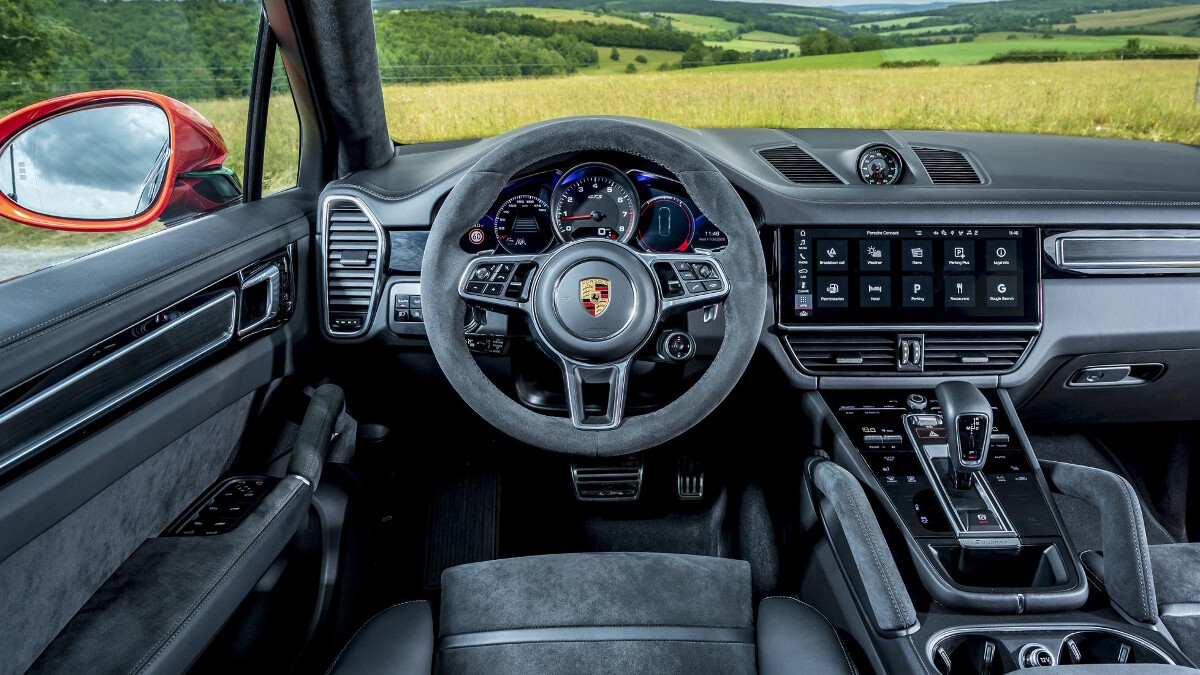 Certainly: The Cayenne GTS outfitted with a Sport Chrono package featuring launch control and a stopwatch will take you from 0-100kph in 4.5sec—that's a massive 0.6sec quicker than the old V6 Cayenne GTS. And this is a Porsche, remember, so 4.5sec is probably a tad pessimistic.
On the other hand, the full-fat Cayenne Turbo dusts off 0-100kph in a scant 4.1sec. So, the GTS knows its place, but that place isn't very far behind the Cayenne Turbo, at all. And the GTS driver will have £15,000 (around P932,000) change in his pocket...
What about that all-important GTS handling?
Here, things get tricky. Sorry. The Cayenne GTS that Porsche shipped over from Germany was not standard. It was a bit of a Christmas tree, in fact. And yep, it's the exact one in the photos here. Orange, innit?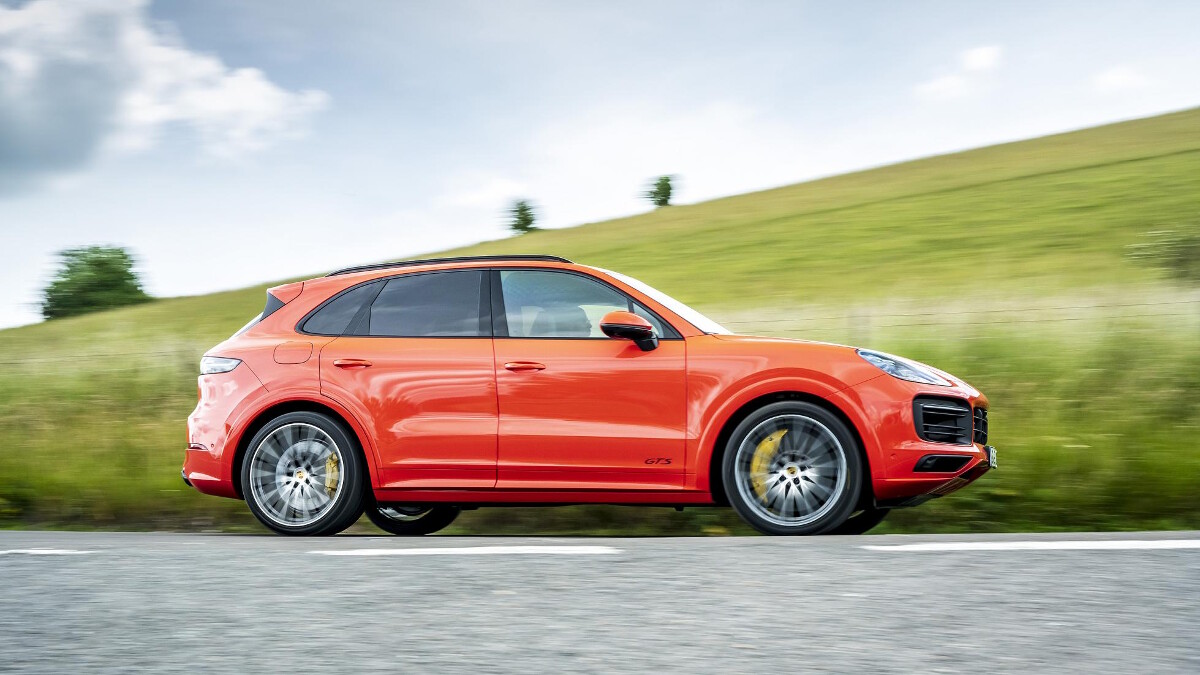 A GTS normally rides 20mm lower than a Cayenne S, on steel springs, but with a choice of ride comfort settings—Normal, Sport and Sport Plus. You get 21-inch rims and steel brakes.
'My' GTS wore 22-inch rims. Inside them were bigger, lighter, fade-resistant ceramic brakes. The suspension featured the Dynamic Chassis Control anti-roll system also lurking in the Lamborghini Urus and the Bentley Bentayga. It even had rear-wheel steering.
So, it feels more than a little disingenuous to tell you that a new Cayenne GTS is a mighty thing in the bends. The one I drove certainly was, disguising its prodigious weight and size with an agility that defies belief. It stayed utterly flat and level as it hurled me through corners, and bizarre as it may seem, it even entertained a bit of throttle adjustability on the way out of a corner. It was a like driving a Golf R, albeit if I was sat on the Golf's roof. Mighty. Mad. Laugh-out-loud impressive.
If it rides like a hot hatch the rest of the time, that's pointless.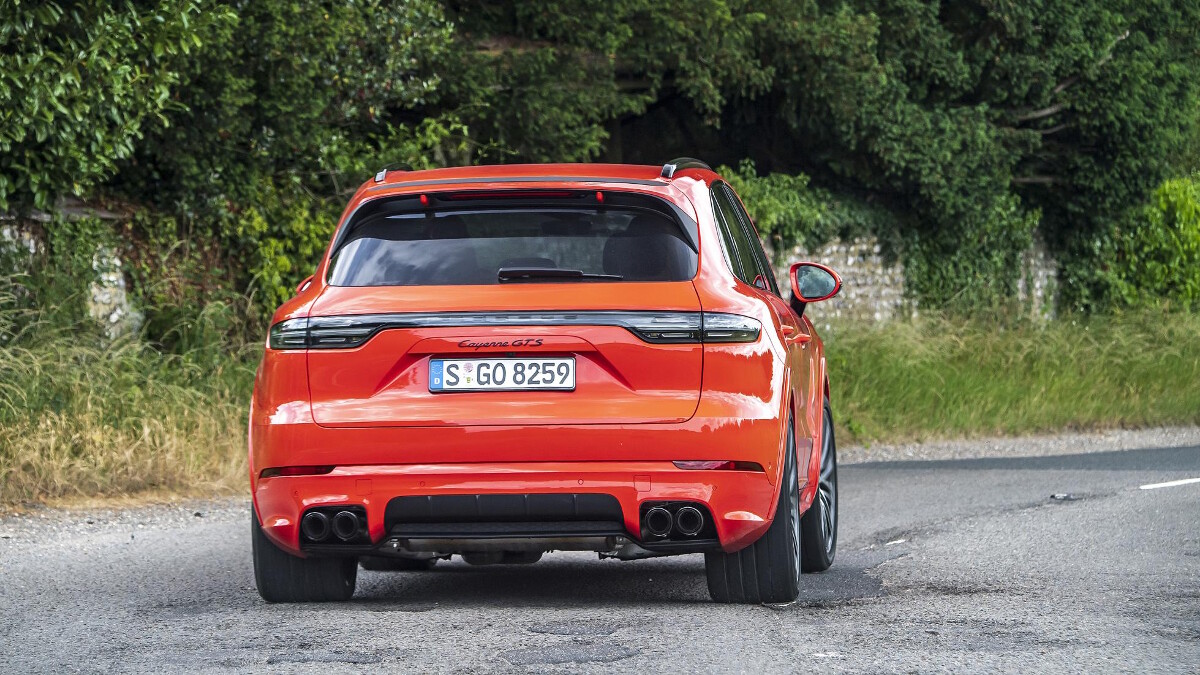 It doesn't. Because the anti-roll system keeps the car level with the horizon in a turn but doesn't fill the dampers with concrete in the straights, the Cayenne is pliant and cushioning even riding on 22-inchers. It's one of very few speedy cars that's actually tolerable in its Sport Plus settings imperfect roads. But you'll just stick the engine in Sport Plus and leave everything else in Normal mode, because that's a super-SUV's comfort zone. Even the optional suspension has a GTS-specfic tune, by the way, so the overall comfort offered is even more impressive.
Porsche's engineers say that in their opinion, a GTS is indeed at its best with the techno handling gadgets fitted. Of course they'd say that. They say the ultimate Cayenne gets all the acronyms: the PCCB, the PASM, the PDCC. Tricky to disagree, really. But they also admit that a lot of folks just want an SUV that looks angry but doesn't have a degree in maths and a PhD in thermodynamics. Which is why, even on the GTS, the cleverest suspension, brakes, and rear-steer are all optional.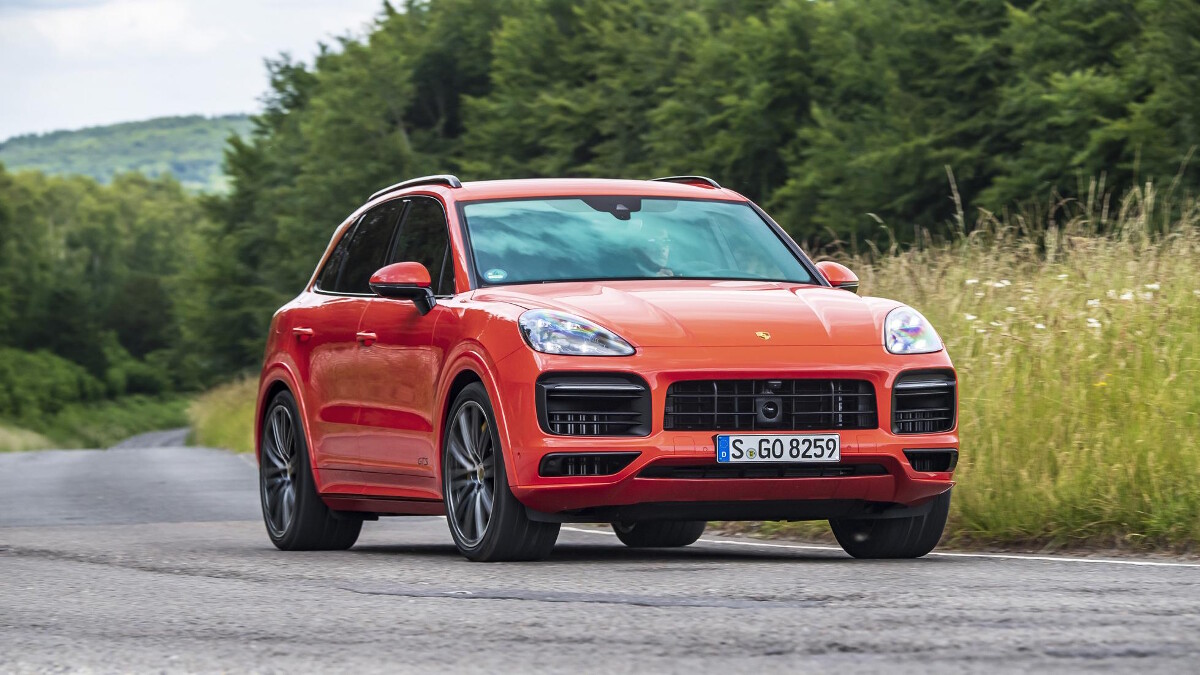 In fairness, I'm willing to bet a standard GTS would still be a bit of a weapon. It's still got torque vectoring and a locking rear diff. The eight-speed automatic gearbox is calibrated to the point of pure genius. Only if you grew horns and a pointy tail would you notice it's likely a bit jigglier on a back road, and the steel brakes would give up just after your passenger's stomach.
But I've only driven one with all the toys. Hilariously, it wasn't even as crazy as a Cayenne GTS can go. Go for the Coupe version and Porsche will sell you a lightweight pack for this 2,200kg monster, featuring a carbon roof and forged wheels. But no roll cage instead of rear seats. What a cop-out. Top Gear's top tip: Roll on the Cayenne GT2 RS.
Is it the Cayenne to go for, presuming that I pick the choice options?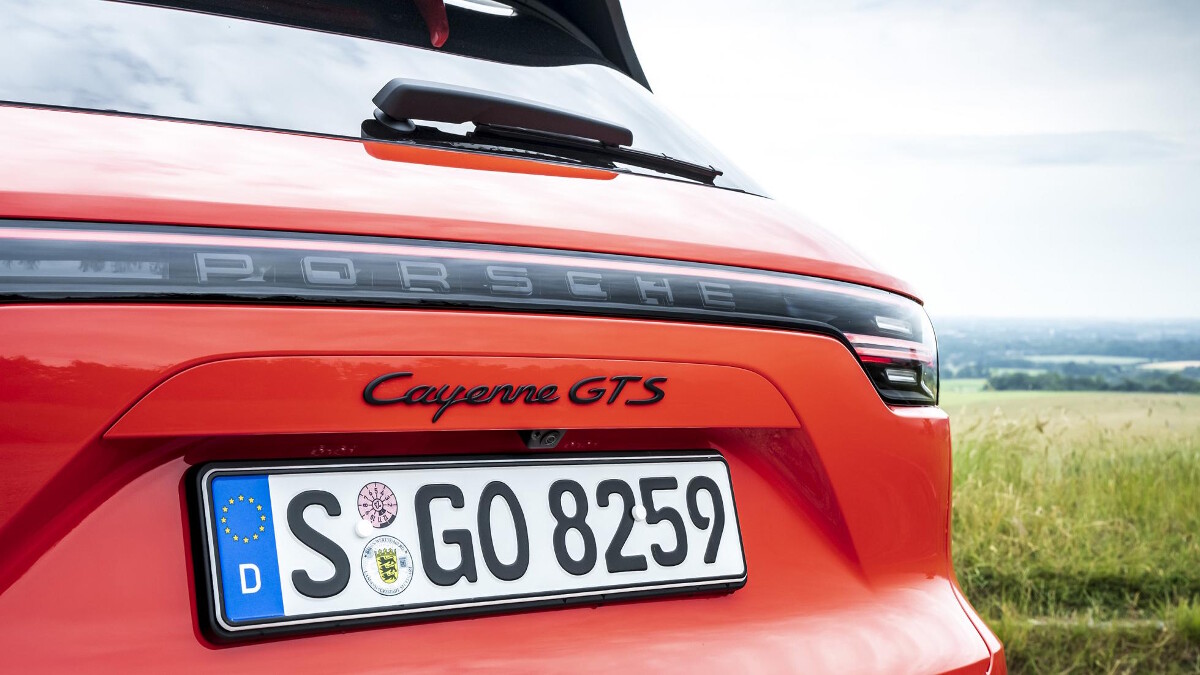 It's all the Cayenne you could possibly need, and it makes an overblown Urus look very silly in the process. But do people buying this sort of car want 'all they could ever need'?
I don't think so. People who buy luxury sports SUVs want to make a statement, and that statement usually starts with 'f' and ends with 'off.' They won't care about a 'sweet spot' spec, or that the shift back to a V8 has shot the best-case-scenario CO2 emissions through the 300g/km barrier. Which means a GTS is still a tough sell over the Turbo.
Or if they want to present a kinder face to the world, now they can buy a Cayenne (Turbo S) e-Hybrid, and call their daughters Greta without a hint of irony.
So, Porsche only expects the GTS to hoover up one in ten Cayenne sales. Even with the V8 back in business, it's not going to overthrow the Turbo. Shame. It pretty much ticks all the boxes. Especially after the person spec'ing it up has.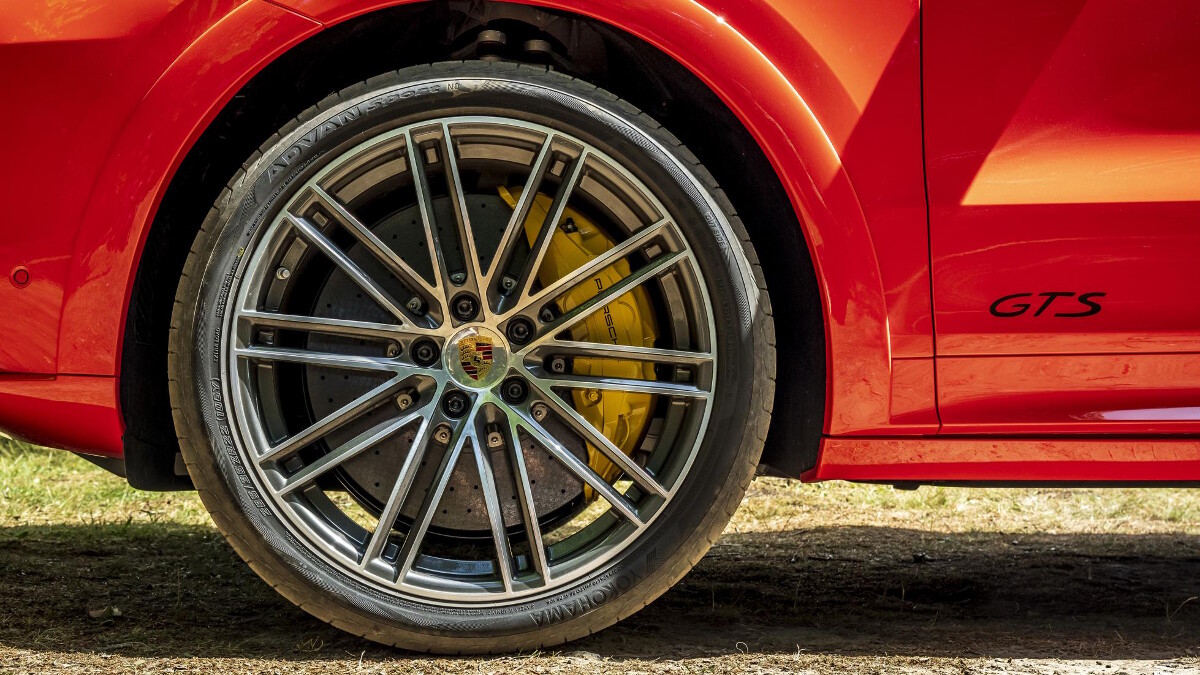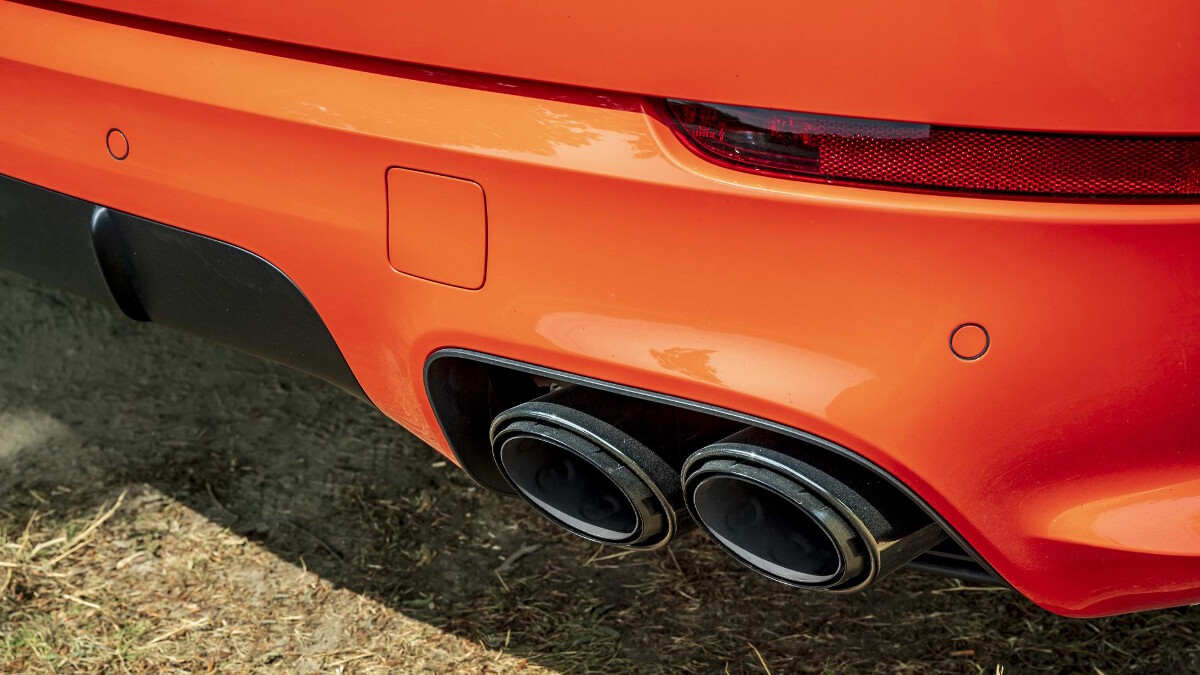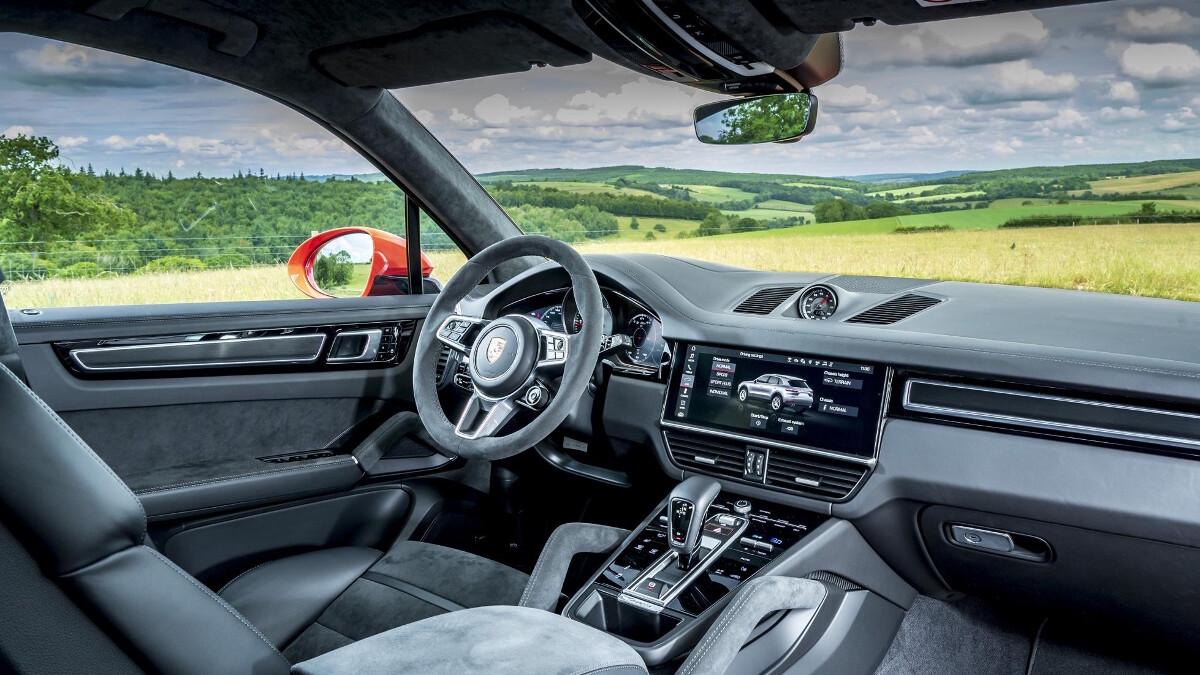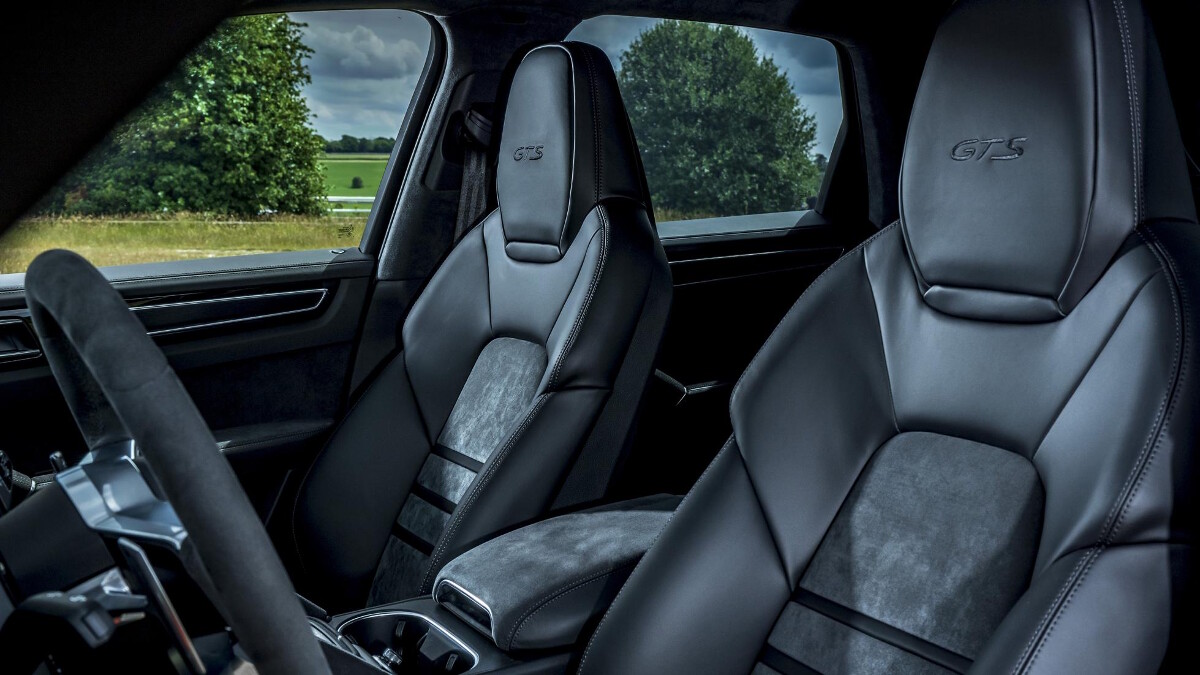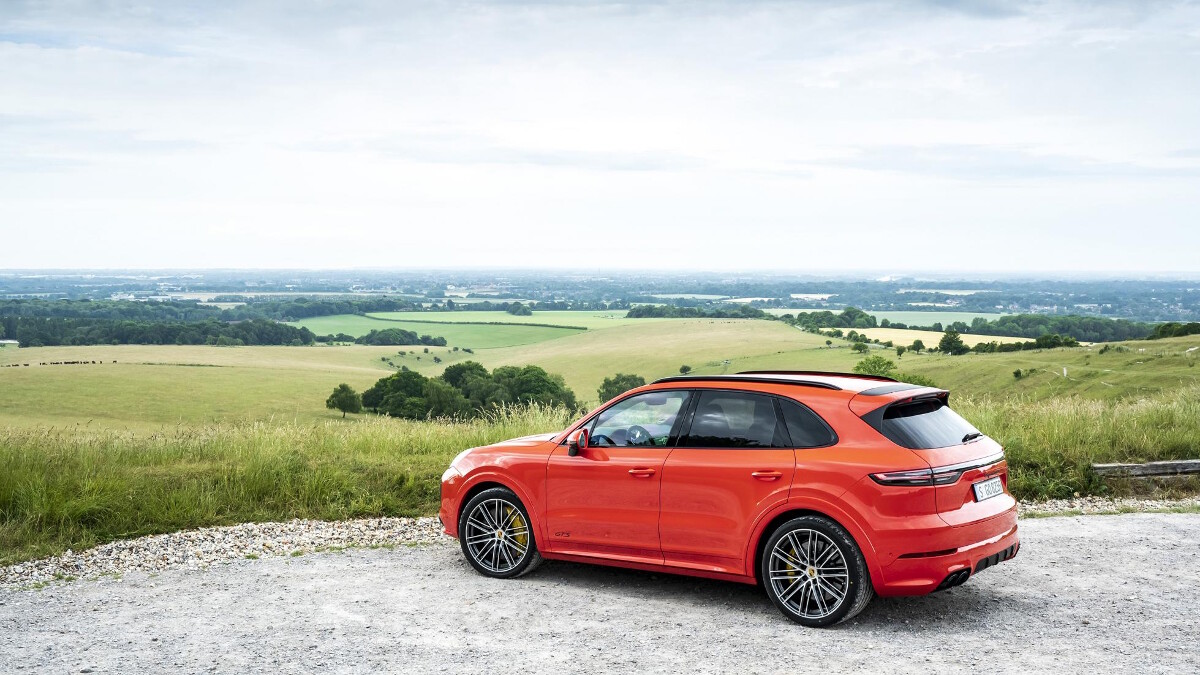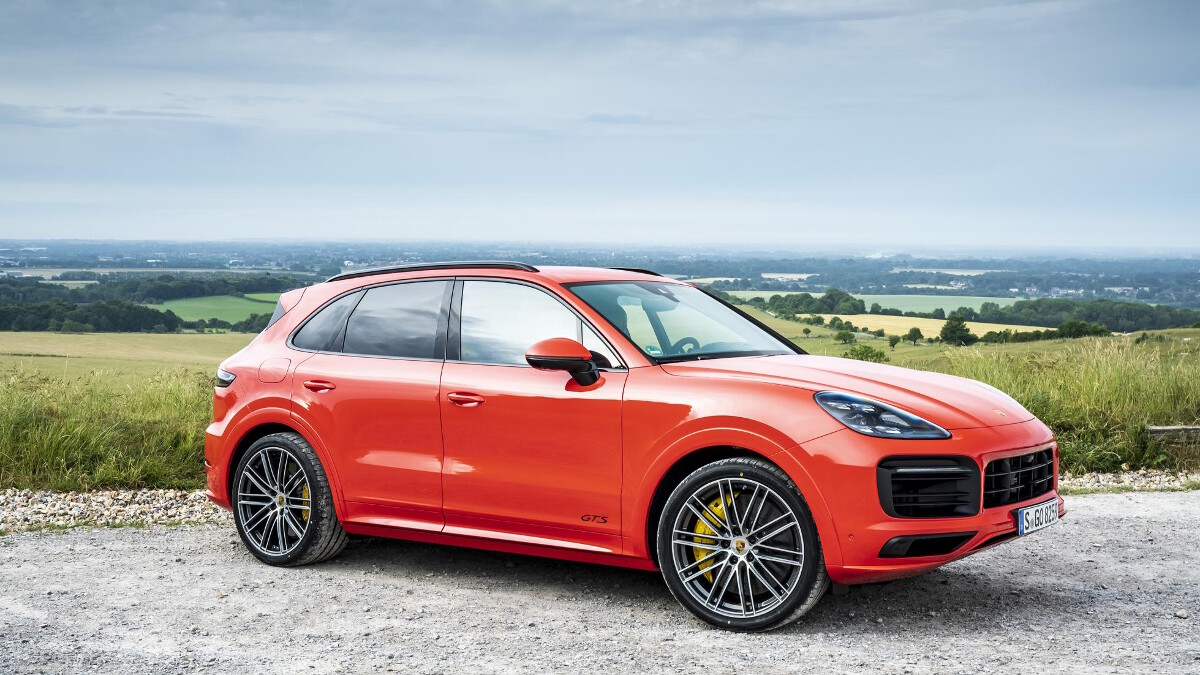 NOTE: This article first appeared on TopGear.com. Minor edits have been made.