Despite its global leadership in hybrid technology, Toyota has had a hard time selling its hybrids here. Even with a 50% excise tax break under the TRAIN law, the P2.4 million Prius is a hard sell. The Thai-built Corolla Hybrid, on the other hand, gets a 100% discount under the ASEAN Free Trade Agreement, bringing its price down to under P1.6 million. That's still a Wigo more than the base Corolla, but this time, we think the markup may be worth it.
Styling
The new Corolla looks sharp without being overwrought. Rather than the edgy corners and creases of the old car, it features radiused corners and broad horizontal forms bisected by carved cutaways, projecting a more mature, more sculpted look. While it still suffers from an over-sized grille—only a fourth of which actually feeds the radiator—the styling is more restrained than even the Camry.
ADVERTISEMENT - CONTINUE READING BELOW ↓
Unfortunately, the Hybrid's styling may be a bit too restrained. It features the exact same body kit and 17" alloy wheels as the non-hybrid 1.6 V variant. Only the Hybrid badges and the blue-haloed logo set it apart. Where the Prius is an exercise in excessive extroversion, the Corolla Hybrid is conservative to a fault.
Interior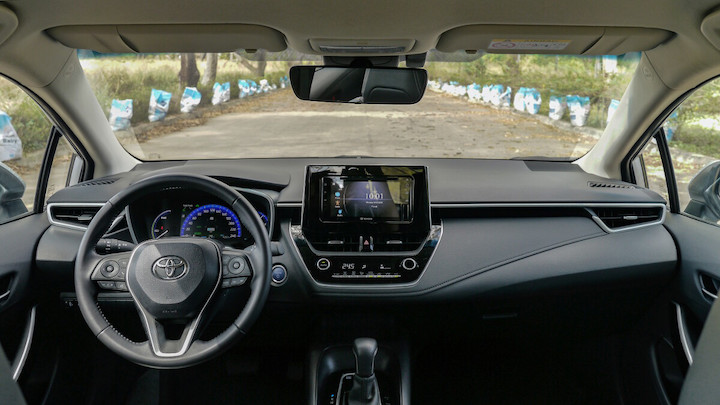 The Corolla's simplified door cards and dash indicate a greater confidence in material quality than before, justified by the soft-touch textures covering both. The synthetic dash topper stands out here. That fake stitching feels well-earned. Infotainment, vents and HVAC controls are integrated into a binnacle that fits above the dash, leaving a lot of uncluttered space around the knees and gear-shift. The instrument cluster features a reconfigurable LED display, and the leather-wrapped steering wheel, with its beveled horn pad, is a huge improvement over the flat, generic old tiller. The only difference here to the 1.6 V are the extra controls for EV-Mode, lane-keeping and adaptive cruise.
ADVERTISEMENT - CONTINUE READING BELOW ↓
Recommended Videos
Both hybrid and 1.6 V get contrast-stitched leatherette seats and a manually retractable rear window shade. Console-mounted A/C vents keep rear passengers cool, but eat up some of the tiny console box's precious space. Otherwise, cabin space is quite generous, while the compact under-seat hybrid batteries leave a large flat cargo area with space underneath for a full-sized alloy spare.
Engine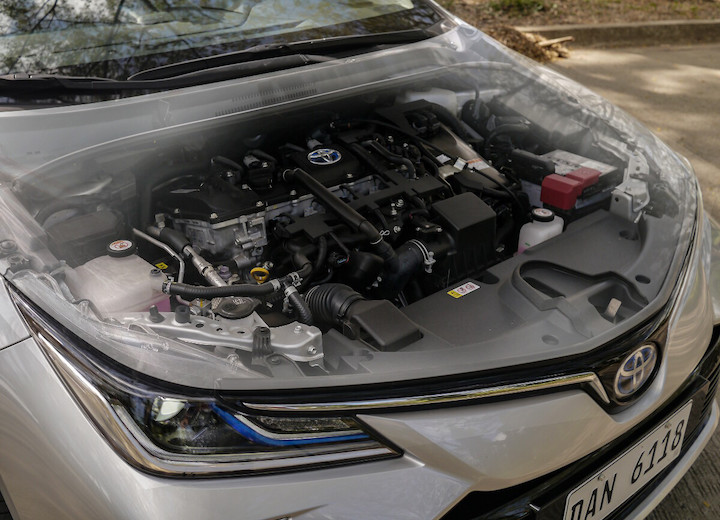 The Corolla hybrid features the same 97hp, 142Nm Atkinson-cycle 1.8-liter engine as the Prius. We have a short explainer of the Atkinson cycle here, but simply: makes less power, uses much less fuel. The twin-motor hybrid system bolsters this by 71hp and 163Nm of electric torque. Peak combined output is 121hp at 5,000rpm and 230Nm at a low 3,000rpm. The result is a 0-100 kph time of just under 10.8sec. Not amazingly fast, but that instant electric kick is great when driving in traffic.
The standard "e-CVT" transmission isn't a belt-driven continuously variable unit, but a planetary gear system that uses electric motor/generators in place of torque converters or clutches. There is a clutch, but only to protect the transmission from sudden shocks. There are no true gears, no true reverse—the electric motors are in charge of that—and no true neutral. The system is always engaged. Which is why the car warns against leaving the transmission in neutral too long, as this can discharge the battery.
ADVERTISEMENT - CONTINUE READING BELOW ↓
That battery, a 1.4 kw/h nickel-metal-hydride unit, is good for up to a kilometer of driving after you start the car, before the gasoline engine turns on to recharge it. It's easy to feel when this happens, as it coughs to life with an odd, gurgly note reminiscent of a generator. Thankfully, it's a quiet generator, just barely noticeable above the hum of the A/C.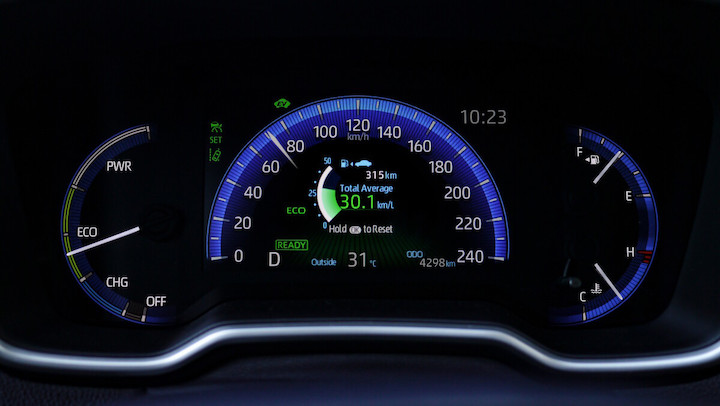 On short inner-city trips, the battery has little time to charge up, limiting economy to 10-14 km/L, similar to three-cylinder super minis. Add a kilometer or two of free-flowing traffic to get some charge in, and that jumps to 19-22 km/L, the electric generators recovering energy otherwise wasted on unnecessary acceleration and braking. On the highway, even untrained drivers can maintain 25-27 km/L.
Consciously stick to a 70 kph limit, however—as that is the highest speed at which you can coast on the electric motors—and you can eke out 29-32 km/L in mixed driving. With a full load of passengers and A/C on. A feat requiring advanced-level hypermiling on a fuel-sipping super mini, and divine intervention on your typical Corolla-sized vehicle.
Driving impressions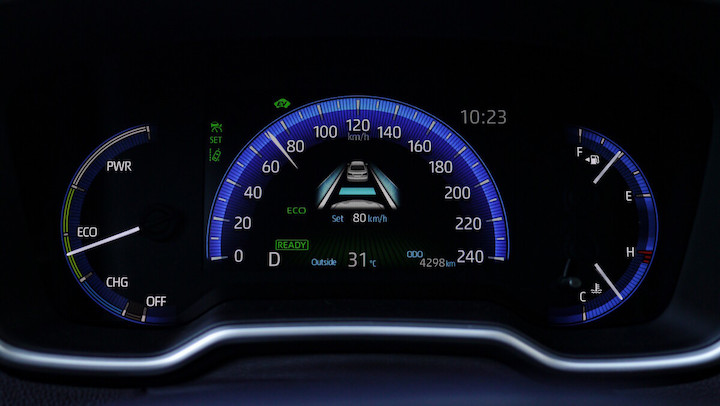 While it won't inspire any late night tofu delivery runs, the Corolla corners flatly, with a neutral stance. The new independent rear suspension doesn't jiggle around like the old torsion beam did over mid-corner bumps. Steering is firm and precise, with decent feedback, and big 225/45R17 Michelin Primacy tires provide good grip and excellent noise suppression, despite being a little thumpy over rough patches. Maybe the Corolla lacks that last iota of wheel control, but it doesn't feel lacking against the likes of the Civic in terms of driving dynamics.
The bigger surprise here is Toyota Safety Sense, which qualifies as a Level 2 Autonomous driving system, piloting the car independently using a combination of Active Lane Keeping and Adaptive Cruise Control. It's a handy system, tackling curvy highways and stop-and-go city traffic with ease. It's not perfect, however. It requires clear road markings to follow, and swerving vehicles don't always trigger auto-braking, as with the Mazda 3. Still, not even Mazda's automated systems are this comprehensive. You'd have to spend a lot more to get this kind of system anywhere else.
ADVERTISEMENT - CONTINUE READING BELOW ↓
Extra features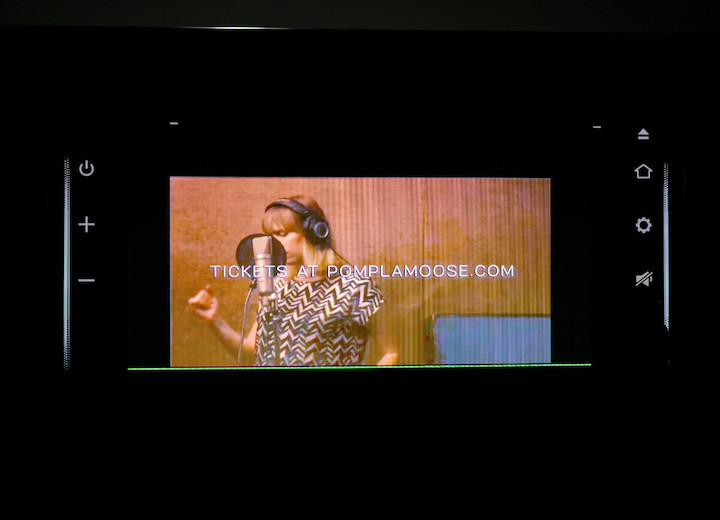 Other features are much the same as on the 1.6V. Push-button start, parking sensors, reverse camera, keyless entry—though no door handle sensors—and a 7-inch touchscreen infotainment system.
After the wonder of Toyota Safety Sense, the infotainment is a bit of a letdown: A standard 2-DIN unit shoehorned into a plastic box on top of the dash. Other markets get a free-standing 10-inch touchscreen with the box tucked out of sight. Here, we get the same generic head unit as in other local Toyotas, featuring TLink smartphone mirroring rather than Android Auto or Apple CarPlay. It's a fiddly system, and while it can mirror any app installed on your phone, media playlists don't always sync properly, and video quality leaves a lot to be desired. On the other hand, sound is powerful, if not particularly crisp. Great for casual listening, but the limited clarity and adjustment range won't satisfy more discerning audiophiles.
Verdict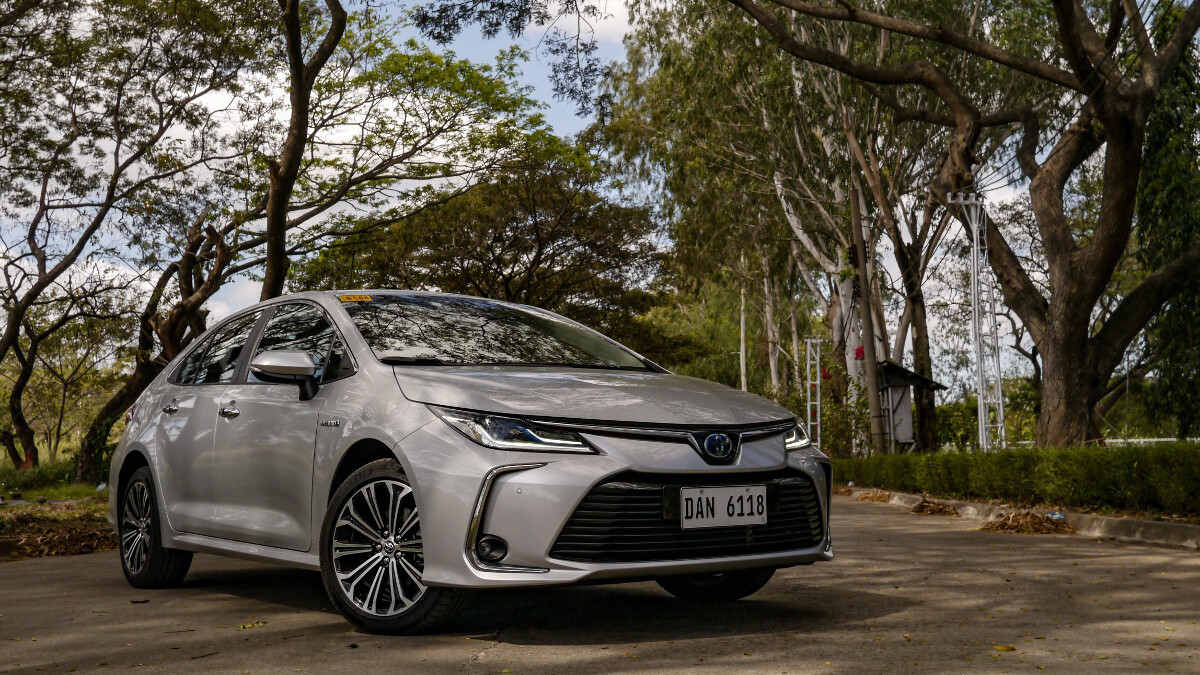 Then again, this is a minor issue on a great car. The Corolla's commendable handling and performance, combined with the quiet refinement of the Toyota New Global Architecture platform and the eerily silent electric drivetrain make it finally feel like a premium product. Too bad it's priced like one, but the Hybrid Synergy Drive and Toyota Safety Sense are good arguments for the price premium. Not merely for the fuel savings, but for the amazing convenience of a whisper-quiet sedan which can drive itself for over 700 kilometers before needing a refill.
So maybe Toyota should have given it a more distinctive face, like the Prius. But considering the Corolla Hybrid, in its first year on sale, outsold the Prius infinity to one, maybe they're on to something here.
SPECS: 2020 Toyota Corolla 1.8 V Hybrid CVT
ADVERTISEMENT - CONTINUE READING BELOW ↓
Price: P1,580,000
Engine: 1.8-I4 hybrid
Transmission: CVT
Power: 121hp @5,000rpm
Torque: 230Nm @3,200rpm
Drive layout: FWD
Seating: 5
Score: 18/20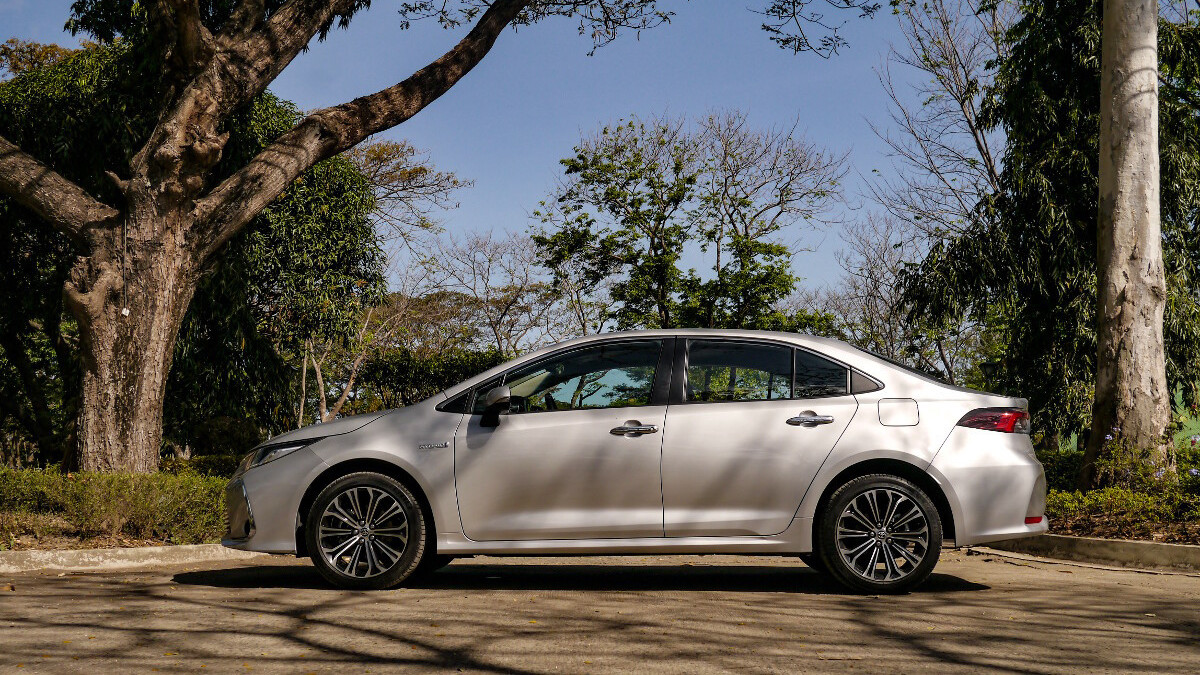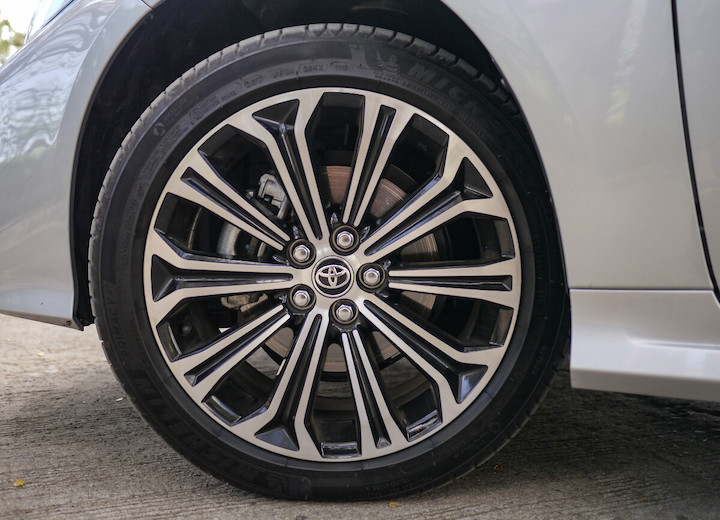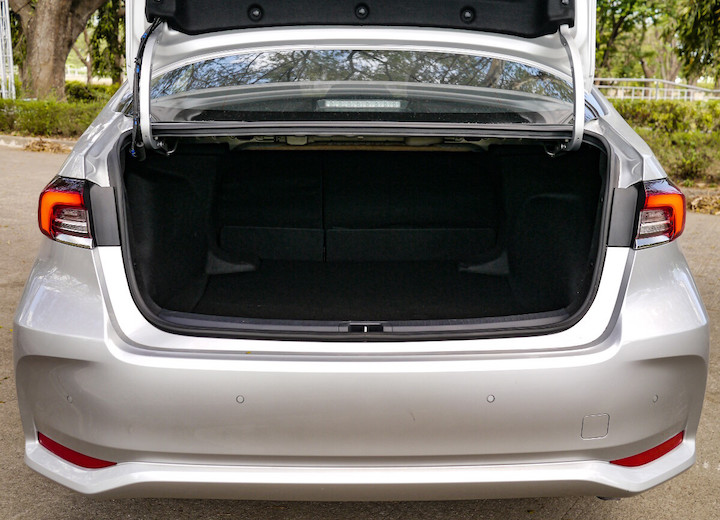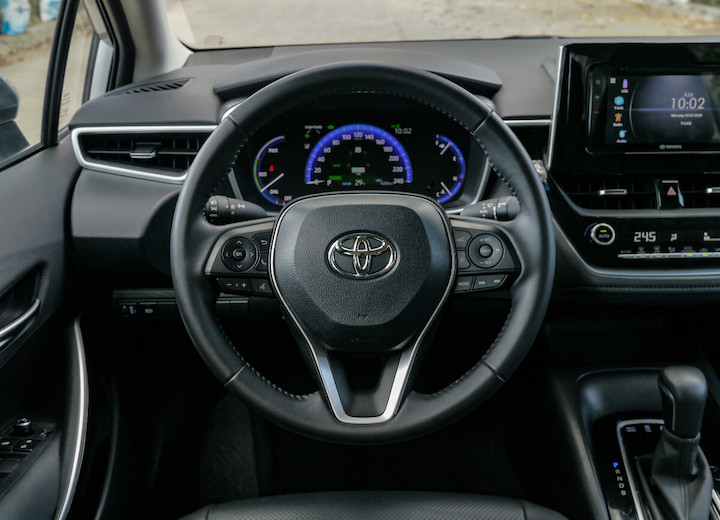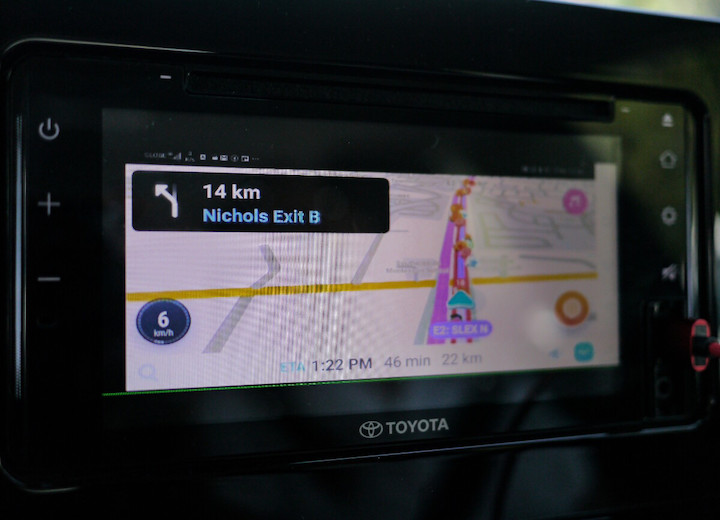 ADVERTISEMENT - CONTINUE READING BELOW ↓