This is the heir to the throne. The next in the dynasty. No hot hatch has a greater heritage than this. A Volkswagen Golf GTI should be all things to all people: the quintessential do-it-all family car. So, no pressure on the Mk8.
But life moves fast in the hot-hatch game. Every other month, there's a refreshed contender with more power and more gimmicks. Except, the Golf GTI isn't like that. This car offers no drift mode or rear-wheel steering. In fact, a heck of a lot of this is reheated leftovers plucked out of Volkswagen's fridge.
You see, the latest Golf is based on the same MQB chassis foundations as the previous Mk7. This new GTI uses an evolution of the same 'EA888' 2.0-liter four-cylinder turbo engine. It's sprouted higher-pressure fuel injectors, but still chucks out 242hp. It's still front-wheel-drive, and there's still a standard six-speed manual gearbox, or an optional seven-speed paddle-shift DSG (the more popular choice these days). Hardly Christmas, is it?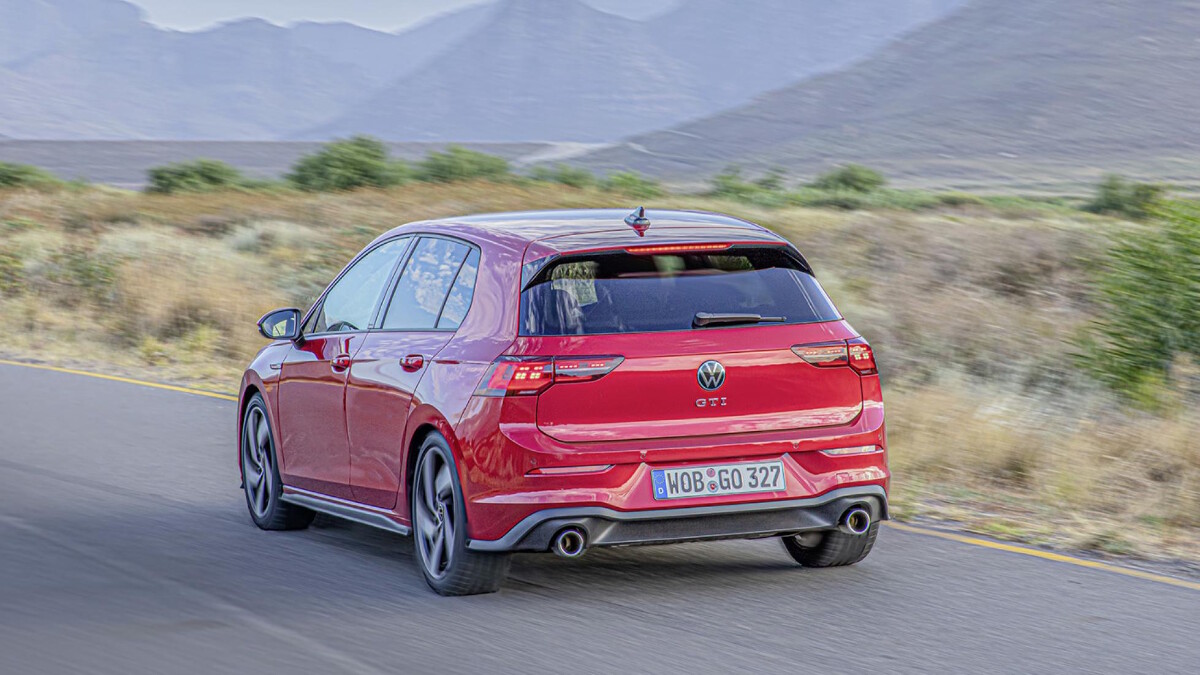 Continue reading below ↓
Recommended Videos
This time, there's no option of a three-door, but otherwise, you could be forgiven for thinking not a lot's new. You're also right to be wondering, "Hmm, is 242hp enough when Ford, Honda, BMW, Mercedes-Benz, and even Hyundai will all sell me cars that are about the same size and similar money, with a heck of a lot more poke?"
What is new is the GTI's image. Grrrr. Doesn't look like the politely spoken, well-turned-out older brother of the family any more, does it? The honeycomb grille is wider and features dubious LED running lights set into the plastic pattern. There's even an LED strip that illuminates across the whole nose. Fussy rims, too. Out back, the twin tailpipes have been pushed farther apart for a more planted stance, and the GTI badges are bigger. All of a sudden, a Focus ST or a BMW M135i is a more subtle choice than the Golf.
The new GTI attempts to justify all that swagger with brains. VW has been working on a new computer that, of course, has a serious German name: VDM, or Vehicle Dynamics Manager. Basically, the GTI houses a sort of AI network that'll monitor the engine revs, how much traction the tires have, your steering angle, what gear you're in, the electronic front differential, and (if you've ticked the box) the optional adaptive suspension—all at the same time.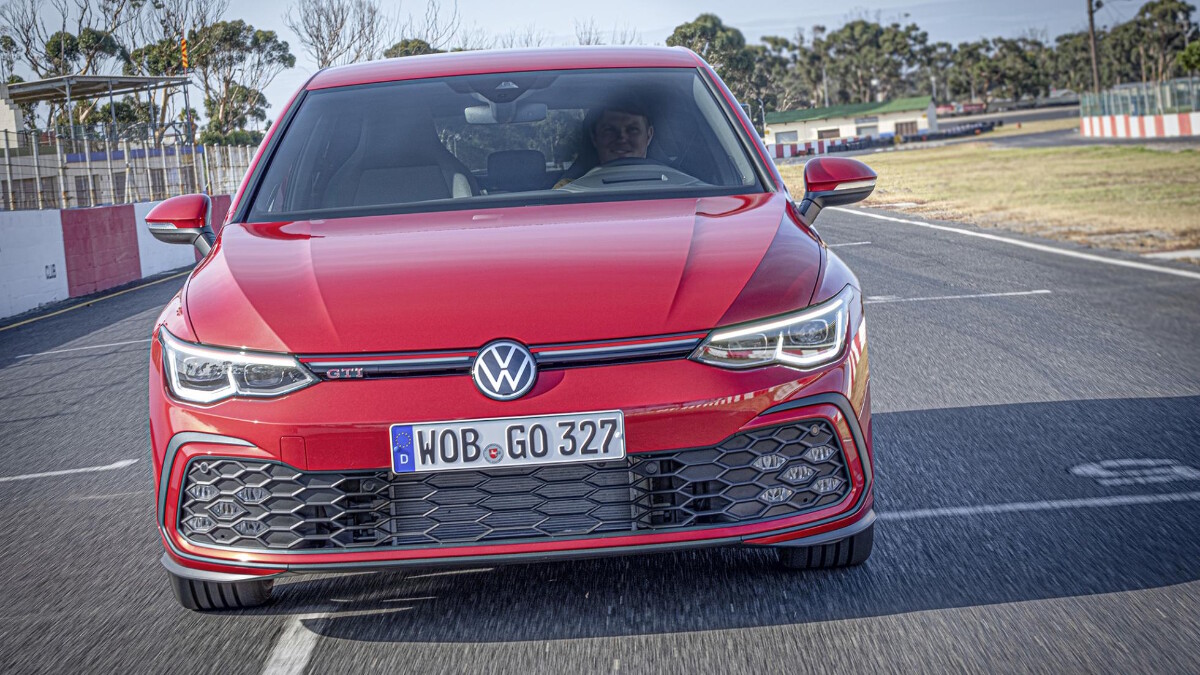 The idea is that instead of each of the car's electronic systems making up its own mind on how to help you get around the corner faster, all this data is being fed back to one mothership of a motherboard that keeps all the tech in harmony. Imagine how sci-fi that would've seemed to the engineers who set up the 110hp Mk1 Golf GTI back in 1975.
Since then, there have been iconic GTIs, good GTIs, and downright rubbish ones. So, where does number eight fit into the family portrait? A 2020 GTI fitted with the manual gearbox and adaptive suspension has had the Top Gear once-over to provide the answers...
On the road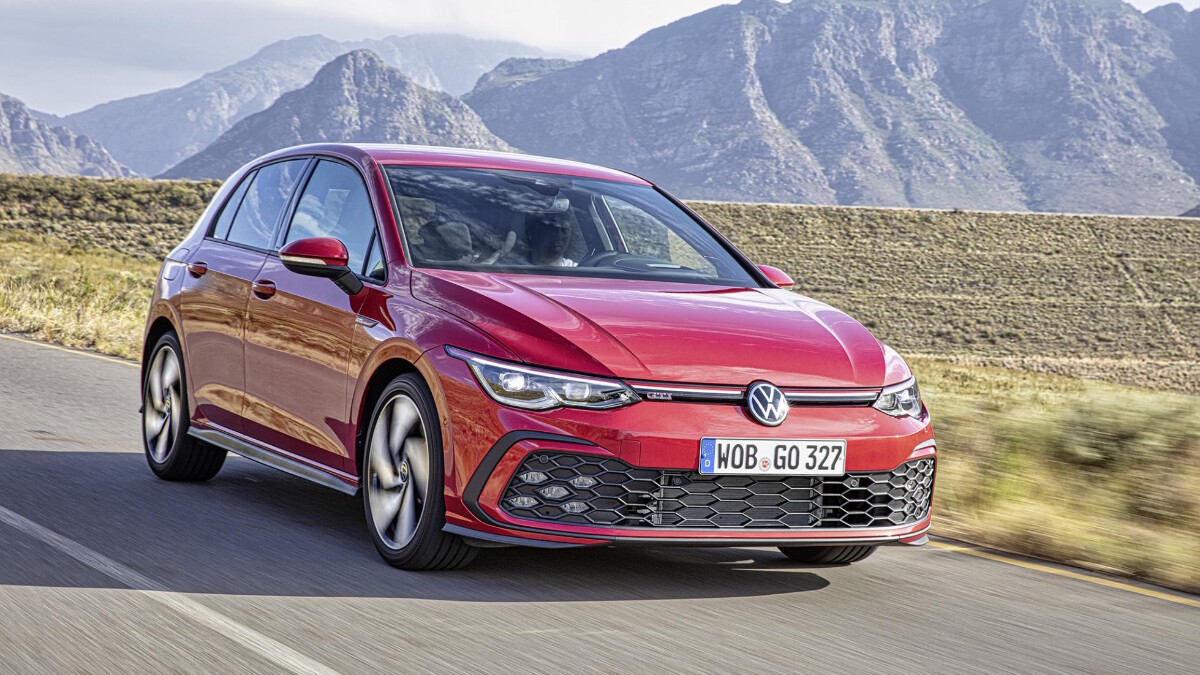 Question one: Is 242hp enough? Yes—presuming you're happy with a quick hatch, not a face-altering missile. The numbers from this engine are identical to those of the Mk7 GTI Performance. Disappointed? Word on the Wolfsburg strasse is there's a 'Performance' version of the new Mk8 waiting in the wings. Anyway, it's nice to be able to drive a modern fast car and be able to use full throttle for more than 0.5sec without starring on your local police force's 'Gotcha!' Twitter feed.
Here, maximum power is held from 5,000rpm to 6,500rpm, and the motor revs cleanly up to the redline followed along by a flat-pitched growl. Mostly, you'll surf the torque: A chunky 370Nm is on tap from 1,600 revs right up to 4,300rpm. That's a preposterous torque band. It might as well run on diesel. There's a second of turbo lag in every gear, but then the GTI just hauls, without wheelspin or torque steer robbing your attention. Very effective, very mature, and just ever-so-slightly bland. AMG's A35 sports a more exciting powerplant.
Equipped with the dual-clutch gearbox, the car does 0-100kph in 6.3sec. The manual ought to take about half a second longer. That seems like par for this kind of car, until you look up the rivals and see they're all under the 6sec barrier these days. There will be faster Golfs, of course, but don't sink your money here assuming you're buying the last word in straight-line performance. The manual shift is fine, but nowhere near as mechanically sweet as a Civic Type R's or the Focus ST's, and the lever is plasticky.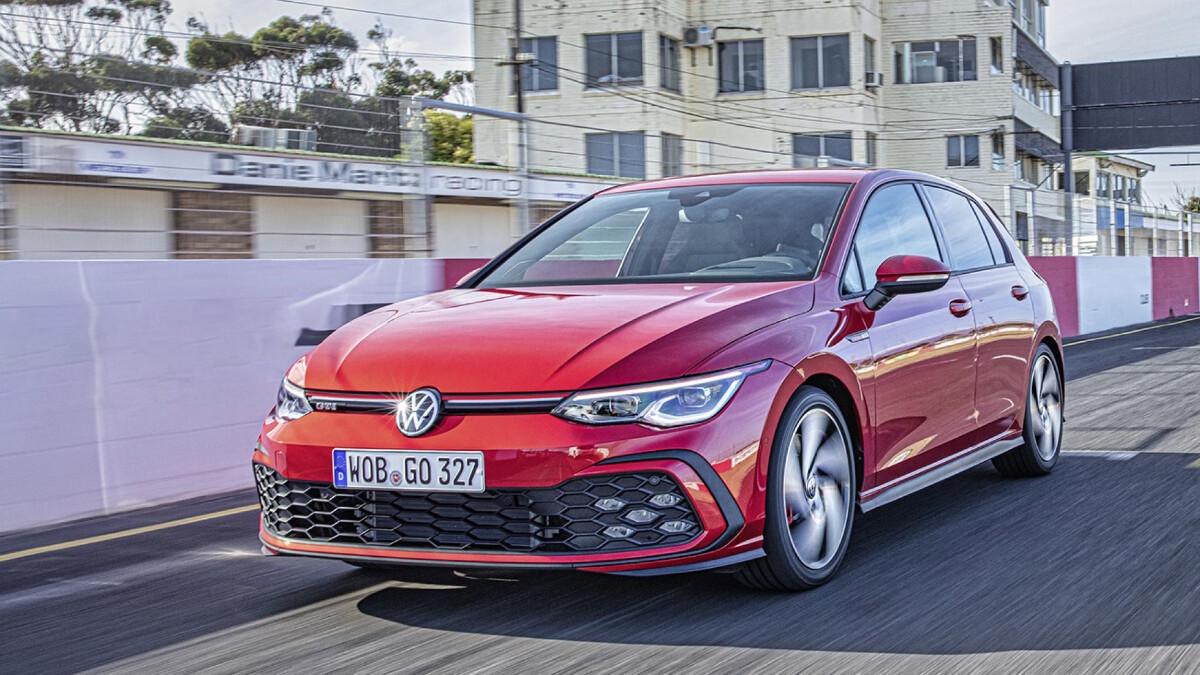 Where the Mk8 GTI really comes good is in the corners. Some hot hatches (A35, RS3) are 'engine cars.' This is a 'chassis car.' Who cares about how all that computer-network stuff works? The point is, it does—the DCC adaptive dampers are crucial here. Instead of picking a fixed setting, you get a sliding scale on the touchscreen: You can go sub-Comfort for maximum wallow on really roughshod roads, or beyond Sport (which even VW admits is just for tracks).
Somewhere in the middle is, predictably, just right, and it all comes together in a chassis that feels taut, precise, and much more alive under you than the old GTI, which needed provoking with booze, high-sugar snacks, and rude football chants before it got fighty. Interestingly, VW's engineers insist they only benchmarked the Mk7 GTI when setting up the new car, but namecheck the Focus ST and the Hyundai i30N as key rivals they want to out-handle. Tough crowd, that.
I was convinced VW had fitted even faster steering, but an engineer quickly confirmed that the 2.1 turns between lock rack is identically geared to the old GTI's steering. What has changed are the suspension spring rates, which are all stiffer, particularly at the rear, to promote a more chuckable attitude. What's more, the steering ironmongery has been beefed up so it's more torsionally rigid.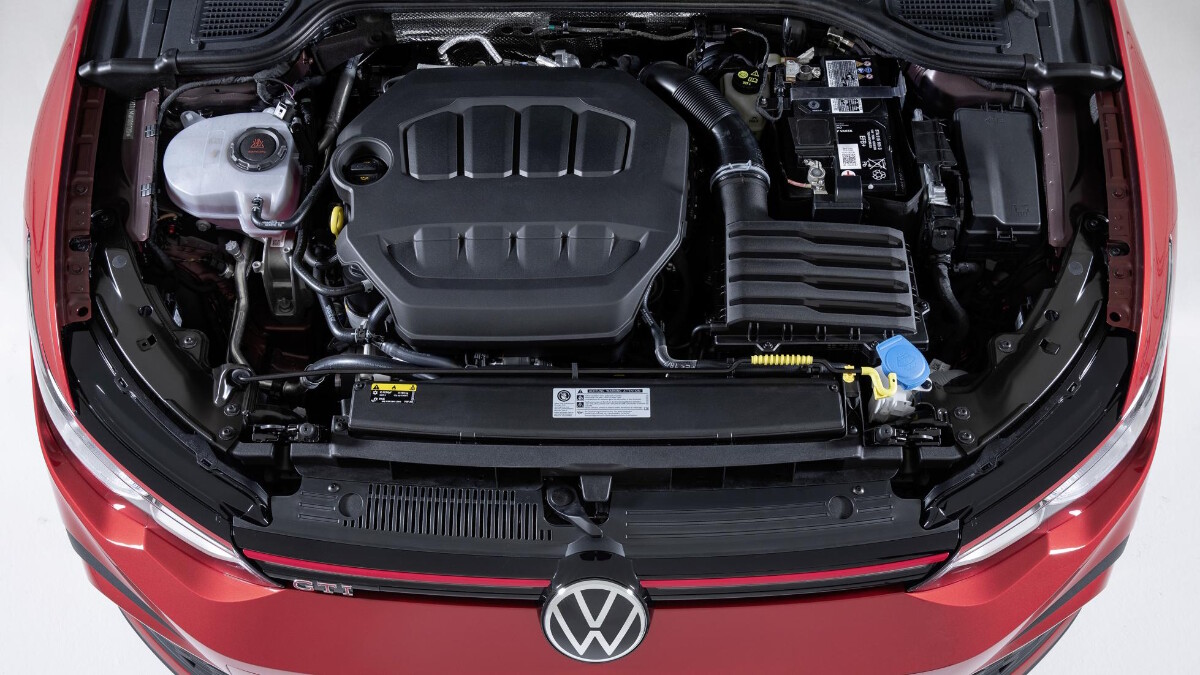 So, the GTI dives into corners more obediently than it used to, working that standard electronic front diff to the max. It's not a total character transplant—the Mk7 was a very fine car indeed, and yet this is just a little bit better on the way into a corner, and tidier on the way out.
VW modestly says the improvement in steering response is measured 'in nanoseconds,' but on that first roundabout, you'll feel it. And yet, it's preserved the superb high-speed stability. The car is planted and comfortable, and doesn't need to be constantly babysat on the highway. Doing distance in here, as opposed to something more boisterous like an i30N, would be a joy.
We'll need to drive a GTI without the adaptive dampers to compare, but with clever suspension on board, the eighth GTI is more fun to drive than its immediate predecessors, but just as sensible and grownup on the daily grind. And yet, there's easily enough headroom in this package for a hotter-still GTI Performance, and an 'R.' And who knows what other limited-edition specials...
On the inside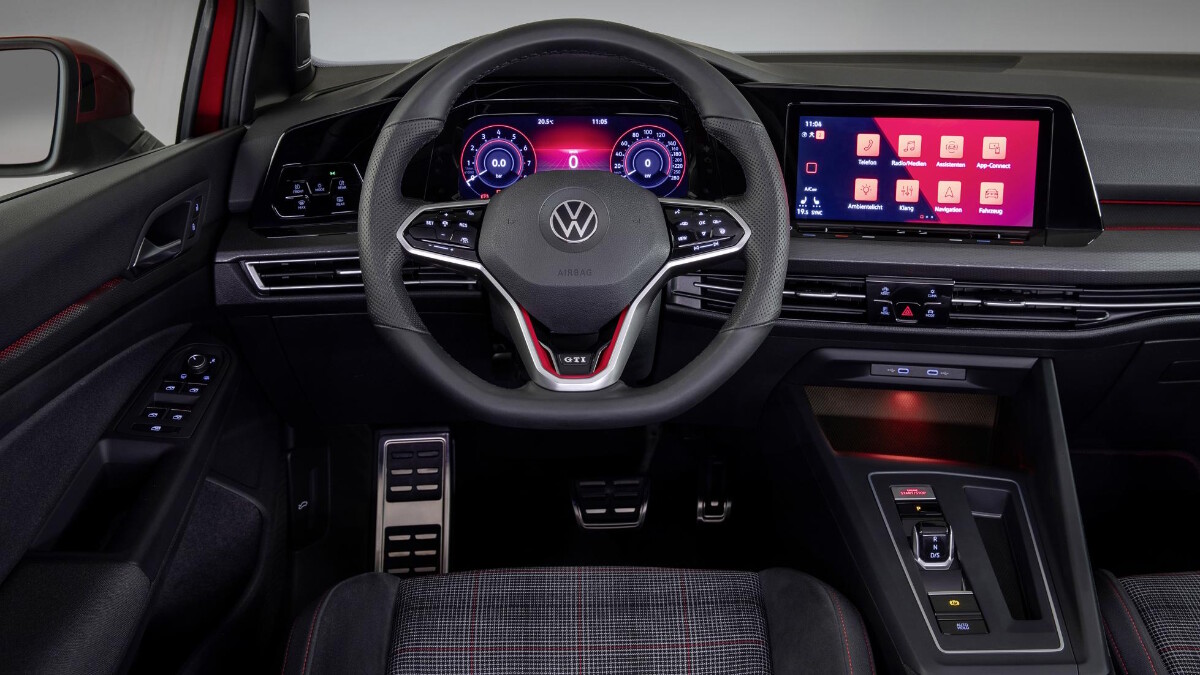 Yes, you get tartan. Let's get that right out of the way first. As standard, the GTI Mk8's bolstered seats are resplendent in the traditional plaid of Haus GTI, albeit a fairly monochrome one. And yes, in the manual, there's be a dimpled, golf-ball-aping gear knob. Phew.
Those kitsch throwback touches are welcome in the Mk8, because this interior is that rarest of all qualities for a Golf: controversial. And a bit of a pain in the backside.
VW is heavily pushing it as 'all-digital.' There's a pair of digital instrument displays: one behind the steering wheel (with sportier graphics) and a main 10-inch infotainment touchscreen atop the air vents, housing the nav, smartphone interactivity, and more menus than your kitchen drawer.
The light 'switches' are now a glossy touch-sensitive panel. So are the shortcut keys for the car's safety systems and climate menu. To adjust on-board temperature or media volume, you're forced to use touch-sensitive gutters that are awkward during the day and downright invisible at night, because Volkswagen didn't bother to illuminate them.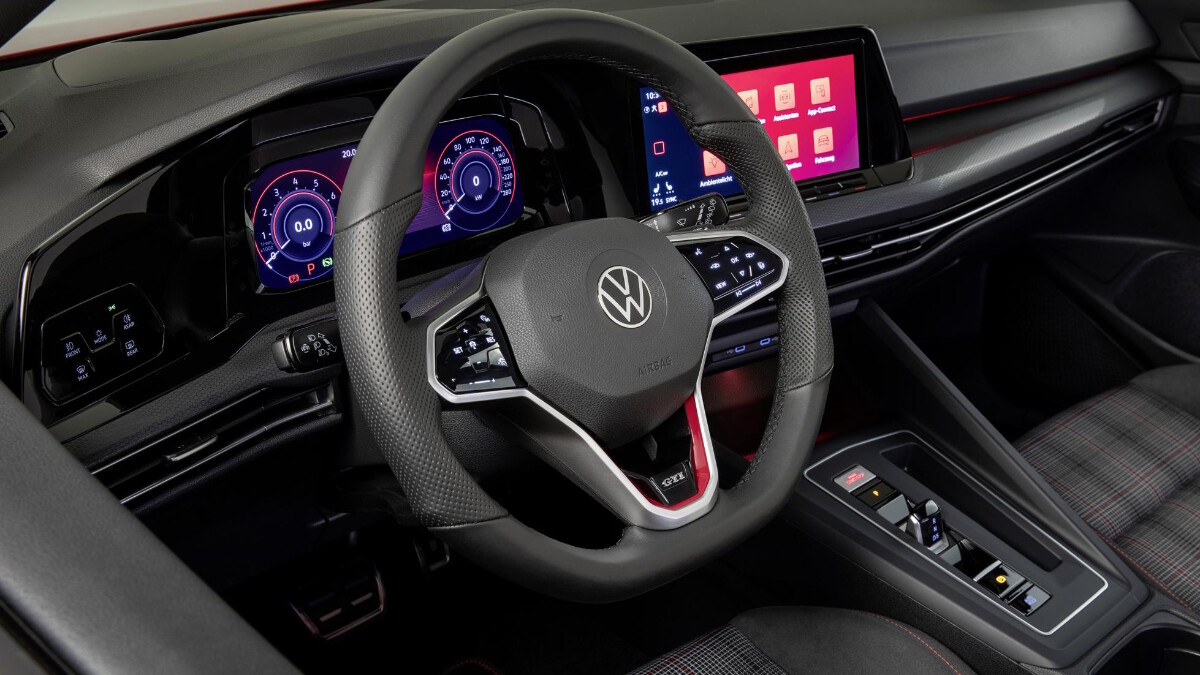 So, it's a minimalist place to be. The touchscreen is snappy to respond, and if you like to fiddle with settings, you'll appreciate the configurable widgets and multiple flavors of ambient lighting. However, everyday tasks like ordering the blower to point warm air at cold feet or activating the optional heated seats are needlessly fraught at speed. Why has VW gone to all the trouble of making the new GTI slide more in ESC Sport mode, and yet buried that menu six—yes, six presses deep—in the bloody monitor? Good job the ride is so composed.
Still, the GTI-specific bits are done well. The one-piece fabric seats are fab: comfy long-distance and offering a supportive hug. Alloy pedals: check. The instrument screen offers a variety of red-flecked readouts and can show off your boost pressure or how many g's you're pulling. Before you start the engine, the starter button pulses red, like a heartbeat. Sounds naff, but if Lamborghini or Alfa Romeo did that, we'd come over all dewy-eyed and harp on about 'soul.'
The new steering wheel feels purposeful in your grasp, though you might grumble about the sculpted thumbhooks being a tad thick. And it's fussy—we counted 19 buttons on our richly spec'd test car's spokes, all of which are glossy plastic, too, with haptic touch-sensitive feedback. They're dreadful. Setting the cruise control or cycling though radio stations is now a right old chore. Please VW, bin this Apple-wannabe nonsense and put some proper buttons back in the GTI.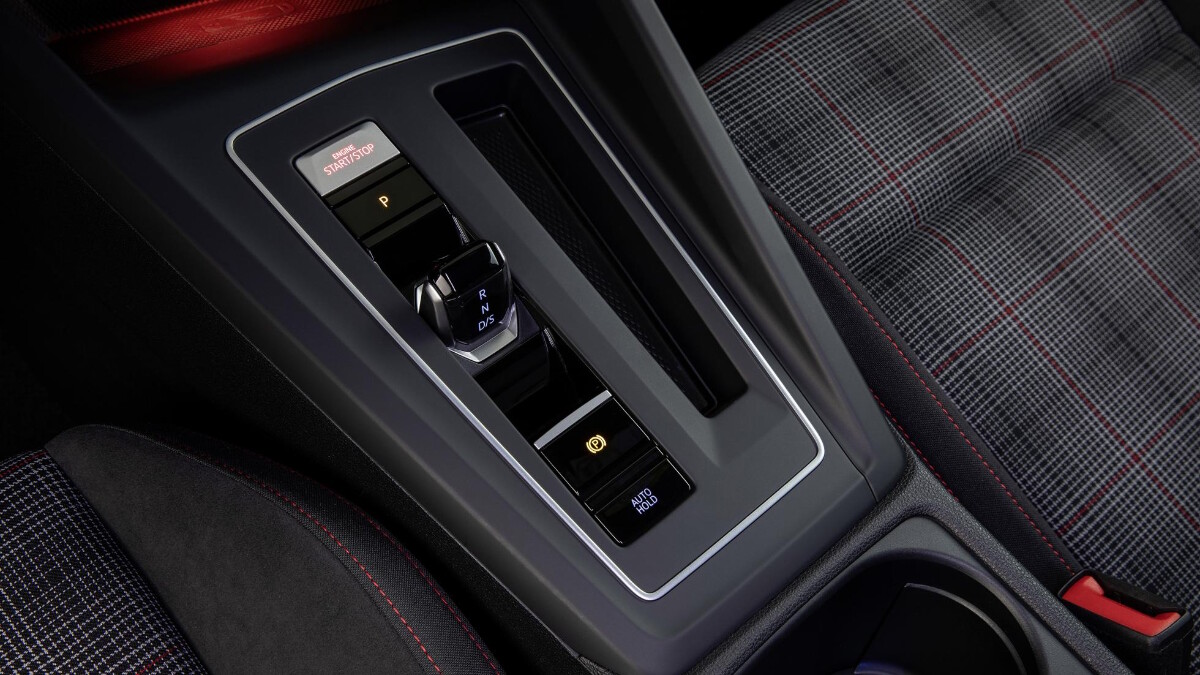 Tech-wise, there's standard Apple CarPlay and Android Auto smartphone mirroring and you can have a wireless phone charging pad, but like in an increasing proportion of new cars, there's only USB-C support, so most current devices will need an adapter cable for charging and data transfer.
And of course, this is a Golf five-door, so there's good oddment storage and decent rear seat room. The cargo area offers 360 liters of stowage in a usefully oblong shape. It's a Golf, after all—it's supposed to do the boring workaday stuff well.
Final thoughts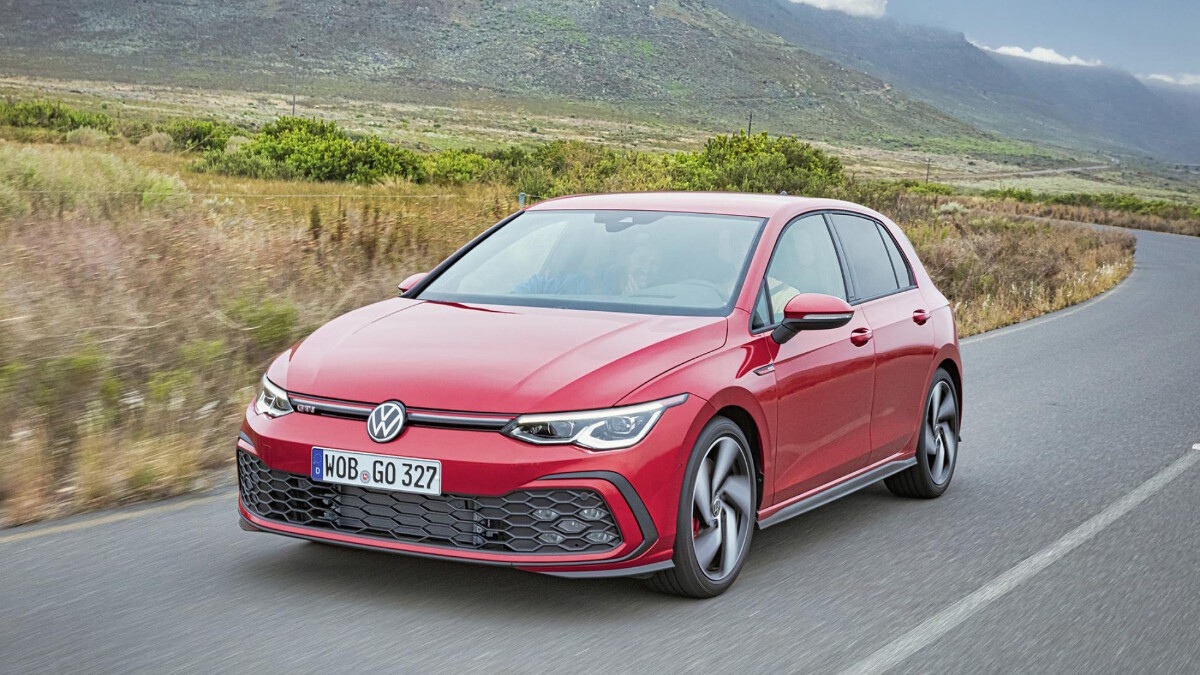 It's brave of Volkswagen to relaunch its genre-defining, household-name hot hatch with exactly the same power output as the old one. Cars don't need to get any faster these days—that's been true for a while—but it'll be fascinating to see if the GTI concedes sales to its many talented rivals for not coming out swinging with a few extra horses to its credit. If it doesn't, then perhaps this could be the start of a refreshing trend.
If only VW had applied the same attitude to the interior. Needlessly tweaking bits that weren't broke like the steering-wheel buttons and the heater controls is pretty disastrous for common-sense usability. You'll become used to it in time, of course, but getting accustomed to a fundamentally worse-designed product isn't the same as enjoying living with a well-thought-out one. And the Mk7 was the epitome of just that.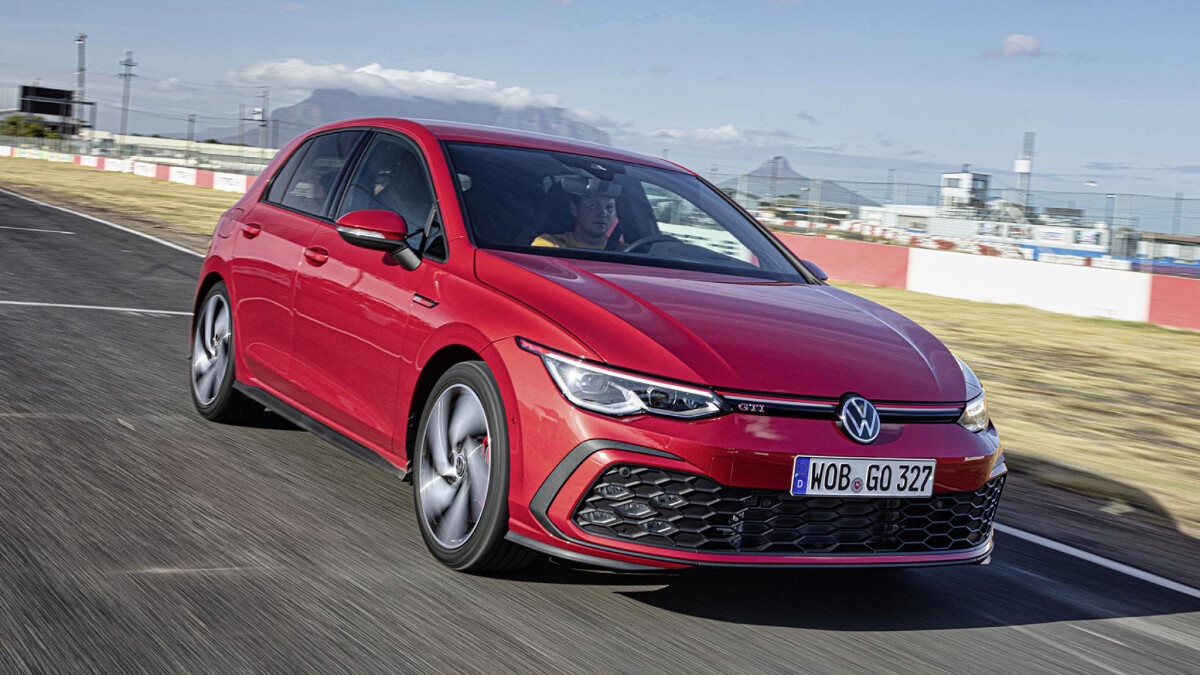 GTIs are the Porsche 911 of the hot-hatch world—they don't tend to change the game, they just buff and refine their act until it's so crushingly competent in other areas, it's almost unfair on the opposition. Thankfully, the Mk8 has kept what we loved about the last decade's worth of GTIs: solid refinement and superb driveability, but added more opportunity for back-road misbehavior. You can be neat with it and marvel at the precision, or be a bit of a yobbo without sensing the car is rolling its eyes and wishing you'd ruddy well grow up.
Is it the definitive hot hatchback in 2020? We'll need a drive of a different spec and a few choice rivals to put that question to bed. Rivals who won't have expected to beat the Golf for sheer interior common sense, but will be alarmed to see how doggedly the new GTI sticks in their rearview mirror.
NOTE: This article first appeared on TopGear.com. Minor edits have been made.