A new Bentley. Aren't they going electric?
Correct. By 2030, every Bentley on sale will be fully electric. Which makes this Flying Spur V8 one of the last of the old guard, it's safe to assume: A 4.0-liter twin-turbo V8 sits up front, driving all four wheels without any hybrid assistance. There won't be many more limos crafted in Crewe with this sort of setup.
It's a bit old-fashioned, then?
Not a bit of it. Put Bentley's recent headlines to one side and this is as cutting-edge as its plush four-doors get. The venerable Mulsanne retired in 2020, without replacement, Bentley instead pumping up the luxury of the Flying Spur and the Bentayga to compensate.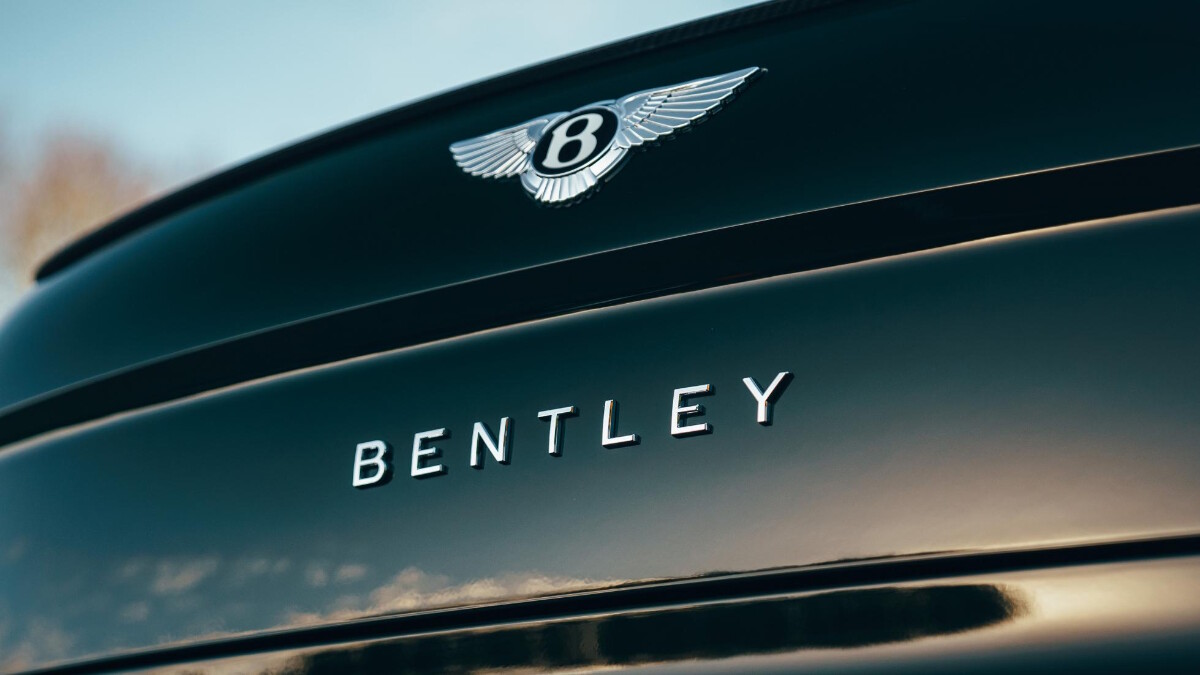 Continue reading below ↓
Recommended Videos
So, while this new V8-powered Spur sits just above an entry-level Continental GT, a small tour of the options list can have the rear quarters bedecked in 3D-sculpted wood veneers with a stocky champagne fridge hidden behind the middle seat like a secret room behind a sliding bookshelf. Though you can ditch the middle seat for an uber-posh four-seat layout, too. In short, it can feel just as special as a Mulsanne inside.
Is its engine as special?
It's the same 542hp 4.0-liter twin-turbo V8 that powers not just the Bentayga and the Continental GT, but also a number of top spec Audis and Porsches. So immediately it loses out on heritage to the almighty 6.75-liter V8 that headed off into the sunset with the Mulsanne. The 4.0 is so jaw-droppingly refined in this application, though, I doubt you'll be dewy-eyed for long.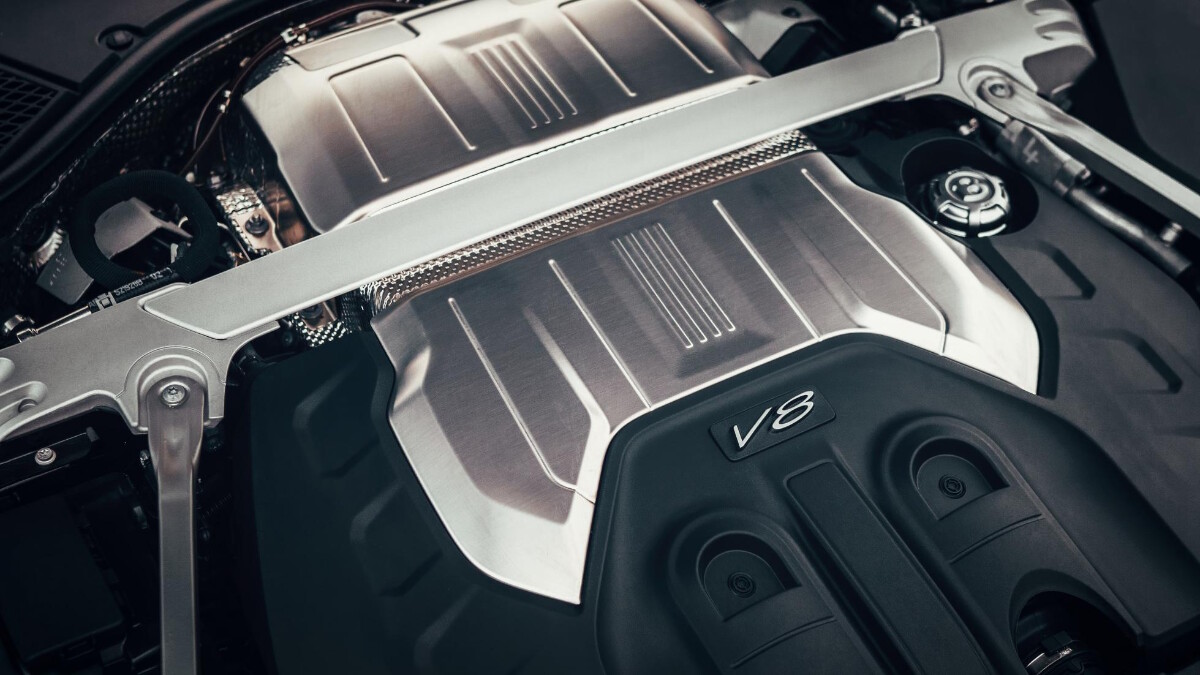 It's quick, too. While there's a very tangible delay of a second or so in the throttle—as if the Spur is checking that you definitely want to dig deep into its 769Nm and disrupt the air around you, not to mention the peace inside—push past it and you'll be propelled along very nicely indeed. The claims are 0-100kph in 4.1sec and a 319kph top speed—up 0.3sec and down 14kmph on the W12-powered Flying Spur—allied to 9.44km/Lg and 288g/km of CO2, both 10% cleaner than the 12-cylinder.
It's 107kg lighter than the W12, but at 2,330kg, it's hardly what we'd call 'Clubsport' spec. But crucially, those kilos have been nipped out in the engine bay, so the overall weight distribution is much more evenly spread—that is, sportier. Add the optional all-wheel steering (it comes latched onto Bentley Dynamic Ride, an anti-roll suspension system) and you're looking at something that, despite its slightly tardier performance, purports to be the better driver's car.
But is anyone actually driving it?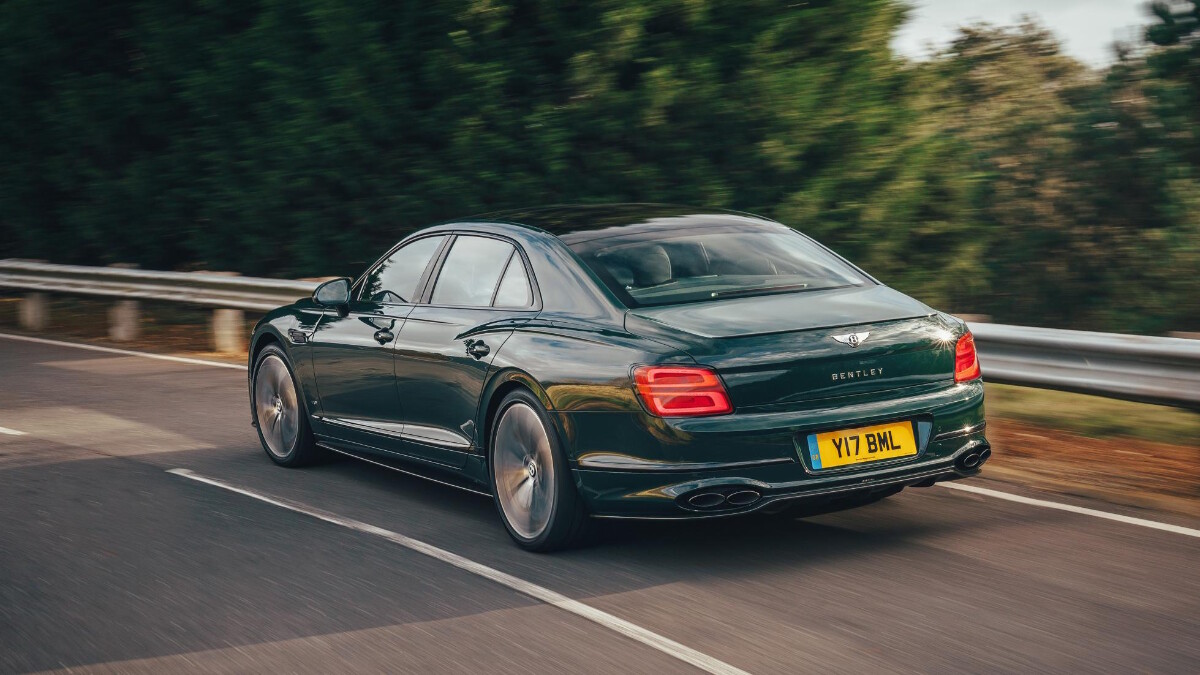 Bentley thinks so. "Research from the last 10 years shows a significant shift in the usage of the Flying Spur from chauffeur-driven owners to customers driving themselves with passengers accompanying them," we're told. So, while those rear seats can provide a home-working environment better than the dining-table setup these words are being typed upon, the best seat in the house could be the one with a steering wheel ahead of it.
There's an abundance of tech to help virtually trim its 2.3 tons and 5.3 meters, with adaptive air suspension and brake-based torque vectoring standard, and the all-wheel steering a relatively good value configurator click away. Crucially, the all-wheel-drive system is quite rear-biased—especially if you've clicked the drive mode up into Sport, at which point almost all the power is sent to the back.
Is it feisty?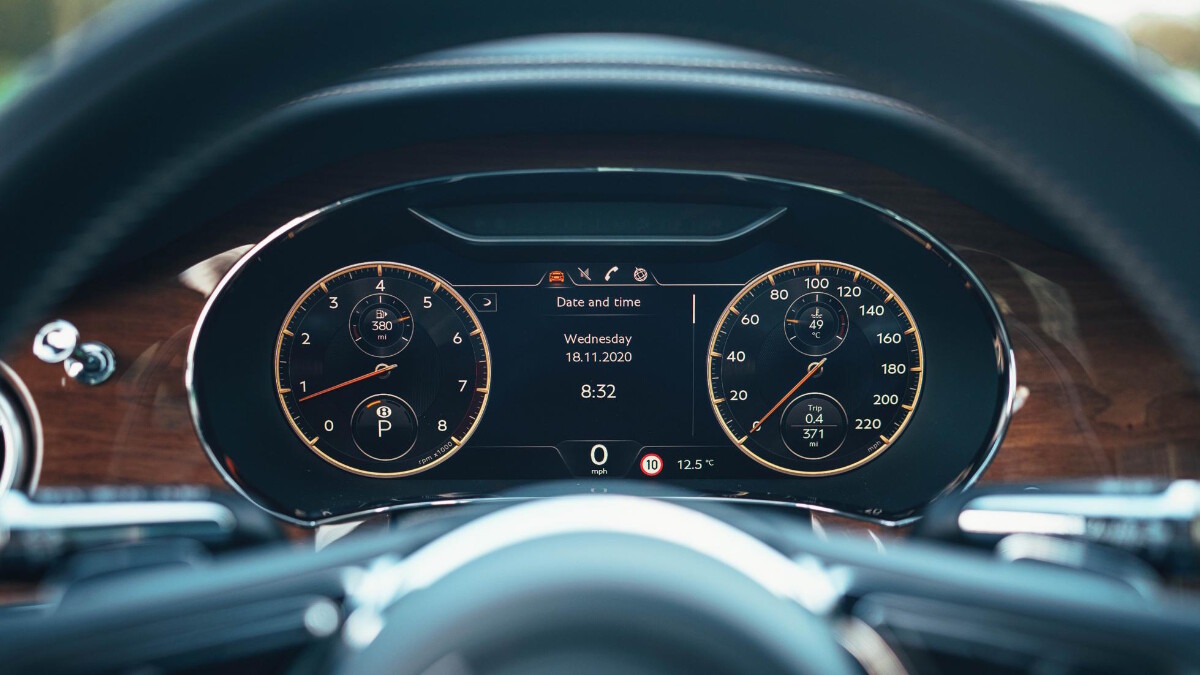 Not in the least. Driving something this large in its gnarliest mode may sound as uncouth as ordering a round of Jägerbombs at a black-tie wedding, but the Spur never simply loses its composure. Drive it hard and you won't find snatchy handling, just neatly apportioned grip with that delightful sense of the back of the car hunkering down under power and pushing you out of a corner.
I've driven few cars so receptive to cycling between their driving modes. Comfort is almost too soft, the car demonstrating the breadth of its spring rates as proudly as a West Coast lowrider if you take speed bumps above walking pace. Sport brings way more resolve while the middle, 'Normal' mode—called Bentley, because what's normal about a 319kph sedan with champagne cooling in the back?—is a sweetly judged compromise, and one I'd wager most Spurs will spend nigh on their entire life in.
How does that V8 sound?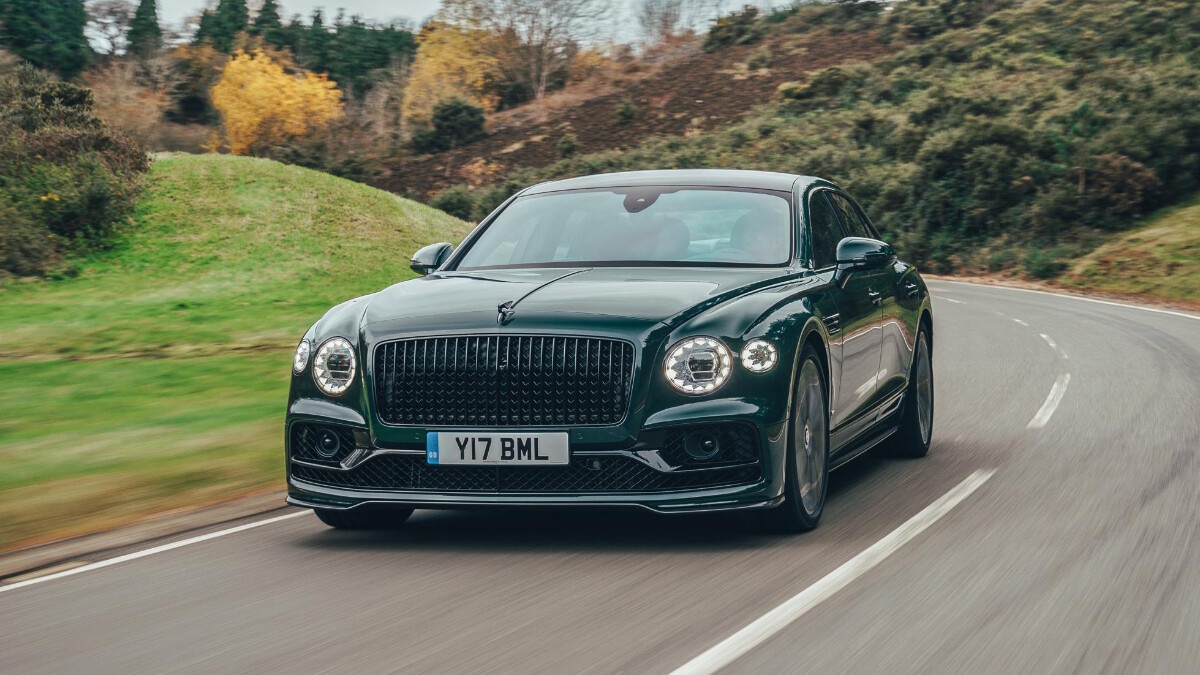 It's more likely to make its presence felt than the more grownup W12, and if you're so inclined, it'll soar nicely toward its redline, a classy V8 grumble emanating from around 4,000rpm. But that initial hesitancy in the throttle means you'll have always consciously headed there, and the car's natural inclination is to sit silently below 3,000rpm, when half of its cylinders can deactivate to boost fuel economy (and help yield a 640km+ range). This may not be one of Bentley's new electrified products, but there are stepping stones to a cleaner future here. And you've better ears than me if you can identify when this car's operating as a four-cylinder.
The gearbox is silky-smooth, too, though my default became its more urgent Sport mode, but with the paddles left alone. They're made of delightfully tactile metal, but the eight-speed transmission is so smart, you'll just be getting in the way of its good work if your barge in and have a go yourself.
What if I'm not driving it at all?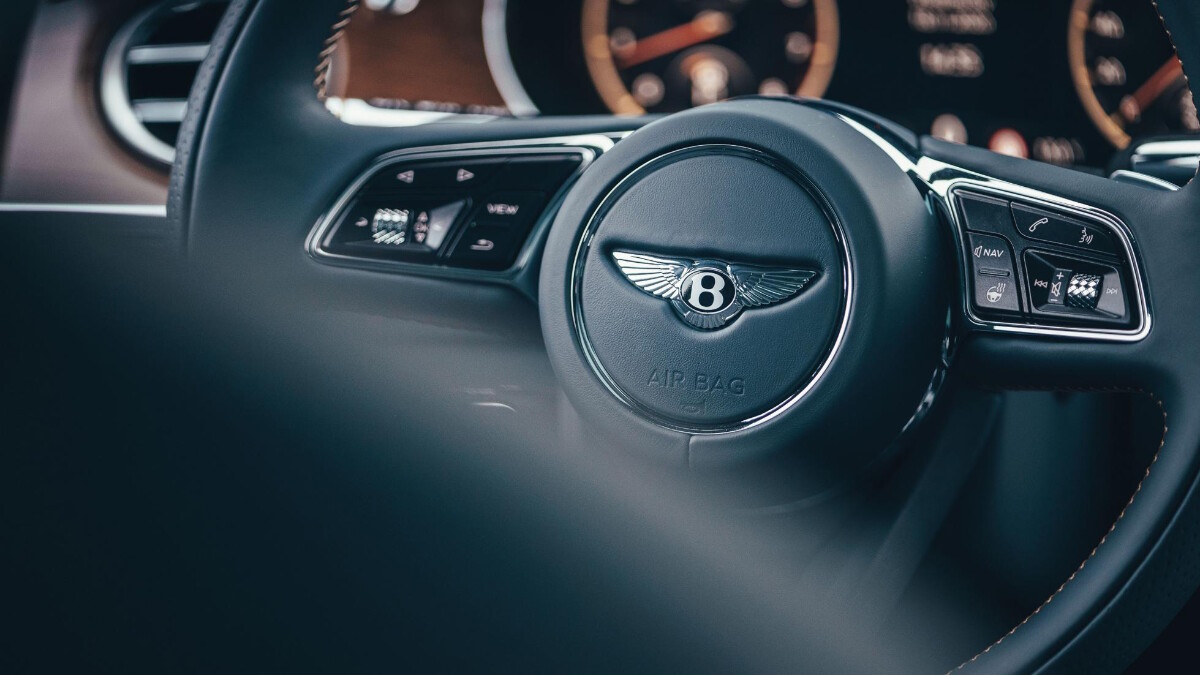 Well, there are certainly clues that might still be the case. The steering wheel doesn't electronically whir out from the dashboard anywhere near enough to provide the hunkered-down feel of other super sedans. And if you are still buying a Bentley in order to employ someone else up front, you'll have more chance to enjoy the wildly adjustable rear seats complete with electrically retracting laptop/snack tables in front.
While this car starts at a smidge over £150,000 (P9.89 million), I think you'll have shown considerable restraint to finish up with sizeable change from £200,000 (P13.2 million). As well as the all-wheel steering, there's such delights as the 'big Toblerone' rotating display, the absolutely stonking 2,200-watt, 19-speaker Naim for Bentley audio, and the Mulliner Driving Specification that brings quilted leather, truly arresting 3D leather door panels, and 22-inch wheels that have no discernible impact on ride quality while filling the Spur's arches well enough to shrink its proportions down beautifully.
Compared to what went before?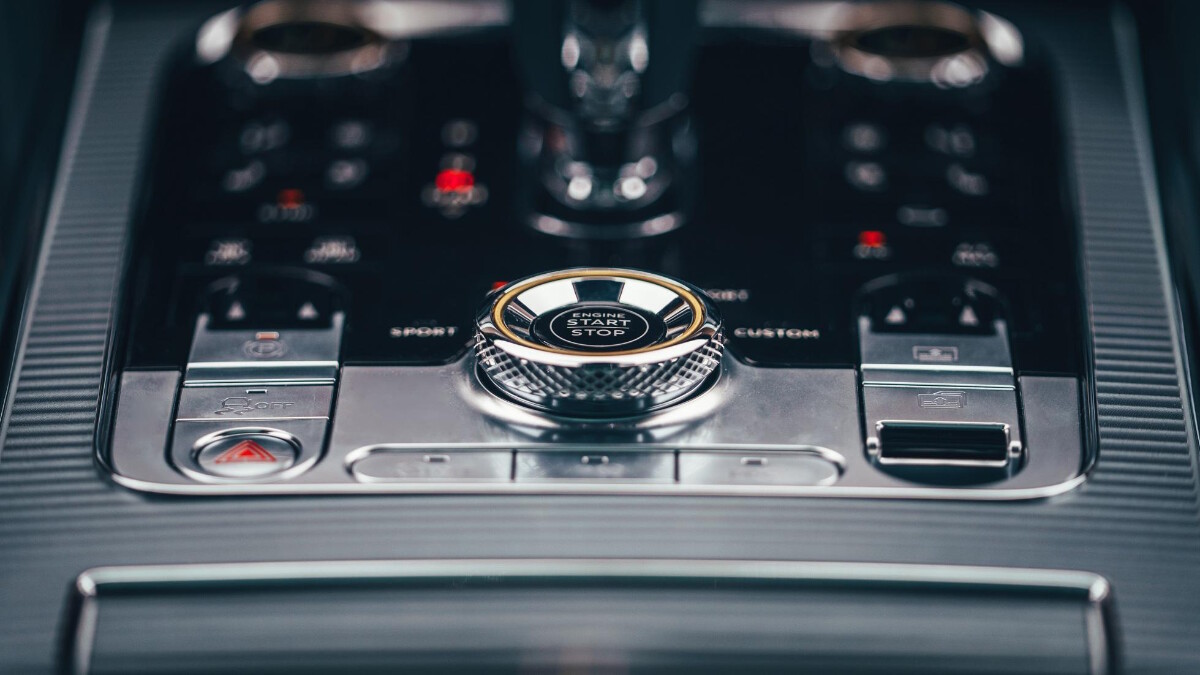 Yep—anyone who thought the old Mulsanne a bit awkward ought to find this easier on the eye. And all without any real loss of occasion, despite an engine shipped in from Germany that'll operate on four cylinders with relative frequency.
If this is among the last of the purely gasoline-powered Bentleys—before electrification transforms the range—then the Flying Spur V8 delivers with appropriate class. Whichever mode you're in, or whichever seat you're intending to call home.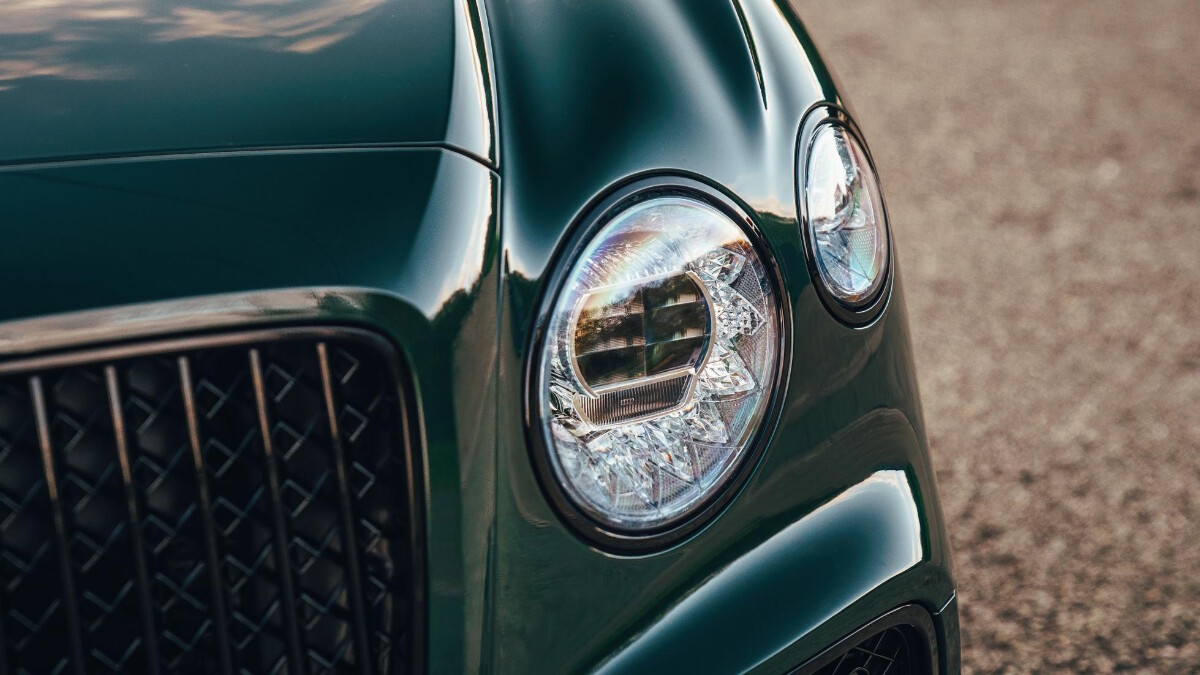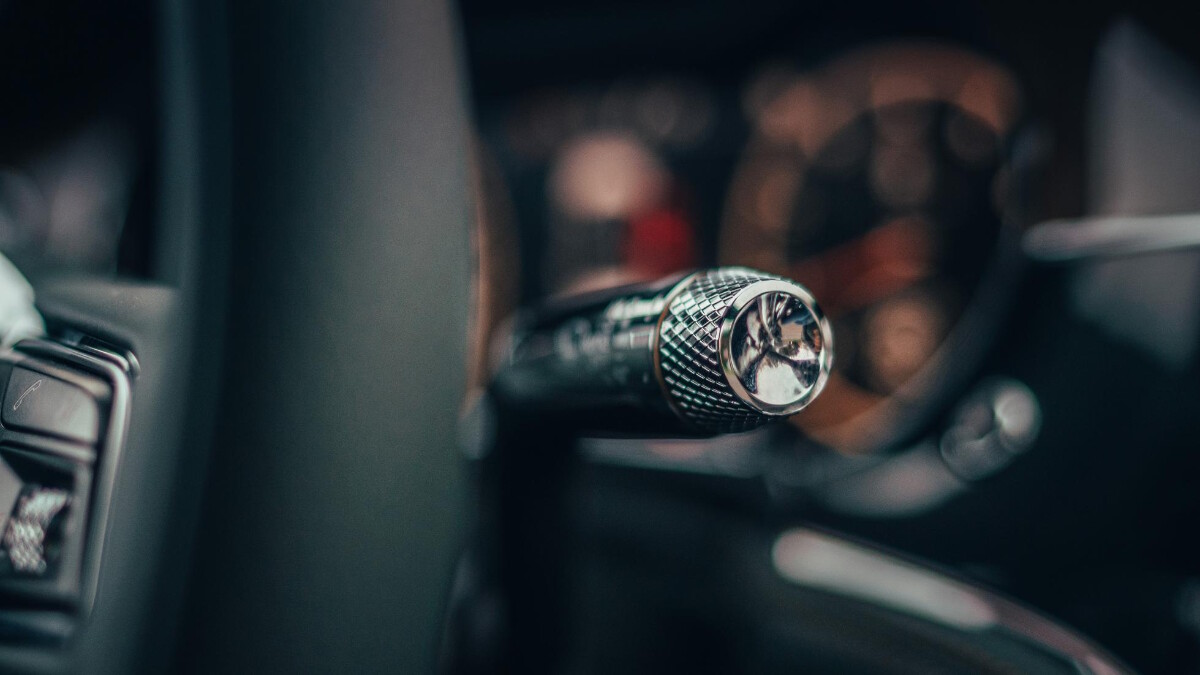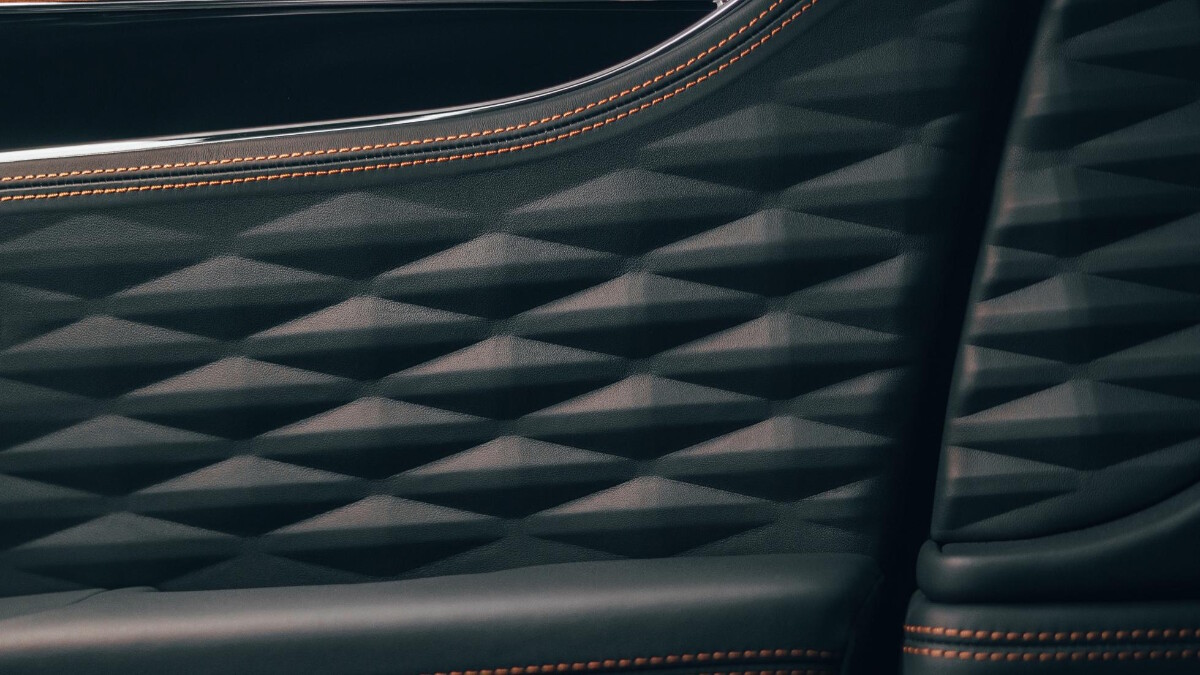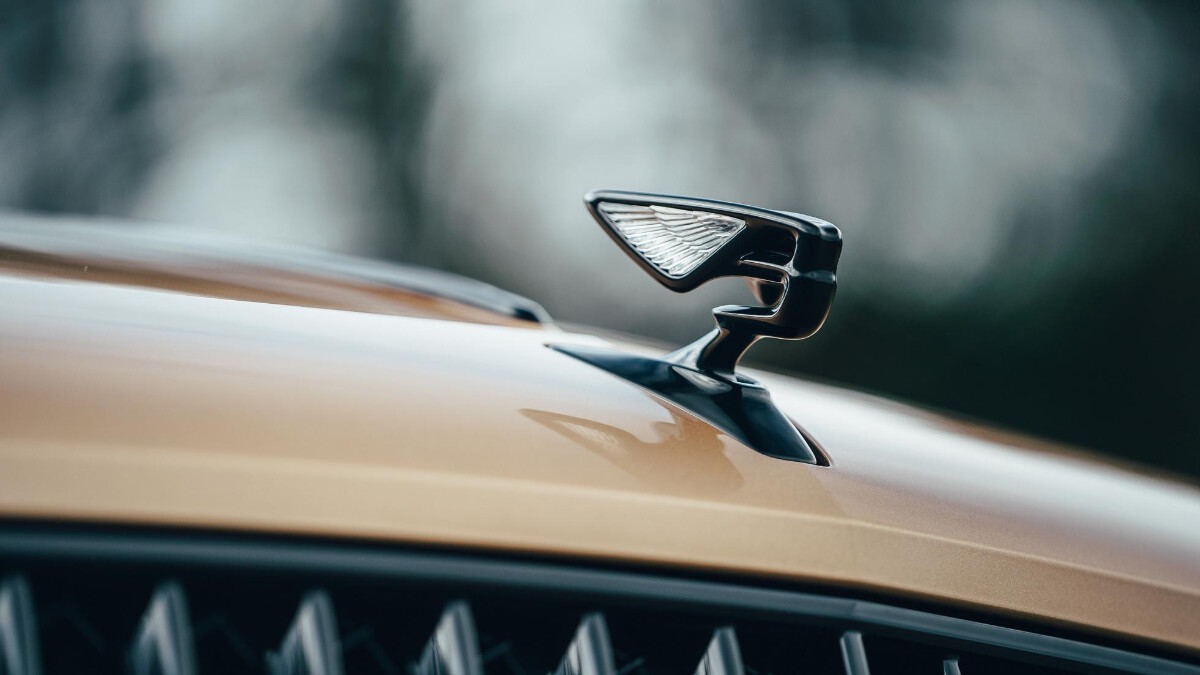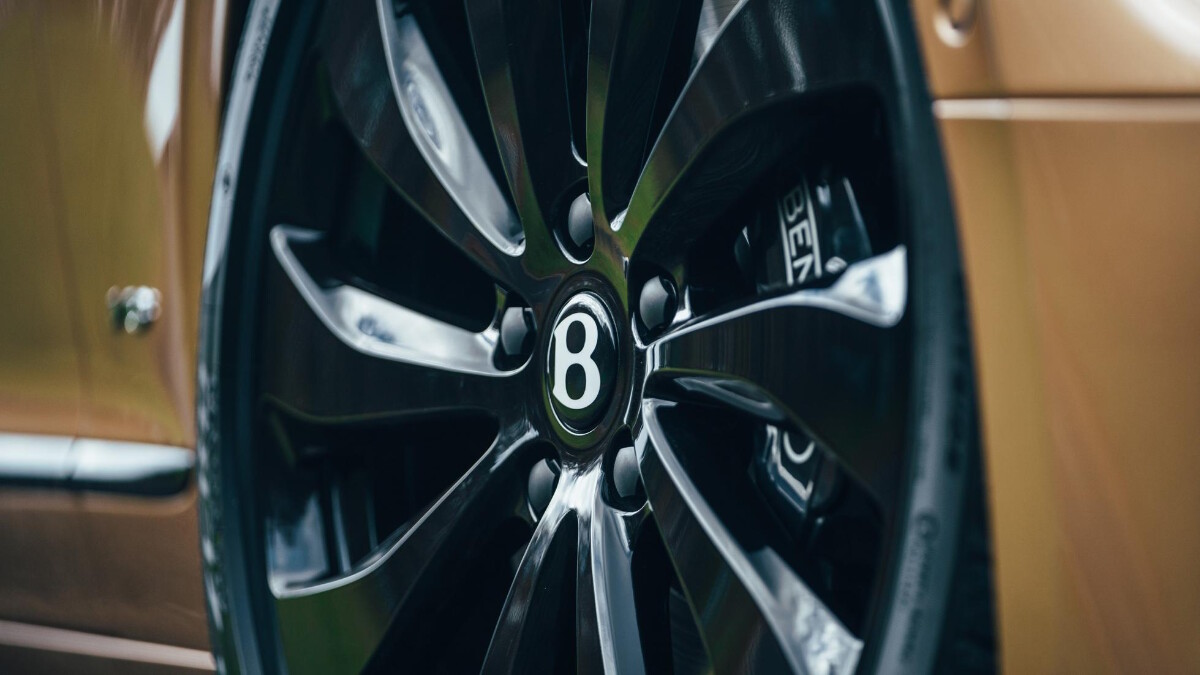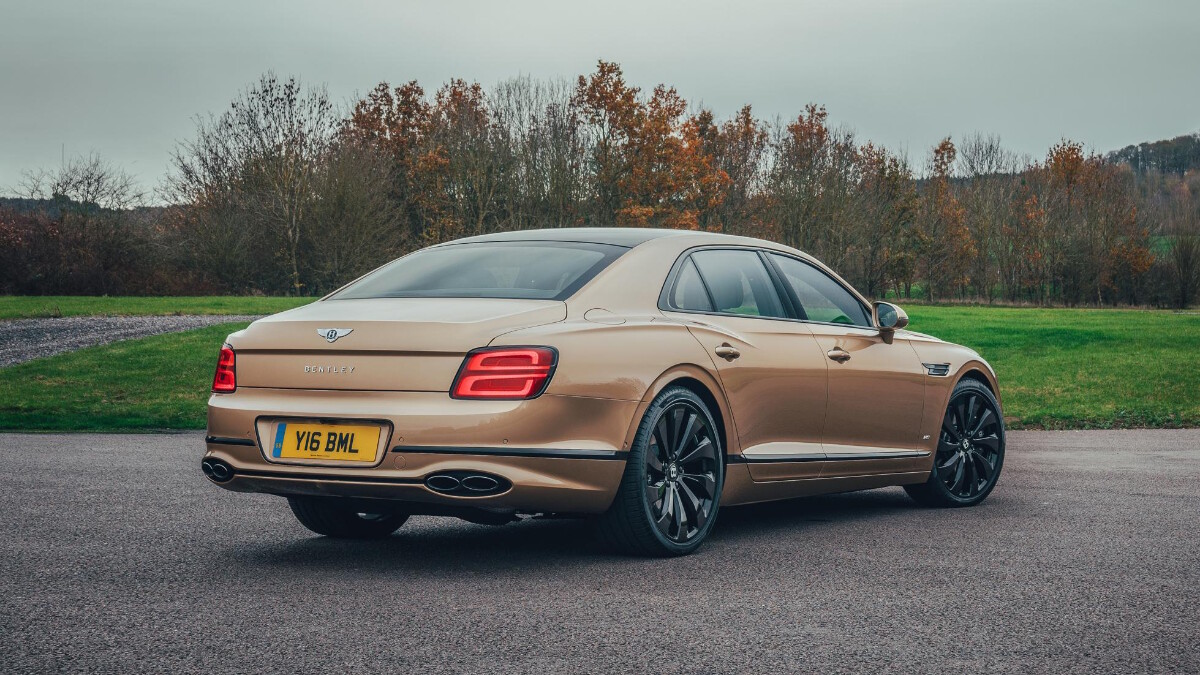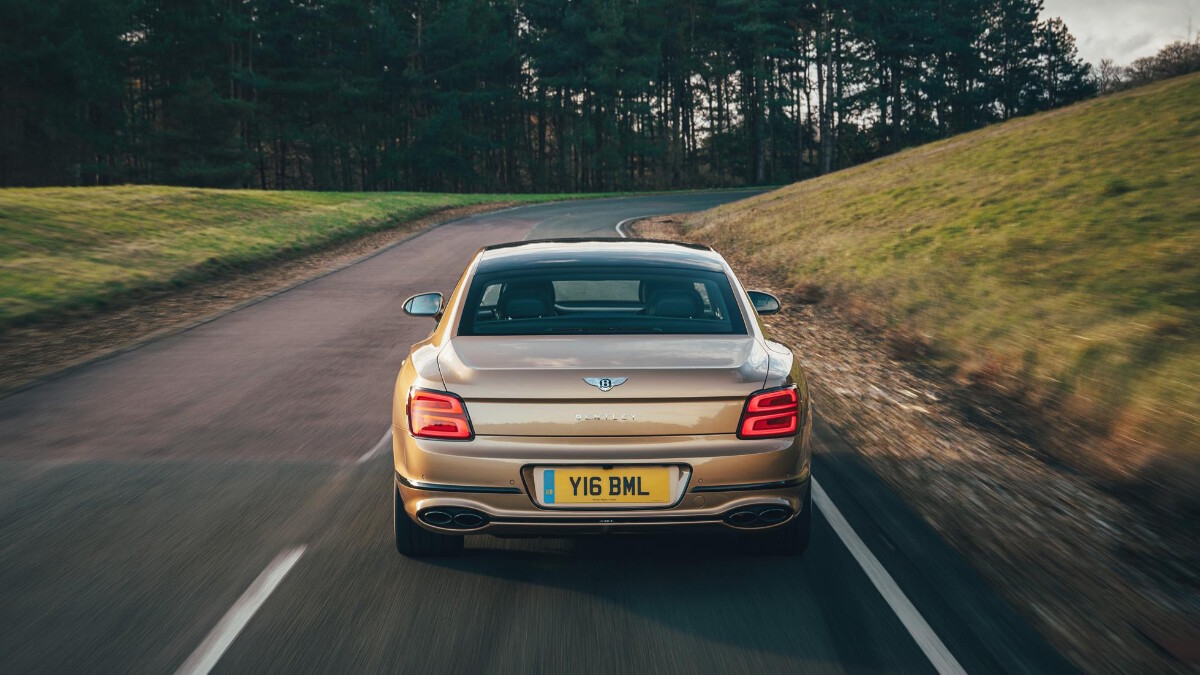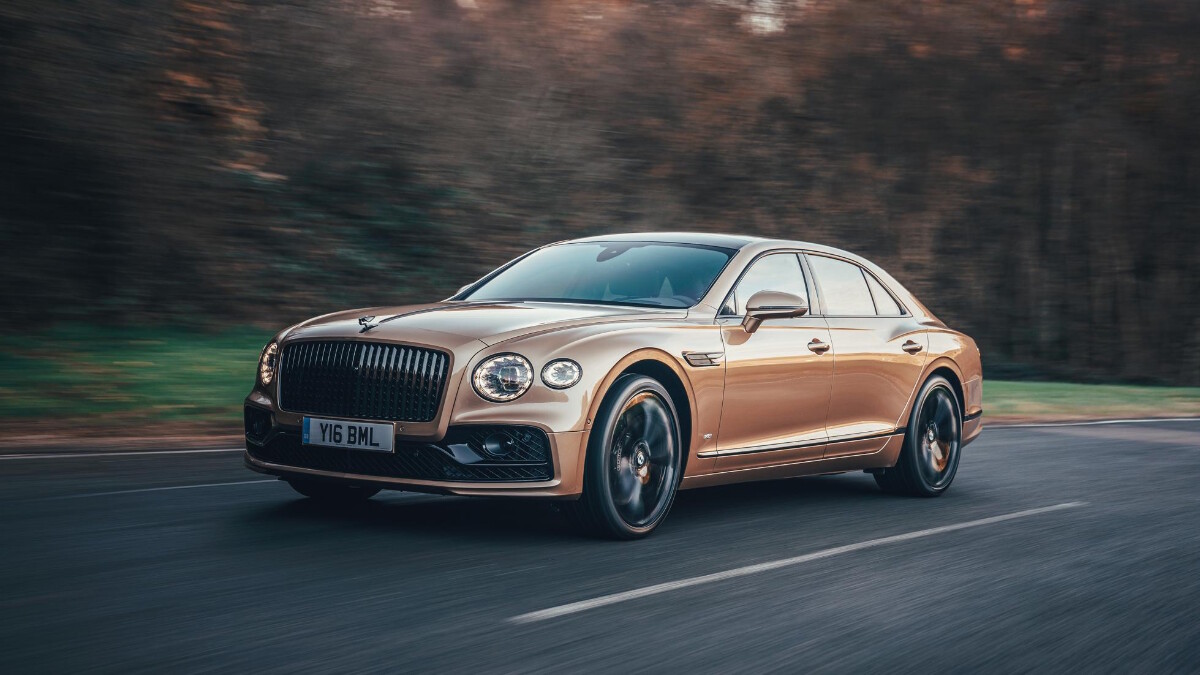 NOTE: This article first appeared on TopGear.com. Minor edits have been made.