It's a big moment. The first BMW M4 was a hit. Those of us who geek out over the lineage of performance cars saw the renaming of the two-door M3 as a bit of an affront. Meanwhile, those who actually spend big money on said performance cars bought almost twice as many of these as the M3 four-door it was so closely related to.
BMW knows its customers well, and M4 buyers are what it calls 'extroverts.' Which does a lot of the heavy lifting in explaining those elongated kidney grilles, which don't actually look too offensive in real life, where the rest of the car's visual aggression—especially in optional Sao Paulo yellow paint—backs them up. Honest.
In meme culture, they dominate the headlines, but in the world of sport sedans and coupes—of which the M3 and the M4 are the epicenter—there are more pressing plot developments. Like the fact that the 3.0-liter twin-turbo straight-six up front now tops 500hp, and the paddle shifters operate a ZF automatic rather than a more assertive twin-clutch transmission.
ADVERTISEMENT - CONTINUE READING BELOW ↓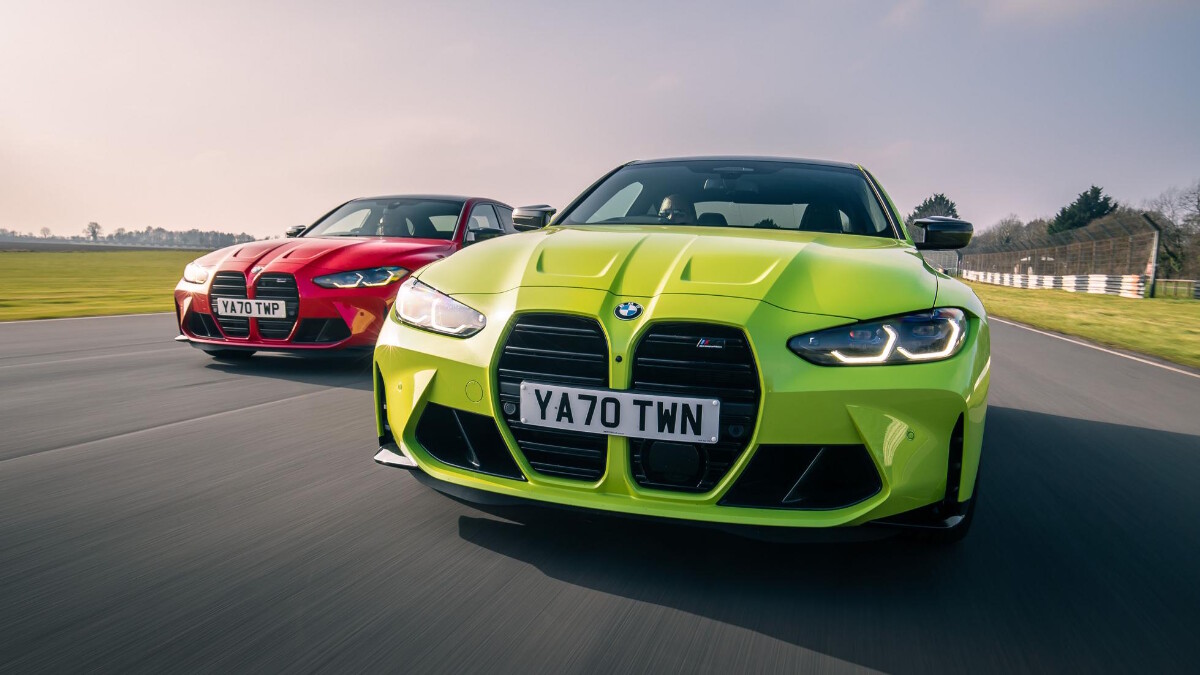 Then there's the swelling in price and weight (now over 1,700kg). BMW says the additional weight "has been invested in improved safety and emissions," which sounds like positive spin to rival "I actually used lockdown to grow as a person."
But one look at the new M4 Competition's stats (503hp, 649Nm, 0-100kph in 3.9sec with rear-wheel drive, a 290kph top speed) and the fact that optional xDrive 4WD is on the way—as well as an M3 Touring—suggests this is a car that has grown up. Plenty of people will argue it needed to. The first M4 arrived as the M3 family went turbocharged for the first time, and it wasn't an especially smooth transition. Those early F82 M4 cars could be spiteful, and the car forged itself a reputation for being a fair old handful.
ADVERTISEMENT - CONTINUE READING BELOW ↓
Recommended Videos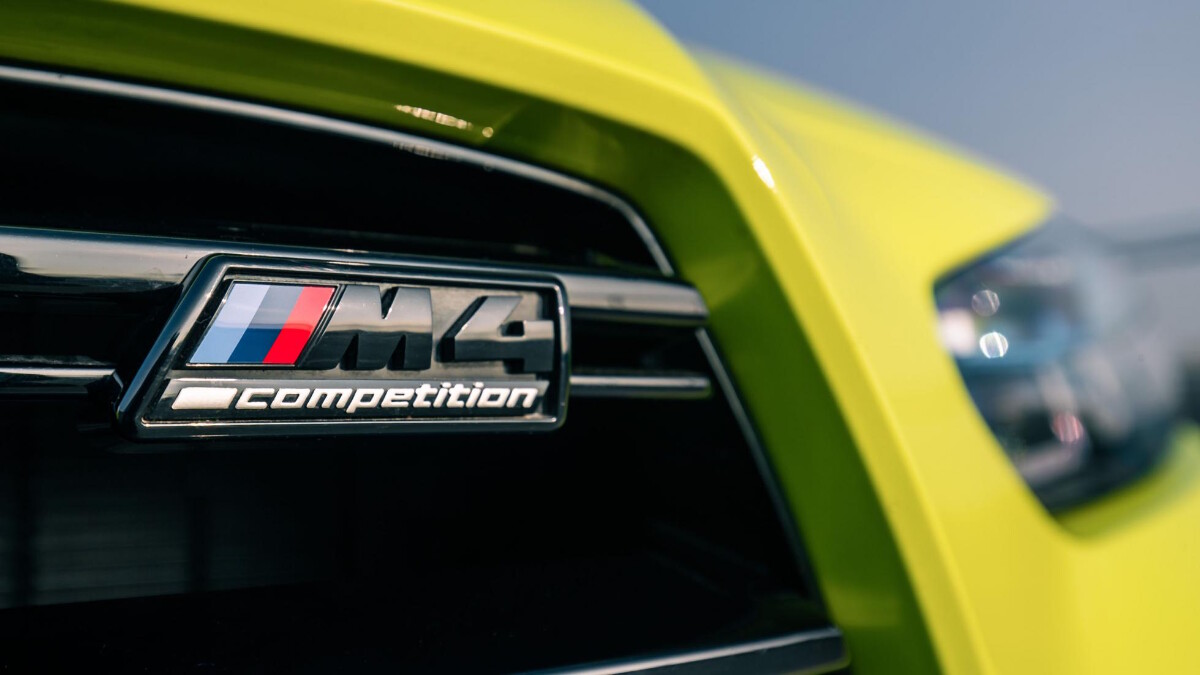 The sharper edges of its handling were blunted a little with the arrival of a facelift and the more accomplished Competition version, but anyone who'd experienced an M4's rear wheels spinning during a third-to-fourth upchange (in a straight line) weren't exactly queuing round the block to see how much friendlier it had become.
ADVERTISEMENT - CONTINUE READING BELOW ↓
Mind, the garish grille and the M Drift Analyzer mode of this new G82 generation might suggest the car has retained some of its wild side—perhaps even amplified it. Time to have a go...
On the road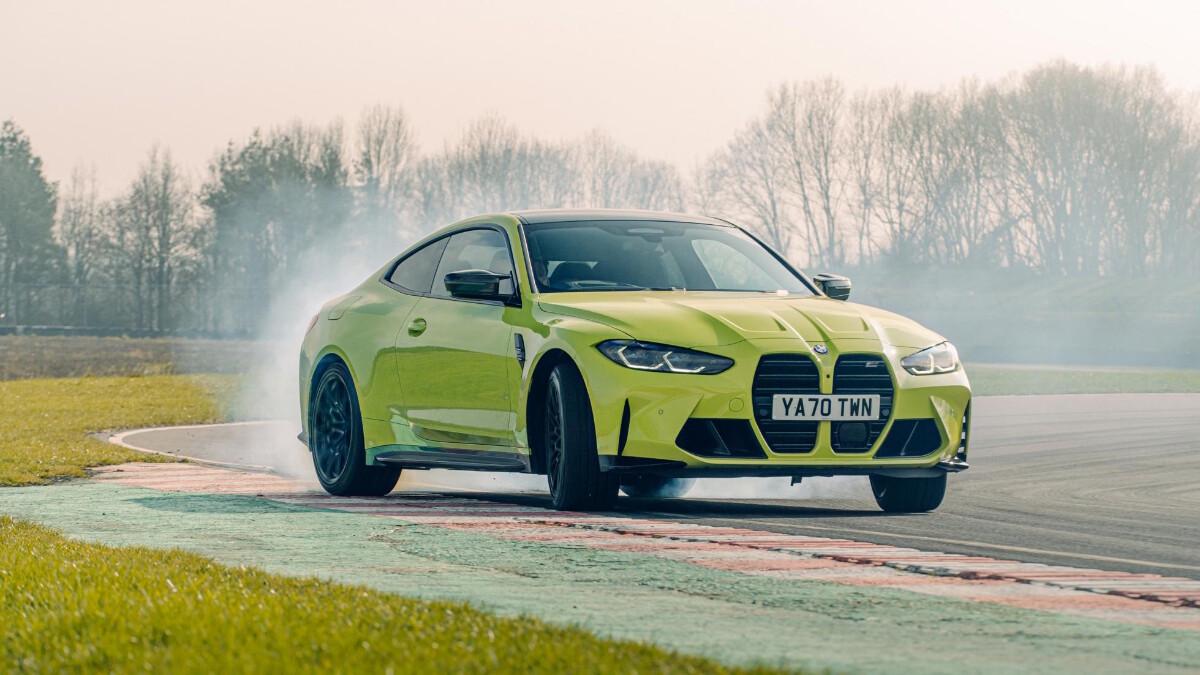 The year 2020 saw a lot of dimwitted decisions made by senior figures, but is the introduction of M Drift Analyzer one of the most calamitous? Maybe we're wrong, and the public may be trusted with technology like this. But our suspicion is that YouTube has invested in a whole new bank of servers for the onslaught of footage about to be uploaded.
ADVERTISEMENT - CONTINUE READING BELOW ↓
Especially now that the M4 requires so much more commitment before it actually cuts loose. You can get back on the power—hard—at a point of a corner that would have demonstrated Jackass levels of self-sabotage in the F82. The traction is superb and has us questioning the need for the XDrive version, even if BMW thinks it'll mop up 80% of five M3 and M4 sales.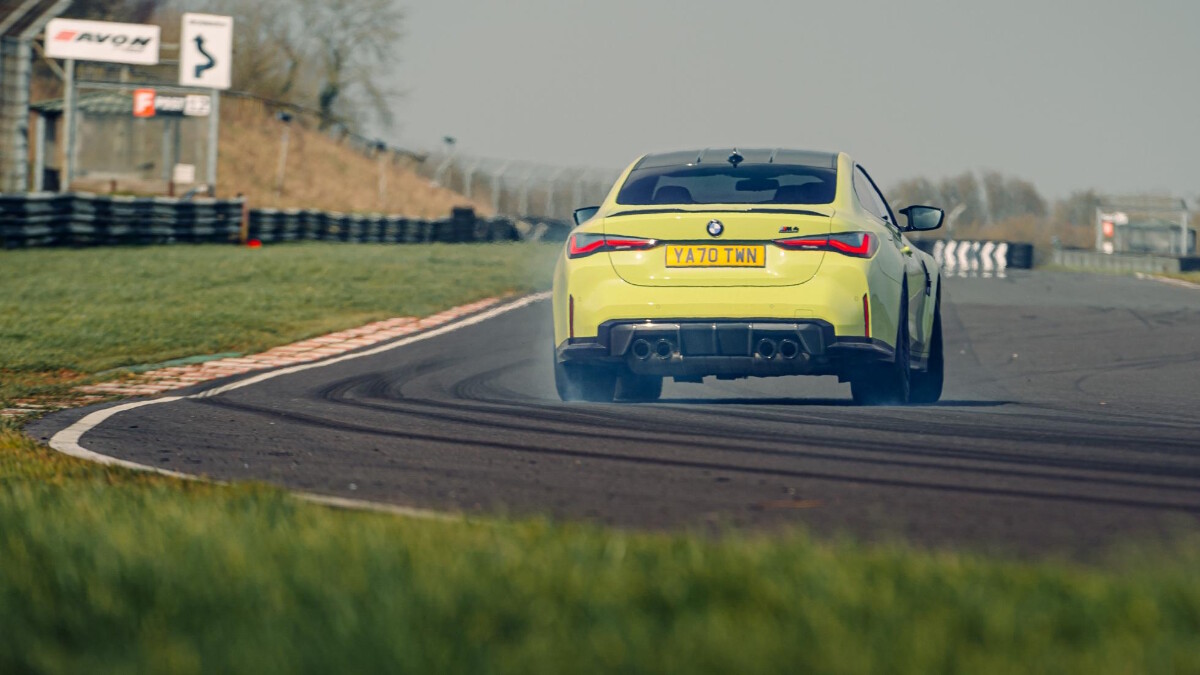 ADVERTISEMENT - CONTINUE READING BELOW ↓
A lot of this is down to the electronically controlled differential, which is deeply impressive in the way it meters out power at the rear axle. You can squirm subtly out of a second-gear corner without having to apply corrective lock, if you wish. But there's a good chance you'll happily prod the car a little harder, the DSC's middle 'MDM' mode leaving more than enough freedom for road driving.
On track with the shackles loosened yet further, this thing can be magnificent, shaking off its porky weight figure admirably. It's less inclined to understeer into a corner, and less likely to transition swiftly into oversteer as you exit. Which in turn means you'll be driving its not-inconsiderable 1.7 tons with much more commitment if you do want to adopt the traditional M attitude to tire lifespan. Calling into question the sheer accessibility of that goading 'rate my drift' mode, which only activates with the DSC off, and whose maximum score potential grows from three to five stars as you loosen the traction control through its 10 levels. What could possibly go wrong...
ADVERTISEMENT - CONTINUE READING BELOW ↓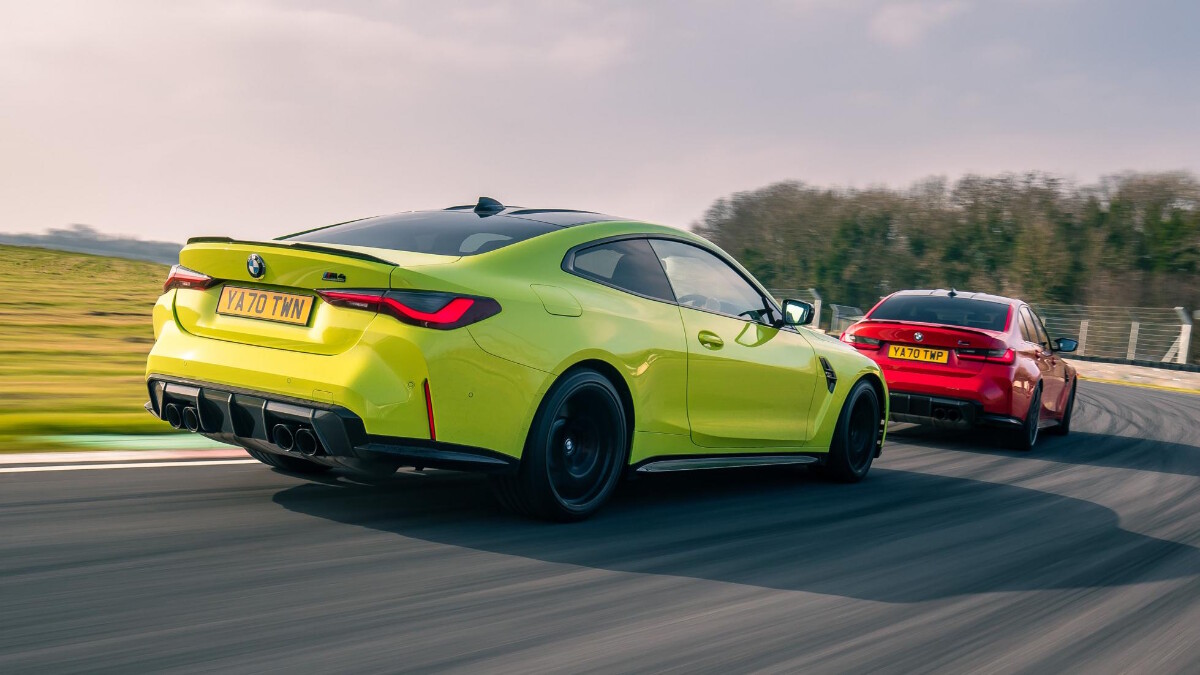 Back on road, the M4 exhibits a maturity that pervaded its predecessor. Left in its lowliest setting, the automatic transmission shuffles politely up to eighth and sits at 2,000rpm on the highway, newly acoustic windows blocking out everything but the roar from the tires (larger than ever, with staggered wheels measuring 19 inches up front, 20 inches in the rear). The damping is excellent, making a bit of fuss over broken urban roads, but really knuckling down with a bit of speed. Sport Plus is palatable on some roads, Sport palatable on most, and Comfort finally a title befitting of what's on offer. All told, it feels like someone within M has driven an Audi RS5 and managed to ignore its flaccid handling in order to dig out some bits an M4 could use—namely, some exceedingly polite manners and genuinely trustworthy traction.
ADVERTISEMENT - CONTINUE READING BELOW ↓
Is the M4 too polite? Its engine is essentially a development of the marvelously refined straight-six in the M440i, where it fills the role of mini-GT perfectly. Though with the help of a new lightweight crank and 3D-printed cylinder head, this uprated version shares just 15% of parts with its softer sibling, while the gearbox is described as 'heavily tuned' for the M4, offering quicker shifts.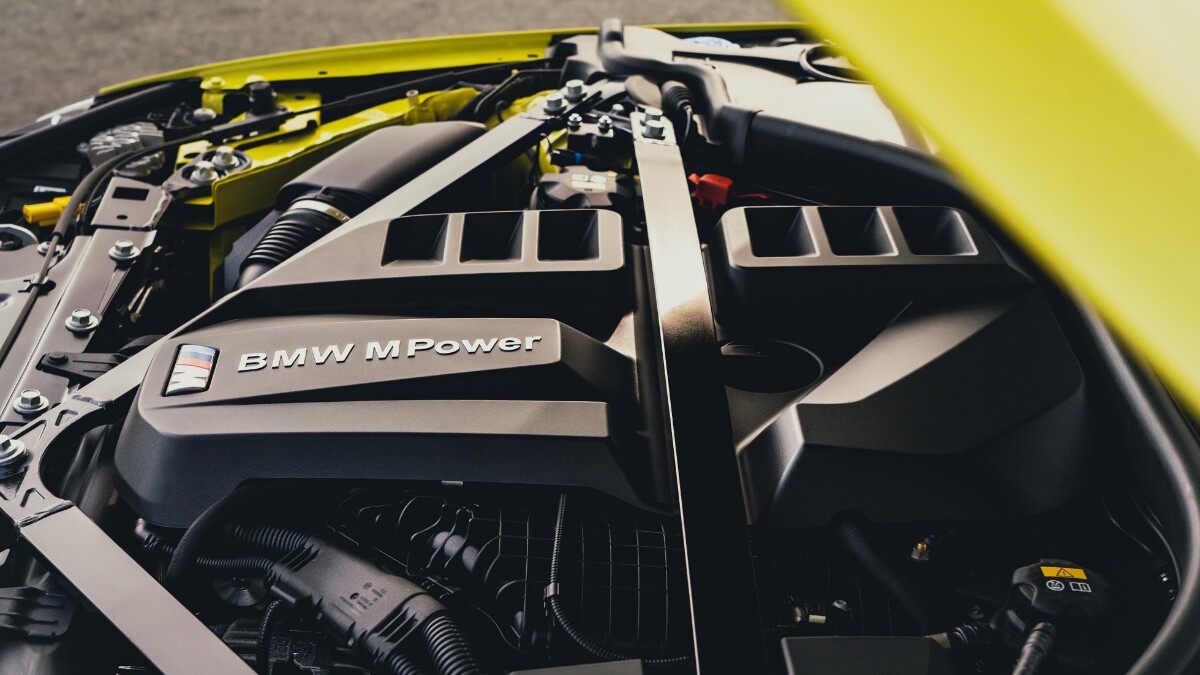 ADVERTISEMENT - CONTINUE READING BELOW ↓
Altogether, this powertrain is effective rather than spectacular. It provides boundless performance throughout the rev range—and genuine excitement as you lunge from 4,000rpm to 7,000rpm—but it also brings an end to a run of theatrical M3/M4 powertrains, from the silky and sonorous six of the E46, through the highly revving and nape-prickling V8 of the E92, to the sweaty palms and endorphin spikes of 'wheelspin at the top of third gear as you pull fourth' in the F82.
This new car's heart can't help but feel a bit strait-laced off such a run of form, but don't mistake this engine as dull as a result. It's preferable to Audi's alternative, while the new Mercedes-AMG C63 it'll soon rival will utilize a four-cylinder hybrid. Given the typical seven-year life of an M3/M4 generation, this is undoubtedly the last pure gasoline version, and perhaps the last that uses internal combustion full stop, the new 500hp i4 EV potentially taking the baton completely for this type of car. In which case, a slightly undramatic six is surely a better solution than BMW's own ubiquitous four-cylinder with a retune and electrification. Isn't it?
ADVERTISEMENT - CONTINUE READING BELOW ↓
Every M3 (and in turn, M4) we've driven previously has grabbed us within the first five minutes. Be that by the heartstrings or the scruff of the neck, depending on which version we're talking. This new one is more of a slow burner, a car that takes a bit longer to get under the skin of, but which is really quite brilliant once you do.
On the inside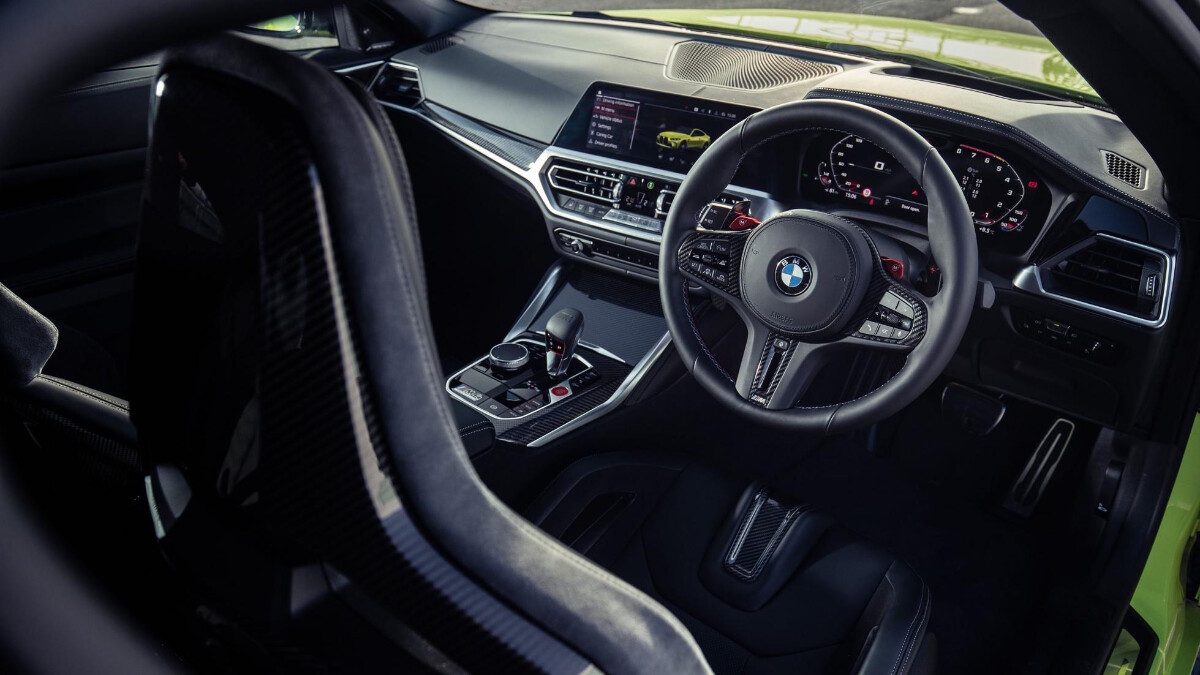 ADVERTISEMENT - CONTINUE READING BELOW ↓
The interior's basic structure is as per the BMW 4-Series. Which is good news, even if it means rows of buttons from the standard car occupying space in something that'll scrape £90,000 (P6.07 million) with a modest brush against the options list. Here is a car interior that incorporates screens subtly, leaving good old-fashioned buttons where they belong: operating lights, aircon, and multimedia shortcuts. Phew.
There are an awful lot of buttons, it must be said, and operating M4-specific features isn't the work of a moment. Once you've gotten accustomed to the various menus, though, you'll have quickly programmed your favorite drive settings into the M1 and M2 nipples on the steering wheel, perhaps encompassing 'road' and 'track,' if you plan on taking your heavy and expensive car on circuit, or with 'comfy but pressing on a bit' and 'I want to get home with my shoes on fire' modes if you're in the majority who won't.
ADVERTISEMENT - CONTINUE READING BELOW ↓
The screen in the middle can display lap timers, g meters, and that blimming Drift Analyzer—on top of the obvious media and nav—while the digital instrument cluster can take the form of traditional (albeit hexagonal) speedo and rev counter, or a big central speedo, rev counter, and gear indicator for when you want a quicker readout. You can also get a frankly massive hockey-stick rev counter on the head-up display, but it's so big, it's almost comical.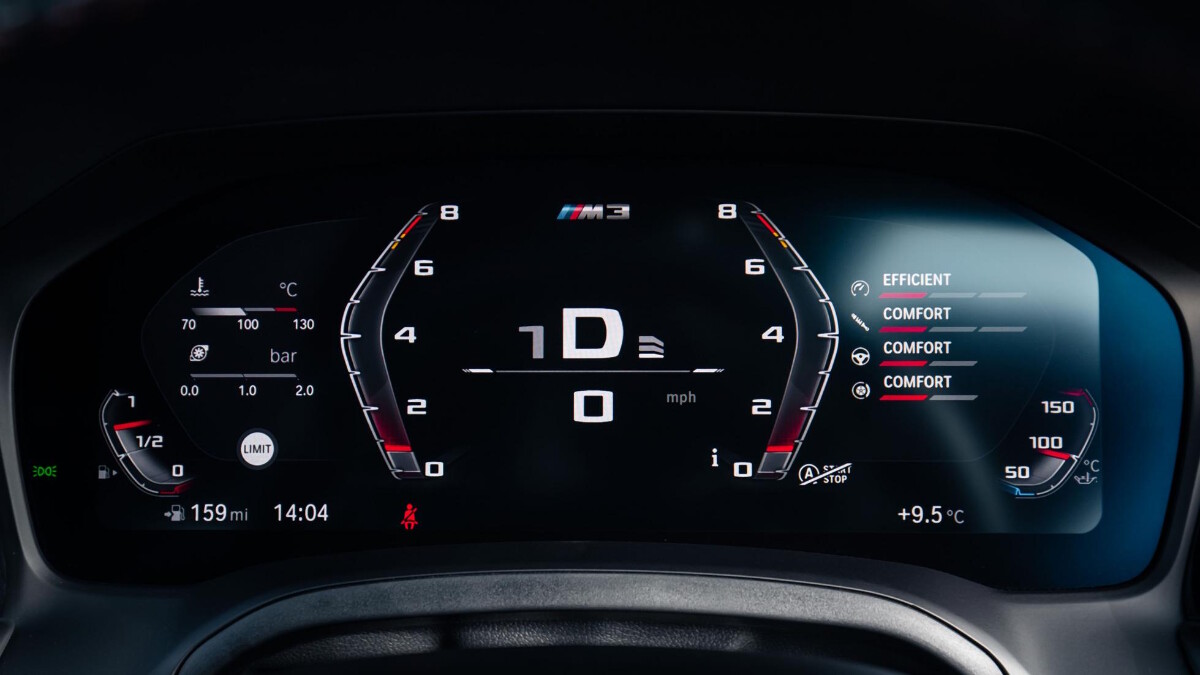 ADVERTISEMENT - CONTINUE READING BELOW ↓
All M3s and M4s headed for Britain get an interior carbon pack as standard, reflective of the sheer number of people who spec'd it on the previous-gen cars. And yet we'd rather wish BMW had kept some choice on the table; not all of it looks great, and just take a look at the tiller-and-paddle-shifter combo. The paddles feel like plastic and give off a 'toiletries gift set' vibe where something like an Alfa Romeo Giulia Quadrifoglio has gorgeous fixed metal paddles that ting delightfully when you flick them. Given how BMW helped pioneer these sorts of transmissions in attainable performance cars, it's a curiously dropped ball.
The optional carbon bucket seats are fantastic. A bit of an eyeful at first, but they're supremely supportive and superb over long distance—almost an entire day in them didn't elicit a single ache. They electronically adjust in as many directions as a regular leather seat, too, and leave a reasonable amount of room for passengers to clamber into the M4's rear quarters when you've pulled the M tricolored fabric and they've automatically whirred forward.
ADVERTISEMENT - CONTINUE READING BELOW ↓
Speaking of which, there's comfortably room for anyone 5'5" or below, while adults will squeeze back there for shorter journeys. There are two seats in the back, as opposed to the M3's three, but each passenger gets his own aircon vent, USB-C port, and a cupholder. The middle section of the rear seats flips down to house longer items feeding through from the trunk, which, at 440 liters, is just 40 liters down on volume compared with the M3 sedan.
Final thoughts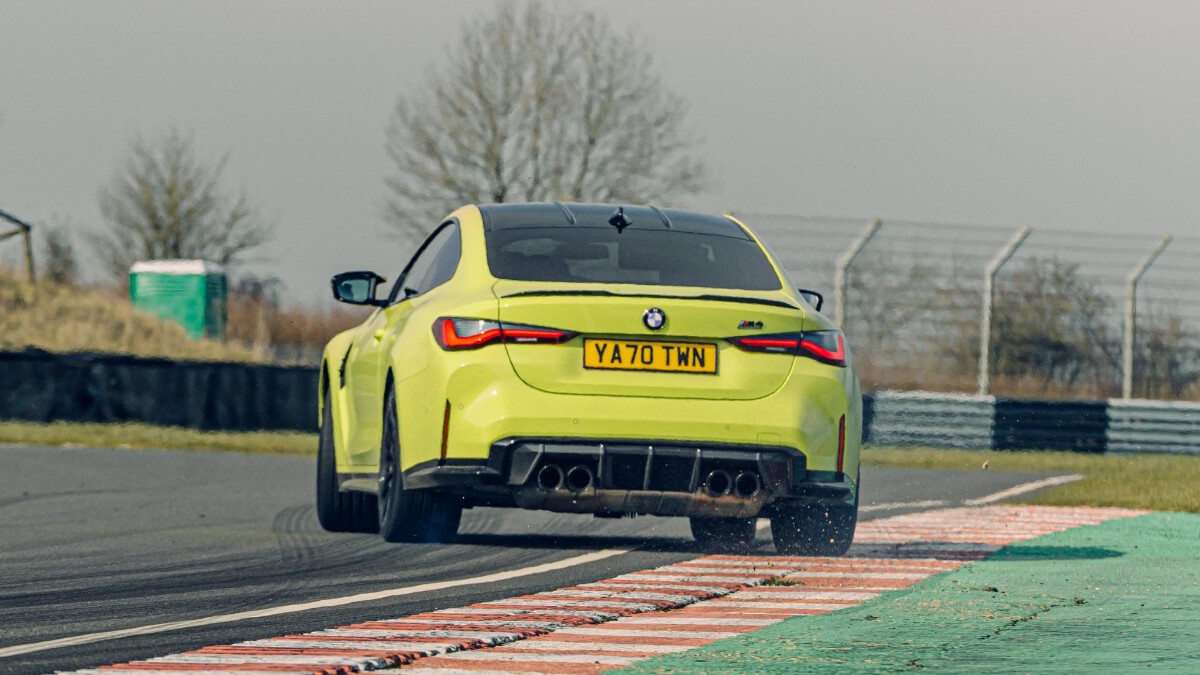 ADVERTISEMENT - CONTINUE READING BELOW ↓
You can view the newly grownup M4 in one of two ways, depending on whether your glass is half-empty or half-full: On the one hand, the feverish excitement of the old car has been neutered, and this replacement doesn't dazzle as brightly away from the freedom of a circuit. On the other, its arrival has negated the need for a car as anemic as the Audi RS5 overnight, proving it's possible to be friendly and usable while still having a brilliant chassis beneath.
With the BMW M2 now adopting the size, power, and swagger of previous M3 coupes, and the M5 (and its M8 cousin) having taken a sizeable stride over the £100,000 (P6.75 million) barrier—adopting a limo-like serenity in the process—BMW appears to have bumped the M3 and M4's maturity up to adopt a newfound gap in the product lineup. That BMW's UK sales folk say buyers swap in and out of M4s from 911s and Vantages suggests it lives in a luxurious corner of the market very different to the highly strung homologation-special roots its badge traces back to. Judged as such, this supreme all-rounder of an M4 is a triumph.
ADVERTISEMENT - CONTINUE READING BELOW ↓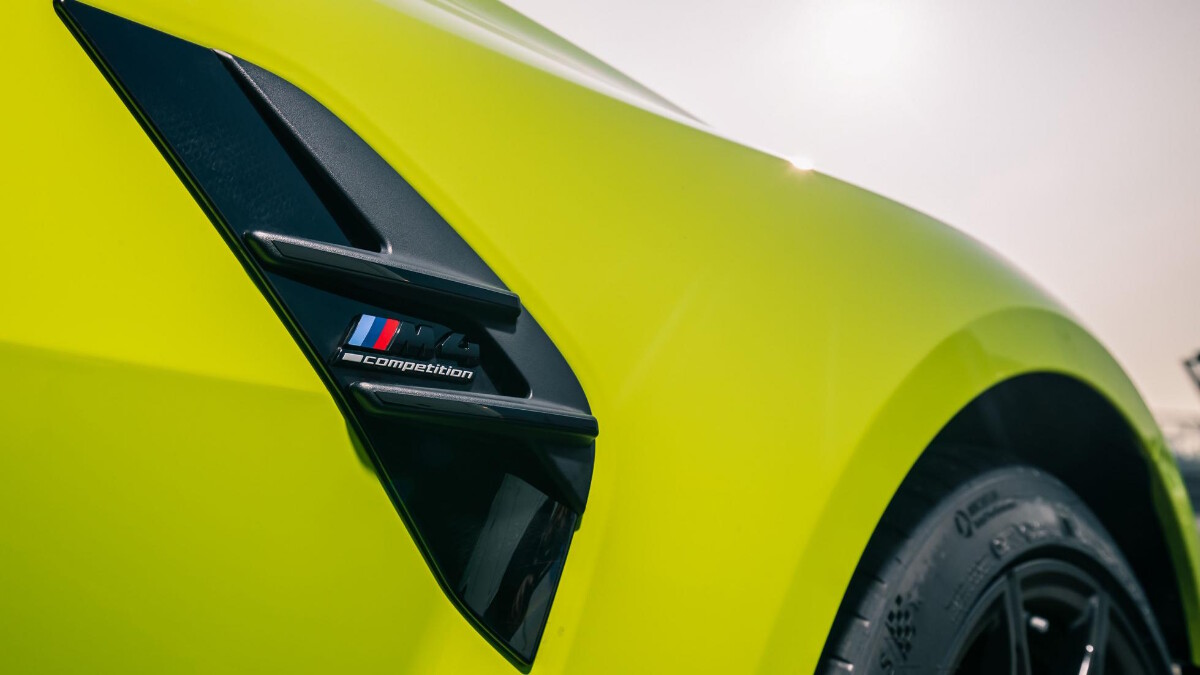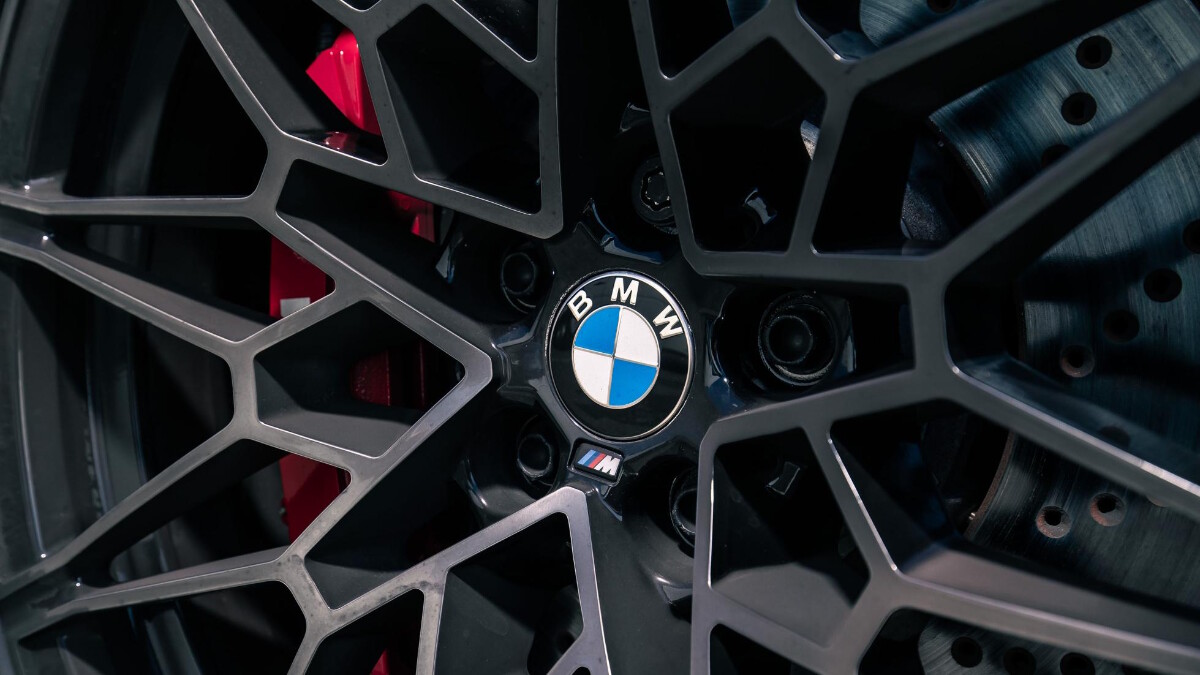 ADVERTISEMENT - CONTINUE READING BELOW ↓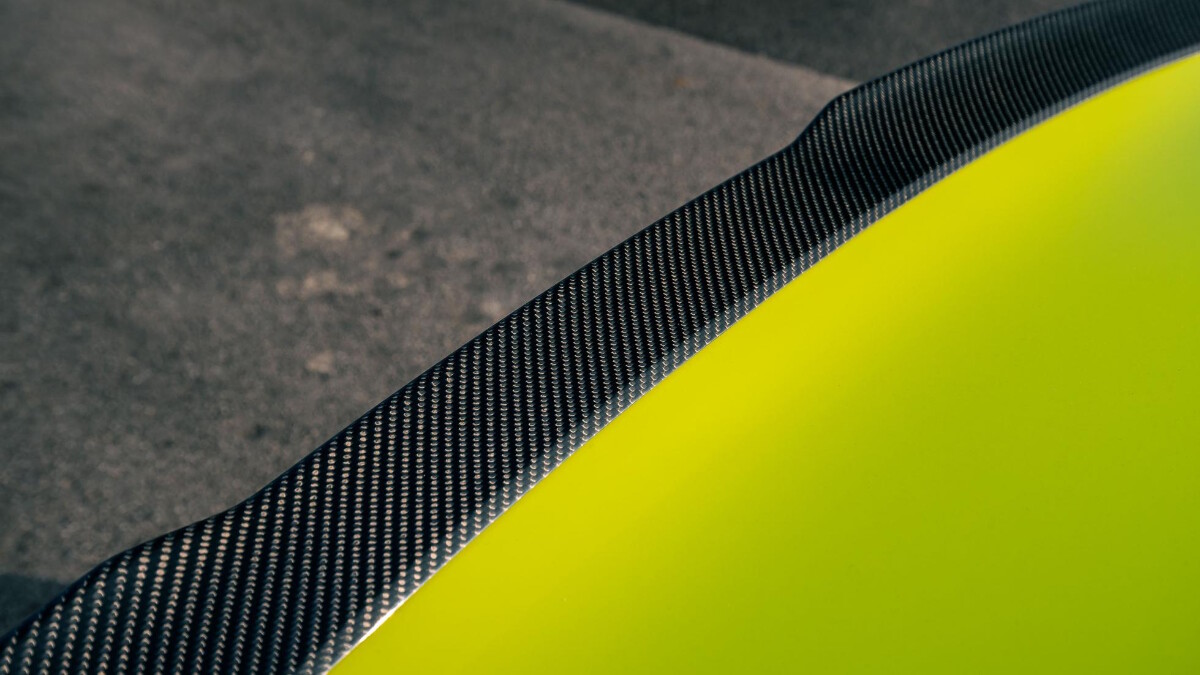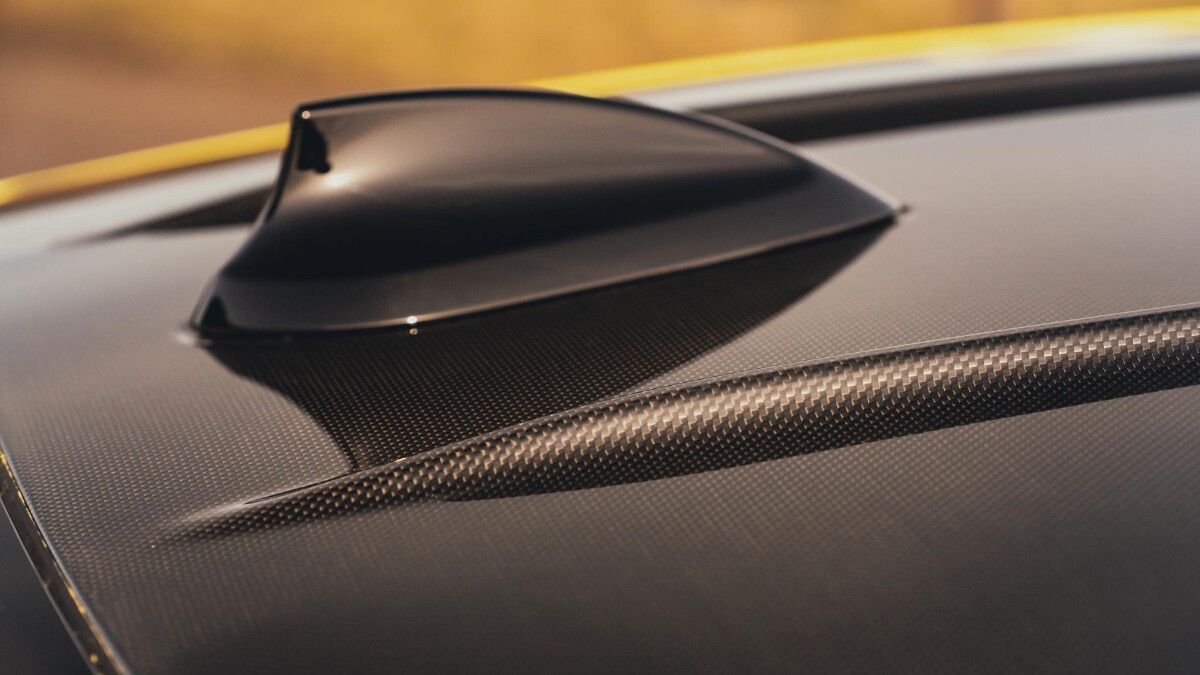 ADVERTISEMENT - CONTINUE READING BELOW ↓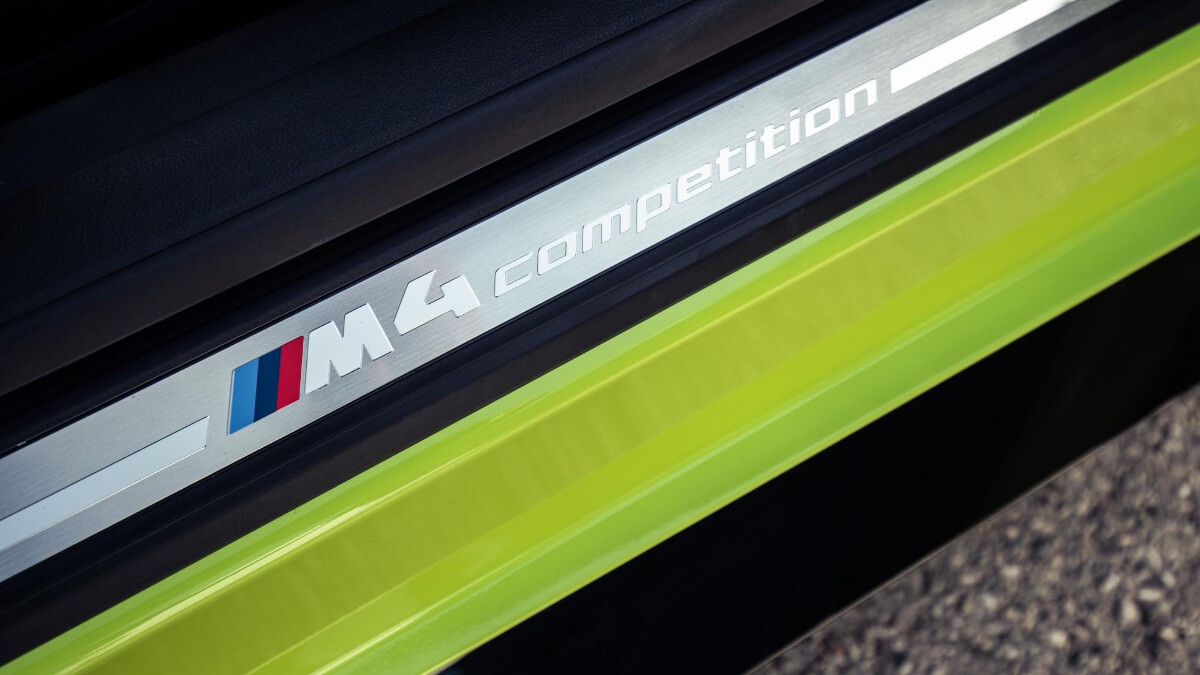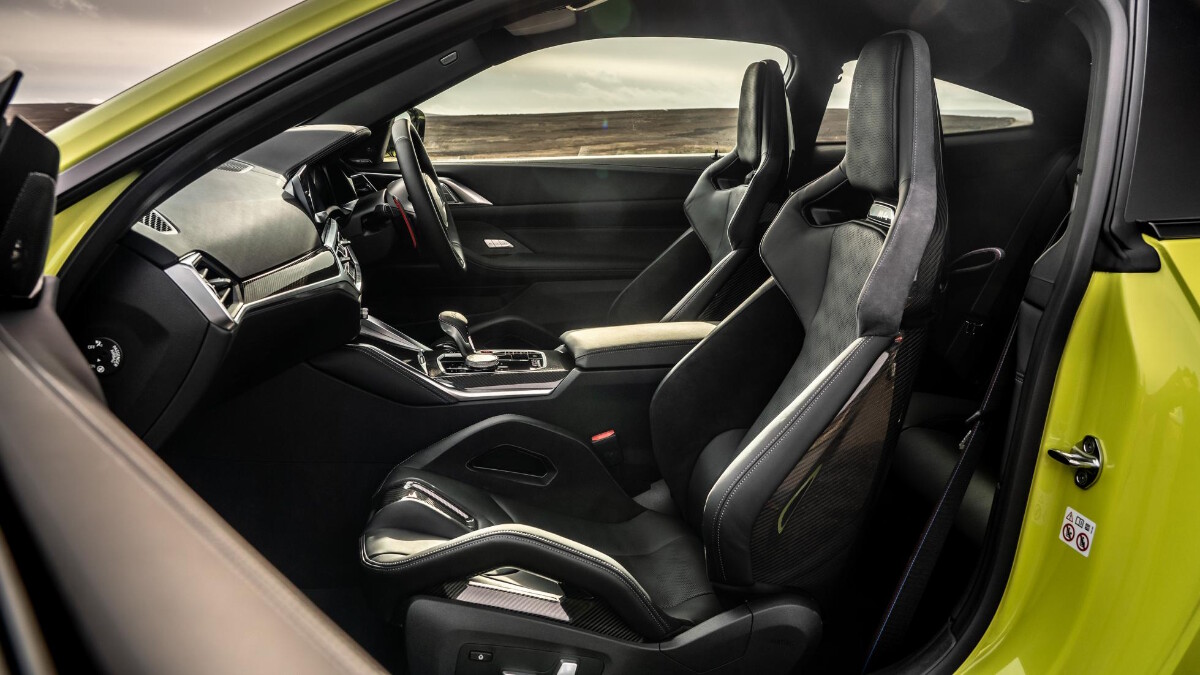 ADVERTISEMENT - CONTINUE READING BELOW ↓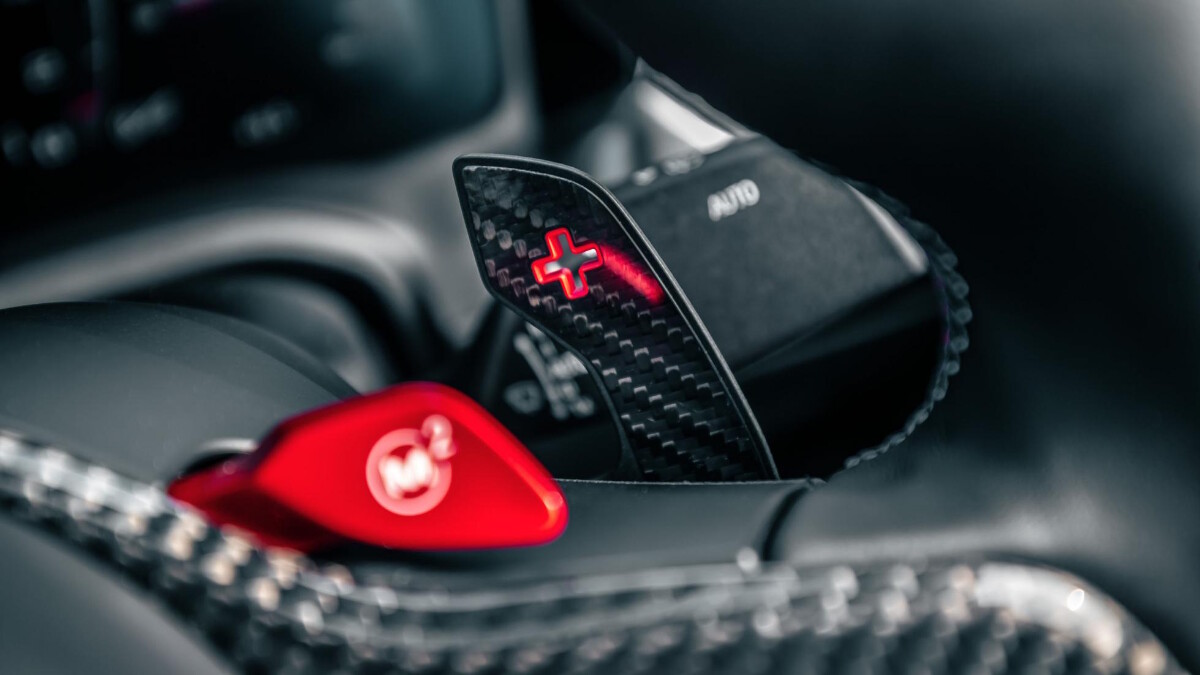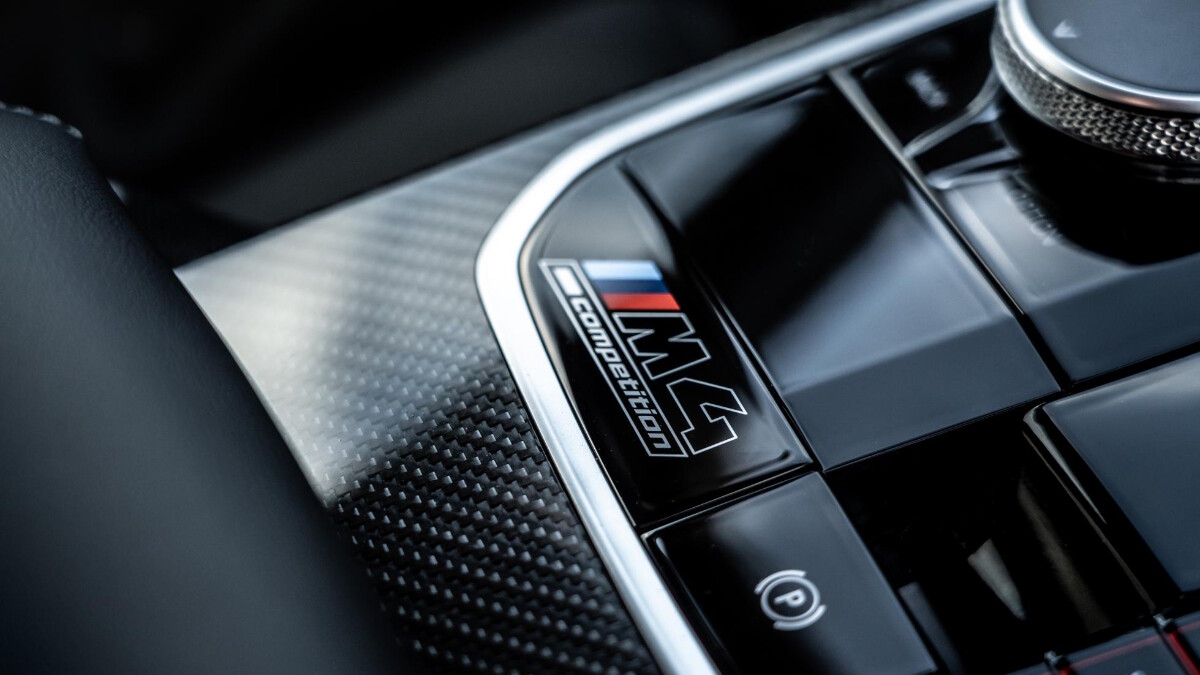 ADVERTISEMENT - CONTINUE READING BELOW ↓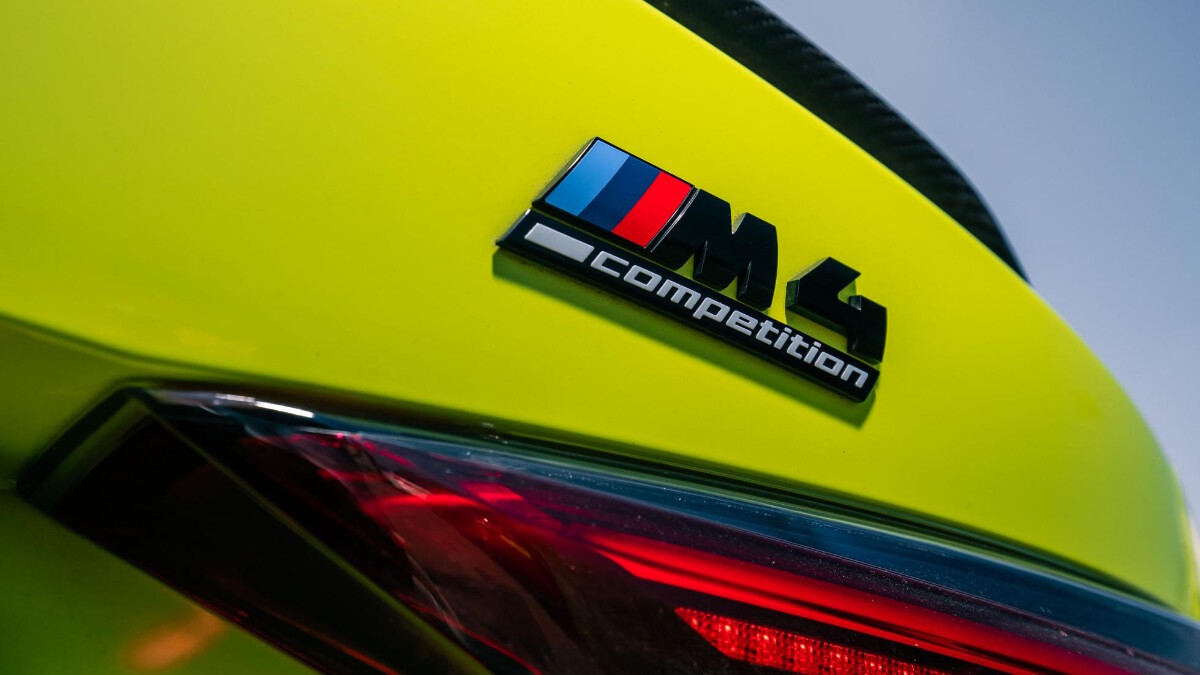 NOTE: This article first appeared on TopGear.com. Minor edits have been made.