This doesn't exactly look new?
Correct. On the outside at least, the new Defender P400e looks almost identical to its combustion-engined siblings. The only giveaway to its electrified nature is the newly sprouted charging flap on the left rear flank.
In all other ways, this is the modern-day Defender design as we first saw it back in 2019. No doubt you'll have some *opinions* on the styling, but in our humble one, it hits the mark perfectly both inside and out. For obvious reasons, though, the PHEV does only come in long-wheelbase 110 form.
So, it looks the same. How is it different underneath?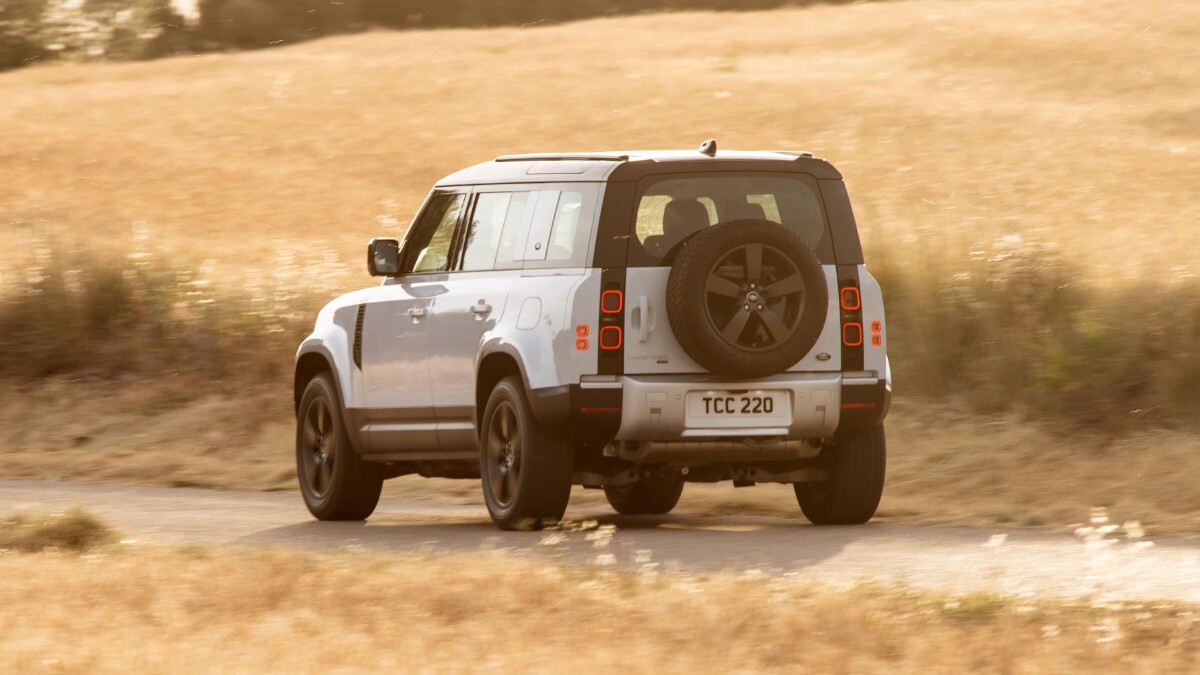 Right, let's get into the techy bits. The P400e gets a 2.0-liter turbocharged four-cylinder Ingenium gasoline engine that's built in Britain and produces 296hp under its own steam. Here, though, it's paired with a 105kW electric motor, and when both work together, there's a maximum of 398hp and 639Nm of torque. Very healthy.
ADVERTISEMENT - CONTINUE READING BELOW ↓
The Defender's smooth and standard eight-speed ZF automatic gearbox is present and correct, and the P400e is permanently in four-wheel-drive mode whether you're running on electric power alone, a bit of both, or purely gasoline power. It's also unique in that all-electric drive can be combined with the low-range ratios, so off-road abilities should never be compromised.
Hit me with some more figures, then.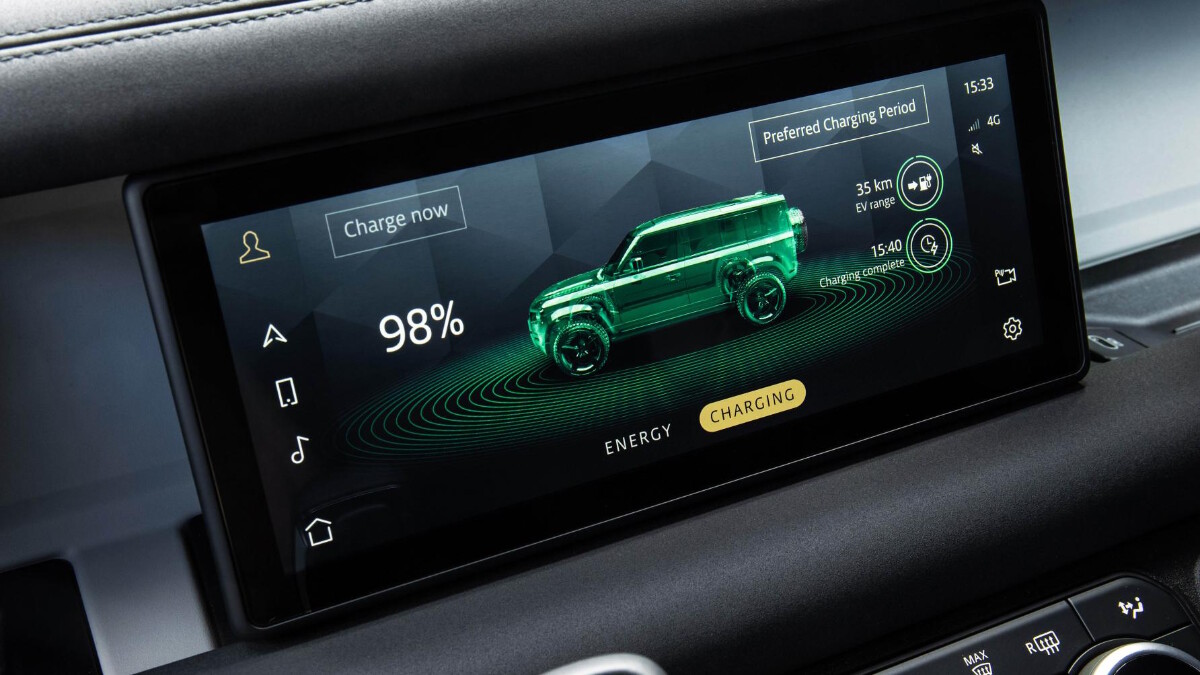 The battery is a 19.2kWh lithium-ion unit that can provide up to 43km of EV range (or just over 32km if we're talking real-world). You can get all the way up to around 137kph in EV mode, too, but at that point, aero—or lack of it—really is the arch-enemy of range. Best to stick to electricity in town.
The fairly hefty combined power output means 0-100kph only takes 5.6sec, while 50kW rapid charging means you can get to 80% in 30 minutes. A 7kW wall box will give you the same amount of charge in two hours.
ADVERTISEMENT - CONTINUE READING BELOW ↓
Recommended Videos
It's a big old bus, the 110 with added batteries. It weighs 2,525kg all in, but does manage an impressive 3,000kg towing capacity (that's 500kg less than other Defenders).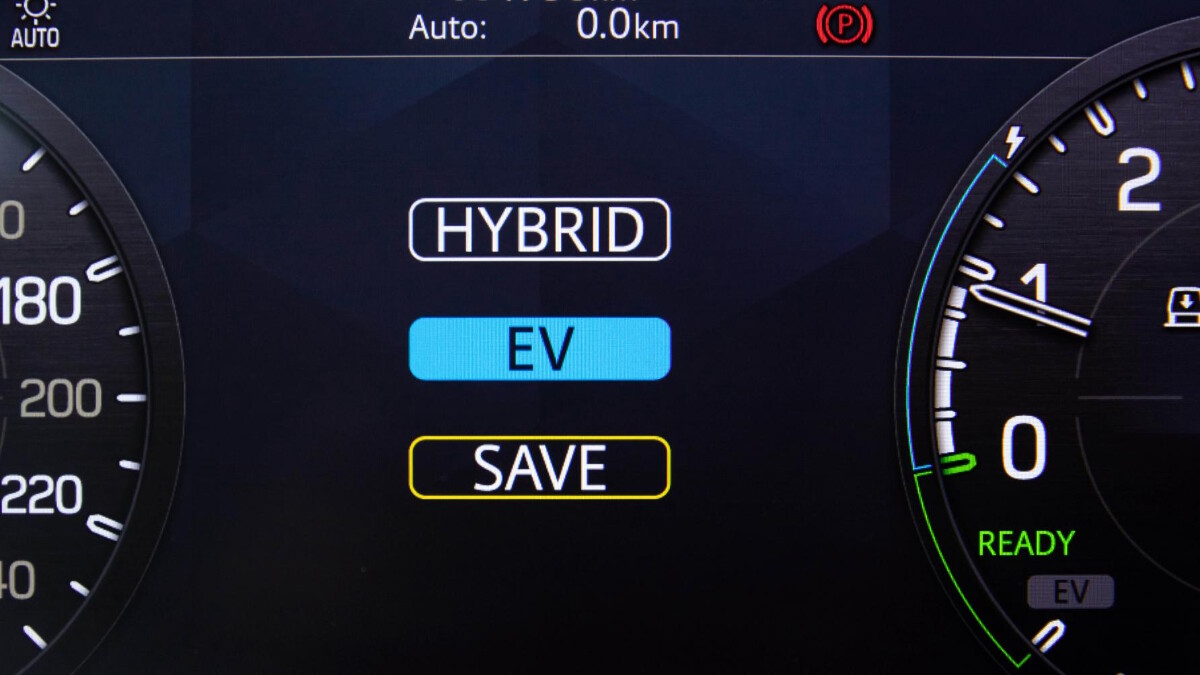 Land Rover quotes up to 36.3km/L and just 76g/km of CO2. Obviously, those have to be taken with a pinch of plug-in salt—we managed 15.6km/L on a brisk 97km drive cross-country—but you'll do much better if most of your journeys are local. For reference, the Defender gave us a 'Driving Score' of only 56% and suggested we take a look at its eco tips. Must try harder.
How does the powertrain cope in the real world?
It's impressive. Things always start off in Hybrid mode, but a new button on the center console allows you to switch to either EV or Save. Both are reasonably self-explanatory. With the two power sources working together it gets up and goes, although the four-cylinder is a little less refined than its larger capacity siblings when asked to work hard.
ADVERTISEMENT - CONTINUE READING BELOW ↓
The switch between electric and gasoline drive is fairly seamless, though, and there's a decent feel to the brake pedal despite its regenerative properties. The extra weight doesn't seem to have harmed the Defender's progressive steering and general on-road manners either.
Is the interior any different?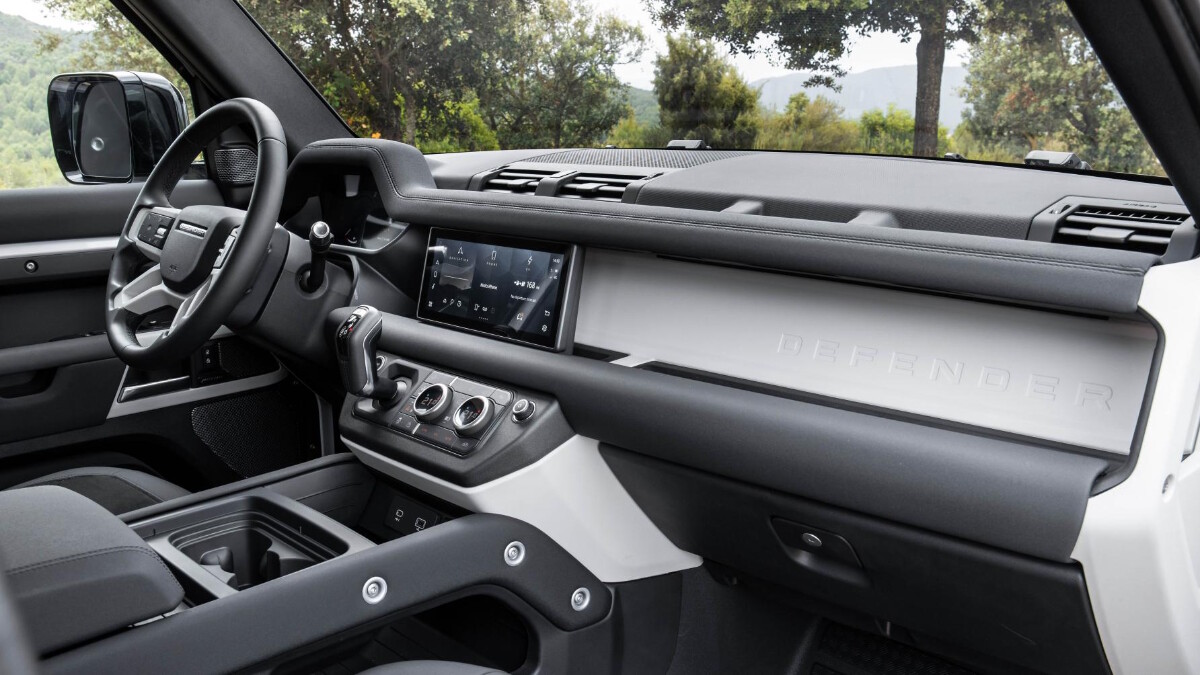 Nope.
Well...hardly. You do get a couple of new display options for things like charge and energy usage on the central screen, but other than that, it's business as usual in what Land Rover calls the 'constructivist interior.' Yeah, us, neither.
It looks massive. Is it practical?
Good question. The P400e's battery is under the rear cargo floor, so you can't have the third-row/seven-seat option. You still get a massive 853 liters of space back there, though, and you can spec the front-row jump-seat if you want extra child-carrying space.
Does it still do all of the off-road stuff?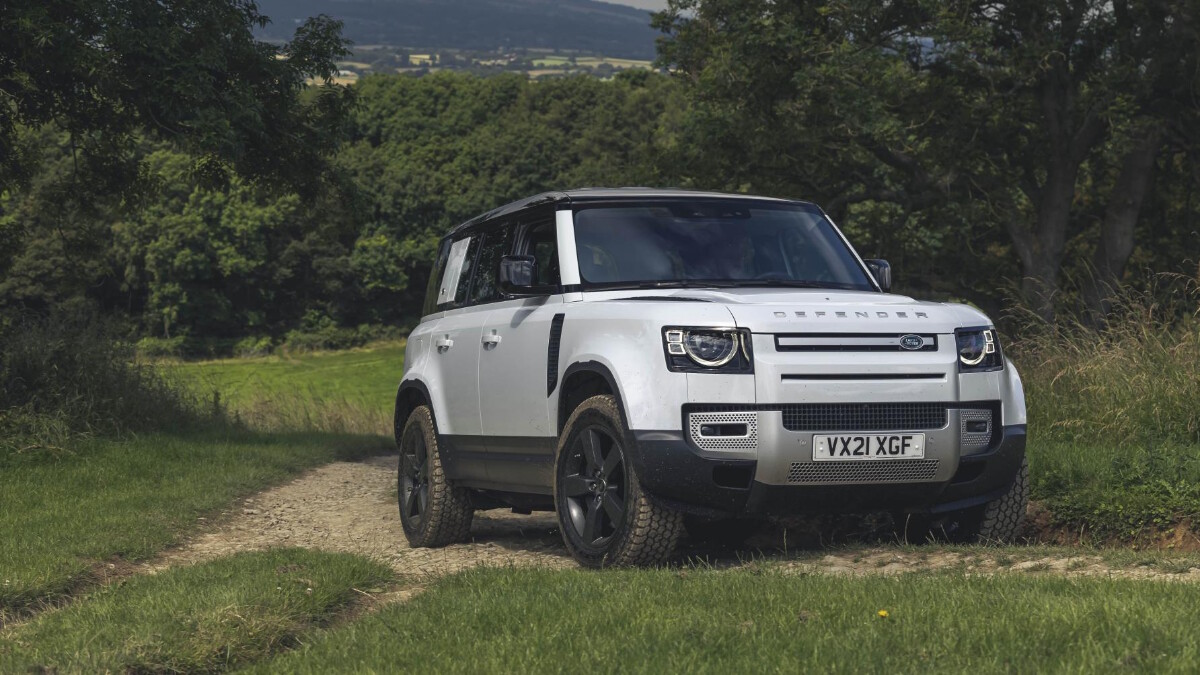 We haven't had the chance to properly test the PHEV off-road as of yet, but it has the full suite of terrain response modes, adaptive air suspension, and all the off-road cameras deployed by other Defenders. Combined with the low-range trickery, it should be just fine.
What will all of this cost me?
Well, if you want a precise number it starts at £65,915 (P4.58 million), but that's before you get into the minefield that is the modern-day Defender's options list. There are still the full array of Accessory Packs available, and spec for spec, it'll cost slightly more than the six-cylinder P400 if you're buying outright.
ADVERTISEMENT - CONTINUE READING BELOW ↓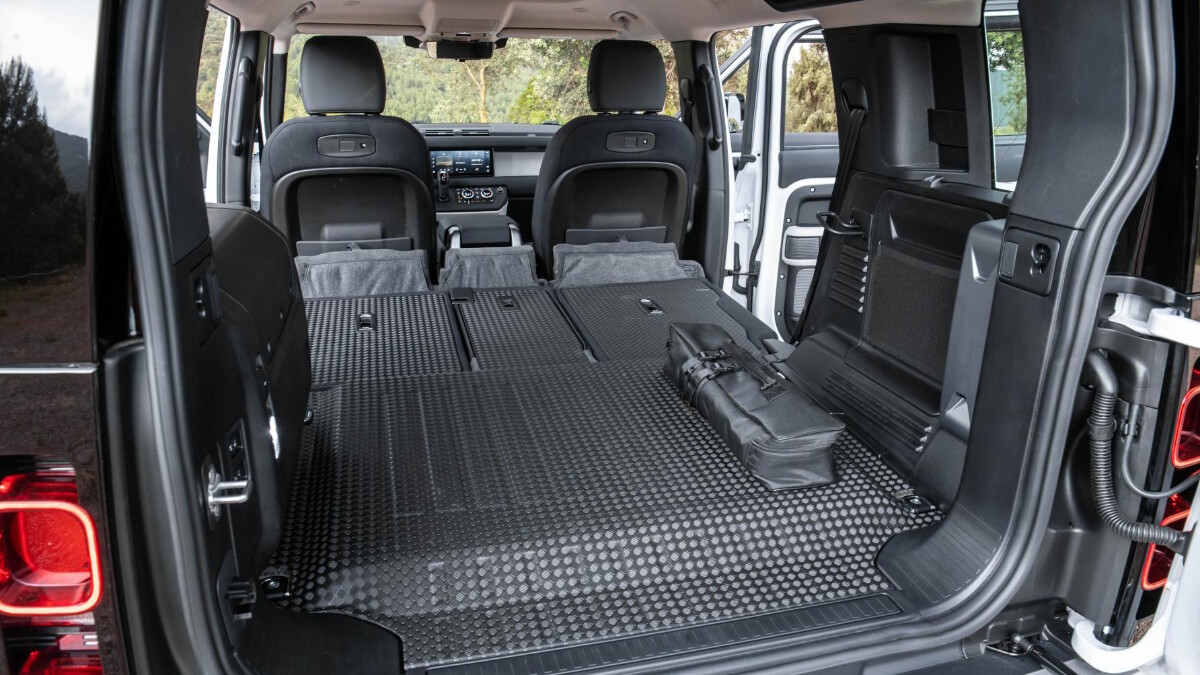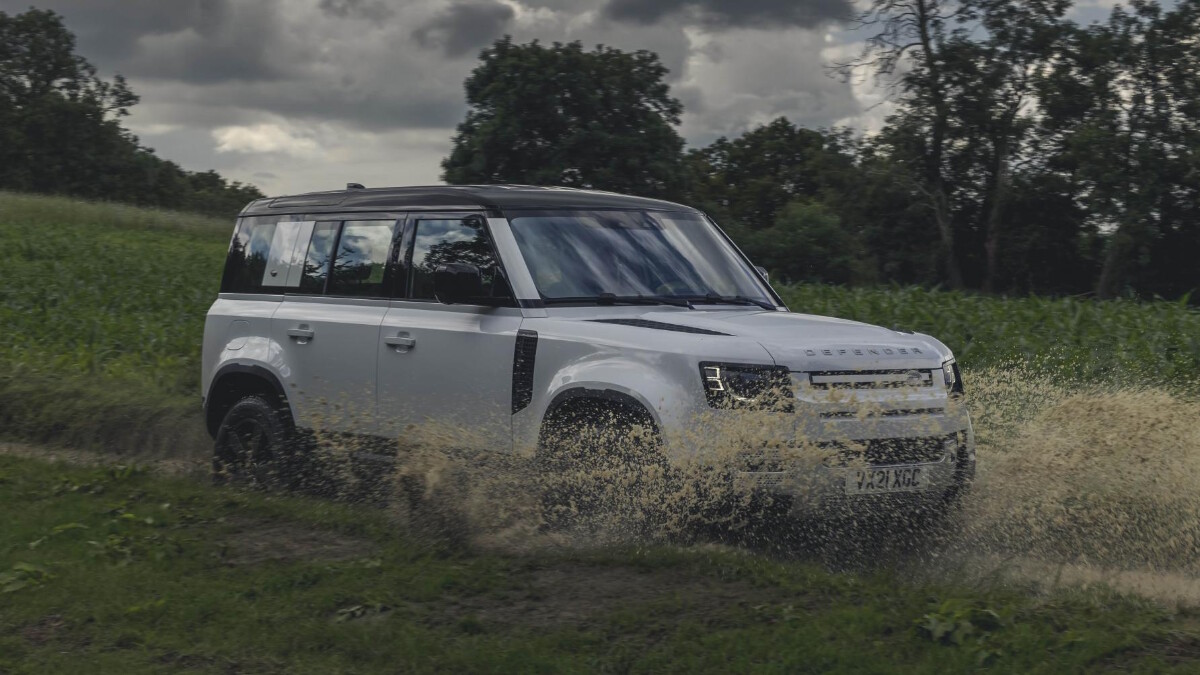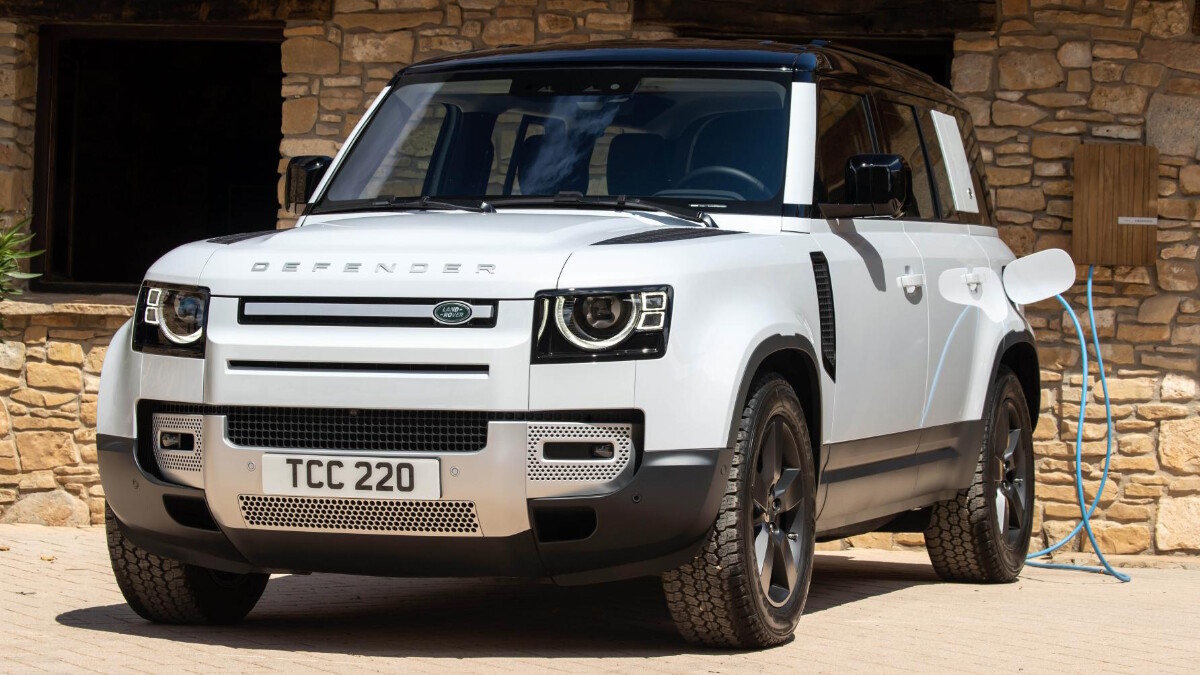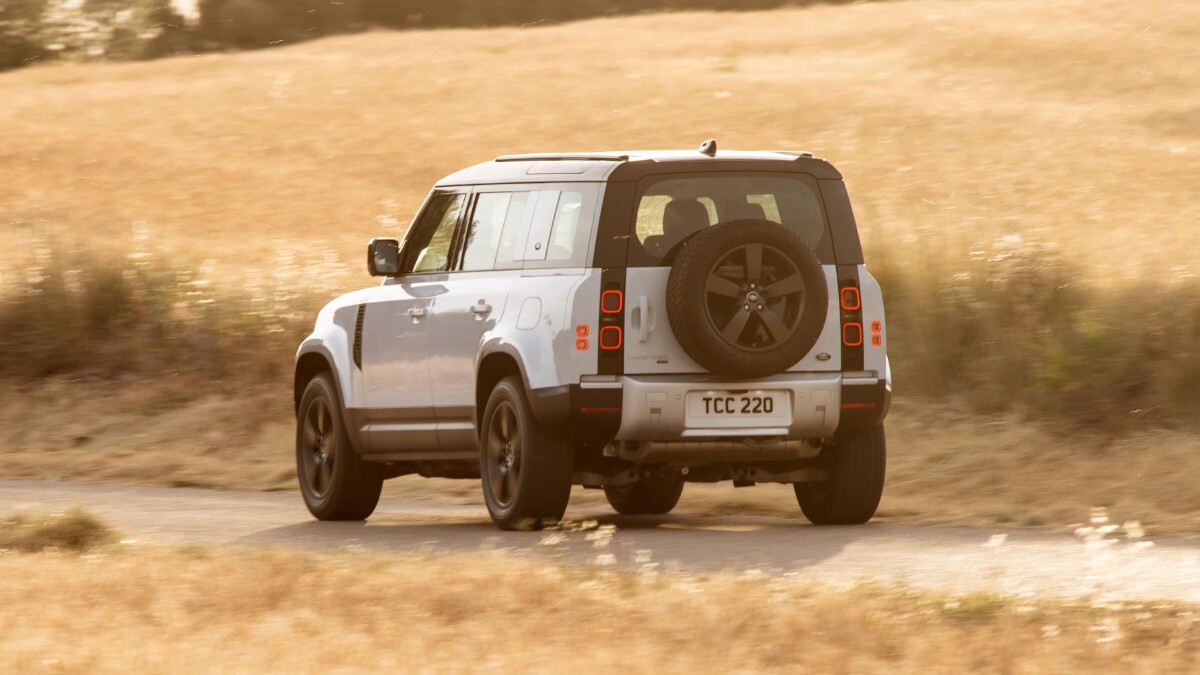 ADVERTISEMENT - CONTINUE READING BELOW ↓
NOTE: This article first appeared on TopGear.com. Minor edits have been made.