Mercedes-Benz's push to make itself more modern and more exciting over the past decade has #blessed the world with the most dominant Formula 1 team ever, some of the best GTs and sports cars ever to wear the three-pointed star, and the most stylish product line-up in any German showroom. Yet while MB's new compact lineup sells reasonably well, there is a visible disconnect between these sleek new crossovers and its iconic full-sized off-roaders.
This is where the GLB comes in. A small car boasting the looks and utility of a full-sized GL in a smaller—and much cheaper—package. And while the style is a sea-change for small Mercs, it is the packaging that really stands out. This is the only luxury subcompact crossover on the market to offer seven seats.
But is that enough to elevate it above the competition? Let's find out.
Styling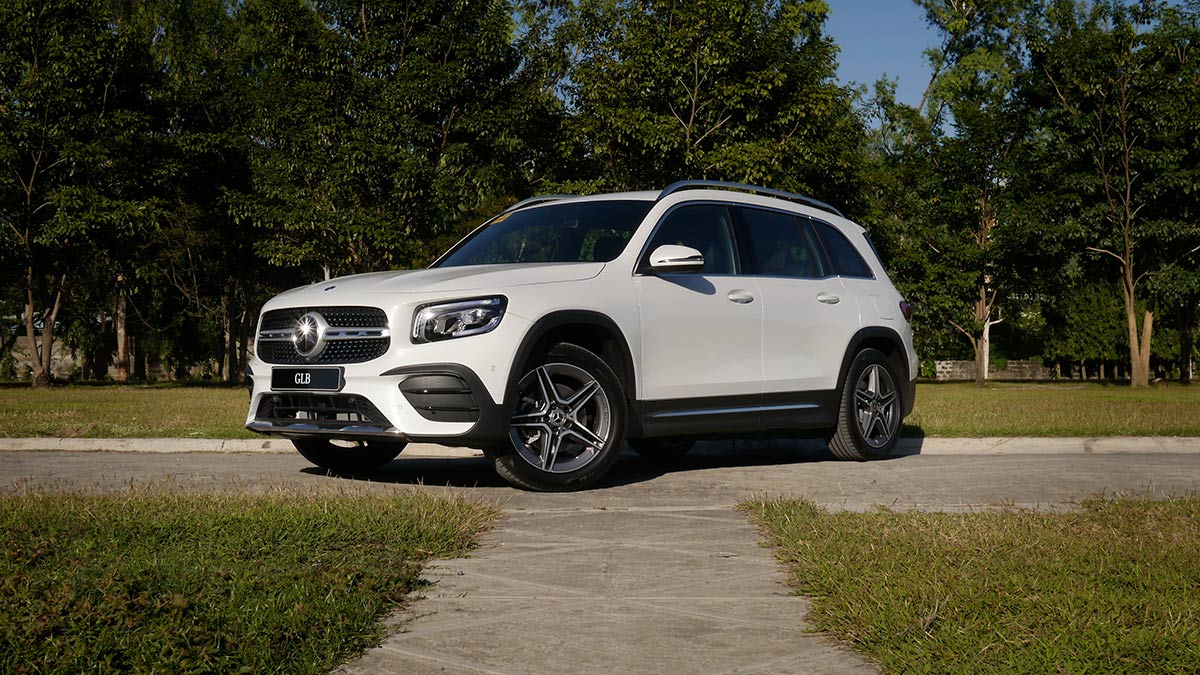 Continue reading below ↓
Recommended Videos
While other small Mercs feature bold, expressive features, sleek profiles, and sharply creased bodywork, the GLB presents chunkier, blockier and boxier silhouette than the GLA or GLC. Vertical lights and grille further square off the corners, while the raised hood, stepped shoulder and prominent rear window kink emphasize the GLB's tall greenhouse. Twin spoke 19-inch AMG alloy wheels just barely fill out the angular wheel arches, but still look oh-so-good. Other AMG Line trim like the chrome strips offsetting the black plastic under-cladding and the roof rails add some drama, though it'll be a pain keeping all that low-hanging chrome clean.
Interior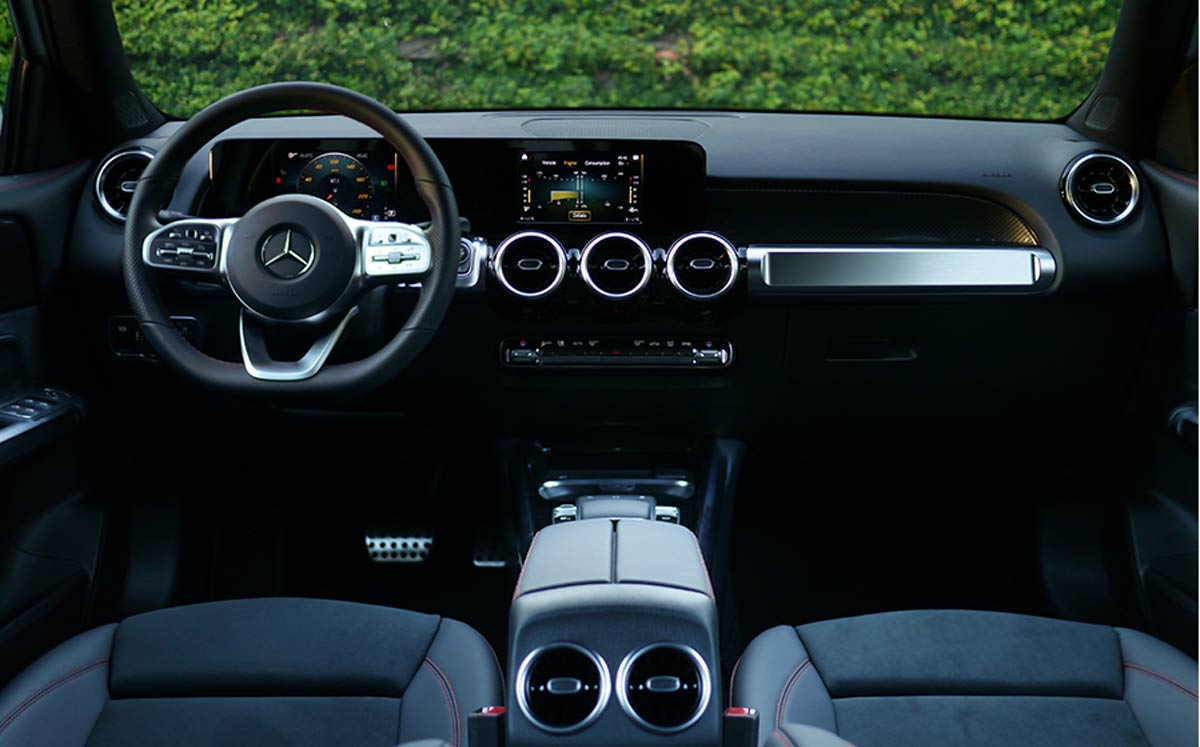 The interior carries over the sporting theme, writ in red-stitched black leather and suede. The front seats are a bit narrow, but a wide range of adjustments, good side bolstering, and adjustable leg bolsters allow drivers of all sizes to find a proper fit. The dashboard features a large upright panel spanning from the driver's seat to the center console. On the high-end GLB 35, this features two 10-inch screens sitting behind a single pane of glass. The 200 makes do with two seven-inch displays set in glossy black surround. There's also a lot of glossy black and chrome around the lovely rotary air vents. Best keep a duster handy, then. Faux carbon trim isn't convincing, but blends well with the familiar transverse-platform Merc interior. One noteworthy difference to other front-drive Mercs is a small but functional parcel shelf over the glovebox.
Out back, you get more rotary vents and those all-new third-row seats. While the middle row slides far forward for easier access, packaging restraints mean little to no legroom unless you keep the second row slid up. Mercedes themselves suggest not using the last row for anyone over 5'5", and while they have ISOFIX points, it'd be hard to fit a decent child seat back there. Absent emergency shuttle duties, most owners will likely leave the third row folded—an easy, one-handed operation—for the extra cargo space, latching the baby into the second row, instead. Used as a five-seater, the GLB offers up fantastic legroom. And that tall roof pays dividends in terms of window acreage and headroom, as well.
Engine performance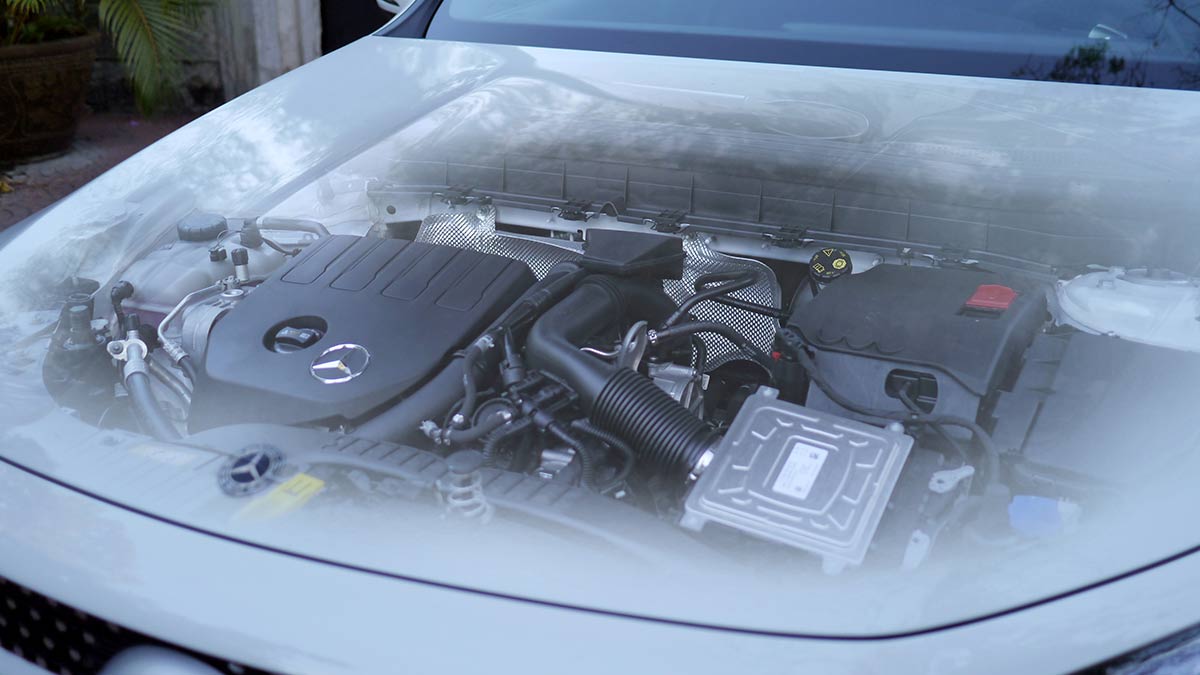 The GLB 200 features the familiar 1.3-liter turbocharged M282 four-cylinder engine used in other compact Benzes, channeling 161 horsepower and 250 Nm of torque through the front wheels via a seven-speed transmission. While it feels a bit breathless at high engine speeds, the mighty mid-range makes overtaking dead easy. Shifts are quick and smooth, to the point that I was surprised to discover it was actually the same dual-clutch as in the A-Class and not a torque-converter auto.
0-100kph comes up in a rather brisk 9.5sec with everything set to Sport, and should improve as the engine breaks in, as this unit had only 40km on the odometer at the start of the test. Yet despite the high output, green engine, and boxy shape, 20km/L was easy to maintain at a steady 80kph on the highway, though it's easy to find yourself creeping upward in speed unless you're set to Eco Mode.
Ride and handling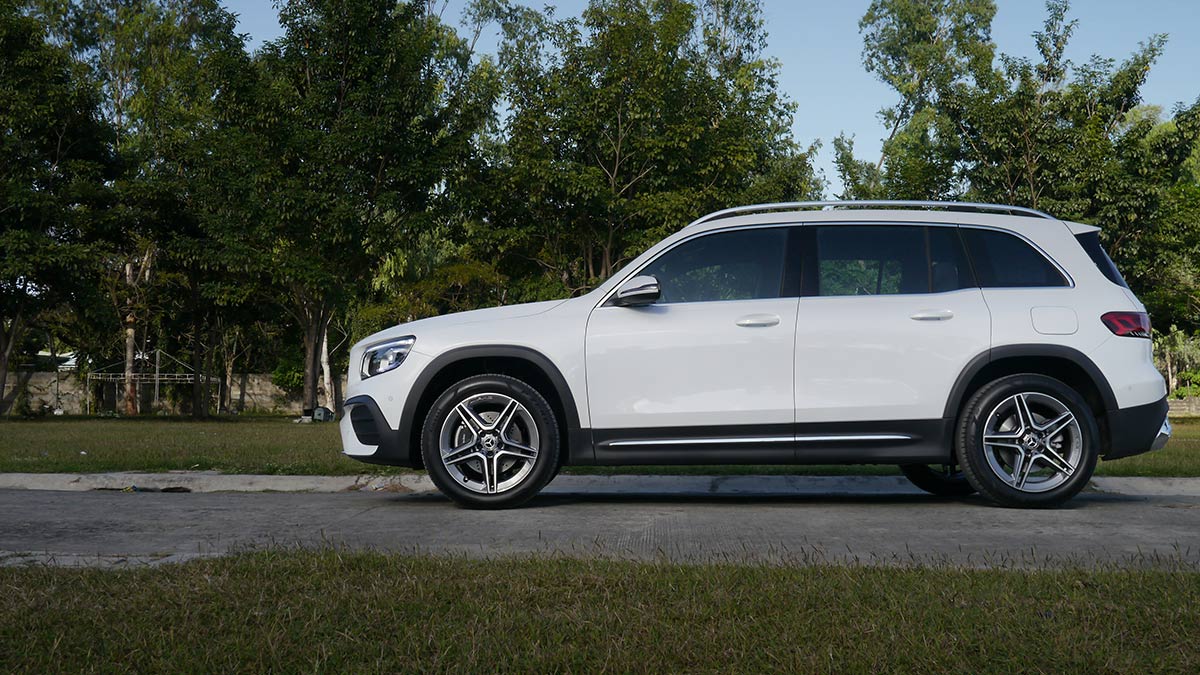 The small flat-bottomed steering wheel, cross-drilled pedals and supportive seat may allude to sportiness, but this tall crossover will never handle like a hot hatch. That said, steering is responsive—if a bit anodyne in any of its three modes—and cross-drilled brakes are effective at scrubbing off speed, despite a bit of dead space at the top of the pedal. The lowered AMG suspension allows you to corner with little to no body roll, while 235/50R19 Pirelli P-Zero tires feel secure and predictable in all situations. The AMG suspension does move around a bit over bumps, but it doesn't feel nearly as harsh as some 'sportier' competitors. Noise insulation is about what you'd expect, the engine's throaty growl at speed reduced to a distant buzz, and outside sounds filtered through doors so heavy you'd swear they were lined with lead. The only nit here is a bit of wind noise at speed. To be expected given the GLB's boxy shape.
Around town, the GLB's narrow beam and tall greenhouse make it a doddle to park, and the side mirrors automatically adjust downwards in reverse to help curb wheel kerbing. 360 degree sensors and a panoramic rear parking camera aren't strictly necessary, but much appreciated. Other aids include emergency braking assist and active sensors that alert you if you're too close to the car in front.
Extra features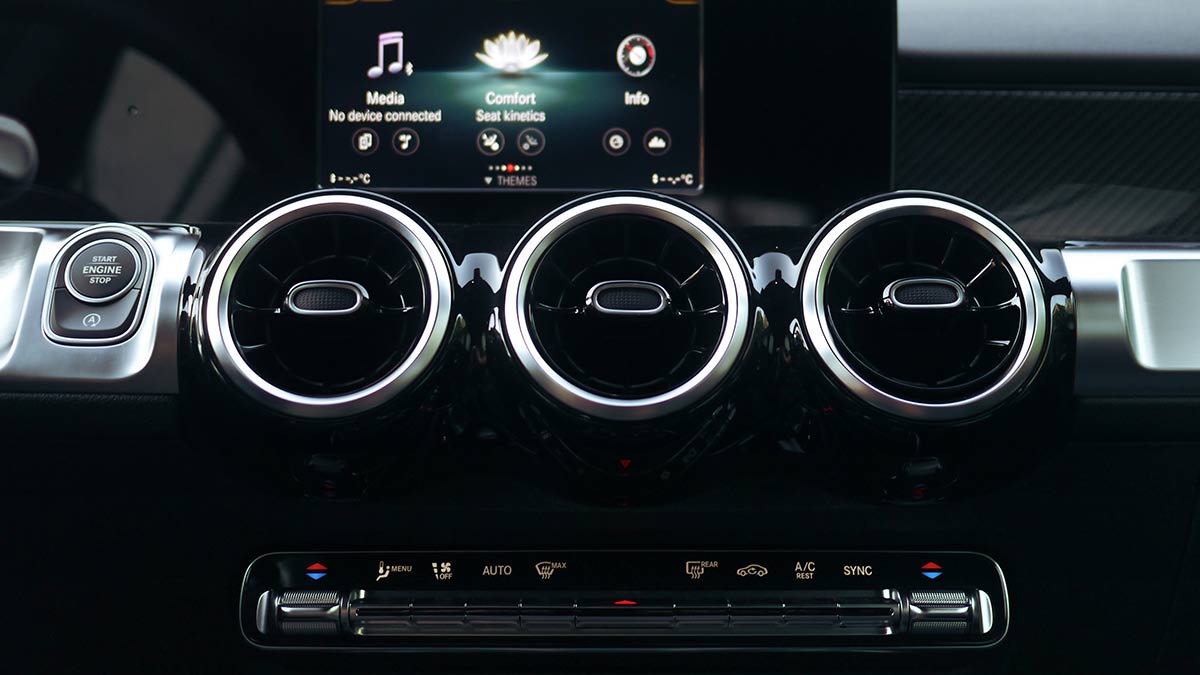 On the entertainment side, the GLB comes with the latest MB User Experience interface, which combines a touchscreen interface with a neat haptic touchpad in front of the dummy shifter on the center console and two haptic control nubs on the steering wheel. These virtual joysticks are surprisingly intuitive to use, and give you a bewildering array of display options and functions for both data screens. My favorite is the standard rev counter/speedometer on the left and engine readout—which includes oil temperatures, boost pressure and battery voltage—on the right. There's the "Hey, Mercedes" feature that allows you to give voice commands for everything from climate control to infotainment. There's even a seat massager that randomly adjusts the driver's seat from time to time to keep your buns from going numb.
While there's a nav option, it wasn't activated on this tester, and smartphone access beyond basic Bluetooth requires USB-C compatible cables. Even over Bluetooth, the six speaker sound system is strong and sharp, though those wanting a more bombastic experience will want to upgrade to the GLB 35's 10-speaker Burmester system.
Verdict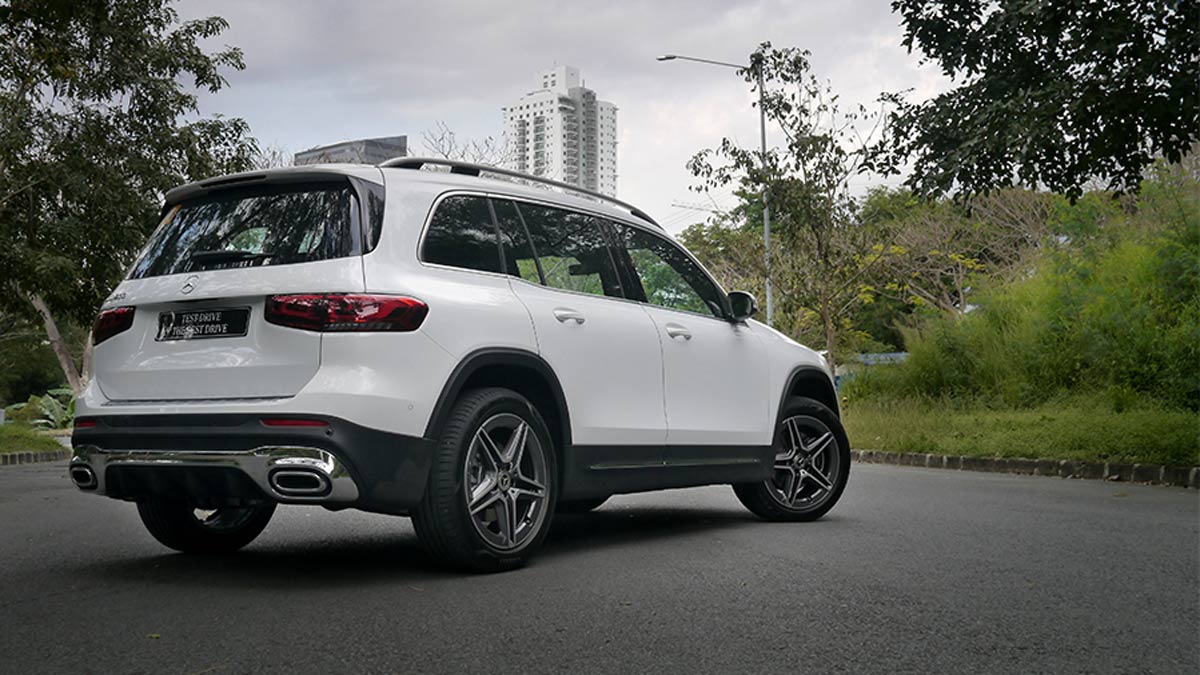 The Mercedes GLB represents an important shift in direction for Mercedes, but not a surprising one. This is a luxury brand, after all, that values utility so much that it also sells vans. But while you can get a diesel Vito with nine seats for the same price as the GLB, it doesn't have the style, dynamic flexibility or ease-of-use of the Baby G. Those extra seats may be tight, but only Land Rover offers anything remotely similar in a compact crossover, and the updated Disco Sport no longer comes with the option.
For those looking for the full AMG experience, however, there is always the GLB 35. A 306hp all-wheel-drive hooligan that promises scorching on-road performance and more than a modicum of off-road ability.
And it still comes with seven seats.
SPECS: 2021 Mercedes-Benz GLB 200 AMG Line
Price: P3,790,000
Engine: 1.3-liter gasoline I4
Power: 163hp @ 5,500rpm
Torque: 250Nm @1,520-4,000rpm
Transmission: seven-speed DCT
Drive layout: FWD
Seating: 7
Score: 17/20