It sure looks like a Porsche, but where are the badges?
This is a prototype of the Taycan Cross Turismo, the arrival of more metal at the rear, an off-road package, and a Gravel Mode in the drive setup being among the very few things we can think of that make Porsche's all-conquering BEV even cooler than it already is.
This particular car has been on a world tour ahead of the official unveiling of the Cross Turismo, having driven coast-to-coast across the US, sailed the Atlantic (on a boat—as clever as it is, it can't walk or drive on water), then down through Scandinavia and into the UK. Normally, our test cars look a bit shinier than this, but, COVID deep-clean apart, the grime on this thing is all part of the story. We did our bit to add to that with some rural muck.
Interesting PR maneuver from Porsche. But it's fully representative of the real thing, right?
Absolutely. Down to the compass that replaces the Sport Chrono gauge you'd normally find in the center of the Taycan's dashboard. Most of us at Top Gear have a possibly unaccountable fondness for fast quasi-off-road wagons, although judging by the number of renderings of these things you can find on the Internet, we're not alone. So, cheers to Porsche for actually making good on the Mission E Cross Turismo concept first rolled out at the Geneva show three years ago.
Continue reading below ↓
Recommended Videos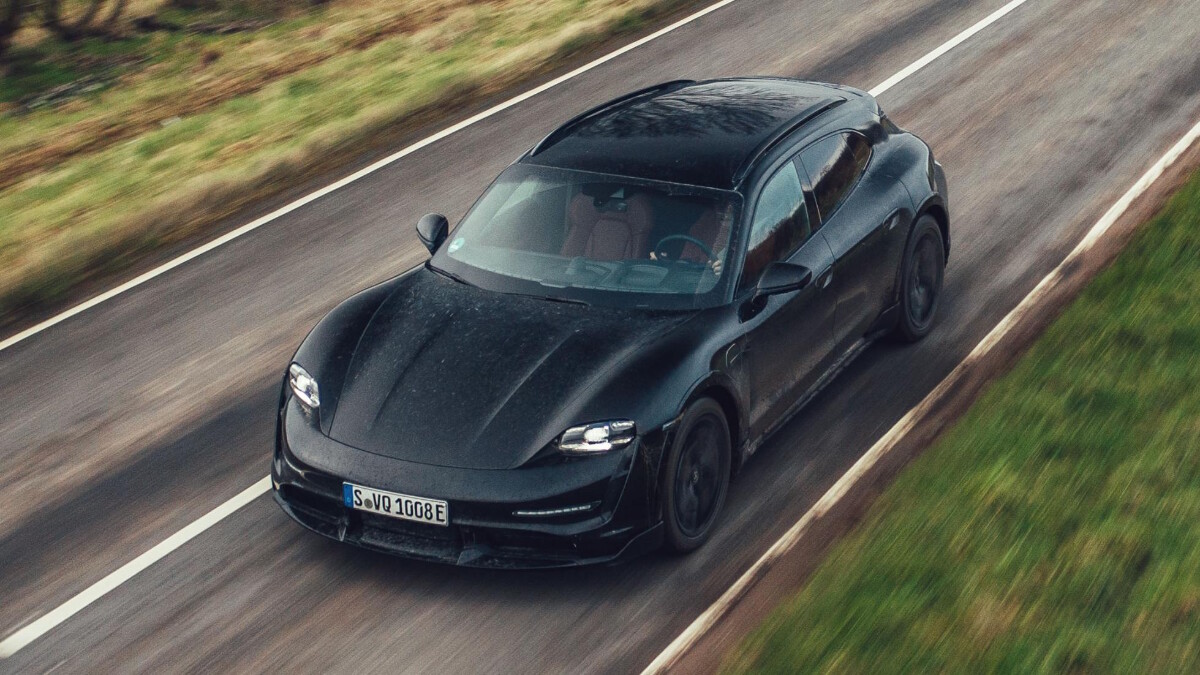 As the recent Porsche Unseen book demonstrates, the company's designers would do semi-off road/fastback versions of the entire range if they could, and pretty much all of them have images of the mid-'80s 959 Dakar car on the office wall.
Okay, we get the picture. What else does the Taycan Cross Turismo feature?
Well, there's obviously more room for stuff in the back. Cargo capacity is about 1,200 liters, so this is the electric Porsche that can handle Ikea runs or that you can put the dog into (just don't flatten their jowls into the rear glass under a full-bore take-off). Although this prototype's stealth paint finish hides the visual differences, you'll note the wheel-arch extensions and some seriously funky wheels, and if you want, you can fit a tow bar or a bike rack should going full 'lifestyle' is your thing. Options fitted here include roof rails and a bigger, even more panoramic roof.
Most obviously, the Cross Turismo sits 20mm higher than the ultra-low standard car, or 30mm if you've spec'd the optional off-road pack. You'll also find an extra 36mm headroom in the rear, which is a welcome boost to the Taycan's parsimonious cabin space. We also love the recessed foot garages. We've yet to peruse the online configurator, but this more practical version of the Taycan may also nudge it closer to the sort of fully-electric spaceship we hoped 2021 would be awash with. What a truly awesome-looking motor car this is.
Presumably, it's just as batsh*t bonkers fast as the regular Taycan?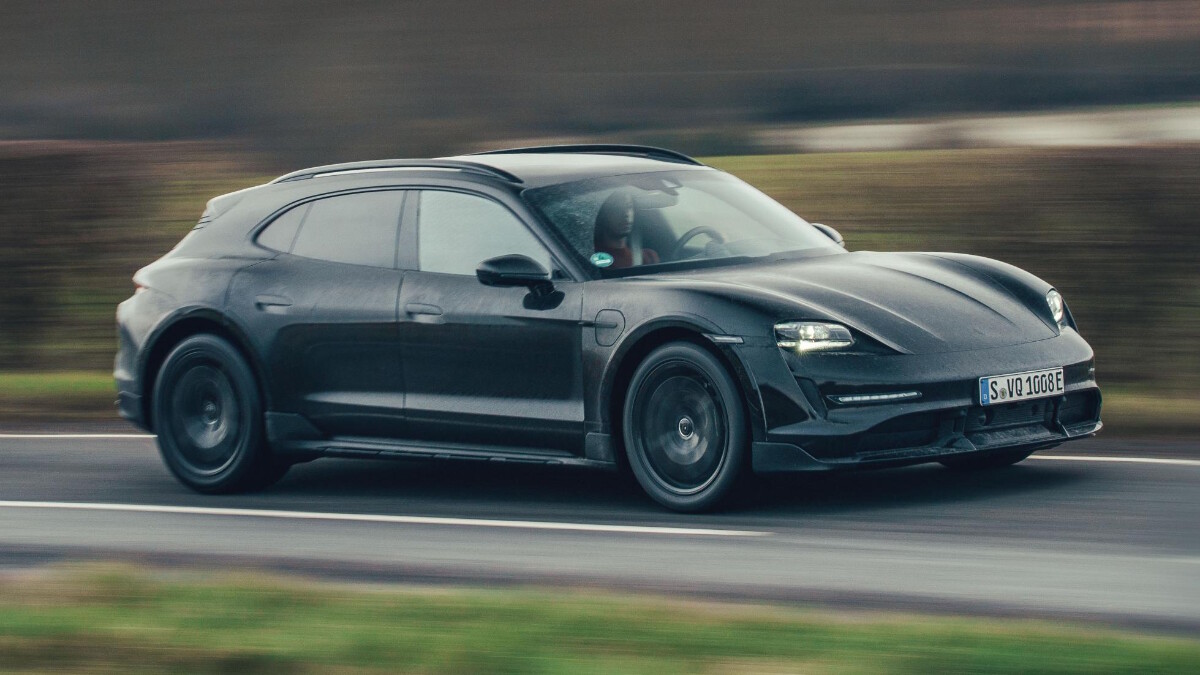 Oh, yes. Given that this particular car is the exact one that will be driven onstage for next week's big showbiz reveal, there was a smidgeon more pressure to behave than usual. Rural muck, yes; rural field, no. That would have been an awkward phone call to Zuffenhausen. But even so, you've got to have a go, haven't you, and the truth is that the full-fat Taycan Turbo S throws itself down the road with such ferocity and immediacy that it takes your brain a few moments to compute what's occurring.
Tesla was spot-on when it christened its most powerful mode 'Ludicrous,' and no better adjective exists to describe the sensation. In German that translates as 'grotesk', which is almost right. This one is fitted with Porsche's Premium Battery Plus, which is good for 93.4kWh, and you have the equivalent of 751hp and 1,048Nm of torque on tap.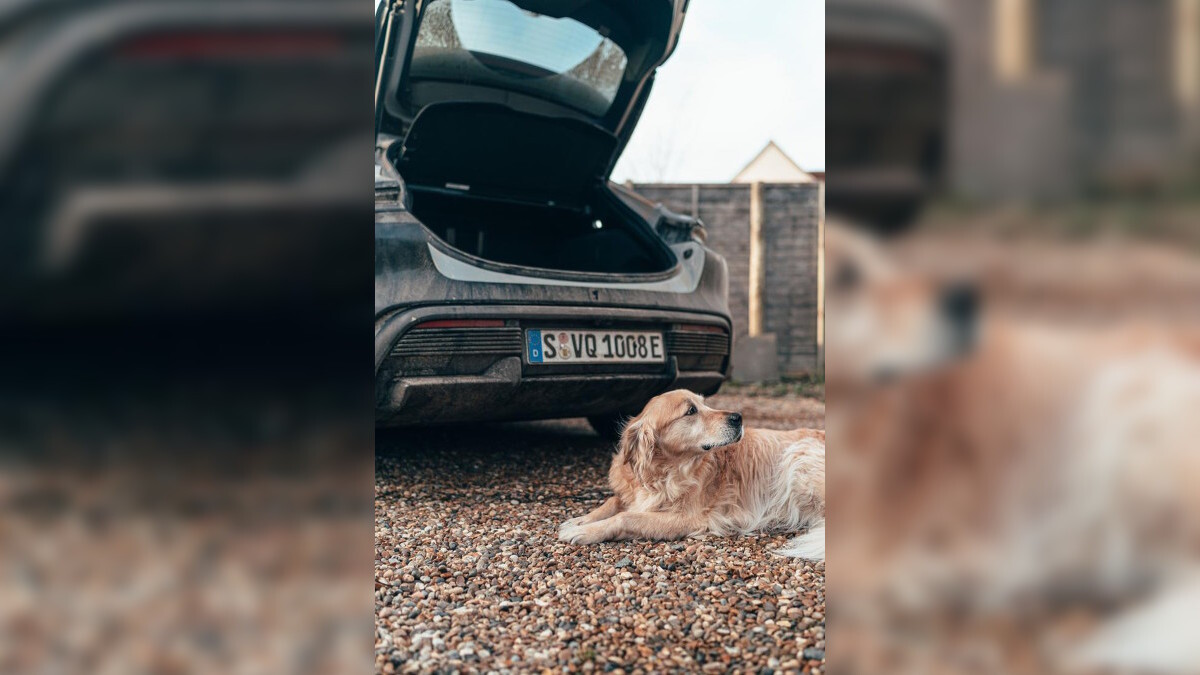 On the Taycan sedan, that means 100kph is done in 2.8sec, the sub-3sec threshold being the barometer for true hypercar acceleration, but also the point at which things can actually be almost unpleasantly rapid (160kph in 6.5sec!). Certainly for your dog or any other sentient being on board that doesn't have anything to hold onto.
The absence of any sort of gathering mechanical thunder underscores the abstract nature of this ultra-high-performance electric sensory assault. Porsche's Electric Sport Sound generator is a bit silly, really, as it is in all electric cars when they try to generate some soul. Of course, you could always slow down a bit. And if you do, the rest of the peerless Porsche experience snaps back into focus. This is an astonishing way to travel.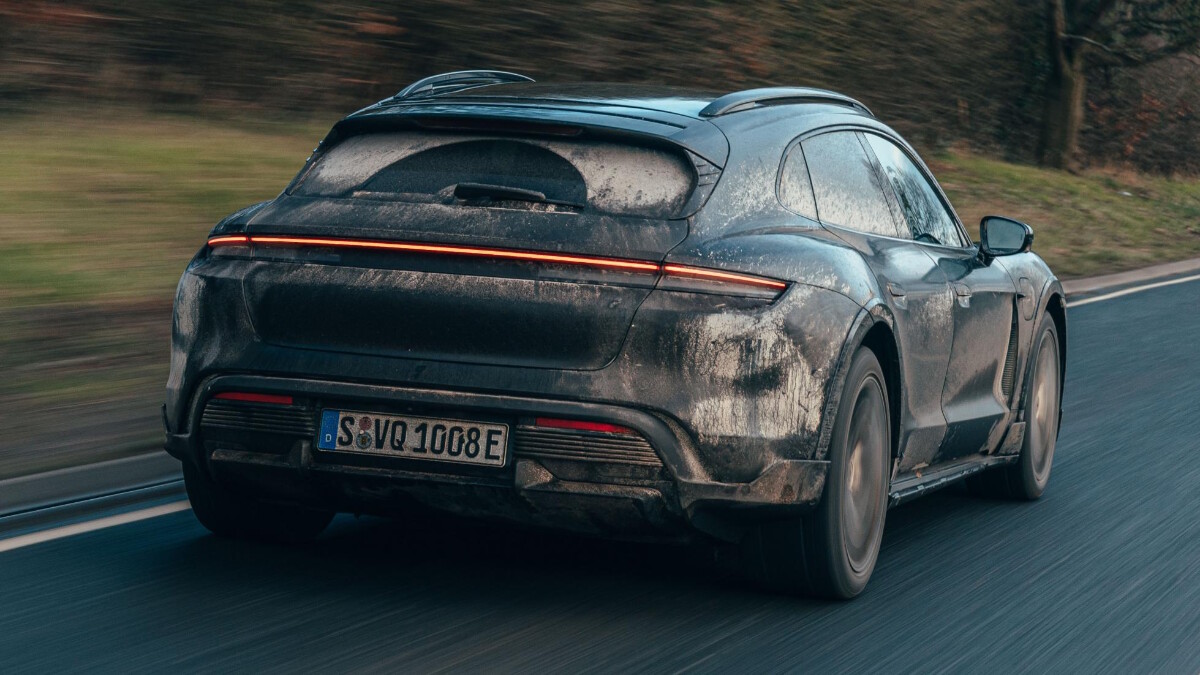 Porsche claims a fully-charged range of 409km and an average of 4.06km per kWh, but that would require monastic self-control. Like its siblings, the Cross Turismo's 800V architecture ensures superb charging efficiency, and it'll juice up to 80% in 20 minutes from a 270kW charger.
Does it ride and handle?
Absolutely. In this top-flight spec, the Cross Turismo has all-wheel drive, and never feels anything less than utterly planted. As with the sedan, perhaps this car's ultimate party trick is the way it disguises its considerable mass (2,295kg). It changes direction like a Boxster does, possibly even better, if you like to dispense with roundabouts or corners without any sense of under- or oversteer at all. I guess that's the active roll cancellation at work, although it does move around a bit more than the regular car.
At higher speed and over certain very tricky undulations, it can also get momentarily out of phase and float somewhat. But left in normal mode, it's mostly another beautifully balanced, highly entertaining Porsche—terrific steering, beautifully damped. We didn't get to try Gravel mode, but we suspect that it would be a lot of fun. We'll come back to that one in the finished car.
Any issues to report at all?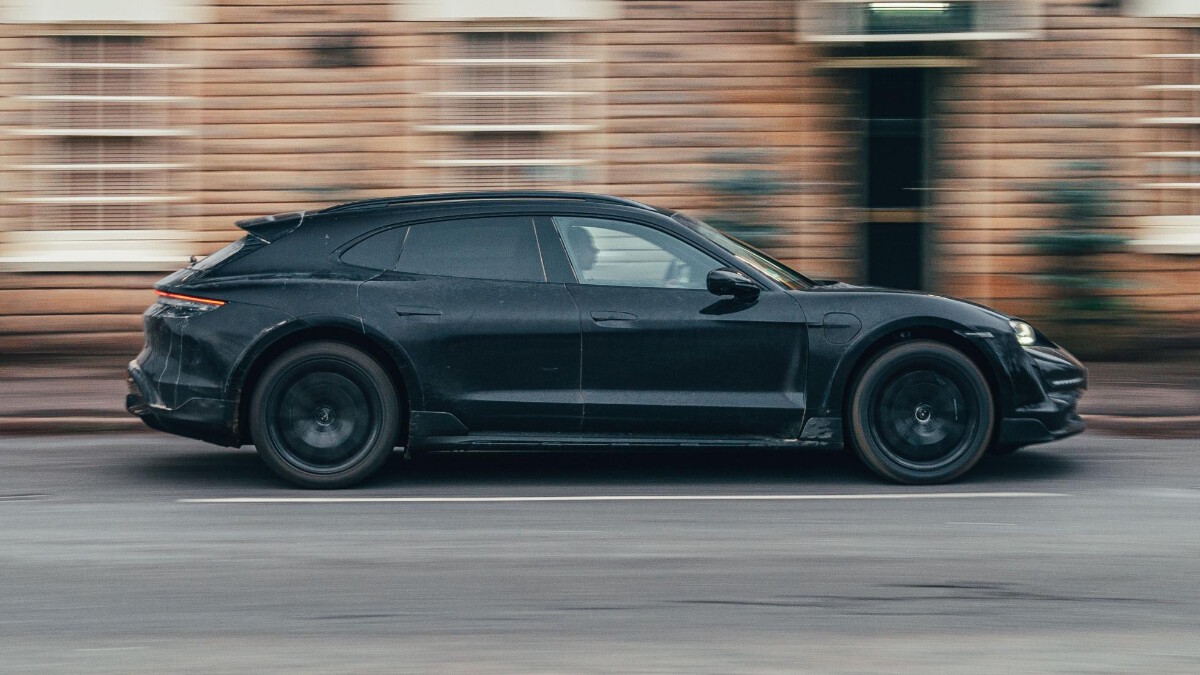 Not many. You sit low in the Taycan, and the window ledges feel high. It's the opposite of the modish, popular 'command' driving position beloved of SUV drivers. The wheel is also thinner and smaller than you might expect. We love both of these aspects, to be honest.
The view ahead is excellent, the view over your shoulder and behind less so. Porsche's interior quality is unimpeachable, and as contemporary digital touchscreens go, the Taycan's graphics and overall design are very elegant. But that doesn't mean its user interface is particularly easy to use. And the haptics on the climate control are a bit suspect.
Sounds like you're grasping at straws here.
Afraid so. Porsche has set the bar sky-high on the Taycan, and even as the EV world evolves at lightning speed, it'll take something mighty fine to depose it. By adding more versatility and making the design a little more idiosyncratic, you could argue that the Cross Turismo is the one to go for. No prices confirmed yet, but think £140,000 (P9.48 million) and up. Big money, sure, but this is one of the world's truly special cars.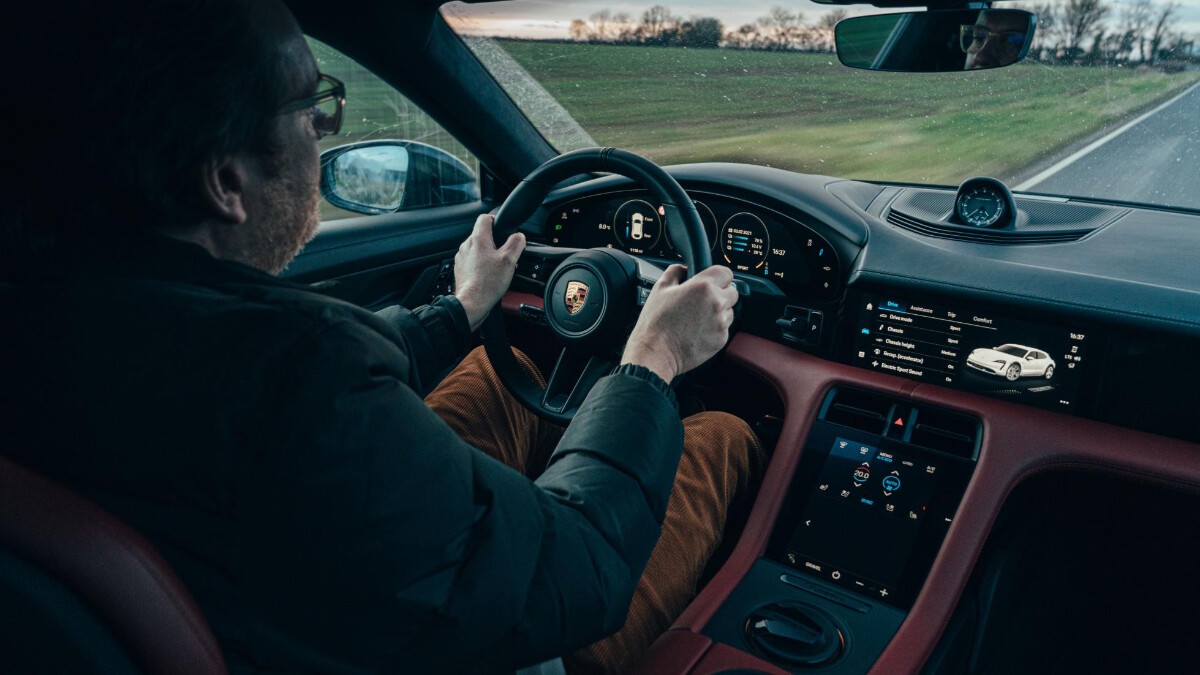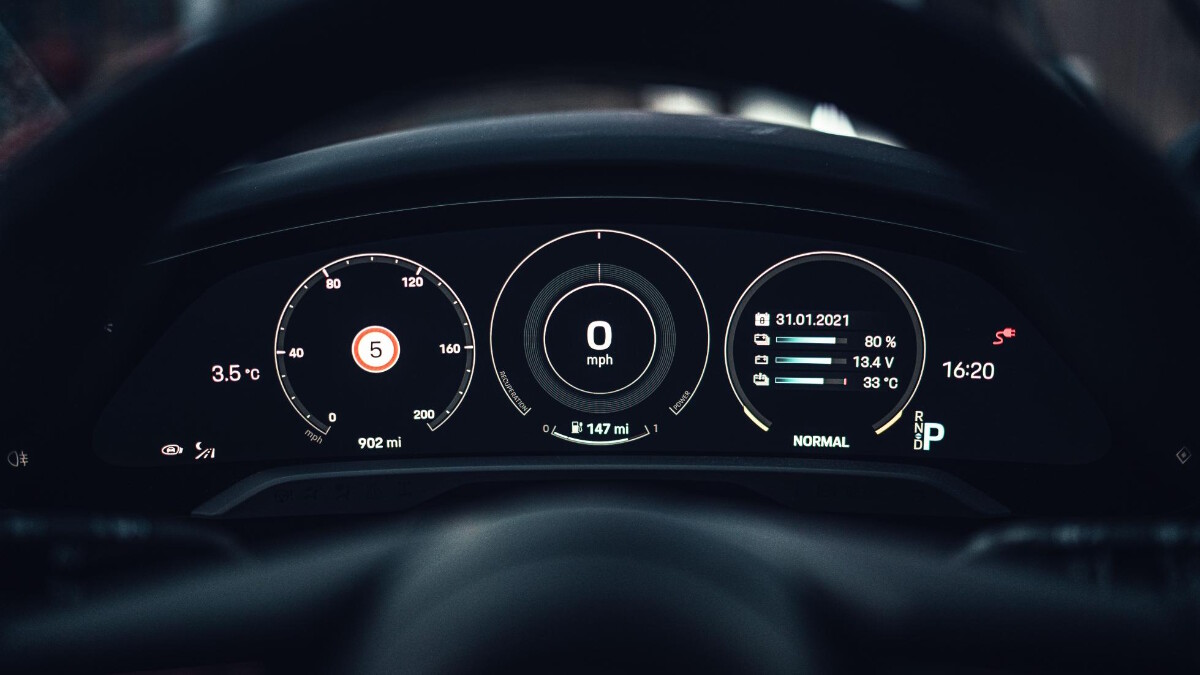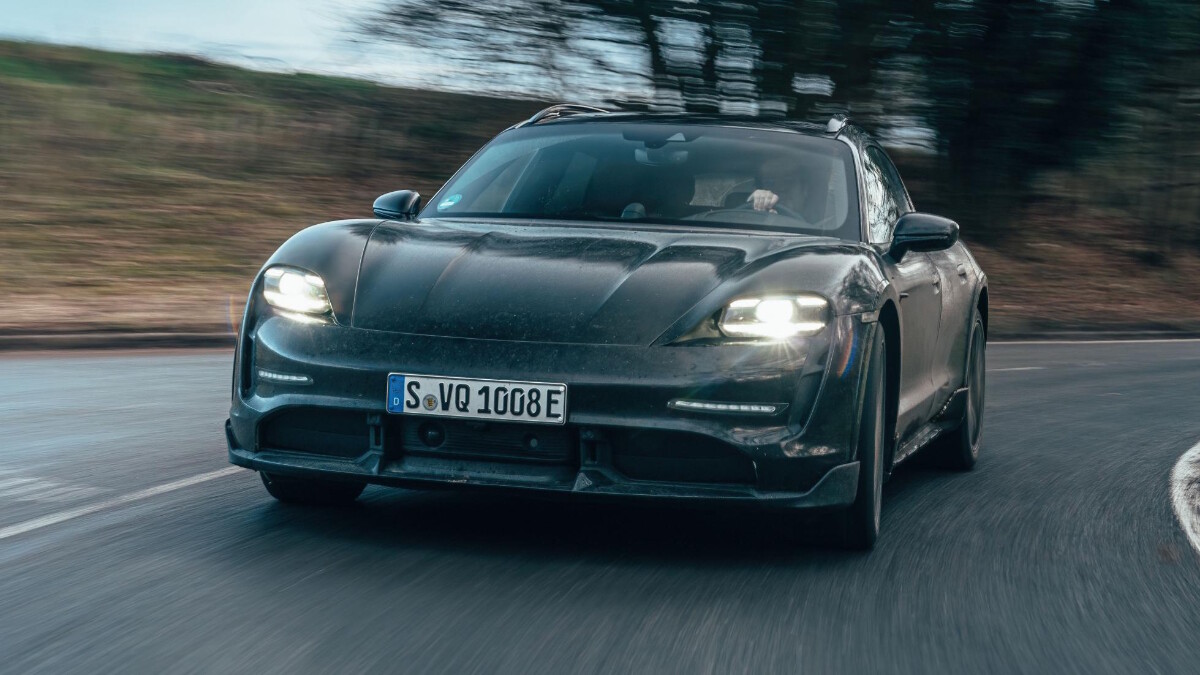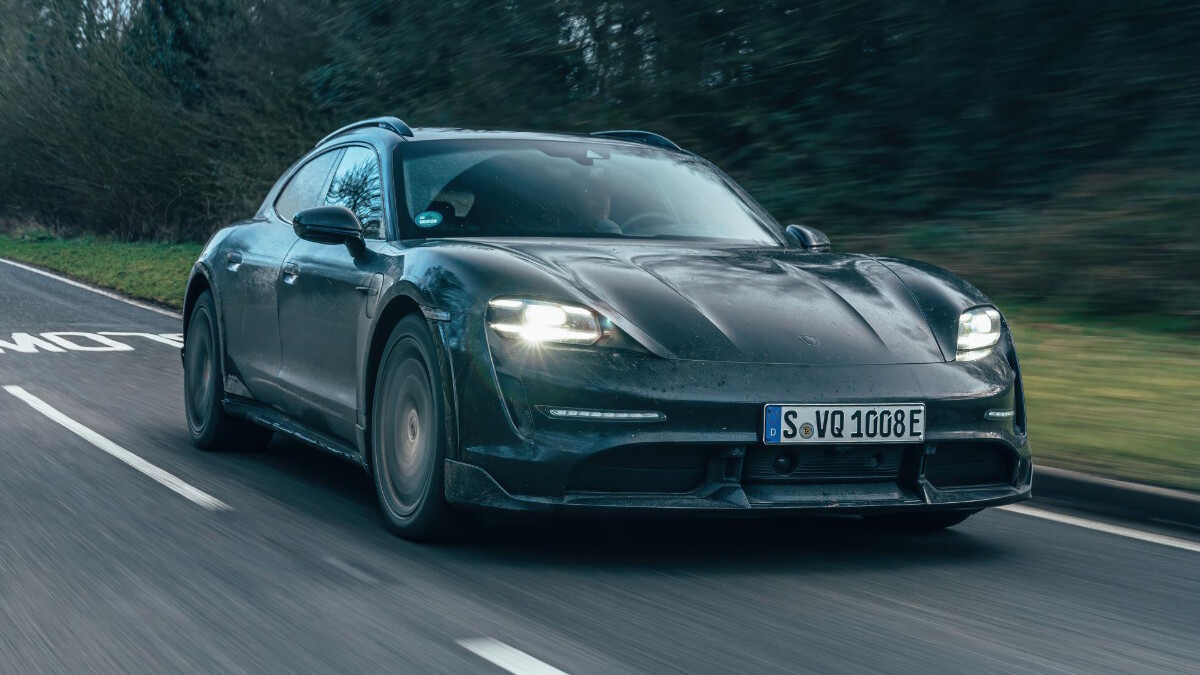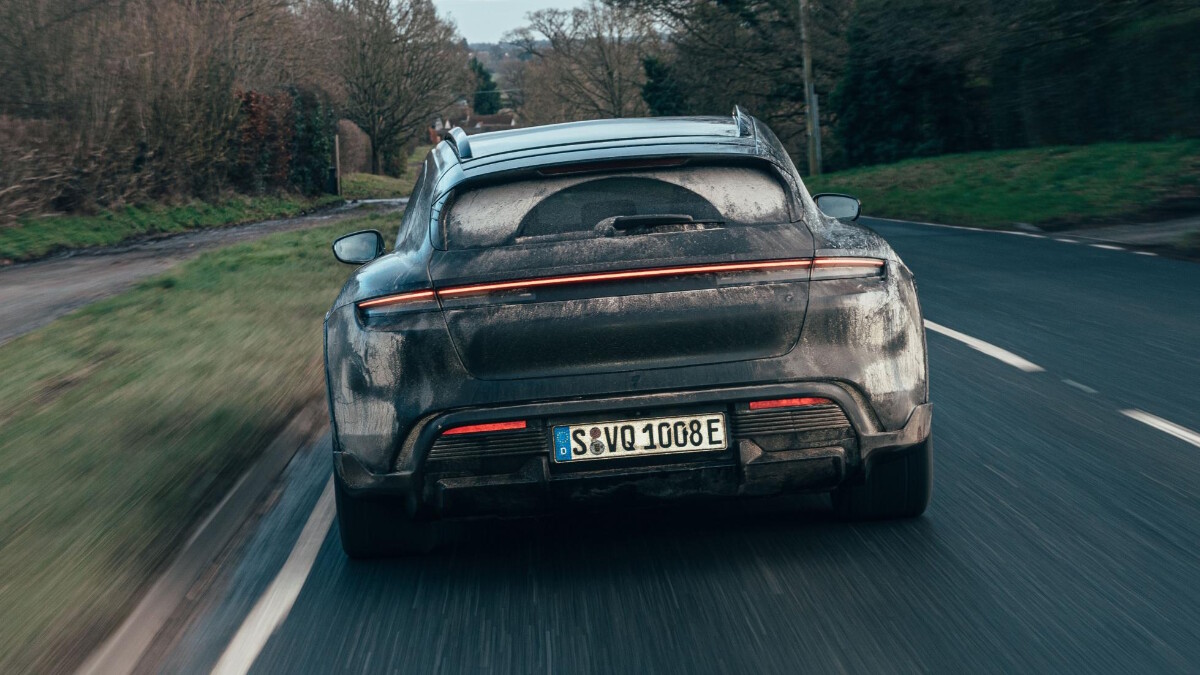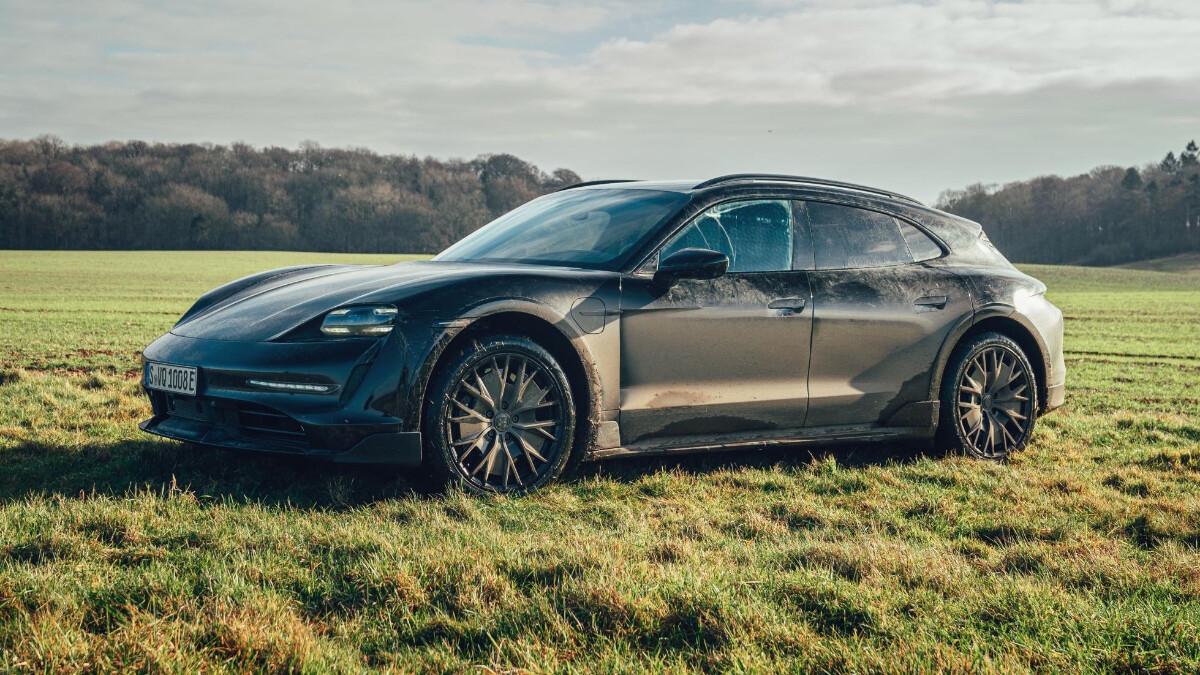 NOTE: This article first appeared on TopGear.com. Minor edits have been made.