Another Huracán derivative? We've lost count…

It is undoubtedly that. But there are reasons to be cheerful. Firstly, the changes and upgrades are very nuanced, the aim being to locate the sweet spot between the fabulous Evo RWD and the crackers track-oriented STO. Perhaps you thought such a spot on the Huracán spectrum didn't actually exist, but Lamborghini's engineers have found it.
The helicopter pitch: you get the 631hp V10 in a more amenable rear-drive chassis with rear-steer, in a cleverly revised body. Secondly, while the Ferrari 296 GTB and McLaren Artura form an intoxicating bridgehead to the new generation of hybridised 'super sports cars', the Huracán Tecnica is a car that actively benefits from not having the latest tech. Never mind e-motors and batteries, this thing doesn't even have a turbo.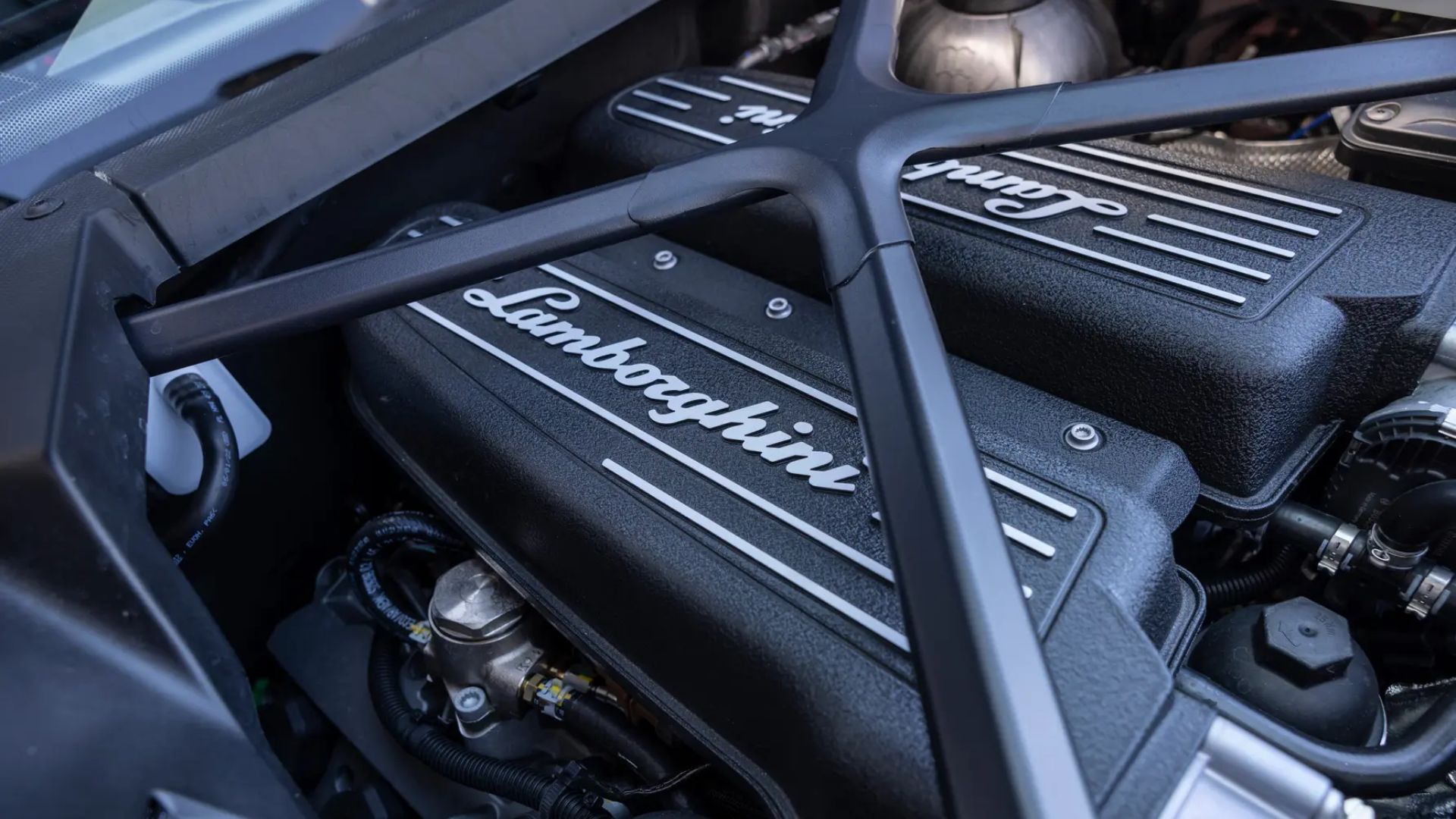 ADVERTISEMENT - CONTINUE READING BELOW ↓
So no mooching about silently and smugly in electric mode here, then?

Efficiency, whether in terms of fuel consumption or emissions, isn't top of the list here, it's true. But aside from Ferrari's V12 or the unit in the Pagani Huayra, nothing sounds like Lamborghini's 5.2-liter V10 as the crank speed passes 4,500rpm, at which point it really doubles down on its hunt for the 8,500rpm redline. It tingles your spine, bangs out a rhythmic tattoo on your ear-drums.
There are three drive modes to choose from – Strada, Sport or Corsa – and in Sport you get the full symphonic blare, plus the crackle from the redesigned exhaust as unburnt hydrocarbons meet their maker in spectacularly noisy fashion. The throttle response is so good you can play tunes with the engine, and even in fifth or sixth gear at 4,000rpm it rumbles like gathering thunder.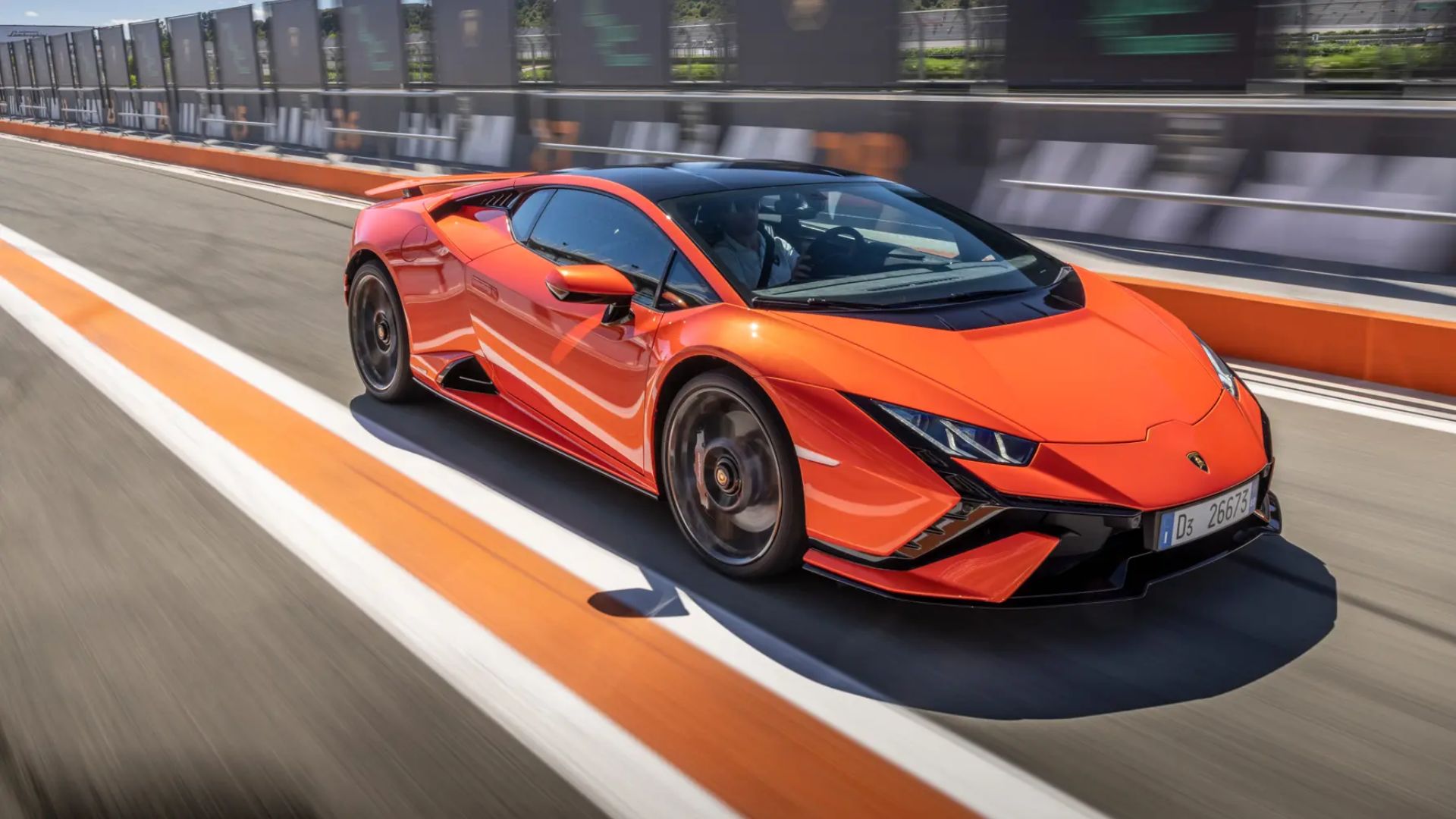 ADVERTISEMENT - CONTINUE READING BELOW ↓
Recommended Videos
So what's changed?
Lots. Lambo insists that this is more than a facelift. There are hints of Sián and Terzo Millennio at the front, where the Ypsilon motif is used prominently, and there's a new bumper that features an air curtain for the first time on a Huracán. A new front splitter, whose lower slats funnel the airflow through the wheels, improves downforce, cooling and aerodynamic efficiency. The Tecnica has a claimed 35 percent more downforce than the Evo RWD and generates 20 percent less drag.
The front trunk lid and engine cover are made of carbon fiber (saving 10kg over the RWD), and although the Tecnica is the same width and height as the Evo, it's 61mm longer. There's also a nod to Lamborghini's Essenza SCV12 track car in the little sliver of metalwork that flows out of the quarterlight window. Some of the shutlines in that area are a bit wonky, but overall there's no shortage of visual entertainment.
ADVERTISEMENT - CONTINUE READING BELOW ↓
OTHER STORIES YOU MIGHT HAVE MISSED:
Does your Nissan Urvan look too plain? Autech can fix that for you
This firm can install a garage fit for a Bond villain under your house
We followed an orange Tecnica on the road, and the view from behind was even better. There's a new rear bumper, hexagonal exhaust pipes, and the diffuser can be painted in the same colour as the body or in black (as can the roof). A big chunk of tyre is visible, too. There are eight standard colours, including the usual lysergic greens and oranges, and options galore (the matte finishes are very cool).
Diamond-cut Damiso 20in alloy wheels take their cue from those on the Vision GT concept and also feature a hexagonal design. For a car whose basic shape was signed off a decade ago, it still looks contemporary and does that Lambo thing of making little kids point and stare, slack-jawed. Big credit to design director Mitja Borkert and his team at Centro Stile. Quite the refresh.
ADVERTISEMENT - CONTINUE READING BELOW ↓
Anything else?

Yep. We need to talk about the brakes. They get a new cooling set-up, the carbon ceramics using redesigned deflectors and caliper ducts to send the airflow into the discs (380mm diameter upfront, 356mm at the rear), reducing brake fluid temperature by nine per cent and disc temp by seven per cent. The disc compound is different to the one used by the STO, too.
We spoke to Victor Underberg, the ex-Audi engineer who arrived in Sant'Agata in February 2021 as head of whole vehicle development, and he was very keen to big up the brakes. And the harmonisation of the chassis. And the amount of entertainment the car now delivers, versus the slightly uptight all-wheel drive iteration that kicked off the Huracán way back in 2014. This car hasn't tailed off, he reckons, it's got better and better.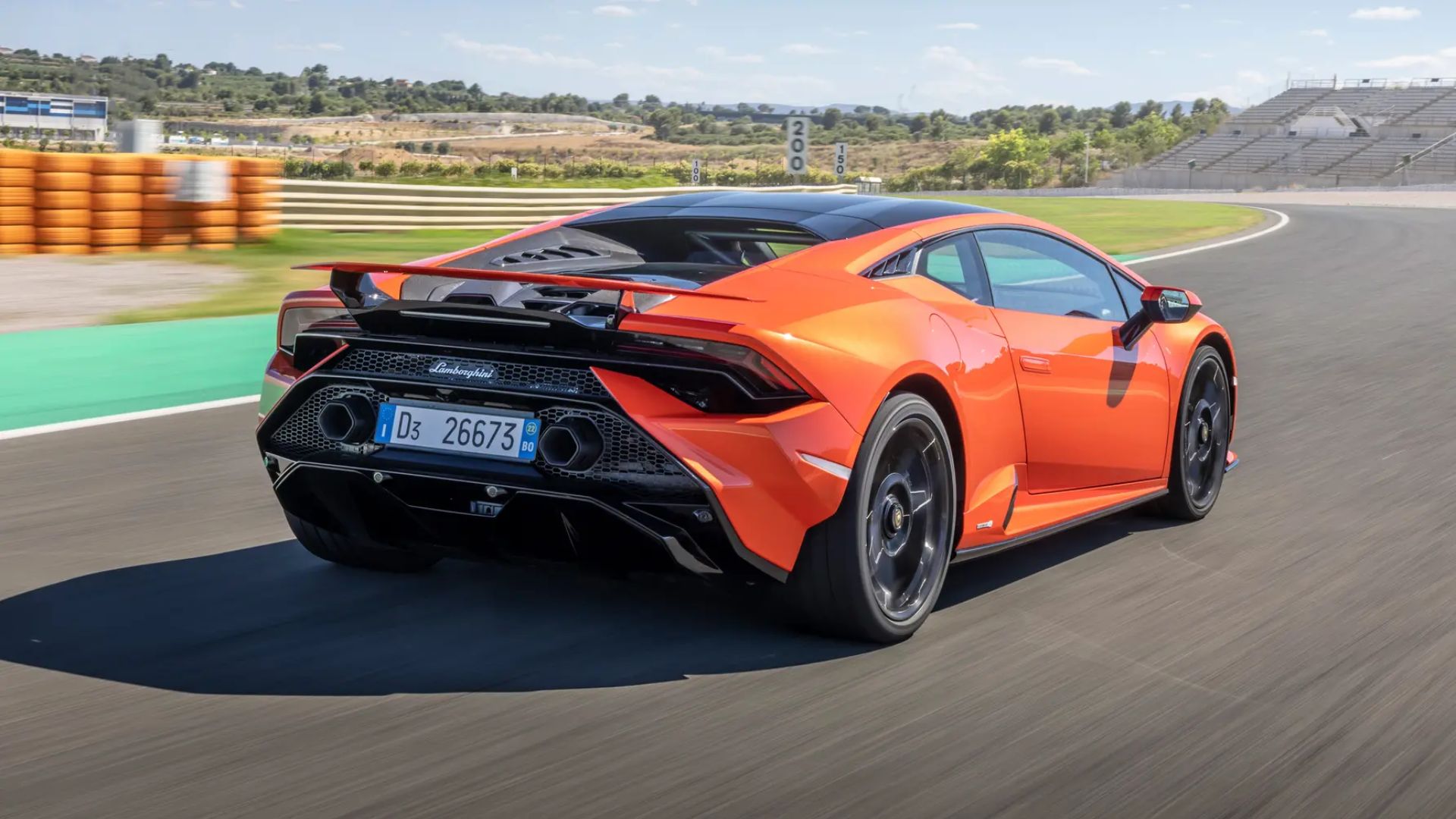 ADVERTISEMENT - CONTINUE READING BELOW ↓
Mid-engined Italian supercars have clearly come a long way.

No kidding. The Huracán Tecnica is a very sophisticated device. The LDVI – Lamborghini Dinamica Viecolo Integrata – uses a set of accelerators and gyroscope sensors positioned at the Tecnica's centre of gravity to monitor lateral, longitudinal and vertical loads, as well as body roll, pitch and yaw. The suspension's magnetic damping is also part of the equation, as is the adaptive traction control (P-TCS) – whose parameters have been modified specifically for the Tecnica – as well as the brake-based torque vectoring, steering, and the active rear axle. The latter, as ever, helps low-speed manoeuvrability and high-speed stability.
But while there's clearly a lot of code zipping around the Tecnica's nervous system, the result is never, erm, nervous. This is an easy yet hugely rewarding car to hammer round a circuit. The Tecnica has a direct rather than variable steering rack, and carves into corners with terrific fidelity and feel, although it's not quite as satisfying in that regard as a Porsche 911 GT3 or McLaren 600LT. We're talking small margins here, mind you. The front end has huge bite, but the overall balance is super sweet, close to but less intimidating than the harder core STO.
ADVERTISEMENT - CONTINUE READING BELOW ↓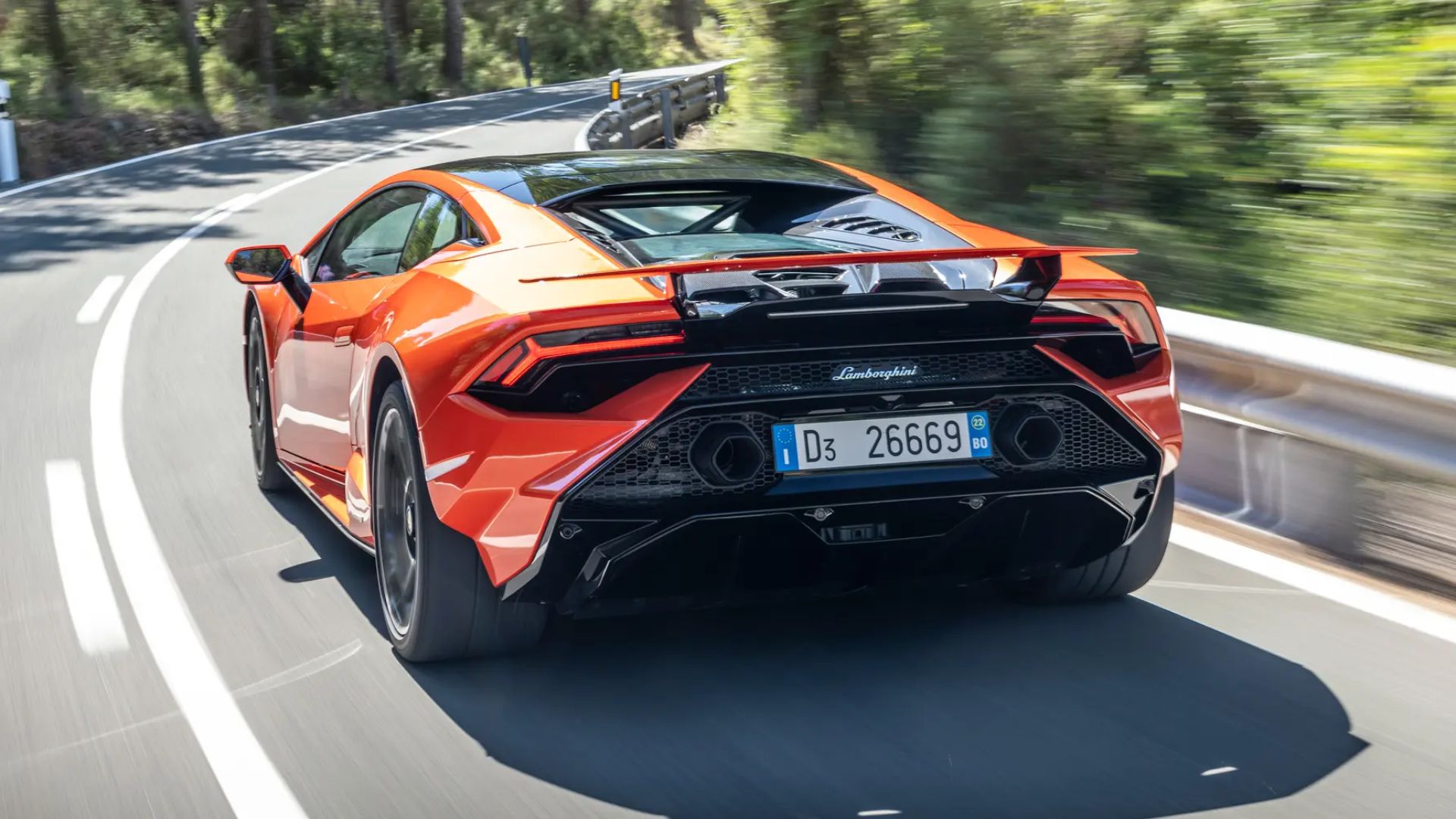 On track, we're on Bridgestone Potenza Race rubber, which offer fierce levels of grip without any sign of understeer. Switch it into Corsa mode and the rear axle doesn't alter its angle of attack, but everything else is dialled up to 11. It's still not savage or unruly, and hitting the change-up lights as you work through the seven-speed dual-shift transmission delivers a raucous, old-school sensation.
ADVERTISEMENT - CONTINUE READING BELOW ↓
Traction out of corners is immense, although you might spot the ESC light winking at you in certain corners under load. But even if you switch everything off, the Tecnica doesn't immediately throw you to the wolves. It's beautifully balanced up to and right on the limit, and progressive once you've stepped into the brink. It's probably about 75 per cent of an STO, only 1.5 seconds slower than it round the circuit at Valencia, and much easier on the eye.
No Lamborghini is flying under the radar exactly, but this one can do an approximation of subtle. Until you go into Sport mode and start playing with the throttle, that is.
How about on the road, where it's likely to spend most of its time?

In Strada mode it's absolutely fine. Perfectly civilised, including its damping and ride. It's also a manageable size, and thus easy to place on the road, although rear visibility isn't a strong point. The driving position is better than we remember it, although not completely ideal for anyone over six foot tall.
ADVERTISEMENT - CONTINUE READING BELOW ↓
You can have sports seats or a more classic set of chairs, or carbon-skinned doors with fabric pulls. The infotainment system is easy-ish to use, although it's mounted rather low. And the whole caboodle feels fantastically well made while being characterful. The Tecnica has the same daily driver potential as the 911 GT3 Touring, whose philosophy it mirrors. Amazing bandwidth, really.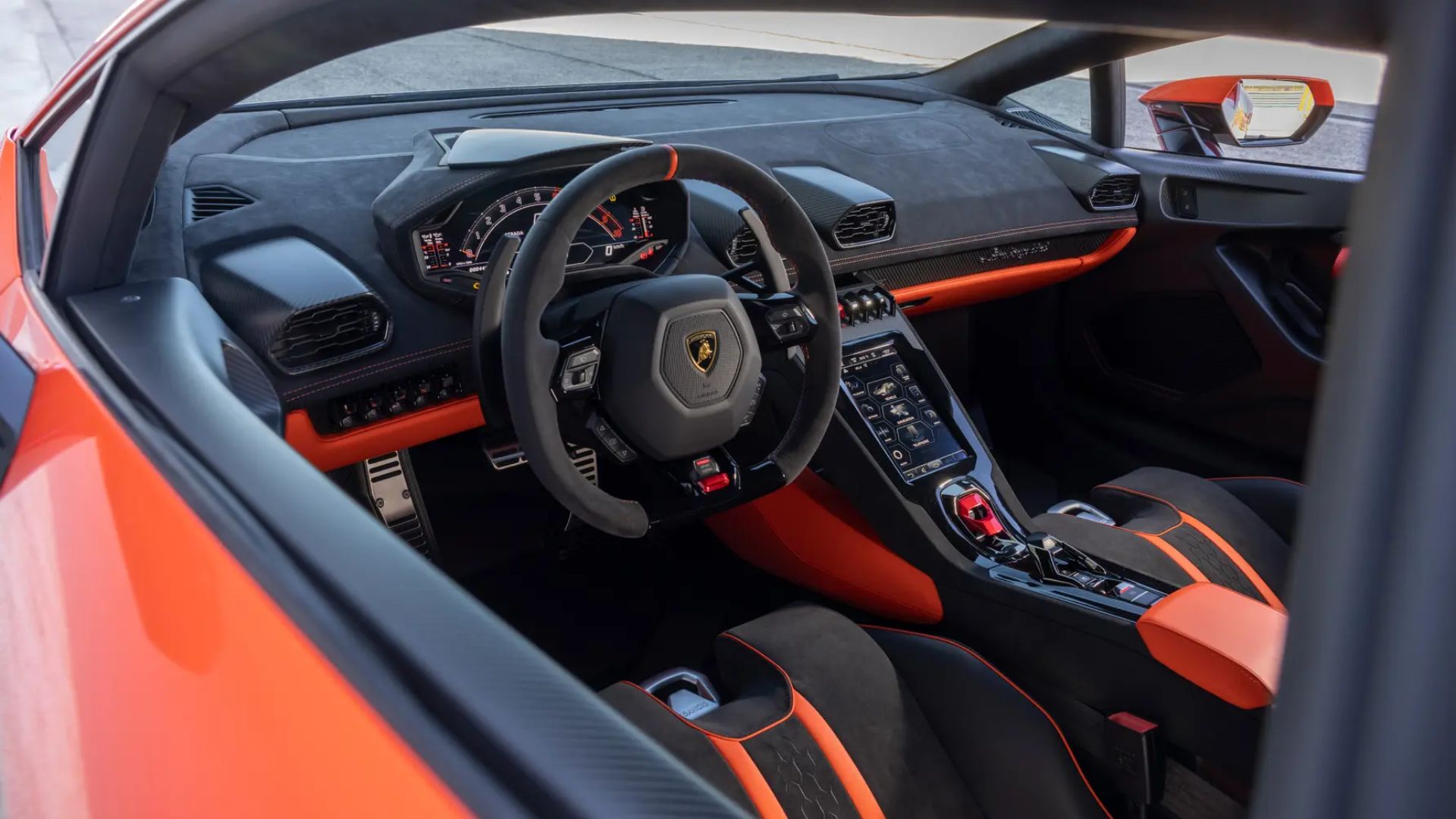 ADVERTISEMENT - CONTINUE READING BELOW ↓
Sounds like quite the achievement.

Have we been seduced by that wonderful engine? Hell, yeah. It's always been special, a real high point for atmospheric internal combustion. With the sword of Damocles now poised above the entire concept, there's no doubt the Huracán Tecnica arrives as a new(-ish) car pre-loaded with a sense of nostalgia. We won't see its like again.
But the rest of the car is just as good, and offers the perfect platform for the engine to do its thing. The Tecnica is hugely exciting without being spiky, hi-tech without being bamboozling. At £212,000 (P14,133,537 before taxes), it's also £48k (P3,200,046) cheaper – erm, less expensive – than the STO. It's the sweet spot, all right.