If you caught our recent fuel economy feature on the 2022 Nissan Almera 1.0 VE Turbo, you'll know that so far, we've been impressed with what the newly-introduced sedan has to offer. Long story short, if efficiency during the ongoing fuel crisis is a concern to you, this model should be near the top of your list.
So we know the thing is economical—but what about the rest of the vehicle? A car that's conservative at the pump is only worth so much if the rest of its package is subpar, right? Today, we have a few more takeaways from our time with the Almera to discuss.
Some parts, like the vehicle's looks and lone engine option, are pretty straightforward. Nissan Philippines' product planners have made some interesting decisions, though, in regards to the feature set this particular variant comes with. Let's get into it.
ADVERTISEMENT - CONTINUE READING BELOW ↓
Exterior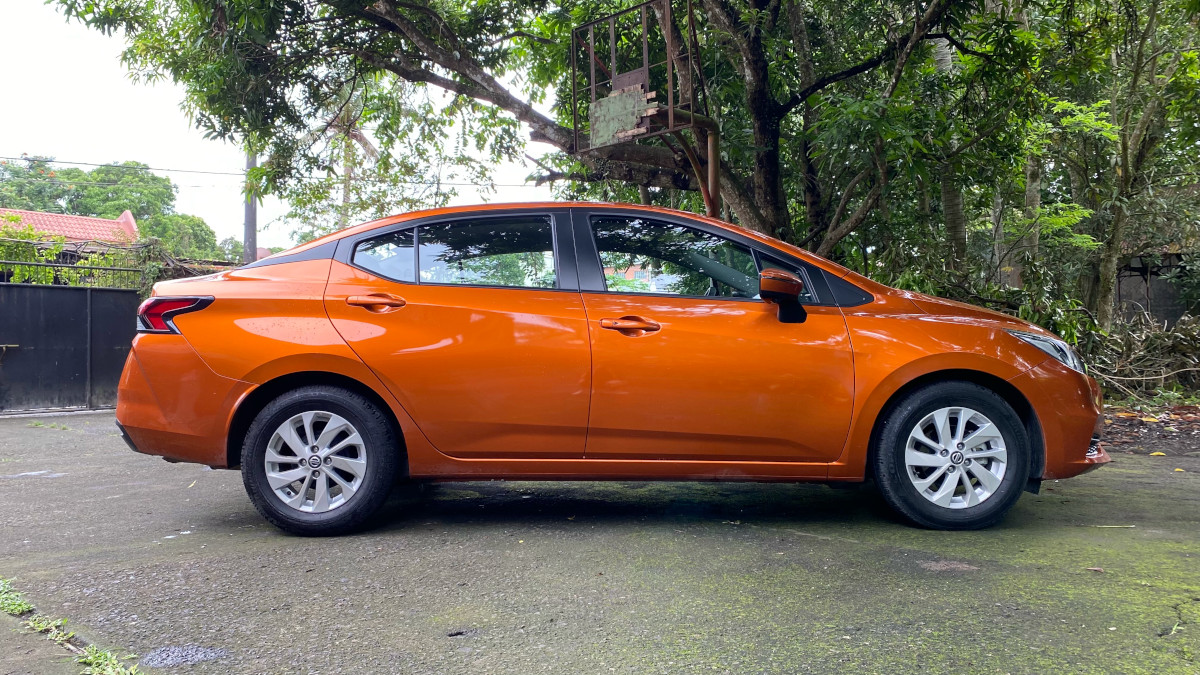 Let's face it: This thing's predecessor left a lot to be desired when it came to its appearance. This is no longer the case, though, as the Nissan Almera's VE variant looks quite good for a car that comes in at under P1 million.
Its exterior is arguably the most modern in the segment, thanks to a stylish face that flaunts large swept-back headlights with an angular design, as well as a nice mix of bold chrome trim and piano black plastic.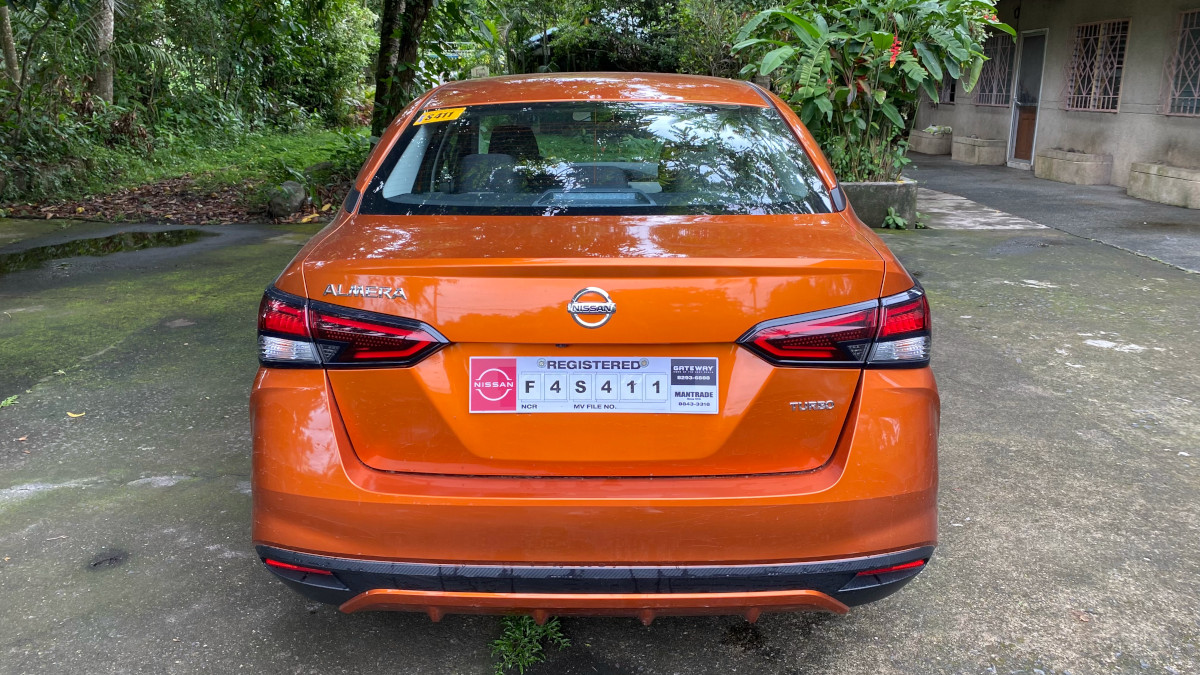 ADVERTISEMENT - CONTINUE READING BELOW ↓
Recommended Videos
An edgy lower fascia, large Nissan logo, eye-catching daytime running lights—there's a lot going on here, but we mean this as a compliment. A handful of design choices, such as the small grille, clean side profile, simple 15-inch multi-spoke wheels, and a seamless roofline help lend the appearance a slightly minimalist vibe. A boxy rear also provides this sedan with a nice 474 liters of cargo space inside the trunk.
Overall, nothing feels off or looks out of place, and we have no complaints. Thumbs up!
Interior
The cabin is nice, but there are a few odd decisions to take note of here. Overall, we really like the environment. It's spacious (this generation is larger than the last one, which in itself was already sizable for a subcompact offering), comfortable, and looks pretty easy to maintain despite the presence of some light materials on the dashboard and seats.
ADVERTISEMENT - CONTINUE READING BELOW ↓
The dashboard inside this Almera looks a cut above what you'd expect to find in middle variants like the VE Turbo. It's wrapped in faux cream leather, with detailed stitching and a very modern flow to it. Round A/C vents on the sides add a slight bit go quirkiness to the mix, and none of the piano black plastic looks cheap or flimsy. The steering wheel also features a nice flat-bottom design, and the A/C controls get a neat digital display and tactile dials and buttons.
NEWS STORIES YOU MIGHT HAVE MISSED:
People in Singapore are now paying upwards of P3.85-M for the right to buy a vehicle
LTO revokes license of SUV driver in viral video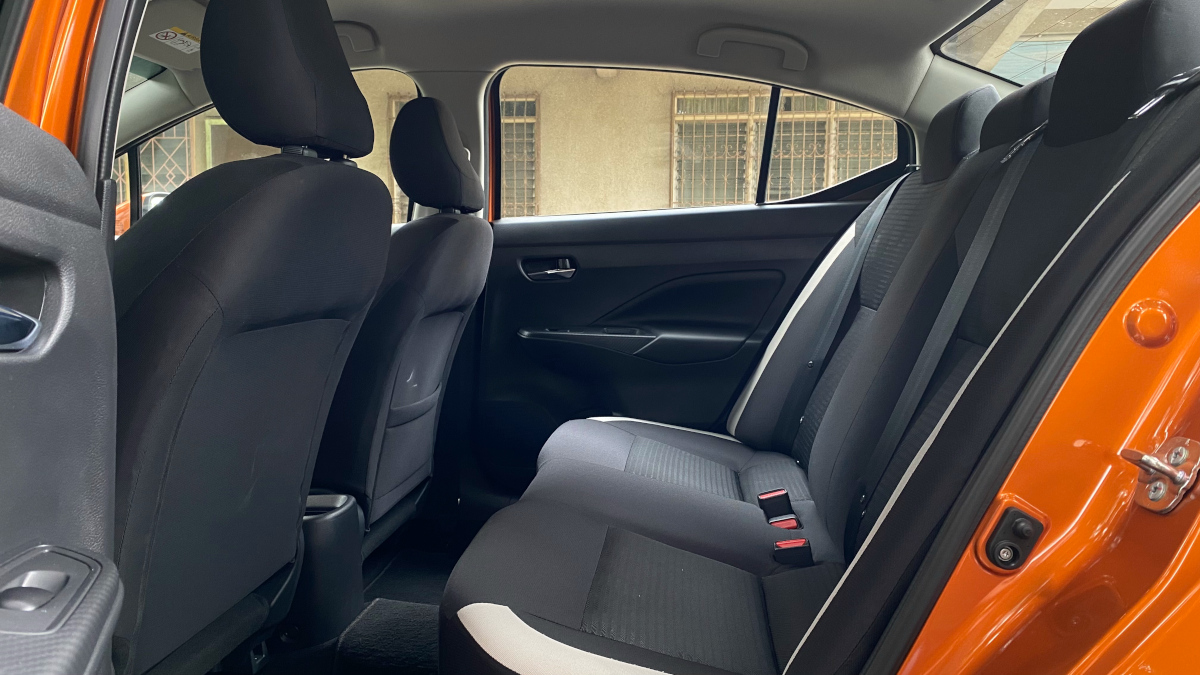 Once you turn to the sides, however, you're met by incredibly bare door panels that leave a lot to be desired. Aside from some shiny chrome door handles, there's nothing else here except plain black plastic. You're met by the same treatment if you look around the handbrake area as well. Also worth noting is that outside of small compartments underneath the A/C controls and in between the front seats, there are barely any viable storage areas here.
These choices really take away from the bang-up job Nissan has done with the rest of the cabin, but if this is what it takes to keep the car strictly under P1 million, then so be it.
Engine performance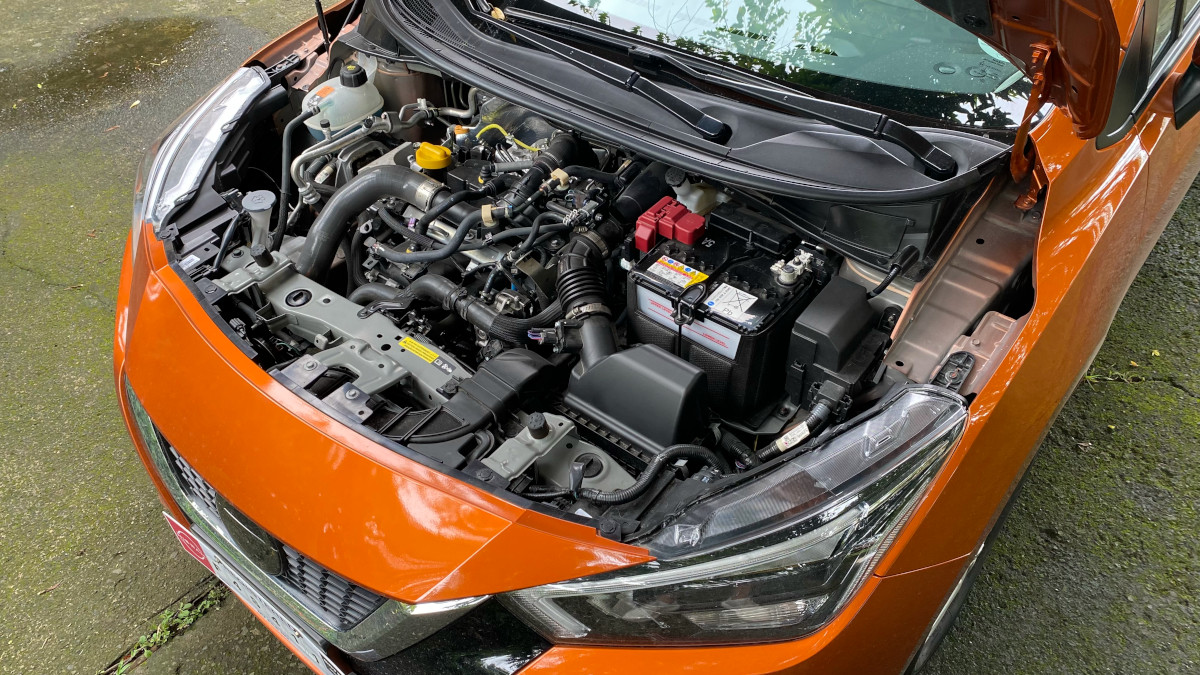 All local-spec Almera units run on a 1.0-liter turbocharged gasoline engine capable of 99hp and 152Nm of torque. In the case of the VE variant, shifting is handled by a continuously variable transmission (CVT).
That power is slightly down compared to the Vios and City, but the torque trumps those of its competitors. But on the road? That 99hp doesn't feel insufficient at all—in fact, this thing feels quicker than its Toyota counterpart. It gets up to highway speed in decent time, and I never felt that the output was lacking while performing overtakes. Throttle response felt fine at speed, though I did notice a slight delay at times when taking off from a full stop in traffic.
ADVERTISEMENT - CONTINUE READING BELOW ↓
One feature I'm surprised to find at my disposal in this unit is an automatic stop-start system for conserving fuel in traffic. This isn't normally something you'd find in anything less than something top-spec, and while I still do find it annoying, it's a very welcome trick to have during this fuel crisis.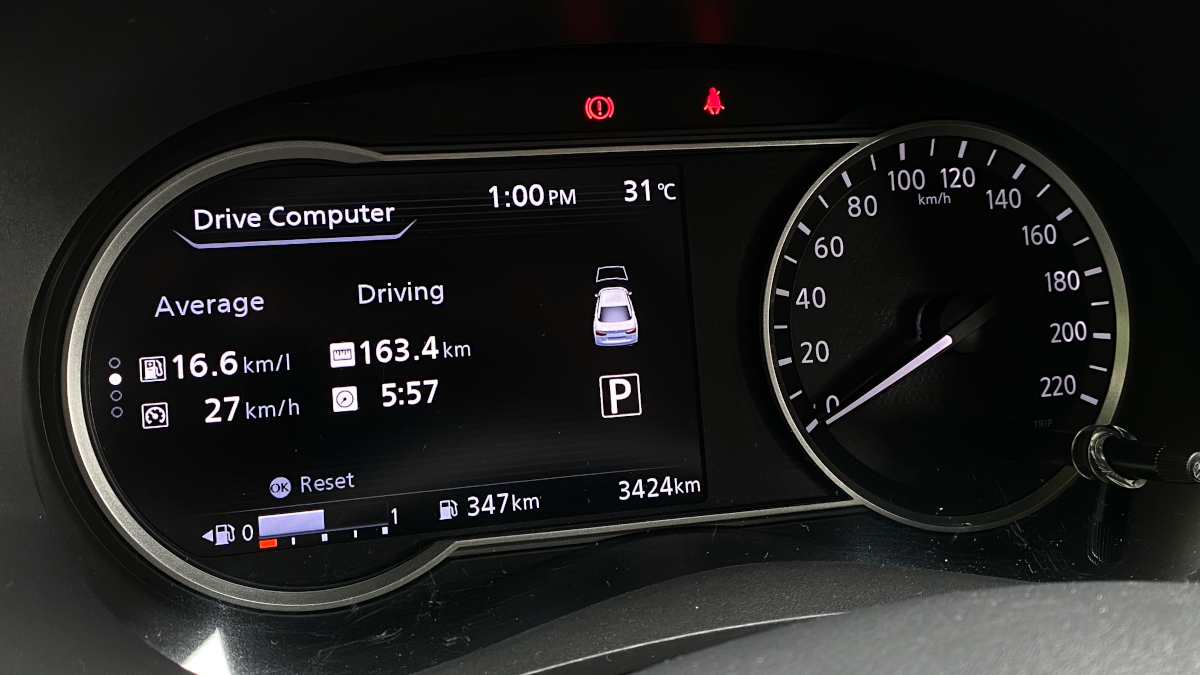 Speaking of fuel economy, we'll link you one more time to our fuel economy feature on the Nissan Almera 1.0 VE Turbo. To recap, over the course of 297km in mixed driving conditions, I managed an impressive 16.9km/L with this sedan's 35-liter tank.
Other things to note? I kind of wish this came with a manual mode, but it is what it is. I'm also a fan of how clean and easy to navigate the instrument cluster is, and a push-to-start ignition is included here as well.
Ride and handling
The 2022 Almera is surprisingly comfortable for something just under P1 million. Sound insulation is great, as the cabin does an excellent job keeping out both engine noise and the sound of nearby traffic. It isn't premium-level stuff, but it's definitely a standout in its segment. I'd go as far as to say this is the Almera's most notable quality.
Handling this thing in tight spaces is a breeze, too. Electric power steering feels light while parking and when things slow to a crawl, but the wheel still feels nicely weighted when you're out on the highway. Oh, and tilt and telescopic steering adjustment is a major plus as well.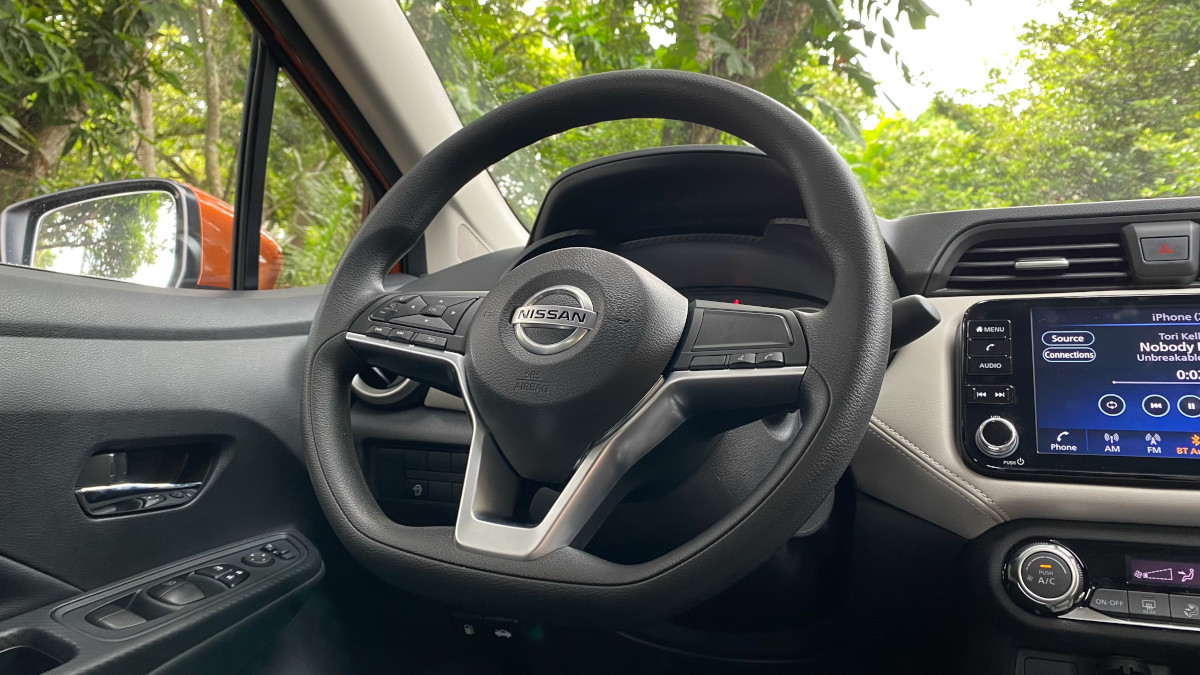 ADVERTISEMENT - CONTINUE READING BELOW ↓
The positives continue with the Almera's MacPherson-Torsion beam suspension setup, which does a good job absorbing run-of-the-mill potholes and bumps. It didn't matter whether I drove the thing on EDSA or on Quezon's provincial roads—while you still feel larger imperfections, the ride was pretty much comfortable and stable all throughout.

Relatively comfortable ride, good insulation, great handling? All these things considered, the Almera is a standout when it comes to this department.
Extra features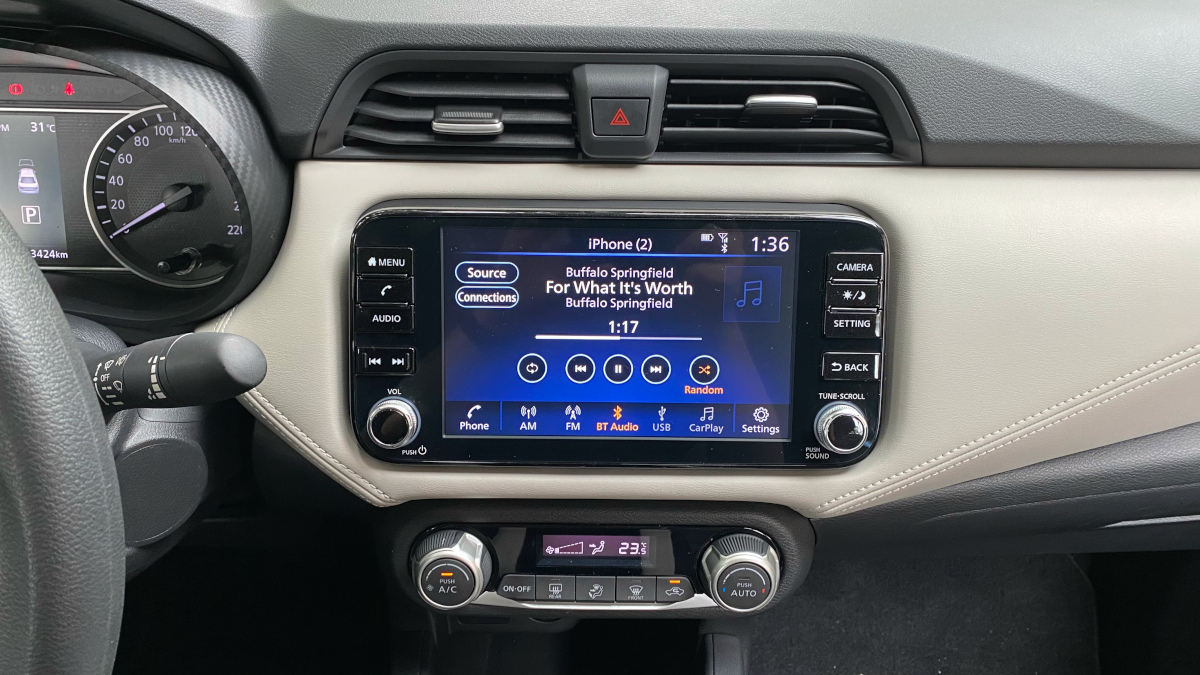 Nissan Philippines' product planners chose to focus on the important stuff here. On one hand, you get a handful of higher-end tech bits you wouldn't normally see in a sedan of this price. But on the other, you have a few common features you'd expect to see in a package like this as well.
As we said, the VE gets an automatic start-stop function for improving fuel economy in traffic. Impressively, the sedan also comes equipped with a 360-degree camera that can detect moving objects for tight parking situations, intelligent forward collision warning, and even intelligent emergency braking.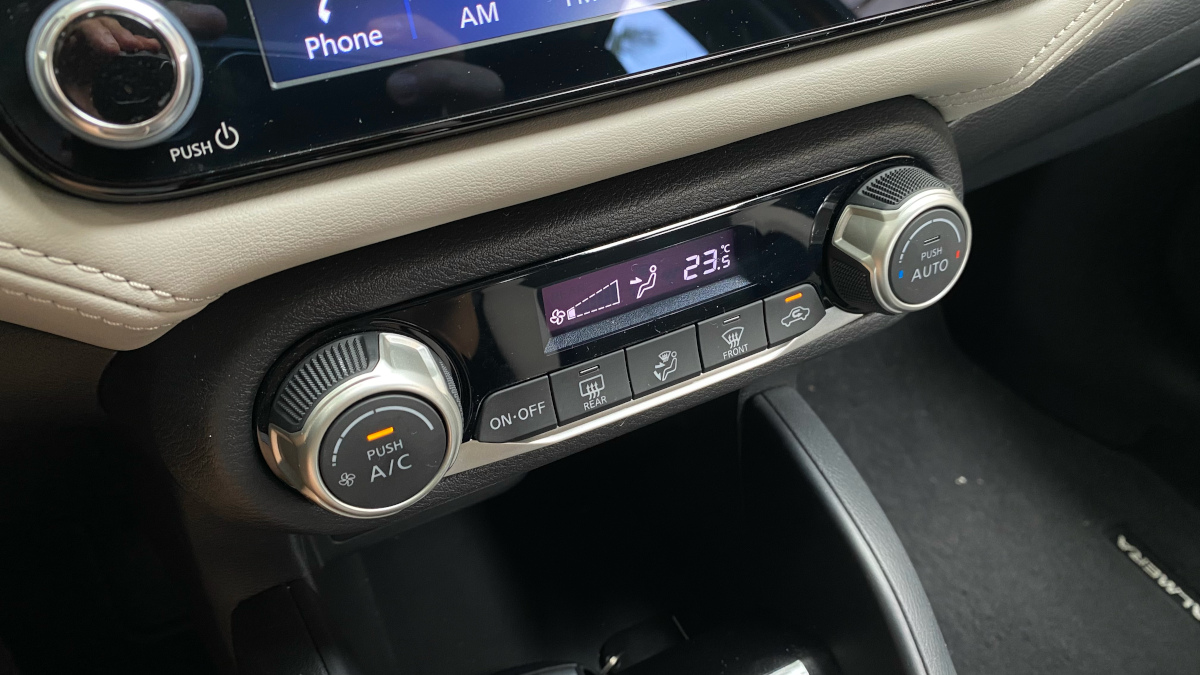 You also get features like a pair of USB chargers for rear passengers, an automatic climate control system, and a sharp 8-inch touchscreen display with Apple CarPlay connectivity paired with a decent six-speaker sound system.
At this point, you might be expecting the full works. This isn't the case, though. Keep in mind Nissan worked its butt off to keep this under P1 million, so you won't find automatic headlights or wipers. The VE also only gets two airbags (front driver and passenger), and does not come with cruise control. Hey, you can't have it all.
Verdict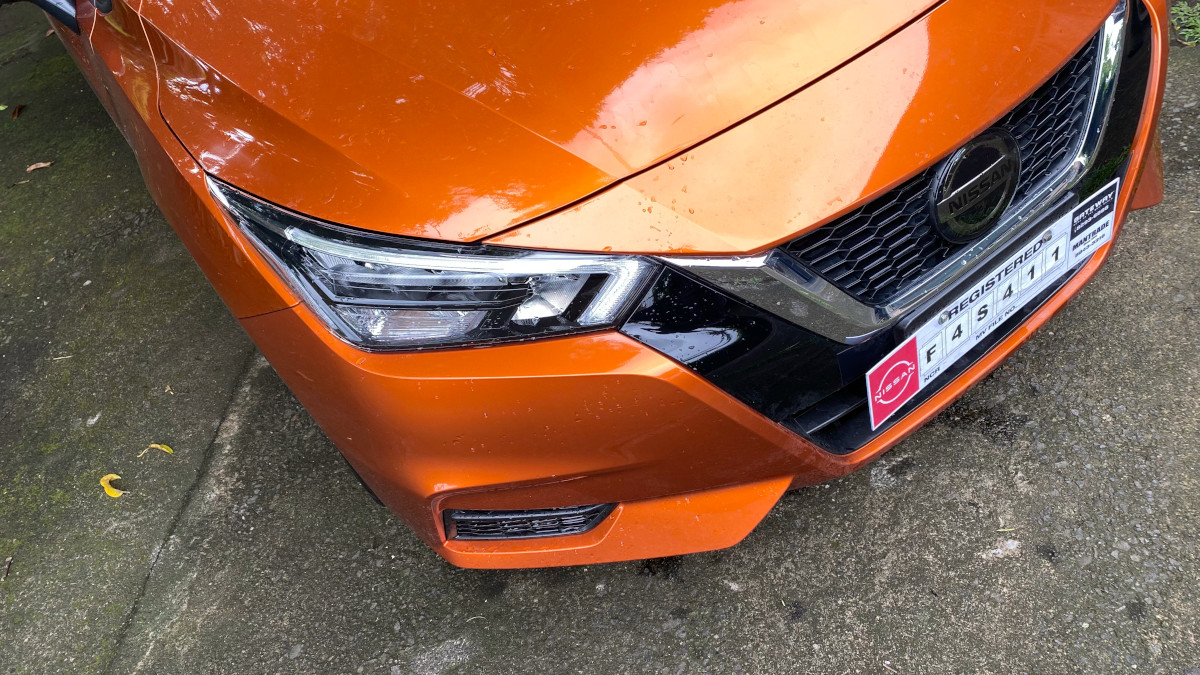 ADVERTISEMENT - CONTINUE READING BELOW ↓
The Nissan Almera 1.0 VE Turbo CVT isn't the complete package, but local product planners did an excellent job choosing what to prioritize while keeping the cost under the P1 million mark. With a powertrain that's as capable as it is efficient, a stylish design, and a feature set built to cater to the Filipino car buyer, this should be near the top of your list if you're on the hunt for a sedan.
SPECS: 2022 Nissan Almera 1.0 VE Turbo CVT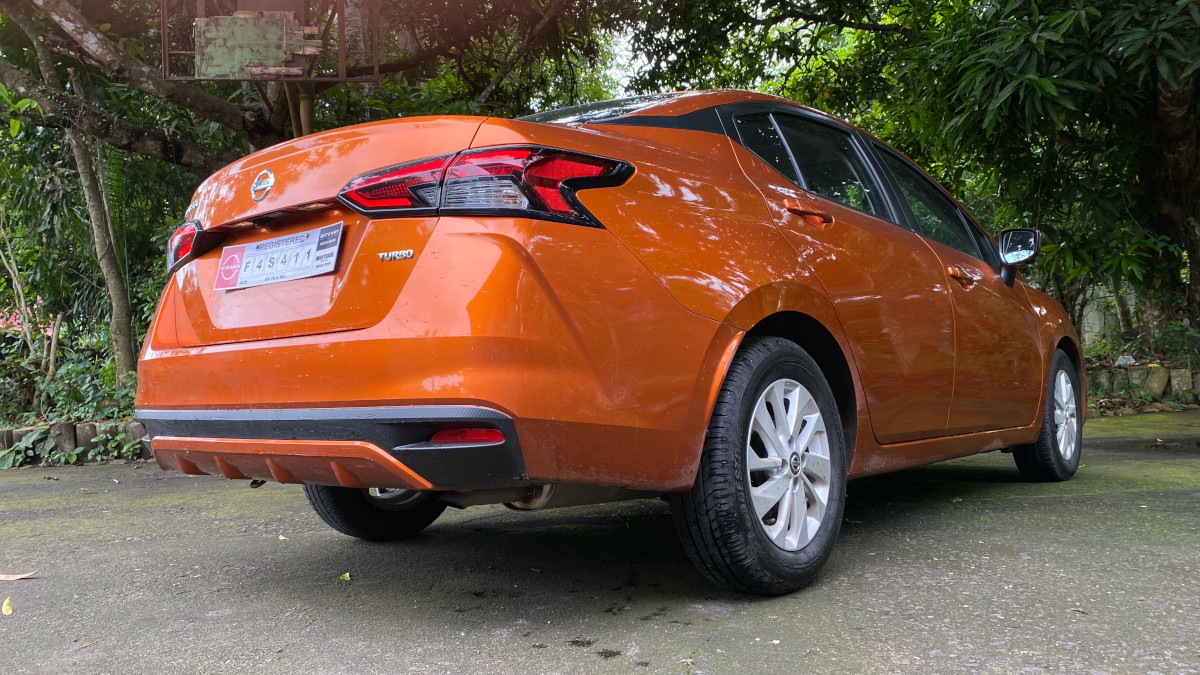 Price: P998,000
Engine: 1.0-liter turbocharged gasoline
Power: 99hp @ 5,000rpm
Torque: 152Nm @ 2,400-4,000rpm
Transmission:
Drive layout: FWD
Seating: 5
Score: 19/20
More photos of the 2022 Nissan Almera 1.0 VE Turbo CVT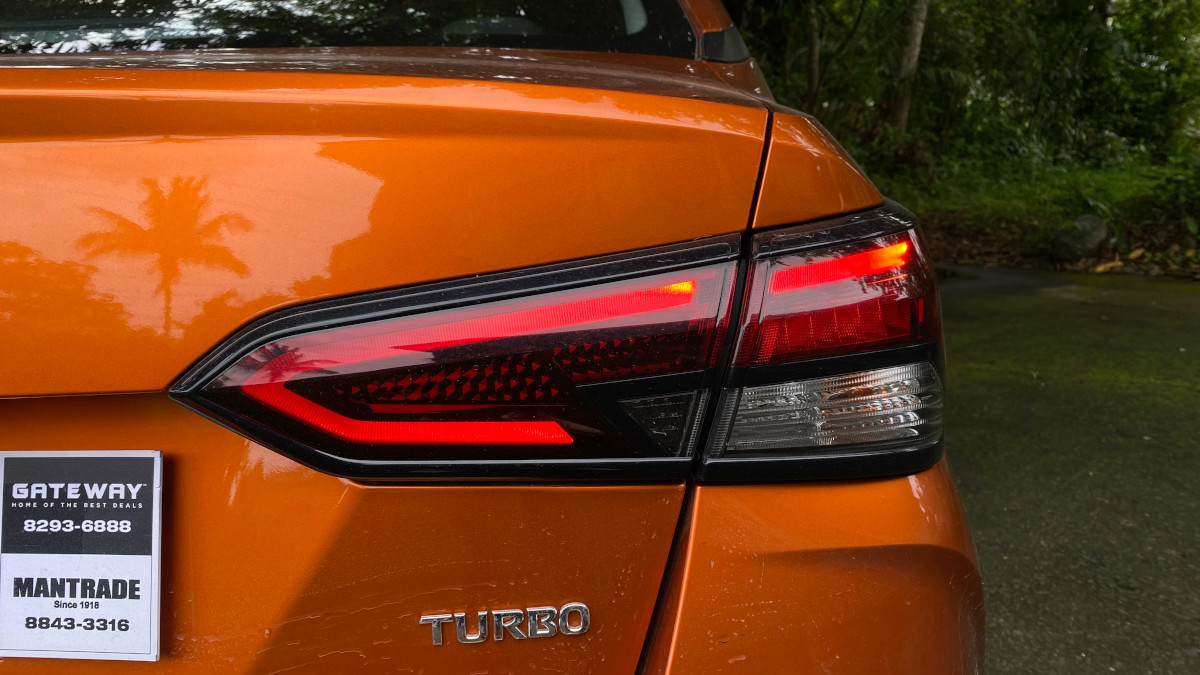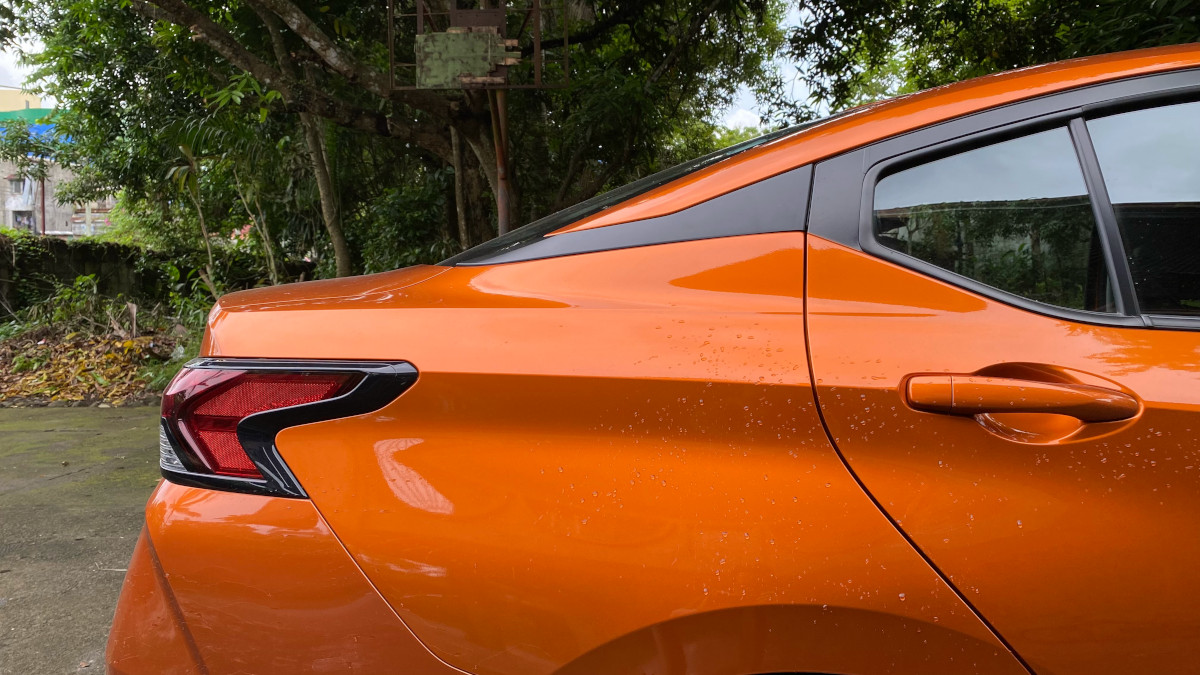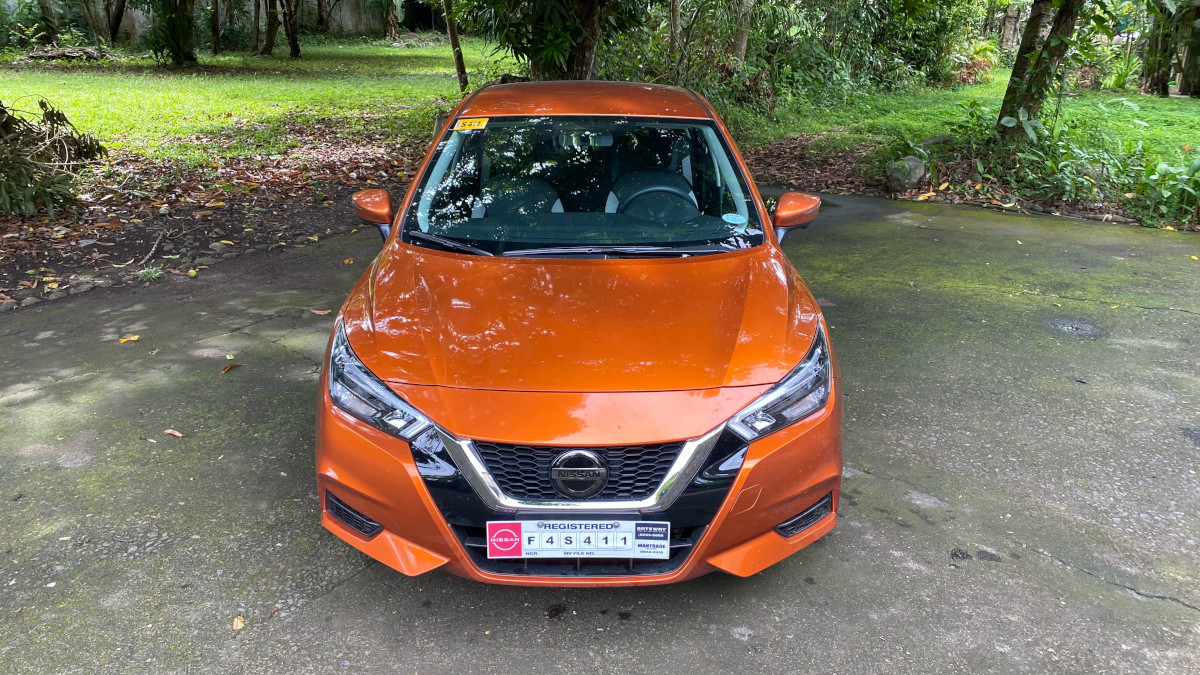 ADVERTISEMENT - CONTINUE READING BELOW ↓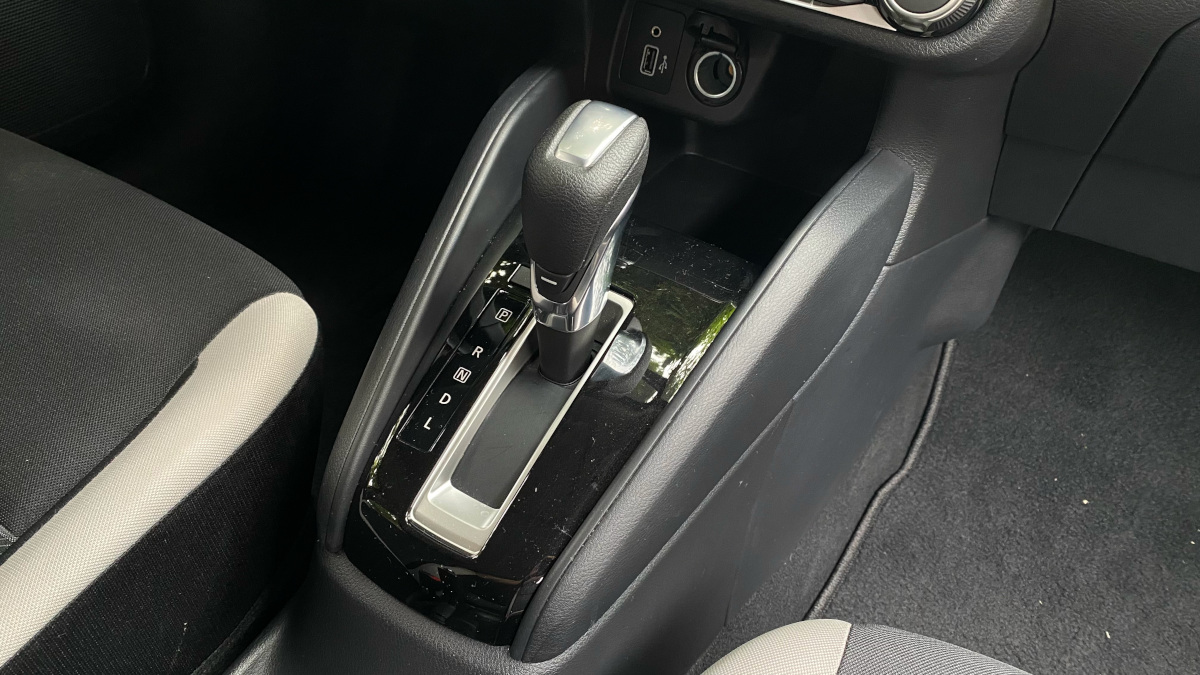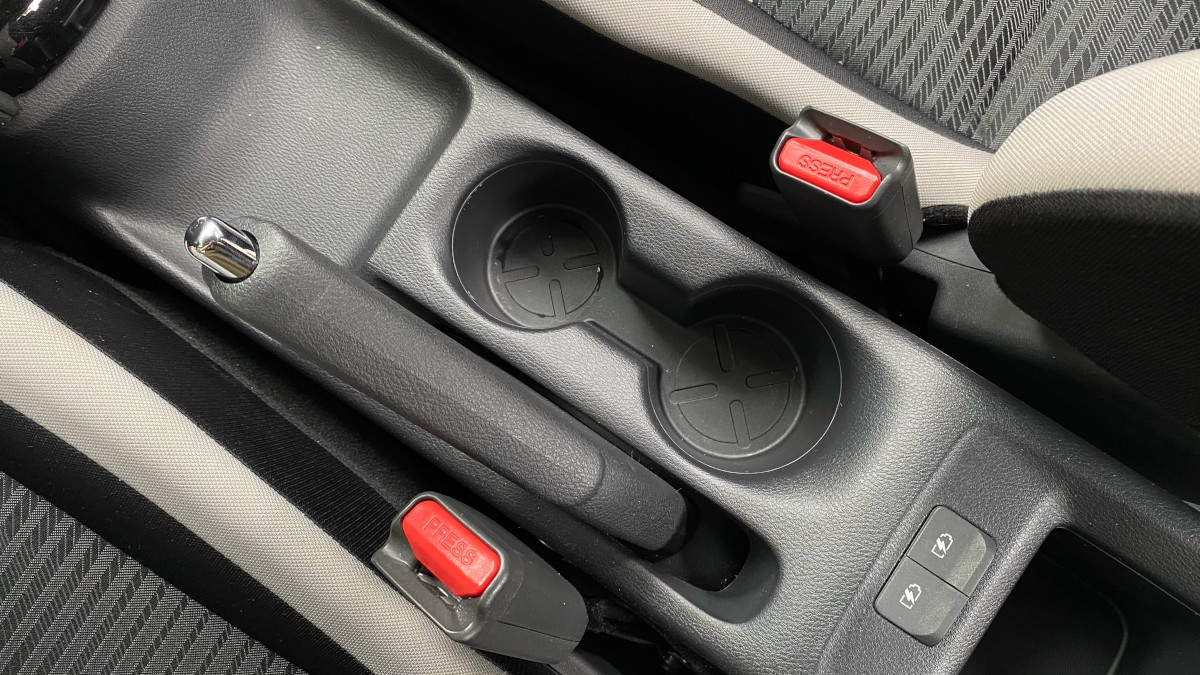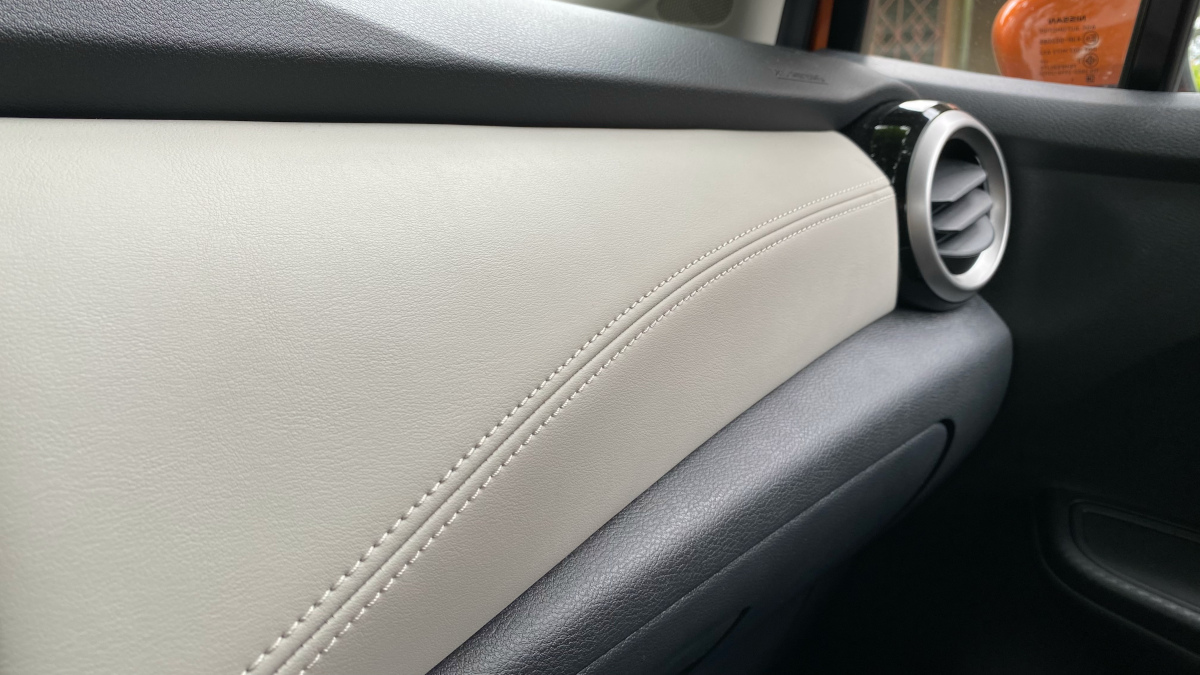 ADVERTISEMENT - CONTINUE READING BELOW ↓