A huge accomplishment. A successor to the legendary Dino. A genius bit of technical development. A warning shot across McLaren's bows. Proof downsizing can improve the breed. Evidence that Ferrari has fully got its head around hybrid and electricity. Any and all are true. But this is probably the one that matters most: the best supercar available today.
This is the Ferrari 296 GTB. It is a deeply, furiously complex car. It never feels like that to drive. Neither on road, nor on track. Ferrari says it's not a direct replacement for the F8 Tributo as that remains on sale (if only for another year) and is significantly cheaper. The 296 GTB costs nearly £40,000 more—£241,550 (P16.47 million). But it slots into the mid-engined 'everyday' Ferrari lineage that started with the 308 47 years ago and has continued without interruption—and with some legendary highlights, including the 458 Speciale—ever since.
ADVERTISEMENT - CONTINUE READING BELOW ↓
Take me for a quick tour through the car's technical makeup.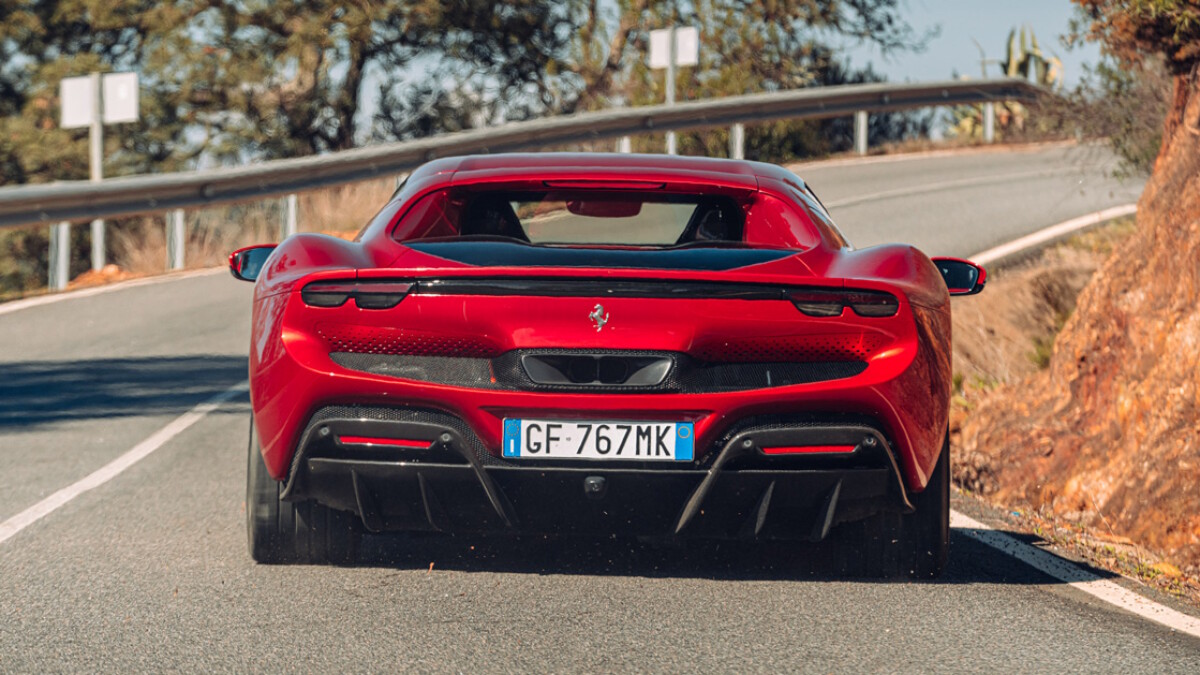 ADVERTISEMENT - CONTINUE READING BELOW ↓
Recommended Videos
It still has an aluminum chassis (hardly surprising when Ferrari has its own foundry on site in Maranello), with two seats ahead of the powerplant. Down behind the seats, slotted under the parcel shelf, is a 7.45kWh, 70kg battery pack. That feeds a 165hp electric motor (it's the rough dimensions of a frying pan) that's sandwiched between an all-new (and totally not Maserati MC20-related) V6 and eight-speed twin clutch gearbox.
ADVERTISEMENT - CONTINUE READING BELOW ↓
The SF90 had another pair of electric motors for the front wheels, yielding 4WD and near-zero boot space, but this single motor is the 296's only one. It can power the car alone, and at up to 135kph. But what it's best at is allowing it to crawl quietly, to go full Victorian school child and be seen but not heard. More on that later.
What about the core of any Ferrari: the engine?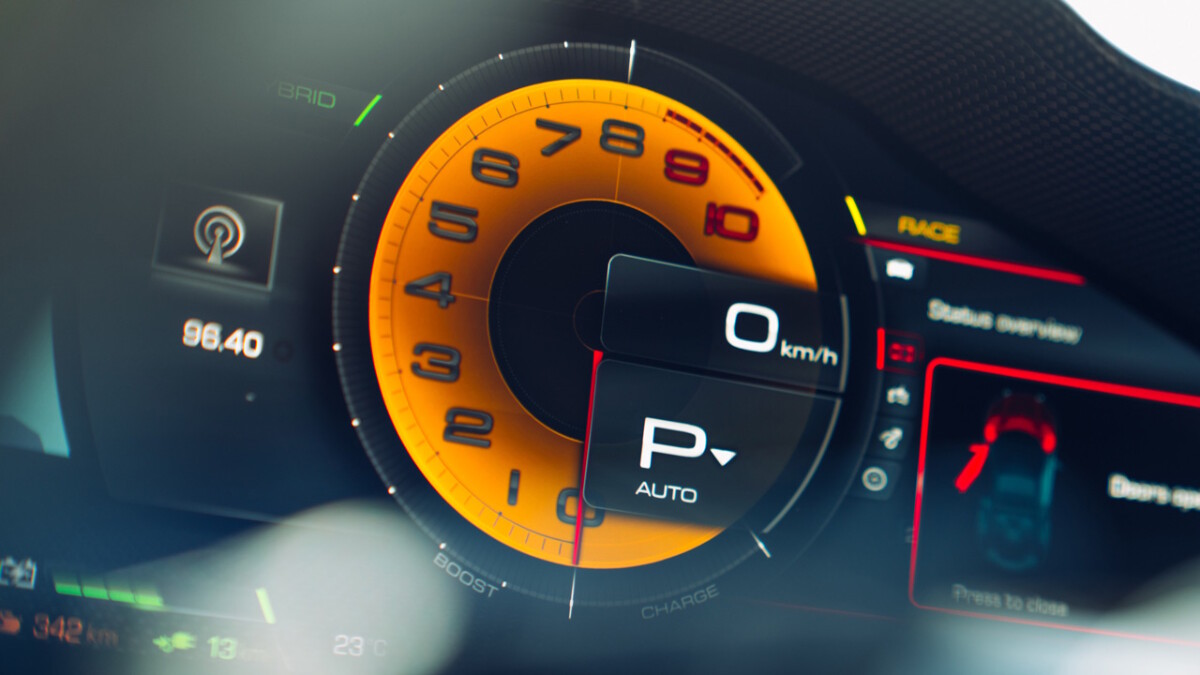 ADVERTISEMENT - CONTINUE READING BELOW ↓
It's a bit of a revolution: Ferrari's first-ever production V6. The Dino was a sub-brand, remember. Look deep and you'll spot the famous red crackle covers, but they've been prised further apart, the banks opened out to 120 degrees. Pride of place in the engine bay now goes to a curvaceous burnished metal heat plate. Under it, nestling in the 'hot vee' of the cylinder banks, lie a pair of IHI turbos shared with the SF90. The turbines at both ends are slightly smaller, so they can spin faster (180,000rpm), run more efficiently (by 24%) and respond quicker.
End result?
This—we're tempted to say entry-level—Ferrari has a grand total of 818hp, 165hp of e-thrust supplemented by another 663hp from the twin turbo V6. What it doesn't feel—thankfully and amazingly—is particularly turbocharged. The F8's V8 does, coming across as a mighty force generator, more impressive in the mid-range than the top end.
ADVERTISEMENT - CONTINUE READING BELOW ↓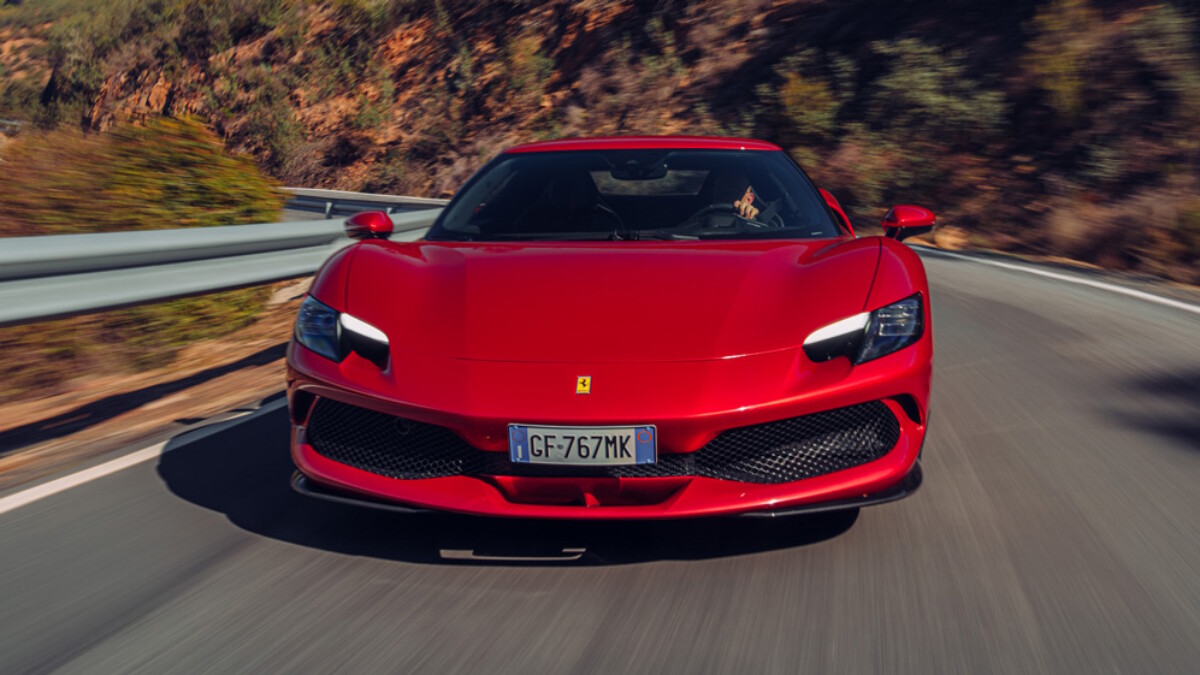 Not this one. It soars to 8,500rpm, and gives you a reason to go there, max torque only arriving at 6,250rpm. Nor does it come across as particularly electrified. The turbos and e-motor are there to enhance the V6, not to be the stars of the show in their own right. Of course there's masses of zero lag bottom end grunt, but the way it's blended is genius. You can deceive yourself into thinking you're driving an especially healthy naturally aspirated engine.
ADVERTISEMENT - CONTINUE READING BELOW ↓
And it sounds good too, higher pitched and richer toned than the F8 Tributo's flat V8 blare, more fizzy and energetic. Ferrari claims its engineers nicknamed it the 'piccolo V12'—little V12—it doesn't have the trumpeting baroque glory, the proud Roman pomp of an 812 in majestic full flow, but we can see where they're coming from.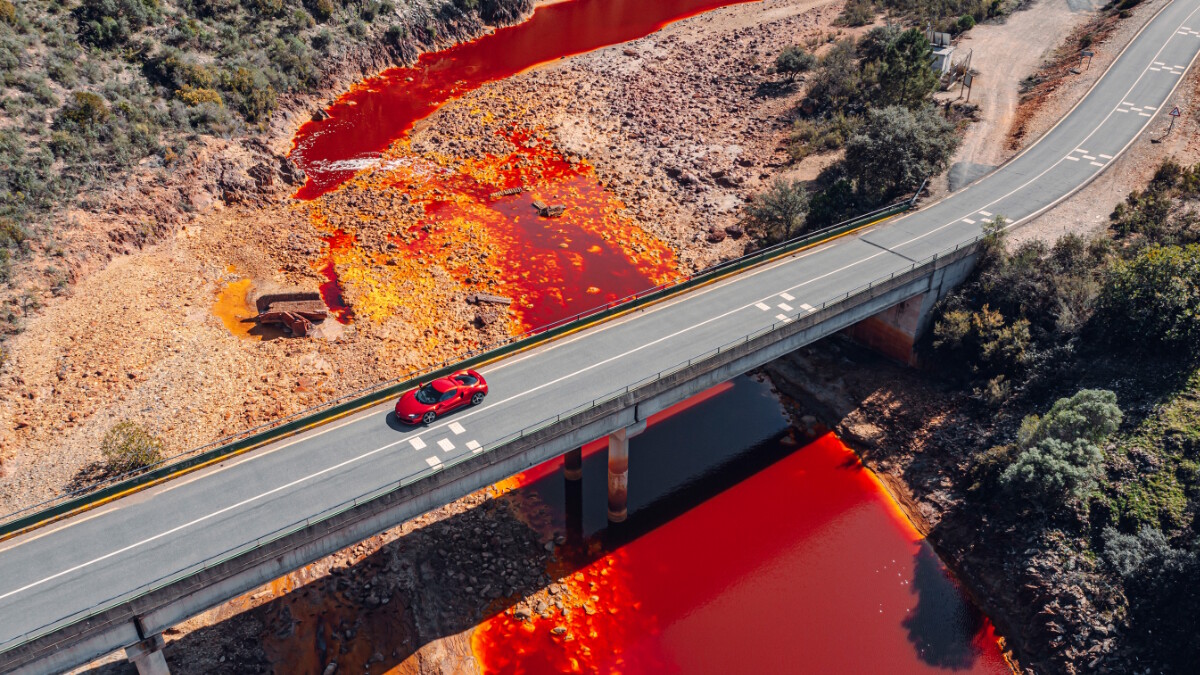 ADVERTISEMENT - CONTINUE READING BELOW ↓
On road it's smooth, intimate and connected. The steering's super fast, but Ferrari is on top of that now, so trust in the front end comes naturally. It's not super-rich in road detail, but it's massively satisfying to turn: the weighting, the resistance, the connection—all are superb. Body control on the smooth surfaces of southern Spain is immaculate, traction effortless, everything operates in balance and harmony, it never feels heavy or caught out, it just carries you along, wants to entertain and amuse. Alert and playful.
And when you get to a village you can press the haptic eD button on the lower left of the steering wheel and have a claimed 24km of e-range. Okay, it's more like 16, but the point stands. You can go into stealth mode and roll silently through. Supercars are attention seekers, heard before they're seen, but here's that extra dimension that electricity brings—soundless progress and a more accepting audience.
ADVERTISEMENT - CONTINUE READING BELOW ↓
The gap between silent pottering and track ripping is a gulf of epic proportions. Hard to believe it's the same car, in fact. Okay, it wasn't since Ferrari insisted we drove a different car fitted with the £25,920 (P1.77 million) Assetto Fiorano pack on track at Monteblanco, but the way it rips around, making me feel like a hero even though I'm protected by an electronic bubble (6w-CDS, the car's central dynamic brain, marshals ABS individually to each wheel, predicts grip and monitors all movement across three axes) is amazing.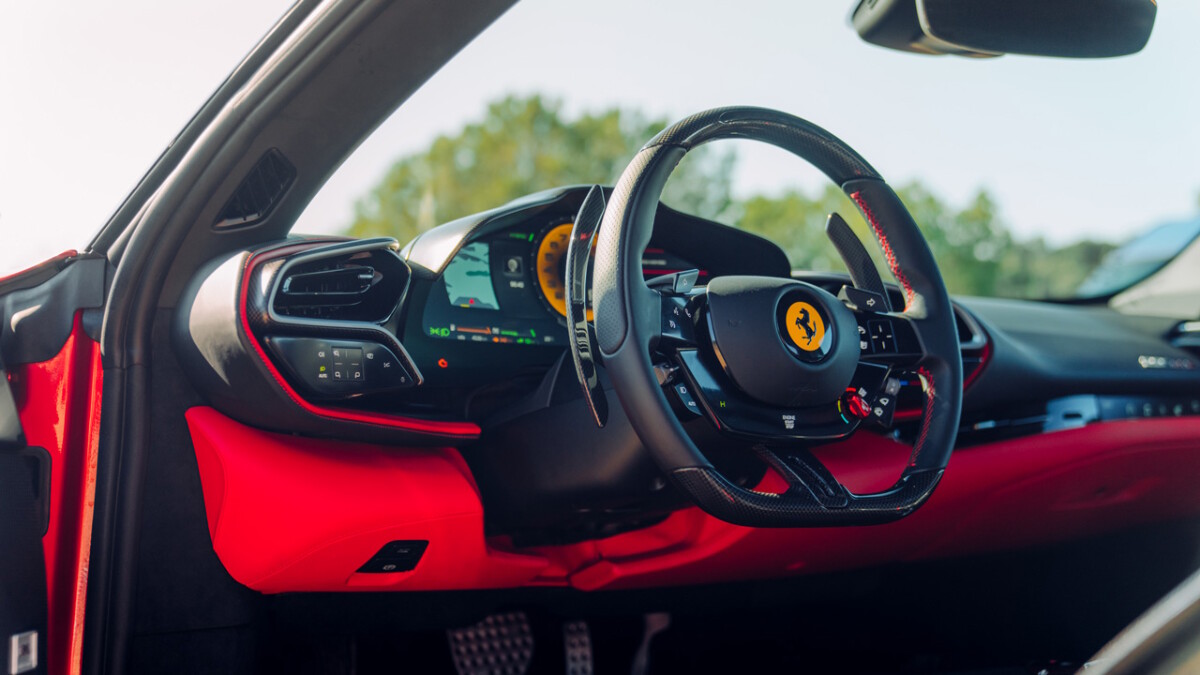 ADVERTISEMENT - CONTINUE READING BELOW ↓
The 296 is corralled by quite the most dizzying bunch of acronyms I've ever come across. But no one does this stuff better than Ferrari, and they have never done it better than this, a car that dances so exquisitely to your tune. It's an adrenaline rush because the car feels organic and natural even though underneath it's anything but. Complexity? Completed it, mate.
Any drawbacks?
We struggle with the SF90-influenced cabin. The screen control touchpad on the wheel takes concentration and effort, the actions aren't natural, inputs are delayed. The design is fine, but hasn't moved the game on that much. You can at least use this one for weekends away. There's a little wind noise, but you'll cope because eighth is long and the firm seats are well shaped.
On the road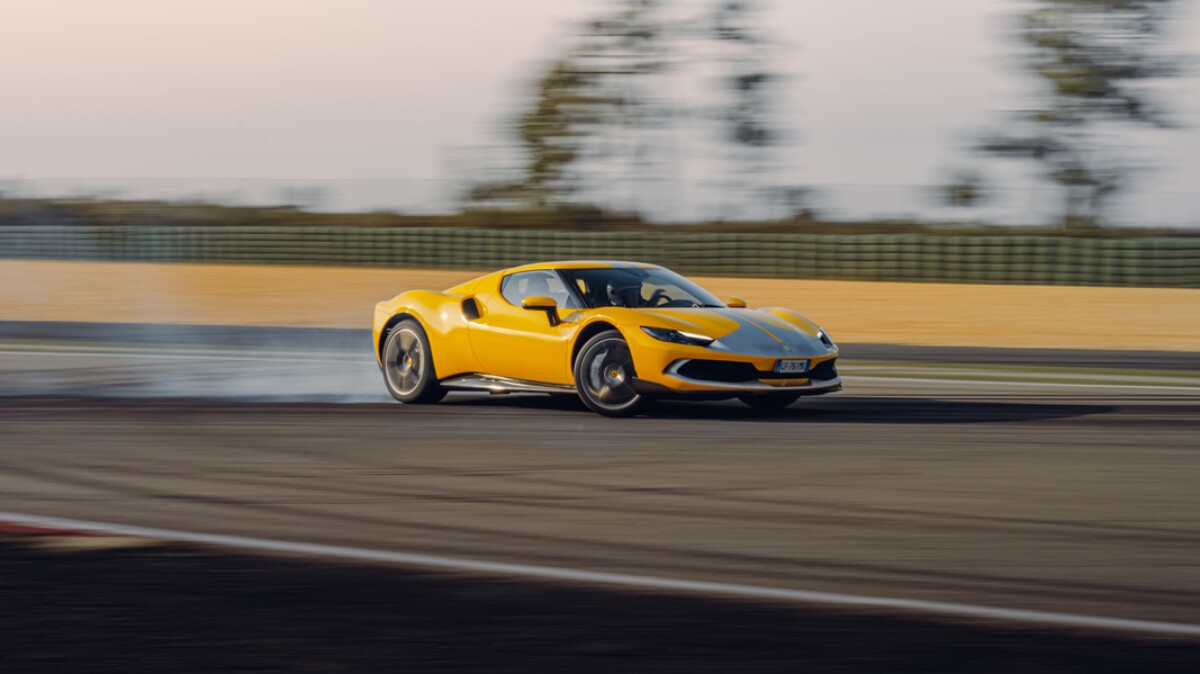 ADVERTISEMENT - CONTINUE READING BELOW ↓
Let's go on track first, and jump in a car wearing the heavy-handed stripes of the Assetto Fiorano pack. I'm not convinced by it, because your £25,920 outlay only shaves 12kg from the 1,470kg dry weight (so around 1,600kg fully prepped), most of it the lightweight Lexan engine cover. The extra 10kg of front end downforce courtesy of small deflectors ahead of each front wheel is also completely by-the-by. The two main 'benefits'—if you think they are—are the fixed rate Multimatic dampers and the Michelin Cup 2R (instead of PS4S) tires.
The 819hp 296 GTB is potent enough to make mincemeat of a set of F1 super softs, let alone anything vaguely road-legal. At Monteblanco the cars are generating so much force they're pulling the surface apart and firing dust and chips out the back. The 296 leading me round sports a set of mudguards. My windscreen wears a protective film.
ADVERTISEMENT - CONTINUE READING BELOW ↓
Straight to ESC off, then?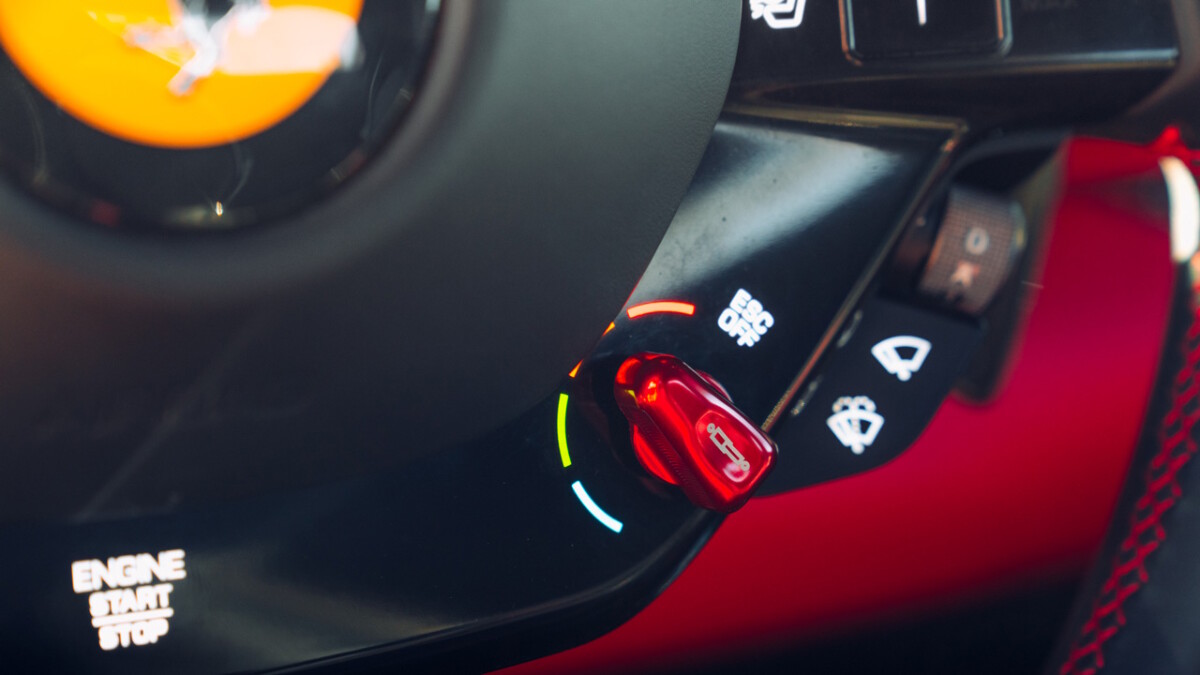 Nope, we start in Race mode, and relish the brakes, the turn-in bite, the grip. It's a car that really knows how to conduct itself on a circuit, through fast sweepers and slow hairpins. But the full fury of the power delivery is being contained by the electronics at the exits, so we switch to CT Off. Oh. My. God. Race was a protective cloak. Now things are really moving around, the tail wags on the way into corners, through them, and out the other side. The stability is still on, but it's nodding encouragement from a distance away.
ADVERTISEMENT - CONTINUE READING BELOW ↓
The front end is faithful and true, but the back is… mobile. But with control, with safety. It'll only let the rear wheels get so far out of line, but it's a reminder that 819hp makes for a very, very fast car. 0-100kph in 2.9secs, says Ferrari, 0-200kph in 7.3secs. Dizzying acceleration from that searing, soaring engine.
It's approachable though, making daft numbers and face-bending grip feel manageable and amusing. We have an absolute ball in it because it's so biddable, dancing so precisely and predictably around. As a driver it goads you, teasing you to keep up, yelling encouragement when you do. The kind of car that makes you give yourself over to the dopamine rush.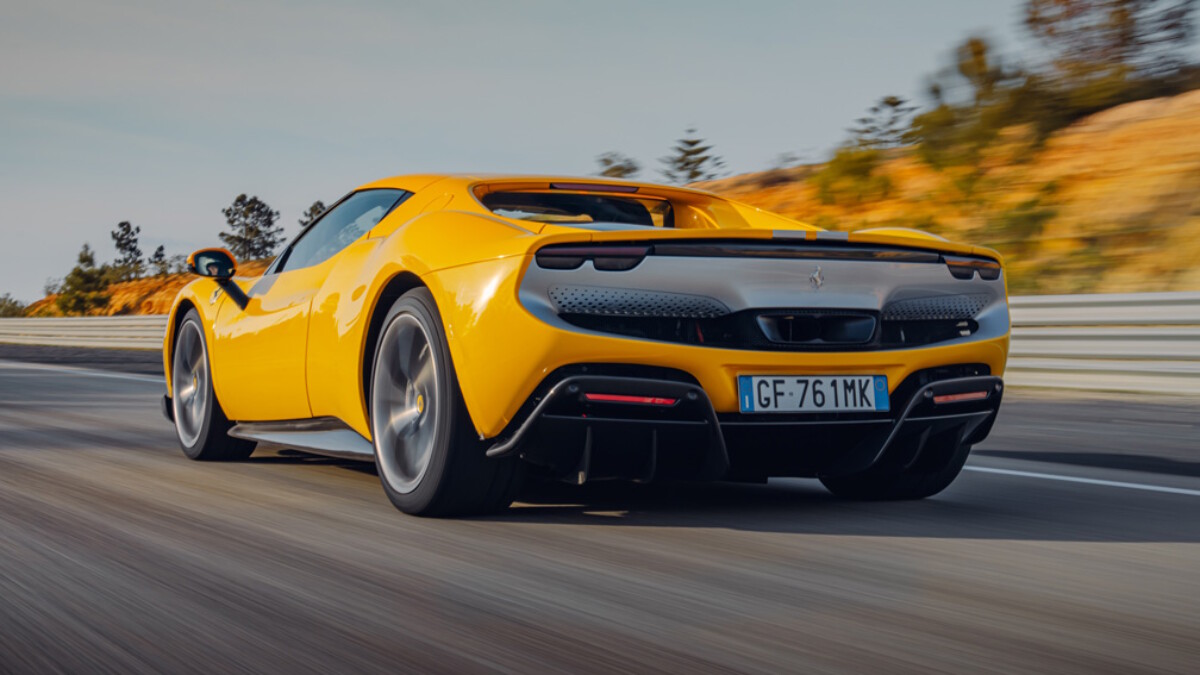 ADVERTISEMENT - CONTINUE READING BELOW ↓
The brakes are dazzling, not only for their power, but the way they manage the car. It's a full brake by wire system, able to brake individual wheels, which makes it much more stable and predictable when you're braking and turning at the same time. It also means the rear brakes are worked harder—so much so that Ferrari claims the stopping distance from 200kph has been cut by 9%. We can believe it. Rather than diving in on its nose, tail lifted, the 296 behaves like it's been shoved down from above.
How was it on road?
In more gentle use, you can detect that the brakes operate in miniscule chunks rather than one smooth progression. But it's a tiny thing, actually more noticeable when you release pedal pressure than apply it. But we didn't get on with the short-travel pedal in the SF90. We do here. Ferrari's clearly moved the game on fast.
ADVERTISEMENT - CONTINUE READING BELOW ↓
At the other end of the scale the 296 generates speed without effort. It's by no means alone in that, but so often these days the engineering necessary to give cars that astonishing rapidity further distances the driver from the experience. Not here. This is both a simple and tactile car to drive.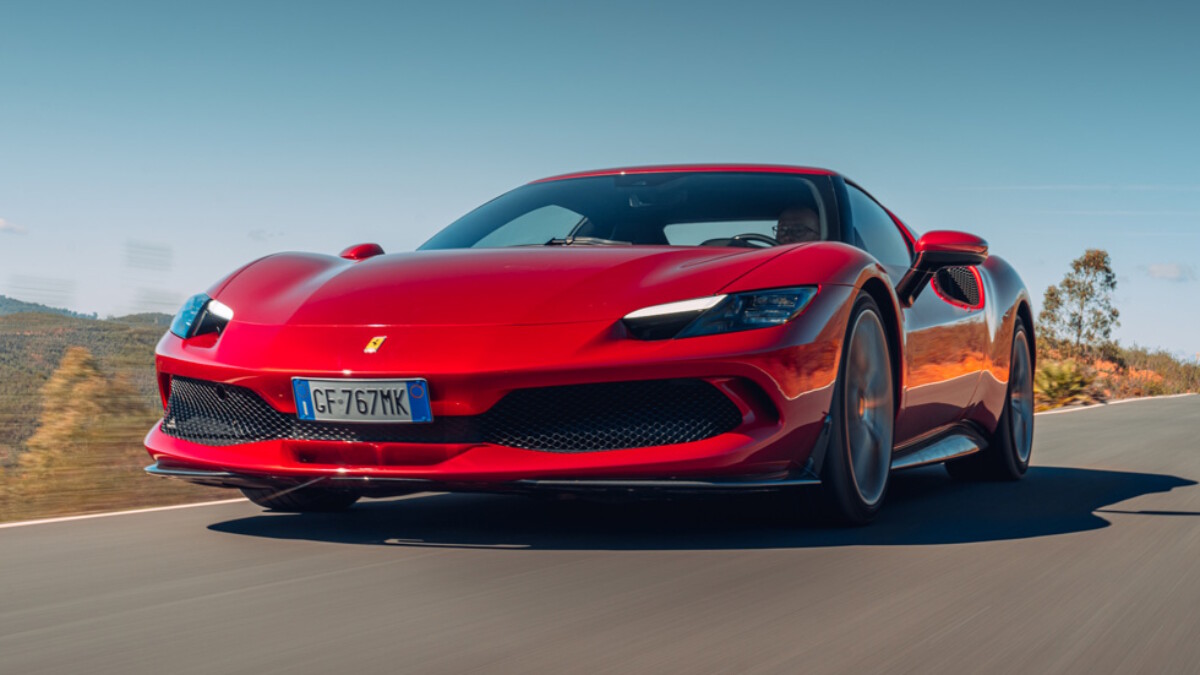 ADVERTISEMENT - CONTINUE READING BELOW ↓
Simplicity and tactility are mutually compatible of course, but rare bedfellows in the electrified age where the battery 'n' motor mechanics are easily understood, but the end result often fails dismally to connect on a human level. Well, assuming you judge satisfaction to be more than smoothness and silence. And as a hybrid the 296 GTB is mating two incompatible power sources: exploding petrol and pulsing electrons. Voluptuous power curve meets torque from zero. And yet in hybrid mode it's impossible to spot the joins.
Ferrari has never done hybrid better?
Exactly. It's just as smooth and capable in electric mode as the SF90 (although this has a conventional reverse gear, not electric), but the 4WD system in that does interfere, made you unsure about where exactly power is going, what it might do next. It's a wheeled slingshot, but occasionally unpicks your trust.
Without the added complexity of 4WD, the 296 GTB is completely faithful. The same applied to the LaFerrari of course, but only by ensuring electricity was a token gesture there, a AAA thrown into the V12 bonfire. But here electricity plays more of a role, and the ability to silently, smoothly crawl around urban areas shouldn't be underestimated.
ADVERTISEMENT - CONTINUE READING BELOW ↓
Is it as immediate and convincing as a 458?
That was a real high point—and the last car that followed Ferrari's traditional naming strategy: engine capacity followed by cylinders. This one does too… almost. It's much closer to a 3.0 than a 2.9, but Peugeot might have had something to say about that.
Anyway, the 296 doesn't quite have the stridency and manic top end fury of the 458's nat-asp V8, but it does use the electronics and turbos to flatter the V6 rather than overwhelm it. Pedal response feels natural, the power curve is supported.
On the inside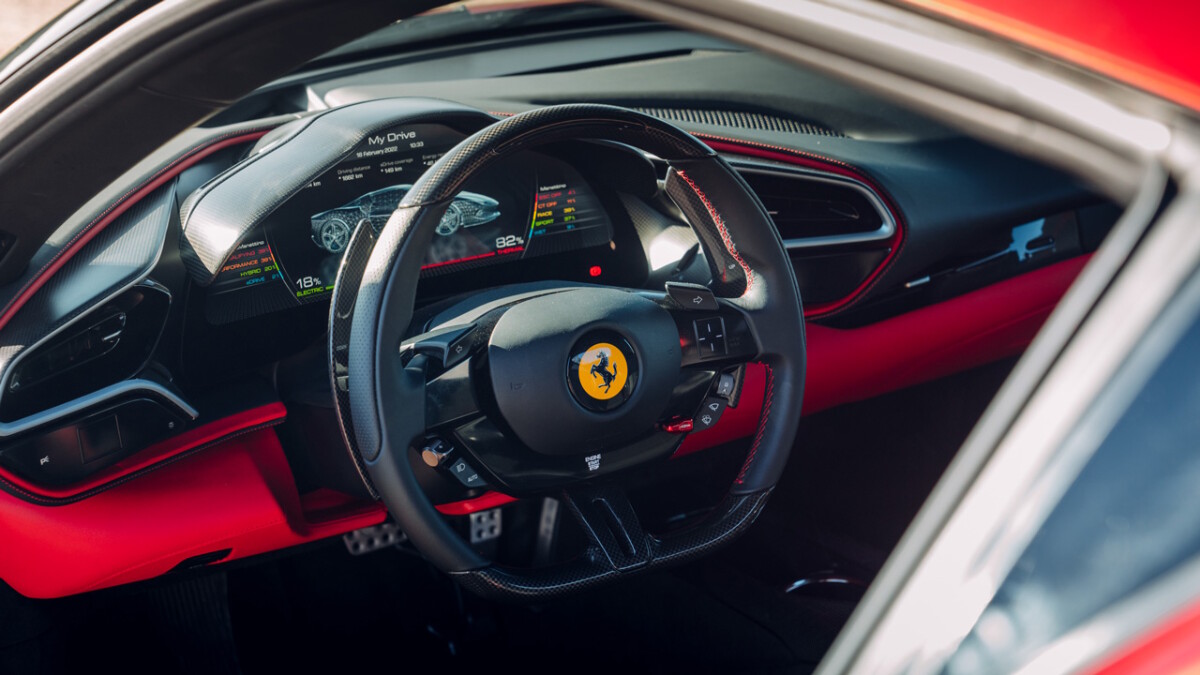 ADVERTISEMENT - CONTINUE READING BELOW ↓
Materials and finish have never been an issue for Ferrari—this is a very well made and tactile car. But the cabin hasn't taken as much of a step forward as the rest of the 296. At least not such a successful one.
It is different to the F8, more technologically advanced. Much of the driving environment has been borrowed from the SF90, including the dash screen, haptic buttons and steering wheel. There's more functions than ever, but it's no easier to operate—and the F8 was by no means straightforward in that regard either. The thumbpad on the right of the steering wheel allows you to swipe and click between displays, but it's hit-and-miss. More irritating still is when you plug your phone in and the entire display is taken over by Apple CarPlay. You can get away from that, but controlling music/nav and having the information you want at the same time is impossible.
ADVERTISEMENT - CONTINUE READING BELOW ↓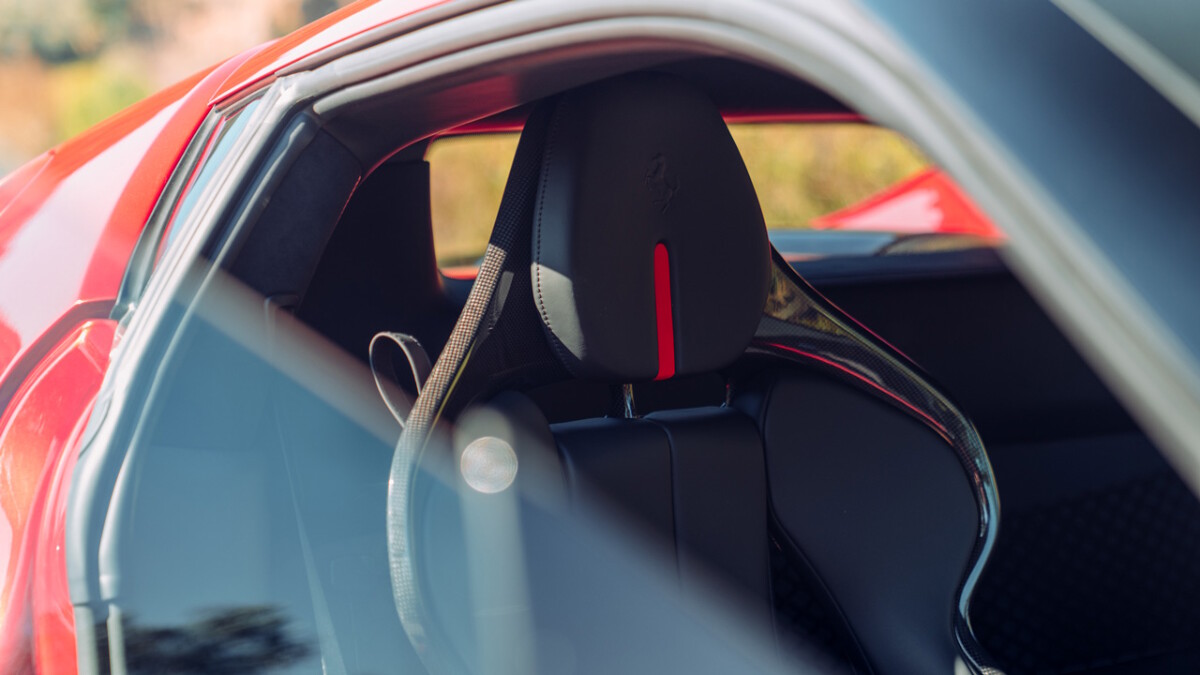 No secondary screen means no division of functions—everything has to happen in front of the steering wheel. But when you have that display as you want with speed, gear and revs all large and clear, you're good to go.
The seats are supportive, but the padding is firm, the leather slippery and there ought to be more under-thigh support. They tip forward to provide access to the parcel shelf, and here (unlike in the SF90) there's a generous front boot. For that reason alone it's a much more usable car.
ADVERTISEMENT - CONTINUE READING BELOW ↓
Final thoughts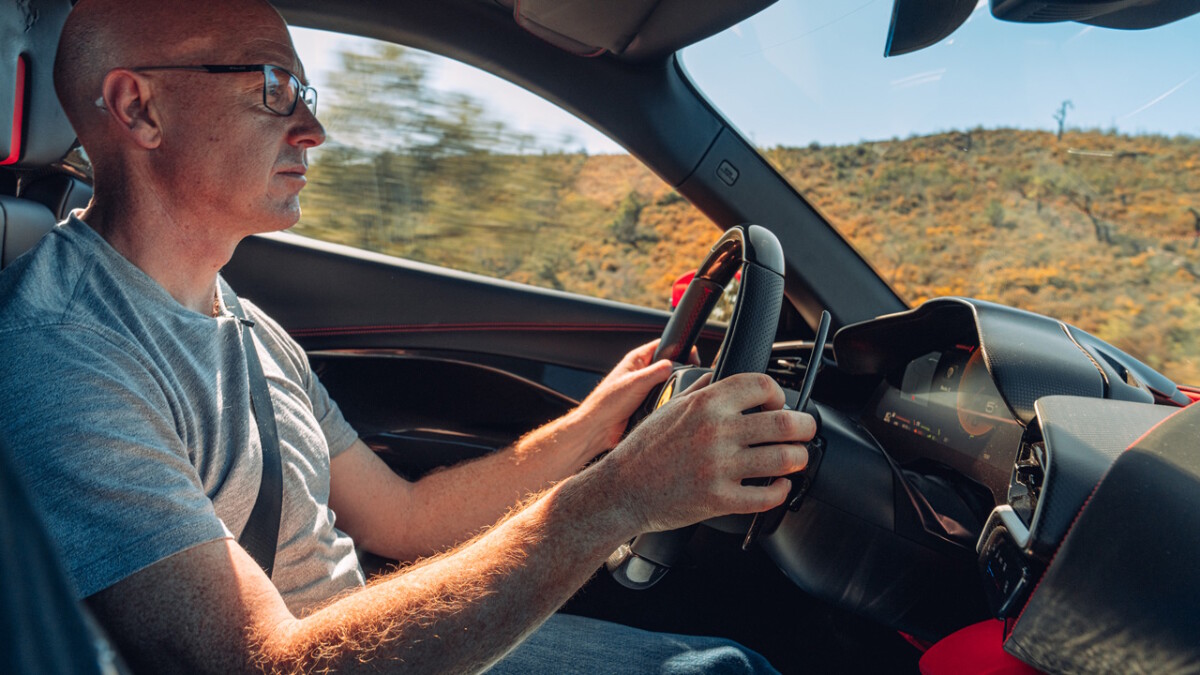 The V6 is a thing of beauty, and so's the car itself; the visor-like windscreen, the buttresses, the 250 LM-inspired side vents. Only those with an electric allergy would choose F8 over 296. This is a big step forward: electricity used to add depth and dimension to the supercar experience, to be there when it's beneficial, but to step back and work in the shadows when it's not. Perfect. More intimate and engaging than big brother SF90, too. With that they made the tech usable, here they've taken it to the next step: made it fun.
ADVERTISEMENT - CONTINUE READING BELOW ↓
It's going to give McLaren some sleepless nights, that's for sure. Both firms will say the Artura (670hp and £182,500 [P12.44 million]) isn't a direct rival, but they're just dancing around each other. Right now no one builds a better mid-engined supercar than this. And it's a V6. We think it's less of a step change to lose a pair of cylinders than it was to add a pair of turbos. The purity of the product shifted fundamentally when 458 became 488 back in 2015. This, in a very modern way, is getting back there.
More photos of the Ferrari 296 GTB: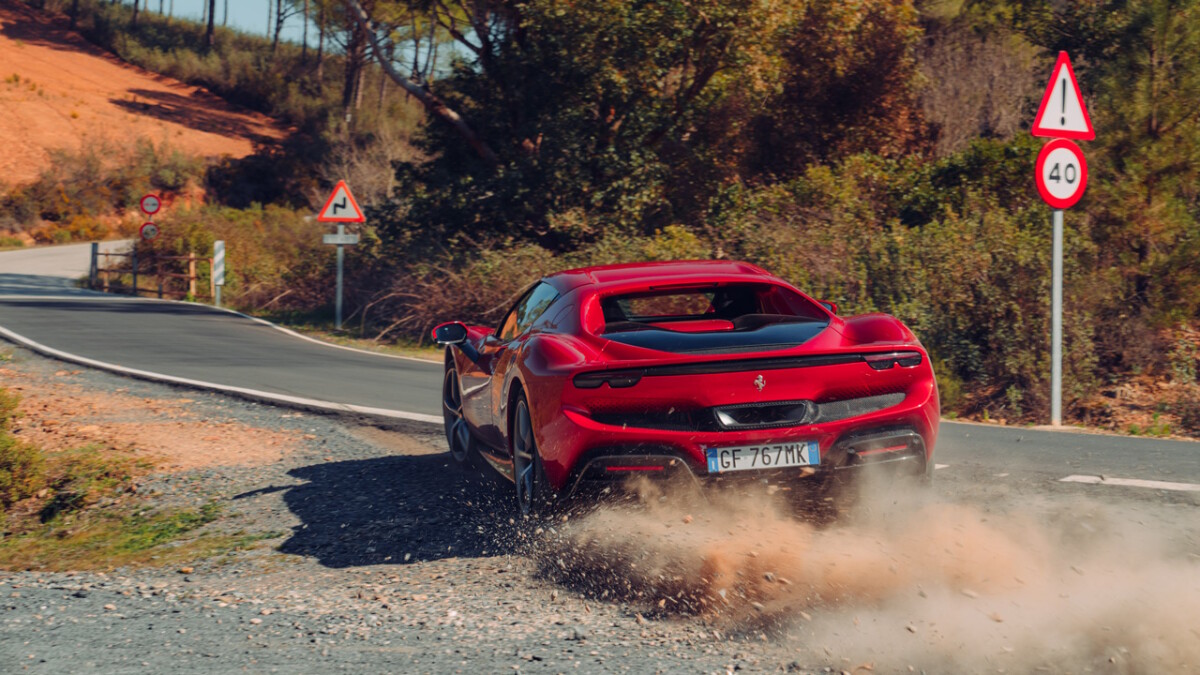 ADVERTISEMENT - CONTINUE READING BELOW ↓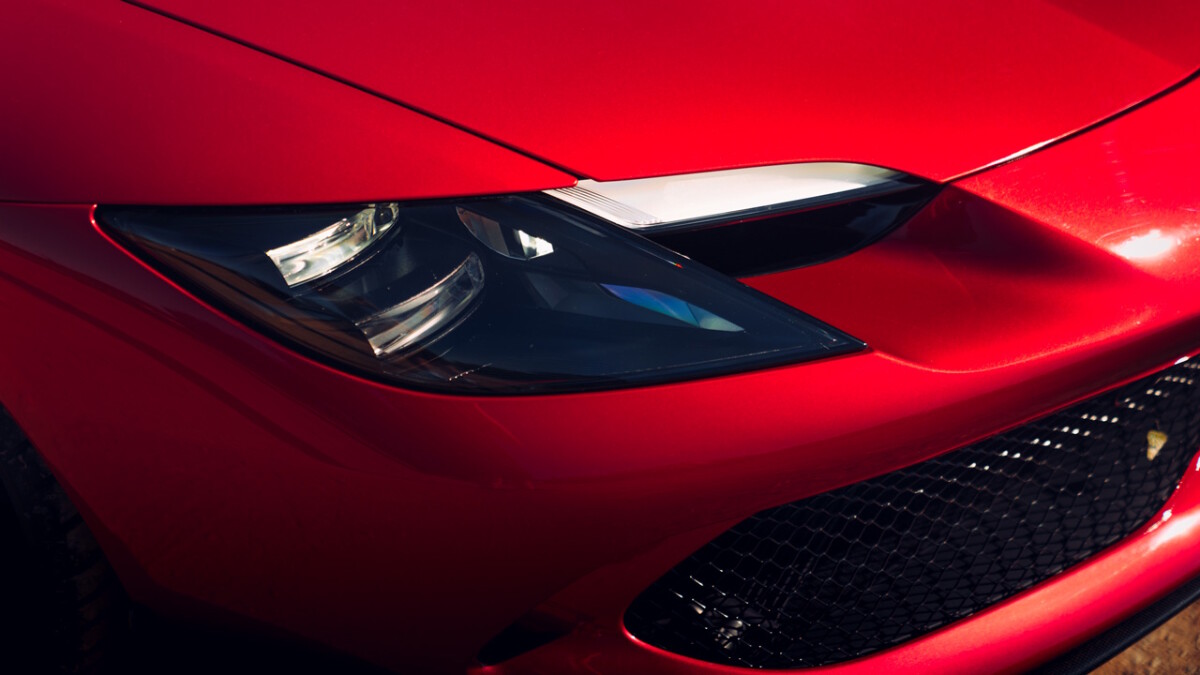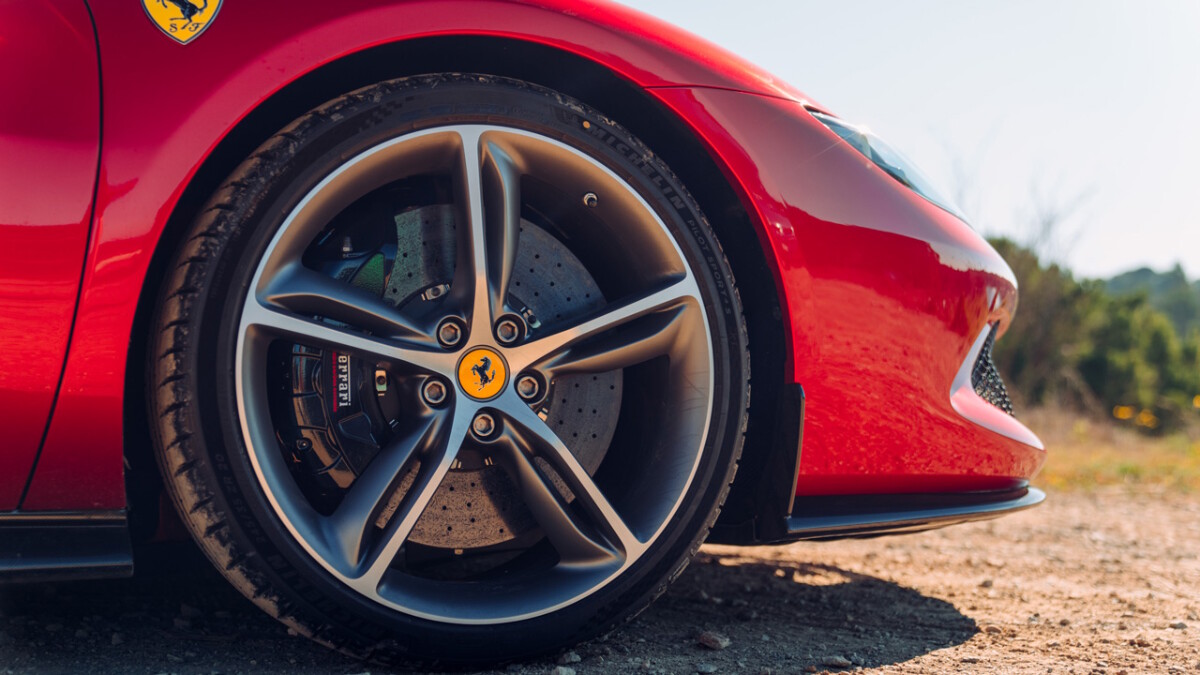 ADVERTISEMENT - CONTINUE READING BELOW ↓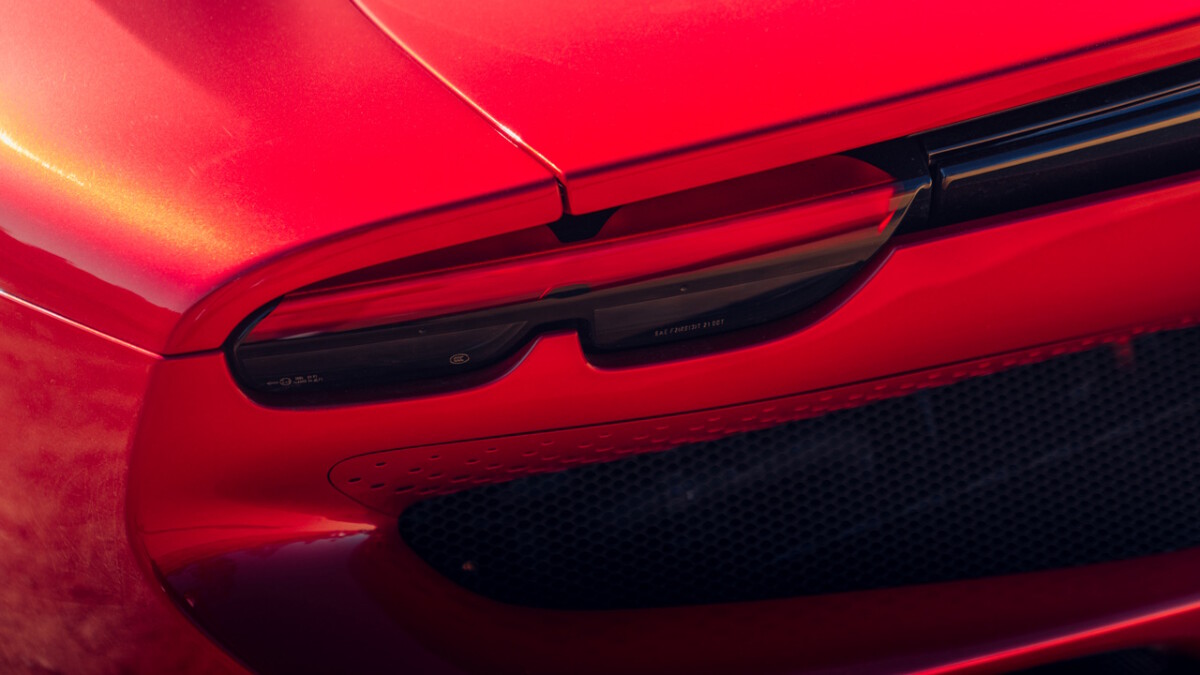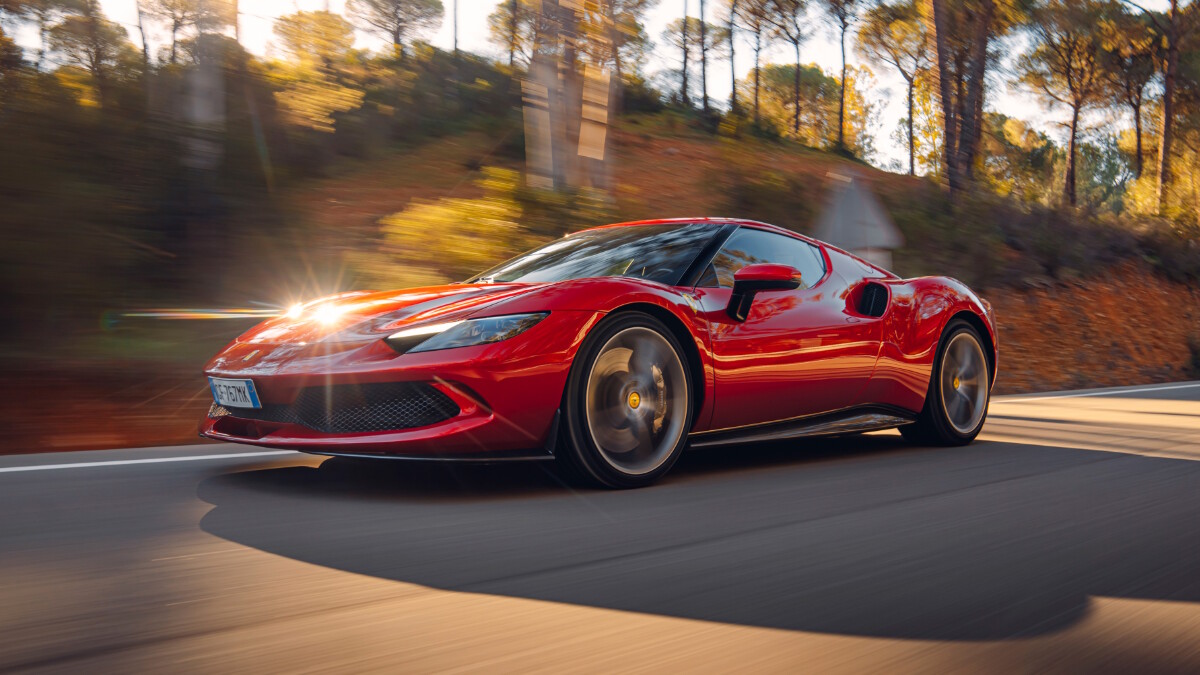 ADVERTISEMENT - CONTINUE READING BELOW ↓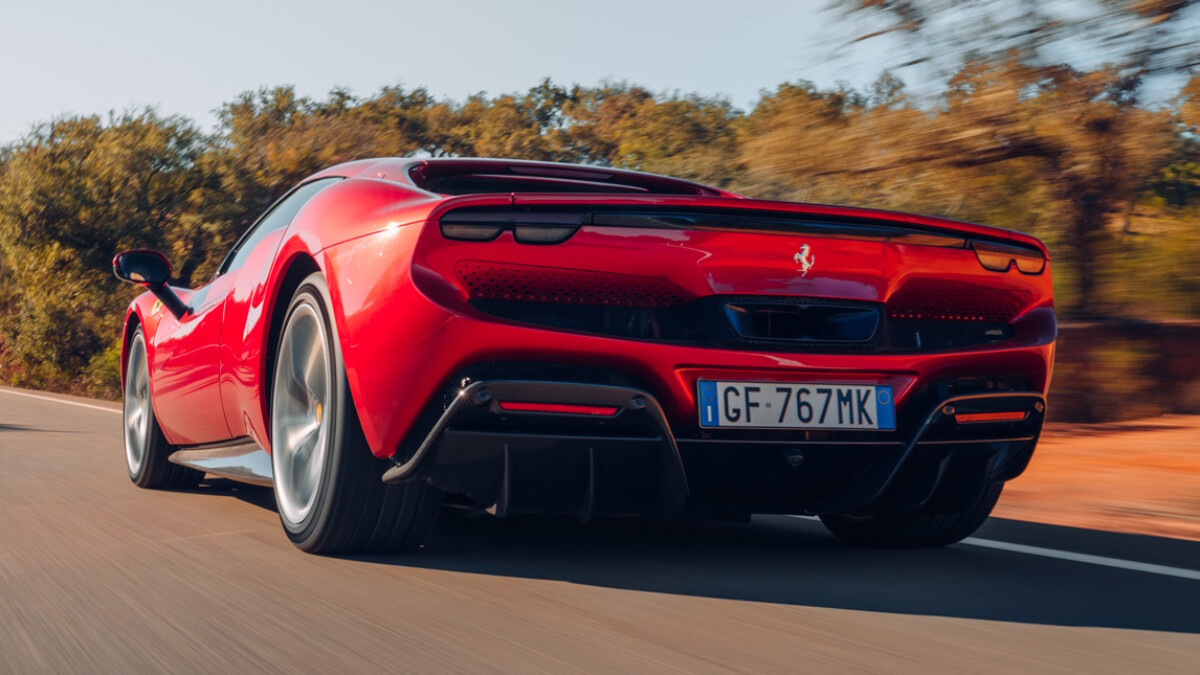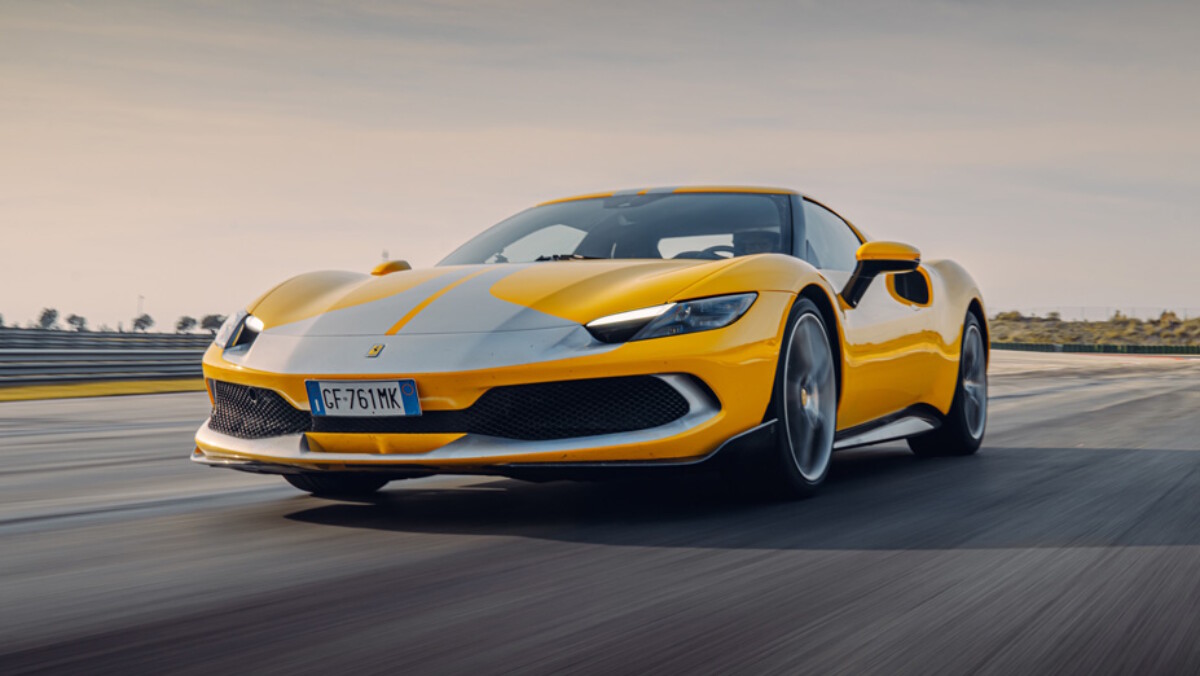 ADVERTISEMENT - CONTINUE READING BELOW ↓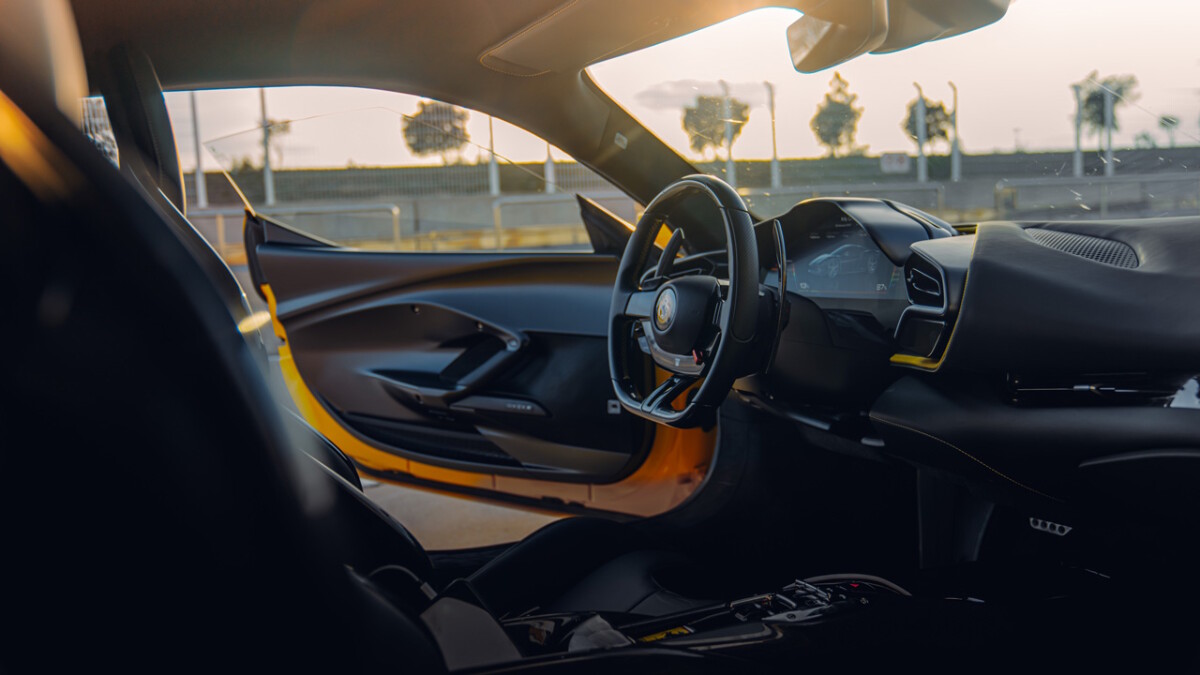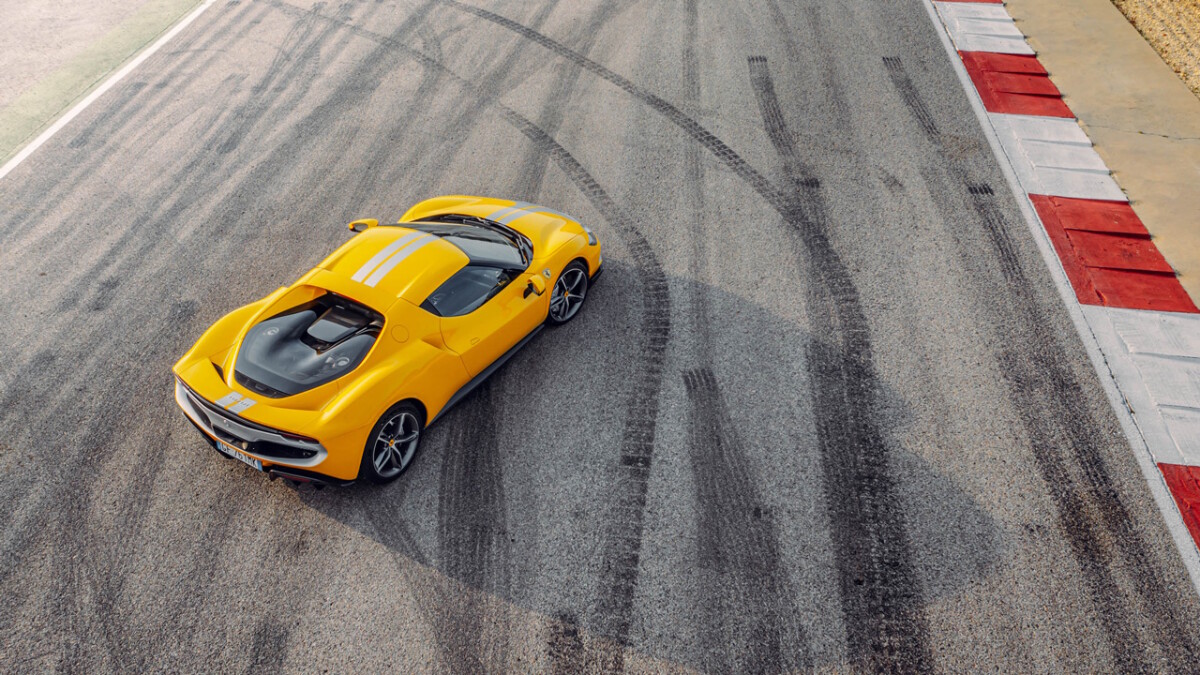 ADVERTISEMENT - CONTINUE READING BELOW ↓
NOTE: This article first appeared on TopGear.com. Minor edits have been made.
Top Gear Philippines is now on Quento! Click here to download the app and enjoy more articles and videos from Top Gear Philippines and your favorite websites.