How quick this year has passed us by, with the shift to the new normal comes the return to face-to-face interactions, and with that, the dreadful Manila traffic. In that time, and since the last time I updated this review, I have put about 6,518km on the Raptor in a span of about 11 months of ownership. Those kilometers have been navigating the urban sprawl, hauling gear, setting up camp, and bombing beaches. So has this been a blissful 11 months? Or has the pickup lost its new car scent? Read on to find out.
OTHER FORD STORIES YOU MIGHT WANT TO CHECK OUT:
Review: 2023 Ford Ranger Wildtrak 4x2
Is the Ford Ranger Wildtrak still one of the pickup segment's top dogs?
One year of use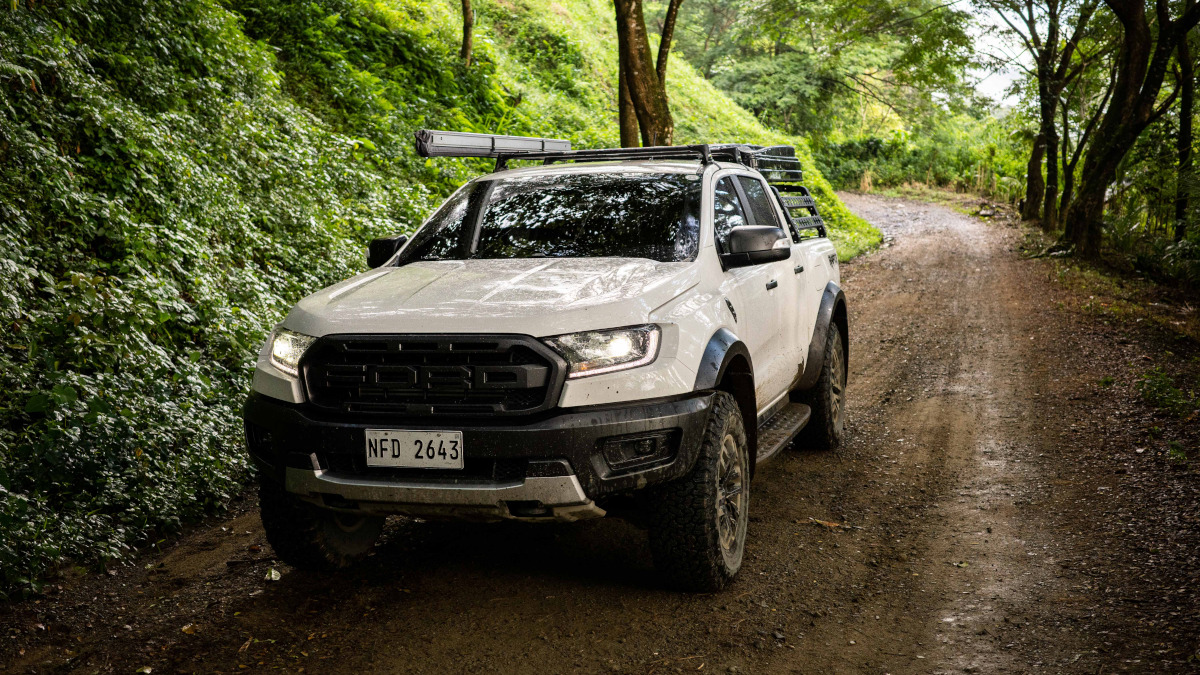 The past 11 months have not been easy for the Raptor. During the first month of ownership, it was already exposed to many an off-road adventure. Since then, I have taken the Raptor to the mountains of Tanay, off the beaten path in Batangas, and as a personal highlight, up the trails and on the sands of the beaches of Quezon.
Additionally, contrary to most pickups that spend their lives in the city, I have made proper use of the truck bed. When it's not loaded up with camping supplies, it has been loaded with scuba gear—from saltwater-drenched wet suits and buoyancy control devices and fins to heavy aluminum scuba tanks. The Raptor, while not necessarily living a full-on hard life, has been used as intended—going off-road and hauling gear.
The good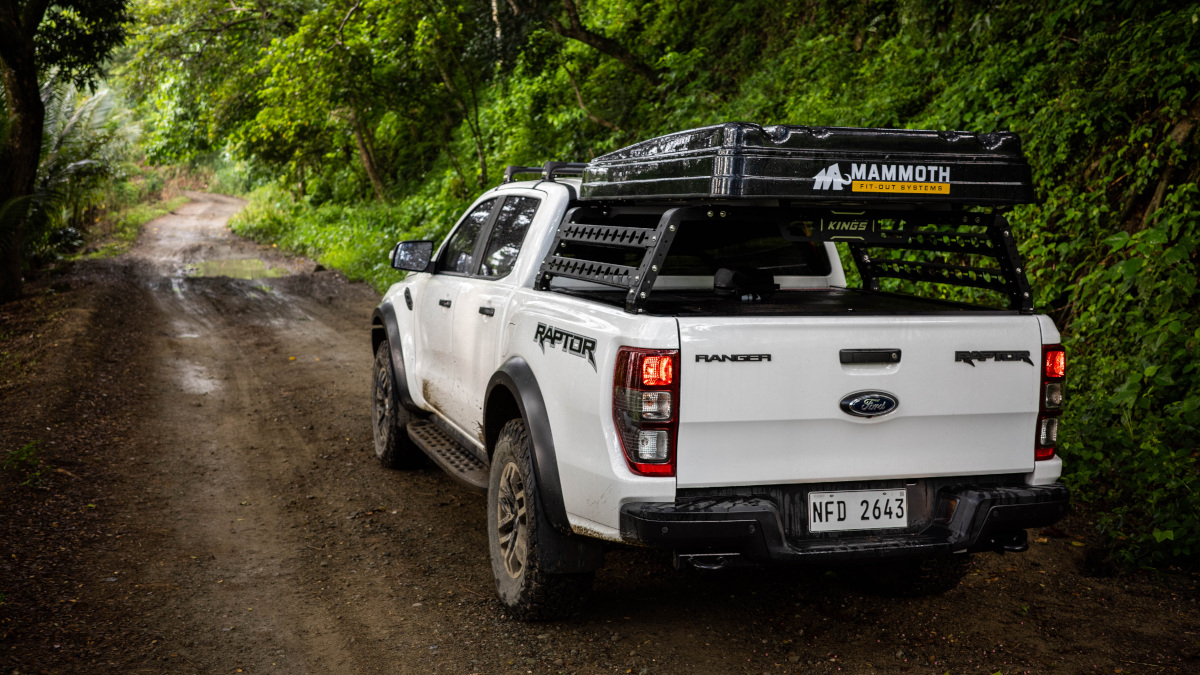 When I first received the Raptor, the Fox shocks really did provide a good ride, but something seemed off. The Raptor had a tendency to feel a bit bouncy. On a long drive to the end of Zambales, I realized that it was because the tires were delivered at 43psi. Once I adjusted this down to the recommended 35psi, the ride improved immensely.
On-road, the shocks are absolutely amazing in the city. Potholes are nothing more than slight vibrations, and forgetting to brake for humps is a complete non-issue. Handling-wise, it definitely seems more planted in corners than a normal pickup. Yes, you do lose some load capacity in the bed, and also yes, it's no sports car, but when you can take corners at decent speed with not much wallowing about, you know Ford made the right compromises here.
Off-road, it's an different story entirely. It is monstrously good. On trails where my old 4x4 Mitsubishi Montero Sport would take at a comfortable 20kph, the Raptor can bomb down at 60kph with even better ride comfort. This is helped along by the BFGoodrich K-02s that scrabble up muddy ruts like there's no tomorrow. Overall, if you want to go off-road, there literally is no better stock machine at this price point.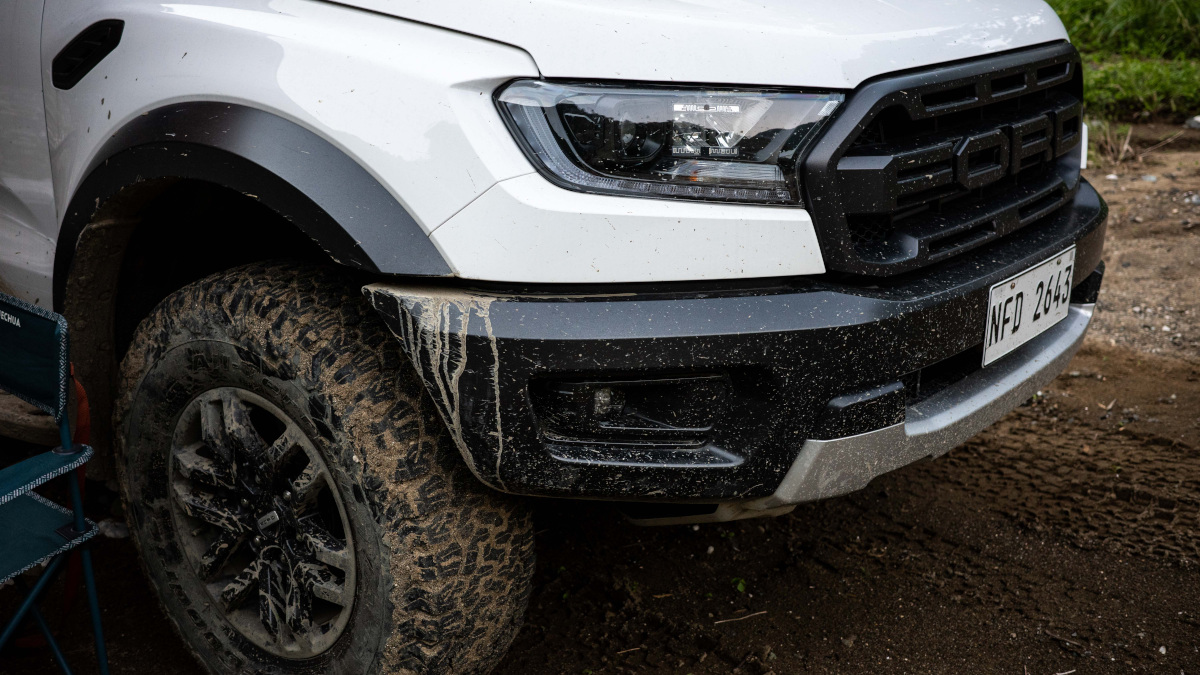 In terms of interior space, the car has held up well. Other than a few signs of wear on the driver's seat from having to slide my butt off to jump out of the car, the interior trim has survived constant use. The size inside is good for four average-sized adults, and the cupholders take large water bottles with no problem. Storage seems sparse at first, until you discover that there is a decently sized compartment under the seat, and a small but usable section behind the rear seatback. Both offer enough space to discretely hold recovery gear and a small air compressor.
The built-in inverter in the center armrest means that you can plug home appliances and laptop chargers directly into a home outlet, which is handy, but the limited wattage of 150w could be better. As it stands, it can only power a laptop charging brick, so Nespresso machines and hair dryers are out.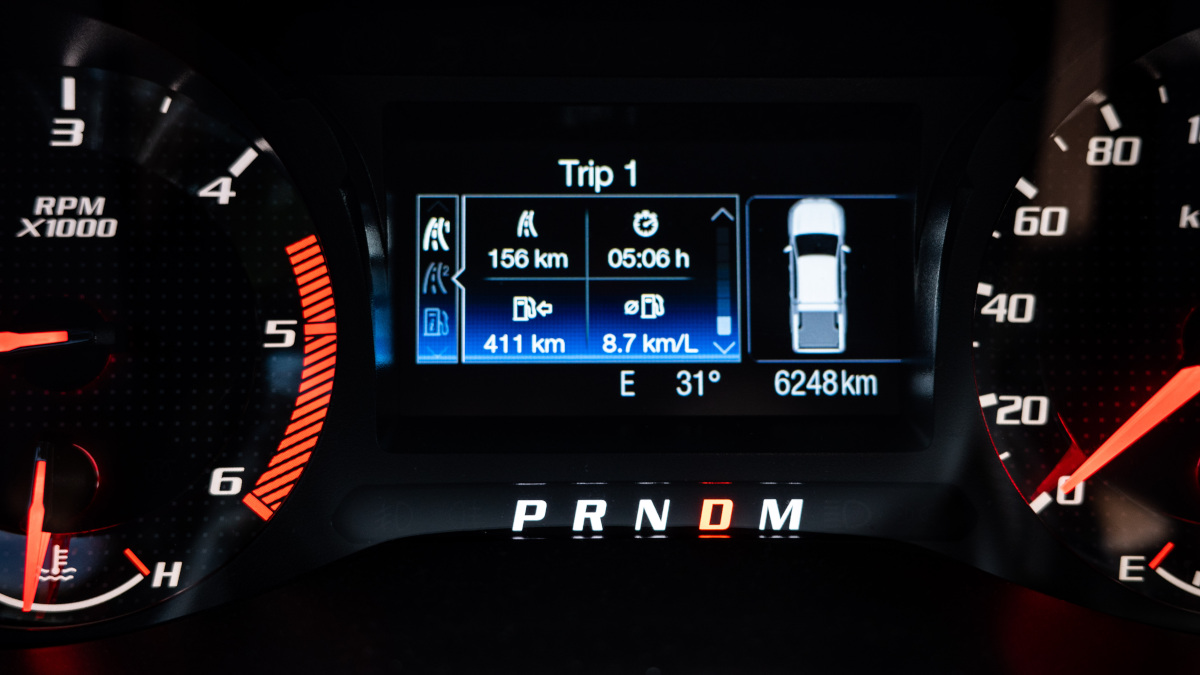 Ford's infotainment system is still pretty good for the age of the platform. Apple CarPlay and Android Auto work perfectly fine, and the two USB ports up front make for an easy way of hooking up your phones. Is it showing its age? Just a little. Newer cars have infotainment systems that are just absolutely amazing. Does it still work well? Absolutely. Having a car with Apple CarPlay and Android Auto from the factory means that I can rely on software updates on my phones to keep the interface feeling relatively modern as time passes.
The bad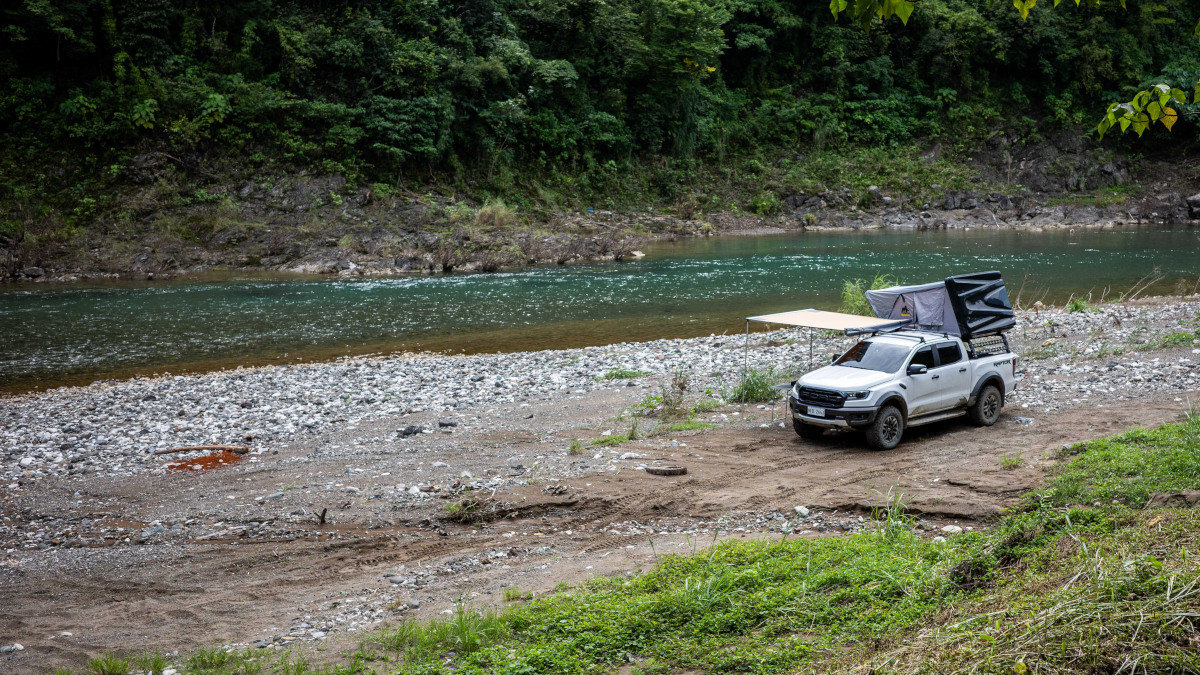 All is not necessarily rainbows and unicorns though. Driving this as my only vehicle really emphasizes just how wide the Raptor is for Philippine roads. It's almost too wide for EDSA, being just about the width of an entire lane, and it's definitely too wide for some village streets and some metro passages. There has been more than one occasion where I had to reverse down a street because the cars parked on both sides made it literally impossible for the Raptor to fit between them.
Another complaint I have has to do with the 10-speed automatic. There is something a bit off with how it's calibrated. While I am thankful for the increased fuel economy when cruising on the highway in, ahem, top gear, it sometimes feels like it's hunting for gears. There's a sense that 10 is a few gears too many for the computer to manage.
There has also been a few instances when the Raptor had been in gear when it seems to enter neutral between shifts for a bit too long, followed by a huge bang as the car finds the gear it's been looking for. It's jarring and abrupt enough that on the highway, it feels as if you smashed into something. So far the gearbox had held up despite some hiccups, and there's nothing in the computer to indicate any permanent damage. I just hope that there are no long-term issues, as I have heard of some horror stories of exploding transmissions in Ranger Raptor owner groups.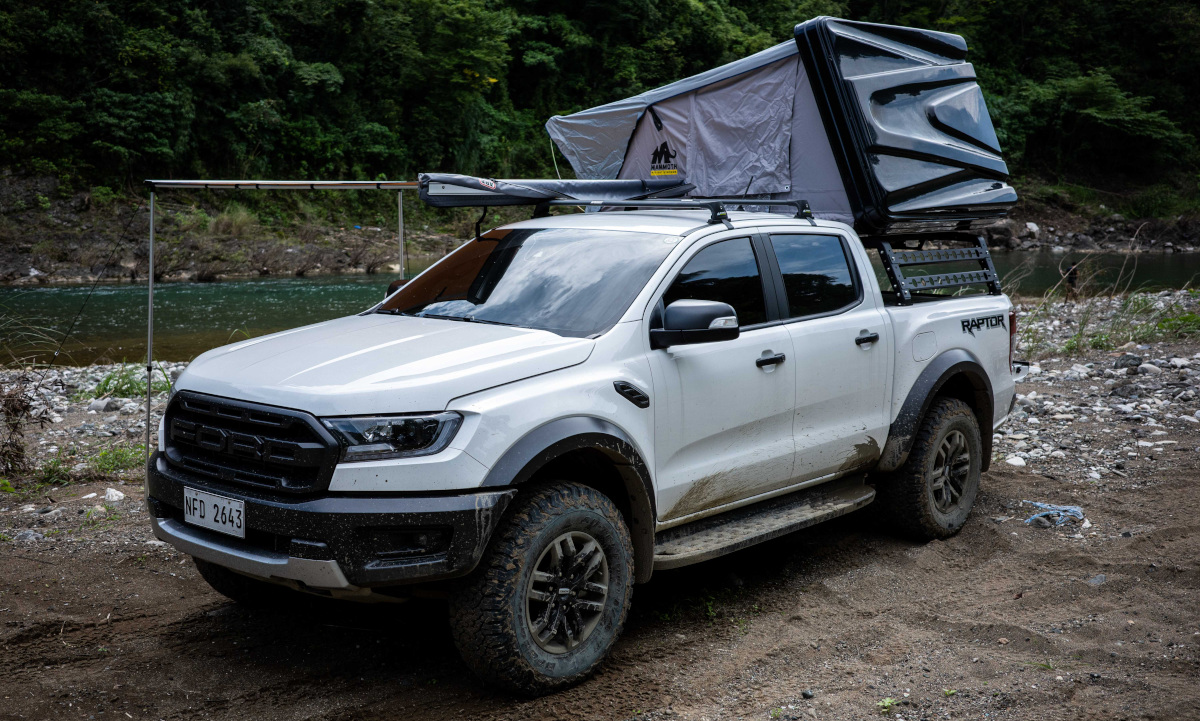 I have averaged about 7.6km/L combined accessorized as it is now, with a medium load in the bed. It's definitely decent, but nowhere close to what my old Ranger with a manual gearbox and single turbo could do (12km/L). It isn't bad, just something to note. The Raptor is a much heavier vehicle as compared to the same model Ranger, and it sometimes feels it.
Finally, I really wish that Ford had given the Raptor at the very least adaptive cruise control and lane keeping assist. As it currently stands, the former is missing, and the latter has an older system in its place that bounces you between road lanes like a bowling ball with gutter guards.
Accessories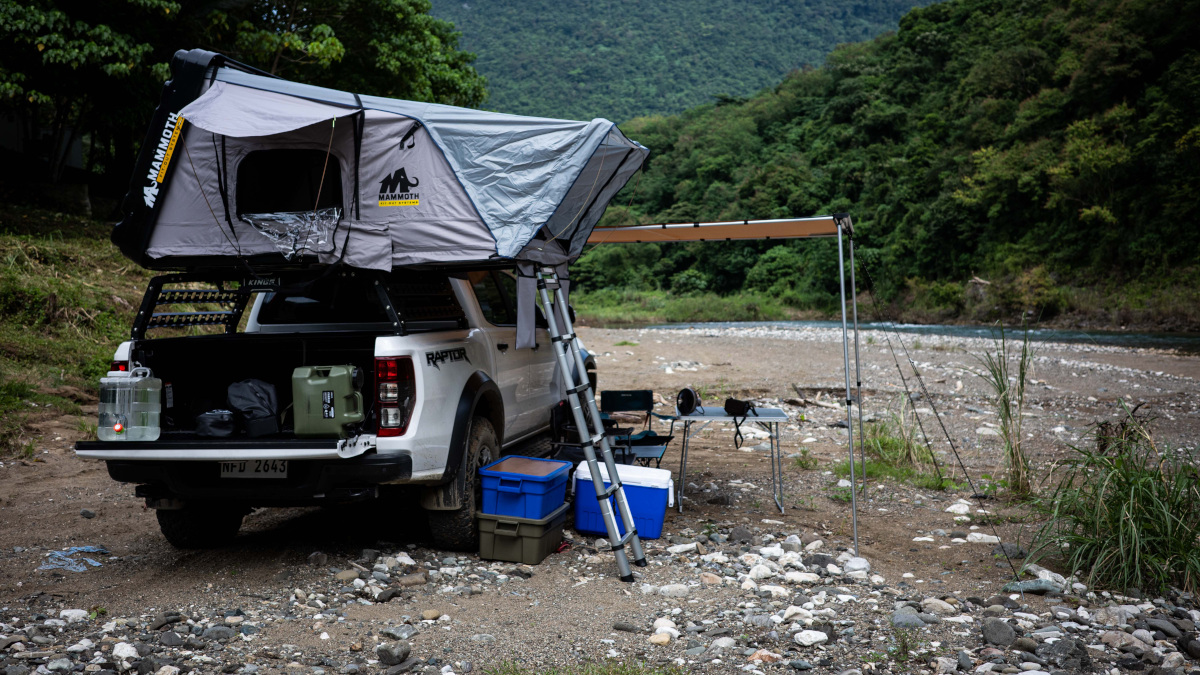 When I got the Raptor, I had a roller lid installed for the pickup bed. Here's my advice: Don't do it. The roller lid has been a nightmare to use since day one. Dirt tends to find its way into the roller lid mechanism when it, you know, rolls, so the entire lid tends to jam up. More than that, the locking clips that hook into the tailgate have been bent over normal use, and now, only one side actually clips in properly. Overall, it's the worst thing I have bought for this car, and I am already looking for an alternative that would be more reliable.
My camping accessories include a Mammoth Rooftop Tent mounted on a Kings Tub Rack, and an ARB Awning mounted to a Mammoth Crossbar, all installed by the gurus at Overland Kings. These have generally been great; they are very secure off-road, and the quality has been amazing. The Rooftop Tent is a game changer after 20 odd years of using ground tents. It's so convenient and secure, especially in inclement weather, with the only drawback being having to climb down a ladder to pee at night.
The only issue I've had is that the awning tends to have a slight knocking sound over bumps that I have yet to address. It annoys me to no end as it seems like it's not secured properly (it is), so I plan to have the experts at Overland Kings check it out the next time I drop by.
OTHER STORIES YOU MIGHT WANT TO READ:
Ford unleashes the 700hp V8-powered F-150 Raptor R
The all-new Ford Ranger Raptor has conquered the Baja 1000
First service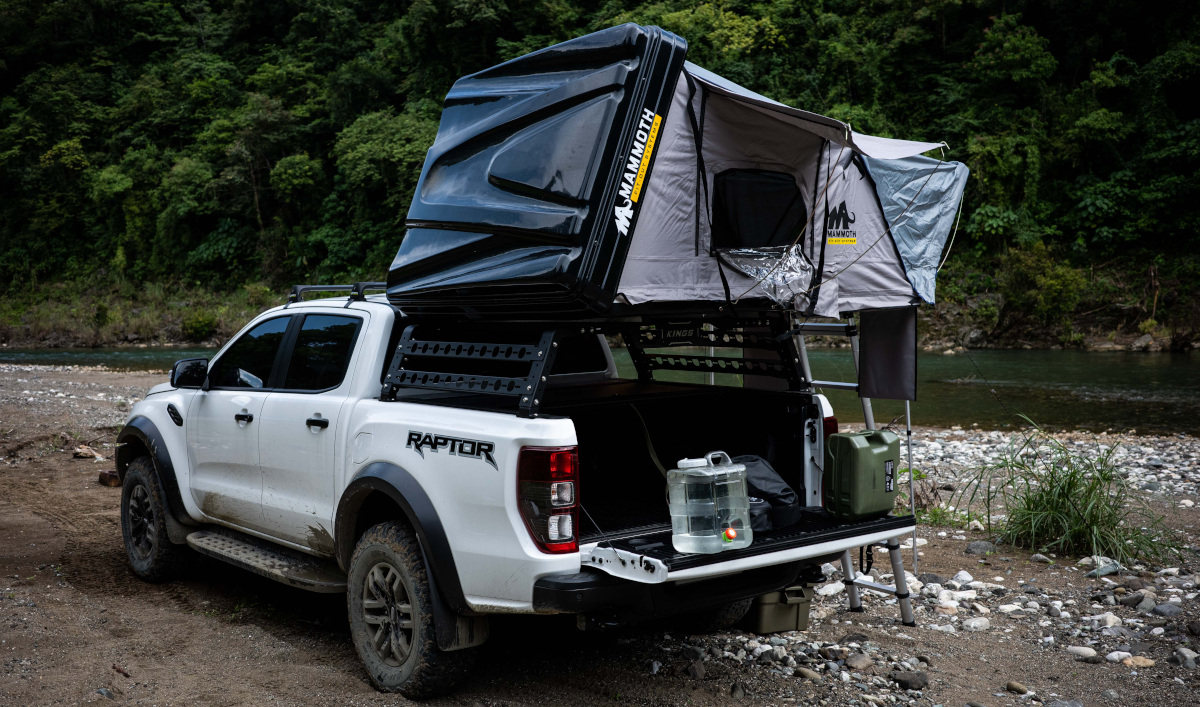 I am actually writing this update in the middle of Ford Quezon Avenue as their technicians work on my Raptor. The dealership facility itself is decent, although it is showing its age a bit. The waiting area for service is a bit dark, which is a stark contrast to how well-lit and modern the sales area is. The service staff is extremely attentive and they clearly explain each step of the Preventive Maintenance Service and the worn items that need attention. Updates arrive over time as you wait.
They claimed the service would take three to four hours which is a bit slower compared to some other brands' express maintenance programs, but they finished in two hours which is decent for a regular check-up. Overall, my Ford Quezon Avenue service has been my best Ford after-sales experience to date, well worth the slog through traffic to get to.
Since I bought the Raptor with the five-year free maintenance (labor and parts), this check-up was absolutely free with no money changing hands, which gives me something nice to look forward to for the next four years of ownership.
Conclusion after the first year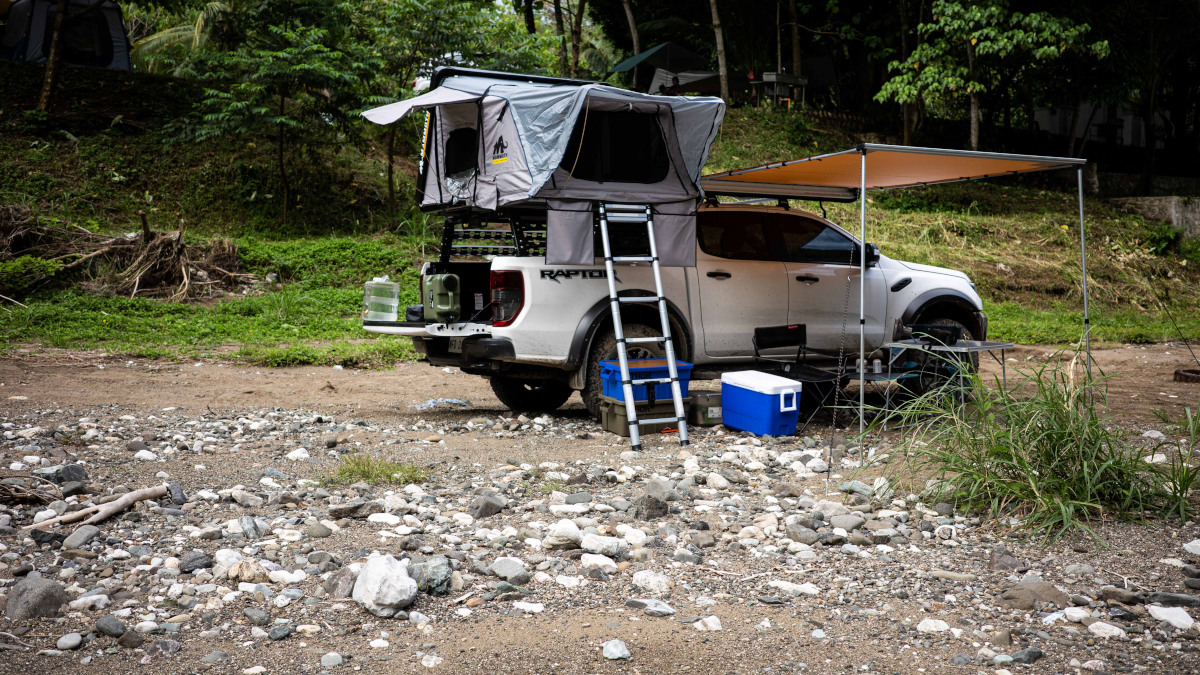 Every time I write about my Raptor, I ask myself, am I still happy? And the short of it is, yes. She's been completely reliable, and except for some minor complaints, she has been the exact adventure car partner I dreamed of when I decided to put my money down on her. Only time will tell if by the next update I still feel the same way, especially being exposed to the much more high-tech features fast becoming standard in new cars.
Breakdown of costs:
| | |
| --- | --- |
| Ford Raptor | Php 1,998,000 |
| Comprehensive Insurance with AOG (Ford Q. Ave. in-house) | Php 48,500 |
| Roller lid (Ford Q. Ave. in-house) | Php 40,000 |
| Mammoth Crossbar | Php 12,900 |
| ARB Awning | Php 18,000 |
| Kings Tub Rack | Php 48,000 |
| Mammoth Roof Top Tent | Php 92,000 |
| 1st Year Preventive Maintenance Service | Free for 5 years (PMS labor and parts) |