In the early 2000s, the Hyundai Tucson Diesel and its Kia Sportage twin were the only alternative fuel choices in the crossover class. Granted, diesel is still petrol adjacent, but better fuel economy meant less pollution, overall.
That benefit came with some sacrifices. The original 2.0 CRDi had a measly 111hp an ancient four-speed automatic. But the one I'm driving now has 183hp and eight speeds. Plus a healthy 413Nm of torque. Nearly twice as much of everything, and a big leg up on more conventional competitors.
But that competition now includes unconventional next-generation turbocharged and hybrid alternatives. Can the ultimate evolution of yesteryear's green tech still hang with the green tech of tomorrow?
OTHER HYUNDAI STORIES YOU MIGHT WANT TO CHECK OUT:
Watch: How well-equipped is the top-spec Hyundai Stargazer?
Hyundai teases next-gen Accent with 1.5-liter turbopetrol engine
Styling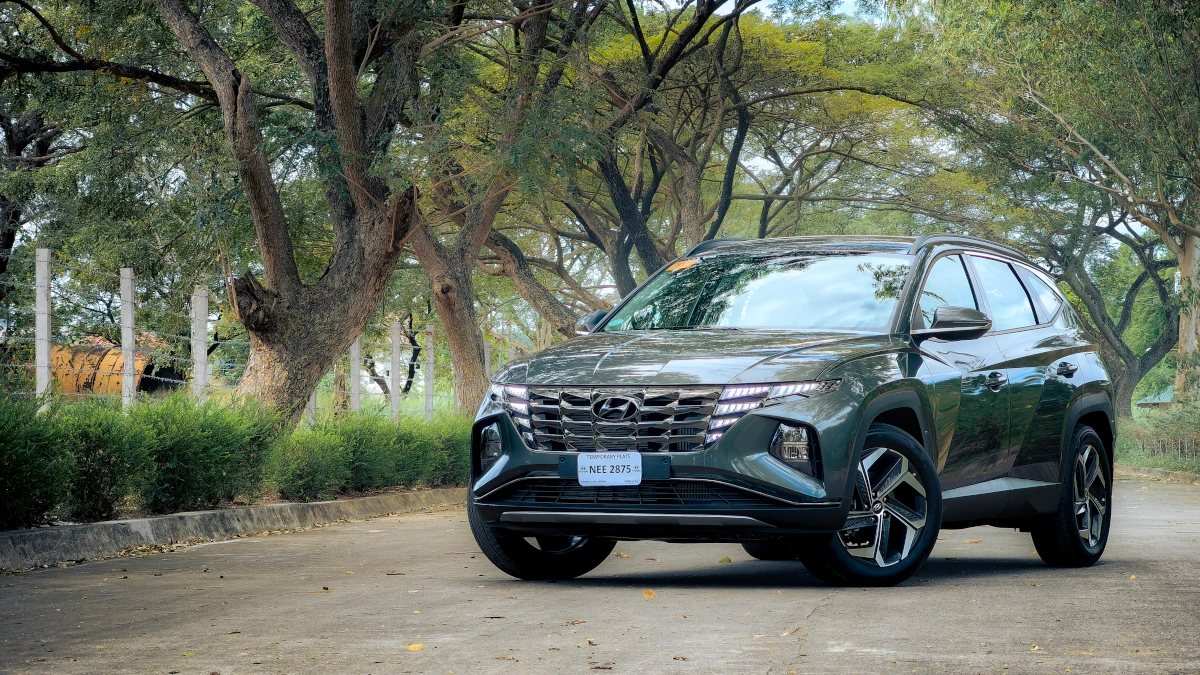 The new Tucson certainly looks like a car of tomorrow. The familiar wind-cheating silhouette is now fronted by an insectile LED array torn straight from the Matrix framing the gaping grille that feeds the potent diesel under the hood. Textured cutaways at the corners create vortices to control wind noise around the mirrors, while low-mounted headlights feature slots to blow air around the front tires for better economy. All very high-tech. All very visually busy.
Muscular lines and curves down the sides intersect in chaotic but attractive patterns. The door handles could be better placed, though, as they seem lost in the confusion of confluent curves. The rear glass is framed by a hidden rear wiper above and a red LED strip accentuated by slashing brake lights. To keep this array tidy, the turn signals and back-up signal have been banished to the trim under the bumper. Which unfortunately makes them easy to miss if you're sitting right behind the car.
Ridged fender flares frame gorgeous asymmetrical 19" wheels that round off the package. The unusual design actually works both ways - allowing Hyundai to package a full-sized alloy spare in the trunk.
Interior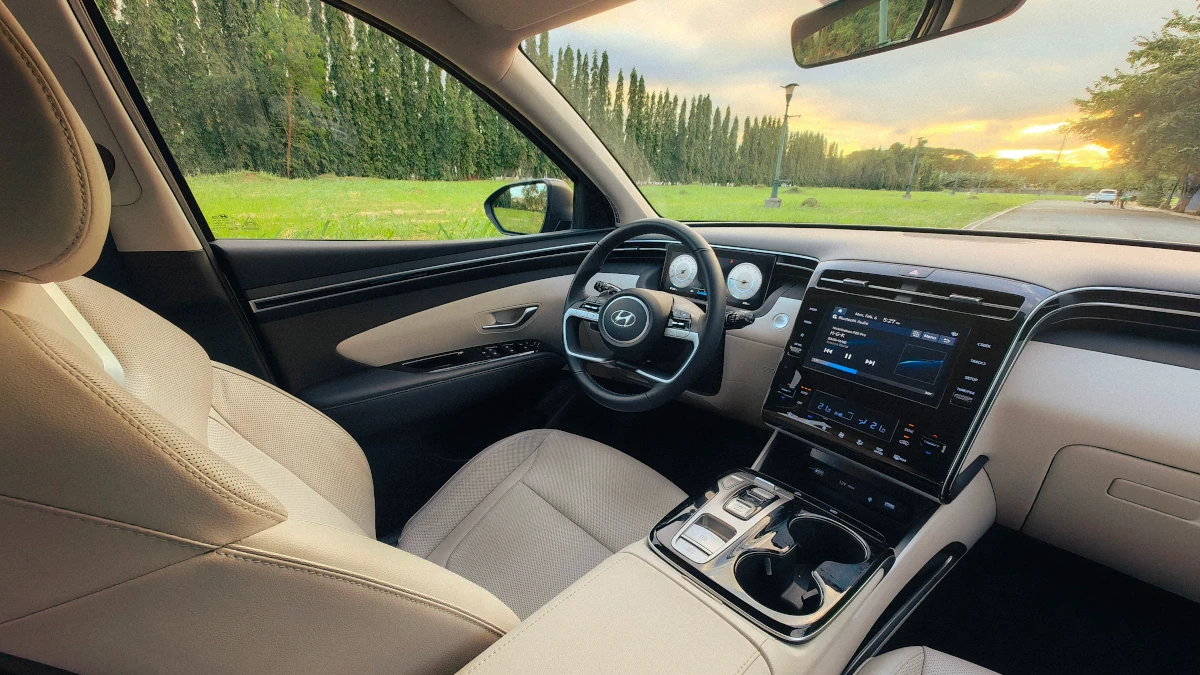 Where the exterior looks high-tech, the interior looks more old-world. Creamy white leatherette, brushed steel and piano black trim give a luxurious vibe. A gently arching dashboard incorporates passive and active air vents in the cabin-spanning upper trim. The simple tablet-style instrument display sitting under that trim is bright and readable. Reflections never become an issue, despite the lack of an anti-glare hood.
The climate controls and infotainment screen seem lost inside the cascading extra-wide center console, which is wider than needs be for the illuminated cellphone shelf and XL-cupholders, especially given the compact pushbutton shifter. The huge center box and extra side pockets are nice, but not rubbing your knees against the cream-colored plastic would be nicer.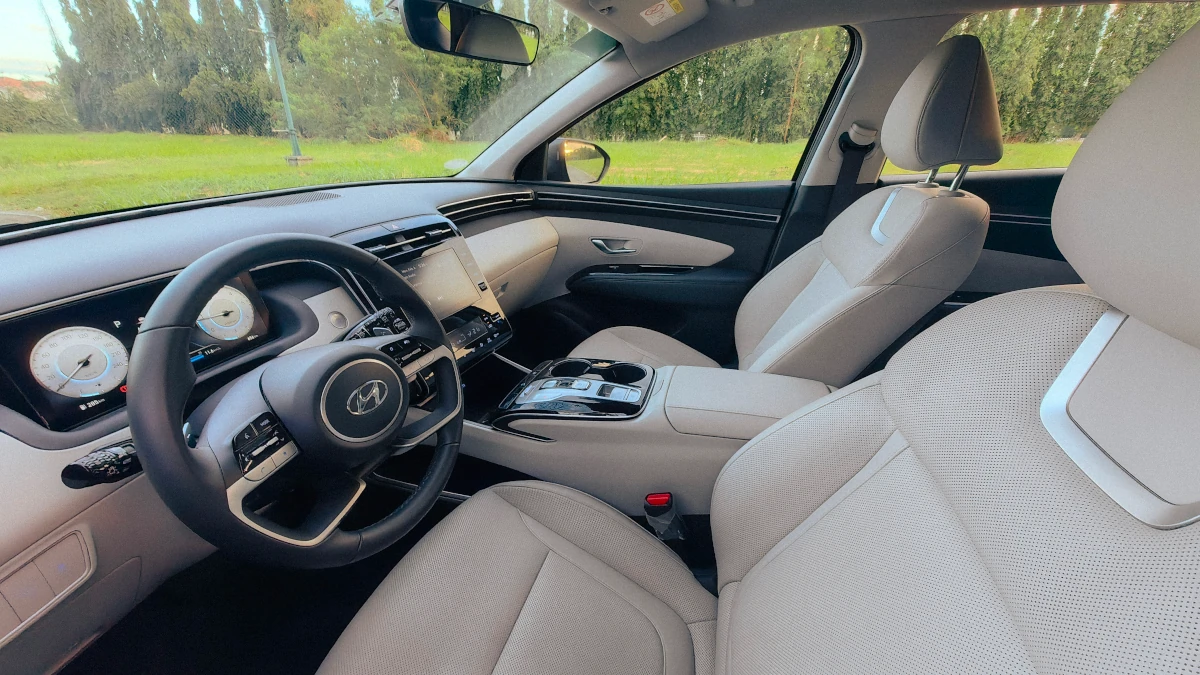 The seats themselves are well-bolstered and comfortable, though the cream-colored leatherette needs regular cleaning. Driver ergonomics are pretty good, with power controls and adjustable lumbar support. The large four-spoke steering wheel telescopes pretty far, and height adjustment is generous. My only complaint is that the seat sits rather high up in the cabin, even at the lowest setting.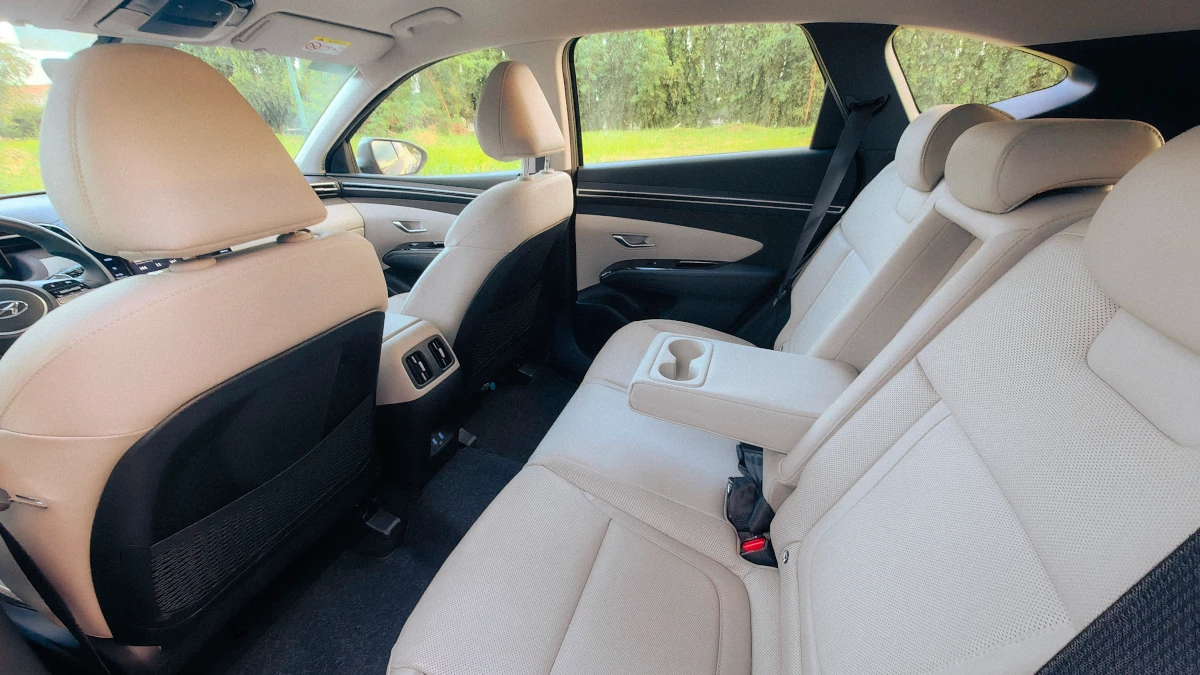 Out back, you find rear AC and charging ports, tons of legroom and headroom, and scalloped buckets to keep you from sliding around. Hyundai doesn't expect you to use the center position much. It only gets a lapbelt, and there's no center tether for a child seat. Only the side positions get full ISOFIX/LATCH. Seems they expect the center armrest to stay down permanently, giving all occupants full inboard and outboard elbow support. Huzzah.
The cargo floor slopes upwards towards the rear seat, to form a continous floor with those folded. But there is still a huge amount of space. It gets even bigger when you remove the full sized spare. Slide the floor into its secondary slot with the spare removed and you have 1,092 liters of space with all the seats still up. For those brave enough to travel with a fix-a-flat kit, that is van-level useful.
Engine performance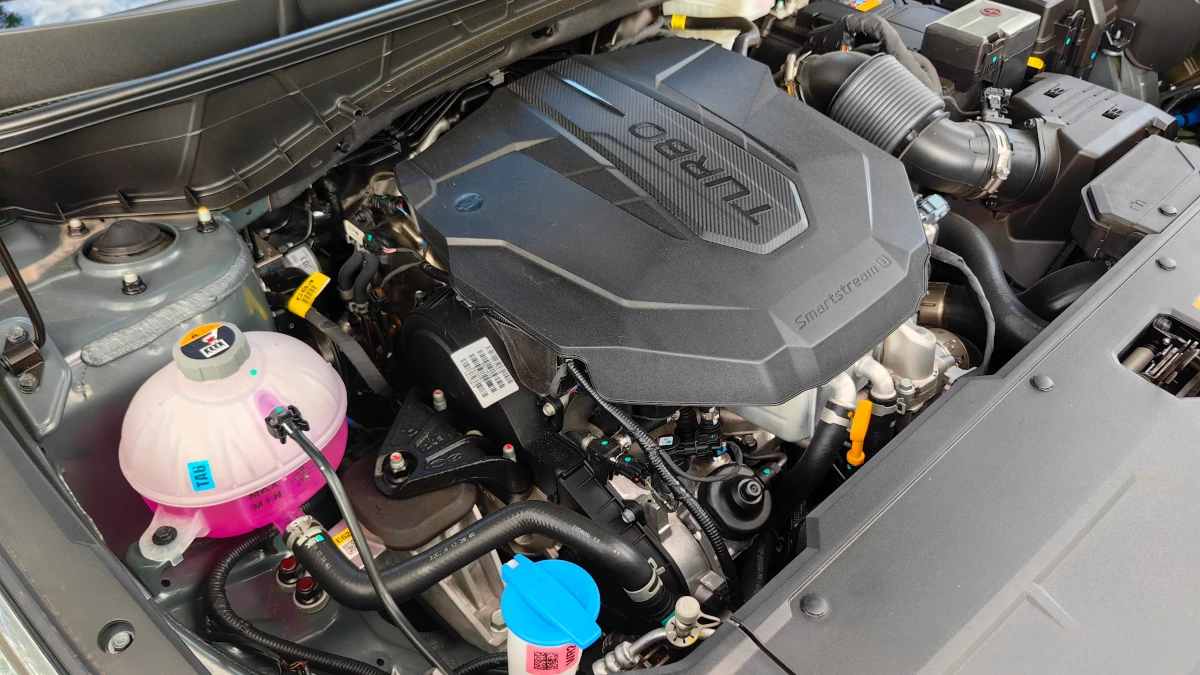 Also useful is the diesel under the hood. Hyundai's latest CRDi-slash-R E-VGT-slash-Smartstream D2.0 boasts 183hp and 416Nm of torque. With an eight-speed automatic driving the front wheels, this does 0-100kph in 8sec flat. With a 'green' engine, a sketchy surface, and a full tank of fuel, torque steering with gusto. That's faster than the 175hp Geely Coolray or the 219hp RAV4 hybrid. Only the 253hp CX-5 Turbo is quicker to the century mark, but not by as much as the power difference suggests.
When you aren't trying to light the tires afire, the diesel impresses in terms of fuel economy. Rumbling at just over idle in seventh gear at 80kph—eighth gear only kicks in at 90—we saw highs of 25km/L on the highway, and averages of around 21km/L in most conditions. Mixed economy was in the 12-16km/L range, depending on how bad the traffic and heat were. We often had the AC blasting away, because our factory-fresh unit had no tint, but even so, 8-11km/L in sweltering traffic is massively respectable given the weight and size of this vehicle.
Ride and handling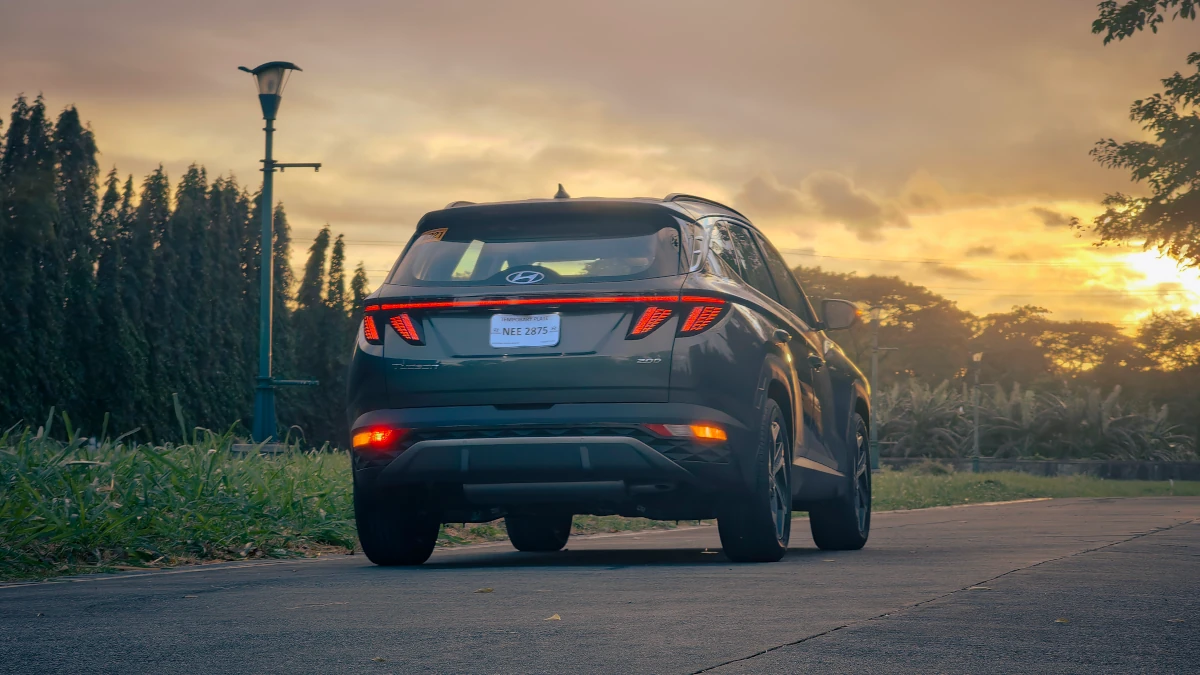 Despite the porky curb weight, the Tucson offers a Sport Mode, which firms up steering, sharpens the throttle, and lights the displays up red to egg you on. Yet while beefy anti-roll bars allow it to corner flat on high-speed curves, the suspension is too loose over heaves and too jittery over bumpy off-camber mountain switchbacks to be truly sporty. Brakes work well enough, but need a heavy stab to shed speed in earnest. The steering is precise and darty, but a bit dead. Sport mode makes it steadier on the highway, but is too heavy everywhere else.
So no, this isn't quite the sports crossover you were looking for. Instead, the Tucson is best enjoyed in Nomal or Eco mode, using the paddle shifters to dip down a gear or two to overtake, wafting arrogantly along on that boundless wave of diesel power.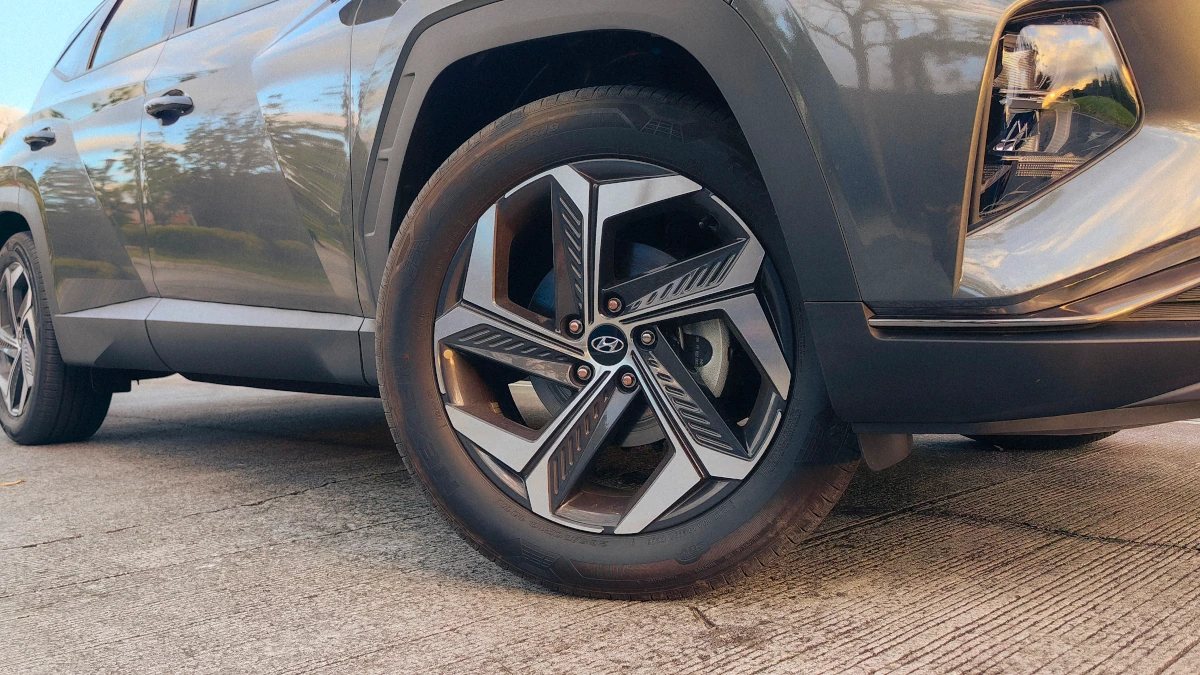 235/55R19 Nexen Roadian GTX tires provide quiet and comfortable use, track steady at high speed, and don't squirm much in corners. But the big wheels and tires accentuate low speed bumps and ruts. Which can get annoying on pockmarked backroads.
Aside from that foible, the Tucson is perfectly civilized for the daily grind, with good sightlines and easy maneuverability in the city. The high side sills do prove a bit of an issue while parking, especially since the bundled parking assists consist mainly of rear sensors and a single rear camera.
Extra features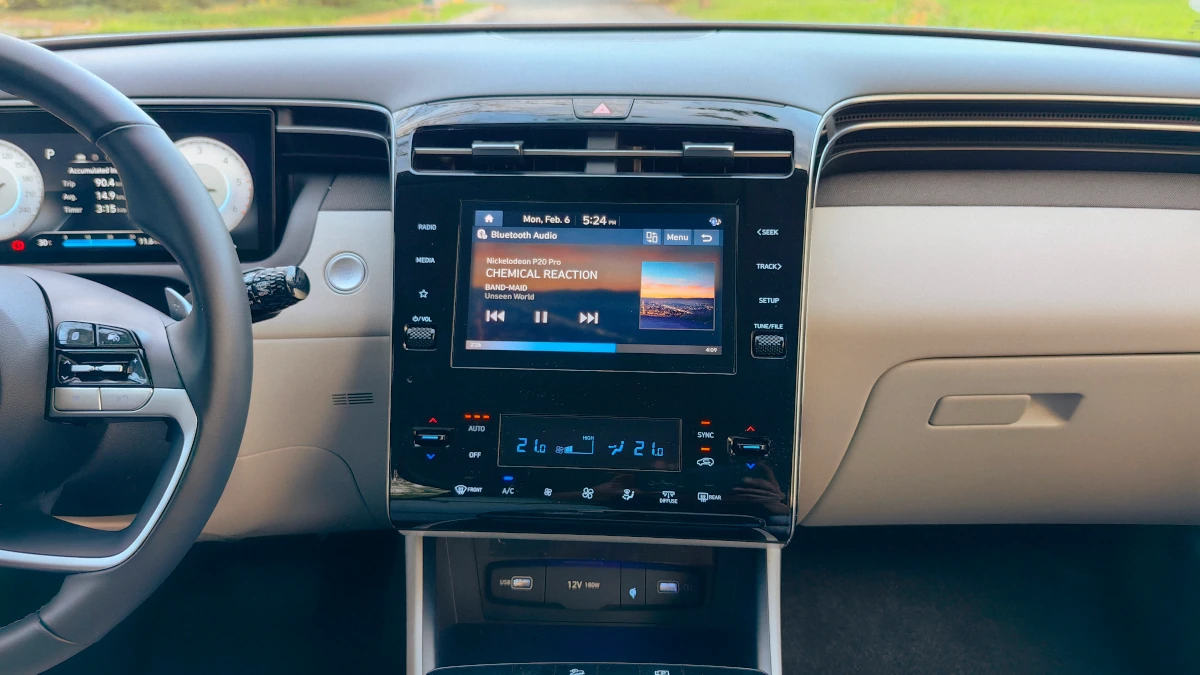 Aside from the parking assists, you get cruise control, hill-start assist, and traction control, but not much else in the way of driving-assists. For convenience, you have keyless entry, speed-sensitive locks, and push-to-start ignition, as well as a power liftgate. Out back, there's a 12V180W charging port for air compressors, to match the one up front. You also get four high-speed USB charging ports, one of which provides Apple CarPlay/Android Auto connectivity. The Bose setup bundled with the 10-inch infotainment screen has amazing bass reproduction and clear tone, but needs a lot of tuning to get there. I had the treble pulled way back and the bass pushed way up to get it right.
Otherwise, I wager this could go toe to toe with the best in class.
Verdict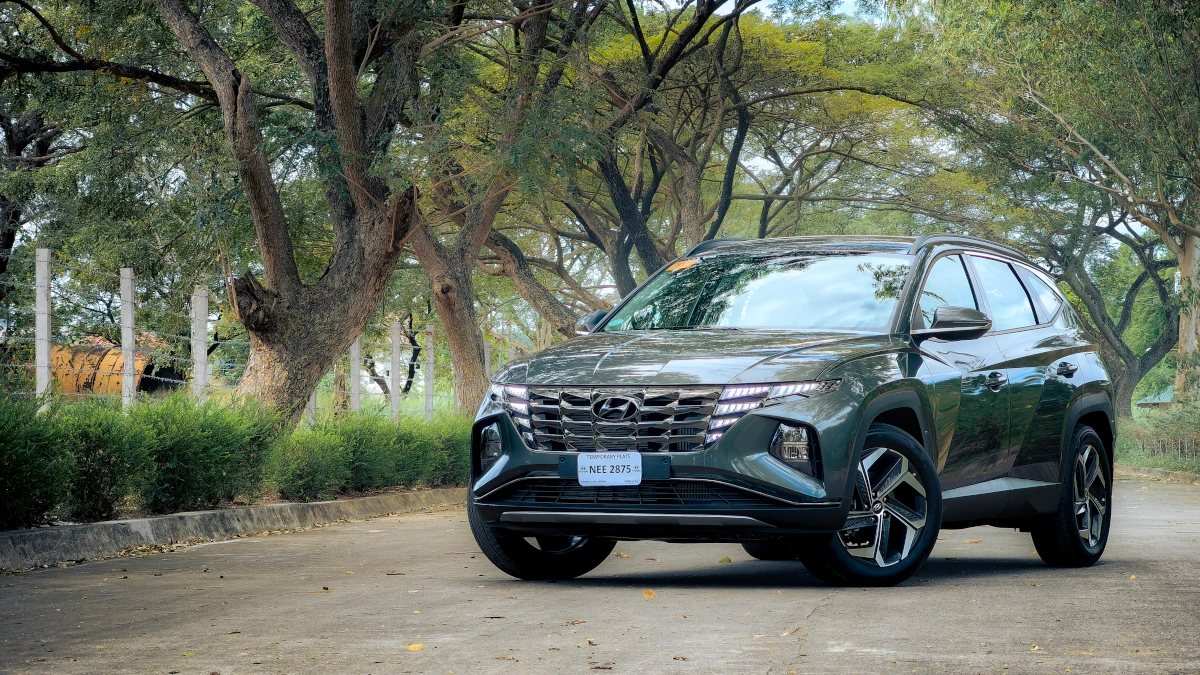 The Tucson itself is also finally a threat to the established order, with power and economy shading competitors that are half a million pesos more in price. The styling is a more divisive issue, the outrageous looks not quite matching the calmer interior and driving dynamics. But once you get over that, it is a compelling package.
But while P1.84 million is a relative bargain compared to the likes of the CR-V diesel, RAV4 hybrid, and CX-5 Turbo, the 'diesel' badge will have buyers cross-shopping it with the Everest, Terra, and Montero. Though not as quick or frugal, these feature the seven-seat option that many local buyers crave.
A shame, as those buyers are missing out on the best diesel on the market. The Tucson is no longer an anonymous crossover that boasts great economy—it is now a complete package, ready to take on the big boys. We just hope that Hyundai Motor Philippines finds the confidence to bring in higher trim levels, and hopefully even a high-tech hybrid variant to match those high-tech looks. Diesel may still be the most convenient 'green' alternative to gasoline, but that hybrid coding exemption is one of the most convenient features of all.
SPECS: Hyundai Tucson 2023 GLS+ CRDi 8AT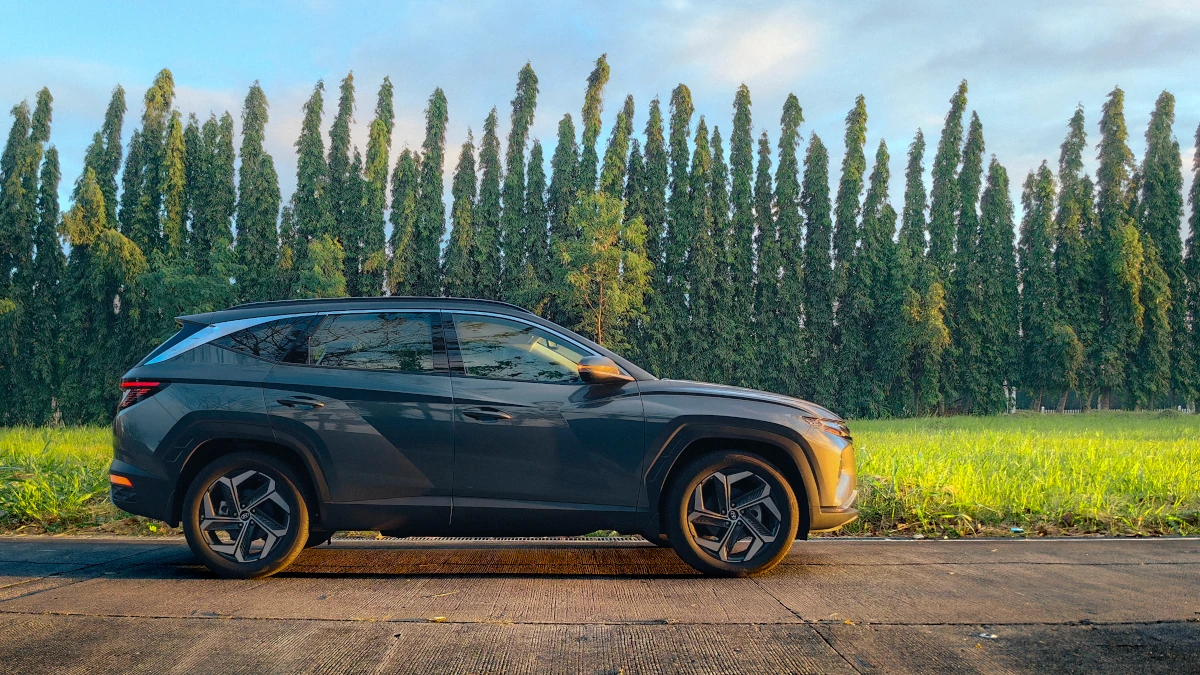 Price: P1,840,000
Engine: 2.0-liter diesel
Power: 183hp
Torque: 416Nm
Transmission: 8-speed automatic
Drive layout: FWD
Seating: 5
Score: 18/20
More photos of the Hyundai Tucson 2023: