Despite the onset of the COVID-19 pandemic, 2020 proved to be a busy year for Ford Philippines. Chief among its efforts last year was the launch of the Ford Territory, a China-imported compact crossover. At the time of the launch, we described it as "a pretty good fit for Ford's local lineup, offering buyers a more spacious alternative to the long-running EcoSport subcompact crossover."
Now, the latter point is undeniably true—if you find the EcoSport just a tad too small, then the Territory is indeed a roomier offering from the American carmaker. But is it truly a good fit for the local market? The only way to find out is to drive it.
Styling
ADVERTISEMENT - CONTINUE READING BELOW ↓
At first glance, the Territory cuts a macho yet sleek image. This Trend variant gets a gloss-black grille up front, flanked by a set of full LED headlamps with daytime running lights. Along the sides, muscular haunches give it the quintissential SUV muscularity, while sharp character lines and a beltline that ascends to the rear make it look sporty. Speaking of the rear, that slanted C-pillar and small window are straight out of the current-gen Explorer.
In the back, the windshield is small thanks to the aforementioned high beltline, and the LED headlamps are connected by a chrome strip bearing the Ford logo. In all, the look is more classic-modern Ford compared with the smaller EcoSport, and makes sense as a step up for more mature buyers. 
Interior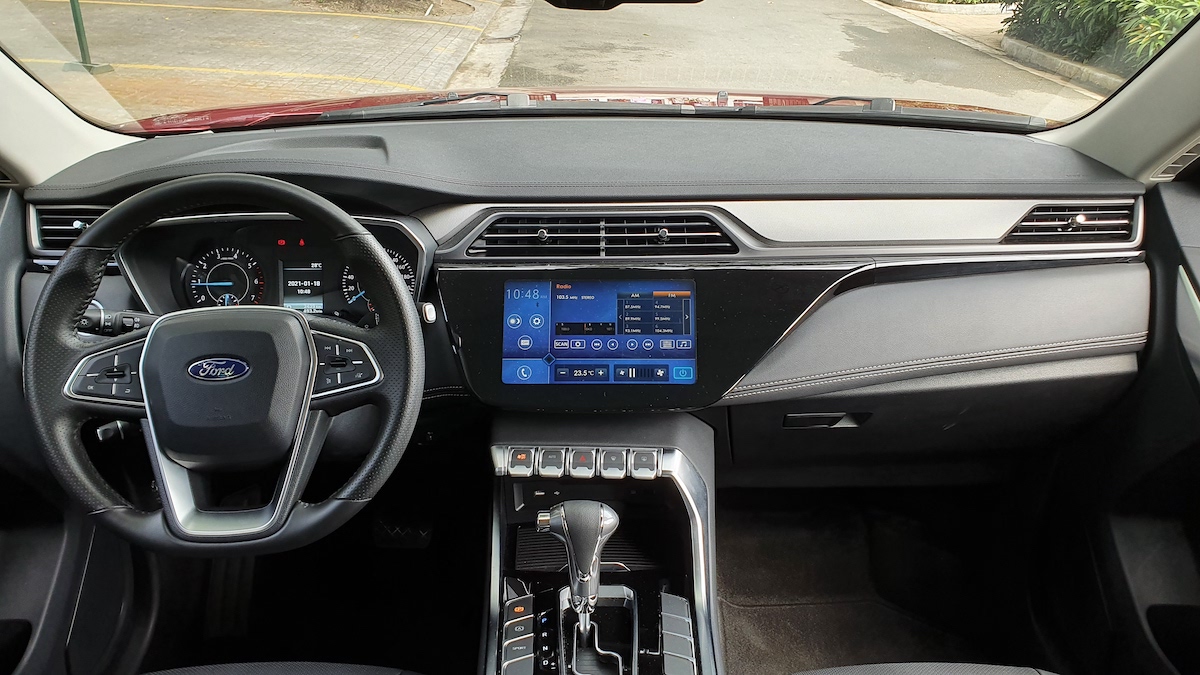 ADVERTISEMENT - CONTINUE READING BELOW ↓
Recommended Videos
Inside, the Territory presents an uncluttered dashboard that mainly consists of just a single touchscreen display. It's a big display, at least. Measuring in at 10 inches, the infotainment system is fairly easy to operate, while the supporting six speakers provide some decent sound quality. Underneath this are a set of racing-inspired tabs for various controls.
Personally, I'm not fond of integrating the majority of the cabin controls within the touchscreen system. Some physical A/C controls for easier adjustment while driving would've been a welcome touch. There's also a wheel for adjusting some of the settings, but I didn't find myself gravitating to it like I have on other cars. 
What does work is the small 3.5-inch LCD display on the instrument panel, sandwiched in between the analog speedometer and tachometer. While I've not seen the fully-digital panel on the top-of-the-line variant, I think this kind of tech at this price point works just fine. What is lacking in this variant, though, is the one-touch up-and-down function for the power windows. It's a minor gripe, but that kind of feature is fast becoming standard across all price points. 
ADVERTISEMENT - CONTINUE READING BELOW ↓
Engine performance
The Territory is powered by  a 1.5-liter EcoBoost engine capable of 141hp and 225Nm of torque. Performance-wise, it's fairly standard small-crossover fare—it works fine when cruising, and can be a little peppy when you need it to be. The CVT on board comes with Sport mode, which improves throttle response just a little bit. Our test drive netted us around 8km/L. 
ADVERTISEMENT - CONTINUE READING BELOW ↓
Ride and handling
What perhaps makes the Territory a viable option between the subcompact EcoSport and the midsize Everest is its ergonomics. It's a five-seater, so it won't fit as many people as the latter, but it's certainly a lot more spacious than the former. There's plenty of head- and legroom for passengers, and the trunk capacity is every bit as generous. 
ADVERTISEMENT - CONTINUE READING BELOW ↓
Like its big brother, the Explorer, the Territory has a deceptively low stance. Pair that with the long 2,716mm wheelbase, and you get a smooth ride on flat surfaces. When the road gets bumpy, you do tend to feel it a little bit more than you'd like, but this crossover takes road imperfections mostly in stride anyway. Steering feel is light—a good fit for city driving.
Extra features
ADVERTISEMENT - CONTINUE READING BELOW ↓
The Territory comes loaded with tech, chief of which is the inclusion of Android Auto and Apple CarPlay compatibility across the range. This feauture is housed in the 10-inch touchscreen display that comes with what Ford refers to as a 'Adjustable Quad View.' It sounds fancy, and it kind of is—with the swipe of a finger, you can adjust the display's proportions depending on which feature you want to emphasize. It works a lot like customizing a screen on a smartphone, which isn't something you see often on an infotainment unit. Nicely done, Ford. 
Verdict
ADVERTISEMENT - CONTINUE READING BELOW ↓
Ford is signifying that it's serious about bolstering its lineup by bringing in the Territory. It's a move that seems to have paid off so far, as the company has hinted that sales are going well. However, the fact is that this is another Chinese-made SUV in a market that's quickly becoming saturated with them. Still, this one has a known badge behind it, and it's a well-thought-out package that should continue to attract customers for some time. 
SPECS: 2021 Ford Territory 1.5L EcoBoost Trend CVT
Price: P1,277,000
Engine: 1.5-liter turbopetrol I4
Power: 141hp @ 4,500-5,200rpm
Torque: 225Nm @ 1,500-4,000rpm
Transmission: CVT
Drive layout: FWD
Seating: 5
Score: 18/20
ADVERTISEMENT - CONTINUE READING BELOW ↓
ADVERTISEMENT - CONTINUE READING BELOW ↓
ADVERTISEMENT - CONTINUE READING BELOW ↓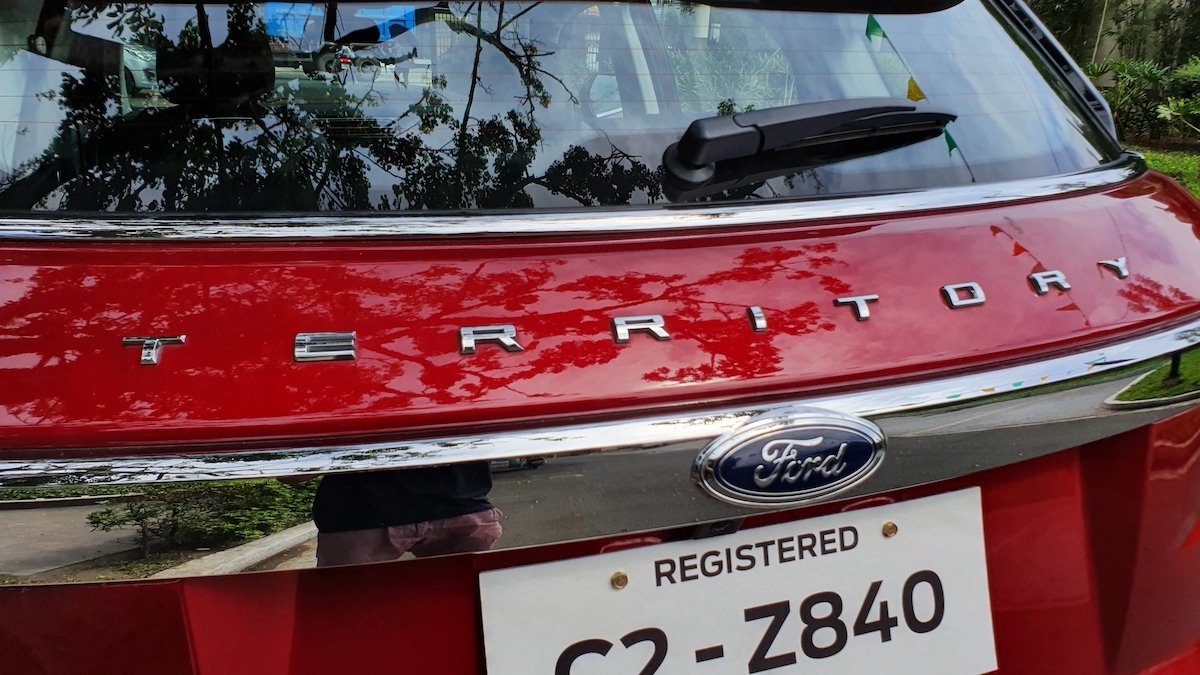 ADVERTISEMENT - CONTINUE READING BELOW ↓
ADVERTISEMENT - CONTINUE READING BELOW ↓