You know you have an in-demand car when random people approach you to ask about it. And no, it doesn't happen often. I was taking photos of the Toyota Corolla Cross hybrid in our village park when a man in a first-gen Fortuner slowly drove by. "Is that the new Corolla Cross," he asked. I confirmed that it is. While inside his SUV he asked more questions, and so I just invited him to come down and have a look.
He asked about the price, the difference between this and the gasoline variant, and if it's any good. My neighbor, Jay, was thinking of upgrading his OG Fortuner and this was what he was eyeing as a replacement. If I were a Toyota salesman, I imagine this is what blood in the water must smell like.
I told him to wait for my review. So to Jay and the rest of our readers who want to know how the new Corolla Cross fares, here you go.
ADVERTISEMENT - CONTINUE READING BELOW ↓
Styling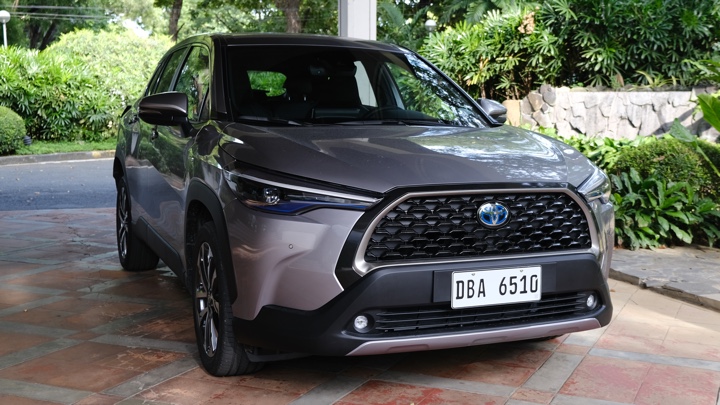 ADVERTISEMENT - CONTINUE READING BELOW ↓
Recommended Videos
The current Corolla Hybrid sedan is such a good-looking car—I consider it the most handsome Corolla since the Big Body of the '90s—that to deviate from that aesthetic is risky. But the Corolla Cross boldly goes in a new direction, and pulls it off. While the Corolla's headlights are framed perfectly by a 'brow' that houses the badge, the Corolla Cross does away with it altogether and thrusts forward with a large grille. Its headlights flow like liquid from the grille, with blue accents hinting at the hybrid powertrain.
ADVERTISEMENT - CONTINUE READING BELOW ↓
The bold face seems to be an attempt to make the Corolla Cross more aggressive and SUV-like. It's a strong, even slightly menacing (in a good way) face—like a Stormtrooper transport. If you like it at first glance, you're likely smitten. If you don't like it, well, I can't relate. But consensus seems to be the former.
The protruding wheel wells and black body cladding give the Corolla Cross a more utilitarian and rugged vibe compared to the Corolla sedan. But the tall ground clearance is what completes the look, and is what will probably convince a lot of buyers to consider this model. The weak link could be the rear end, as it doesn't tie in cohesively with the handsome face. But it doesn't affect the overall look. The Corolla Cross is still pleasing to look at from any angle.
Interior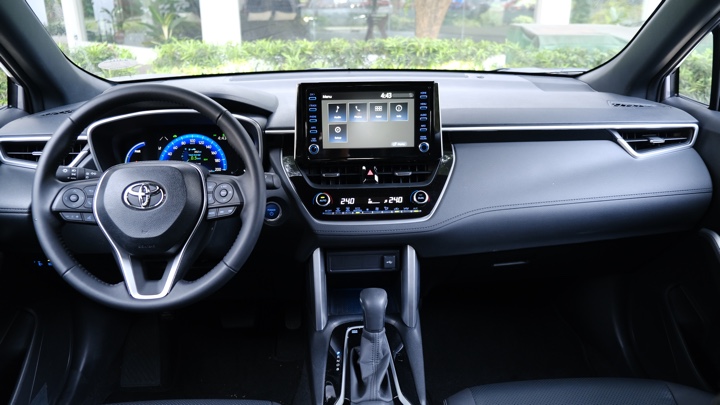 ADVERTISEMENT - CONTINUE READING BELOW ↓
If the exteriors of the Corolla and the Corolla Cross look like distant cousins, the cabin is where their common DNA is revealed. The whole dashboard has been lifted from the sedan and put in the crossover. It's the same A/C vents, climate controls, steering wheel, and gauges. The infotainment system is different, and this is a wonderful development—more on that later.
The cubbyhole under the dashboard is a little bigger in the Corolla Cross compared to the Corolla, so you get a bit more utility value. But the seats and the shift knob look the same. These similarities are not bad, and in fact many companies do it.
The leather seats are both comfy and well-bolstered, giving you that Toyota feature of forgetting how long you're sitting in the car. This top spec also gets an 8-way power seat for the driver, but passengers will have to adjust manually. Backseat legroom is astounding; one area where the Corolla crossover easily trumps the sedan.
ADVERTISEMENT - CONTINUE READING BELOW ↓
Engine performance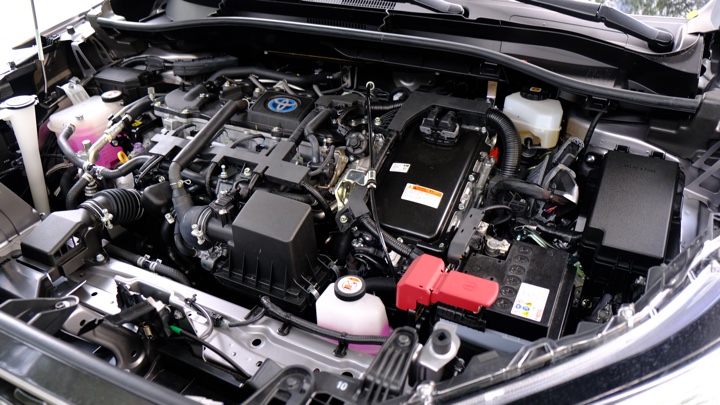 In my Corolla Hybrid sedan article I said that it has a good powertrain, but for me the standard for everyday hybrid propulsion is still the Prius C. This also holds true for the Corolla Cross hybrid. But the difference is minimal, and if you've never driven the Prius models, and very few have, you won't know the difference.
ADVERTISEMENT - CONTINUE READING BELOW ↓
Like in the Corolla sedan, equipping this model with a hybrid engine gives it vigor off the line. It has a low-speed surge that is very useful in daily urban driving. You also don't have to worry about expressway cruising, as the hybrid system's 120hp (total) and 142Nm is more than enough. That being said, the NA Corolla Cross is more powerful with a 1.8-liter in-line four generating 138hp and 172Nm, so that should be interesting. But I doubt if the latter can beat the CC hybrid's 12km/L, which isn't outstanding given the Corolla hybrid's 17km/L average, but good enough.
You can almost tell how heavy a Toyota hybrid vehicle is by how soon the gasoline engine kicks in to help the electric motor. I'd say the Corolla Cross hybrid is just a bit on the heavy side. You will be able to maneuver in slow traffic using just the electric motor, but once the road opens up expect the gasoline engine to kick in immediately.
ADVERTISEMENT - CONTINUE READING BELOW ↓
Ride and handling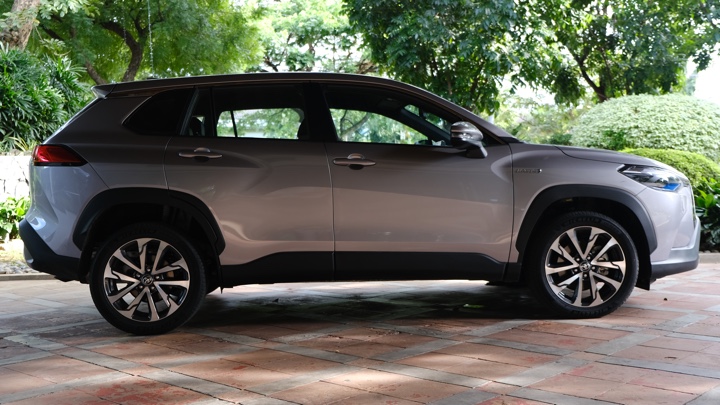 Looking at the Corolla Cross you will definitely see that it is taller than any sedan. The 161mm ground clearance may not sound like much, but I can attest to its usefulness. For one errand I had to park in front of a building that had steeply inclined parking—it looked like a 30 degree angle to be honest. If I were in a sedan I would have approached it the way lowered cars awkwardly approach tall speed bumps. In the Corolla Cross I just tackled it at a slight turn and easily climbed the parking slot. The torquey electric motor didn't even break a sweat.
ADVERTISEMENT - CONTINUE READING BELOW ↓
The ride height perspective is classic crossover. You certainly feel more elevated than a sedan, but not as high as a Fortuner. What's most important is the higher ground clearance is useful for avoiding unpleasant curb encounters and deep potholes. The 18-inch wheels shod in Michelin rubber look sporty, but they still offer a Toyota-comfortable ride.
Being a taller vehicle you also lose a bit of the sportiness—and there wasn't that much to begin with—that the Corolla sedan has. Think of the Corolla Cross as a comfortable crossover with a dash of fun.
Extra features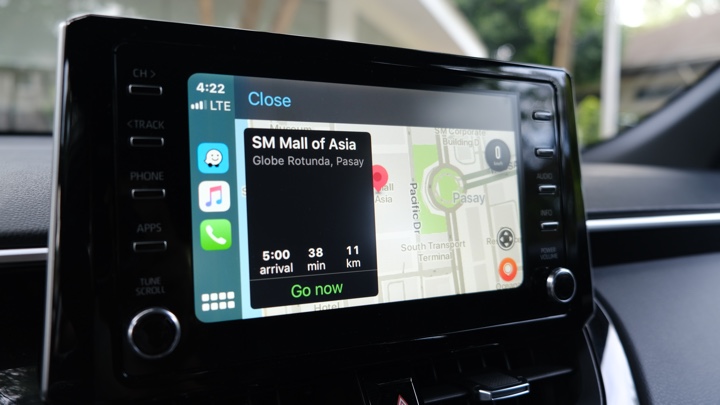 ADVERTISEMENT - CONTINUE READING BELOW ↓
I want to cry out to the rooftops: Apple CarPlay has come to the Corolla family. The Corolla hybrid sedan was almost perfect but it was marred (to my finicky tech tastes) by a jarring T-Link connection; using T-Link is like driving through the Laguna loop versus having an RFID sticker and breezing through SLEX. Thankfully Corolla Cross hybrid owners don't have to put up with that abomination, because CarPlay smartphone integration is as easy as drinking milk tea.
The Corolla Cross hybrid also gets the sedan's amazing Toyota Safety Sense suite. This means you get adaptive cruise control, pre-collision braking, lane tracing assist, and lane departure alert. When you combine adaptive cruise control and lane tracing assist, you already get a basic self-driving system. Activate it on a road with proper lane markings and the Corolla Cross hybrid will follow the speed of the car in front, and keep the car inside the lane by making steering adjustments. I let go of the tiller for a couple of seconds and the vehicle adjusts speed and direction by itself. It won't do this indefinitely, however; once it senses that you're not holding the wheel it will beep and remind you to hold on again.
ADVERTISEMENT - CONTINUE READING BELOW ↓
The Corolla Cross cabin is also noticeably roomier than the Corolla sedan's, but this was expected. The 60/40 foldable seats are also a nice touch.
Verdict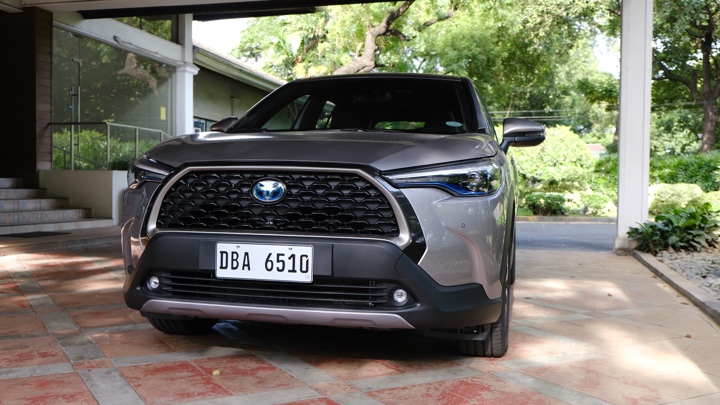 The world is slowly moving away from sedans, and Toyota seems to know this. Theoretically unconstrained by budget, I predict 99% of Filipino motorists would buy a Fortuner. It doesn't help that we keep getting hit by floods lately. Crossovers may not be as high as midsize SUVs, but more height is better when facing a flooded street.
ADVERTISEMENT - CONTINUE READING BELOW ↓
The Corolla name still resonates strongly with our market, but without evolution it might have gone the way of the Lancer. Toyota's up-chassis move has given a fabled nameplate a new lease on life. It also helps that the current Corolla sedan generation is one of the best yet. And based on my neighbor's curiosity, as well as the queries of family and friends, interest in the Corolla brand is high.
Your choices are quite slim if you want a Toyota crossover. Your only other choice is a RAV4, an excellent vehicle with a marvelous drivetrain, albeit saddled with an expensive SRP (darn taxes). With the Corolla Cross you get dashing looks, a pleasant ride, top-shelf safety tech, Apple CarPlay/Android Auto, and a smooth hybrid powerplant. If you're already drawn to it, just go with your instinct. You won't go wrong. 
SPECS: Toyota Corolla Cross 1.8V Hybrid 2023
Price: P1,665,000
Engine: 1.8-liter in-line four-cylinder + electric motor
Power: 120hp (total)
Torque: 142Nm @ 3,600rpm
Transmission: continuously variable
Drive layout: FWD
Seating: 5
Score: 18/20
ADVERTISEMENT - CONTINUE READING BELOW ↓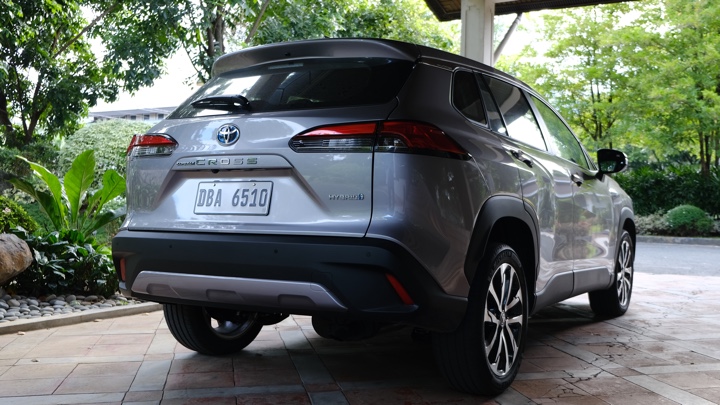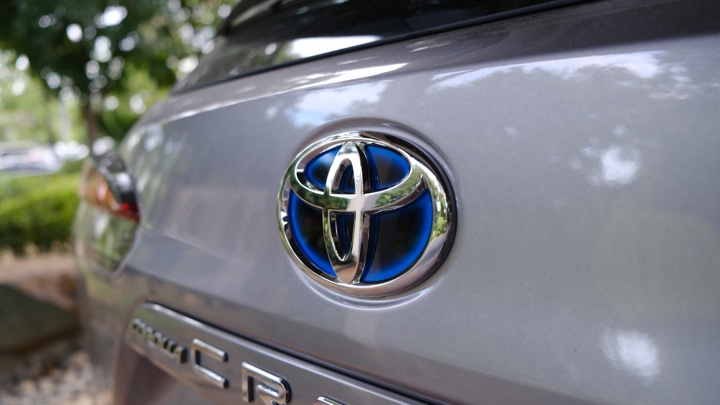 ADVERTISEMENT - CONTINUE READING BELOW ↓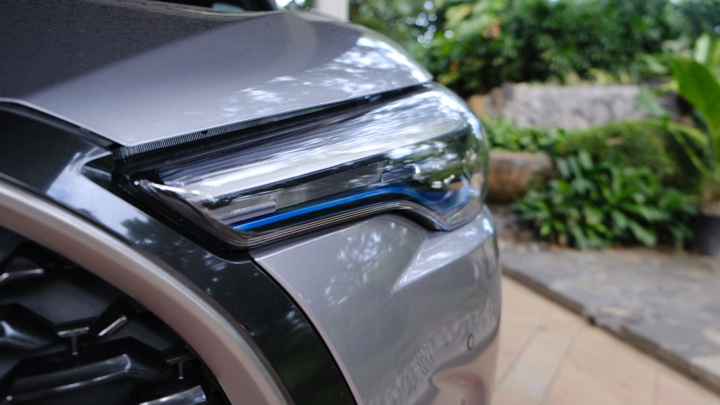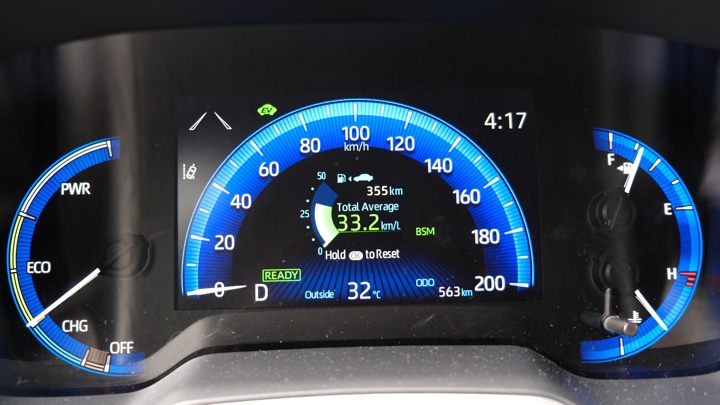 ADVERTISEMENT - CONTINUE READING BELOW ↓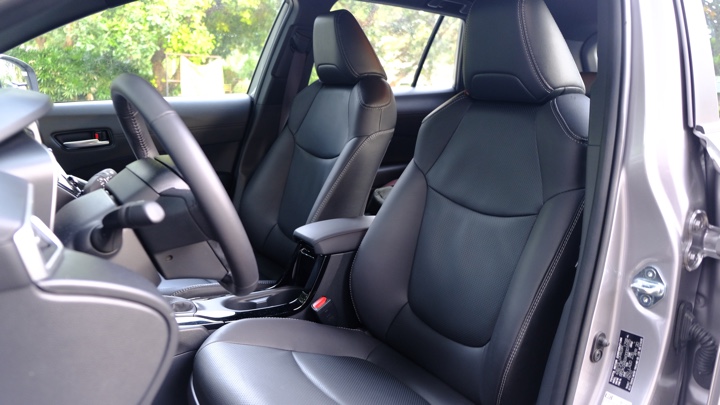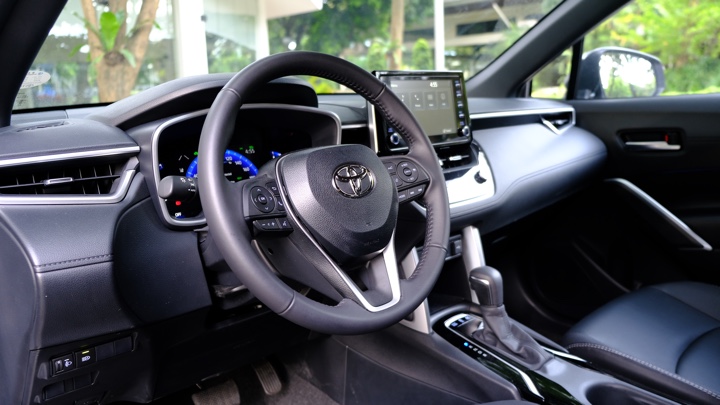 ADVERTISEMENT - CONTINUE READING BELOW ↓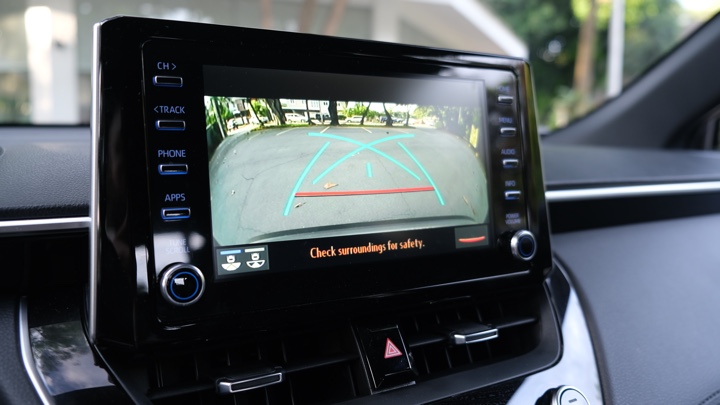 >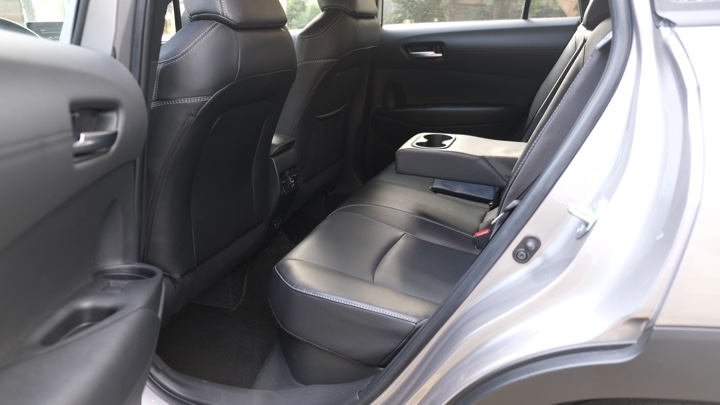 ADVERTISEMENT - CONTINUE READING BELOW ↓