BMWs have always had a certain mystique about them. Having called its offerings "The Ultimate Driving Machine" in the past, this German car brand has always prided itself in making cars that appealed to the gearhead in all of us—a fact not lost on me and executive editor Dinzo, as we constantly send each other screenshots of secondhand BMWs in our free time.
While the brand may be best known for its incredible luxury sports sedans, many don't realize that BMW is also one of the pioneers of the luxury SUV segment. Sure, it might not have been the first to launch one, but with the know-how from (then BMW-owned) Land Rover, it unleashed the original X5 in 1999—a model that set the benchmark for the class.
This new 2019 BMW X5, recently launched by businessman Ramon Ang's SMC Asia Car Distributors Corporation, has set its sights on being one of the best luxury vehicles money can buy. Can it live up to the legacy left by its forebears?
Styling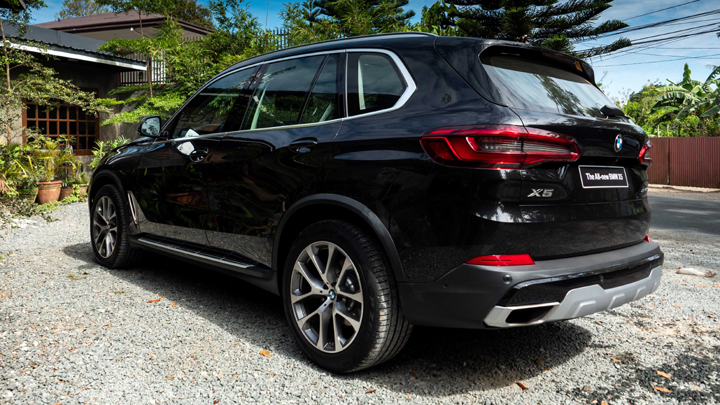 ADVERTISEMENT - CONTINUE READING BELOW ↓
The first thing that strikes you when you set your eyes upon the X5 is the sheer size of the car. Sure, it might only have two rows of seats, but the bulk of the German vehicle really drills home the point that cars have been getting bigger as years pass.
Its mass is the most imposing thing about it. The slabs of German metal are handsomely punctuated by sharp creases and muscular haunches that put the car on the "definitely masculine" side of the design fence. The signature kidney grille is definitely (and some say obnoxiously) on full display here. While some may be put off by its size, it works taken within the context of rest of the exterior.
The X5 is an extremely handsome SUV from the front and the sides. Unfortunately, the same can't be said of the rear, its weakest angle. It just seems a bit generic, especially compared to the great impression left by its other, more striking, angles.
Interior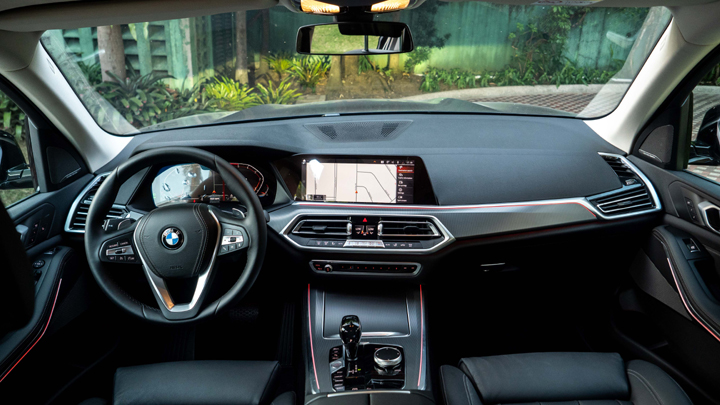 ADVERTISEMENT - CONTINUE READING BELOW ↓
Recommended Videos
As you step into the vehicle, your senses are immediately assaulted by a plethora of lights and screens. Tron-esque illumination sets the mood, while a large high-resolution screen takes the place of the instrument cluster. This is paired with a similarly massive, extremely sharp screen that sits atop the A/C vents.
Fit and finish is incredible, with nary a squeak or rattle anywhere in the massive cabin. High-quality leather and soft-touch materials adorn every single surface, and there's not a single piece of cheap plastic anywhere in the X5. Grip the chunky steering wheel and you will immediately feel the sporting DNA of the brand coursing through you. The seats are infinitely adjustable, with everything from lumbar support, upper back angle, headrest height, and even side bolstering all controlled electronically.
The car is as large on the inside as it is on the outside, with plenty of space for all passengers. Trunk space, as expected of a vehicle of this size, is more than adequate for a family's needs.
Engine performance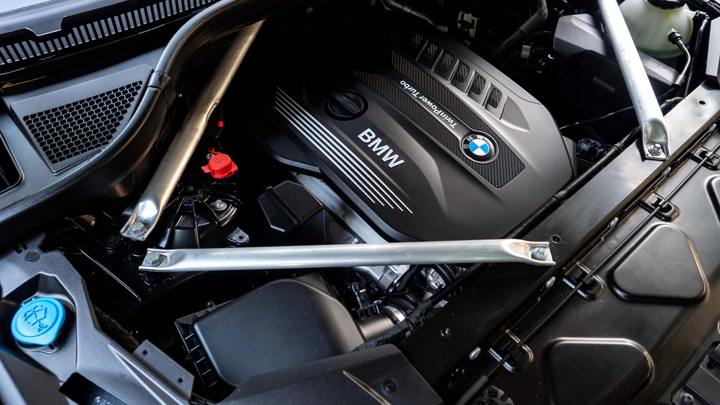 ADVERTISEMENT - CONTINUE READING BELOW ↓
While the X5 was with us, we took it up to Tagaytay and it was during this trip that we realized how special the 3.0-liter twin turbo in-line-six engine is. We were able to average around 8km/L in mixed conditions—an awesome figure when you realize that we had a staggering 620Nm of diesel power on tap.
Stomp on the throttle pedal and—while there is a slight hesitation as the engine builds boost—a sudden surge of power overwhelms your senses as the humongous X5 rockets from zero to about 100kph in a scarcely believable 6.5sec.
The eight-speed automatic is seamless in its shifts, and it will always know what gear to be in at the right time. Fully customizable driving modes allow you to individually set the engine response and shift speed to match your mood, whether this is "save the earth" economy or "change the earth's rotation" power.
Ride and handling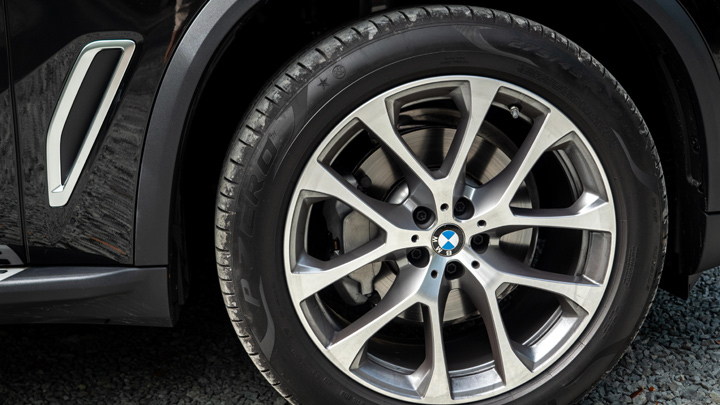 The X5 eschews air suspension for a steel coil-spring setup, but this may not necessarily be a bad thing. BMW Philippines president Spencer Yu told Top Gear Philippines that this is to ensure reliability over time, and we agree with him. You will always hear horror stories about BMW air suspensions—it seems like they were never designed for roads as bad as ours. Eventually and inevitably, they will break, necessitating an extremely costly repair job. (If you do need repairs for whatever reason that isn't your fault, BMW PH is giving the new X5 a five-year, 200,000km warranty.)
Thankfully, we didn't find ourselves missing that high-tech, fragile setup. The coil-spring suspension is tuned beautifully, with the X5 remaining planted even while hitting potholes under load in corners. And thanks to its clever xDrive all-wheel-drive system, the SUV feels nimble and corners well despite its weight. It remains the benchmark for an SUV that drives, handles, and feels like a much smaller car.
Extra features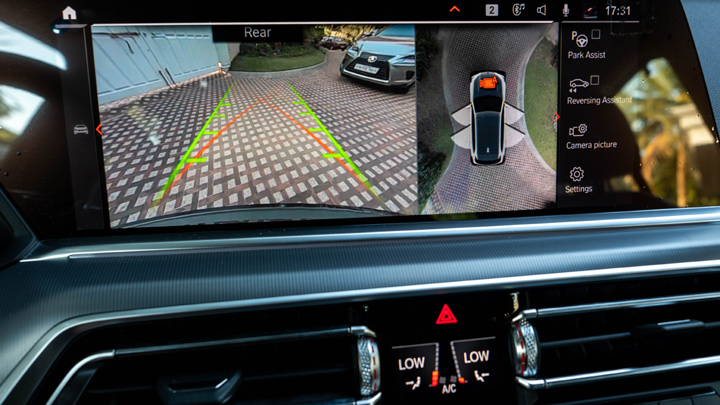 ADVERTISEMENT - CONTINUE READING BELOW ↓
People don't really think of BMW as a brand that specializes in technology, but that is exactly why this car is such a game changer. This newest generation of iDrive, dubbed the Live Cockpit Professional, is astonishing.
Input can be done either by an updated iDrive controller (with handwriting recognition on the dial), hand gestures, or by voice. However, we would stick with the first one as the voice recognition of the X5 leaves much to be desired, and the hand gestures, cool as they may be, are a bit gimmicky.
It may take a while to orient yourself with all the features of the car, but show off the 3D camera to your passengers and watch as they pick their jaws off of the floor while the on-screen image makes it seem like a drone is flying around the vehicle.
The car is capable of parallel-parking itself, and even has a neat feature where it can track your steering inputs for up to 50 meters, just in case you need to reverse out of a tight one-way road. The X5's signature split-tailgate is completely automatic and can be activated by a kick under the bumper in case your hands are full (and unlike with other brands, this one works great).
The biggest omission in the software department is that of Apple CarPlay and Android Auto. Their absence leaves a rectangle-shaped hole in this techie's heart. Thankfully, this is offset by built-in navigation that is updated with current Philippine maps (even if sometimes, the route chosen is laughably wrong).
Verdict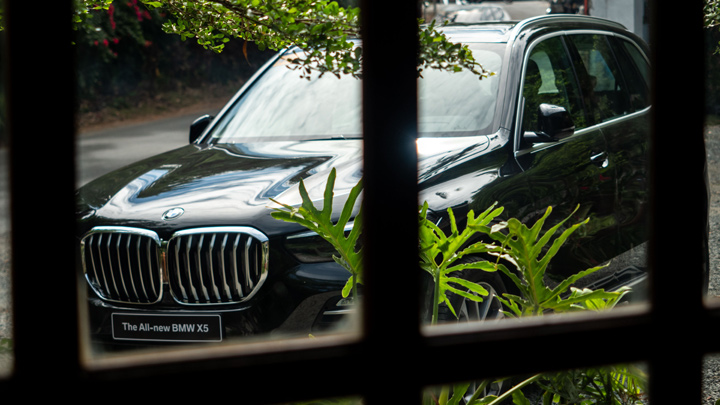 BMW PH should be proud of what it has been able to achieve at this price point. Sure, P5.99 million might sound like a lot for a car, but when you see just how much you get for the money in terms of technology and performance—especially compared to its rivals—you start to realize that this just might be a steal. 
Dinzo should expect to see more screenshots of BMW X5s from me in the future, as this is definitely a car worth lusting after.
SPECS: BMW X5 xDrive30d xLine
Price: P5,990,000
Engine: 3.0-liter twin-turbodiesel I6
Power: 261hp @ 4,000rpm
Torque: 620Nm @ 2,000-2,500rpm
Transmission: 8-speed automatic
Drive layout: AWD
Seating: 5
Score: 19/20
BMW X5 2019