Rewind: It's 2011, and Top Gear—back then still in its pre-Matt LeBlanc era—is busy getting dust in their eyes in the desert, when one of the presenters bloodies himself after a towing mishap. For a brief moment, the tracking car springs into action and reveals itself to the camera.
It's a Land Rover Discovery. That production chose this Brit to back it up in such an inhospitable environment is a testament to the nameplate's utility.
So yeah, the vehicle we're here with today has somewhat of a reputation to maintain—even if it does have 'Sport' attached to it, and packs a 2.0-liter turbo instead of a V8.
Admittedly, the example above isn't exactly the fairest point of comparison, but we're driving up to Tagaytay, not traversing the worst the Middle East has to throw at us.
Besides, versatility's been one of the primary selling points for the Disco for as far back as we can remember, regardless of powertrain. So, can this right-sized Rover deliver?
Styling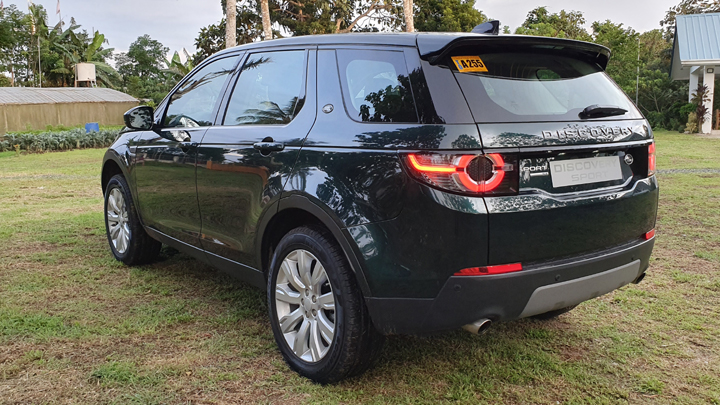 Continue reading below ↓
Recommended Videos
The Discovery Sport is much more compact than its rugged SUV looks will lead you to believe from a distance, so much so that it'll comfortably fit inside a two-car garage next to a midsize counterpart. And remember, this is a car that can fit up to seven individuals (more on this later).
Design cues like massive 19-inch alloy wheels and a dominating front end featuring large swept-back headlights convey a sense of machismo, while sleeker bits such as an elongated hood and a swept-back roofline give the vehicle a sporty appearance.
I particularly like the lighting units on this one. Nothing screams flashy like LEDs that pop out. Overall, the Discovery Sport's design is equal parts playful, equal parts professional.
Interior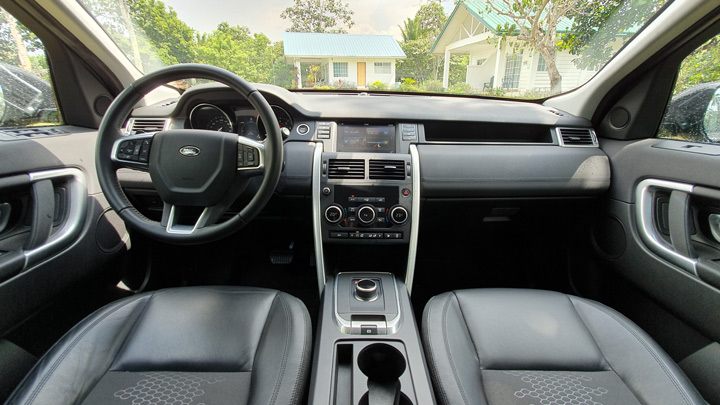 Lots of utility here. There's a good amount of space inside, save for the third row and its two seats. The rearmost section, to be frank, isn't the nicest place to be in because of its spartan surroundings. But the option to seat up to seven individuals is there—a convenience not many cars in this segment and price range can boast.
You have several seating configurations to choose from. Keep the third-row seats folded down flat and you can carry as much as 1,124 liters of cargo. Go for a three-seat layout and you can haul up to 1,411 liters. Fold down all the seats and you're looking at 1,698 liters.
There's a mix of soft materials and hard plastic surfaces. This, combined with plenty of hard lines, no-frills dashboard elements, and an ergonomic layout with simple controls, gives off a feel that leans on tactical. It's a well-rounded cabin, though noticeably not as polished as that found in similarly priced German counterparts. Props to the sizeable leather steering wheel, which feels great to hold.
There's not much to complain about, save for an odd squeak every now and then, and some hollow plastic components on the door panels and the center console (something unexpected in a vehicle that costs well over P4 million).
Engine performance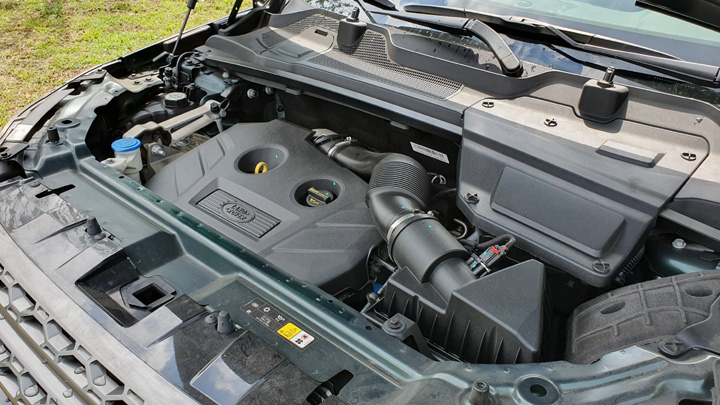 The Land Rover Discovery Sport 2.0 SE's 2.0-liter turbocharged gasoline engine is quite something...if your wallet can keep up with its thirst. We averaged about 5.5km/L in mixed city and expressway driving. But chances are that if you're seriously looking into owning this SUV, you can afford the fuel expenses.
It churns out 237hp and a maximum 340Nm of torque at 1,250rpm, and comes mated to a nine-speed automatic transmission.  The numbers are more than enough to tackle almost any incline or overtaking situation you throw at it, and allow you to go right up to a claimed top speed of 200kph.
It's easy to get this SUV going, and the throttle feels great—you're never under the impression that it'll run out on you, though admittedly, we're not even attempting to go for Land Rover's claimed limit. Pop the shifter dial into Sport and make use of the paddle shifters for longer revs and a more engaging drive.
Ride and handling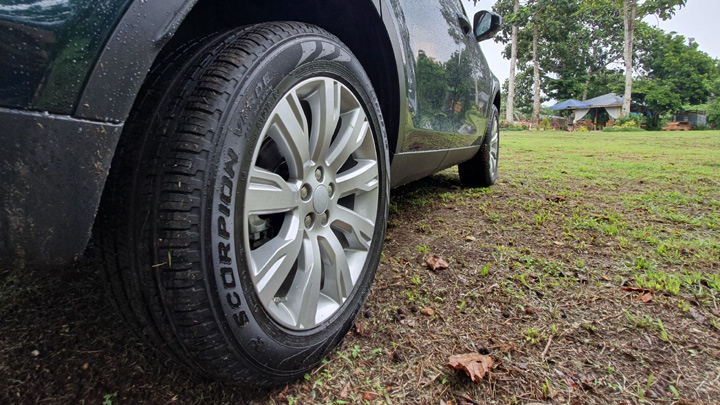 The star of the show is how stable this car feels all throughout. It handles incredibly well for its size and feels planted through wider turns at speed. Don't mistake this vehicle for a crossover and throw it around corners, though. The suspension feels great, too, and the Discovery Sport rolls over most potholes and bumps without incident (despite its large wheels).
Steering is light, but it begins to feel nicely weighted on the highway. This is an easy car to drive and it handles as if it's smaller than its actual size, but keep an eye out for obstacles as the doorline will feel pretty high up for shorter drivers.
Extra features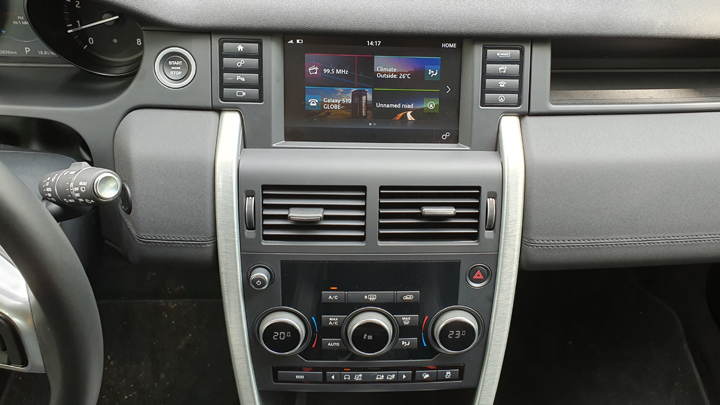 Probably the only real complaint I have about this car is its entertainment system. There's an eight-inch infotainment screen with voice control and Bluetooth capability, but it simply will not maintain a connection with my Android phone for more than a couple of minutes.
Headlights and wipers are automated, and it comes with knee, side curtain, driver and front passenger, and second-row airbags, cruise control, a speed limiter, and even a tire-pressure monitoring system. Other bits include a rearview camera, power front seats, and global opening and closing of all four windows.
Verdict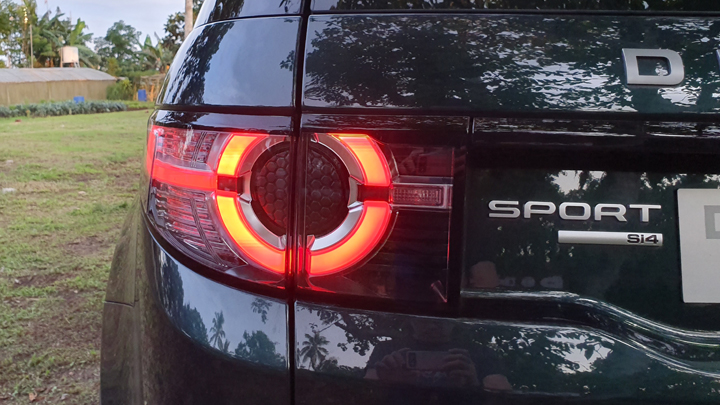 Good driving dynamics, a comfortable ride, a flexible interior, and an impressive albeit thirsty powertrain will effectively make up for issues we have regarding some interior materials and a less-than-impressive infotainment setup. The Discovery Sport also comes with the standard safety and convenience bits you'd expect from a vehicle carrying this price tag.
SPECS: Land Rover Discovery Sport 2.0 SE
Price: P4,390,000
Engine: 2.0-liter turbocharged gasoline
Power: 237hp @
Torque: 340Nm @ 1,250rpm
Transmission: 9-speed automatic
Drive layout: FWD
Seating: 5+2
Score: 17/20
Land Rover Discovery Sport 2.0 SE 2019