Google. Facebook. Amazon. One of the most fascinating things about the digital world in which we now live is that the tech titans that dominate it seemingly came out of nowhere, and not that long ago, either. The old order got scrambled, fast.
Legacy automotive is doing its best as the electric revolution gathers serious momentum, but from the land of Tesla—Nikola that is, not Elon Musk's outfit—comes a company whose new car turns everything you thought you knew about hypercars on its head. Should you still be clinging to the notion that EVs are somehow missing something, prepare to be converted. Forever.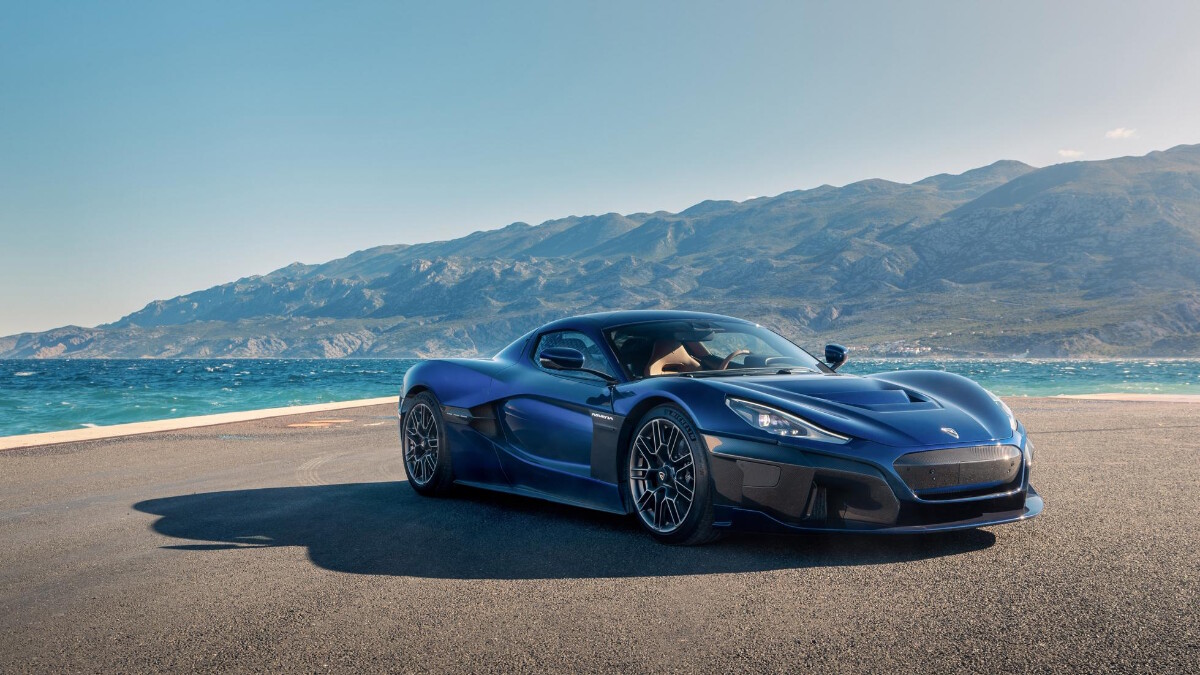 You'll have heard of Croatian upstart Rimac, of course, and if you read Top Gear regularly you'll be acquainted with the company's CEO and founder, Mate Rimac. As with the likes of Steve Jobs, Mark Zuckerberg, Jeff Bezos, and yer man Musk, a certain cult of personality has grown up around Mate, partly because the Internet likes that sort of thing, but mainly down to the fact that he has a brain the size of a planet and doesn't stop until the ideas pinging around his head are made real.
ADVERTISEMENT - CONTINUE READING BELOW ↓
In this case, the new Nevera, formerly known as the C_Two: a machine that aims for the stratosphere despite hailing from a country with precisely zero indigenous car industry and a population of four million.
Let's just run through the headline facts. Naming a car is always tricky and Nevera doesn't entirely work in the English language, but a nevera is an electrically charged storm that whips up unexpectedly off the Mediterranean and can pummel the Croatian coast at speeds of up to 250kph. Appropriate, then, if somewhat more leisurely than its new four-wheeled namesake.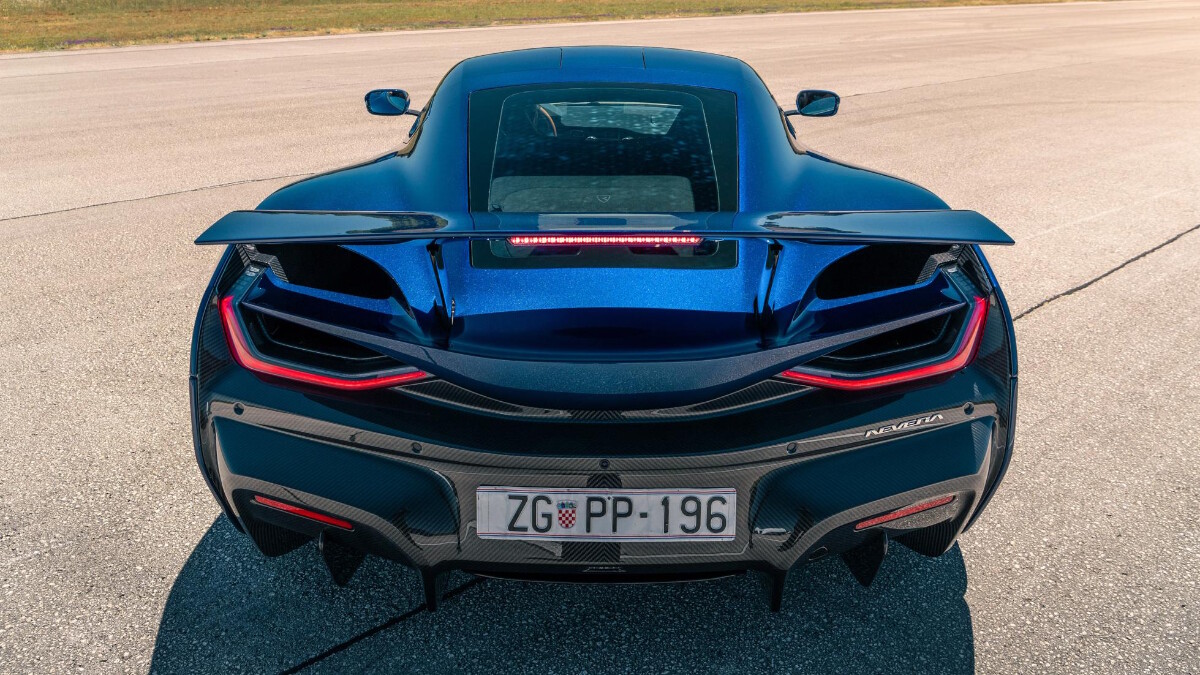 The car's architecture encompasses a 6,960-cell, 120kWh lithium/manganese/nickel battery pack in an H-shape along the spine and behind the cockpit. There are four surface-mounted permanent magnet motors driving each wheel individually, the most advanced torque vectoring ever achieved and a power output equivalent to 1,914hp and 2,356Nm of torque. (If it sounds similar to the Pininfarina Battista's setup, that's because it is—Rimac supplies Pininfarina, among others, including Aston Martin, Ferrari, Hyundai, Koenigsegg, and Porsche.)
A pair of single-speed gearboxes are connected to the front and rear wheels. The Nevera has a range of 547km WLTP, and hooked up to a 500 kW charger, it takes 19 minutes to go from zero to an 80% state of charge.
Top speed is said to be 415kph, but Rimac's chief test driver Miro Zrncevic admits to us that despite a highly rigorous test program, they haven't quite gotten there yet. What we do know is that it accelerates to 60mph (97kph) in 1.85sec and 100mph (160kph) in 4.3sec, and it demolishes the quarter-mile from a standing start in 8.6sec. Oh, and 300kph is dusted in 9.3sec, which makes the Nevera marginally faster than a contemporary Formula 1 car. Consider that it weighs 2,150kg and you get some idea how utterly nuts the physics are here. It also makes you wonder how on earth that mass can be properly constrained, but we'll come to that shortly.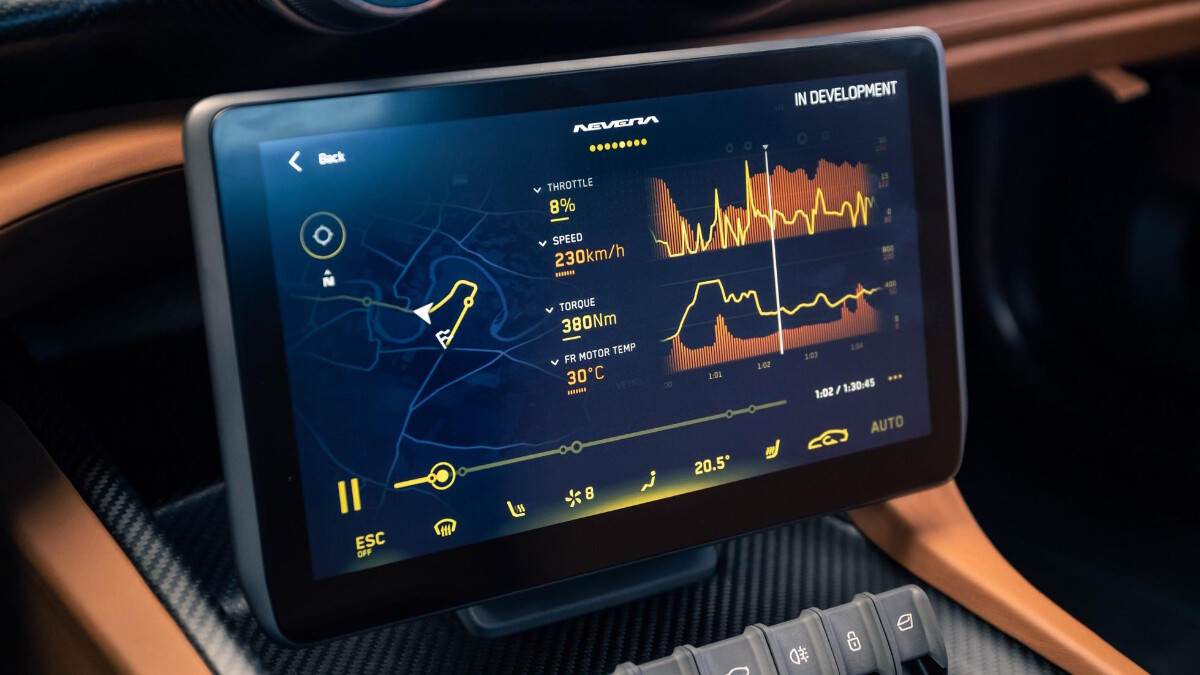 ADVERTISEMENT - CONTINUE READING BELOW ↓
Rimac plans to make 150 units with prices starting from £1.7 million (P115 million). This is pretty punchy stuff from a guy whose first family home didn't have running water or mains electricity, and whose initial foray into the business came when he fitted an EV powertrain into a rather shaggy E30 BMW 3-series. That was in 2008. When I interviewed him in early 2019, Rimac had 500 employees. Now there are 1,000, and the foundations will shortly be laid on a new 200,000sqm campus on the outskirts of Zagreb. It will house 2,500 staff, with as much emphasis on education and healthcare as technology.
Rimac's knowledge of batteries, inverters, and e-motors is so advanced that the company develops and engineers virtually everything itself. It's also because Mate Rimac is outpacing everyone else. Clearly, this is where the big play is and what's attracting the investors. Yet he is adamant that the Nevera isn't just a pretty showcase for the company's expertise. He's absolutely committed to creating a hypercar that can take the fight to all the established big guns in quality and execution as well as performance, and a big chunk of his new HQ is devoted to Nevera manufacture.
And while there's a certain familiarity to the Nevera's form language, this ain't no piece of exotic vaporware. Given the car's vast performance potential, the shape is largely dictated by aerodynamic and cooling requirements, although it does still feature Rimac's signature 'cravat' motif ahead of the rear wheel arch.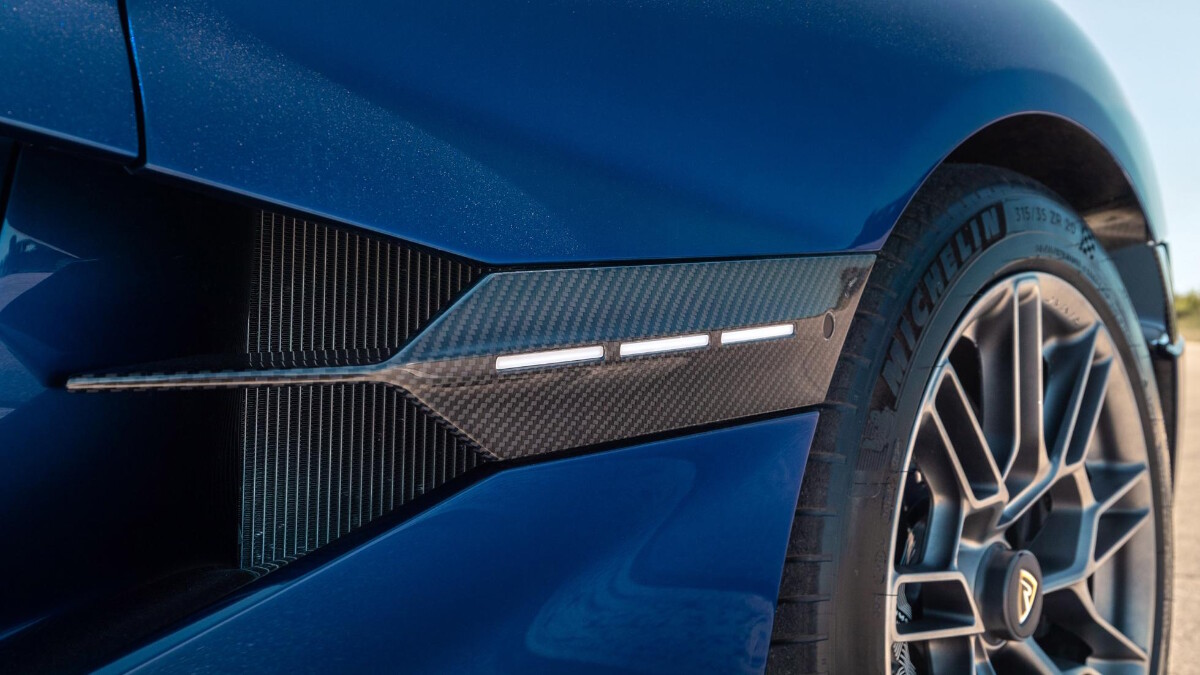 "The neck-tie has provided a symbol of Croatian strength and identity since the 17th century," says the company's design director, Adriano Mudri, although like everything it's also functional—in this case acting as an air intake for the rear cooling systems. The Nevera's body—diffusers, intakes, splitters, and radiators—have been worked over tirelessly by an army of CFD experts to deliver a 34% improvement in aero efficiency compared with early prototypes. The front hood profile, the underbody flap, the rear diffuser, and the rear wing can each move independently, and switching from a low-drag mode to a high-downforce setting has a profound effect: The latter increases downforce by 326%.
Packaging all those batteries is no mean feat, so props to all involved for delivering such an elegant looking car. Rimac wanted something that was easy to use, with a decent H-point and above average-for-a-supercar-visibility.
ADVERTISEMENT - CONTINUE READING BELOW ↓
Job done: The butterfly doors eat into the roof in a Ford GT-like manner, and you don't need to be a Soviet gymnast or a yoga master to get in and out. The view ahead is clear, the car is easy to place on the road, rear visibility is not bad. And when you pull those doors shut, they close with the resounding finality of a cell door in a Belarussian detention center. Watch the Nevera on the move and the more you appreciate the nuances of its shape.
On the road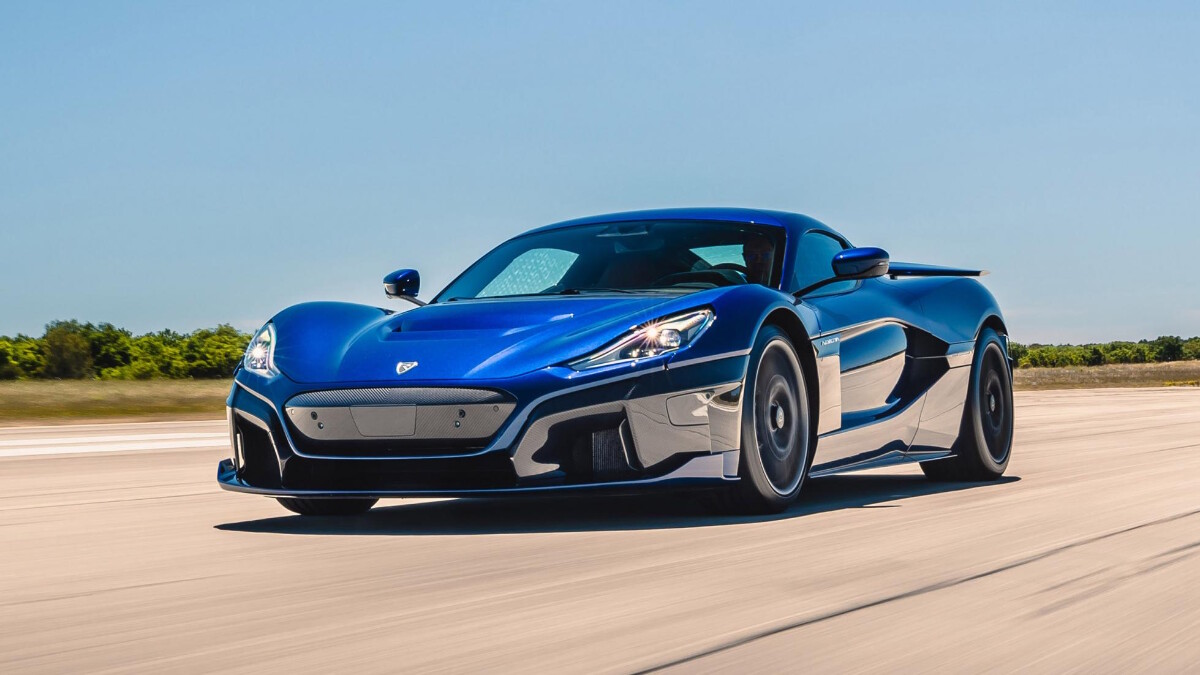 Let's just explode a myth here: Fast cars aren't all about simply going fast. If that was the secret, the Rimac Nevera would be in at number one with a bullet on what old folks used to call the hit parade. But we're just as interested in the how, why, and what happens along the way as we are in the end result.
Except that the Nevera really is astonishingly fast. Fast in a way that's tricky to put into words, either while you're sitting in it trying to process what the hell is happening to your mind, body, and soul when you nail the throttle, or a few days later writing about it. Fast in a way that doesn't just squeeze the air from your lungs—it sends your eyeballs hurtling into the back of their sockets.
Sub-3sec to 100kph is the sort of fast that some people find rather discombobulating. Sub-2sec would simply make the uninitiated weep. The Nevera is a highly emotional experience. It lays waste to the current hypercar hegemony.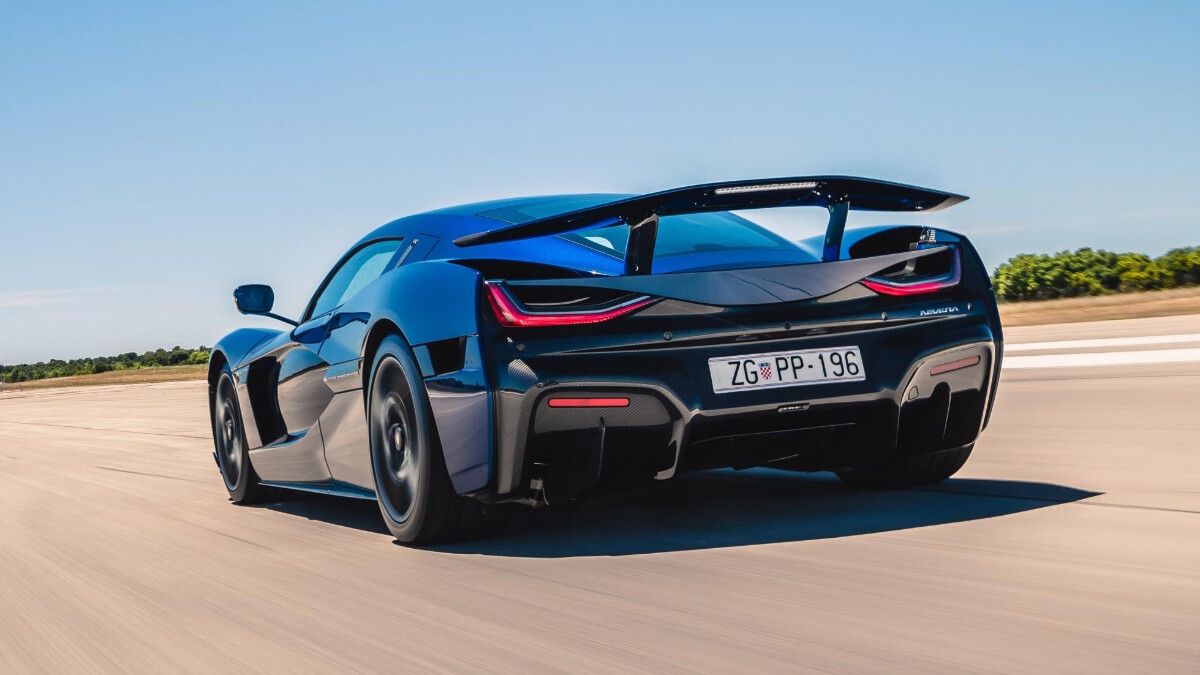 Our drive culminated in a drag race at a small airport somewhere in Croatia, a runway being the only possible location to experience the sort of violent thrust the Nevera is capable of. Actually doing a launch start is dead easy: Select Track mode on the dash mounted—and beautifully made—rotary controller nearest your right hand, hold your foot on the brake pedal for a few seconds, then release and stand on the accelerator pedal.
ADVERTISEMENT - CONTINUE READING BELOW ↓
The next 10 or 15 seconds are simply vaporized. Time ceases to exist. It's like a science experiment. Or perhaps a magic trick. Whatever it is, I have to do it twice just to be sure. Then a third time to double-check that what happened the first two times were for real.
The Nevera uses 77 separate ECUs, and millions of lines of code are hustled around its body—mainframe?—in less time than you can think. I really have no idea how it all works. But what I can confirm is that off the runway and on ordinary roads, the Nevera is equally convincing.
This is obviously important. Drive it in one of its less aggressive modes and it does a very reasonable impression of, say, a Bentley Continental GT. It's suspended on double-wishbones all around with electronically controlled dampers and active ride height, so it's tolerably comfortable at everyday speeds, if occasionally crashy over sudden surface imperfections and potholes.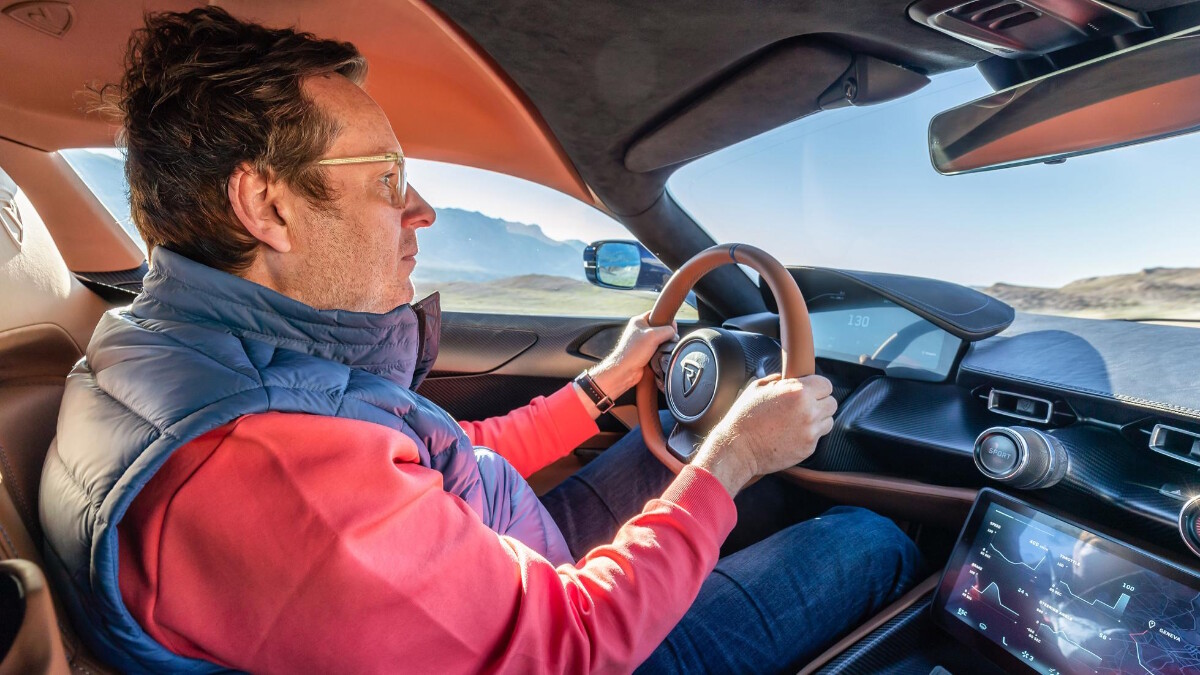 The fully-electric steering is pretty well-calibrated and allows you to pour the car in and out of corners with one linear motion. It's not overflowing with natural feel, but then, this is a dark art these days. There are seven different drive modes, Sport being the optimum if you're after the most engaging everyday drive, by way of sharpened throttle, brakes, suspension, and steering.
Range is obviously more parsimonious with the energy, Track turns everything up to 11, Custom allows you to mix and match, while Drift basically sends all the torque to the rear axle if you want to kiss goodbye your Michelin Pilot Sports. (I try that on the runway, too, and it's proof that someone at Rimac, probably Mate himself, has a strong sense of humor, but also that his software guys are mindbogglingly clever. The thing just dances.)
The secret sauce here, of course, is the torque vectoring, a fiendishly complex setup that effectively turns the Nevera into five cars in one. This sort of approach could risk a form of schizophrenia, but the result here is a remarkable bandwidth. It's called Rimac All-Wheel Torque Vectoring (R-AWTV 2) and it effectively supplants regular ESP and traction control systems, working predictively and responsively to make 100 calculations per second.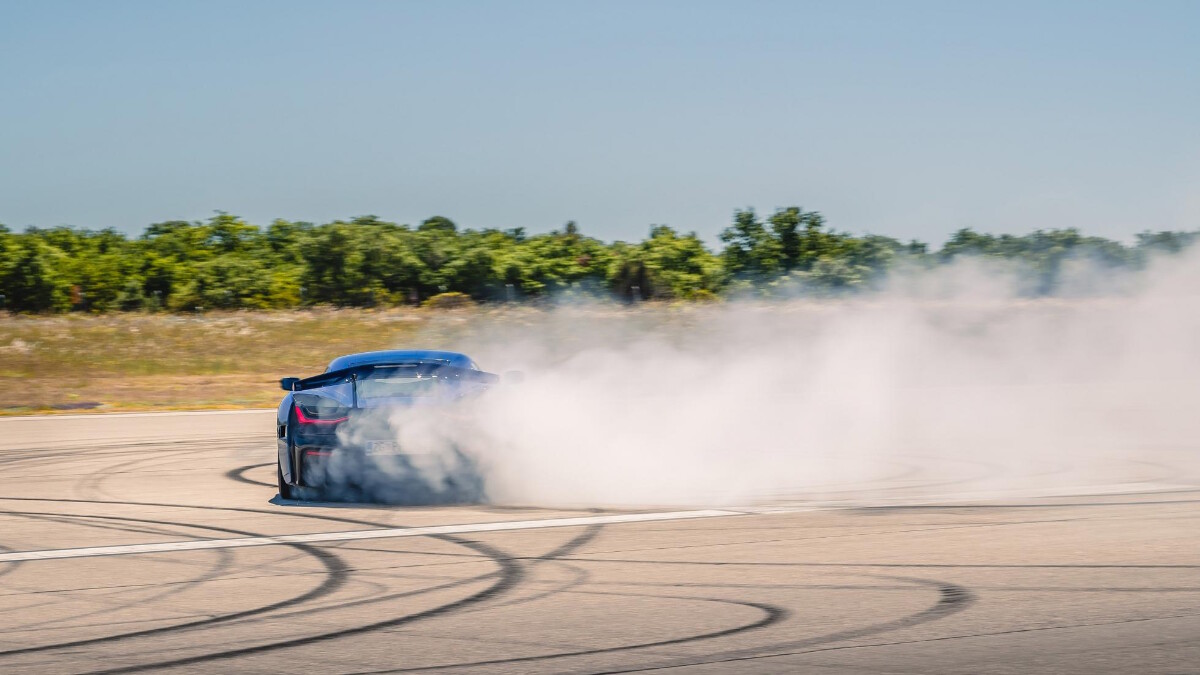 ADVERTISEMENT - CONTINUE READING BELOW ↓
On a twisty mountain road, the Nevera basically summons up the sort of wieldiness you'd find in, say, the Porsche 911 Turbo, but it punches out of a corner with the ferocity of something that has three times the Porsche's horsepower (which it has). This hurricane force isn't a surprise, but the agility, poise, and handling smarts are. It feels, oh, half a ton lighter than it is, like a car with a low center of gravity and optimum weight distribution (the battery pack weighs 700kg).
Miro Zrncevic and his team are still finessing the braking, but it's clever stuff: An electrohydraulic brake booster with a pedal-feel simulator distributes braking force between the old-school friction brakes—390mm Brembo carbon-ceramics front and rear—and the electric powertrain, depending on which is thermally optimal at that given moment. Another magic trick. Perhaps unsurprisingly, the Nevera offers the highest amount of regenerative braking of any EV currently on sale. It also means you can hustle along a twisty road in one-pedal mode, though the faster you go, the bigger the leap of faith. There's clearly still work to be done here blending the friction stoppers with the regen, but it's not far off.
Then there's the Nevera's chassis, made entirely of carbon fiber—bonded roof, integrated battery housing, and rear subframe—which gives it the torsional rigidity of an LMP car. In fact, Rimac claims it's the most rigid road car ever made, and at 70,000 Nm/degree (approximately twice as stiff as the far-from-floppy and still-brilliant Lamborghini Aventador), we wouldn't dispute that.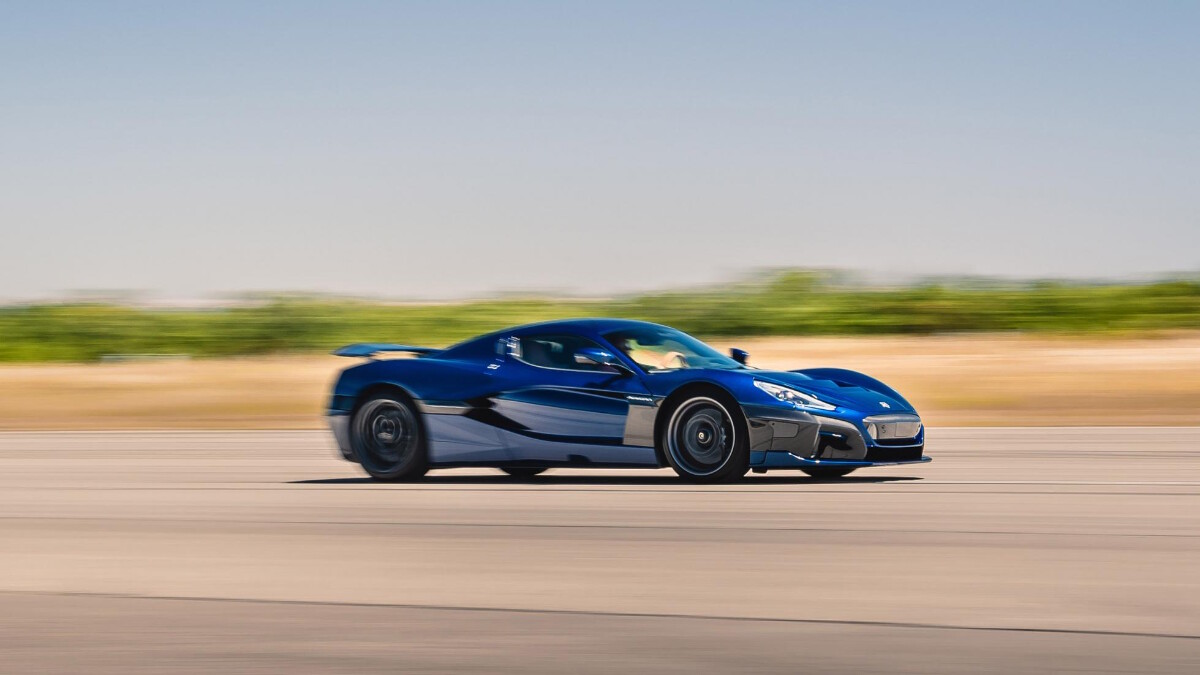 There's the odd creak and groan as a result—carbon fiber can generate unusual acoustic anomalies—but mostly you're just aware of how phenomenally well-made and effective the Nevera is. Yes, the urge is there to reach for paddle shifters, and the nature of the powertrain invariably removes a layer of interaction. It doesn't sizzle like a V12. But as you can imagine, the availability of almost 2,000 expertly calibrated horsepower makes up for that. And actually, it sounds really good, an authentic mix of whoosh, whir, and sci-fi. Not so far from a Chiron, then.
Problems? The drive selector, another rotary selector sited to the left of the steering wheel, can be a little slow to respond as you move from P to D. They're working on it. The driver's seat and the central storage binnacle creak, so maybe alcantara would be better than leather. The fact is that the Nevera's structure is so stiff, they're still chasing NVH ghosts in the machine.
ADVERTISEMENT - CONTINUE READING BELOW ↓
On the inside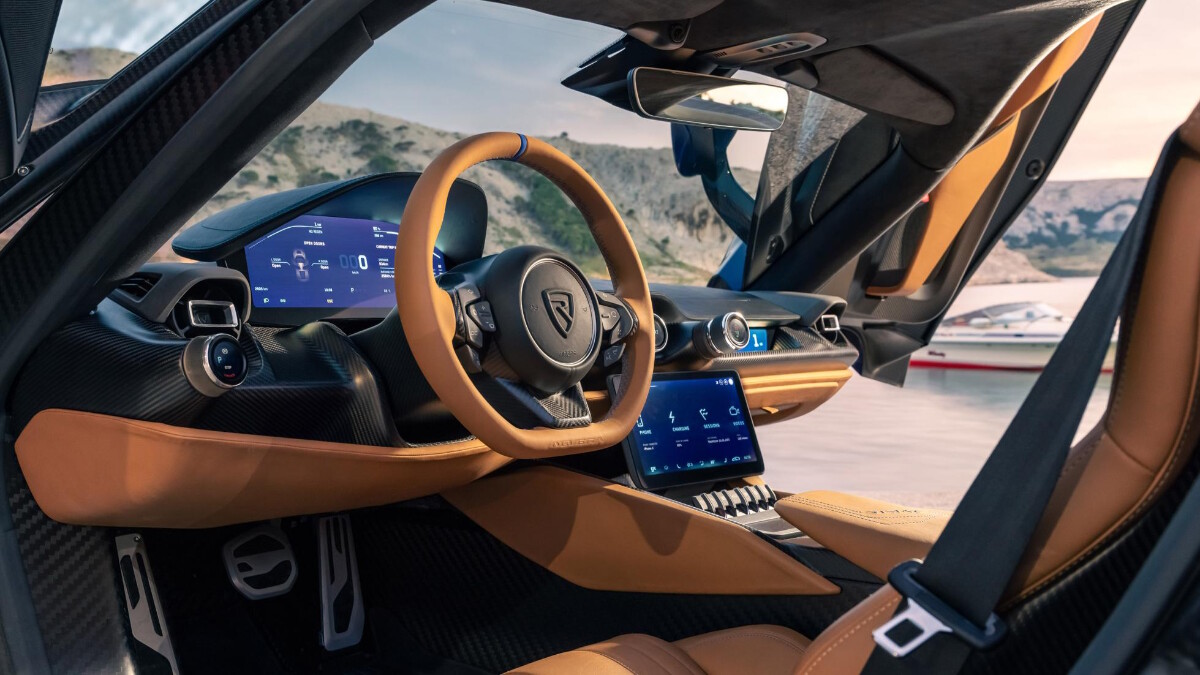 Rimac has nailed this part, too. Well, mostly. Once again, almost everything is proprietary, from the main infotainment system and all its software to the interior door handles, switchgear, and air vents. These are all made from billet aluminum and look great. The steering wheel feels good in your hands and locates the indicators on buttons in Ferrari fashion. There are no column stalks in here.
There are three high-definition TFT screens, running bespoke software and graphics. The main one is configurable, displaying all the info you need plus some stuff you probably don't but is fun to have: There's a real-time torque display, which shows how much each wheel is coping with, a g-meter, and various other readouts that are difficult to process on the move.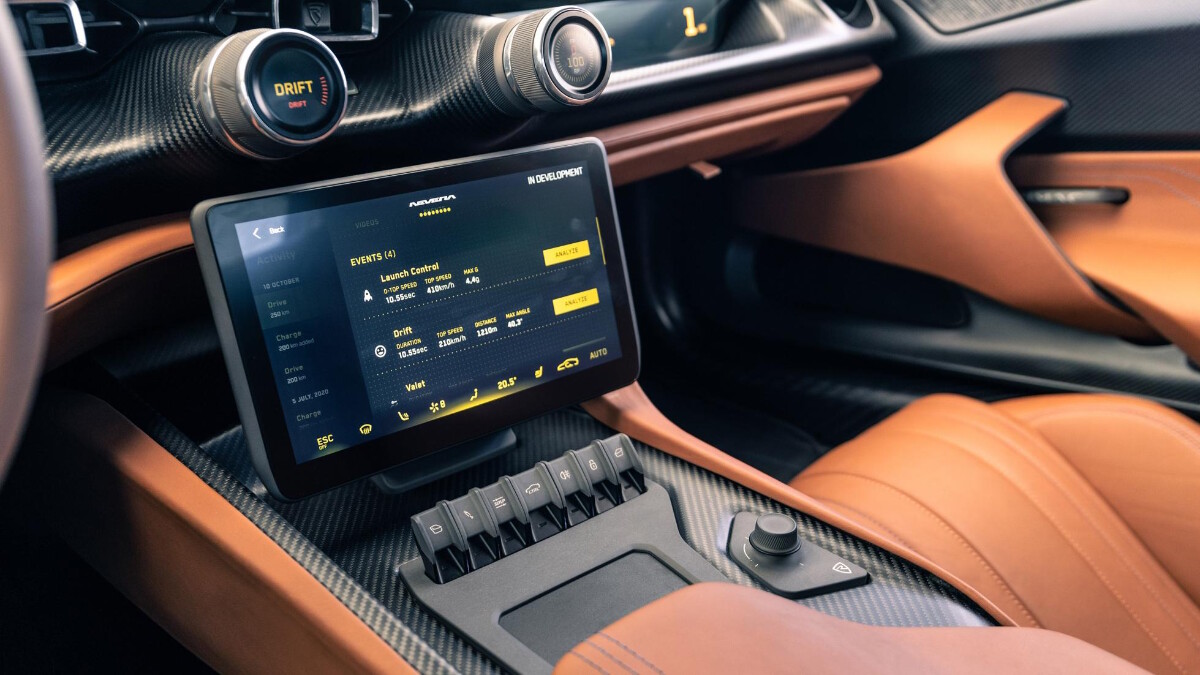 The central screen handles infotainment, phone, navigation, and climate control (the HVAC is the only borrowed component, and comes from the Audi R8), but it's also where you go to adjust the seats. We'd prefer to have manual adjustment.
Mate Rimac is a self-confessed data fiend, so the central screen is also home to the Nevera's telemetry, which can be downloaded to a laptop or smartphone for review. He does this at the runway, then gleefully tells me where I was accelerating most vigorously, what mode I was in, and how much power I used: 1,580hp, apparently.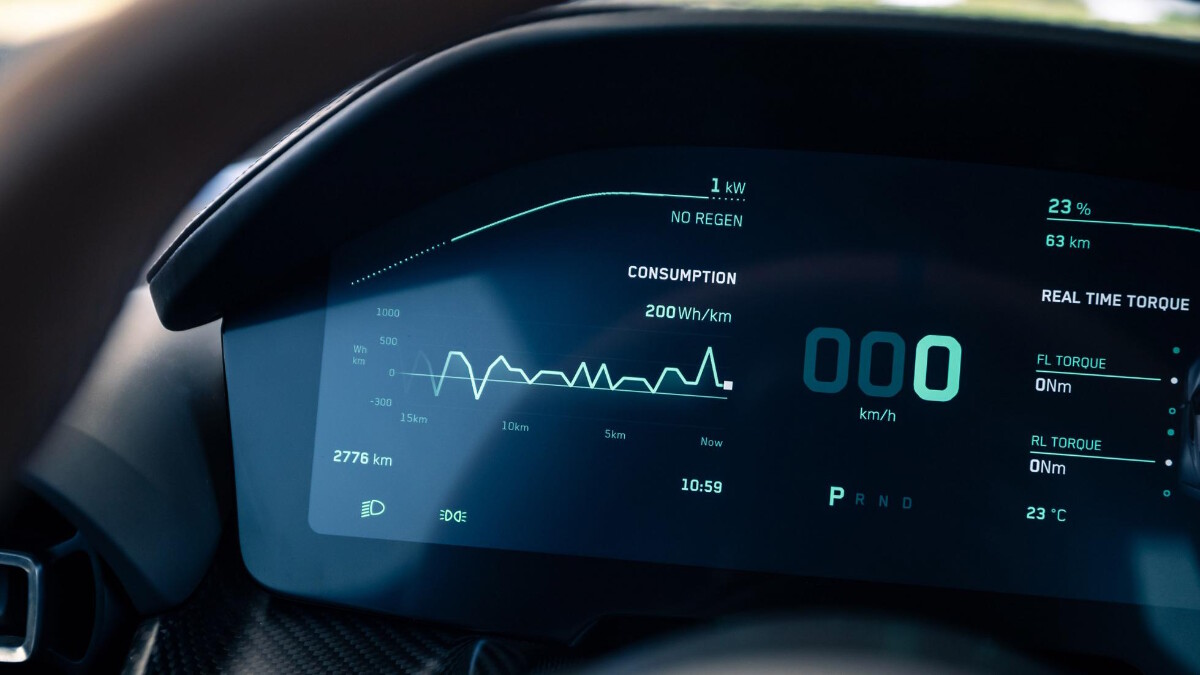 ADVERTISEMENT - CONTINUE READING BELOW ↓
Rimac has developed its own M2M data system to allow owners to analyze driving performance, metrics, and map previews on all the usual platforms, and there will be over-the-air updates as and when. On top of all this, there's also an AI driver coach, which uses the car's 12 ultrasonic sensors, 13 cameras, and six radar hooked up to the latest NVIDIA Pegasus operating system to overlay race circuits in real-time to allow drivers to work on the perfect line, and braking and acceleration points. It's a Rimac spin on the car's level-four autonomy capability. I doubt there's a more connected hypercar than this.
But it also has its analog moments. The main drive controller is in billet aluminium, as is the drive mode selector and a third that allows you to adjust the torque load and distribution. Mate says he isn't happy with their haptics and the action is still a bit clonky. This is a pre-production car, of course, but I'd still take analog clunkiness over the pervading touchscreen tyranny any day.
Final thoughts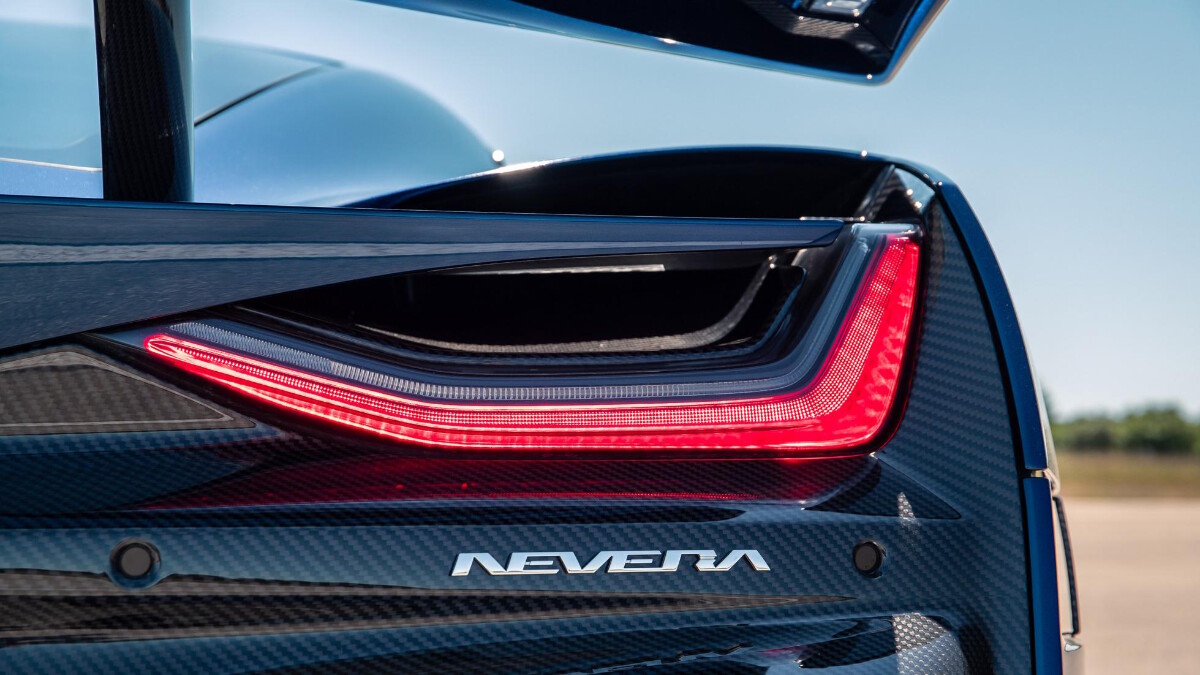 There's a lot to unpack here. This is the first true pure-electric hypercar to land, and there's definitely a pioneering feel to the Rimac Nevera. This thing's quarter-mile time blitzes the Bugatti Chiron Sport's, and its pace everywhere is intergalactic. But the most powerful ICE cars generate huge character, and it's their engines and the noise they make that tend to linger longest in the memory. Even the highest of high-performance can become...one-dimensional.
But we're happy to report that the Nevera engages on multiple levels, and transcends the idea that its primary focus is ones, zeroes, and algorithms. It feels like a car that's been engineered and developed by people who aren't just way ahead of the technological and software curve—they have an innate feeling for the hardware, too.
Put all the elements together and you have a car that isn't just hugely entertaining, it also feels like a genuine milestone. Think of Rimac as a sort of techno Pagani, with as much focus on artistry as artificial intelligence. And remember that the company has a whole load of other stuff going on, too. What a trajectory these guys are on.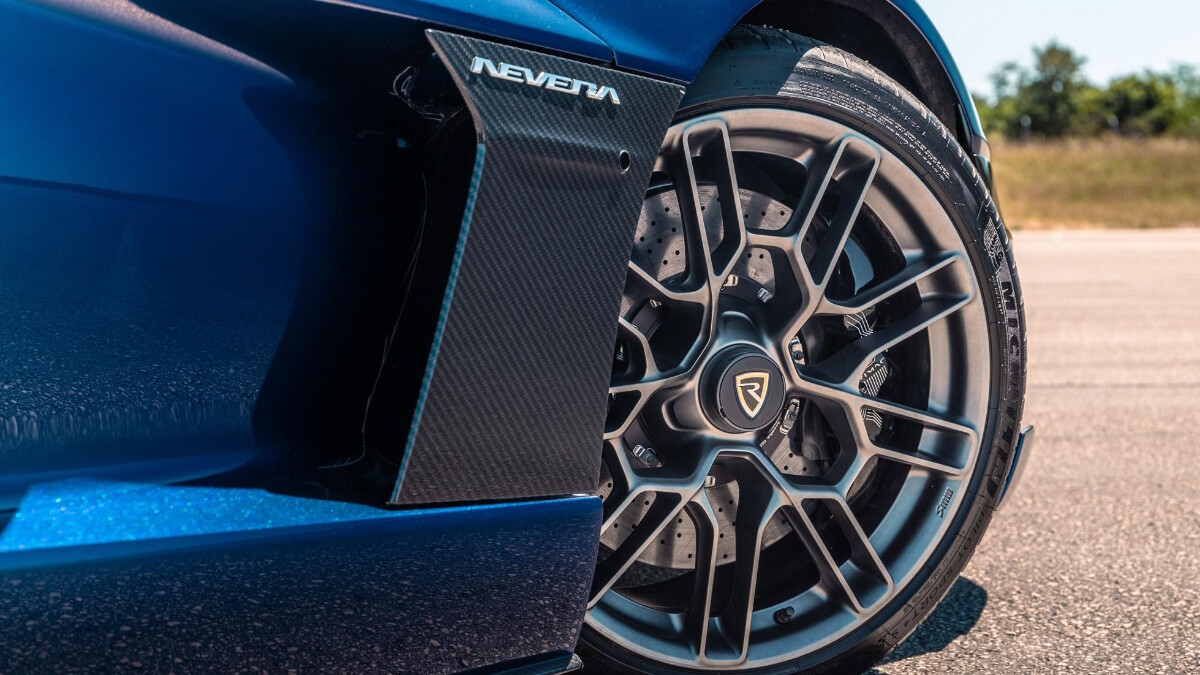 ADVERTISEMENT - CONTINUE READING BELOW ↓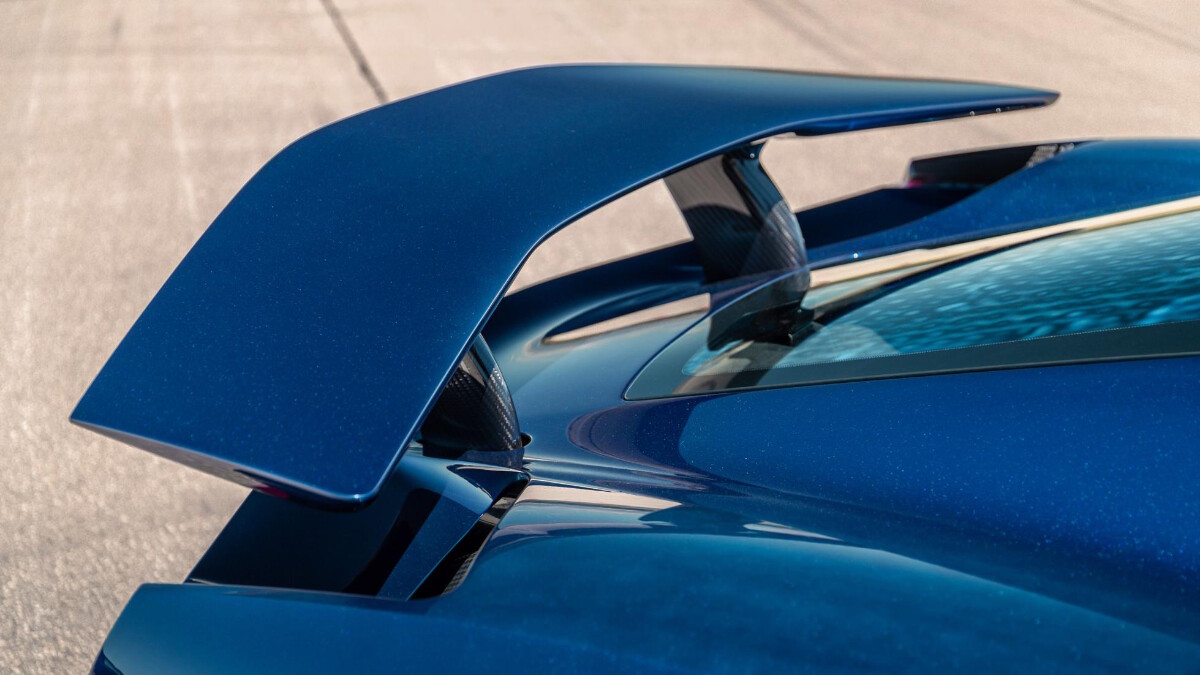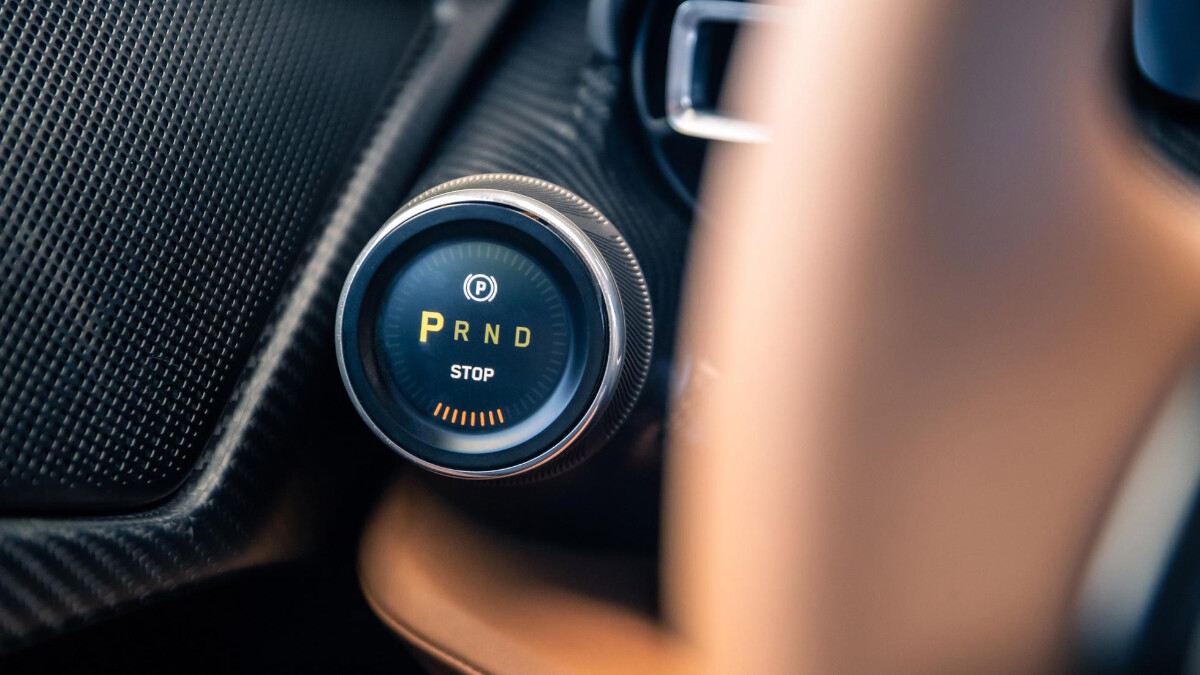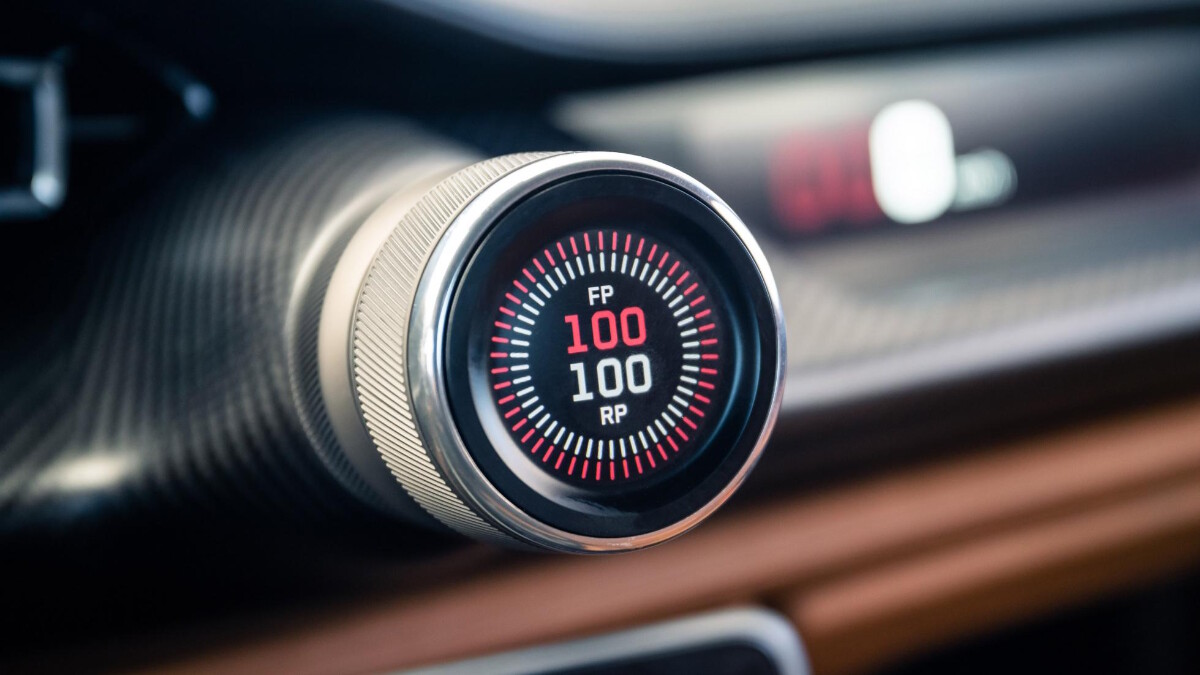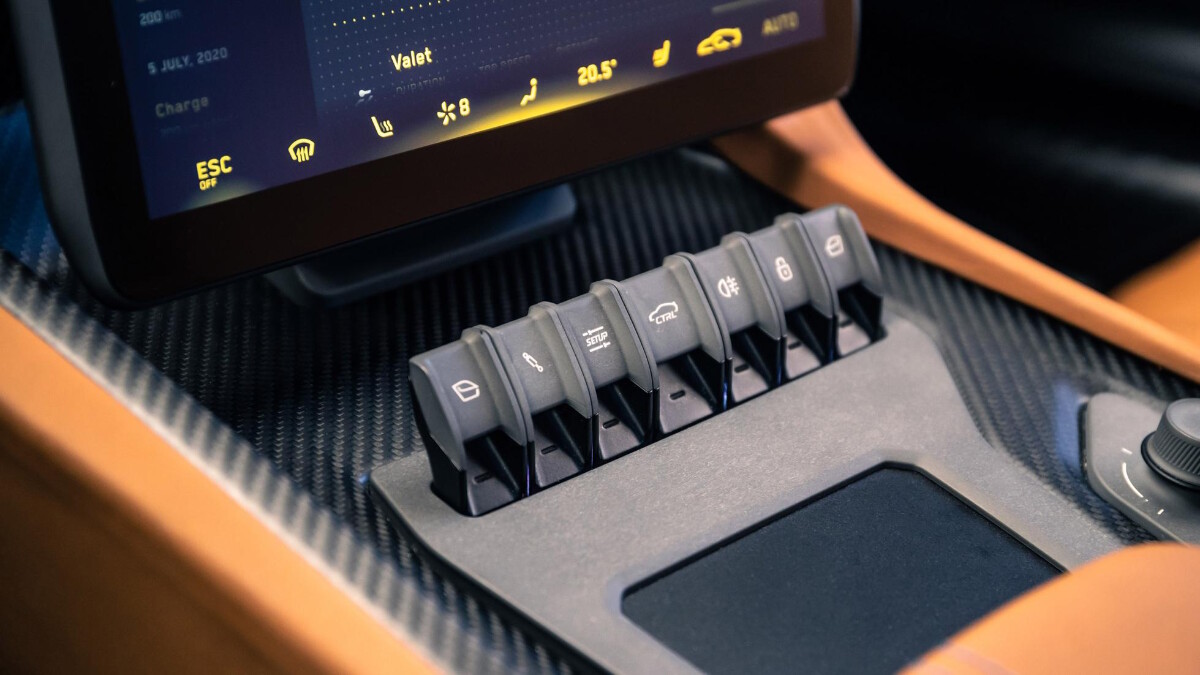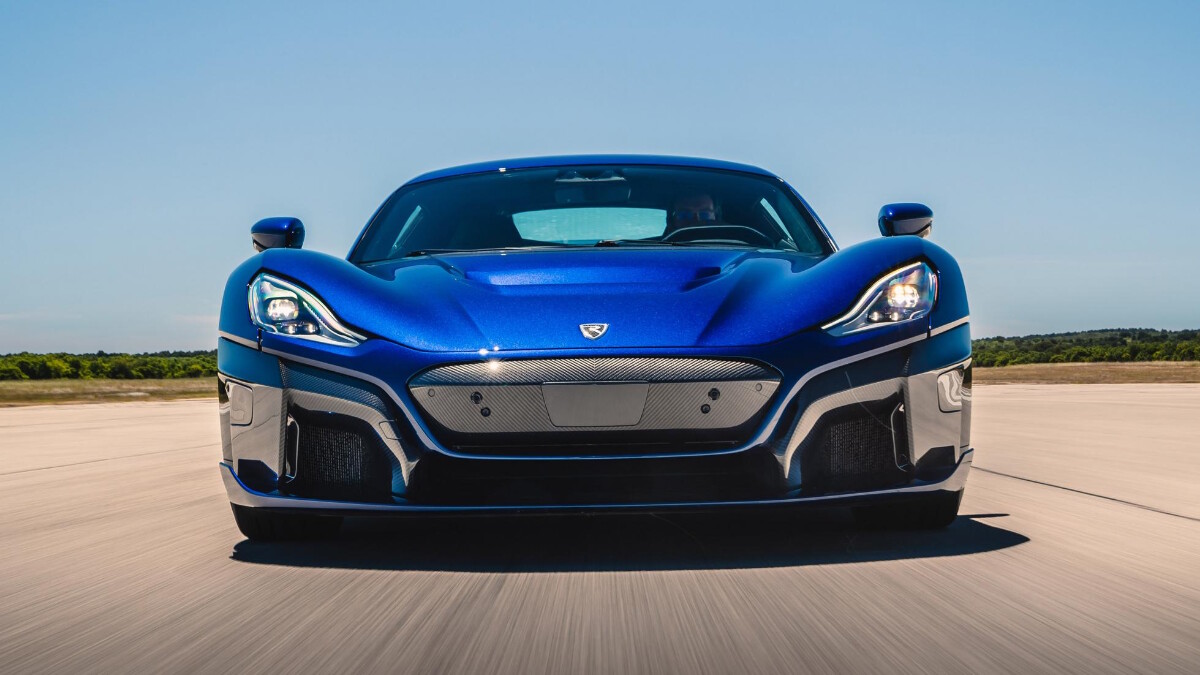 ADVERTISEMENT - CONTINUE READING BELOW ↓
NOTE: This article first appeared on TopGear.com. Minor edits have been made.