It's a car with a mildly clunky name. The Toyota Corolla Touring Sports is a fancy name for the Corolla estate. It replaces the Auris and returns the Corolla name to Europe after a 13-year break. In fact, the Touring Sports has been made specifically for Europe and is built in Britain.
It shares its oily bits with the latest Corolla hatchback and sedan, with the longer wheelbase of the latter yielding a bit more room in the back. While not as striking as the regular five-door, it's a more interesting looking car than its predecessor and should inject a small amount of glamor into airport runs and drunken taxi rides home.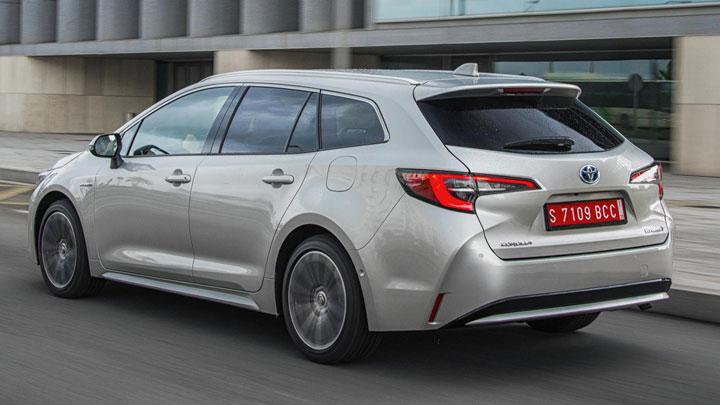 Continue reading below ↓
Recommended Videos
The range's starting point is a 114hp 1.2-liter gasoline turbo, but it'll make up a mere tenth of sales. More than half sold will be a 122hp 1.8-liter gasoline-electric hybrid, with a smaller portion of buyers choosing a 178hp 2.0-liter version with more speed and bigger battery capacity. And thus less boot space. In keeping with current trends, there are no diesels.
For what it's worth in such a sensible car, Toyota claims it's sharper to drive than ever, with a lower seating position and wider tracks helping spread out the weight distribution and make you more inclined to drive it with a bit of vigor. Probably not when the back's chock-full of groceries/flat-pack furniture/animals, we'd suggest.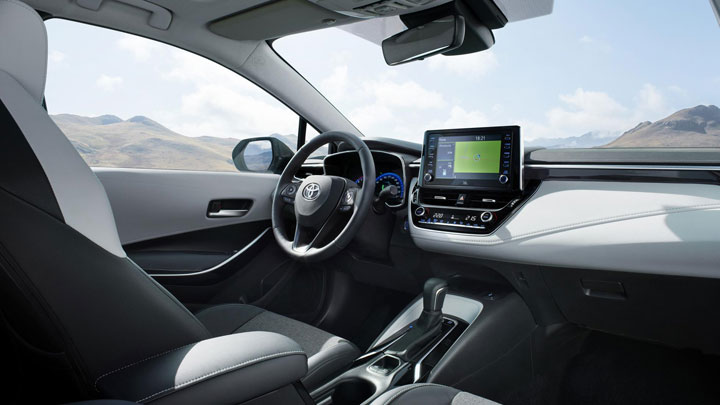 Upgrading from the Corolla hatchback to the estate includes some thoughtful touches: repositioned rear suspension components increase the width of the load bay, while the boot floor has two levels, the separating mat possessing carpeted and waterproofed sides so you can flip it around depending on what you're carrying, be it fancy bags or sopping wet dogs (or muddy bicycles for the lifestyle points).
There is also extra sound insulation to account for the larger expanse of space and—apparently—"the world's first LED load compartment lights". Don't you hide your excitement.
The Touring Sports weighs a negligible amount more than the hatchback, and thus doesn't drive in a tangibly different way. So this remains a car that handles more than neatly enough for purpose, but without ever cajoling you into peeling off to more interesting roads to take the long way home.
It feels set up for comfort, something it's very good at. It rides softly—even if you push its drive modes into their sportiest setting—and if you aren't too aggressive with the throttle it's very quiet and unruffled.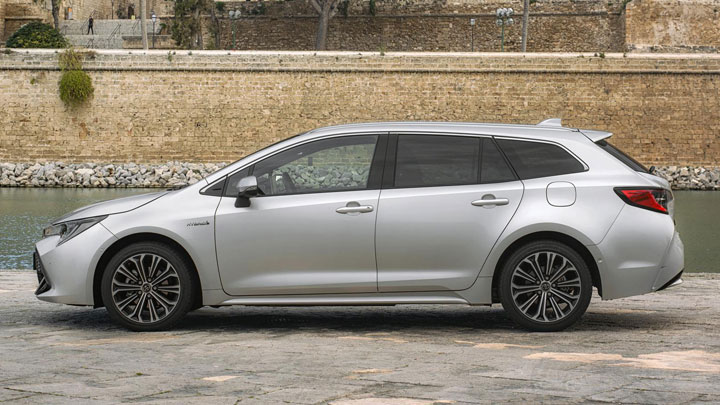 Push the accelerator too far, in the hybrids at least, and the familiar groan of a CVT gearbox mated to an unexceptional gasoline engine will crash through the silence. The 1.8 version really is for saving money (or CO2) only; there's no reward for working it hard, only the frustration that there's no gusto to its power delivery. 
The 2.0 feels peppier, and you even get paddles on the steering wheel to manually flick through some 'gears' which does help inject a bit of life into the powertrain, though given it's a CVT this isn't the same as actually changing up or down in a conventional automatic. But while it really feels its 3.0sec 0-100kph advantage over the 1.8 (if not quite its own 8.1sec claim), this remains a car best driven calmly.
Sticking in emissions-free EV mode requires thoughtful use of speed in both the 1.8 and 2.0, and unless you're in Eco mode and driving with deliberate care, you're more likely to be constantly swapping between power sources than staying electric-only. But that's fine, because with light throttle use the engine is quiet and there's no aural or physical sense of it yo-yoing in and out of use.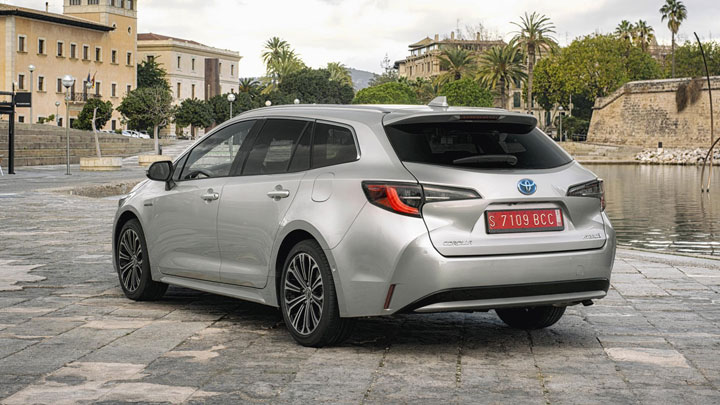 Until we drive a 1.2-liter with a manual gearbox we won't know how much fun the Corolla can really be; the hybrid powertrain simply stifles your enthusiasm. But then if you're in the market for a Toyota estate, you probably aren't unduly worried about that.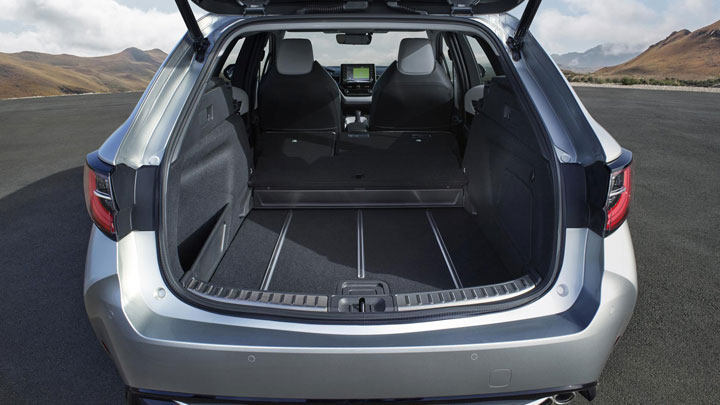 The rear seats flip down with simple lever pulls and the hatchback can whir open with an electronic button push (or a waggle of your foot beneath the bumper). That's a feature which splits opinion at Top Gear, and there's no beating the simplicity of being able to quickly heave a trunk open with brute force. But some buyers will naturally prefer a less physical alternative.
Like in the hatchback, you'll forego luggage space by choosing the quicker 2.0 hybrid. While the 1.2 and 1.8 Corolla Touring Sports boast 598L of carrying capacity seats up, the 2.0 cuts this to 581L, or 1,591L with the seats flipped down. Its cargo floor doesn't sit flush with them once they are, though. There are more versatile estates (a Golf and Focus all have marginally more room), but then they don't have the batteries of a hybrid system to accommodate. If you want a gasoline-electric estate, this is one of your few options.
At the front of the car, it's just like the hatch; slightly less rear leg- and headroom than you might expect in the second row, but supportive seats up front and much screen cleverness if you've avoided the lowest-spec Corolla. Except, that is, for Apple CarPlay and Android Auto, with Toyota yet to figure out how fit its cars with proper smartphone mirroring. It looks worryingly like it'll be last to the party.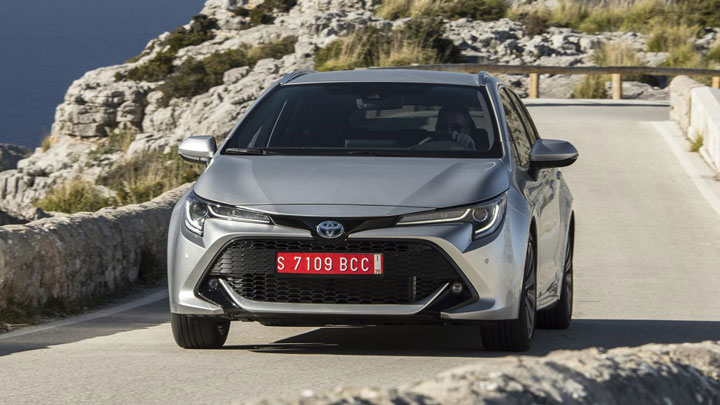 There's a full suite of safety systems as standard on every model, and it's reasonably vast. So there's (deep breath) a crash mitigation system that works between 10kph and 180kph, an adaptive cruise control system that can stop the car in traffic, pedestrian and cyclist detection, lane-keep assist that will help steer the car through corners as well as in straight lines, and road sign recognition.
All but the base trim get a 7in TFT instrument display and sat nav; only the top spec Excel gets leather seats and a big stereo. You can't have the 18in wheels and two-tone color scheme offered on the hatchback.
While you're unlikely to buy a Corolla to haul caravans, it's worth noting both hybrids give up a significant amount of towing capacity; the 1.2 will pull 1.3 tons, the 1.8 and 2.0 just 750kg.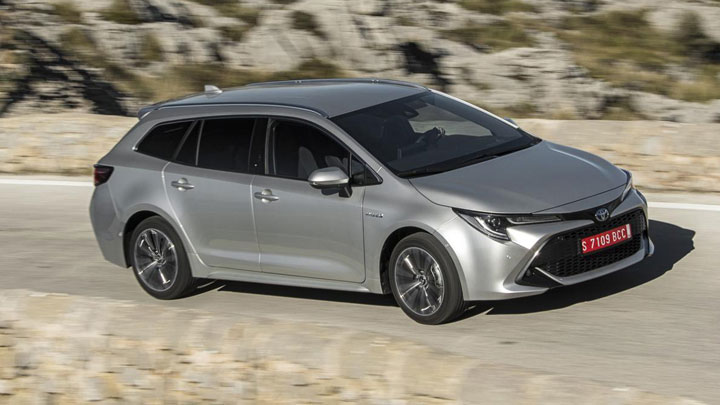 Oh, and you'll need the smallest wheels if you want the most efficiency. The 16in alloys standard on the bottom two trim levels will cut CO2 and fuel consumption by five to 10%. The Corolla looks more striking than ever, and proves Toyota is really on a roll with making its cars less boring (by its own admission). Beneath the smart styling is a car heavily biased toward hybrid powertrains—less than a quarter sold will be 1.2 gasoline engines—and thus angled away from keen drivers, no matter how sporty its pitch.