I can't believe I'm actually excited to hear about a new Toyota Yaris.
Yep, a Yaris. Not so much the last car to drive before you die as the last car you'll drive, before you die. But, this is a Yaris by Gazoo Racing, the motorsport skunkworks embedded in the Toyota mothership. In recent years, Gazoo has (finally) won Le Mans, promised a new road-going hypercar to match future 24-hour racing rules, and claimed the World Rally Championship.
Now, it needs to homologate a three-door Yaris for the next-gen rally regs. Problem is, Toyota's new hatchback is a five-door only. Or, it was.
But this looks like a lot more than just a Yaris minus doors.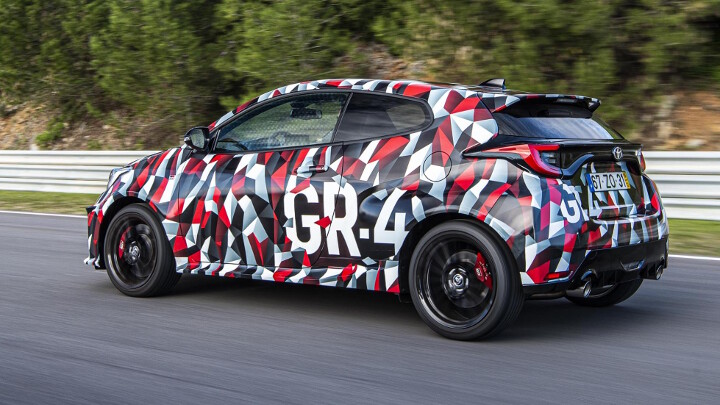 ADVERTISEMENT - CONTINUE READING BELOW ↓
The GR Yaris's spec is preposterous. There are Russian Olympians less outrageously enhanced. The whole shell is bespoke, hunkered down, and brooding. The roof—made of forged carbon fiber—lies 95mm lower, so the back window's a letterbox and the twin rear seats are useless.
I don't care about practicality—give me the juicy kit.
Beneath hulking shoulders, blistered wheel arches just about contain a wider track. There's full-time four-wheel drive—the lightest system on the market, says engineering boss Saito-san—with three modes depending on what sort of crash you'd prefer to have.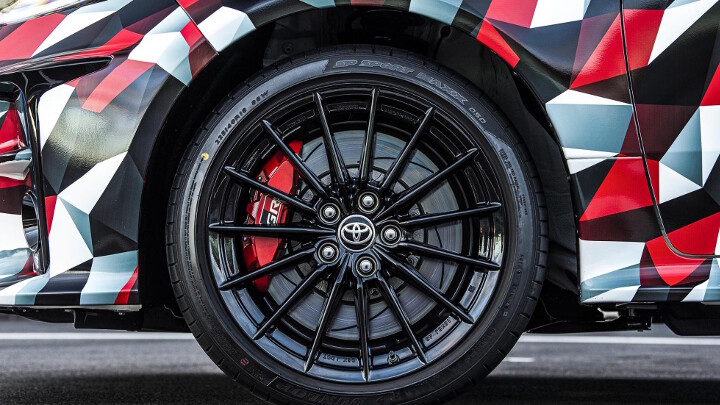 ADVERTISEMENT - CONTINUE READING BELOW ↓
Recommended Videos
Tick the optional Circuit Pack and, along with stickier tires on forged BBS wheels, the twin differentials learn limited-slip and torque-vectoring. Only one gearbox choice, though: a manual, hooked up to the smallest, lightest 1.6-liter engine in the world, shoved back an extra 21mm in the chassis. To mesh with R5 rally rules, it's a three-cylinder turbo, developing around 260hp and 352Nm.
There's no hot hatch on the planet to directly rival it. Nothing else this small has four-wheel drive or power in the same postcode. This is 2020's most relevant supercar. A speed machine that likes a narrow lane, relishes filthy weather, and laughs in a pothole's face.
Give me some more nerdy facts.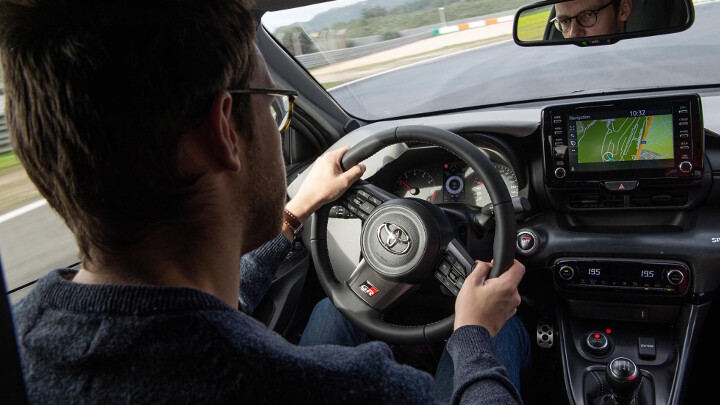 ADVERTISEMENT - CONTINUE READING BELOW ↓
With pleasure. A bolt-in roll cage will be optional, for proper rally-ists. The aluminum and carbon body saves 38kg, and forged wheels cut even more mass. But you still get aircon, navigation, and cupholders for grandma's cup of tea. Bonkers GR Yaris boss Saito-san says he wants this to be a car he remembers proudly in 20 years, like a favorite child.
And you get the sense there's national pride at stake here, too.
Toyota is a bit sore about borrowing BMW's homework for the Z4 and sharing the 86 with Subaru—so this thing is 100% in-house. It's what happens when Japan goes all-out, and in the past, that's brought us the likes of the Honda Civic Type R, the Nissan GT-R, and the Lexus LFA…
So, what's the GR Yaris like on the world-famous British back lane?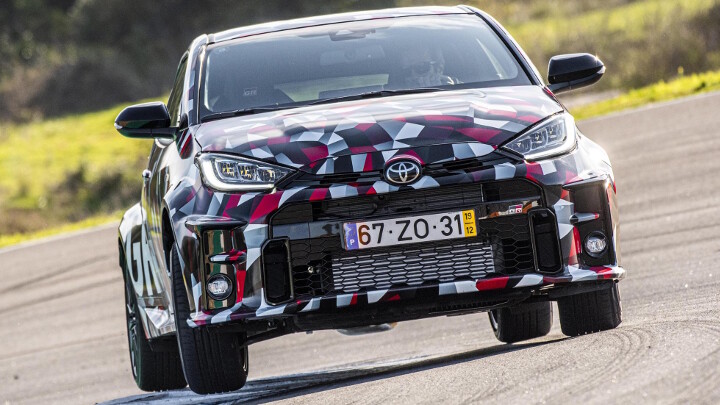 ADVERTISEMENT - CONTINUE READING BELOW ↓
The patented slimy B-road special stage verdict will have to wait. Today, I've got a few hours to get to grips with the camo'd GRrrrr Yaris on the way to and around Portugal's Estoril circuit. The roads are damp, the track's foothills are submerged, and I've just signed a disclaimer that says if a wheel falls off one of these late prototypes, I promise not to haunt Saito-san. Perfect introduction to a hot hatch, then. Get in and give it death, while trying not to receive death in return.
First impressions are that, just possibly, the phat body is writing checks the experience can't cash. The seat is well-bolstered but mounted drearily high—madness, in a bespoke body. The record-breaking engine starts promptly and idles silently. Half a mile later, it's clear the steering isn't overly sharp or heavy, and the gearshift is light and slick, but lacks mechanical bite. It's all too polite and falling over itself to bow most honorably.
ADVERTISEMENT - CONTINUE READING BELOW ↓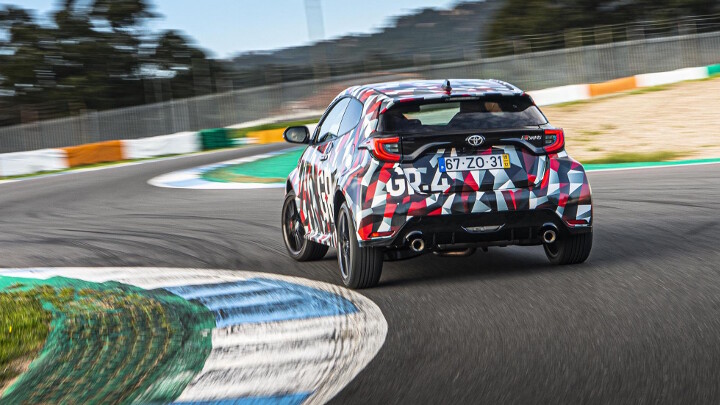 Then there's the ride. So dextrous and supple, I've sat on less absorbent bean bags. Driving, say, a Fiesta ST, much as I love it, is like getting a back massage from Anthony Joshua. This is languid and comfy, but the taut body control is world-class. Like a proper rally car.
ADVERTISEMENT - CONTINUE READING BELOW ↓
Surely you can dial all that up by fiddling with the settings?
This isn't a mode-obsessive car. There's one steering weight, one throttle map, one suspension setting—all good ones. More noise would be appreciated—the Yaris doesn't fake autotune through the speakers, but a Fiesta ST is rortier and naughtier. More pops, crackles, and anti-lag fireworks, please.
The only bit of the GR the driver can interfere with is where the AWD system marshalls the power. In Normal mode, it's 60:40 front/rear. In Sport mode, 70% goes to the back. Twist the knob around to Defcon Track and it's an even 50:50 split, for maximum neutrality and pace. Saito-san says the 4x4 set-up could go 100% at either axle, but he thinks drift modes are pointless and the car wouldn't be as fast. Hmm.
Does it feel fast?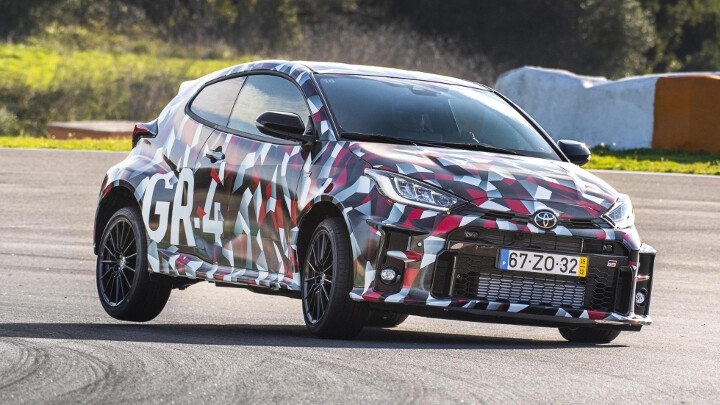 ADVERTISEMENT - CONTINUE READING BELOW ↓
It's easy-fast. Like all three-pot engines, the motor suffers some lazy inertia (they'll be an optional lightweight flywheel) that inhibits downshifts, but there's big torque, little weight, and absolute traction. In Sport, you can sense the car pushing from the rear on the exit of a corner, and exaggerate that with a dab on the sensationally powerful brakes. But the GR is never rude, never angry or bitey. Like a modern WRC car, it's set up to give the driver very little to manage, so you can concentrate on being quick and accurate.
Is that a mistake?
I'm still not quite sure. It's harsh to have a pop at a car for being 'too good.' But just look at this thing. You'd expect it to be a little savage, wouldn't you? It's almost jarring how comfy and well-behaved it is on the road. And as a result, it's not as exciting as it should be.
ADVERTISEMENT - CONTINUE READING BELOW ↓
Given the mega-silly spec, the eye-watering (and top-secret) development budget, and the Avengers Assemble bodywork, it's a shock just how mature the GR Yaris is. It's closer in character to a VW Golf R than a rally-rep Mitsubishi Evo or a Subaru Impreza WRX.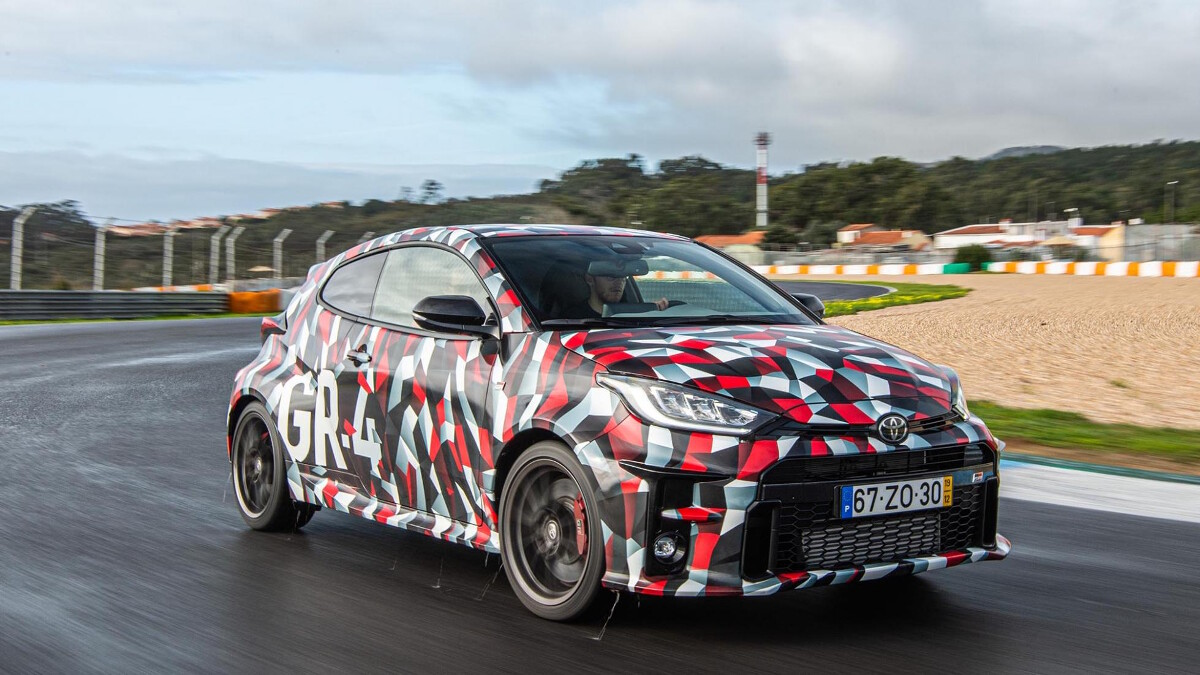 Even on a sopping-wet track, it's not until it's provoked with downright irresponsible quantities of trail-braking and cartoon steering inputs that it starts to misbehave. If you're a racing driver, or even a semi-amateur rally person, you'll love that, because it's so professional, so obedient. But if you're a bit of a prat like me and want a mad car that sounds silly and wants to clown around, you'll need a gravel stage to really get the best out of this fiendishly clever car.
ADVERTISEMENT - CONTINUE READING BELOW ↓
The GR's not the lout I'd expected. Bloody rapid, though. It'll leave a Supra for dead next winter. Saito-san's team reckon the car is about 90% finished. I just hope in the meantime, Gazoo can inject that bit of extra 'Racing,' at the expense of some more 'Yaris.'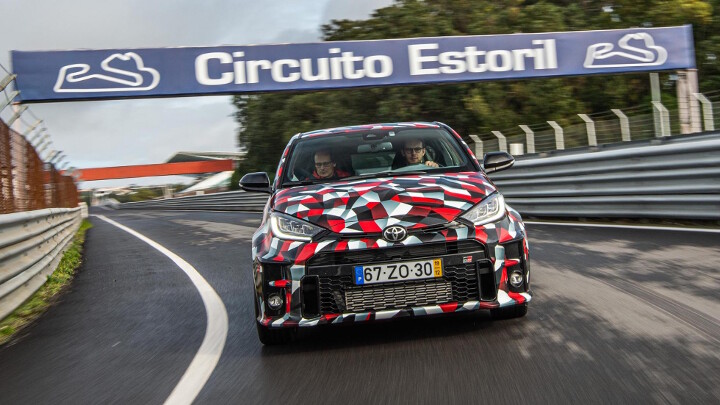 ADVERTISEMENT - CONTINUE READING BELOW ↓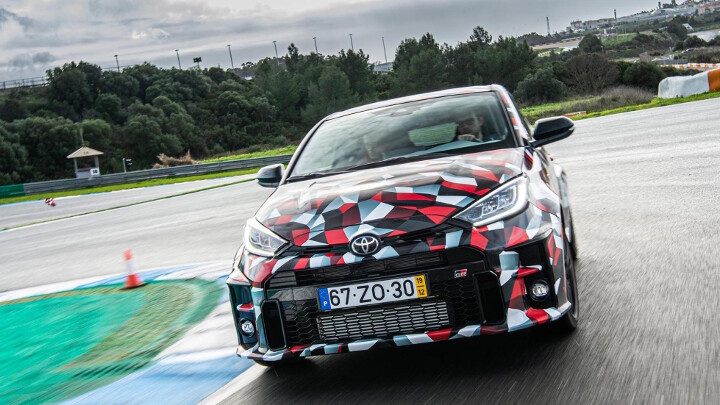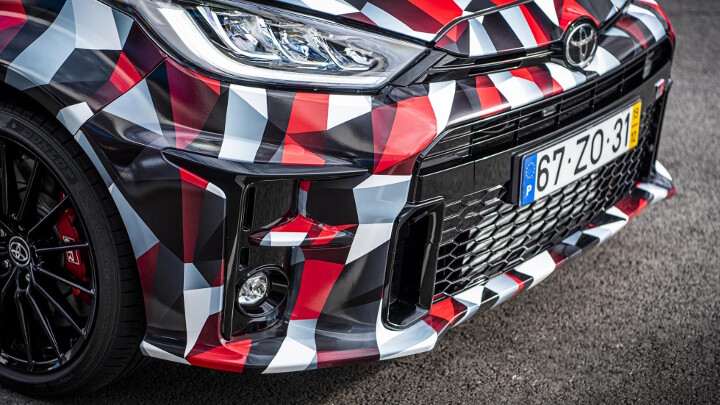 ADVERTISEMENT - CONTINUE READING BELOW ↓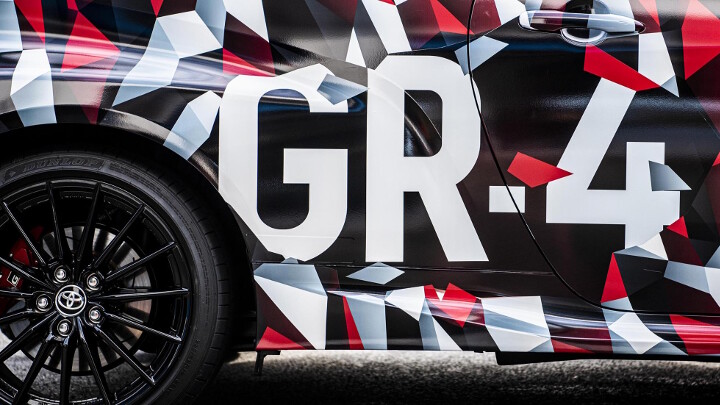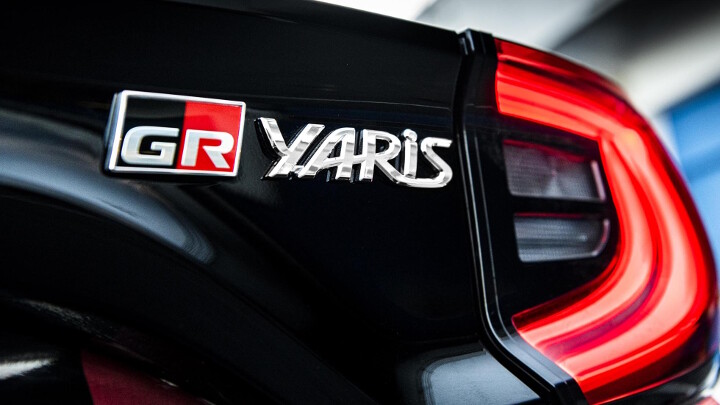 ADVERTISEMENT - CONTINUE READING BELOW ↓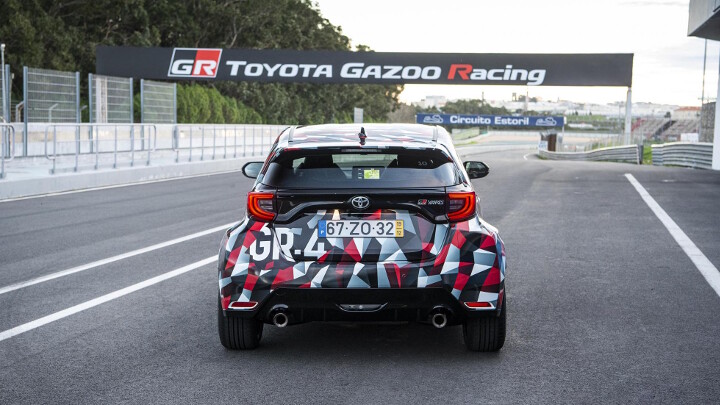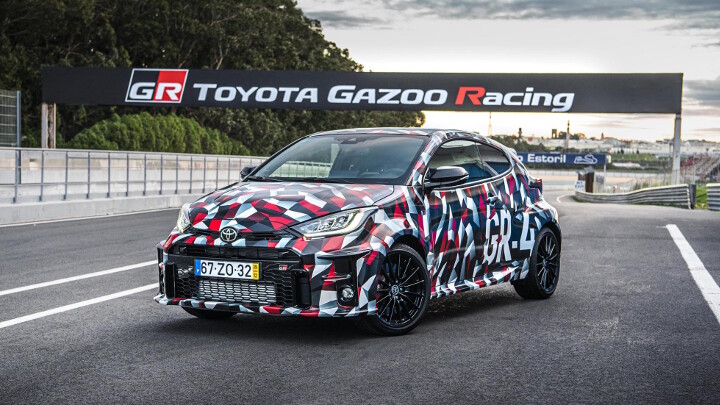 ADVERTISEMENT - CONTINUE READING BELOW ↓
NOTE: This article first appeared on TopGear.com. Minor edits have been made.