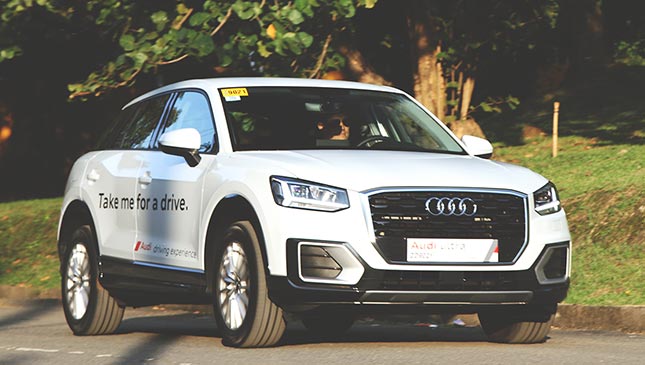 This isn't the usual Audi campaign. The Q2's marketing is totally hip, featuring colorful graffiti and a cheeky dig at the millennial obsession with multiple hashtags. Smaller crossovers are attracting a younger market, which is challenging premium brands to think beyond their comfort zone. This isn't just about offering something in an existing vehicle class—it's a race as to who can come up with yet another new segment first.
This time, Audi has beaten Bimmer and Merc to having the smallest crossover yet. The Q2 is a mishmash of various body styles Audi offers—SUV, hatchback, Sportback, Allroad Quattro wagon, and even sports car, thus earning its #untaggable billing. It's 4.19m long (200mm shorter than the Q3 and 130mm shorter than the A3 Sportback), 1.79m wide, and 1.51m tall, with a wheelbase of 2.6m. Short overhangs not only maximize cabin space but stress the car's agility.
Continue reading below ↓
Recommended Videos
As part of the Q lineup, it's given a similar profile as the Q3, the Q5, and the Q7, particularly with the roof flowing toward the C-pillar along with a roof spoiler. The most noticeable detail is Audi's signature blade in contrasting Manhattan Gray at the rear section. Yup, a bit of R8 inspiration. The profile wears a character line interrupted by a groove running along the doors. A new octagonal Singleframe grille dominates the front, bound by headlights with LED DRLs. The taillights, meanwhile, mimic the headlights' shape and pattern, and also boast dynamic turn signals.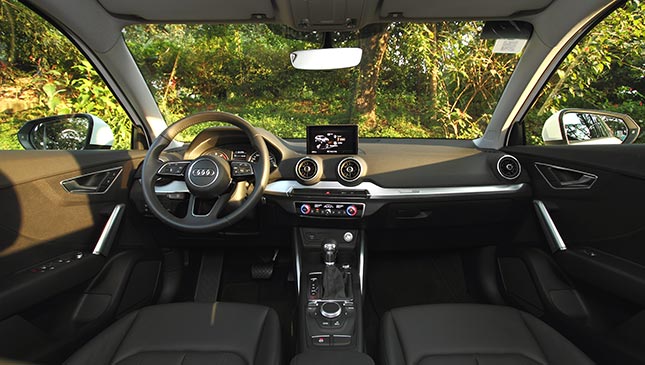 Inside it's typical Audi, with buttons and knobs laid out in minimalist fashion. Aluminum inlays on the dash, the vents, and the center console provide a nice contrast to the black interior while adding an avant-garde look. The seats are firm and supportive.
To keep costs down, however, the seats have manual adjustment like in some Volkswagens offered here, and the tech goodies have been kept to a minimum for this Design variant. For instance, it has a less extensive MMI system, as well as a traditional gauge cluster rather than the Virtual Cockpit TFT instrument cluster. But basic isn't necessarily a bad thing, particularly for conventional customers who prefer less electronics.
Those side blades, while a good conversation piece, mean that the C-pillar section is wider, in turn making it a challenge to see when backing up. Another niggle is that rear knee room for tall occupants is a bit snug. There's not much room to spare if the guy behind the wheel is just as tall. But hey, this is a mini crossover, right? Cargo space is decent, at least, expanding from 405 liters to 1,050 liters with the rear seats folded down.
The Q2 for our market is propelled by a 1.0-liter TFSI three-cylinder engine delivering 116hp and 200Nm. As expected, the car got its fair share of criticism because of its tiny mill. It's a concept that most people here still don't understand. Output actually matches that of a naturally aspirated 1.6-liter mill.
The motor is responsive, with torque available at 2,000rpm. It's paired to a seven-speed dual-clutch transmission, which adds a kick to the tiny engine. A drawback to the gearbox, however, is that it tends to be jerky at 10-25kph, eager to shift to the next gear. But once on open roads, it's raring to go and makes the most of the available grunt. I really enjoy the simplicity of this Volkswagen/Audi unit—just flick it down to activate Sport and flick it again to shift back to Drive.
Around town in light to moderate traffic, the Q2 returned 10-11km/L. On SLEX, running at a constant speed of 90-95kph from Eton exit to the stretch of Filinvest Alabang, I was able to get as much as 22km/L. Traveling at around 110kph yielded about 14-16km/L.
Steering has the right amount of heft. It feels slightly heavier than in the Q2's bigger siblings, which I like. And the three-spoke wheel with a flat bottom makes the drive more engaging. The ride achieves a good balance between sporty and comfortable—firm enough without being jarring.
So, Audi ventures into the mini-crossover segment. Considering the versatility it offers, the Q2 is ideal for the urban jungle or for a weekend getaway. With the offerings from this class coming mostly from Japan—Honda HR-V, Nissan Juke, Mazda CX-3, and, to an extent, the Suzuki Vitara—the four-ring brand now adds a premium touch to the segment. I wouldn't be surprised if the guys at Munich and Stuttgart are brewing something similar.
SPECS: Audi Q2 1.0 TFSI Design
Engine: 1.0-liter turbopetrol I3
Transmission: 7-speed dual-clutch
Power: 116hp @ 5,000-5,500rpm
Torque: 200Nm @ 2,000-3,500rpm
Layout: FWD
Price: P2,780,000 (2017 price)
Seating: 5
Score: 17/20