If I were to create a Venn diagram of the ideal SUV, I would create three circles. One circle would have Ford's comfortable but massive American stalwarts: the Expedition and the Explorer. Another would have the small, Asian-oriented EcoSport crossover. Add one more sphere for the hardcore F-150 Raptor off-roader. In the overlapping center I would put the Ford Everest.
The midsize Everest has no feature or aspect that can best any of those Ford models; it's not as plush as the Explorer, as maneuverable as the EcoSport, nor as capable as the Raptor. I can only say that it looks the best of the lot, but that's subjective.
Continue reading below ↓
Recommended Videos
In terms of comfort, I'd say it's about 80% as good as the Explorer. If you didn't know any better, you would praise the DPWH for making the roads so smooth and crater-free. But of course that's just the Everest's solid chassis doing its job.
It wasn't love at first ride, however. It took me several days before I found my ideal driving position because the steering wheel doesn't adjust for reach; a little disappointing for a top-spec variant, actually. But once I found my place, the cabin quickly became a comfortable second home. Visibility all around is impressive, giving the driver that commanding view we've come to expect from vehicles like this.
The interior is impressive, and not just for the features, but also in the restraint that Ford showed. It's nice to see a carmaker adhering to the 'less is more' philosophy. Leather, chrome bits, and premium-feeling materials abound, but that's expected at this price range. What I like is the balance; minimal buttons and intuitive knobs complement the classy dashboard. The emblazoned 'Everest' name in front of the passenger is a welcome touch.
This minimalism can also be found in the exterior, and it adds massively to this SUV's appeal. It may look quite tame compared to its Japanese counterparts, but if you've heard anyone complain that the Mitsubishi Montero Sport looks too extreme, then you know this design simplicity is an advantage.
The Everest looks handsome with its clean, bulging lines that convey power. The large chrome grille will do its job in intimidating taxis and small cars that don't know their place. And the good-looking six-spoke wheels show off the disc brakes on all four wheels nicely.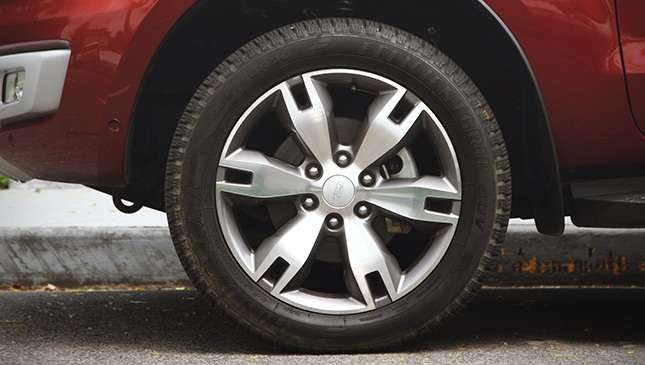 On the road, this SUV proves its performance can live up to its macho stance. Under the expansive hood is a five-cylinder turbodiesel that churns out 197hp and 470Nm. These figures are among the best in its segment—only bested by the other midsize American SUV in this category, the Chevrolet Trailblazer, and just by a small margin.
It's a little thirsty though. I usually get 6-7km/L in the city and about 10-12km/L on the highway.
Behind the wheel, you won't feel its power right away. In fact, now that I've driven the Holy Trinity of the Everest, the Montero Sport and the Toyota Fortuner, I noticed that all of them seem hesitant to give you all their turbocharged muscle at the onset. It's as if they were all avoiding any sudden and unintentional…movements. But once it gets going, the Everest feels more nimble than its large size would suggest.
I wouldn't call it sporty, but the SUV will comply with all the urban driving requirements that I ask of it. It accelerates promptly when a stoplight turns green, with power coming in north of the 2,000rpm mark; it can turn sharply when making quick direction changes; and there's minimal and predictable body roll when turning at reasonable speed.
I think 'predictable' is the key word here. After a week driving the Everest, it's easy to predict how it will react in most driving situations.
A nice bonus is that it's also easy to maneuver—although one should still be mindful of its size. Parking in most mall parking slots is relatively easy, and there's a rear camera that can help you visually avoid any obstacle in the back.
If you also need to parallel park, Ford installed a special treat in this SUV for you. This Titanium variant has Active Park Assist—yes, it can parallel park itself. I've tested this feature in the Focus, but it's quite thrilling to see an almost two-ton vehicle slot itself—steering wheel twirling by itself—into a parking space.
But that's just the tip of the Everest's talents. It also has adaptive cruise control, which does exactly what the name suggests. Say you're on the expressway, just follow a vehicle in front, activate the feature via the steering wheel controls, set the distance you want from the car you're following, and Ford electronics will do the rest. I can confidently say that it works. What's amazing is that the Everest brakes smoothly if the car in front slows down; there's none of that jerky stop-and-go motion perfected by taxi drivers.
Naturally, I also tried adaptive cruise control in the city, and I won't do that again. Cars here are too unpredictable and there are so many turns and stops that it can confound the system. That's not a criticism of the feature. The fact that it works so well is proof that self-driving technology is already on the horizon.
The Everest is also at home off-road, something I get to test during a day trip to the farm with the family. The sense of predictability on asphalt is present even when driving over sand and soft soil. I just flick the terrain mode to sand and let the computer do its job. In fact, I can say that off the road this SUV is even more fun. I find myself going faster and faster over sand dunes and rough trails, only slowing down when my passengers began flying inside the cabin.
My passengers' anxiety was temporary of course, because soon enough the leather seats, panoramic sunroof, and Spotify music (coursed through the Apple CarPlay system) calmed them down. I'm also glad the current Everests have moved on to SYNC 3 because the Microsoft-powered SYNC 2 is too complicated.
Comfortable like an Explorer, maneuverable like an EcoSport, and capable like an F-150 Raptor, Ford's midsize SUV is the best choice for most people and for most needs. I believe its healthy sales speak for itself, but if you're in the market for something like this and you're still having doubts, I say go for it.
SPECS: FORD EVEREST 3.2L 4X4 AT TITANIUM PREMIUM PACKAGE
Price: P2,109,00
Engine: 3.2-liter turbodiesel I5
Power: 197hp @ 3,000rpm
Torque: 470Nm @ 1,750-2,500rpm
Transmission: 6-speed automatic
Layout: 4WD
Seating: 7
Score: 19/20