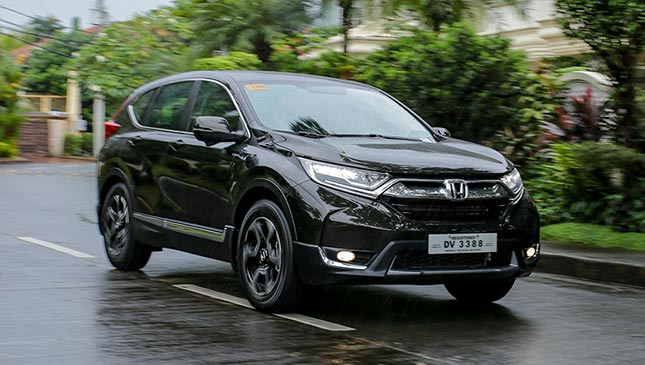 Diesel, seven-seater, high ground clearance. It's hard to believe this Honda CR-V is the same compact runabout we adored during our '90s college days. That was when the first CR-V arrived, and it was perfect for (well-off) kids who didn't want to bring dad's Pajero to school, but still wanted an SUV-ish stance with cabin versatility. And that flashy Kenwood double-DIN head unit sealed the deal.
But now that it's got a turbodiesel and seven seats, the CR-V has also grown up to cater to '90s college kids who are now dads—and for then-students who made landi early, they now have college kids of their own who are probably lusting after an HR-V or a Jazz. It's an endless Honda cycle.
Continue reading below ↓
Recommended Videos
For those like me who are unmarried and want the CR-V of old, there's a sole variant for us: the 2.0 S CVT. It's the only gasoline-powered CR-V, and it's a good one. Now at P1.648 million thanks to the new excise taxes, it's the cheapest CR-V. It would be a mistake to call it the base variant, however, because the spec sheet gives that distinction to the V Diesel trim, which is only more expensive because of its oil-burning mill.
This unit is in Dark Olive Metallic, and upon seeing it, I knew I wanted this color (I'm going through a camo phase now). The hue is deep and has a gorgeous luster. As for the exterior shape itself, it's beautiful, with no weak angles. I would call the face confident rather than aggressive.
The last vestiges of base-variant mentality will be erased once you approach the CR-V 2.0 S. It'll detect the smart key, and all you have to do is touch the door handle to unlock the car. If you're not seated inside after 30sec, or you decide to walk away without entering, this feature will also lock the vehicle.
Once you step on the brake pedal and push the engine start button, the 2.0-liter mill hums to life and the digital instrument cluster lights up. The virtual gauges and the steering wheel controls—quite possibly even the steering wheel—come from the new Civic. They're flashy enough to feel modern, but not so loud that you'll tire of them quickly. From the Accord parts bin, we get the right side mirror-mounted camera. Flick the turn signal to the right and an image of your right flank will appear on the 7in infotainment system. Titos might say this feature just adds to the price, but it has its use.
Cabin space is just right. What I especially like is the improved fit and finish—and the previous CR-Vs weren't slouches in build quality. The 'tightness' reminds me of Lexus models, actually.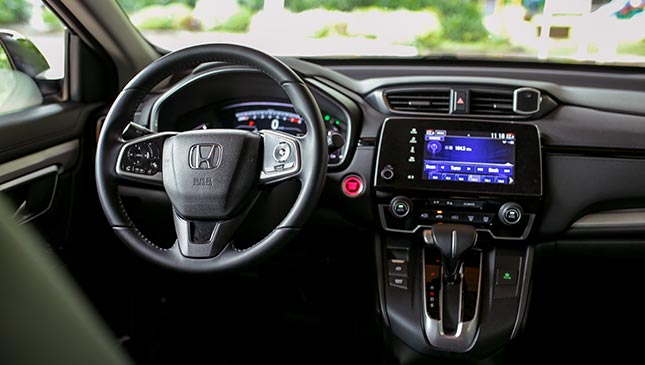 Since this variant doesn't have the nine-speed gearbox of the diesels, the traditional shift knob is used instead of the newfangled electronic gear selector with buttons. Maybe I'm getting old, but I like being able to handle a stalk. It adds to the overall driving experience.
On the road, the CR-V cedes whatever sportiness it had to its smaller brothers like the HR-V—although that isn't very sporty, either. Its main attribute is riding and driving comfort, and now that I've entered my forties, I appreciate being insulated from road imperfections more. There's still fun to be had behind the wheel, thankfully, even if you have to coax it out a bit.
The 2.0-liter engine has enough grunt to move this Honda easily, but not enough to push you back into your seat. Like a typical gasoline engine, the power band is way up at 3,000rpm. With 152 horses, the gasoline CR-V doesn't feel underpowered, but I can't help longing for a turbo sometimes. As I expected, fuel economy is nothing spectacular—about 7-8km/L in the city. That's about right for this chassis and powerplant.
Overall, I like this CR-V. Driving it is relaxing, and the 208mm ground clearance allows me not to worry about curbs. It has all the features of a midsize sedan: auto headlights, next-gen smartphone connectivity (Apple CarPlay and Android Auto), backing-up camera (with multiple angles), corner sensors, tire pressure warning, LED headlights. If there were rain-sensing wipers, it would have been perfect.
Times change, and so do our beloved college cars. The CR-V—in top spec guise—now markets itself as a seven-seater turbodiesel that can use cruise control to follow other vehicles and remind you to stay in your lane. And this is fine because there's a market for this, and no one ever complained about added safety.
Given a choice, I'd still get the 'throwback' gasoline variant with five seats and a roomy cargo area. Not because I'm a card-carrying Tito of Manila who longs for the cars of yesteryear, but because this variant feels right for me. And that olive paint job is beautiful.
SPECS: Honda CR-V 2.0 S
Engine: 2.0-liter petrol I4
Transmission: continuously variable
Power: 152hp @ 6,500rpm
Torque: 189Nm @ 4,300rpm
Layout: FWD
Price: P1,648,000
Seating: 5
Score: 19/20