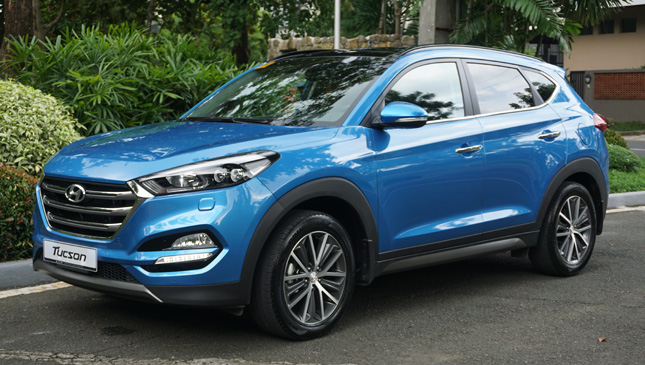 When the second-generation Hyundai Tucson came out in 2009, we were all surprised at its outstanding design and nice cabin finish. It seemed like it leapt half a generation from the very first Tucson released in 2004. Its market reception was instrumental in growing local distributor Hyundai Asia Resources' presence in our country. So it's safe to say that the latest generation of this compact SUV model has big tires to fill.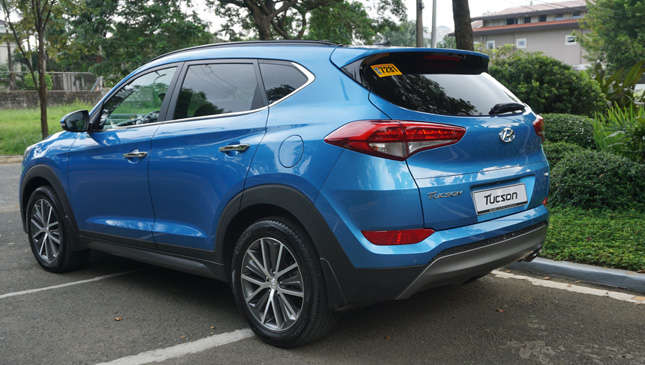 STYLING
There's a momentary pause of admiration when seeing the new Tucson for the first time. The massive, shiny grille and the long swept-back headlights get your attention, and the handsome body balances everything off nicely. By combining broad strokes and defined creases, it draws attention in a regal manner.
At the risk of sounding blasphemous, the Tucson's profile reminds me of a BMW X3, especially the side. This Korean crossover is a smaller and edgier Santa Fe, and like its bigger brother it has no weak angle. Even the wheel design is a beauty.
ADVERTISEMENT - CONTINUE READING BELOW ↓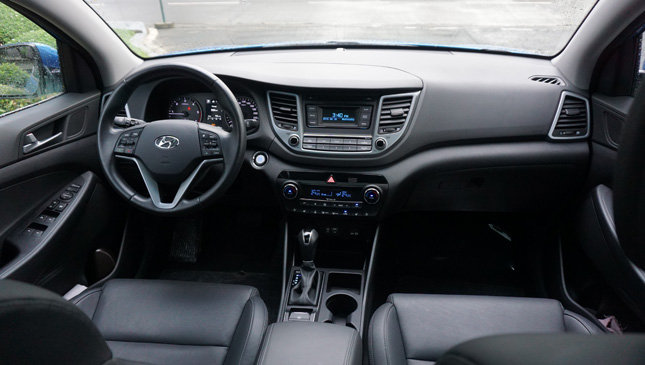 INTERIOR
The cabin is a little plasticky, but these plastics and materials feel nice to touch. The leather seats are supportive and great for long-distance driving. The headrests are positioned at an odd angle, though. My head was tilted down in a manner that I found bothersome. But I got used to it after a few days.
The blue luminescent gauges we've seen for several years in Hyundais are still here, but their intensity has been toned down. I don't find them irritating like when I first encountered them in the second-generation Santa Fe. Meanwhile, the functionality inside is commendable. There are two cupholders, a receptacle for coins and keys, a larger cubbyhole for mobile phones, and two 12V sockets.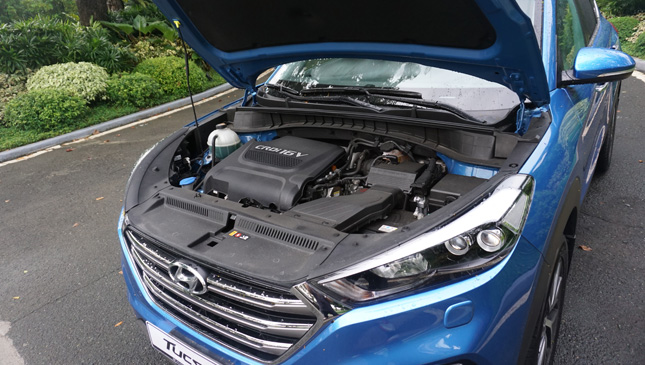 ADVERTISEMENT - CONTINUE READING BELOW ↓
Recommended Videos
ENGINE PERFORMANCE
Driving out of Hyundai's basement, I already feel the pull of the 400Nm torque from the 2.0-liter CRDI diesel engine. Like all modern turbodiesels, the power band begins below 2,000rpm, and this makes the Tucson nimble and sure-footed.
Most of the time, I leave it in Sport mode, letting the six-speed automatic transmission do its superb job. When summoned, the Tucson's acceleration is prodigious. Forward movement is lovely and even exhilarating. All this driving excitement takes a toll on fuel economy, which is an average of 7.7km/L in bad traffic. Thank god for inexpensive diesel.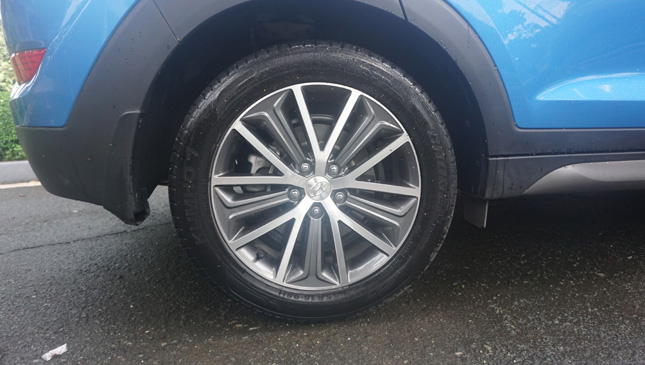 RIDE AND HANDLING
I wish the Sport mode came with active suspension management, and I think that's not an unreasonable request given the price. The Tucson wallows and dips too much when the chassis is unsettled. It's a shame the 2.0-liter turbodiesel doesn't get the suspension it deserves.
Throttle response is immediate, but I can't help wish for more feedback to be dialed in. Compact SUVs are supposed to be sportier than midsize SUVs, but the Santa Fe (not the godawful, Americanized Grand Santa Fe and its nausea-inducing ride) felt more balanced.
ADVERTISEMENT - CONTINUE READING BELOW ↓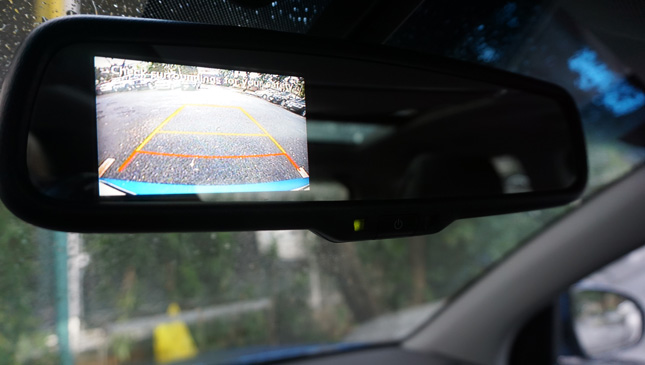 EXTRA FEATURES
There are gadgets galore. Once you press the engine start/stop button, an animation sequence shows up in the full-color gauge display. The puddle lights illuminate when you approach with the smart key, and the side mirrors unfurl. Press a button on the door latch and all the doors unlock. And when you reverse, a tiny screen with a backing-up view reveals itself in the rear-view mirror.
The rear hatch also closes at the touch of a button, something usually found exclusively in European models. And like the top-spec Santa Fe, a power sunroof extends all the way to the second row. There's a very good audio system as well.
A minor disappointment is that the wipers aren't rain-sensing, and this stands out in contrast to all the things Hyundai has put in. Again, at this price point, I think it's fair to look for certain conveniences.
THE VERDICT
At first glance and at first drive, the Tucson is good enough to make you think it has caught up to the level of premium German crossovers. But spending more time with it reveals its limitations. Yet when I say limitations, these are not crippling deal-breakers. Those who don't demand too much from the drivetrain and just enjoy the toys will find that this Hyundai is an enjoyable runabout.
This top-of-the-line Tucson is everything most would want in a diesel compact SUV. But it almost reaches the P2-million mark to deliver the goods. This puts it against a lot of worthy alternatives. But for those who have the budget, the Tucson could be the feature-laden vehicle they're looking for.
SPECS: HYUNDAI TUCSON 2.0L CRDi AWD
Engine: 2.0-liter turbodiesel
Transmission: 6-speed automatic
Power: 176hp @ 4,000rpm
Torque: 400Nm @ 1,750-2,750rpm
Drive layout: AWD
Seating: 5
Price: P1,948,000
Score: 16/20
Photos by Dinzo Tabamo
Hyundai Tucson CRDi