Confession time: I went to a pretty rich high school. While I had to slum it in the back of a school bus, other kids were chauffeured in Benzes. Some even had their own cars. But the coolest kid of all was a friend who drove to school in a Wrangler. Complete with mud tires and a lift-kit so tall he had to park it outside the garage. We had some good times in that car, and it drew more stares than the Civics everyone else was driving. But can the modern Wrangler live up to my rose-tinted teenage memories?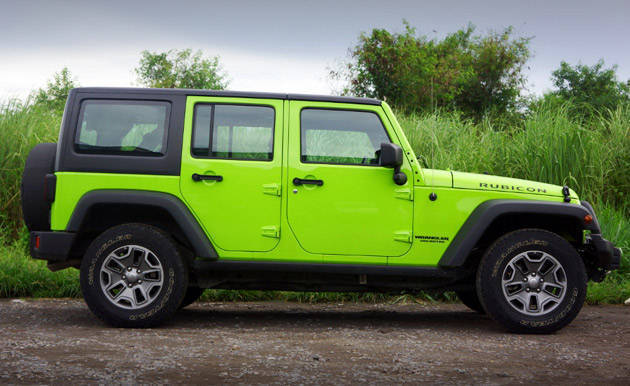 Continue reading below ↓
Recommended Videos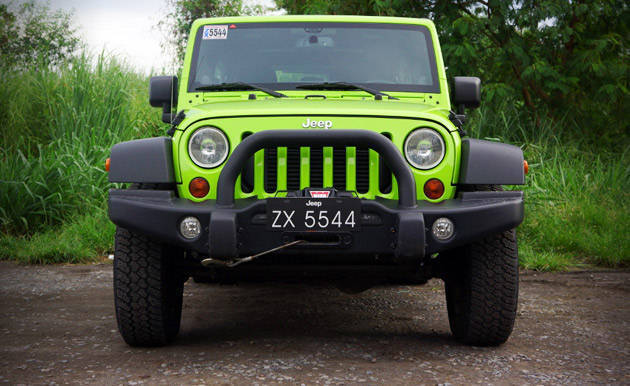 STYLING
Counting the original Willys CJ, the "Jeep" has been in continuous production since 1941. The current JK Wrangler is a modernized version of the original, with a signature seven-slot grille that's recognized everywhere from Michigan to Manila. While aerodynamic tweaking has brought the drag coefficient down from the previous car's 0.55 to a less woeful 0.495, the sealed-beam headlights and plastic-cased taillights hark back to the '50s. On the plus side, our hardcore "Rubicon" test unit has flashy Gecko Green paint visible from outer space, Goodyear Wrangler tires wrapped around serious-looking 17-inch alloys, and hidden Easter eggs in the windshield trim.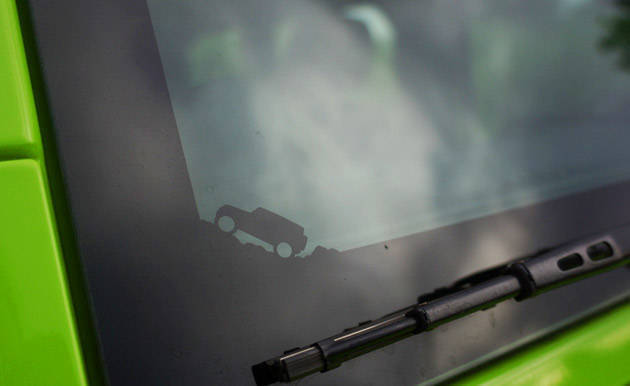 INTERIOR
While the exterior is a curious mix of retro and modern, the interior is dressed up in upmarket textures and modern shapes with an industrial "machined" theme. Driver ergonomics initially feels awkward, with a very upright position and a vertical steering wheel. It starts making sense, though, when you're checking your corners while negotiating a particularly tricky off-road obstacle. The rear bench is upright but comfortable, and while the seats are flat, they cushion you well against jolts and bumps. With the folding soft top, trunk access is severely limited. That's one option I'd gladly forgo while spec'ing my Rubicon.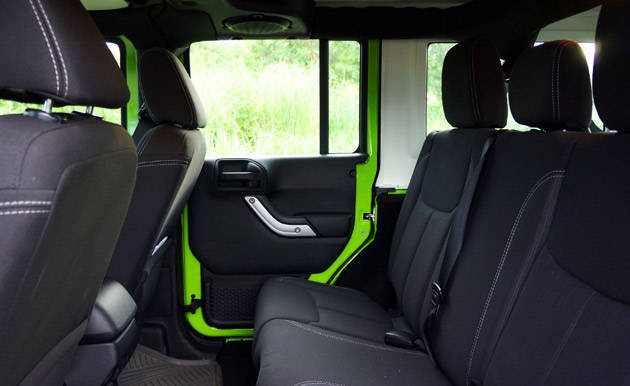 ENGINE PERFORMANCE
The 2.8-liter VM Motori diesel pumps out 197hp and 460Nm of torque. But power delivery is curiously dulled by the heavy-duty five-speed Mercedes transmission. Keep your foot in it, however, and the Wrangler does have some muscle. There's a manual mode for holding gear off-road and an ultra low-range transfer case and locking differentials for the really tough parts. But in everyday driving, all this hardcore hardware--including some beefy, reinforced Dana 44 axles--takes its toll on fuel economy. Don't expect any better than 10-12km/L on the highway or 5-6km/L in traffic.
RIDE AND HANDLING
The Rubicon rides, unsurprisingly, like a Jeep, with twin live axles giving it a bouncy ride. Thankfully, gas-charged shocks take the edge off the bumps, making it a bit more civil than some "family" SUVs. The steering is also surprisingly decent, and the electronically activated swaybars keep the Rubicon relatively level on highway sweepers.
Disconnect those swaybars and you've got enough axle articulation to climb a wall. Sideways. While the Jeep's convertible top whistles on the highway, it actually keeps the noise and hubbub of EDSA traffic outside, allowing you to enjoy your selection of music while sitting in gridlock.
EXTRA FEATURES
The Jeep's infotainment system isn't as all-encompassing as other Chrysler products, but the sound quality of the subwoofer-bolstered Alpine system is superb. Even better, the speakers are built into the top of the dashboard and the roll cage, which means you get to enjoy your iPhone music library while plugging through 30 inches of mud with the roof and doors removed (yes, even the doors). Our unit comes equipped with an optional winch and bullbar, which are helpful if you ever get stuck really deep off-road, or if you need to winch yourself up a tree to escape a raging Tyrannosaurus Rex.
THE VERDICT
You can certainly buy a more comfortable SUV than the Wrangler, but that's like saying you can get a better family sedan than a Subaru STI. These arguments ignore the raison d'être of these vehicles. You buy them for fun. Even when you're not knee-deep in mud or waist-deep in water, the Rubicon is definitely fun. In the cold, sober light of day, the Rubicon would be a measly "14" on our 20-point scale, but sometimes--just sometimes--it's nice to be a little nuts. And that teenaged me of long ago would agree, wholeheartedly.
SPECS: JEEP WRANGLER RUBICON UNLIMITED
Engine: 2.8-liter CRDI turbocharged diesel
Transmission: 5-speed automatic
Power: 197hp @ 3,600rpm
Torque: 460Nm @ 1,600-2,600rpm
Drive layout: RWD
Seating: 5
Price: P2,850,000
Score: 17/20
Photos by Niky Tamayo