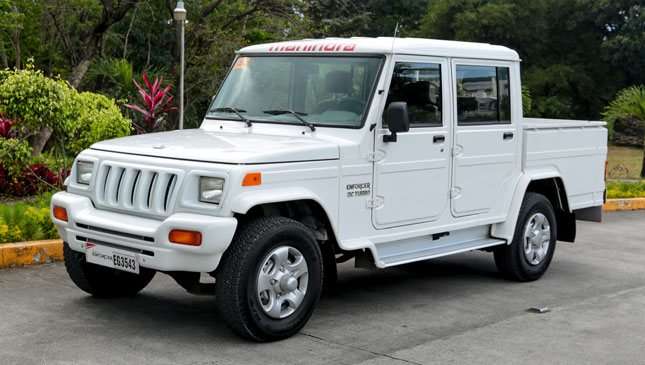 When I was assigned to review the Mahindra Enforcer 4x4 Double Cab by my editors, the "Pare, pulis ako" jokes came loud and often (mostly from you - editors). It didn't help that it was parked in our building's basement across from test drive editor Jason Dela Cruz's Porsche test unit. Still, I was curious to find out what this Indian pickup and infamous police vehicle is actually like to drive, so I approached this assignment with an open mind.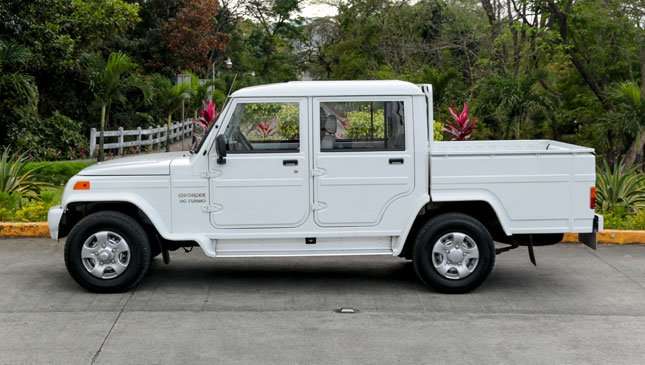 STYLING
Beauty is subjective. For some, the Enforcer's boxy exterior is a refreshing ode to old-school macho machines like the Land Rover Defender. I could see a case for this. The exposed hinges, clasp-like handles on the bed, and skinny doors do seem like they're from a simpler time. Speaking of the doors, they're kept close to the chassis via a strap. Now that's rustic.
On the other hand, this look can feel out of place in 2017 when you're driving next to modern pickups. Regardless of what you think of the Enforcer's design, it turns heads wherever it goes. Everyone from college students to traffic enforcers stopped and stared as I drove past. I've driven the Toyota 86, and even that didn't attract as much attention.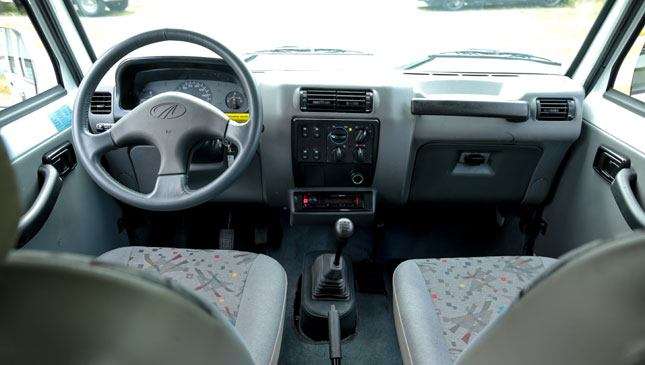 INTERIOR
If the exterior looks like it's from a different time, then so does the interior. There's nothing here that isn't absolutely necessary. Hell, there's not even a tachometer on the instrument panel. The long throw gearstick is mounted low on the ground and so is the handbrake. I'm not tall, but even I had to bend over quite a bit to reach the latter. On the passenger side is a grab bar and a small glove box. The Kenwood head unit, however, is a welcome modern touch.
The fabric seats are sturdy yet relatively comfy, even after some time in traffic. The bland gray color is offset only by squiggly patterns that you get on airline and bus seats. There's no height adjustment on the seats, nor can you move the steering wheel. Nevertheless, I found the driving position to be quite tall and commanding, and I didn't have any issues working the wheel despite the lack of adjustment options.
ENGINE PERFORMANCE
Under the hood of this 4x4 is a 2.5-liter turbodiesel with 100hp and 240Nm. As you'd expect, it's got plenty of low-end grunt for the rough stuff and enough power everywhere else to get you where you need to go. It's not particularly quick off the bat, but it does get going once you hit third and fourth gear. Just be prepared for a fair bit of engine noise. I traveled 135.8kms in heavy city traffic and used up a little bit less than half of the 56L tank. According to tests by the Department of Energy, the Enforcer can do up to 17.28km/L.
That said, driving the Enforcer requires what the old-timers call ramdaman. The lack of a tachometer means you won't be able to time your shifts based on the revs. Instead, you're left with nothing but engine noise, the speedometer, and your personal experience with manual transmissions to guide you. It reminded me of my days learning to drive in our family's Toyota Tamaraw FX.
RIDE AND HANDLING
The Enforcer's steering wheel is big and almost feels truck-like when you're turning. Luckily it's on a power-assisted rack-and-pinion set-up, so it's actually light to maneuver. The turning circle, however, proved to be the biggest challenge. The big wheel reaches full lock quickly, and I ended up doing more three-point turns than I would've liked. I had to forego any hope of making sharp U-turns. The clutch is springy but light, and I didn't find myself getting sore in city driving. The brake pedal feels mushy, and doesn't really bite until the last half inch.
The ride can be manageable on smooth roads but bumpy at times, especially when you're going along the metro's poorly paved asphalt. The cabin almost feels as if it sways along with every pothole. I imagine this is useful when navigating off-road terrain because you need to have a firm feel for the surface underneath, but it's not always Manila-friendly.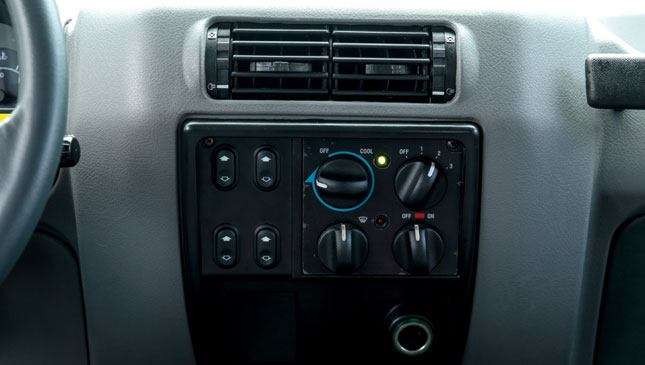 EXTRA FEATURES
Surprisingly for a car that's so basic in appearance and function, the Enforcer comes with power windows and locks. Of course, there's also the lever to switch to 4x4, but it's closer to the passenger footwell so you'll need to pull over to operate it.
VERDICT
It sounds cliché to say it, but what you see is what you get with the Mahindra Enforcer. It's a robust, no-frills workhorse that does what it needs to and little else. You either like it or you don't.
Personally, I enjoyed the Enforcer for what it is. Does it feel like something out of a #throwbackthursday post? Sure. But if you're in the market for a pickup that's rugged, affordable, equipped with 4x4, can carry upwards of 800kg, and has little in the way of electronics that can possibly go faulty, then this isn't a bad vehicle to consider. But if you're after something a bit more modern with the usual comforts, there are other options you should look at.
SPECS: Mahindra Enforcer 4x4 Double Cab
Engine: 2.5-liter NEF TCI Turbodiesel
Transmission: 5-speed manual
Power: 100hp @ 3,800rpm
Torque: 240Nm @ 1,800rpm
Drive: 4x4
Seating: 5
Price: P860,000
Score: 17/20
Mahindra Enforcer