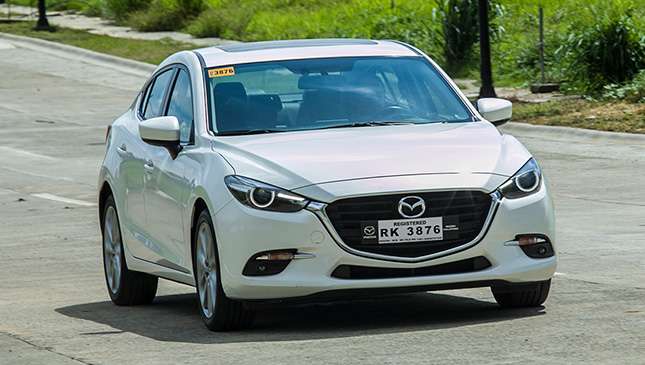 With four trophies in last year's Philippine Car of the Year Awards and several Stig Awards from Top Gear, Mazda is used to being in the spotlight. But the Mazda 3, sadly, has recently been overshadowed by the fancy new Civic. Understandable, given Honda's turbocharged aspirations. But do you really need a turbo to be happy?
Three years on, the recently refreshed Mazda 3 still looks, uh, fresh. There's a neat new hexagonal grille, but you'd be forgiven for missing the new headlamps, foglights and wheels. The only interior updates of note are an electronic parking brake as well as a steering wheel with smaller crossbars and a better control layout. Sure, you still get a nifty heads-up display, but no Apple CarPlay or Android Auto, as in the Civic. Still, sound quality trumps that of the Honda: crisp, powerful, bassy.
Continue reading below ↓
Recommended Videos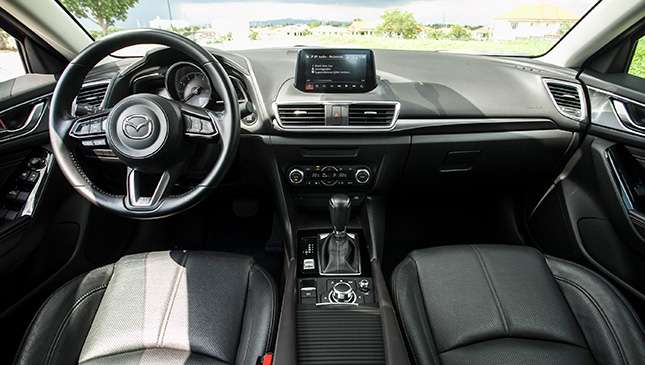 On these winding lanes, the 3 possesses a joyful playfulness that competitors struggle to match. The suspension flows with the road rather than skating over it, and the steering is as fine as any in this electric age. The improved sound insulation helps quell road noise, and a well-damped suspension takes the edge off ruts and potholes.
Another nod to ride comfort is the new G-Vectoring Control, which interrupts engine torque to balance the car out in turns, reducing heave and pitch. I've seen this demonstrated many times, but for the life of me, I can never tell if that tiny blip as I turn the wheel is GVC or JMI (just my imagination).
While this motor is much better than most gasoline 2.0-liters, there's no denying the turbocharged Civic is one step ahead in economy and power, especially on the open highway. In traffic, however, Mazda's quick throttle response and crisp-shifting six-speed transmission make it more involving.
Yes, even alongside more expensive and powerful metal, the 3 feels like a breath of fresh air. Easier to drive. More relaxed in cut-and-thrust traffic. More fun? Unless your idea of fun is exceeding 200kph on an open straight—which is dangerous, stupid and illegal—then yes. This Mazda may no longer be the last word in technology in its segment, but it's still the last word in driver involvement.
At least, until the next one comes along.
SPECS: MAZDA 3 2.0 R
Price: P1,248,000
Engine: 2.0-liter petrol I4
Power: 153hp @ 6,000rpm
Torque: 200Nm @ 4,000rpm
Transmission: 6-speed automatic
Layout: FWD
Seating: 5
Score: 18/20