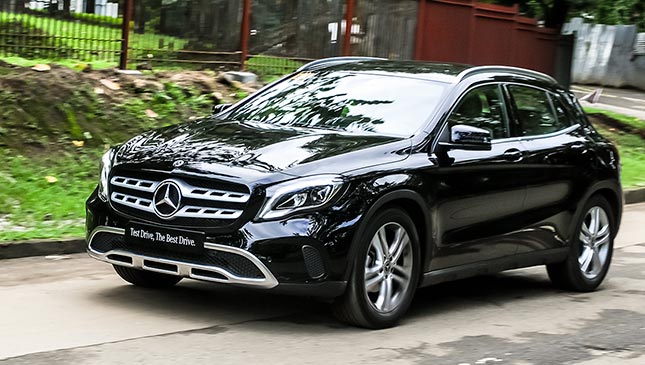 Small, cheeky hatchback: Every word in that phrase doesn't immediately associate itself with Mercedes-Benz. The GLA certainly looks the part of a Benz, at least from the front. The designers did a good job of fitting the brand's sporty-variant nose onto a compact hatchback. And despite being officially designated as a crossover, the GLA doesn't look as if it's riding high.
Pull the door open and you feel that heftiness. The door shuts as solidly as the proverbial bank vault, with a reassuring clunk. The primary parts of the interior are commensurate with the GLA's badge and price tag. Instead of front seats, there are two well-stuffed lounge chairs that manage to be properly supportive as well. The driver seat has the oft-overlooked thigh extension that makes driving much more pleasurable. The steering wheel is thick, and trimmed in leather and metallic bits with just the right amount of shine. Pictogram switches that operate the driver-seat motors are intuitive to operate, and include three memory positions.
Continue reading below ↓
Recommended Videos
The GLA is better suited to singles and couples rather than families with kids and the requisite gear. Rear accommodations are tight, with two occupants just right for the space. Three abreast wouldn't be comfortable, particularly if child seats are installed.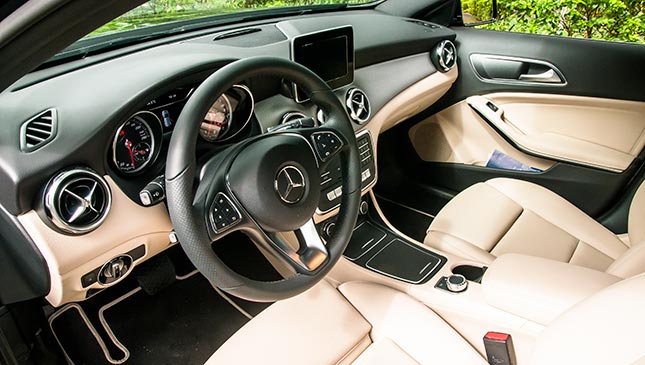 It's in the secondary controls that the Mercedes doesn't feel quite up to date. It's a mixed bag of gear from the early 2000s, like the sequential LED parking sensors and telephone keypad, and newer tech like the awkwardly integrated display screen. Another niggle is that there's no keyless entry as standard. You still have to pull out the key, as well as insert and twist it to start the engine. There's no reverse camera, either.
Thanks to the rock-solid chassis, handling is benign. The car shrugs off bumps and potholes. It's a firmer ride than that of a Merc sedan, but it remains comfortable and secure.
Powering the crossover is a 1.6-liter four-cylinder gasoline engine. Turbocharging helps to eke out 122hp and 200Nm. The figures sound modest, but they're enough to keep the GLA rushing along once it works up to speed. But it takes some time to get there—the engine suffers from turbo lag. At low revs, pedal response ranges from tepid to frustrating. Partly the culprit here is the seven-speed dual clutch transmission: It starts off in second gear in any mode other than Sport. That may help the fuel efficiency, but it kills off any notion of fun.
Once the turbo delivers, then there's torque to spare. But it's the on-and-off nature of the drivetrain that prevents the GLA from offering a consistently enjoyable driving experience.
SPECS: Mercedes-Benz GLA 180 Urban
Engine: 1.6-liter turbopetrol I4
Transmission: 7-speed dual-clutch
Power: 122hp @ 5,000rpm
Torque: 200Nm @ 1,250-4,000rpm
Layout: FWD
Price: P2,450,000 (2017 price)
Seating: 5
Score: 15/20