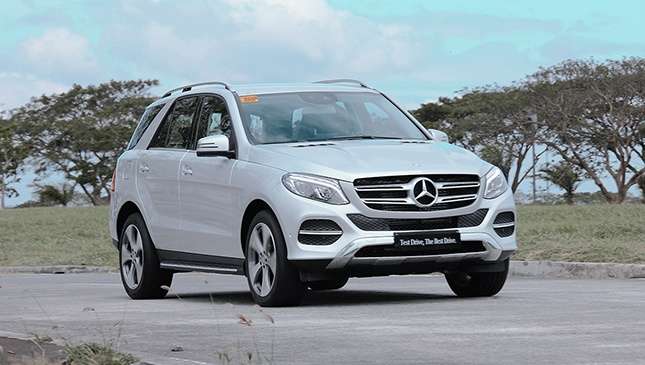 I'm trying hard, oh so very hard, not to be disappointed here. Not because the Mercedes-Benz GLE is a particularly bad car. Far from it. It's just that I was hoping to be in the infinitely sexier GLE Coupe—preferably the AMG 45—cutting up a winding mountain road with wild abandon. Instead, I am sitting in a base 250d, in egregious Manila traffic, the proximity sensors going off every few seconds as scooters squeeze past the GLE's fenders. I'm stuck fine-tuning equalizer settings while impatiently waiting for my Hawaiian Spotify playlist to load. Eventually, I give up and switch back to fiddling with the radio tuner.
Continue reading below ↓
Recommended Videos
Such is life.
That said, there are much worse cars to be stuck in traffic in than the GLE. This facelifted M-Class replacement is a very large, very spacious, very luxurious vehicle. Marginally wider and longer than its predecessor, it boasts curvaceous and expressive styling. Merc's 'sensual purity' design language gives it the family look without the cookie-cutter feeling some luxury marques suffer from. Wide fender flares give credence to its X5-baiting aspirations, while gaping air intakes and suggestive power bulges—visible from the driver seat—hint at effortless power.
Of course, most luxury buyers would not consider the 250d's 201hp 'effortless,' but 500Nm and nine gears make acceleration suitably brisk. With so many gears to choose from, you're never doing more than 1,400rpm at a cruise, but you'll never hit ninth gear below 120kph. Mercedes claims 0-100kph in 8.6sec, but the low-speed torque makes it feel quicker. At triple-digit speeds, acceleration does taper off. Given our ridiculously low city limits, though, how fast do you need to go?
The city, however, is a bit too cramped for the wide-shouldered GLE. You'll be using the bundled high-definition 360-degree parking camera quite often in crowded parking lots, and the oddly narrow side mirrors make you reliant on the blind-spot indicators to catch motorcycles lurking in your blind spots—a depressingly common occurrence as you slog along EDSA.
Once out on the open highway—or, better yet, a twisty and deserted road—the GLE comes into its element. This may be a big SUV, but the handling is...nearly...'epic.' While the steering is not the last word in tactility, wind some lock into it and there's a satisfying heft, some strong self-centering, and a delightful sharpness. Brapping through the gears via the paddles is engaging, but pointless. Sequential turbochargers keep turbo lag to a minimum, and the transmission shifts perfectly fine by itself in Sport mode.
There's no Airmatic suspension on this variant, which sports a coin pocket where the Air controls should go. It doesn't matter. The standard suspension holds flat through high-speed corners, with the ultra-wide 265/45 R20 Dunlop Sport Maxx GT tires whispering ever so slightly at cornering speeds where cheaper tires would be howling away.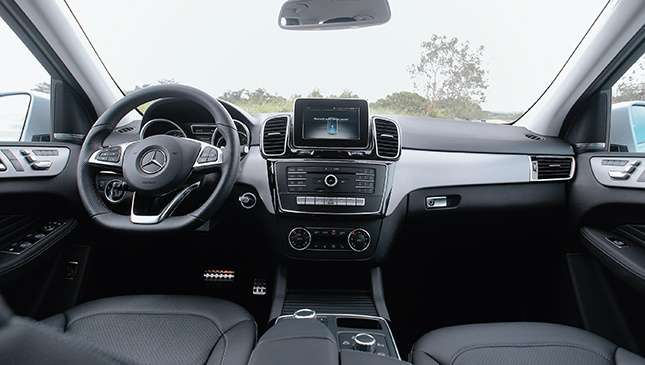 But entertainment doesn't begin and end on those rare occasions you have the road to yourself (thankfully). The GLE's interior is dramatic and sporty, with deep twin-binnacle gauges as well as an amazingly wide range of electric steering and seat adjustments (for both driver and front passenger) allowing you to get comfortable, whatever your size. A multi-mode control puck lets you select from a variety of steering and transmission mode combinations. While both do feel sharper in Sport, the GLE drives nicely enough in Comfort. The revised COMAND infotainment screen (still not touch-activated) gives you access to a bevy of functions, including SMS and call integration. The Harman Kardon sound system lacks that last iota of bombastic bass, but it's wonderfully crisp and powerful, anyway.
The GLE is an LED wonderland, with vari-colored daytime running lights and ambient interior lighting. The lit cupholders are particularly cool, turning red or blue depending on whether you've activated the surprisingly effective drink heater or cooler functions.
And while I might still be sore about not getting a crack at the sleek 'coupe' variant, my passengers were perfectly happy with the SUV's expansive back seat and high roofline. This benefit extended into the enormous trunk, with its flat loading floor, standard tonneau cover, and automatic hatch.
Gripes? Surprisingly few. The COMAND screen, though more polished and intuitive than in past Mercs, could still get fiddly at times, and the unusual secondary control layout takes some getting used to. Then there's the auto-stop system, which works like a treat when saving fuel, but is occasionally rough on restarts. And while NVH is generally excellent, the huge tire-and-wheel combo klumpfs around a bit over rougher roads. Good reason to spec down to the base 19in wheels, I think.
In the end, the GLE, though not quite the last word in sport or utility, gives enough of both—along with expressive styling—to satisfy all but the most jaded buyers. It's not quite your grandfather's Mercedes, but given the stodgy design and dynamics of past Merc SUVs, that's no bad thing. This new GLE is a fully modern SUV, ready and raring to go.
SPECS: MERCEDES-BENZ GLE 250D 4MATIC
Price: P5,190,000
Engine: 2.1-liter turbodiesel I4
Power: 201hp @ 3,800rpm
Torque: 500Nm @ 1,600-1,800rpm
Transmission: 9-speed automatic
Layout: 4WD
Seating: 5
Score: 16/20