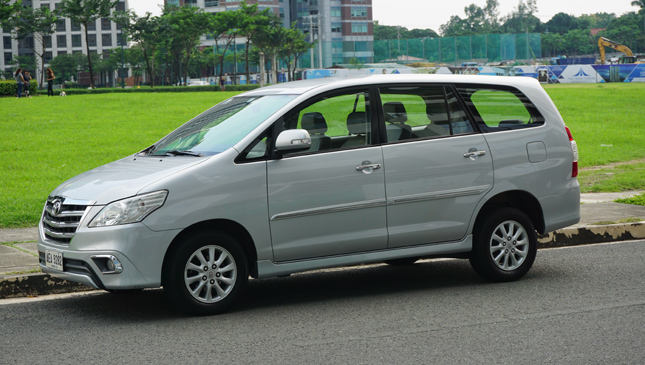 The Toyota Innova is the only member of the IMV triumvirate not to have a revealed replacement yet. Fortuner and Hilux fans may not agree that Toyota is saving the best for last, but in terms of contribution to the bottom line, the Innova's role cannot be underestimated. On a good year, it has even outsold Mitsubishi's cash cow, the Montero Sport.
So, the Innova now enters the twilight of its first generation. Apart from a special edition revealed during Toyota's one-million-unit sales milestone event, this is likely the last iteration of the best-selling MPV. How does the current Innova fare after a decade? Let's find out.
ADVERTISEMENT - CONTINUE READING BELOW ↓
STYLING
At first, we admit the massive grille of the current Innova was a little disconcerting. There wasn't anything wrong with the fascia of the pre-facelift model, although it had become ho-hum over the years. But as time passed, the large grille grew on us. It imbued the MPV with a classy demeanor, and there were even times when it looked premium.
The classiness extends to the back, where a shiny chrome element rests atop the license plate holder. Overall, the Innova, specifically in this top-spec 2.5V DSL AT guise with a Thermalyte paint job, has far transcended its humble predecessors. You could park it in an upscale mall's basement and it wouldn't look out of place among midsize sedans and premium crossovers.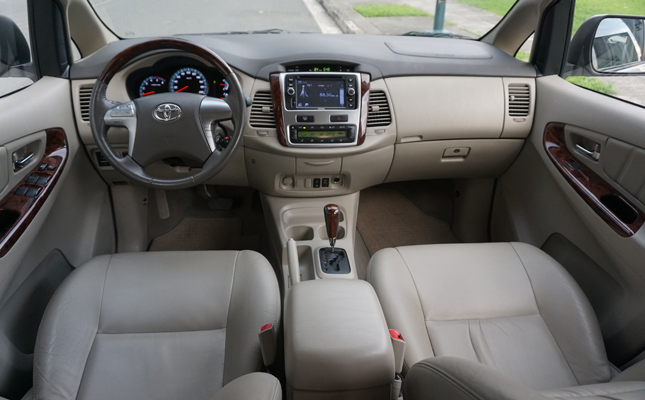 ADVERTISEMENT - CONTINUE READING BELOW ↓
Recommended Videos
INTERIOR
This 2.5V variant trades in a little practicality for the comfort of second-row captain's seats. Instead of seating eight, the V can accommodate only seven--a fair compromise if you don't need to maximize the passenger capacity. You won't mistake the leather and beige appointments for an Alphard, but they can still evoke an atmosphere of comfort and plushness. And in terms of roominess, there's little to complain about.
We did notice that the panel housing the 12V sockets in the center console flexed too much when we'd plug in a charger. It raised a fit-and-finish issue in an otherwise solid cabin. Despite our unit having more than 17,000km on the odometer, it was holding up well.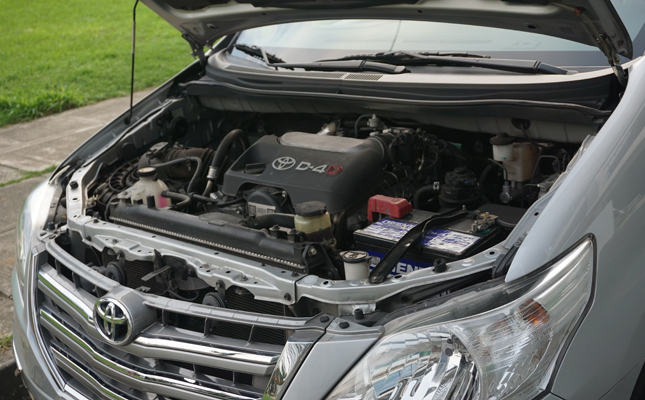 ADVERTISEMENT - CONTINUE READING BELOW ↓
ENGINE PERFORMANCE
The 2.5-liter four-cylinder DOHC turbodiesel may only have a relatively humble 101hp and 260Nm, but it manages to be responsive off the line. This is more surprising considering the mill only has four gears to work with, care of the four-speed automatic transmission. That being said, we look forward to the time when Toyota moves past four-speed gearboxes.
Fuel economy averaged 8.4km/L in light city traffic, usually with minimal passengers. While that may not sound very thrifty, diesel costs about P26/L these days, so the running cost of this Innova comes out at roughly P3/km! And that's without any kind of intentional fuel-saving driving technique.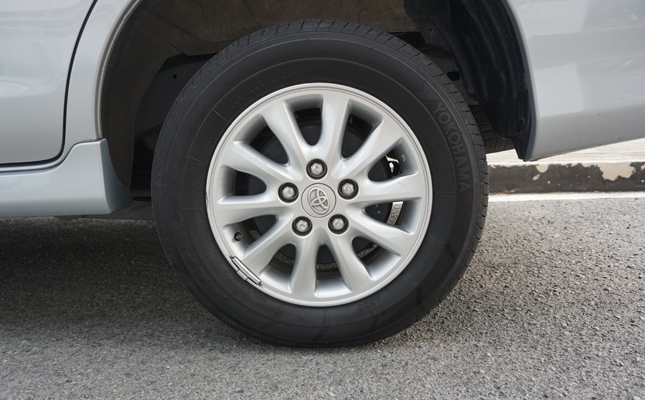 ADVERTISEMENT - CONTINUE READING BELOW ↓
RIDE AND HANDLING
The Innova's age betrays itself the moment you look for an ideal driving position. The steering wheel only adjusts for angle, not reach. This leaves you with a manageable posture behind the tiller, just enough to get comfortable even on long drives. The ride is adequately damped, Toyota having had a decade to tweak the Innova's suspension for Philippine roads (or whatever it is our government tries to pass off as pavement).
In terms of driving enjoyment, we're happy to note that there is some with this MPV. Sportiness isn't something one would expect from a mass-market MPV, but the well-matched pairing of the engine and the transmission resulted in a powertrain that responds instantly when you step on the throttle. Combined with a fairly responsive steering feel, the Innova 2.5V can be driven enjoyably while you're jostling for space with jeepneys driven by Neanderthals.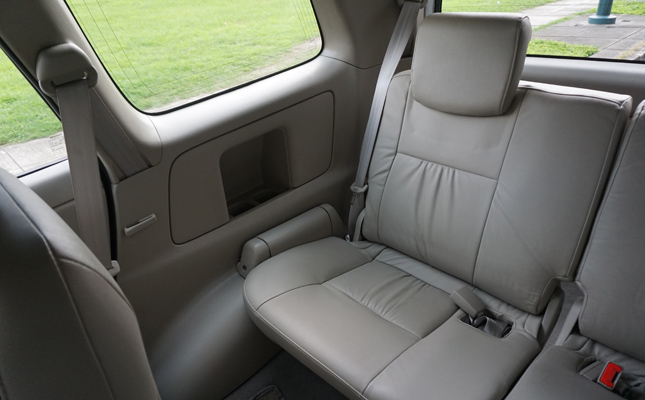 ADVERTISEMENT - CONTINUE READING BELOW ↓
EXTRA FEATURES
The friendly exterior shape hides the fact that the Innova is a large vehicle. That's why the sensors Toyota placed in the rear bumper are very helpful. The foglights and side-mirror-mounted turn signals add a touch of class, as well as usefulness, to the vehicle.
In the cabin, there's a touchscreen multi-information audio system that provides audio entertainment from multiple sources. However, it has an irritating quirk of not remembering radio stations that were saved. So when it is turned on, noisy static comes out of the speakers because it is tuned to a nonexistent station. Other than that, audio is fine for casual listeners.
There are also many useful cubbyholes around the interior. On top of the front glove box is a subtle compartment that can swallow a medium-sized camera (although we don't recommend leaving valuables in your car). The third-row seats even have cupholders so that passengers sitting there can enjoy the convenience of a cold beverage.
ADVERTISEMENT - CONTINUE READING BELOW ↓
THE VERDICT
We fantasize and covet sports cars and macho SUVs, but 80% of the time we just need a reliable vehicle to bring us to our destination comfortably. And when we say comfortably, that means adequate space, a forgiving ride, and an A/C that can repel urban heat. The Innova does all of this well, and it does so while seating seven and delivering good fuel economy.
Its ubiquity makes it a very common sight on our roads, and its design will please 99% of the population. The Innova is good-looking without standing out. The updates Toyota did have modernized its look, and it seems a little dated only if you stare at it long enough (or if you focus on the fact that an all-new model is on its way). For those who simply want a dependable point-A-to-point-B car, the Innova deserves a spot in the garage.
ADVERTISEMENT - CONTINUE READING BELOW ↓
SPECS: TOYOTA INNOVA 2.5V AT
Engine: 2.5-liter DOHC turbodiesel
Transmission: 4-speed automatic
Power: 101hp @ 3,600rpm
Torque: 260Nm @ 1,600-2,400rpm
Drive layout: RWD
Seating: 7
Price: P1,276,000
Score: 17/20
Photos by Dinzo Tabamo
Toyota Innova