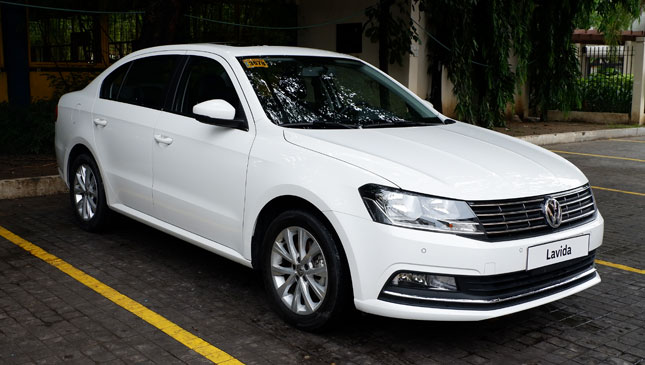 The Volkswagen badge is German, but it's taken on a Chinese flavor here in the Philippines. The manufacturer recently overhauled its local lineup by launching five new models, all built in China. Their goal, Volkswagen PH COO Klaus Schadewald says, is to offer Filipinos "the right product in the right segment at the right price."
ADVERTISEMENT - CONTINUE READING BELOW ↓
The compact Lavida, if we're going by Volkswagen's strategy, is currently facing some stiff competition from other compact sedans. That includes icons like the Toyota Corolla and the Honda Civic. So how does it fare?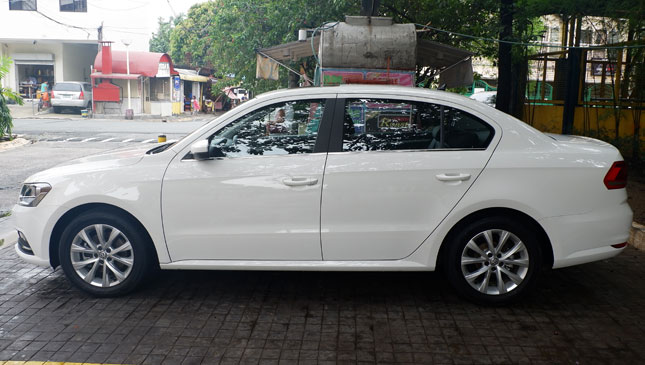 STYLING
If we're being honest, the Lavida's exterior look leaves little to the imagination. Up front, the chrome grille has a horizontal stripe pattern, next to a big badge and straightforward LED headlamps. The haunches are small, giving the car few curves, and the character lines run straight along to the rear. In the back, you get these semi-triangular taillights and a slim chrome strip along the bottom of the trunk. It's not a bad look per se, but it's nothing we haven't seen before.
ADVERTISEMENT - CONTINUE READING BELOW ↓
Recommended Videos
And yet, all that familiarity sets it apart from its competitors. Where the Corolla and Civic are designed to look sporty and modern, the Lavida is content to be simple and elegant. It'd look equally at home in the hands of a spirited millennial as it would being driven by a more mature buyer. Plus, that European badge will denote luxury in the eyes of some observers despite the car's actual price. The design might not turn heads as much as the others, but it'll likely age better over time.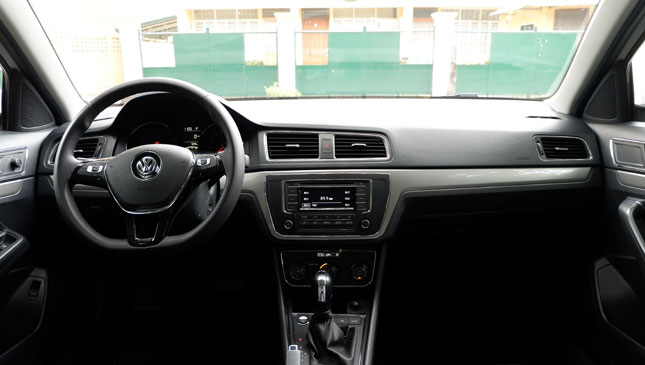 ADVERTISEMENT - CONTINUE READING BELOW ↓
INTERIOR
The Lavida's interior is typical modern Volkswagen: a thin, slightly flat-bottomed steering wheel, a small dial for the lights, a stubby black and silver shifter, well-bolstered leather seats, and smooth dark plastics galore. It's a tried-and-true set-up for the German brand, and one that's economical and driver-friendly. It helps that this compact sedan has plenty of head- and legroom.
Highlights include the simple but legible gauges with a small info display in the middle, and the sturdy feel of the panels and doors. If we had to pick a flaw, it'd have to be with the tiller. While it is thin, I feel its circumference is a tad too big for a car this size. It felt almost truck-like at times while turning. The speakers, too, offer only average sound quality.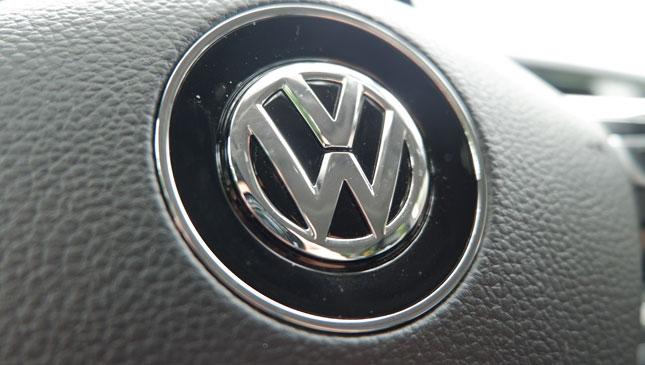 ADVERTISEMENT - CONTINUE READING BELOW ↓
ENGINE PERFORMANCE
The Lavida is powered by a 1.4-liter turbo gasoline with 128hp and 225Nm, paired to a seven-speed DSG. We've always been fond of the DSG transmission, and this one is no exception. It's quick to shift when you want it to, holds the gears longer when you put your foot down, and assists with braking when you want to come to a halt from speed.
The engine, meanwhile, isn't as fun as the turbo would make you believe, but it still offers a respectable amount of torque when the need arises. The good news is that it's very Metro Manila-friendly. A week in heavy city traffic netted us roughly 12km/L.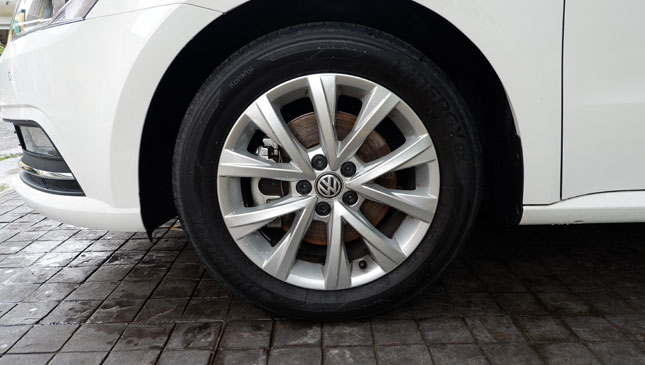 ADVERTISEMENT - CONTINUE READING BELOW ↓
RIDE AND HANDLING
Going back to the steering wheel, it turned out to be one of the major downsides of this car. It has a signifcant dead center, and felt mostly numb while turning. Not that I was expecting a whole lot for what's essentially a city cruiser, but a bit more feedback would've been nice.
The ride, meanwhile, is stable on most surfaces, but patchy roads can get a bit uncomfy. The wheelbase sits at 2,610mm, and allows the car to be agile but also allows for some natural body roll. In all, not too much to complain about if you're a laid-back kind of driver.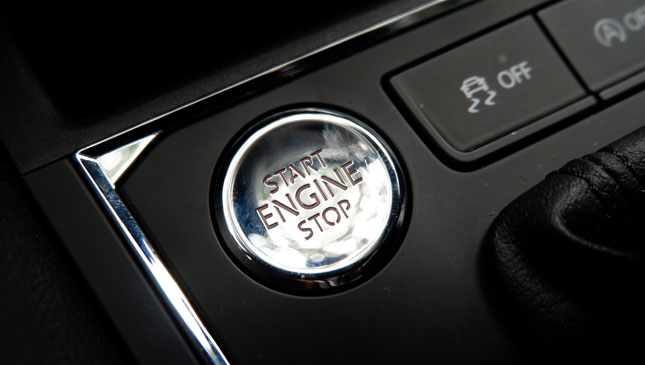 ADVERTISEMENT - CONTINUE READING BELOW ↓
EXTRA FEATURES
The Lavida doesn't have a lot in terms of spectacular features, but it does have things like cruise control, push-button start, Climatronic air-conditioning, tire pressure monitor, and hill-start assist. It also comes equipped with a sunroof.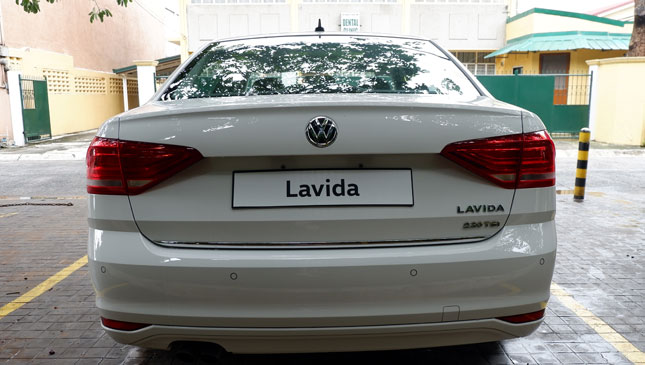 VERDICT
Critics might scoff at the idea of a Chinese-made Volkswagen, but a close inspection will show you that the build quality hasn't suffered despite the overseas manufacturing. While the Lavida isn't as feature-packed or as flashy as some of its rivals, it still makes for a respectable, albeit not-too-exciting daily driver
ADVERTISEMENT - CONTINUE READING BELOW ↓
SPECS: Volkswagen Lavida 230 TSI DSG Comfortline
Price: P1,171,000
Engine: 1.4-liter turbocharged gasoline
Transmission: 7-speed DSG transmission
Power: 128hp @ 5,000rpm
Torque: 225Nm @ 1,400-3,5000rpm
Drive layout: FWD
Seating: 5
Score: 17/20
Volkswagen Lavida