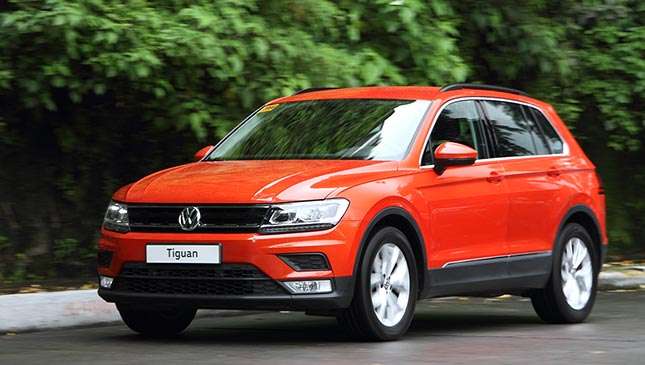 Could a Tiguan be your next SUV? That depends on whether you feel that P2.259 million for a compact crossover is worth your time and consideration. After all, that amount lets you bring home any top-flight sport ute from Japan or South Korea, with enough change left over for accessories.
Volkswagen may have yet to penetrate the local market like Mercedes-Benz, BMW, or Audi have, but we're seeing more of its handsome automobiles these days (I think the Passat is rather fetching, tbh). It has the unique position of being the 'entry-level' luxury segment: expensive, but not too expensive. I suppose the people who buy a VW want the quality and sophistication a European brand entails, while remaining low-key. After all, the German carmaker's familial 'carved soap bar' styling doesn't stand out in traffic, unless you're really looking for it.
Continue reading below ↓
Recommended Videos
Anyway, I easily fall for the Mk2 Tiguan. It has all the same premium qualities of before, such as vault-like chassis rigidity, low NVH, and precise handling for an SUV—only now in a bigger, more useful, classier package.
My main complaint with the Mk1 was it felt small for such an expensive vehicle. I loaded it up for a weekend trip and found myself partly wishing I had borrowed my mother-in-law's CR-V instead. The compact dimensions were offset by a high roofline, which was great for headroom, but made it look rather ungainly. Like a damn trucker hat, which is fine if your fashion sense involves looking like a redneck, but not so good when applied to cars.
Volkswagen has listened to my gripes (no, not really) and done a stretch job on the Tig. The wheelbase has been stretched by 7.9cm, overall length has grown by 5.3cm, and width has expanded just a bit by 3cm. Most important, the roof is a little lower at 164.3cm versus 166.6cm. The Tiguan now looks proportionally correct, and benefits passengers in more usable legroom and cargo space without crimping on headroom. From the driver seat, what's noticeable is how roomy the cockpit feels because the cowl seems higher than the usual drop-out-of-view Japanese style. I have to raise the seat several inches to get a good view ahead; I'm 5'8" and normally put the seat in the lowest position in most SUVs.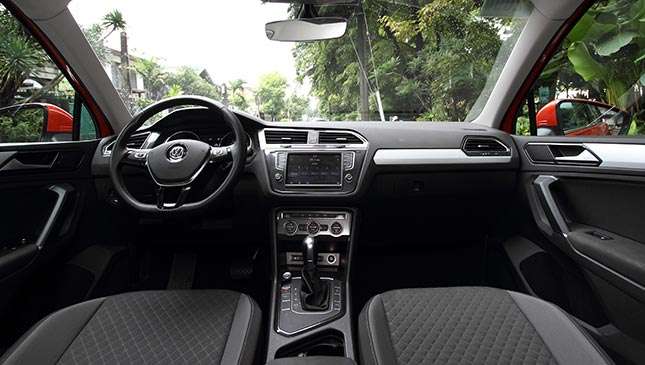 As luck would have it, I had the Tig for a particularly busy weekend of urban driving. While I never get the chance to take it out of town, I do spend five to six hours in the Tiguan on a Saturday and Sunday—enough time to sit back and appreciate the sexiness of the cockpit. The VW interior aesthetic is mostly of soft angles and black/gray surfaces with satin silver accents. Holding the steering wheel and the shifter is a tactile pleasure, thanks to the high-quality materials. Navigating through the multimedia and climate controls is easy with the integrated touchscreen display, although there's no quick off button for the A/C.
Passengers love the space and comfort of the seats, too. The shotgun seat has adequate bolsters to hold you in place without feeling like an airport bench. The backseat affords lots of leg-, knee-, and headroom, and its upright position gives passengers a nice view out while avoiding that annoying knees-up stance. The upsizing has also resulted in more cargo room such that you can fit at least two golf bags now; the Mk1's cargo area was like an afterthought. Great news for people who regularly schlep several bags to and from work (like me), or for that mad rush to Decathlon (hey, that's European too, right?).
As expected, the Tiguan handles superbly for an SUV—smooth, well-damped motions, predictable body roll, strong stopping power, precise braking and steering. The front-wheel-drive variant has a 1.4-liter turbopetrol with BlueMotion tech, and is rated at 148hp and 250Nm. Impressive, as it feels like a 2.0-liter! The standard six-speed dual-clutch gearbox would be nothing to write home about, were it not for the fact that it enables stellar fuel efficiency. In full Eco mode, the system shuts off the engine and runs on battery power at stoplights. It will also run on only two tiny cylinders if the computer decides you've got enough momentum and are being particularly pussyfooted with the accelerator. This even with a modest load of people and cargo aboard.
Coupled with the extremely efficient TSI fuel-injection technology, my fuel consumption for four hours in Manila traffic hovers at 8-9km/L, and rises to 11-12km/L on the highway. No doubt these figures would be even better on the open road. As it is, these numbers run close to what you could get with a modern CRDi—but with lower NVH figures. Whether you're driving the Tiguan hard or not, you never hear or feel much effort from the engine other than a muted hum beyond the firewall at low revs.
At the end of my test period, I find myself wishing I have the financial wherewithal to afford and maintain a Tiguan. It may not be the automatic first choice of luxury SUV buyers (let alone SUV buyers, in general) given the no-small-concern of long-term maintenance compared with a Japanese SUV, but that's where the luxury part comes in: Being truly rich means not having to care about such concerns.
The new Tiguan indulges the wealthy buyer with a high level of sophistication, while remaining pleasingly low-key and all but invisible to the masses.
SPECS: Volkswagen Tiguan
Price: P2,259,000
Engine: 1.4-liter turbopetrol I4
Power: 148hp @ 5,000rpm
Torque: 250Nm @ 3,500rpm
Transmission: six-speed dual-clutch
Layout: FWD
Seating: 5
Score: 18/20