IF YOU'RE shopping for a compact sport-utility or crossover vehicle, and you're having trouble choosing one from the kennel - what with all those cute noses pressed against the window - then let me make the task easier for you: Pick the Subaru Forester 2.5XT. It may not be the prettiest of the bunch, but it delivers the sort of fun that playfully licks sport-ute convention in the face.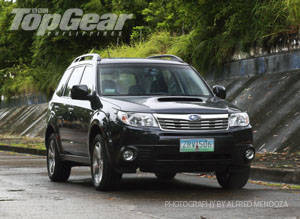 How so? For starters, its 2.5-liter flat-four engine - essentially the same powerplant that resides under the hood of the ferocious Impreza WRX - belts out turbocharged action to the tune of 227 horses and 320 Newton-meters. Bolted onto the Forester's larger - and thus, heavier - body, this engine nonetheless remains potent. Power just comes in smoother and more controlled than before.
Same as on the previous Forester - and virtually all Subarus, for that matter - is the symmetrical all-wheel drive train of the Forester 2.5XT, which, when combined with the fat 225/55 tires that wrap around 17-inch alloys, ensures prodigious amounts of grip. For added surefootedness, the Forester 2.5XT is equipped with Subaru's Vehicle Dynamic Control System (or traction control), which can be switched off if it's stupidly wicked fun that you desire.
ADVERTISEMENT - CONTINUE READING BELOW ↓
Striking a happy balance between control and comfort, the Forester is typically Subaru in terms of its solidity and refinement. Any vibration, noise and harshness that come as a result of the wheels' contact with the pavement somehow get filtered and minimized before they reach the cabin, lulling you into believing it must be some thick, gooey maple syrup that shields you from the road's unpleasantness. Only the least amount makes it to the cabin and steering wheel, just enough to give the driver a bullet-point feedback of what the road wants to communicate.
Definitely, the new Forester's ride is a huge improvement over the previous model's, which felt rawer and edgier. In recent times, Subaru has chosen to expand its target market, and it shows in the new Impreza's and Forester's more cushy ride and appointments.
Gone are the econo-car interiors of the old models. The Forester 2.5XT now boasts steering wheel-mounted audio buttons, cruise control, HID headlamps, tilt/telescopic steering wheel, electronically adjustable driver's seat, sport pedals, and a seriously big sunroof with a nifty integrated wind deflector that automatically pops up. The vehicle abounds with thoughtful features like that, including cupholders in the rear seat and an MP3 player tray and jack in the center console.
True, the latest Forester is more conventional-looking, but the changes do combine to make a good thing. The new Forester 2.5XT may be tamer, but Subaru made sure it could still be a bitch if you want it to be.