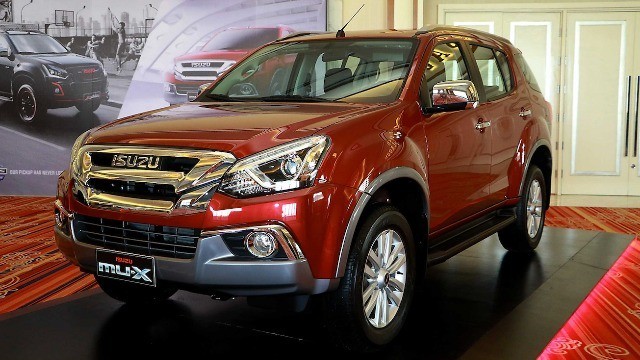 Power and practicality have long been the defining characteristics of Isuzu vehicles. The word 'workhorse' is often used to describe the brand's pickups and commercial trucks, and it's an image the Japanese manufacturer embraces. We're talking about a company that holds events such as an annual Truck Fest and the 4x4 Playground, which showcases the off-road prowess of vehicles through obstacles like the 30-foot Thrill Hill.
In 2014, however, the Isuzu mu-X further underscored a key selling point for the brand—superiority.
Seven-seat midsize SUVs are regarded as status symbols in the local market—a step up from entry-level hatchbacks, sedans, and crossovers that pale in comparison next to these high-riding, truck-based vehicles. With its handsome exterior, brawny powertrain, well-appointed cabin, and modern features, the mu-X quickly presented itself as an aspirational model. Such was the demand for it that within two months of making its Philippine debut, it had a waiting list of three months.
Last September, Isuzu brought in the refreshed mu-X, powered by the 3.0-liter Blue Power Diesel Technology engine. Exterior and interior improvements, including a redesigned radiator grille, bi-LED headlamps with daytime running lights, and a multimedia system with smartphone mirroring, ensure that the vehicle's styling and specs are up to date. To further diversify the mu-X line, Isuzu then launched a new variant in February: the mu-X Luxe.
It's essentially the luxury edition of the mu-X 3.0 LS-A 4x2, which was named the top Midsize 4x2 SUV of 2017 by the Car Awards Group. Under the hood, the 3.0-liter 4JJ1-TCX Blue Power turbodiesel makes 177PS and 380Nm of torque, channeled to the rear wheels by a six-speed automatic transmission.
Among the new upscale features of the mu-X Luxe is the Power Lift Gate, which opens or closes at the touch of a button for easy and convenient access to the rear cargo area. The 3D Surround Sound system, meanwhile, delivers crisp, clear audio output throughout the entire cabin, so that even passengers seated in the third row can fully enjoy the in-car entertainment.
As for distinguishing design elements, the exterior is equipped with gray fender flares and blue-illuminated scuff plates for a stylish and sporty appearance. Completing the list of variant-specific add-ons is the Red Spinel body color, which makes this SUV a standout and imposing presence on the road.
To reinforce its status as a premium offering, the mu-X Luxe is made available as a limited-edition variant. Not all interested buyers will be able to get their hands on the remaining units, but for mu-X Luxe owners, this means they seal their belief for a vehicle that has efficient power, everyday practicality, and exclusivity.
To know more about the Isuzu mu-X Luxe, visit Isuzu's official Facebook page today.