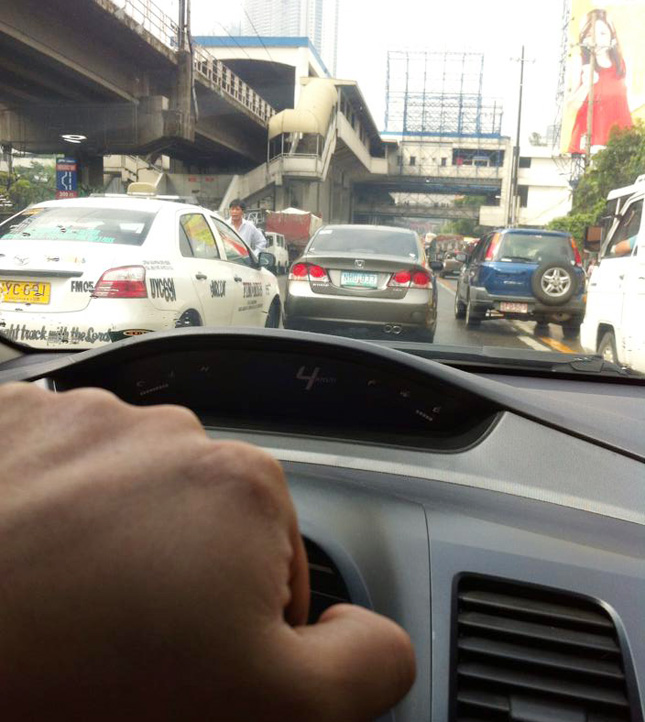 The most amusing news last week--or joke, depending on how you look at it--was the casual quip of Transportation Secretary Joseph Emilio Abaya that "traffic isn't fatal." In other words: Stop whining about the worsening traffic congestion because it won't kill you.
Remember that Malacañang's ultimate litmus test in assessing a situation is this question: "But...did it kill you?" If the answer is no, then the situation is no big deal.
Well, we don't know how our government defines "fatal" exactly, but even in the figurative sense, we don't understand how the authorities can't see that paralyzing traffic jams have catastrophic effects. The Japan International Cooperation Agency has already said that "without intervention, traffic costs will likely increase to P6 billion a day from today's P2.4 billion by 2030." If that kind of economic loss doesn't look like death to you, we don't know what else will.
And in the most literal sense, we still beg to disagree: Traffic congestion can be fatal (i.e., causing physical death). Here are 10 scenarios that support our belief:
1. You've been sitting in nonmoving traffic for hours. When another car rudely cuts into your lane, you just lose it. You get out of the vehicle to confront the other driver. Who has a gun. And then shoots you. Fatal.
2. Your father has a heart attack over dinner. You grab the car keys to rush him to the hospital. You hit the main road. Crawling gridlock. Fatal.
3. You've stared at the same pair of taillights for an hour now, all while realizing you're about to miss the last episode of your favorite TV series. Your blood pressure shoots up. Fatal.
4. Your car runs out of fuel in the middle of the jam-packed road after having idled for long stretches. You step out to get help. A street thug swipes your phone as you attempt to call a friend. You give chase. He stabs you. Fatal.
5. You miss an all-important job interview for your one and only meaningful employment prospect. You desperately need to live up to the high expectations of your parents and your peers. You slip into a soul-sapping depression. You take your life. Fatal.
6. Your car is motionless. Loitering imps decide to make it a sleek target for their rock-throwing game. A solid brick breaches your windshield and hits you squarely in the face. Fatal.
7. You see some heavy equipment overhead while you're caught in bumper-to-bumper traffic in a flyover construction site. A thick metal cord securing it snaps. It wobbles. You're sure it's going to plummet down below. You can't move your car out of harm's way. F*ck it: Just get out and leave the car. The thing takes a violent plunge before you can even unlock your door. Fatal.
ADVERTISEMENT - CONTINUE READING BELOW
8. You have a 10am international flight and need to be at the airport by 8am. It's 7:50am. And you're still in Cubao. Traffic is hardly moving. When at last the traffic clears, you instruct the taxi driver to step on it, whatever it takes. Pressured, he crosses every intersection without caution. A speeding SUV crashes into your cab. Right where you're seated. Fatal.
9. You've been exposed for hours to this FM radio station with disc jockeys that spew nothing but asinine stuff. Death by stupidity. Fatal.
10. You've been inching along EDSA since you left the office at 5:30pm. It's already 9pm. You miss the romantic dinner you promised the wife. On your wedding anniversary. Fatal.
Photo from AJ Jimenez