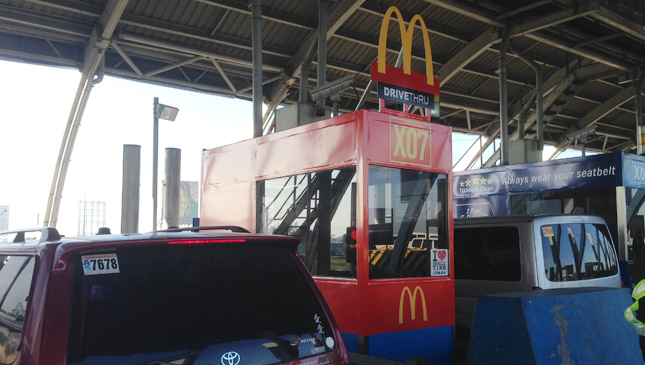 Yesterday, March 24, the purveyor of everyone's favorite comfort food--McDonald's--held a global marketing campaign called "imlovinit24." The idea was that for 24 hours, the fast-food brand would perform 24 acts of surprise or kindness in 24 different cities around the world. Manila was one of those cities, and I was one of the very few to have had the chance to take part in it.
The 24 McDonald's market partners had different ideas on how to pull it off. McDonald's UK, for instance, drove a double-decker bus in McDonald's livery and with Jessie J giving a free mini concert on it. Meanwhile, the brilliant minds at McDonald's Philippines thought of something more epic: the McTollbooth.
McDonald's converted one tollbooth each on SLEX and NLEX into a bright-red McTollbooth, which basically mimicked the look and feel of an actual McDonald's drive-thru booth. All cars that passed through these McTollbooths from 6:30am to 8:30am got free McMuffins and waived toll fees. The marketing gimmick was never announced, so the motorists were genuinely surprised.
As a bonus, a few celebrities took turns manning the booths, including McDonald's Philippines president and CEO Kenneth S. Yang, Xian Lim, Enrique Gil, Lovi Poe and a car-magazine editor nobody cared about.
I was given the last 30-minute slot at the NLEX McTollbooth, from 8am to 8:30am, presumably because studies indicate motorists are more tolerant and forgiving within this specific time frame. The experience was a blast. I even learned six life lessons while handing out those sausage McMuffins, and I'd like to share them with you.
1. Nothing beats kindness. I would take a kind man over a wealthy man every single time. Little acts of kindness--no matter how inconsequential they appear in your eyes--go a long way in making someone smile. And sometimes, smiling is all the heaven an individual can experience in this mortal life. Without fail, I saw drivers flash that unmistakably joyful grin when I gave them a McMuffin and informed them that their toll fee was on McDonald's. They were so surprised they asked: "Anong meron?" ("What's the occasion?"). See, kindness is so rare these days that people get shocked when they receive it. The truth is that we don't need a special occasion--or a global marketing campaign--to act kindly toward each other.
ADVERTISEMENT - CONTINUE READING BELOW
2. Happiness is cheap. What does it take to make someone happy? How much does it cost? For McDonald's Philippines, it took them "over 1,500 McMuffins given away to more than 300 vehicles in less than two hours at two tollbooths." At P80 per McMuffin, the marketing initiative cost the fast-food firm around P120,000. That's loose change to a multinational company that rakes in nearly $30 billion a year. A McMuffin is nothing to them, but it is bliss to some guy out there. Which made me realize something: I buy a lot of profligate stuff I don't really need, with money that could get a family through a day, even a week. I'm not saying we should give our money away. I'm saying we owe it to humankind to help make life better--and happier--for the next person. The reward is almost always priceless.
3. We are often given just one chance to make a difference. I was told by an NLEX officer on the ground that their tollbooth personnel are trained to finish the transaction in 8-12 seconds. That's the ideal length of time a driver should spend at the tollgate from the time he gives his payment. That's fast. What can you do in that amount of time to make an impact on another person's life? I don't know, but a courteous tone of voice doesn't sound like a bad idea. When I was handing out those McMuffins, I kept thinking: "I will never see these people again; this will be our one and only encounter in this lifetime." Might as well use that fleeting moment to ensure the other person will have fond memories of that encounter. We are often thoughtlessly dismissive of chance meetings--of casual contacts. We think our behavior has no effect whatsoever on the other person. We're wrong. To this day, I tell friends about the day I met Lance Gokongwei for the first time. He addressed me by my first name and mentioned the magazine I worked for. I felt important. I felt respected. And I've been his publicist ever since.
ADVERTISEMENT - CONTINUE READING BELOW
4. Everyone needs to be treated with the same degree of respect. Sometimes it's pretty tempting to give more importance to a BMW driver than to a UV Express driver. Human nature prompts us to roll out the red carpet for the company president, and unleash the brush-off on the security guard. The McTollbooth activity showed me this important lesson: It doesn't matter if you're driving a German luxury sedan or sweating behind the wheel of a public-transport van--you're getting the same McMuffin. I know folks who act obsequiously around VIPs, and turn into absolute jerks when dealing with waiters and housekeepers. I swear one day I will kick someone like that in the face.
5. If you must err, err on the side of benevolence. Before entering the McTollbooth, I was given this instruction: "Only a maximum of seven McMuffins per vehicle." In cases when a large van with at least a dozen passengers arrived, I was told to just give coupons to the other passengers. McDonald's might frown upon reading this, but I repeatedly ignored this instruction. I lost count of the number of vehicles I gave at least nine McMuffins to. I just didn't have the heart to send a vehicle away knowing two or three passengers didn't have free breakfast. This is not to say insubordination rocks. But if you really, really have to break a rule, be 100% sure it's for the common good and nothing else.
6. Everyone is just trying to get by. Here, perhaps, was my greatest epiphany during my McTollbooth stint: Everyone is merely on a journey. Everyone is just trying to get to a destination. Would it really kill you if you helped make that journey as pleasant as possible? Every time a car rolled in, I was thinking: "Okay, what could the story of this driver be?" Is he happy with his life? His job? His marriage? What if that one person was contemplating ending his life because he couldn't take Philippine TV shows anymore? What if that person's world was crumbling faster than the expressway's speed limit, and you couldn't tell because he was putting on a deadpan face? I distinctly recall what Lexus Manila president Danny Isla told me about his management style: He tries to be a father figure to all employees and wants the workplace to feel like a sanctuary. "You never know what the person might be going through at home," he said. That dude you cursed on Facebook? He could be on his last straw. Be nice. Smile. Offer a McMuffin. Whatever. Just be kind.
ADVERTISEMENT - CONTINUE READING BELOW