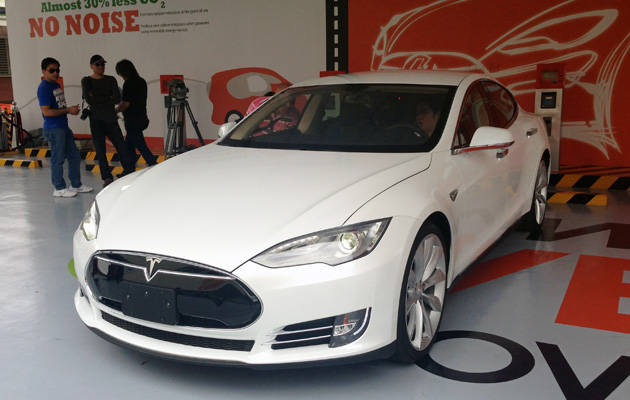 At around the start of the year, I saw a Tesla Model S in the metal for the first time. I was vacationing in the US at my parents' place in New Jersey when I discovered a Tesla boutique store inside a mall. Sitting in the middle of the store was the Model S--at the time the toast of the auto industry, having impressed the American motoring media including the magazines Automobile and Motor Trend, both of which had named the electric sedan their Car of the Year. I went around the car, sat in it and wondered if I'd ever get to drive it.
Last weekend, seven and a half months later, I got my wish--inside the Meralco compound on Ortigas Avenue of all places. I had imagined that if I was going to test-drive this car, it would be on a sunny West Coast road in the US, upon the invitation of Tesla Motors itself once the Palo Alto-based carmaker decided it was time to do business in the Philippines.
But whom was I kidding? Selling EVs (electric vehicles) in the Philippines would be the equivalent of putting up a fine-dining restaurant in Payatas. At this point when even hybrid vehicles are still a little too challenging to offer and explain to a Filipino car buyer, a fully electric Model S would be met with a lot of adoring glances and not much else. So there goes my fantasy about cruising down Sunset Boulevard in this car, right?
Thankfully, Meralco is diving headlong into the EV-charging business, recently inaugurating a pilot charging station called Meralco eVehicle Power Station. And thankfully, too, Manny V. Pangilinan is the electric company's chairman, because the guy doesn't seem to balk at huge expenses if an acquisition will do the business some good. He imported a Tesla Model S for a reported sum of P9 million, just for the car to aid in testing and promoting the country's first EV charging station.
ADVERTISEMENT - CONTINUE READING BELOW
Luckily also for a handful of motoring journalists, MVP doesn't mind strangers having a go in his pricey cars (at least not with the Model S). So I went to the Meralco compound Saturday morning and joined a few of my colleagues who had been handpicked by InterAksyon to attend this exclusive demo of the Tesla S. InterAksyon is the news website of TV5, a broadcasting network also owned by Pangilinan.
When I arrived on the property, I instantly spotted the charging station and approached it. It was impossible to miss it with its loud-orange color motif. Here, the first thing I noticed was the white Model S. Second was Fille Cainglet, the Ateneo volleyball star who apparently is now employed by Meralco. I very nearly walked up to her to ask: "So, are you here to provide the electric charge?" That was when I realized I should stop listening to FM radio stations.
As I waited for my turn in the driver's seat, I curiously surveyed the EV charging station. It looked like an ordinary mall parking lot, only brighter and more futuristic-looking, thanks to sleek charging machines that each feature a power socket, a keypad with which you punch in the amount of power you require, and a digital gauge to show you the amount of power your car is being charged with. Think of them as conventional gasoline pumps, but with kilowatt-hours instead of liters as the unit of measurement.
The machines can either be regular-charging or fast-charging, although I understand that Meralco is still working on the latter. Fast-charging means a much shorter time of replenishing your car battery's juice, but it is also likely to be more expensive. For example, a regular charger--which is like the electric power we get at home--can supply the Model S with a 300km range in 12-15 hours, while a fast charger can do the same in just six hours. An ultrafast 80-ampere charger can give the Model S a 240km mileage in 30 minutes. Imagine receiving the amount of charge it takes to drive your car up to Baguio while you're finishing a large order of pearl milk tea at Chatime.
ADVERTISEMENT - CONTINUE READING BELOW
Based on its own tests, Meralco estimates that the Model S costs P1.95 per kilometer to operate. How does this stack up against fuel-efficient cars that run on internal-combustion engines? My subcompact hatchback does 12km/L. If one liter of unleaded gasoline costs, say, P54, that means I shell out P4.5 for every kilometer I travel--more than double what the Tesla S costs its billionaire owner (like he even notices). The problem, of course, is that EVs are still overpriced. So overpriced, in fact, that the only way you'll recoup the price difference versus a conventionally powered car, is if you use the EV for at least 10 years. And who really wants to get stuck with the same car for a decade?
The rear-wheel-driven Model S has its electric motor placed at the back, so its front hood reveals nothing but empty cargo space. The lithium-ion battery is floor-mounted, a fact that's guaranteed to make any Metro Manila resident wonder how the car will fare in the event of a flash flood.
The car is gorgeous, worthy of being parked next to a Maserati and an Aston Martin. Actually, it's probably what you'd get if Maserati and Aston Martin copulated. It's also impressively long. At 4,978mm from bumper to bumper, it rivals even the outgoing Mercedes-Benz S-Class, a full-size luxury sedan that measures 5,096mm in length. Needless to say, there's cubic foot upon cubic foot of cabin space inside, which should be more than enough for five healthy adults.
Now, the Model S is a tech car and Tesla has designed it such that you won't forget it is a tech car. When you're about to enter, for instance, the chromed door handle that's flush with the door surface, gently juts out for you. Right there, you know that Tesla has spared nothing to try and make this a very special car.
ADVERTISEMENT - CONTINUE READING BELOW
Inside, you are greeted by a big-ass center-console display that looks like an iPad that ingested growth balls against the wishes of Tim Cook. I was no longer amused since I had seen all of this before. And as I was putting the gear lever in Drive, a Meralco officer riding with me asked if I knew how EVs worked. Yes, I said, having driven several electric cars in the past, including Mitsubishi's i-MiEV, which Meralco had used during the development stage of this eVehicle Power Station.
The car's propulsion was very quiet. I didn't even sense that power had come on. It's like a hybrid vehicle before the internal-combustion engine kicks in. I took the Model S around the compound, going as fast as 95kph on one deserted stretch. The single-gear transmission and the instantaneous torque gave the sedan a go-kart persona. I suspect this would be truly fun to drive on the highway.
But the Tesla Model S is not the real story here. The real story is Meralco's charge toward an EV future for the Philippines. There are talks of Asian Development Bank funding the release of hundreds of electric tricycles to replace old forms of environment-damaging transportation. For that plan to take off, a viable EV infrastructure needs to be in place. Meralco is moving fast to ensure that this vision will come to pass.
I just hope I live to see the complete fruition of the project. I'm sick of paying for expensive gasoline.
Photos by Vernon B. Sarne