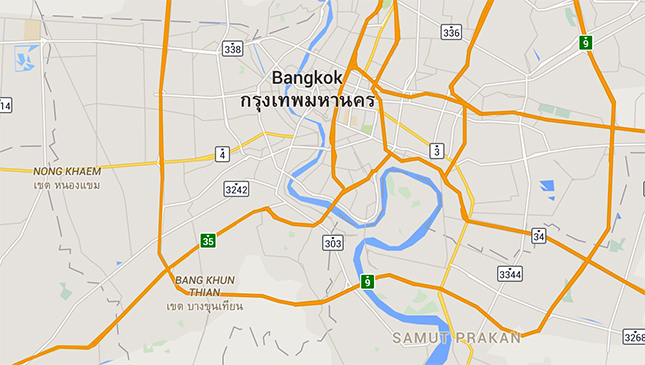 So last week, CNN.com published a story that crowned Bangkok as having the worst rush-hour traffic in the world. It was based on a traffic survey index released by TomTom, a Dutch company that specializes in navigational and mapping devices. These, apparently, are the 15 worst cities in the world when it comes to morning and evening rush-hour traffic:
* Bangkok (Thailand) - 85% morning peak; 114% evening peak
* Istanbul (Turkey) - 62% morning peak; 94% evening peak
* Mexico City (Mexico) - 97% morning peak; 94% evening peak
* Moscow (Russia) - 71% morning peak; 91% evening peak
* Saint Petersburg (Russia) - 64% morning peak; 88% evening peak
* Bucharest (Romania) - 83% morning peak; 87% evening peak
* Chongqing (China) - 81% morning peak; 85% evening peak
* Shenzhen (China) - 59% morning peak; 84% evening peak
* Guangzhou (China) - 56% morning peak; 82% evening peak
* Zhuhai (China) - 53% morning peak; 82% evening peak
* Los Angeles (United States) - 60% morning peak; 81% evening peak
* Chengdu (China) - 73% morning peak; 81% evening peak
* Rio de Janeiro (Brazil) - 66% morning peak; 79% evening peak
* Manchester (United Kingdom) - 68% morning peak; 79% evening peak
* Beijing (China) - 62% morning peak; 78% evening peak
(The percentages represent "increases in peak travel times when compared to a free-flow or uncongested situation.")
As someone who lives and works in the Philippines' National Capital Region, my first reaction was: What?! No Manila?! Which TomTom executive did Thailand have to bribe in order to kick us out of the list? Remember, Waze gave Metro Manila the title of "worst city traffic in the world" late last year. And we didn't even crack the top 10 of this dubious rush-hour traffic index?!
Coincidentally, I was in Thailand last week for the Bangkok International Motor Show, and traffic wasn't nearly as atrocious as the sort Filipino motorists are forced to tackle on EDSA on a daily basis. I didn't see criss-crossing public-utility vehicles racing to pick up passengers. I didn't see potholes the size of Mini Coopers. I didn't see street vendors and beggars squeezing themselves in between cars. I didn't see a pair of livid adults arguing over a minor fender-bender in the middle of the road. And I definitely didn't see traffic officers hiding behind trees to sneak up on erring drivers.
In other words, I didn't see traffic-stoppers in Bangkok.
You might sense I'm very upset. And I wonder if the Aquino government will take this sitting down. I mean, traffic hell has put us on the global map. We've been participating in the Olympics since 1924, and have yet to produce a single gold medal. And now that we've finally won world acclaim for our stroke-inducing traffic--a sign of progress, according to Malacañang--somebody wants to wrest the honor away from us this soon. What's wrong with the universe? At least give us a full year to celebrate and gloat!
ADVERTISEMENT - CONTINUE READING BELOW
Okay, since I don't have faith in our government's willingness and ability to do something about this, I went ahead and did things on my own. So I scrutinized this so-called traffic index from a company whose name I can't even take seriously. True enough, here's what I found: The survey only includes a handful of countries. Thirty-eight countries, to be exact: Australia, Austria, Belgium, Brazil, Canada, China, Czech Republic, Denmark, Finland, France, Germany, Greece, Hungary, Ireland, Italy, Kuwait, Luxembourg, Mexico, Netherlands, New Zealand, Norway, Poland, Portugal, Romania, Russia, Saudi Arabia, Singapore, Slovakia, South Africa, Spain, Sweden, Switzerland, Taiwan, Thailand, Turkey, United Arab Emirates, United Kingdom and United States.
What kind of a scam is this?! My guess is that these are the 38 markets TomTom products are sold in, so I get it. But with over 200 countries on the planet, that's like trying to determine the best player in the NBA and excluding candidates from the Golden State Warriors, the Oklahoma Thunder, the San Antonio Spurs, the Toronto Raptors, the Los Angeles Clippers, the Houston Rockets and a dozen other teams. So you end up with LeBron James a bogus result.
Shame on you, Thailand. You took away our car-manufacturing business, and now you want to steal our "Worst Traffic in the World" trophy? And to you, CNN reporters--yes, you, Alanna Petroff and Charles Riley--please do your research properly and know your facts. Metro Manila has the most horrific motor-vehicle congestion on earth--in the morning, at noon, in the afternoon, in the evening, at midnight and in the wee hours. We're a round-the-clock rush-hour nation now.
Don't you dare touch this distinction. We will go to war for this, we promise you.
Image from Google Maps