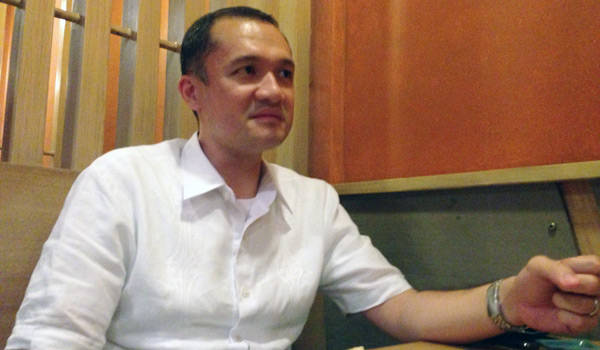 In October last year, German automaker Volkswagen finally revealed that it had already picked a Philippine distributor to partner with, which was how we knew about the existence of Ayala Automotive Holdings. But it turns out that Ayala Automotive is the Ayala Group's umbrella division for its car business, and not the VW distributor per se as we reported. Ayala's automotive arm operates several Honda and Isuzu dealerships, and has stakes in the Philippine operations of both Japanese carmakers.
The official name of Volkswagen's newly appointed distributor is Automobile Central Enterprise, which is now part of Ayala Automotive's expanding portfolio in the auto industry. I met up with ACE sales development manager Andros Villaraza recently and discussed a few things about his new company. Andros used to handle marketing for Mercedes-Benz at CATS Motors. He describes the work environment at ACE as being "organized, scientific and professional."
As somebody who has worked with a German luxury brand, Andros brings a wealth of experience that can only benefit Volkswagen in our market. He says he is now helping orient his colleagues--most of whom have worked for Japanese mass-market brands--to the crucial nuances of a European car make.
First things first: When is Volkswagen launching in the Philippines?
"No definite date but definitely within the year," Andros tells me. "Most likely last quarter."
The positioning of VW in our market, he says, will be somewhere in between Japanese brands and European brands. Kind of like the positioning of Peugeot, then, I point out.
"Yes," he agrees. "But we will have a wider product line, and we will introduce models in the popular segments, unlike Peugeot, which chose to bring in niche models first."
Also, he adds, ACE intends to have a few Volkswagen showrooms already open by the time it launches the brand. He won't reveal the locations of the showrooms, but I suspect one of these could be in Bonifacio Global City since the property is partly owned by Ayala Land. In fact, BGC is home to ACE's current office.
Of course, the details you and I want to know concern the specific VW models that ACE will be bringing in. Andros refuses to divulge the models but insists the Filipino market will be happy with what they have to offer. During the course of our conversation, however, I manage to squeeze the identities of at least a couple of these cars out of him.
ADVERTISEMENT - CONTINUE READING BELOW
"The one model that you really have to bring in is the Beetle, just because it's synonymous with the Volkswagen brand," I tease him.
"Of course," he replies while giving me a knowing grin.
And then later, I take note of this statement from him: "The Jetta is practically an Audi. They share so many parts. You look at even the smallest components and they're the same."
That tells me the Jetta is one of the models that ACE's product planners have been focusing on.
Apart from Andros, ACE has three key people that will stand Volkswagen in good stead in our competitive, fickle and budget-conscious market.
There's the president (name withheld for now), whose background in handling Ayala Corporation's corporate resources department should prove useful to ACE in getting the ball rolling and making things happen.
There's the managing director (name also withheld as requested), whose years of experience serving as the general manager of several Honda dealerships should help steer Volkswagen in the right direction as far as sales and customer service are concerned.
And then there's Andros's boss, marketing head Arnel Doria, whose legendary history with Honda Cars Philippines still impacts the Japanese brand to this very day. Responsible for introducing such memorable Honda models as the "people's car" Civic hatchback and the Civic SiR, Doria knows our market as well as anyone in the business. One of the sharpest marketing minds I've ever met in the industry, this guy will make a lot of noise for his new German brand, believe me.
Oh, and let's not forget Ayala Corporation big boss Fernando Zobel de Ayala, who was so determined to get the Volkswagen brand that he personally gave the presentation of his firm's proposal before VW executives during the cutthroat bidding period. I have no doubt he will spare nothing to aid the carmaker's upcoming takeoff.
This will be Volkswagen's third time to enter the Philippine market, the last one being a forgettable episode from the '90s up to around 2006 with a distributor that forsook customer service altogether. But as they say, maybe the third time is a charm.
"Some local distributors tend to do a lot of things by gut feel," Andros shares. "With Volkswagen and ACE, it's all very scientific. Every step of the way is measured and calculated. Failure is not an option."
Well, with a dream team like Automobile Central Enterprise, success is probably a given.
ADVERTISEMENT - CONTINUE READING BELOW
Photo by Vernon B. Sarne