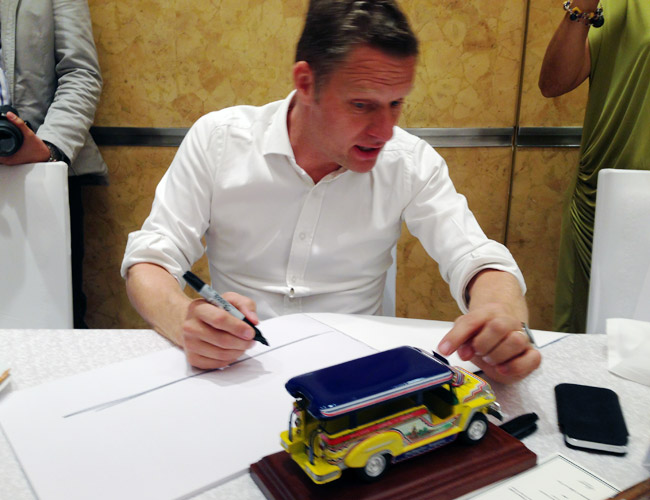 I seldom meet people whose job is more fun than mine. Even when I occasionally manage to hang out with rock stars and basketball players, I still tend to think my occupation is more awesome than theirs. There are very few people in this world, in other words, whose line of work I actually envy. Car designers are among these rare individuals, and I don't really bump into one very often.
Last night, however, I had the pleasure of having dinner with one such gentleman. His name is Simon Loasby, a British dude who is currently the design director of Volkswagen Group China. If that line isn't impressive enough for you, consider that he holds a master's degree in vehicle design from the UK's Royal College of Art, and that he used to be a designer for Bentley and Rolls-Royce for a decade before being poached by parent company Volkswagen in 2001. If that still sounds underwhelming to you, just know that he played a key role in the creation of the Bentley Continental GT.
Having read Simon's profile, I won't be surprised if he goes on to one day replace Walter de Silva as the overall design chief of the Volkswagen Group.
Turning 47 years old in October, Simon is married to a German lady and has lived chunks of his professional life in Germany and China. Both his wife and kids speak multiple languages. That makes Simon very global, both in perspective and attitude. Because his work now requires the development of cars specific to the Chinese market, he understands the value of learning a particular market's culture when designing cars. He knows that for a car design to be successful, said design has to resonate with the intended buyers. He's not one of those self-important car designers who come up with a styling blueprint and say: "Take it or leave it, love it or hate it--I couldn't care less. I'm an artist!"
In fact, his rule in getting inspiration for a car design is simple: "Look around you."
It means a car designer needs to be aware of the world he is in--and of what the people living in that world truly want.
As the boss of a design team that employs a total of 120 people and which is based in what is now the world's biggest automotive market, Simon knows the significance of adapting to different cultures when it comes to selling a product. Yes, more so when the product is a car.
ADVERTISEMENT - CONTINUE READING BELOW
Even his attitude toward the Chinese's propensity for commercial plagiarism is amusing. "It can be frustrating, but it's also confidence-building," he said. "When the Chinese copy your design, you know it's going to be successful. You're doing something right."
No trace of professional annoyance whatsoever.
Because of this global outlook, Simon's talk yesterday before the design students of De La Salle-College of Saint Benilde was very gracious. He genuinely enjoyed the experience, handing out witty advice and whipping up a few sketches for students and teachers to frame. He dished out much-needed encouragement to the kids, even telling them that an internship gig at Volkswagen is possible. In a profession where as little as 1% of your ideas get through to the production stage, that kind of friendly tutelage will prove valuable somewhere down the road.
After our dinner, he concluded the evening with another sketching session. Then I got possessed by an idea: "Simon, if Volkswagen were to build a modern version of the Philippine jeepney, what would it look like?"
He then got his phone and went straight to Google. "I need some visual reference," he said gamely.
At this point, the people of Volkswagen Philippines (aka Automobile Central Enterprise) brought out a souvenir scale model of the jeepney. "We were supposed to give this to Simon later as our token of appreciation, but you just preempted us," they told me.
Simon quickly went to work, even telling stories while drawing. All the while, a mesmerized group of motoring journalists had their eyes fixed on him. You know a man is a master of his craft when he doesn't flinch at the prospect of performing right in front of potential critics.
He finished the sketch in less than five minutes. Five minutes. That's all it took Simon Loasby to come up with a nice-looking proposal to update our favorite (and decades-old) mode of public transportation. Imagine if our government worked as fast.
(Check out our Facebook page for the unedited video.)
Photos by Vernon B. Sarne