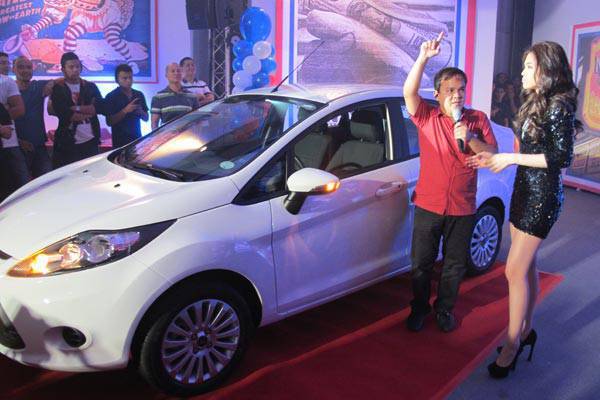 Thirty-year-old Vergel Cambronero, single parent, had worked for the Ford Manila dealership for some five years, most recently as a sales consultant. Due to financial difficulties, he had never once owned a car--ironic for somebody who made a living selling brand-new motor vehicles. He felt a pinch in his heart every time his little son Samuel went with him to the showroom and pointed at that cute little car in the corner. "Papa, I want a Fiesta," Samuel would badger him, oblivious to the fact his father couldn't even afford a down payment for it.
Vergel's brother, who works as a nurse in London and drives a Ford Focus there, had pledged to Vergel that he would shoulder half the price of a car when he comes home for a visit later this year. But Vergel so badly needed a personal car already that he had recently begun scouting for a used car in his company's pre-owned fleet. He found one--a beat-up compact sedan made by a competing Japanese brand. When he asked for a quotation, the fleet manager told him: "Attend the Ford sales rally first; maybe you'll win the raffle prize there."
The "sales rally" in question was a 4th-of-July event organized by Ford Philippines designed, first, to pump up its entire sales force as it entered the crucial second half of the year, and, second, to celebrate what had been a very triumphant first six months. For the record, FGP had sold a total of 5,306 units from January to May this year, an amazing 44% improvement from the 3,693-unit tally the resurgent auto firm had managed in 2010. In the month of May, the Ford brand alone moved 817 units, an 85% jump from the same period last year. This makes Ford the hottest brand in the Philippine car market right now.
ADVERTISEMENT - CONTINUE READING BELOW
Largely responsible for this hot streak had been the diminutive Fiesta, which accounted for some 40% of total Ford sales in the country. To show its appreciation to its overachieving sales personnel, FGP announced that it was giving away on the night of the sales rally a brand-new 1.6-liter Fiesta sedan with automatic transmission. The raffle car had a price tag of P766,000, a sum Vergel Cambronero would never earn even if the mistresses of all the mayors in Metro Manila purchased a car from him.
Vergel went to the venue of the sales rally--One Esplanade in Pasay City--brimming with hope. But all the hope in the world couldn't have prepared him for what happened next. Seated in a tent full of equally optimistic sales consultants from Ford's sizable dealership network, Vergel knew in his heart that the only way his name would get picked for the lone giveaway Fiesta was if heaven finally cut him some slack--if the Great Carmaker Upstairs somehow decided to reward him for a life so forlorn that the only source of motivation came in the form of his young son's photo lovingly filed away in his mobile phone.
The hours went by with an agonizingly slow cadence. Everyone endured program proceedings and ceremonious pleasantries for a shot at what they considered to be the occasion's grand finale. Make no mistake: The expectant guests weren't staying put to hear The Dawn sing 'Enveloped Ideas'. No, they were glued to their seats for one thing and one thing only--the Fiesta sweepstake.
After much revelry and palpable anxiety in the crowd, the main entertainer for the evening, Toni Gonzaga, took the stage wearing a skimpy outfit that would have been enough consolation for Vergel should he go home empty-handed. I imagine he was already putting together in his head an agreeable story for Samuel: "Son, I may not have a car but at least I was able to have my picture taken with Toni Gonzaga. Here, take a look..."
ADVERTISEMENT - CONTINUE READING BELOW
And as Vergel mentally swallowed those words, he probably wondered if a flimsy souvenir from a celebrity would ever be enough to convince his son that he had something substantial going for him.
Then came time to draw the winner of the white four-door Fiesta that had just been rolled out to thunderous applause and nervously held breath. At this precise moment, it began to sink that one lucky bastard--or gal--was about to drive home a new, tax-free subcompact sedan. At this very instant, Vergel Cambronero became acutely aware of the depressing fact that he was just a carless breadwinner in the company of carefree colleagues who would simply unload the car to the highest bidder should they once again hit another of their many jackpots.
Ford Philippines president Randy Krieger joined the incredibly long-legged Ms. Gonzaga onstage. For about five seconds, there was minor confusion as to who should draw the winner. Toni assumed that the unenviable task belonged to Mr. Krieger. Or maybe she was subconsciously avoiding the responsibility. In her words: "I don't want to get blamed by all those who wouldn't win." Had she been told of Vergel's life story, I have no doubt she would have offered a nonnegotiable refusal to draw the raffle. Nobody on that stage deserved to be pinned the guilt of breaking the heart of a father whose only dream was to look cool in the eyes of his son from behind his own steering wheel.
But the actress-slash-singer-slash-host had to do it. She had been paid to do so. So in went her hand, presumably letting her delicate fingers comb through the disorderly heap of name cards inside the raffle bin. When she had pulled out a card, she was asked to read the winner's name aloud. Even I--I who wasn't part of the raffle draw--was overwrought. I wanted the winner to be a guy, just so he could brag to his friends that a hot babe had gotten him a car.
ADVERTISEMENT - CONTINUE READING BELOW
Toni tried to read the name, but paused. She couldn't make out what the grotesque handwriting actually spelled. When she finally deciphered the scribbled identification, she blurted out the name "Vergel." And immediately audible jubilation rose in unison from one section of the room. Whoever this Vergel is, I thought, he must be a well-liked fellow.
Indeed he is.
The place erupted in exultation as a short, simple-looking man made his way to the stage, his eyes already welling up with tears. With the microphone thrust a mere inch from his flustered face, Vergel kept uttering a name. "This is for my son Samuel!" he exclaimed as he held up his cellphone whose illuminated screen displayed the photo of his Fiesta-obsessed boy.
His boss, Willy Tee Ten, felt like he had won a Ferrari himself. "I'm glad Vergel won the car," he told me. "He truly deserves it. He's a very hard-working man and he's always short of money."
An FGP executive who used to handle Ford sales, added: "Vergel is the type of guy that is always very grateful for whatever sale he makes. He thanks customers profusely just for buying a car from him. He feels eternally indebted to them for the opportunity that they give him."
If I didn't know any better, I would have accused Ford of rigging the raffle and following a script too fantastic even for Michael Bay. But I swear I sensed the hand of God shuffle the deck of cards this evening. In an oppressive world where the landless sometimes have to rely on the heroics of swashbuckling lady mayors, it's nice to know that every once in a while, the gates of heaven open to release a four-wheeled windfall to the downtrodden.
Photos by Vernon B. Sarne