As you read this, I'm embroiled in a social-media tussle with people who insist that "sudden unintended acceleration"--particularly on the Mitsubishi Montero Sport--exists. I became officially so when, first, I once again declared my non-belief in the comical possibility that a vehicle might launch itself without human intervention and crash into a luckless object (usually another car or a concrete wall, for good effect), and second, when I exposed one of the reports by ABS-CBN to be a complete sham.
In that report, there was this guy identified only as JR, swearing by his life that his Montero Sport had fancied itself to be a wild-revving contender in a demolition derby. I suspect he was aware that the very notion of a car accelerating on its own was preposterous, because he made sure to point out that his vehicle had been "possessed by the devil." ABS-CBN, for its part, made sure the report had all the ingredients of a soap opera.
The camera shots showed only the lower portion of JR's face and the back or blurred side of his head--like he was a rape victim whose assailant would hunt him down should he go to the authorities and file a case. Also, the aired video (looped to emphasize the crash itself) included only several seconds of what was actually a much longer version, which clearly shows that, one, the Montero Sport in question had been working just fine (including its brake lights) in the hands of a first driver, and two, that JR (who took over the wheel because the first driver had no clue about what he was doing) never really stepped on the brakes like he would later claim (we know this because, duh, the brake lights never came on).
Not only did I write a piece debunking the claim, I also uploaded the complete CCTV footage on our Facebook page. Any guy worth his driver's license will say it was driver error, nothing more and nothing less.
About an hour before I published the story and shared the video on November 26, I had received a call from Alcuin Papa of ABS-CBN News and Current Affairs. They wanted to interview me regarding the Montero Sport issue. My first words to him were: "Pare, sabit kayo dito." It was a genuinely friendly concern on my part. You see, the guy had contacted me a few times in the past for articles he'd seen on our website. The TV network used to interview me for motoring-related stories. They would either send a camera crew to my office or conduct a phone conversation if I was on the road. I guess that's not happening again.
ADVERTISEMENT - CONTINUE READING BELOW
Anyway, no ABS-CBN reporter appeared in my office that day. I waited, even leaving the office much later than I should have for our event in Bonifacio Global City in the evening. When I informed Papa of the no-show, he nonchalantly told me they had run out of time, without apologizing for making me wait. Like I was dying to appear on TV Patrol and they were doing me a favor.
Last Sunday, November 29, it became apparent to me why they never bothered to get me as a resource person. Turns out the station is now out to discredit us. Instead of addressing the screw-up they had broadcast to their millions of viewers, they chose to put us in a bad light, artfully insinuating that Mitsubishi had paid us to defend the Japanese carmaker. Moreover, they got so-called "experts" from God-knows-where and made these "motoring authorities" issue statements that basically exonerated them and practically indicted us. All this because I called them out.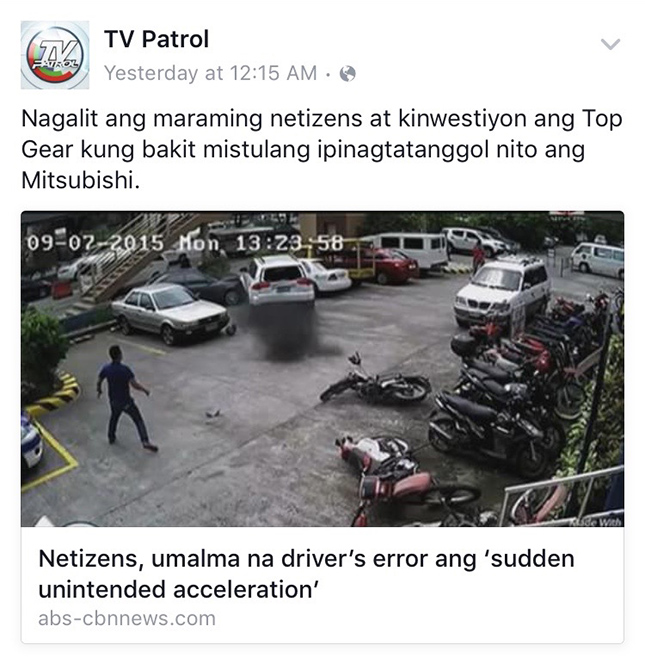 Interestingly, even their reporters are posting reckless stuff like this: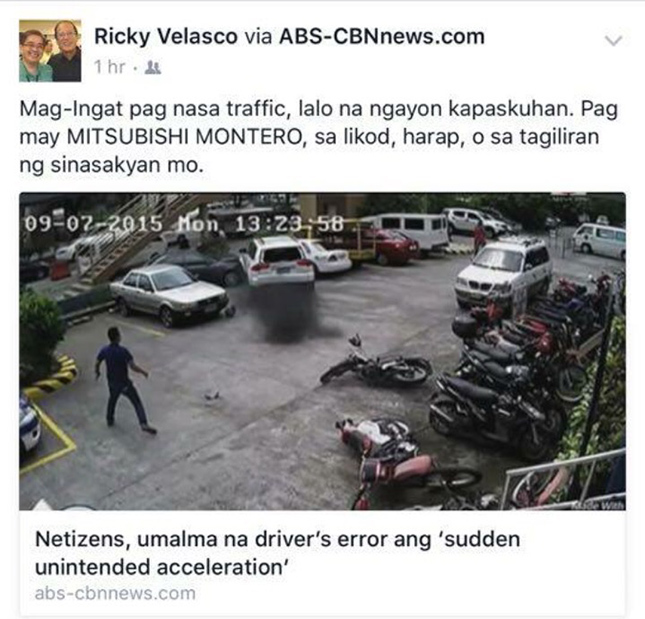 For reasons that escape me, ABS-CBN is suddenly frothing at the mouth lambasting Mitsubishi Motors Philippines just as the car company is preparing to launch the all-new Montero Sport. These allegations are nothing new. Similar claims had been put forward several years ago, prompting Mitsubishi to bring in Japanese engineers to diagnose and understand the purported defect--to no avail. (It's pretty difficult to prove and replicate something that doesn't exist.) Why the newfound passion to disparage the SUV--some 80,000 units of which have now been snapped up in our market--and take down Mitsubishi, I will never know. I won't even hazard a guess.
What I would like to call everyone's attention to is the very real risk of promoting this culture of finger-pointing. To ABS-CBN, do what you must, but know that you are largely responsible for encouraging motorists to not own up to their driving mistakes and just blame these on something else.
What is it with our society and this tendency to weasel one's way out of culpability? In the Philippines, just getting a pathetic police report is such an excruciating experience because the guilty party refuses to accept accountability--even if the blame is as clear as a pair of aftermarket HID headlights.
Having said this, I also want to be fair to some of the Montero Sport's accusers. I truly believe that some of them sincerely feel that they did nothing wrong. In a split-second crash--when one inadvertently steps on the throttle instead of the brake pedal--a driver won't have a very accurate recollection of the sequence of events afterward. And in his or her mind, the vehicle was really at fault. Precisely why the above-mentioned video is particularly revealing, because it presents one such mistaken Montero Sport owner.
ADVERTISEMENT - CONTINUE READING BELOW
I am sorry people got injured. I am sorry property got damaged. I do not wish to be insensitive to those who claim to be "victims" of the "self-propelling" Montero Sport by chalking up these incidents to driver error, but the misinformation has to stop.
If you're reading this and you're a Montero Sport owner, I want to tell you there is nothing wrong with your vehicle (just be mindful of the pedals). If you're a motorist and are worried about being next to a Montero Sport on the road, I want to assure you the maligned SUV isn't a threat.
Incompetent drivers are the threat. And unless we face this reality, we will continue seeing car owners getting into accidents and blaming something else.