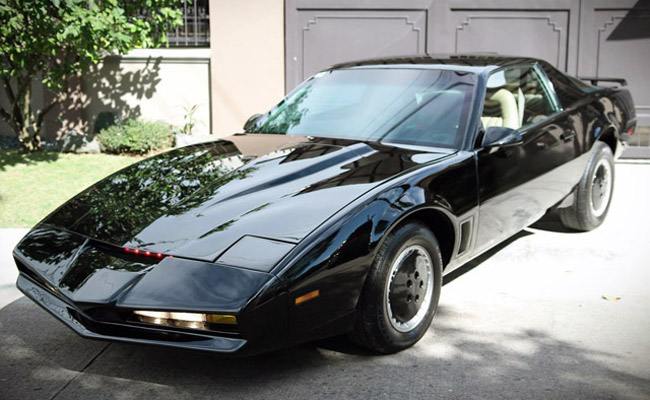 This, I guess, is the cycle of pop-culture life: You spend your youth venerating something, you grow old and make your own money, and then you try to bring back the object of your juvenile devotion with said money. Which is why we purchase reissues of retro sneakers and snap up all manner of Star Wars memorabilia--to hell with exorbitant price tags.
Damn it: It's why I bought an expensive die-cast scale model of Mazinger Z. I like the thought of being able to glance at one shelf in my room and see my uncomplicated childhood being replayed in front of me (that part of my life before Ferdinand Marcos banished Japanese super robots from our black-and-white Sharp television set and made me suspect for the first time that he might be a very bad person).
Thankfully for people of my generation, other TV icons eventually came along to help us forget Voltes V and Jamie Robinson's mini skirt. Like Knight Rider, for instance, an '80s TV series that was as popular for an anthropomorphic car called KITT as it was for some offensive coiffure called David Hasselhoff. If you were a boy back then who had played with Matchboxes as a small kid, you'd go crazy at the spectacle of a self-driving, philosophically arguing Pontiac Firebird Trans Am. I think most boys who got to watch even just one episode became car enthusiasts at the first sight of Knight Industries Two Thousand. That electronic earworm of a soundtrack by Stu Phillips only made the visual experience more addictive--images of that sinister-looking black sports car haunted you even in your elementary-school dreams.
And you allowed those images to haunt you for the rest of your life. Even when you could only afford a cheap, entry-level sedan, that econobox looked like a celebrity car in your eyes. When you accumulated enough cash to buy a two-door coupe, you were half-expecting it to talk back to you when you were cursing at the morning-rush traffic. In the deepest recesses of your consciousness, you always wanted to be Michael Knight. Yep, that's really who we want to be--not Stig, not Schumacher, definitely not Vettel. We all want to wear a black leather jacket and chase the scum of the earth (or drive to the Senate, because those two are pretty much interchangeable).
Problem is, most of us have let go of that childhood dream. Not really because we've realized that the idea of a talking car is stupid--which, at the rate technology is advancing, isn't so stupid anymore--but because we don't have the means to do so. I mean, seriously, where are you going to get a third-generation Pontiac Firebird Trans Am? Or the money needed to transform one into a decent KITT replica? So you go back to your pedestrian Toyota or Honda, woefully resigned that you are never going to be an Asian-looking Michael Knight.
ADVERTISEMENT - CONTINUE READING BELOW
But then there are guys who hold on to their boyhood dream with all the stubbornness of an Erap loyalist. Guys like Mike Barrion, who at 41 is a member of my age group. Other men our age--when they've finally arrived--usually settle into the luxurious embrace of a Lexus or give in to the exhilarating sportiness of a BMW. They issue a check and drive away with a brand-new, high-tech automobile. But where's the Hasselhoffy fun in that?
A TV buff and toy collector who runs "a small family business," Mike wanted his adolescence back, so he painstakingly reassembled it in the form of a KITT tribute. His very first car back in 1997 was a green 1980 Mitsubishi Galant Sigma; his current vehicle is a Mitsubishi Montero Sport. While that may indicate a certain brand preference on his part, what he always and truly set his sights on was a black Firebird Trans Am with a fancy strip of red lights at the base of the hood.
An ambitious project car was thus born.
"My childhood dream, actually," Mike told me via online correspondence. I have no idea what he looks like, but will not be surprised if he's clad in leather and shod in boots. "The best years of my childhood were probably in front of the TV watching Knight Rider, marveling at just how awesome KITT was. I guess I made a promise to myself then that someday, somehow, I was going to have a KITT of my own."
As if he was really destined to realize his dream, he stumbled upon an online ad for a 1986 Pontiac Firebird, which a vintage car shop in Marikina was selling.
"I paid P150,000 for it."
This was in February 2012. Mike would spend the next two years recreating the car that had tormented his youthful reverie.
"The donor car was literally a hunk of junk. The car had to be completely rebuilt inside and out as age and non-maintenance had caused everything to deteriorate."
While Mike probably had the money to just commission a car-restoration shop to complete the project, the whole thing was so dear to him that he simply had to personally oversee the work.
"Exterior modifications began with the replacement of the correct KITT front nose, turbo bulge hood, pop-up headlights, wheels and tires; the modification of the side fenders and the rear bumper; and the addition of front and rear ground effects, hubcaps and dual exhaust mufflers. Then we had to strip everything to metal and repaint it with gloss jet black. The addition of KITT's front red sweeping scanner lights as well as six fog lights in the nose completed the look."
ADVERTISEMENT - CONTINUE READING BELOW
Mediocre men with lesser ambition would have been content with a car that looked like KITT outside. But Mike is not your nominal Knight Rider fan. As far as he was concerned, the car had to be KITT even from the inside.
"Interior modifications included removing and replacing the stock dashboard completely, and installing a KITT-correct dash and electronic components. Lower and upper consoles--complete with switches and LED lights--were also installed. There were approximately 76 switches added inside the replica--not counting the stock switches--all lighting up in various LED colors to replicate the aircraft-like cockpit of KITT. The round steering wheel was also replaced with the gullwing steering from the TV series."
As you read this, Mike reckons that "the exterior appearance may be considered 100% complete, but several better parts still abound among replica builders who provide hobbyists like myself with the option of having a more TV-accurate look. For the interior, I am still planning to add more LEDs on the accelerator pedal, which would simulate the one used on the TV show. I'm not aiming for 100% accuracy; the differences in my replica are the unique factors that distinguish my build from the other replicas that have been built worldwide."
And just how much has this nostalgic undertaking cost Mike so far?
"I have literally lost count already, but I'm guessing it would easily surpass the cost of a brand-new SUV. Everything installed in the car was imported from the US, the UK, Canada, Italy, New Zealand, Taiwan and the Middle East, among other places. Aside from the procurement price of the parts, a huge portion of the cost also went to shipping fees. Time was also a huge outlay for the build as some specific KITT components were not available off the shelf. The electronic dash, for example, had a waiting period of almost one year as parts were handcrafted individually for customers in Canada."
According to Mike, in spite of the above-mentioned modifications, the engine remains stock--the same 2.8-liter V6 that originally came with the car, although its electronic multiport fuel-injection system has been converted into a carburetor setup.
I mention the engine because the star-struck owner actually uses the car.
"I usually take it out for Sunday-morning drives. The farthest I've been able to drive the car is Clark in Pampanga. I've also been able to enter it in a local car show just for kicks. It has won four awards."
ADVERTISEMENT - CONTINUE READING BELOW
Not only does Mike get to drive the car, it can even mimic KITT's popular one-liners and play the Knight Rider tune.
I envy this dude for what he has accomplished. If I had the time (and the money, needless to say), I would start a similar project. I'm dying to build my Hover Pilder and be an aging, overweight Koji Kabuto.