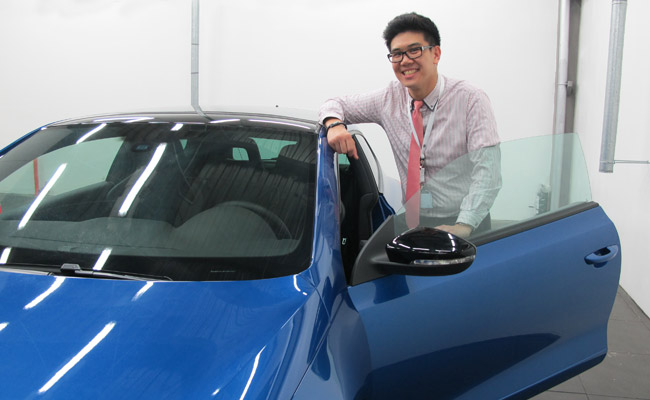 The happy dude you see here is Joshua Benjamin Altarejos, the marketing and product planning head of Automobile Central Enterprise, which is the Philippine distributor of Volkswagen vehicles. And why wouldn't he be happy? He is, after all, posing with the Scirocco R, a car so badly desired by men Ellen Adarna might not be able to score a single glance if she stood next to it. Unless perhaps a sleazy congressman is in the crowd of onlookers.
A product planner is the person tasked inside a car company to, well, "plan" the product. He is responsible for determining whether a specific model would sell in our market; for putting together the list of features that would appeal to Filipino buyers; and for proposing the correct pricing strategy for the vehicle. Get a major spec wrong and the market might be underwhelmed. Go over the pricing threshold and customers could look elsewhere. Or err too much on the side of value and the company might not make money. The product planner, in other words, is the individual with the unenviable job of finding the "sweet spot"--that perfect balance between affordability for the buyers and profitability for the manufacturer.
And when it comes to the art of selling a vehicle to the Pinoy buyer, no carmaker has mastered it like Toyota.
Fortunately for Volkswagen Philippines, Josh came from Toyota. He spent five years at Toyota Motor Philippines training salespeople, and a couple of years at Toyota Motor Asia Pacific in Singapore looking after the Philippine market. To say that Josh has a clear understanding of how the Filipino car market behaves, is to say that Bruno Mars can sing and dance live. (If you didn't see the Grammy winner's Super Bowl halftime performance, shame on you.)
Anyway, at yesterday's formal inauguration of Volkswagen's first dealership in the country, I ran into Josh and the Scirocco R. The Scirocco, whether in standard or R form, is, for now, just a fantasy to us Filipinos. The unit you see here is the only one in the country (the only one imported by the official distributor, that is), shipped in to help the brand with its marketing activities more than anything else. Ask your friends on social media if they would like to see this car rolling on our streets, and you'd get a nearly unanimous and emphatic "Hell yeah!"
So what's keeping Josh, the product planning head, from bringing a "hell yeah!" car on our shores?
ADVERTISEMENT - CONTINUE READING BELOW
"We're still studying it," he told me. "It's definitely being considered, but we need to convince Volkswagen first that it will sell and that it will be sustainable as we'll have to also bring in parts to support its sales."
When asked what the acceptable sales volume for the Scirocco is before Volkswagen lets ACE import and sell the car, Josh replied, "100 units a year," which is, he pointed out, the average industry number for any non-volume model.
But how do they know if there are definitely 100 yearly buyers waiting out there for a particular model? Josh and his team rely on market feedback. This includes serious inquiries at the dealership. Facebook likes probably don't count, however passionate the likers might feel about the topic. Actual audience impact at car shows is also a good gauge.
Once Josh and his colleagues are convinced that they have a winner of a model in their product-planning basket, they start piecing together a specs/features list. Will buyers of this car look for a sunroof? Should the wheel size be at least 18 inches? Can we do away with leather seats and throw in parking sensors instead? Is Bluetooth connectivity now a must-have in this category? For a special model like the Scirocco R, there are not very many features a product planner can toy with, but it will still come with enough options to give him a throbbing headache. The bottom line is that he has to tick all the right boxes if the model is to sell well.
I asked Josh to play a little game by quoting me--off the top of his head--the possible price for the standard Scirocco should this model reach our market. "Around P2 million," he said. And for the Scirocco R? "Probably at least P2.5 million."
Of course it's not that simple in real life. You don't just pluck random numbers out of thin air. Every single digit needs to be backed up by a carefully researched study. You can't bluff your way through an automotive product-planning career. The stakes are too high not to be taken seriously.
And if Josh does succeed in persuading, first, the ACE management and, second, Volkswagen to launch the Scirocco in the Philippines, he will next suffer the agony of watching helplessly as the sales peeps try to move the units out of the showroom. If the model bombs, the product planner might get an asterisk in his 201 file; if the model sells, he becomes a rock star, earning for himself a little more leverage for the next time he seeks approval for another model.
ADVERTISEMENT - CONTINUE READING BELOW
I seriously hope that Josh can launch the Scirocco (among other coveted VW models) here, and that the next time I see him, he will already possess the swagger of Bruno Mars the rock star.
Photos by Vernon B. Sarne