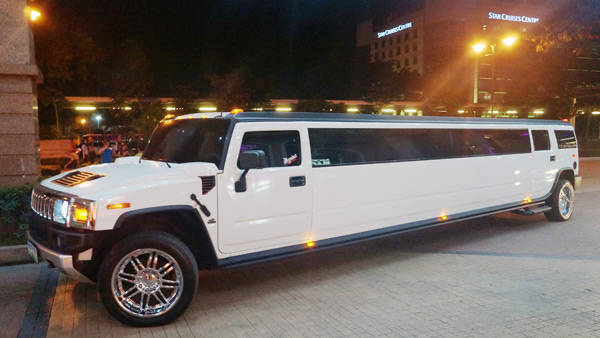 You may have heard (or read) that Top Gear Philippines threw a party Monday night to thank our friends in the auto industry--and also to somehow commemorate our eighth anniversary even if our magazine's birthday really takes place in September. If you missed the bash at Republiq in Resorts World Manila, you'd better take my word that it was a rollicking success. Our best one yet.
Contributing to our team's high that evening was a white stretch Hummer limousine generously provided by R33 Car Exchange--complete with a chauffeur, of course. The gray-market vendor, whose showroom is located on Meralco Avenue in Pasig, also happens to offer a limo service. They called and asked me to give this service a try. Out of sheer curiosity, I took them up on their offer and chose our party date to borrow the vehicle.
This Hummer limo is being rented out for P8,000 per hour for a minimum period of two hours. The rate goes down to P5,000 per hour after three hours. The clock starts ticking after the limo has picked up its spoiled passengers. The package includes the use of the vehicle, a dedicated chauffeur, fuel, a bottle of champagne, and the rare chance to experience what it's like to be a politician with unrestricted access to pork-barrel funds.
We requested to be picked up from our office on Pioneer Street in Mandaluyong at 5:30pm, as our event was scheduled for 7pm. Our ostentatious ride arrived some 30 minutes late because, according to the manager, they had to move several cars just to get the very long limo SUV out of the garage. If you're using the service for a function where time is as crucial as a philandering congressman's Viagra pills, I suggest you make a one-hour allowance--a requisite buffer if you're operating in Filipino time--although this could potentially run up your bill if the limo showed up early.
ADVERTISEMENT - CONTINUE READING BELOW
Since the limo was running late, the driver asked if we could just cross the street so that he wouldn't have to make a time-consuming detour just to be able to bring the Hummer limo right in front of our building. My illusions of being seen hopping into the Mafia-esque vehicle by our beautiful officemates from Preview magazine disappeared just like that. Now that I think about it, this was probably my only motivation for availing of the limo service in the first place. I was certain my nubile colleagues would finally realize I'm not the photocopier operator once they saw a kilometric SUV pulling up the driveway just to fetch me.
Still, my disappointment was nothing compared to that of my two lovely managing editors, who had to walk gingerly in their high fashionista heels.
When the vehicle came into view, I thought of Leonardo DiCaprio. Not because I suddenly fantasized about Victoria's Secret models carousing inside, but because I wanted to climb up the bow-like hood and scream that stupid line about being king of the world. The limo looked that titanic. Only the fear of being arrested by a nearby traffic cop prevented me from doing so. That and the fact my ridiculously skinny pants wouldn't let me.
As we approached the limo, I realized a few bystanders had been taking snapshots of it. They must have been waiting for some big-shot celebrity to materialize and mount the Hummer. Instead, they saw us. Seeing that none of us possessed the countenance and the physique of a movie star, they whispered to each other. I could only guess that they were trying to figure out whether: (a) we had just hit the lottery; (b) we were the production crew of the next Derek Ramsay movie about another extramarital affair; or (c) we were members of a racketeering syndicate.
ADVERTISEMENT - CONTINUE READING BELOW
And that's the thing about this limo service. If you don't like attention, just drive your personal car. There's no way you're escaping notice with a white Hummer that blocks the entire frontage of a gasoline station. But if you crave attention so much that you constantly feel the need to announce your whereabouts on Facebook, this is the way to travel.
Getting inside the cabin is surreal. It looks like a dark alley with strobe lights and blaring hip-hop music. The cabin is completely isolated from the driver's cockpit; there's actually a phone you need to use if you want to talk to your chauffeur. The main seating configuration is like that in a jeepney, which is to say face to face. There are screen monitors all around in case you're in the mood for music videos or movies about extramarital affairs. There's also a stereo head unit with iPod connectivity. This vehicle's inner chamber is exactly like a VIP room at a Quezon Avenue strip club--just with a V8 engine and a set of wheels.
The adroitness of the chauffeur at the wheel is unbelievable. From Pioneer, we made it to the southbound half of EDSA before we were done marveling at the interior. It would probably take me half a day if I gave it a try. I then worried a weaving motorcycle or a wayward bus would hit us, which was easy to do considering the dimensions of our tarmac-bound vessel. I also worried that people outside all had their gaze fixed upon us. Thankfully, the windows were heavily tinted all around, or we would have been the equivalent of a rolling aquarium.
It took us a mere 30 minutes to scandalize other motorists from Mandaluyong to Resorts World Manila. I'm not sure whether the traffic was unusually light that Monday evening, or other cars were making way for us out of admiration or intimidation.
ADVERTISEMENT - CONTINUE READING BELOW
One of the benefits of using an out-of-this-Third-World vehicle is that security personnel will often let you get away with anything, perhaps assuming there's somebody really important on-board. Indeed, upon our arrival, RWM security guards let our Hummer limo linger in front of the main entrance so it could disgorge its VIP passengers. A guard even held the door for us, patiently waiting until every single one of our posse had alighted. There was no rush--no urgency--to the process. If you have a vulgar limo SUV, you're entitled to take your time for as long as you want.
Another benefit is that you always win the driveway pissing contest. I don't care if the other guy enters the scene in a Ferrari, people will be fixated on your ride the whole time. Again, perfect if you're an attention whore.
Time to party now. We asked our chauffeur to wait for us until the end of our event, whatever time that would be. Better yet, we invited him to join us. He said he'd just look for suitable parking and proceed to our shindig. He never followed, which possibly meant he never found parking. No surprise there.
Our team left the party at around two in the morning--some happily drunk, others just boisterously animated. Were we glad a limousine was waiting for us.
All in all, the Hummer limo was in our custody for about eight hours. That's a total of P49,000 of limousine service for one night of merrymaking. It's good to feel very important even for just a third of a day. I could use the boost in self-esteem for when I next bump into a Preview staffer in our photocopier area.