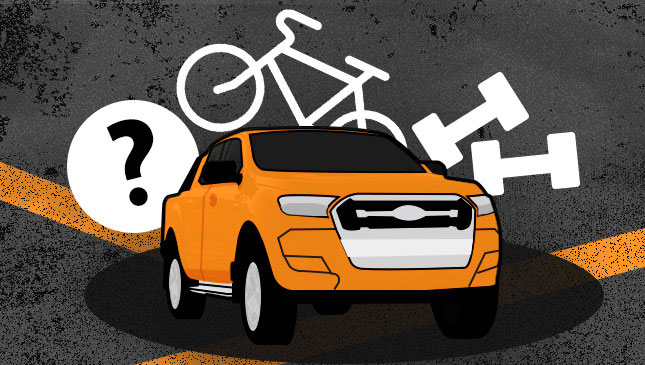 Good day. I need help with choosing a pickup truck. I am a personal trainer doing freelance training at the park, at client's homes, and in private gyms. I bring along ropes, huge tires (for slamming), suspension-training straps, and a couple of dumbbells. Basically, I am a mobile trainer. I also love mountain-biking with my family, and my eight-year-old son is also adventurous and outgoing.
Of course, I am on a budget, but I want to get the best since this truck should be with me for 10 years. Legroom and headroom are a concern because I stand 6'2". I am considering the Ford Ranger, but my dilemma is if I should go all out with the Wildtrak 3.2 4x4 or just a 2.2 4x4. Thanks for the help!
Mike Capati
Hi, Mike. Maybe you can help me finally break 200lb? I'm currently at 204, and it's been a struggle to get here from 290+lb from a few years ago!
On to your concern. Should you get a Ford Ranger, I recommend that you go for the 3.2 Wildtrak. I feel you will love it a lot because I do. It's big, bad and burly, and a highly capable off-road vehicle out of the box. It has the highest towing capacity, highest cargo bed payload capacity (handy if you plan to carry almost a ton's worth of gear), and the biggest cargo bed dimensions-wise.
The Ranger's front space is really good, but in my opinion, the Toyota Hilux, the Mitsubishi Strada and the Nissan Navara can match or even outshine the Ranger in terms of rear-seat space. There's ample headroom for someone of your stature (literally) in any of the new breed of pickups, so no worries there.
I have some misgivings about the Ranger, though. The suspension is too soft on the road versus its power. It was wooly, and had a bit jerky steering feel and rubbery self-centering. The brake pedal feels squishy, and the headlights seem to be quite inadequate in nighttime incremental weather. Otherwise, it's great!
ADVERTISEMENT - CONTINUE READING BELOW
If you don't plan to go off-roading but want to spend more time driving on paved surfaces, I also recommend the Hilux and the Navara. Both are highly capable just like the Ranger, but offer far better performance when the surface is smooth, paved and fast. My only concern against the two is that the Hilux has a really firm ride, while the Navara has a somewhat low ground clearance for a pickup truck. Otherwise, both are definitely worth checking out.
If you want a bargain, the Strada is really worth looking into because it has the best pricing given its standard equipment.
By the way, we just finished comparing the Ranger and the Hilux in the current June 2016 issue of the magazine, so check it out!
I hope this helps. Good luck and be safe always! God bless.
Botchi Santos
Consumer Editor